* Mikko Rantanen matched a franchise record with his third overtime winner of the year to cap off Colorado's first three-goal comeback victory of 2022-23 and the NHL's 16th of the season.
* Patrick Kane scored a hat trick along with his four-point night and climbed multiple lists in the process.
* A six-game slate will feature four matinees as Presidents' Day and Family Day is celebrated in the U.S. and Canada, respectively, including the Bruins (42-8-5, 89 points) who can match the NHL benchmark for fewest games to 90 points in a season.

RANTANEN SCORES LATE OVERTIME WINNER TO COMPLETE THREE-GOAL COMEBACK
After falling to a 3-0 deficit, the Avalanche climbed their way back to tie the game at 5-5 in the third period, setting the stage for Mikko Rantanen (1-0—1) to score his third overtime goal of the season as Colorado held Connor McDavid (0-1—1) from reaching 800 NHL points – the Oilers captain entered Sunday two-points shy of the milestone. The Avalanche (31-19-5, 67 points) moved within two points of the Jets (34-21-1, 69 points) for second in the Central Division.

* Rantanen's third overtime winner in 2022-23 tied Carolina's Martin Necas for the most among all players. He matched the Avalanche/Nordiques record for most overtime goals in a season, tying Cale Makar (3 in 2021-22), Nathan MacKinnon (3 in 2017-18), Tyson Barrie (3 in 2013-14) and David Jones (3 in 2011-12).

* Colorado earned a three-goal comeback win for the first time this season – six campaigns have seen them achieve the feat multiple times: 1982-83 (3x), 2021-22 (2x), 2003-04 (2x), 1985-86 (2x), 1981-82 (2x) and 1980-81 (2x).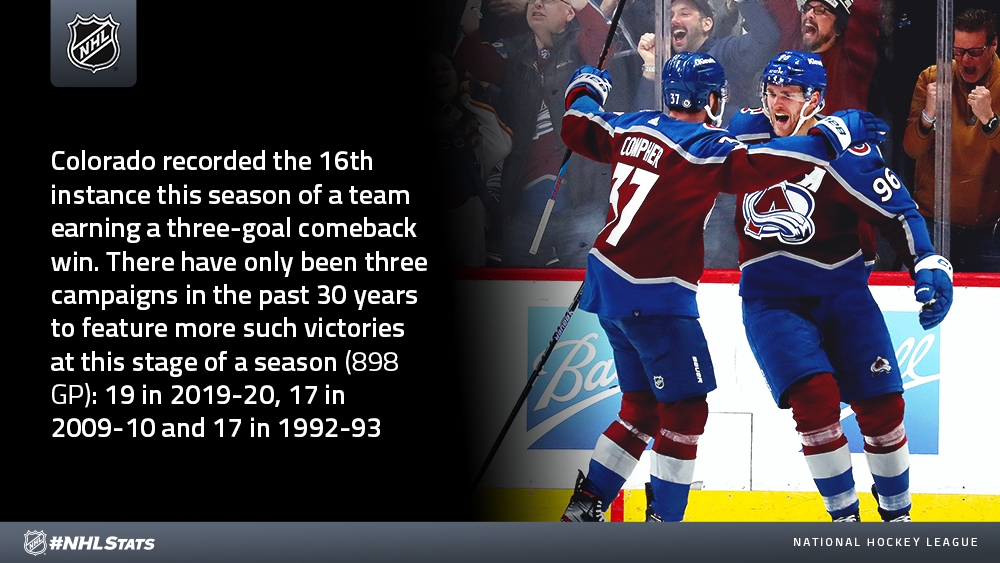 PATTY'S HATTY HELPS BLACKHAWKS DOWN MAPLE LEAFS
It was "showtime" at United Center on Sunday as Patrick Kane (3-1—4) scored each of Chicago's first three goals en route to his ninth career hat trick. Toronto battled back from a 3-1 deficit to tie the game in the third period but rookie Cole Guttman scored his first NHL goal to restore Chicago's lead – ultimately standing as the game winner.

* Kanerecorded his second hat trick against the Maple Leafs – his first on Jan. 15, 2016 was coincidentally also the first of his career. Over the past 40 years, the only players with more three-goal performances versus Toronto are Denis Savard (4), Wayne Gretzky (3), Brett Hull (3), Mario Lemieux (3), Joe Mullen (3) and Steve Yzerman (3).

* Kane's hat trick goal gave him the 104th three-point game of his career to surpass Mike Modano for sole possession of the second most by a U.S-born skater behind Pat LaFontaine (116). Meanwhile, Kane's assist on the final goal of the night marked his 19th four-point outing, trailing only LaFontaine (28), Jeremy Roenick (25), Mullen (22) and Joe Pavelski (20) for the most among that contingent.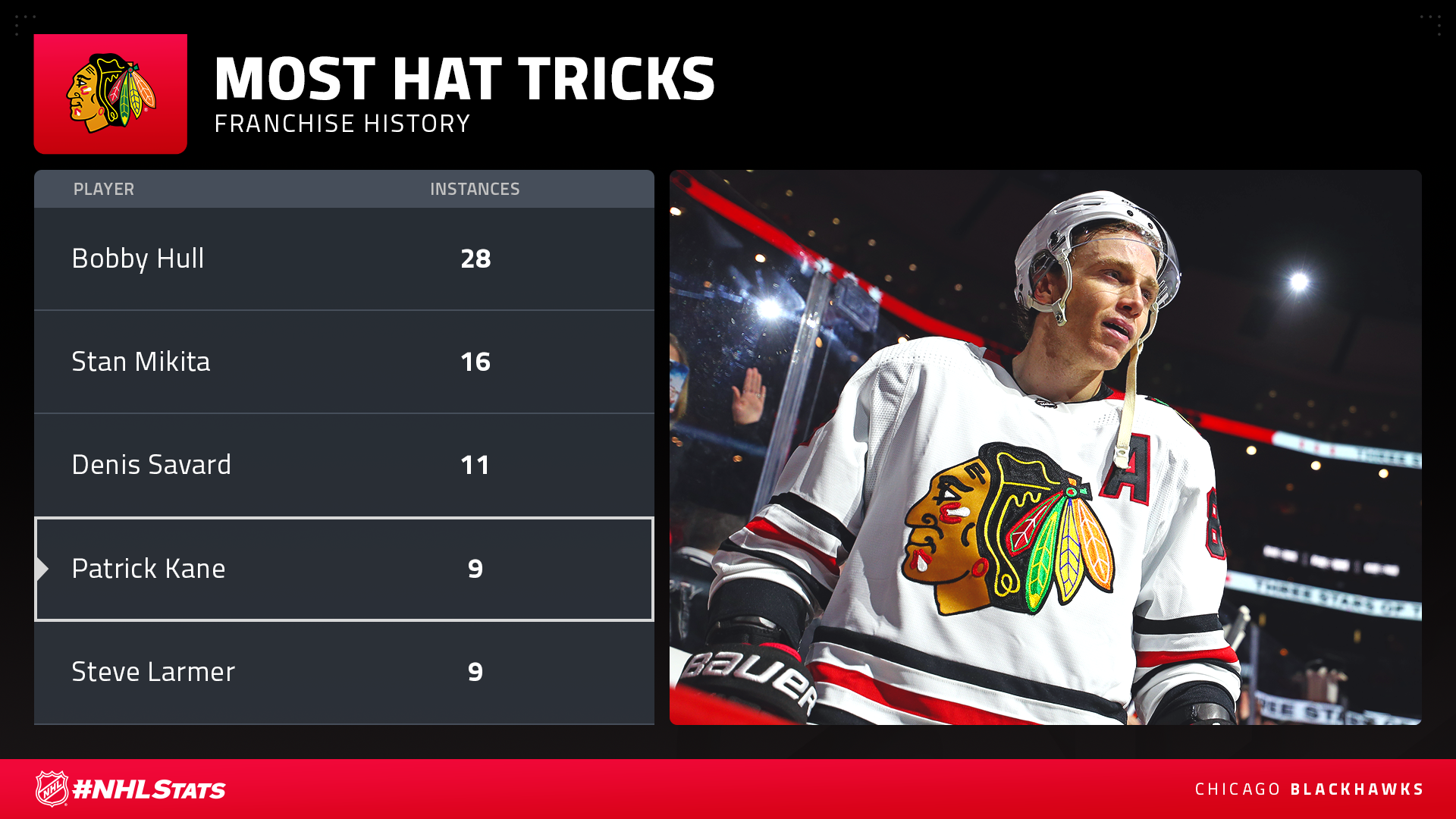 WILD HOLD OFF PREDATORS RALLY WITH LATE GO-AHEAD GOAL
After the Predators erased a two-goal deficit thanks to a tally from Nino Niederreiter with 47 seconds remaining in regulation, Ryan Hartman responded 26 seconds later with a go-ahead goal to secure the Wild's win. Minnesota (30-21-5, 65 points) tightened its grip on the second Wild Card spot in the Western Conference, moving two points clear of idle Calgary (26-19-11, 63 points).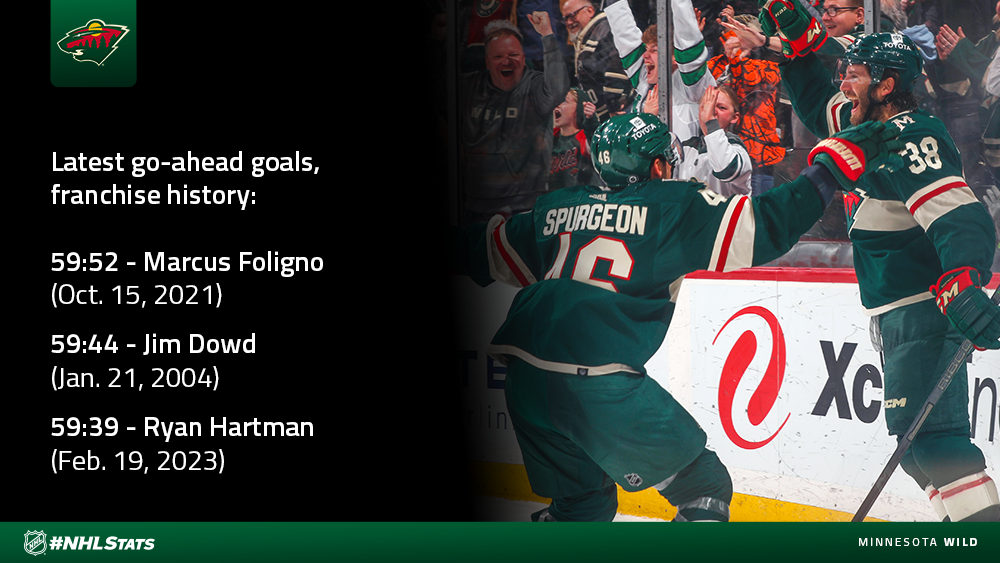 * Brandon Duhaime also scored a timely goal for the Wild as he opened the scoring just nine seconds into the middle frame. Duhaime matched the second-fastest period-opening goal in franchise history, behind Jason Zucker (0:08 of P3 on Jan. 16, 2014).
COYOTES EXTEND POINT STREAK TO NINE GAMES ON #NHLSTATS: LIVE UPDATES
The Coyotes extended their point streak on Sunday's edition #NHLStats: Live Updates with the help of Clayton Keller who improved to 5-7—12 (7 GP) since returning from NHL All-Star break. Four players have more points over that span: Artemi Panarin (6-9—15 in 7 GP), Dylan Larkin (7-6—13 in 7 GP), Elias Pettersson (6-7—13 in 7 GP) and Nathan MacKinnon (6-7—13 in 7 GP).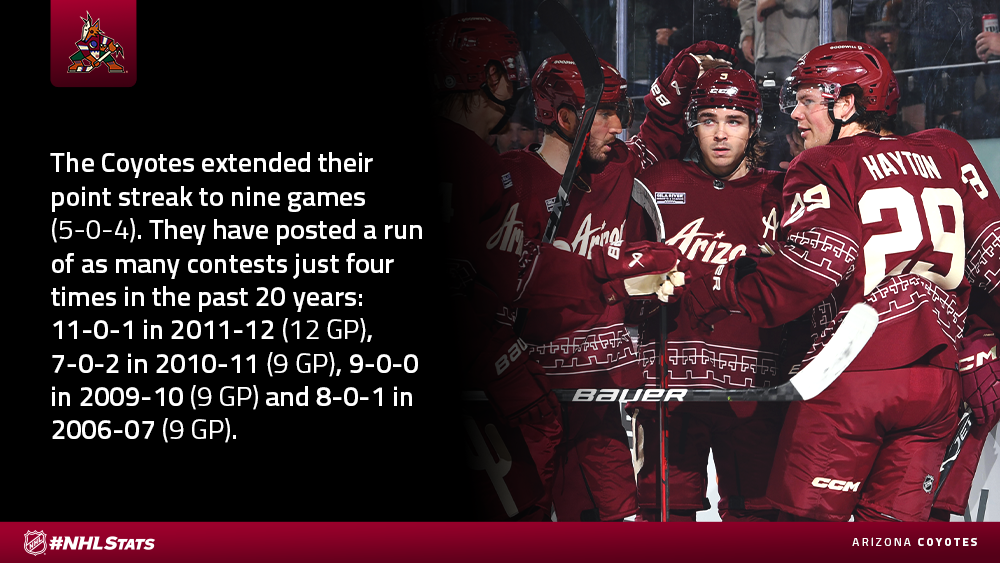 QUICK CLICKS
* Tyler Motte traded to Rangers by Senators for Julien Gauthier
* Jonathan Toews dealing with symptoms of long COVID, stepping back for Blackhawks
*Ryan O'Reilly eyes big things for Maple Leafs following trade from Blues
* Stadium Series perfect storm for Hurricanes, Carolina community
*Erik Johnson out indefinitely for Avalanche with broken ankle
MONDAY MATINEE: GET SET FOR A SIX-GAME SLATE
As Presidents' Day and Family Day is celebrated in the U.S. and Canada, respectively, a total of 12 teams will be in action, including four matinee games and two 7 p.m. ET puck drops:
* The Bruins (42-8-5, 89 points) will welcome the Senators (27-24-4, 58 points) in one of Monday's two 1 p.m. ET starts. Boston sits one point back of 90 in 2022-23 and can match the NHL benchmark for fewest games to 90 points in a season – a pace currently held by the 1979-80 Flyers (56 GP). Ottawa is one of two teams to have earned two wins against the Bruins in 2022-23 (also FLA).
* The Rangers (33-14-9, 75 points) and Jets (34-21-1, 69 points) will be two of four teams to close out Monday's slate with New York entering the contest with wins in each of its past five games at Madison Square Garden and a 10-game point streak (8-0-2). The Rangers have posted a longer run just four times in the past 50 years: 11-0-2 in 2015-16 (13 GP), 10-0-3 in 2007-08 (13 GP), 12-0-2 in 1993-94 (14 GP) and 14-0-2 in 1972-73 (16 GP).