* The Kraken improved to 2-0 in potential elimination games this postseason and forced a Game 7 against the Stars thanks in part to goals from rookies Matty Beniersand Tye Kartye.

* Joe Pavelski continued to roll by scoring his eighth goal of the 2023 Second Round, establishing a franchise record for the most in a single series.

* The Golden Knights will visit Rogers Place for Game 6 of their series against the Oilers with a chance to advance to the Western Conference Final.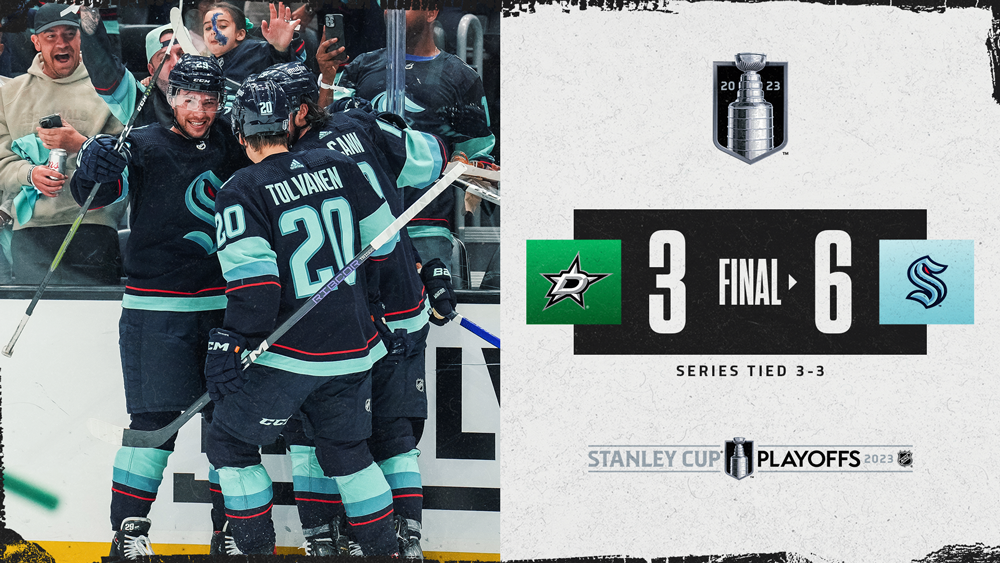 VETERANS, YOUTH HELP KRAKEN FORCE ANOTHER GAME 7
Jordan Eberle (2-1—3) and Eeli Tolvanen (1-2—3) each posted three-point performances while rookies Tye Kartye (1-0—1) and Matty Beniers (1-1—2) both found the back of the net – with the former scoring the game winner – to help the Kraken force a Game 7 and improve to 2-0 when facing elimination.
* Eberle andTolvanen became the first two players to record three points in a playoff game with the Kraken. Eberle, who also became the franchise's second player to register a multi-goal outing in the postseason, overtook Jaden Schwartz (5) for the team lead in goals with six.
* Kartye and Beniers became the fifth pair of rookie teammates in the past 10 years to each score in a potential elimination game, joining Kirill Kaprizov and Nico Sturm (Game 5 of 2021 R1 w/ MIN), Jake DeBruskand Danton Heinen (Game 7 of 2018 R1 w/ BOS), Tyler Toffoli and Tanner Pearson (Game 7 of 2014 R1 w/ LAK) as well as Tyler Johnson and Ondrej Palat (Game 4 of 2014 R1 w/ TBL).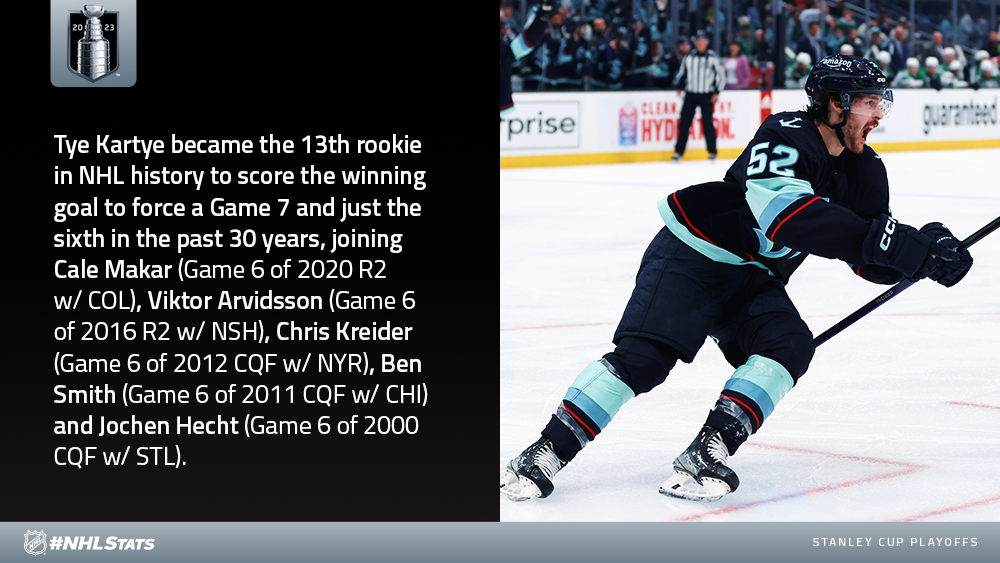 * The Kraken became the sixth franchise in NHL history to require a Game 7 in each of their first two or more playoff series and will be just the fourth to have each of those contests occur on the road, following the Sharks (3; 1994 CQF, CSF & 1995 CQF), Wild (2; 2003 CQF & CSF) and North Stars (2; 1968 QF & 1968 SF).
* The Kraken became just the fourth franchise in NHL history to never face a deficit in each of their first two or more potential elimination games, joining the Wild (Game 5 & 6 the 2003 CQF), Ducks (Game 6 & 7 of 1997 CQF) and Rangers (Game 4 & 5 of 1928 SCF).
PAVELSKI CLIMBS MORE ALL-TIME LISTS IN #NHLSTATS: LIVE UPDATES
The latest edition of #NHLStats: Live Updates features a plethora of notes from Game 6 of the Seattle-Dallas series, including Joe Pavelski scoring on the power play to record his eighth goal of the 2023 Second Round – he established a Stars/North Stars record for most goals in a single series, surpassing Steve Payne (7 in 1981 PRLM) and Tony McKegney (7 in 1985 DF).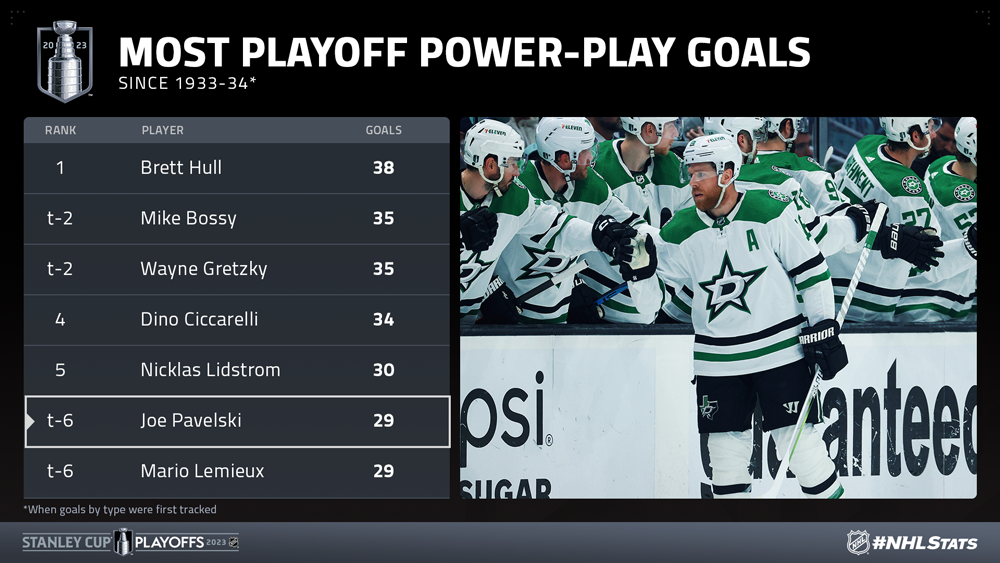 QUICK CLICKS

* NHL announces start time for Golden Knights-Oilers Game 6 on Sunday
* William Karlsson becomes father, helps Golden Knights win Game 5 on surreal day
* Panthers continue wild playoff ride to East Final against Hurricanes
* Eli Manning chugs from Stanley Cup held by Brad Richards
* Comedian Kenan Thompson joins Stanley Cup at East Side High
GOLDEN KNIGHTS LOOK TO ADVANCE TO WESTERN CONFERENCE FINAL
The Golden Knights aim to become the third team to advance to the Conference Finals when they visit the Oilers at Rogers Place. Vegas, which is looking to advance to the round before the Stanley Cup Final for the fourth time in its six seasons, is 8-8 all-time in potential series-clinching games, while Edmonton is 18-19 when facing elimination.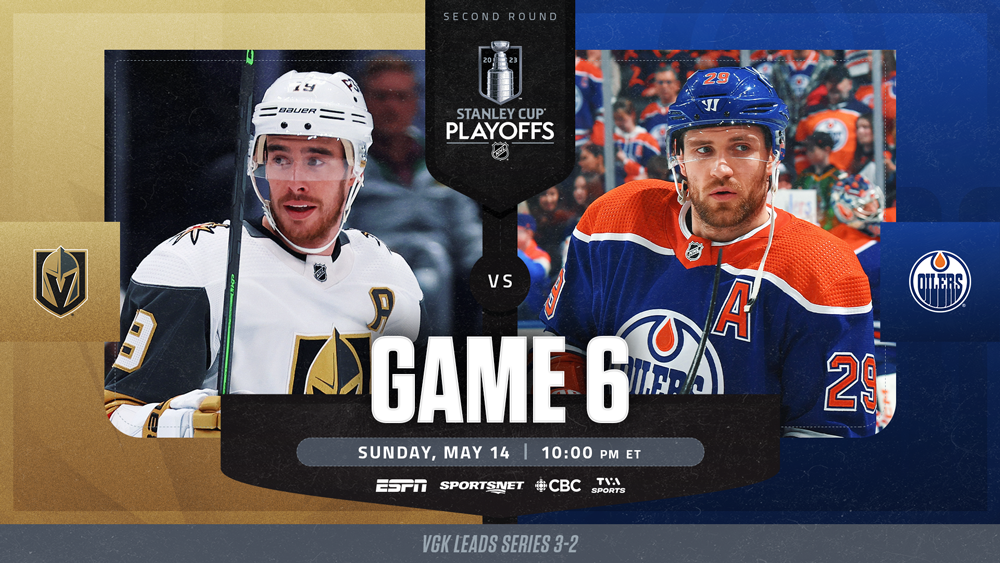 * William Karlsson (3-8—11 in 16 GP) owns the most points by a Golden Knights player in potential series-clinching games, followed by Reilly Smith (1-9—10 in 16 GP) and Shea Theodore (3-7—10 in 15 GP). Smith leads the franchise in assists in such contests and has collected a helper in each game Vegas has won toadvance to the round before the Stanley Cup Final (Game 6 of 2021 R2, Game 7 of 2020 R2 & Game 6 of 2018 R2).
* Jack Eichel factored on three of Vegas' four goals in Game 5 to help the club take a 3-2 series lead, marking his third three-point performance of the 2023 Stanley Cup Playoffs. Should he do so again Sunday, Eichel would become the third player to record three points with the Golden Knights in a potential series-clinching game – he would join Mark Stone (1-2—3 in Game 5 of 2023 R1) and Mattias Janmark(3-0—3 in Game 7 of 2021 R1).

* Leon Draisaitl (3-10—13 in 7 GP) and Connor McDavid (4-7—11 in 7 GP) rank fifth and sixth, respectively, in Oilers history for points in potential elimination games, trailing only Jari Kurri (8-11—19 in 13 GP), Glenn Anderson (9-7—16 in 15 GP), Mark Messier (9-7—16 in 16 GP) and Wayne Gretzky (3-11—14 in 10 GP). Five of Draisaitl's 13 points came in Game 6 of the 2017 Second Round (3-2—5) – the most in a potential elimination game in franchise history.