* The Kraken scored five goals at Climate Pledge Arena en route to winning their first-ever home game.* Nikolaj Ehlers netted a game-tying and go-ahead goal in the final two minutes of regulation to lead his team to victory, a feat only five other players in NHL history have accomplished.
* Flames teammates Andrew Mangiapane and Elias Lindholm each scored in a road victory and moved into a tie with Capitals captain Alex Ovechkin (7) for the NHL's goal lead this season.

SEATTLE DEFEATS MONTREAL TO EARN FIRST WIN AT CLIMATE PLEDGE ARENA
Brandon Tanev (2-0—2) scored two of Seattle's five goals as the Kraken defeated the Canadiens to earn their first-ever home win. Tanev, who has recorded two multi-goal games in a single season for the first time in his career (also Oct. 14), leads the NHL's newest franchise with five goals in seven games.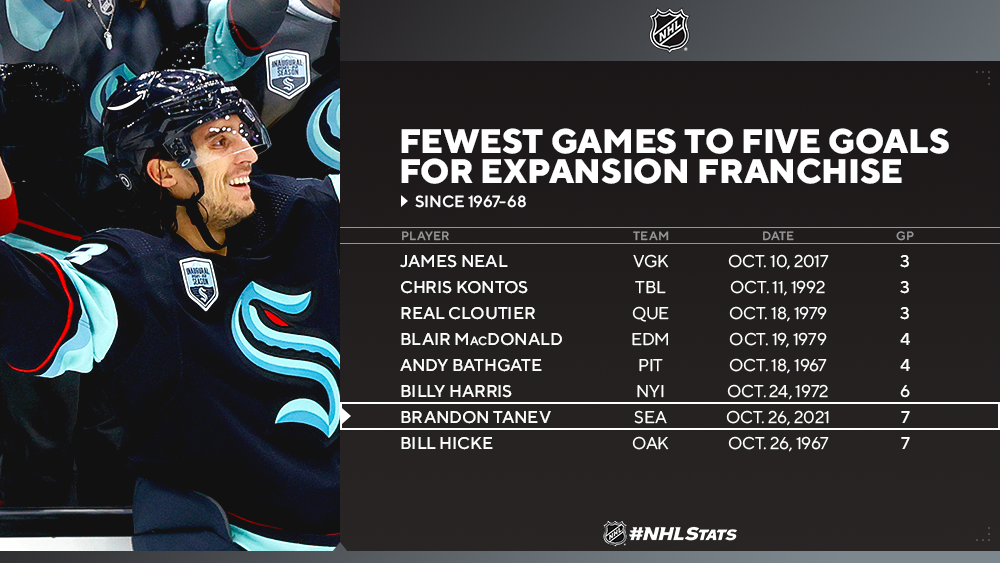 * Seattle's offensive output Tuesday marked a season high. Only four expansion franchises since 1967-68 have scored more goals in their first-ever home win: Tampa Bay (7 on Oct. 7, 1992), Minnesota (6 on Oct. 18, 2000), Edmonton (6 on Oct. 19, 1979) and Hartford (6 on Oct. 19, 1979).
DID YOU KNOW?
Four of the last seven expansion franchises have won their first home game within their first two attempts (also VGK: 1 GP, NSH: 2 GP & FLA: 2 GP).
EHLERS ACHIEVES RARE FEAT AFTER TYING GAME, SCORING WINNER LATE
Down 3-2 with 1:20 remaining in regulation, Nikolaj Ehlers scored twice in a span of 19 seconds to help the Jets rally late and stun the Ducks. Ehlers, who netted the second-fastest two goals by one player in Jets/Thrashers history, became the sixth player in NHL history to score a game-tying and go-ahead goal in the final two minutes of regulation.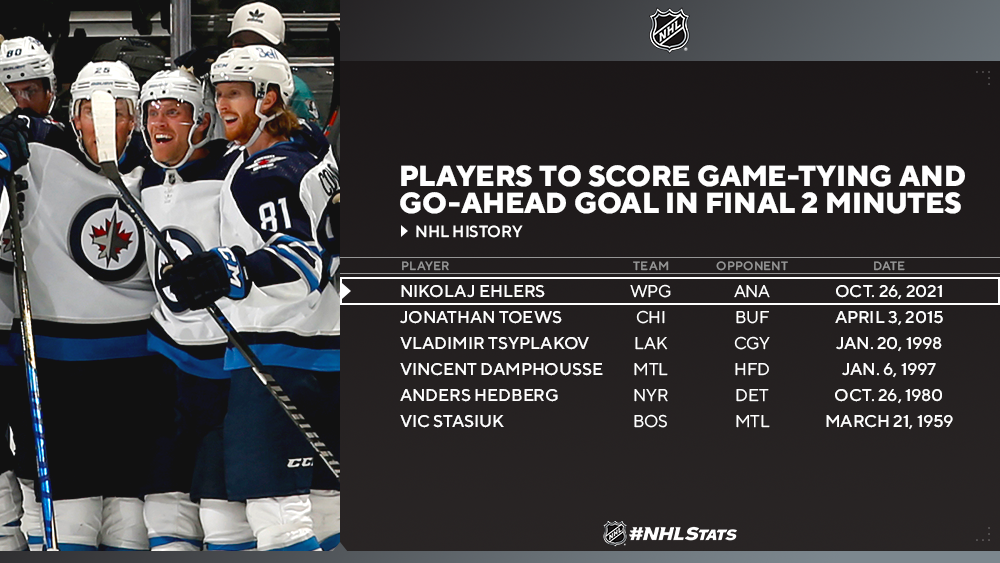 * Tuesday marked just the second time in franchise history, and first since the club relocated to Winnipeg, in which the Jets overcame a deficit in the final two minutes and won in regulation. The Thrashers first achieved the feat on March 19, 2004 against the Panthers.
MANGIAPANE EXTENDS ROAD GOAL STREAK IN FLAMES VICTORY
Andrew Mangiapane scored twice to extend his season-opening road goal streak to five games (7-0—7), while Dan Vladar made 27 saves to win his second consecutive contest as the Flames improved to 4-1-1 this season.
* After scoring twice against the Rangers on Monday, Mangiapane tallied two goals in the first period Tuesday to become the sixth Flames player to score multiple goals on the road in consecutive days.
* Mangiapane has scored a goal in each of Calgary's last seven road games dating to May 16, 2021 (10-0—10). He matched Guy Chouinard (7 GP from April 5, 1978 – Oct. 31, 1978) for the second-longest road goal streak in franchise history (spanning seasons), behind only Jarome Iginla (8 GP from Dec. 11, 2007 – Jan. 5, 2008).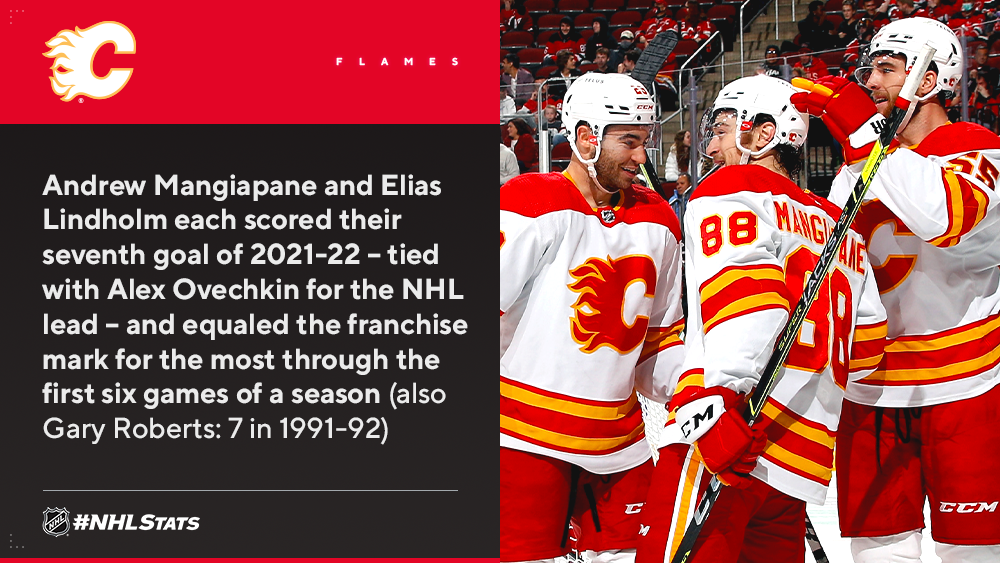 MORE #NHLSTATS FEATURED ON LIVE UPDATES
While Minnesota halted Vancouver's win and point streaks in home openers, Ondrej Palat and Ryan McDonagh scored in quick succession to lead the Lightning to victory against the Penguins. Click here to read the latest edition of #NHLStats: Live Updates, which features more facts and stats from all seven games Tuesday night.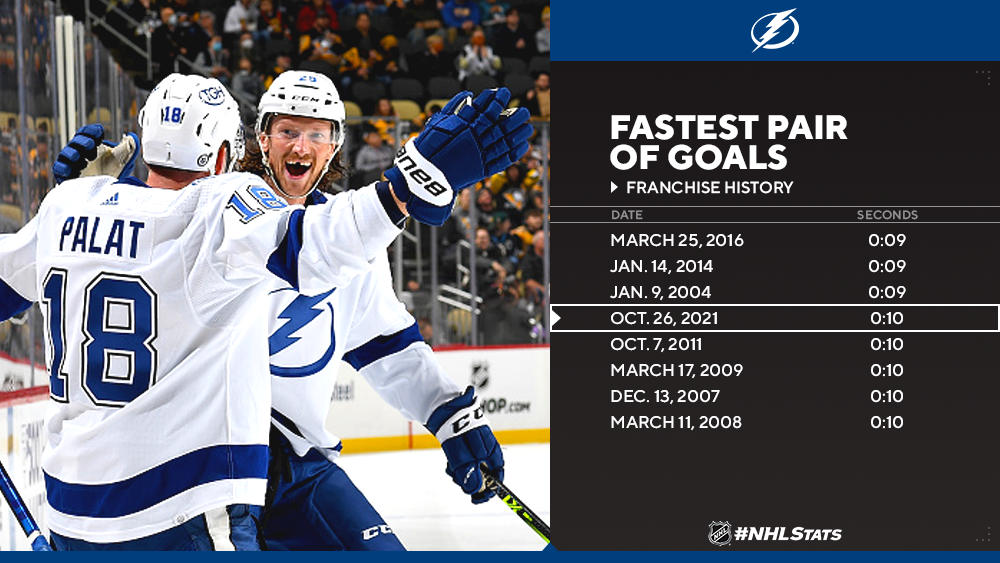 PANTHERS, OILERS PUT PERFECT RECORDS ON THE LINE WEDNESDAY
A total of 10 teams take to the ice Wednesday including Florida (6-0-0, 12 points) and Edmonton (5-0-0, 10 points), which look to extend season-opening winning streaks.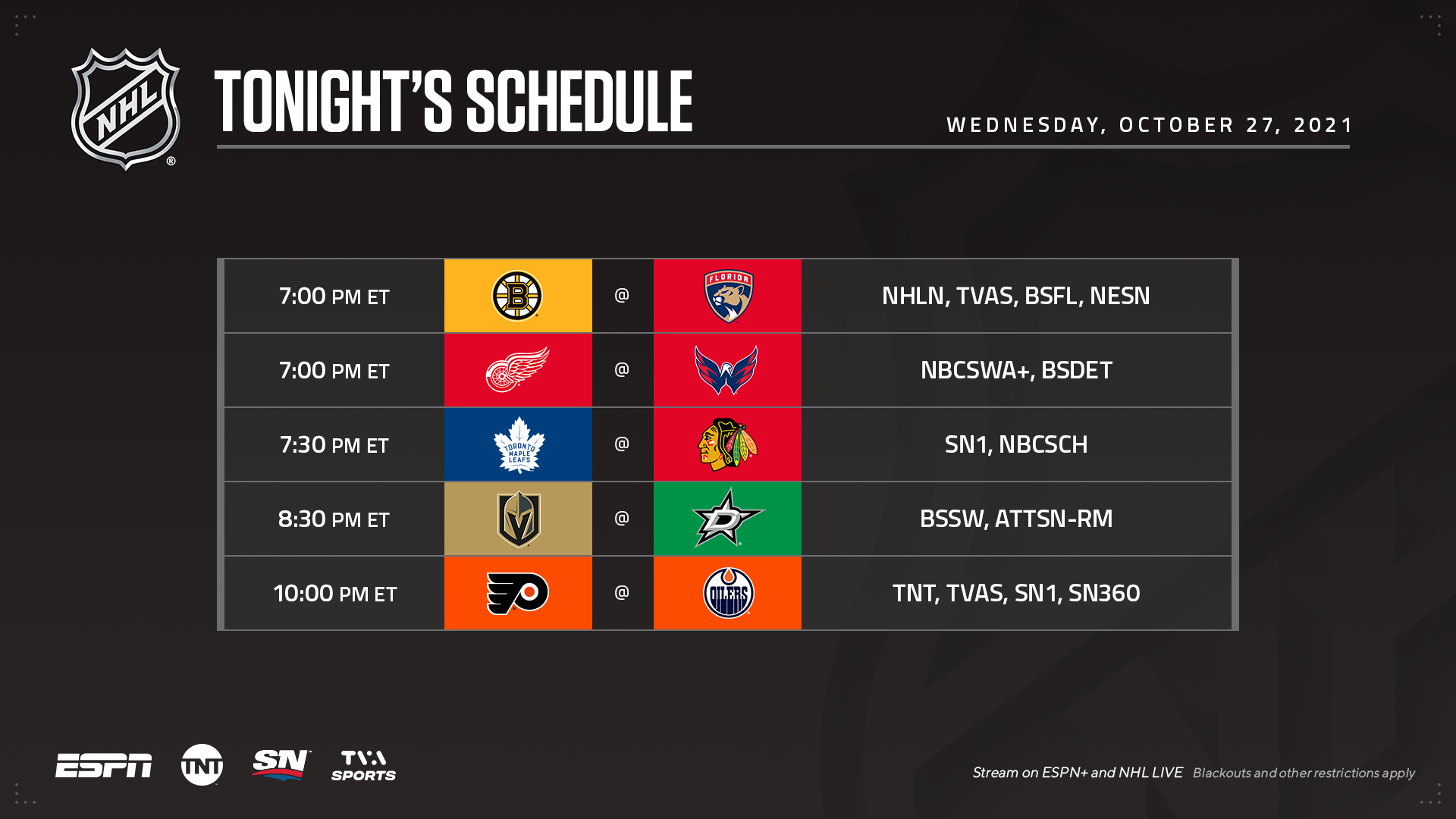 * Florida can become the 14th team in NHL history to open a season with seven consecutive wins and first since 2015-16, when Montreal went 9-0-0.
* The Oilers host the Flyers (2-1-1, 5 points) in an NHL on TNT game at Rogers Place. Edmonton has earned wins in each of its first six contests once in franchise history – the Oilers went 7-0-0 to open the 1983-84 season, with Wayne Gretzky generating 10-10—20 during the seven-game run (2.86 P/GP).
* ICYMI: Wednesday marks Edmonton's first home game since Ken Holland became the fifth general manager in NHL history to reach 1,000 career regular-season wins. He hit the milestone on Oct. 19 when the Oilers defeated the Ducks at Rogers Place.