* Red Wings rookie Lucas Raymond showed up to his team's Original Six showdown Sunday and left with three goals, four points and joined some elite company in the process.
* Undefeated no more. The Bruins and Predators played the role of spoiler and handed the Sharks and Wild their first loss of the 2021-22 season, respectively.
* The Hurricanes and Blues look to become the third and fourth teams to start 5-0-0 in 2021-22. No season in NHL history has featured four teams accomplish the feat.

ROOKIE RAYMOND JOINS RARE RED WINGS COMPANY WITH HAT TRICK
Skating opposite of Blackhawks veterans Jonathan Toews and Marc-Andre Fleury, Lucas Raymond (3-1—4) factored on four of the Red Wings' six goals to help them earn a win at United Center and become the first rookie to score a hat trick this season.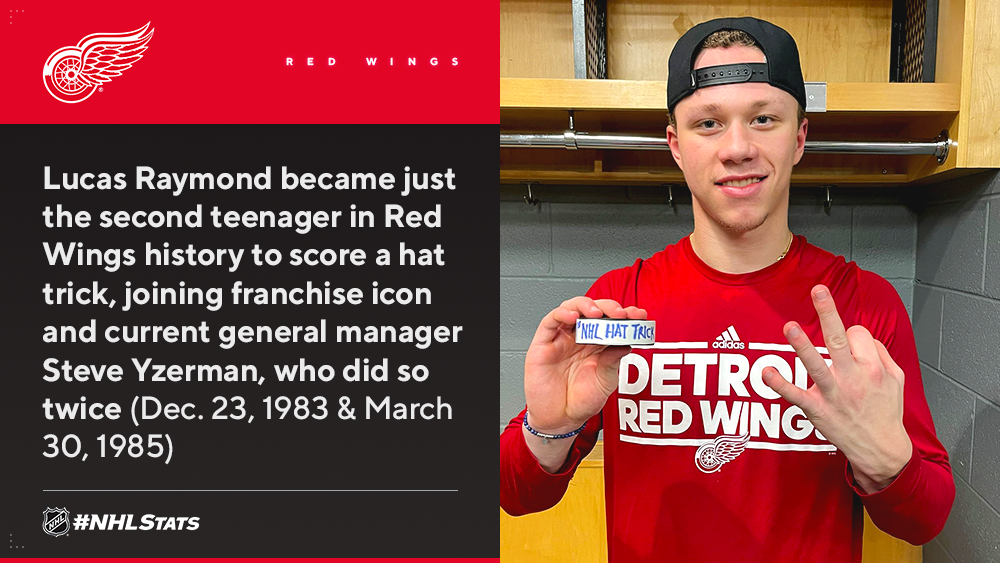 * Raymond joined teammate Tyler Bertuzzi (Oct. 14) as the second Red Wings player to record a hat trick this season and became the franchise's first rookie to notch three or more goals in a game since Johan Garpenlov (4-0—4) accomplished the feat on Nov. 23, 1990.
* Raymond (19 years, 210 days) is only the third teenager in Red Wings history to record at least four points in a game, joining Steve Yzerman (3-1—4 on Dec. 23, 1983; 18 years, 228 days) and Gordie Howe (0-4—4 on Dec. 17, 1947; 19 years, 261 days). He also became the NHL's first player age 19 or younger to register as many points in a single contest since Vancouver's Elias Pettersson (19 years, 355 days) posted 2-3—5 on Nov. 2, 2018.
BRUINS, PREDATORS HAND SHARKS, WILD FIRST LOSS OF SEASON
The Bruins (3-1-0) and the Predators (2-4-0) had their stars play pivotal roles on Sunday en route to handing their opponents their first loss of the 2021-22 campaign:
* Brad Marchand (1-1—2) scored 28 seconds after the opening face-off, while David Pastrnak (1-1—2) and Patrice Bergeron (0-2—2) also registered multi-point outings. Sunday marked the 30th regular-season game in which all three players had multiple points – tied for the highest such total among any three current teammates.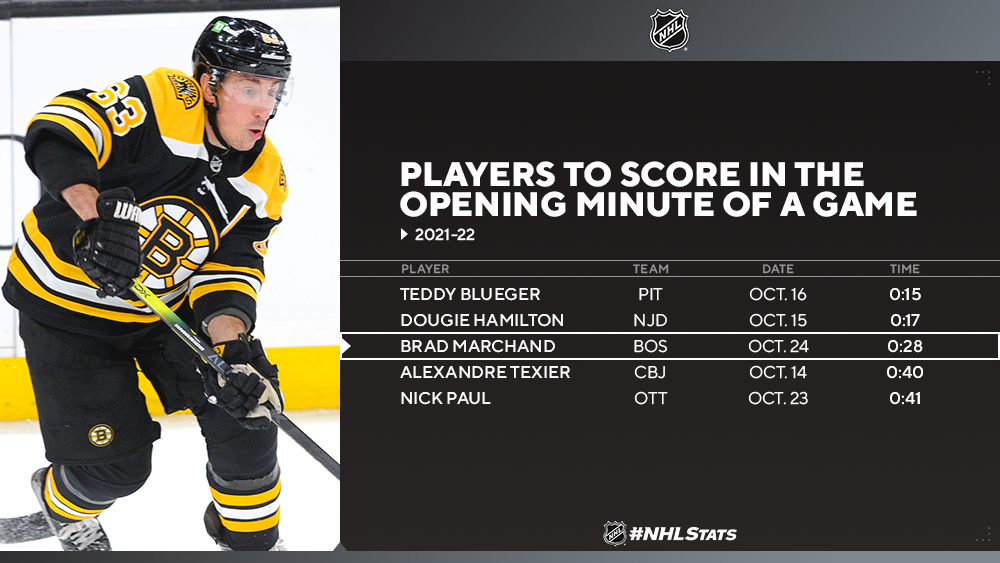 * Predators captain Roman Josi (1-3—4) factored on four of Nashville's five goals and fell one point shy of the Predators record for most by any player in a road game, a mark he holds a share of and matched on Feb. 27, 2018 (0-5—5).
MORE NOTES FEATURED IN ANOTHER EDITION OF #NHLSTATS: LIVE UPDATES
Click here to read the Oct. 24 edition of #NHLStats: Live Updates, which features more notes from Sunday, including Ilya Sorokin (42 saves) recording his second shutout in as many days for the Islanders.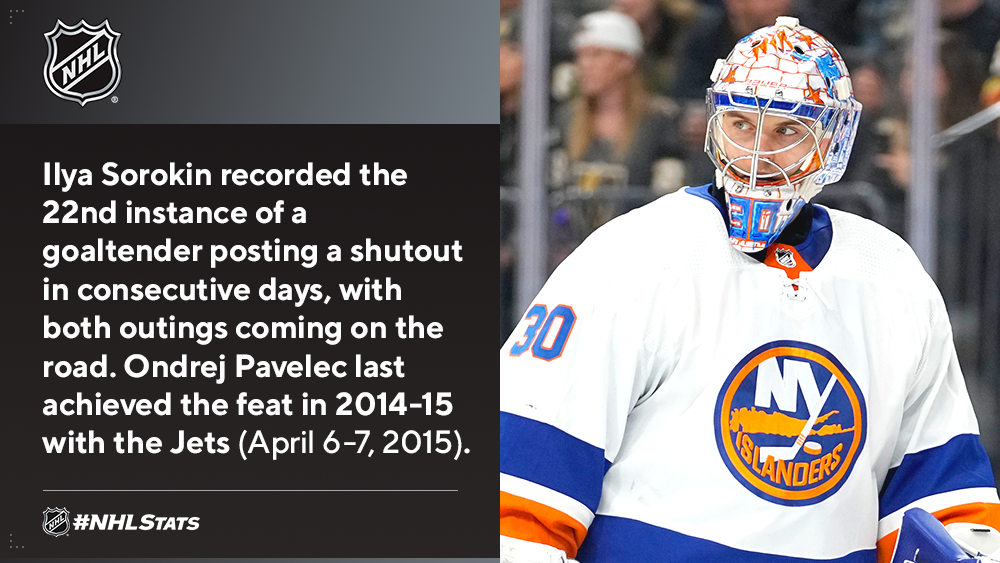 HURRICANES, MAPLE LEAFS SET FOR HOMETOWN HOCKEY SHOWDOWN. . .
The undefeated Hurricanes (4-0-0) host the Maple Leafs (2-3-1) at PNC Arena in what could be Frederik Andersen's first game against Toronto since signing with Carolina as a free agent in the offseason. Andersen also sports a 4-0-0 record in 2021-22 (1.75 GAA, .944 SV%).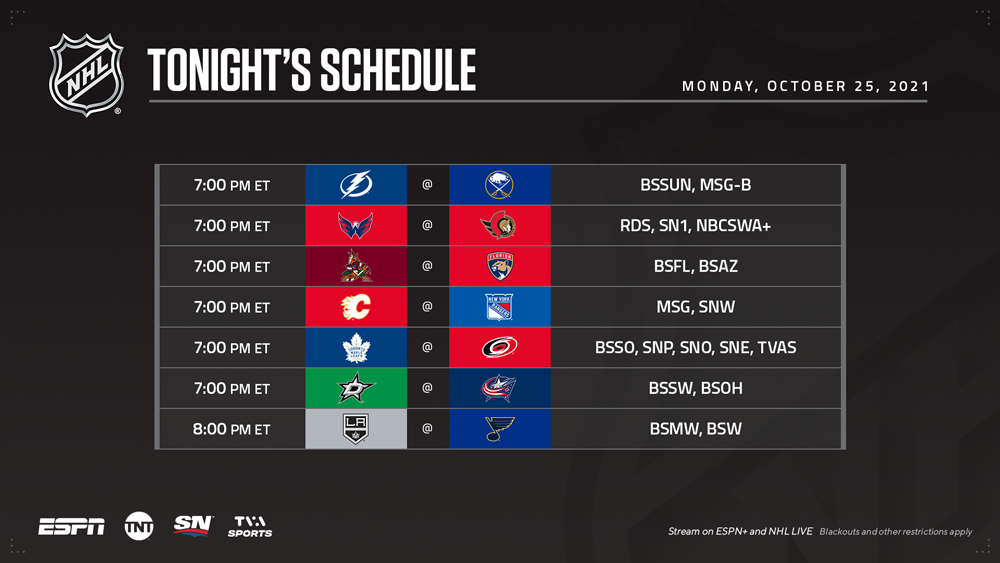 . . . BLUES AND PANTHERS ALSO LOOK TO REMAIN PERFECT IN 2021-22
The Blues (4-0-0) and Panthers (5-0-0) host the Kings (1-3-1) and Coyotes (0-4-1), respectively, with the hopes of completing another game without a regulation loss.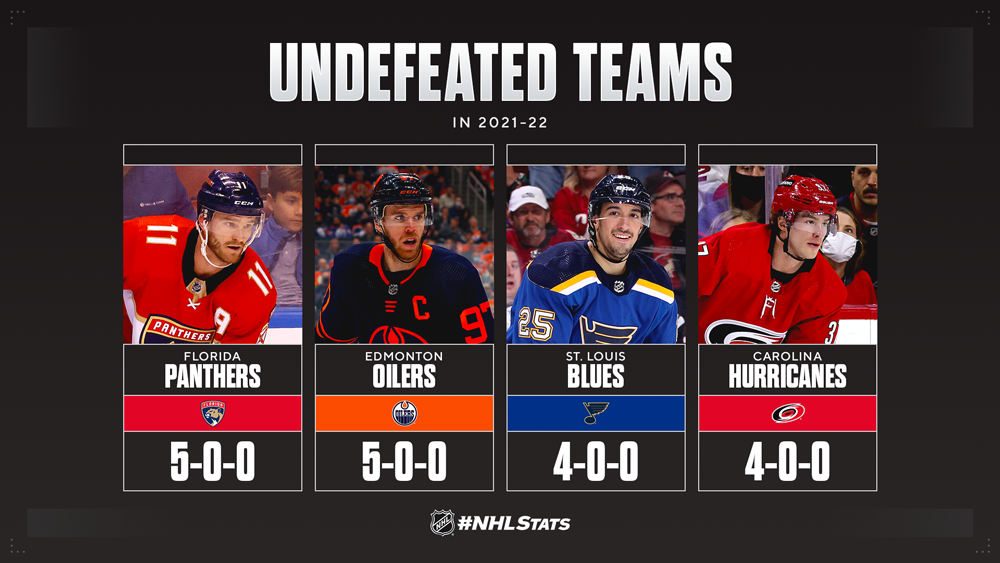 * Should both the Blues and Hurricanes improve to 5-0-0, the 2021-22 campaign would mark the first in NHL history to feature four teams each win their first five games to start a season. Only three campaigns in League history have featured three teams: 2019-20 (CAR: 5 GP, COL: 5 GP & EDM: 5 GP), 2006-07 (BUF: 10 GP, MIN: 6 GP & DAL: 5 GP) and 1983-84 (EDM: 7 GP, NYR: 5 GP & PHI: 5 GP).
* St. Louis has scored at least three goals in each of its first four games to start the season, including two seven-goal outputs. Should the team tally at least three times Monday, the Blues would become just the third team in 26 years to score 25 or more goals through their first five contests of a season. Toronto (25 in 2018-19 & 26 in 2017-18) and Vancouver (25 in 1995-96) both achieved the feat over that span.