* After the NHL's all-time leading goal scorer, Wayne Gretzky, welcomed hockey fans to the NHL on TNT and NBA legend Charles Barkley appeared as a special guest on the broadcast, Capitals captain Alex Ovechkin scored twice to surpass Marcel Dionne for fifth on the NHL's all-time goals list.* Ducks rookie Mason McTavish and Capitals rookie Hendrix Lapierre each scored in their NHL debuts, marking memorable nights for the teenagers.
* A total of 18 teams are in action during Thursday's slate, highlighted by a pair of NHL veterans set to make their debut with new clubs.

GRETZKY, OVECHKIN STAR ON TNT'S DEBUT BROADCAST
On the same night that Wayne Gretzky debuted on the NHL on TNT's first regular-season broadcast, Alex Ovechkin (2-2—4) continued his pursuit of 'The Great One' on the NHL's all-time goals list with a pair of markers to leapfrog Marcel Dionne (731) for sole possession of fifth place in NHL history.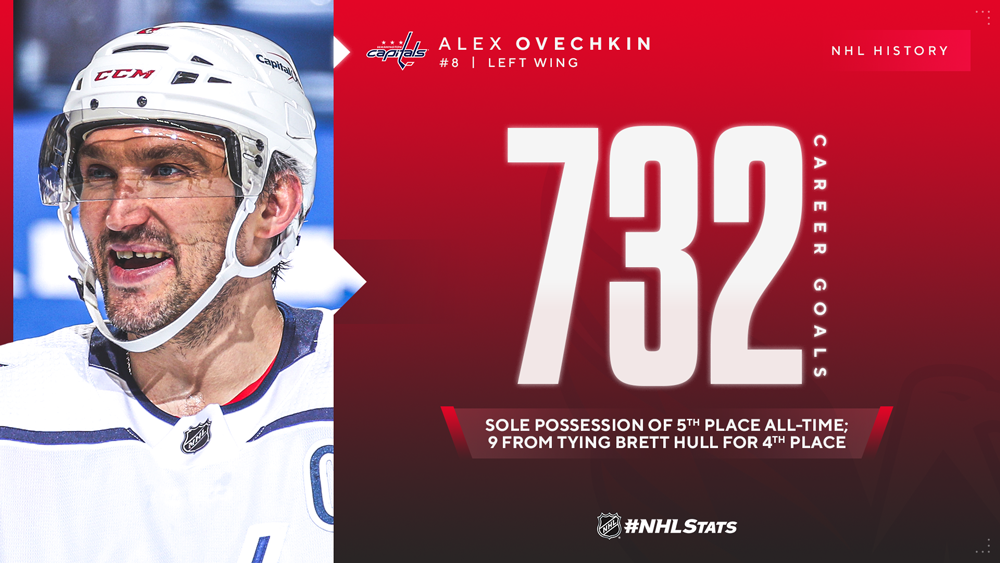 * Ovechkin added to his totals on both special teams. He improved his career power-play totals to 270-232—502 to join Joe Thornton (143-402—545 in 1,680 GP) as the second active player to record 500 points on the power play and moved within four of tying Dave Andreychuk (274) for the most power-play goals in NHL history. He also scored his fifth career shorthanded goal and first since Jan. 3, 2009.
* Ovechkin improved his career totals to 13-11—24 in 17 season-opening games — the most goals and points among active players in that category. Michel Goulet (14 goals in 13 GP) and Dino Ciccarelli (14 goals in 16 GP) are the only players in NHL history with more goals in season-opening contests.
* ICYMI: Ovechkin was mic'd up for the game and did an interview with Gretzky after the contest.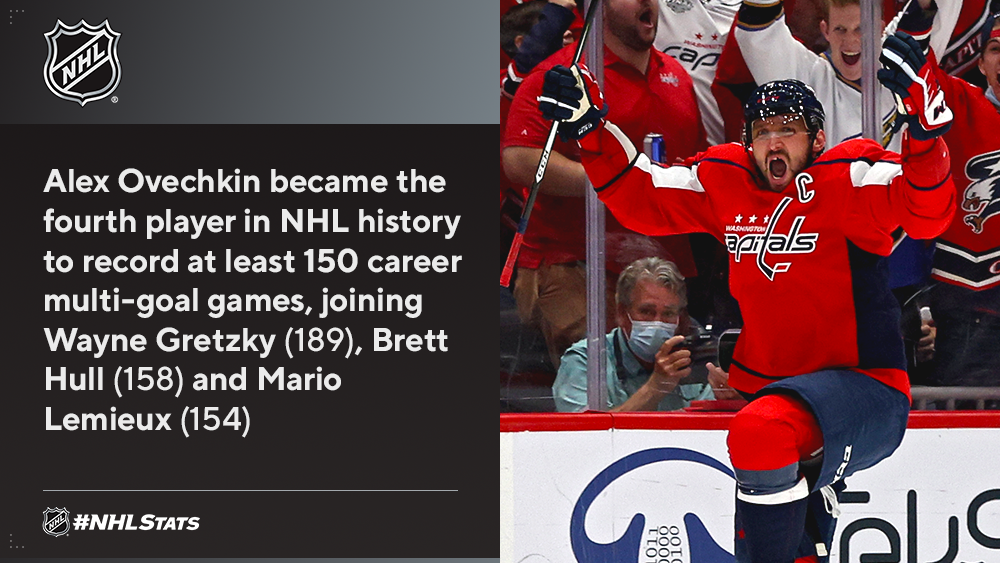 TEENAGERS McTAVISH, LAPIERRE SCORE IN NHL DEBUTS
Teenagers Mason McTavish of the Ducks and Hendrix Lapierre of the Capitals each had memorable NHL debuts, highlighted by exuberant first-goal celebrations:
* McTavish (18 years, 256 days) became the youngest player in Ducks history to score a goal, eclipsing the mark set by Oleg Tverdovsky (18 years, 259 days) on Feb. 1, 1995. The third overall pick in the 2021 NHL Draft also recorded a multi-point performance (1-1—2) — only two players in franchise history tallied more in their NHL debut with the franchise: Stanislav Chistov (1-3—4 on Oct. 10, 2002) and Alex Hicks (2-1—3 on Nov. 15, 1995).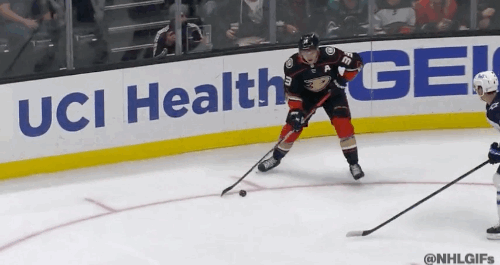 * Lapierre (19 years, 246 days), who was drafted 22nd overall in the 2020 NHL Draft, scored a highlight-reel goal while falling and became the seventh teenager in Capitals history to score a goal in his NHL debut. In a surreal moment, Lapierre suited up alongside childhood idol Ovechkin. Lapierre, a native of Gatineau, Que., wore an Ovechkin jersey when he attended his first NHL game as a young child to cheer on his favorite player when the Capitals visited the Senators.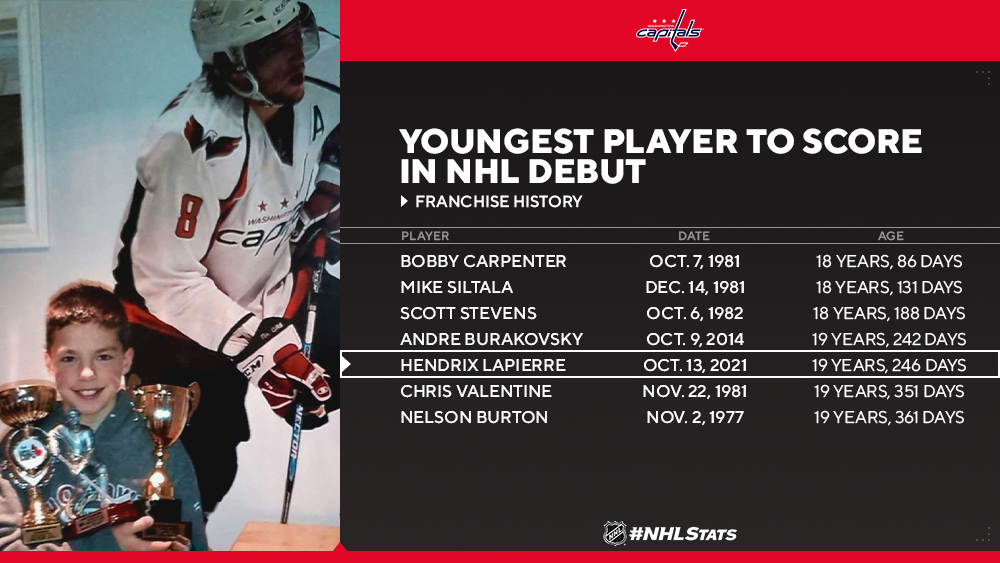 McDAVID, DRAISAITL CONTINUE SUCCESS IN SEASON OPENERS
Connor McDavid (0-2—2) and Leon Draisaitl (0-1—1) continued their history of producing right from the start of an NHL season as they each found the score sheet to help the Oilers withstand a Canucks two-goal, third-period rally to win in the shootout.
* McDavid, hot off a season that saw him average nearly two points per game (1.88 P/GP), recorded his first multi-point outing of the 2021-22 season to boost his career totals in season-opening contests to 6-5—11 (7 GP). The only players to record more such points with the Oilers are Wayne Gretzky (5-8—13 in 9 GP) and Jari Kurri (4-9—13 in 10 GP).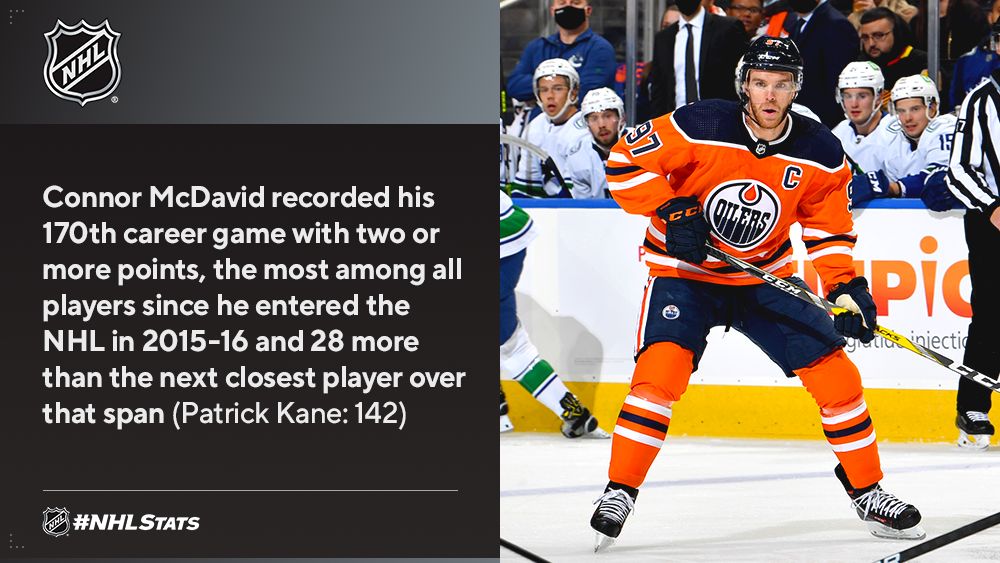 * Draisaitl has found the score sheet in each of his last six season-opening games dating to 2016-17 (2-8—10 in 6 GP). Only one Oilers player has posted a longer streak in season openers: Wayne Gretzky (7 GP from 1979-80 – 1985-86).
RATINGS: ESPN POSTS TOP NHL SEASON-OPENING DOUBLEHEADER ON RECORD
ESPN's opening-night broadcast on Tuesday set a new high-water mark as the most-viewed NHL season-opening doubleheader on record. Click here for the full release from ESPN PR. (Image: @ESPNPR).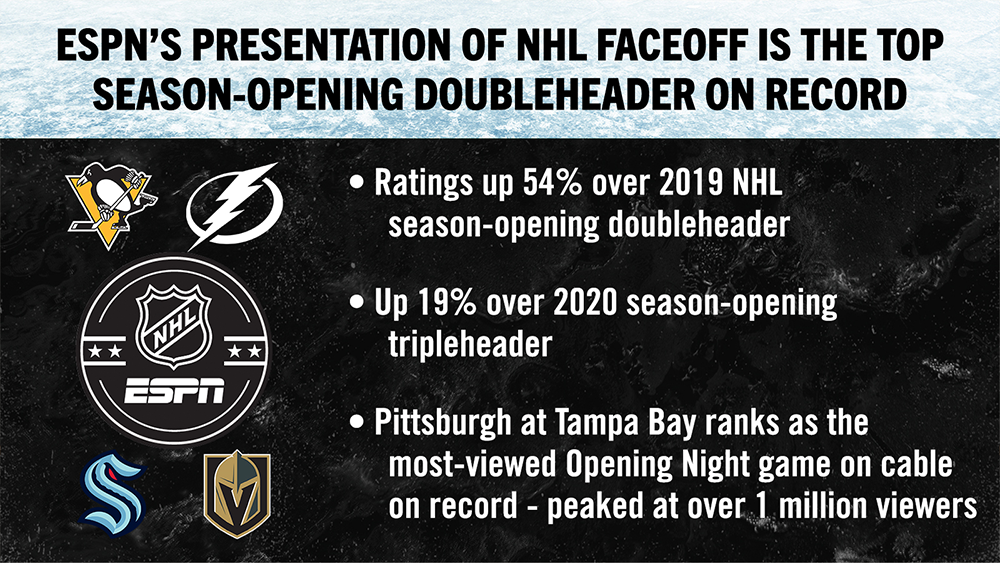 MORE FROM OPENING NIGHT AT #NHLSTATS: LIVE UPDATES
Night two of the 2021-22 season featured some notable performances, including the Maple Leafs and Capitals extending their win streaks in season openers to five games and the Avalanche improving to 21-1-1 at Ball Arena dating back to March 10, 2021 (including regular season and playoffs). Find the link to the blog prior to each day's games at @PR_NHL (Twitter and Instagram Story). Read more from Wednesday's live updates here.
QUICK CLICKS
* Charles Barkley vs. Wayne Gretzky in a shootout
* Islanders opening road stretch has lots of miles, intrigue
* DraftKings becomes sports betting, DFS, iGaming partner of NHL
* AHL announcer Jason Shaya comes out as gay, hopes to help others
* Celebrating Hispanic Heritage Month

CHARA, THORNTON SET TO MAKE DEBUT WITH ISLANDERS, PANTHERS
Veterans Zdeno Chara and Joe Thornton are set to debut with new teams when the Islanders visit the Hurricanes at PNC Arena and the Panthers host the Penguins at FLA Live Arena during a nine-game slate Thursday.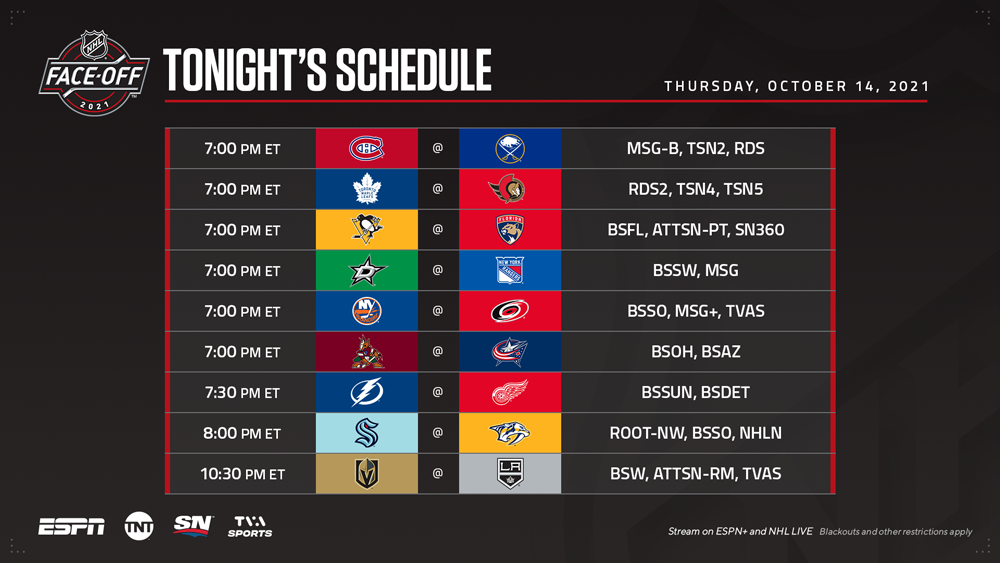 * Chara officially returns for his 24th NHL campaign when New York embarks on its season-opening 13-game road trip as it awaits the opening of UBS Arena, the longest such run in NHL history. Chara (44 years, 210 days) will become the oldest player in franchise history to appear in a game – the current mark is held by Ron Stewart (40 years, 256 days) on March 24, 1973.
* Thornton (42 years, 104 days) is also back for a 24th season and will become the second-oldest player to suit up for Florida. He would trail Jaromir Jagr, who joined the Panthers at age 43 and had 130 regular-season points across parts of three campaigns from 2014-15 to 2016-17 (49-81—130 in 181 GP).