* Countrymen Jesperi Kotkaniemi and Teuvo Teravainen combined for eight points as the Hurricanes blanked the Lightning and maintained their two-point lead on the Devils atop the Metropolitan Division.
* Timo Meier and Jonathan Quick made their debut for the Devils and Golden Knights, respectively, with the former opening the scoring within the first 10 minutes of the game and the latter making 25 saves to pick up a win.

* Three of the NHL's five 40-goal scorers will be on the ice when the Oilers visit the Sabres on Hulu, ESPN+, Sportsnet and TVA Sports (7:30 p.m. ET). In other action Monday, the Senators – one of the League's top teams since the All-Star break – will look to extend their winning streak in pursuit of a playoff spot.

KOTKANIEMI, TERAVAINEN COMBINE FOR EIGHT POINTS IN SHUTOUT WIN
The Metropolitan Division-leading Hurricanes (41-12-8, 90 points) received a career-high five points from Jesperi Kotkaniemi (1-4—5) and a hat trick from Teuvo Teravainen (3-0—3) en route to their largest margin of victory in a home shutout in nearly 14 years.
* As they await the arrival of another Finnish-born player in Jesse Puljujarvi, Kotkaniemi and Teravainen became the first NHL teammates from the nation to combine for at least eight points in a game since Dec. 7, 2019 when Teravainen and Sebastian Aho totaled 3-5—8 (also for CAR).
* Teravainen's hat trick marked the seventh this season by a Hurricanes player, tied for the most in one season in club history – the other instance came in 1985-86 when the Whalers set the benchmark.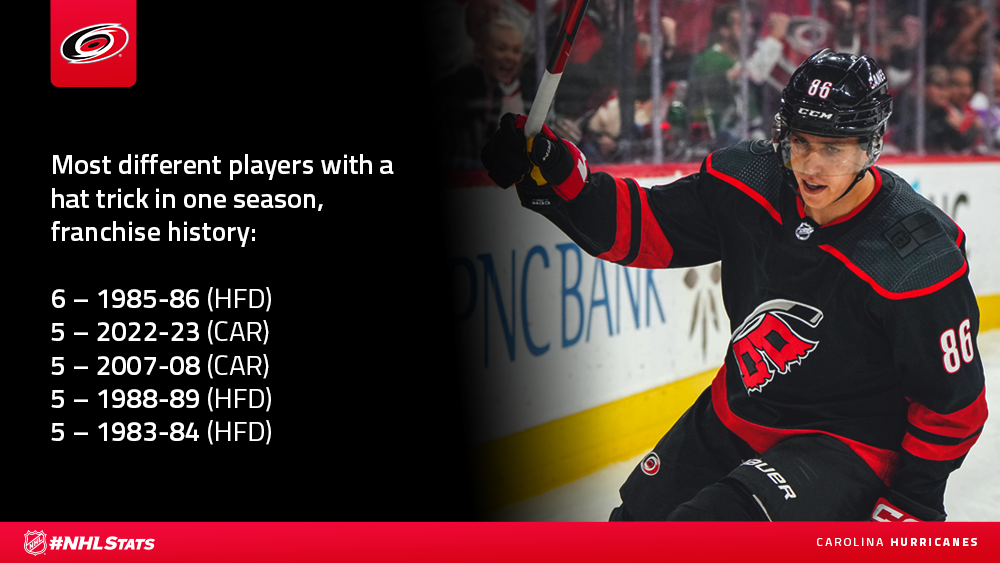 * Frederik Andersen became the third Carolina goaltender to record a shutout in 2022-23, marking the first time in Hurricanes team history that three netminders have had a shutout in the same season. It is the third such instance in franchise history, following 1984-85 and 1995-96.
* Shayne Gostisbehere continued his impressive start with the club by becoming the first defenseman in franchise history to score a power-play goal in each of his first two games with the club. Check out #NHLStats Live Updates for more notes on Gostisbehere.

OTHER NEW ADDITIONS HELP DEVILS, GOLDEN KNIGHTS GET VICTORIES
Shayne Gostisbehere wasn't the only recent acquisition who helped a team get a win Sunday:

* Timo Meier opened the scoring at 9:09 of the first period in his Devils debut. Dougie Hamilton (18-43—61 in 62 GP) had the primary assist on both the 1-0 goal and overtime winner and became the fifth defenseman in franchise history to record 60 points in a season – he required the fewest games among that cohort to reach the mark, eclipsing Scott Stevens (66 GP in 1993-94).

* Ivan Barbashev buriedhis first two goals in a Golden Knights uniform and Jonathan Quick (25 saves) earned a win in his team debut as Vegas (38-19-6, 82 points) vaulted past idle Dallas (34-16-13, 81 points) to reclaim first place in the Western Conference. Barbashev (2-3—5 in 4 GP) has five points since joining the Golden Knights, which trails only Brandon Pirri (6-0—6 in 4 GP) and James Neal (6-0—6 in 4 GP) for the most by a player through their first four games with the franchise.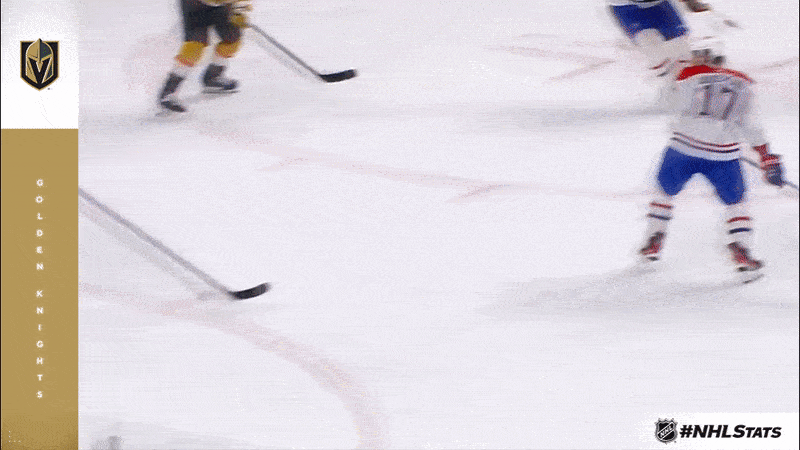 QUICK CLICKS
* Rangers Learn to Play kids graduate, skate at Rink at Manhattan West
* Zizing 'Em Up: Maple Leafs look to take next step after Deadline moves
* Trophy Tracker: Matty Beniers remains leader for Calder as rookie of year
* Indy 500 winner Marcus Ericsson on love of hockey
* Yanni Gourde scores overtime winner as Kraken rally past Avalanche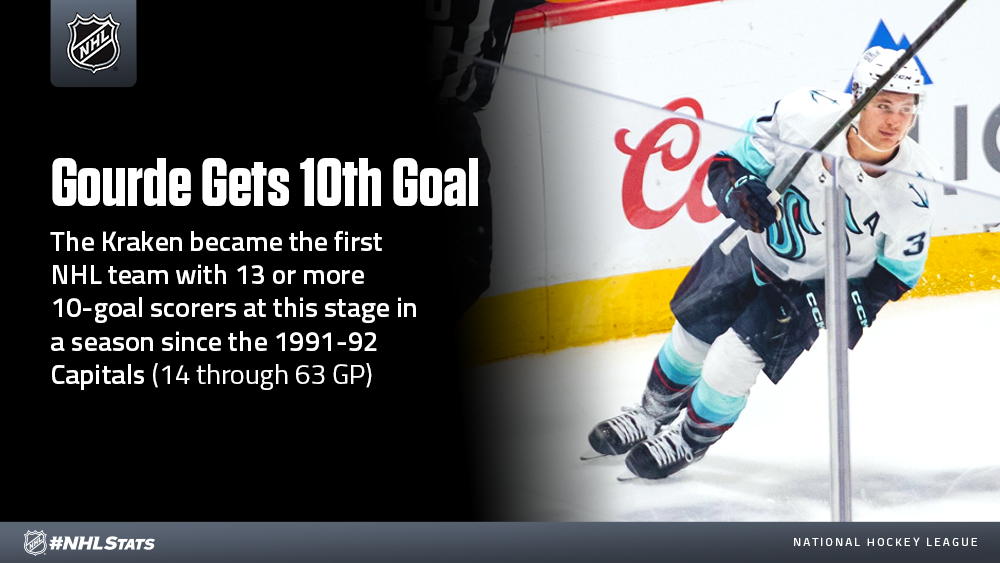 THREE 40+ GOAL SCORERS IN ACTION ON HULU, ESPN+, SPORTSNET & TVA SPORTS
With 40 days left in the 2022-23 regular season, 23 teams either hold a playoff spot or are within seven points of one – including the Oilers (34-22-8, 76 points) and Sabres (32-25-4, 68 points) who will square off in a broadcast that will air exclusively on Hulu and ESPN+ in the United States and on TVA Sports and Rogers Monday Night Hockey (Sportsnet) in Canada. The contest will feature three of the League's top five point-getters in Connor McDavid (52-70—122), Leon Draisaitl (41-55—96) and Tage Thompson (42-40—82).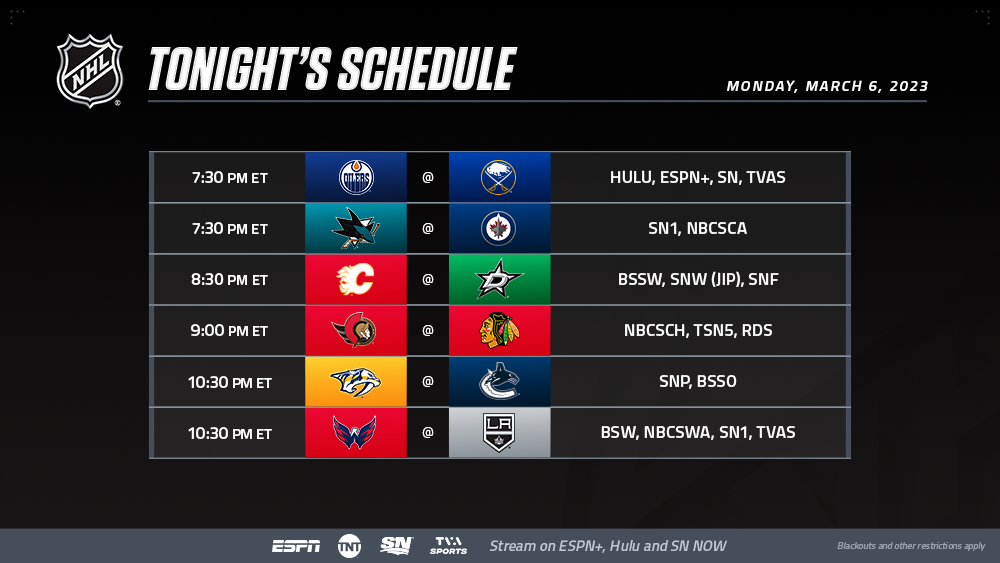 TOP PERFORMERS IN MONTH SINCE ALL-STAR BREAK
A look at some of the top performers since the regular season resumed following the All-Star break, exactly four weeks ago today:
* Edmonton's Connor McDavid tops all players with 11-19—30 over that span, finding the score sheet in 13 of 14 games including nine multi-point showings. McDavid, who holds a 26-point lead in the Art Ross Trophy race, has more points since the All-Star break than 77% of the League's players have all season.
* Colorado's Nathan MacKinnon scored his 12th goal over that span in the Avalanche's overtime loss Sunday, tying Minnesota's Kirill Kaprizov and Edmonton's Leon Draisaitl for the League lead.

* Minnesota's Filip Gustavsson tops the NHL in save percentage (.952) over that span (min. 5 GP) as he has posted a 6-1-2 record to help the Wild (36-21-6, 78 points) narrow the gap from eight to three points as they pursue the No. 1 seed in the Central Division.
* Boston's Linus Ullmark (6-0-0) and Ottawa's Mads Sogaard (4-0-1) are the only netminders with a minimum of four appearances since the All-Star break who have yet to post a regulation loss over that span.
* The Bruins, Devils, Golden Knights and Wild share the League lead with 20 standings points since the All-Star break, while Boston, Vegas, Los Angeles and New Jersey have the top four points percentages over that span.
* The Senators own an 8-3-1 record since the All-Star break and have the best points percentage over that span by a club not currently in a playoff position. Now holding a 32-26-4 record (68 points), Ottawa entered the All-Star break six points back of a Wild Card spot but have narrowed that gap to three points as they head to Chicago riding its longest winning streak since 2016-17 – the last time they qualified for the Stanley Cup Playoffs.