* Oilers captain Connor McDavid once again became the first player to reach the 100-point mark after posting two points in a potential First Round matchup against the Kings.
* For the third time in five days, there is a tie atop the NHL's goals list after Edmonton's Leon Draisaitl notched his 49th of the season to equal Toronto's Auston Matthews. Hot on their heels, New York's Chris Kreider picked up his 46th marker of 2021-22.
* With his first 50-goal season only one tally away, Auston Matthews will have a chance to regain the outright lead Thursday during a nine-game slate that is expected to see Jonathan Toews skate in his 1,000th regular-season game.
* The NHL released a Gender Equality Month feature on Brigette Lacquette, who in 2018 became the first First Nations woman to make the Canadian Women's Olympic Hockey Team and is currently an NHL scout for Chicago.



MCDAVID HITS CENTURY MARK FOR FIFTH TIME
Connor McDavid (1-1—2) hit the 100-point mark for the fifth time in seven NHL seasons to increase his lead in the Art Ross Trophy race, marking the fourth time in his career that he was the first player to 100 points in a season. The only other players in League history to be the first to reach the milestone in at least four campaigns are Wayne Gretzky (9x), Mario Lemieux (6x), Phil Esposito (6x) and Jaromir Jagr (4x).
* The 25-year-old Oilers captain became the second active player to accumulate at least five 100-point seasons – behind Sidney Crosby (6x in 17 NHL seasons) – and the sixth in League history to have as many before age 26.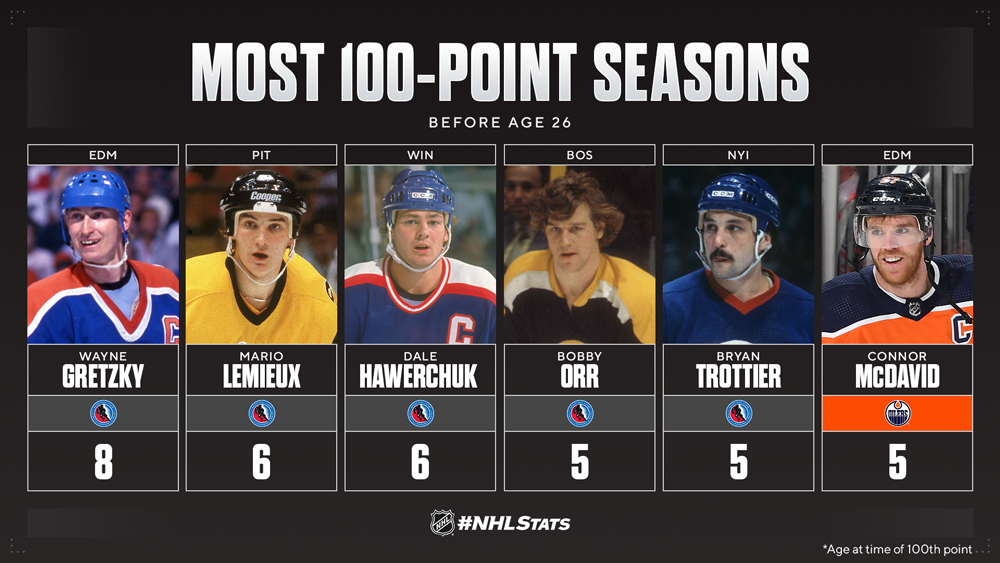 * McDavid, who had 97 points in 64 games when the 2019-20 season paused due to the COVID-19 pandemic, became the fourth player in Oilers history to record at least five 100-point seasons at any point in his career, following Gretzky (9x), Jari Kurri (6x) and Mark Messier (5x).
* McDavid also pushed his point streak to 11 games (8-13—21) and notched his 37th multi-point game of 2021-22 – a single-season career high (previous: 36 in 2018-19) and one shy of the most in one campaign by any active player.
* After joining the Oilers as a Scotiabank Skater on Thursday, five-year-old Ben Stelter was in attendance once again to witness McDavid's milestone night.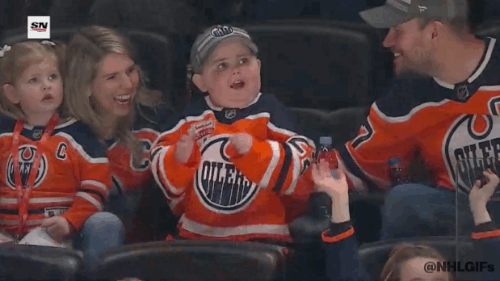 OILERS INCH CLOSER TO KINGS WITH WIN IN POTENTIAL FIRST ROUND MATCHUP
The Kings (36-23-10, 82 points) and Oilers (38-25-5, 81 points) battled back-and-forth in a potential 2022 First Round matchup, with each team tying the game before Edmonton emerged with a victory (thanks to shootout goals by Leon Draisaitl and Connor McDavid).
* The Oilers took the edge in the regular-season series (2-1-0; LAK: 1-1-1), with the finale set for April 7 in Los Angeles, and moved within one point of the Kings for second place in the Pacific Division.
* Edmonton and Los Angeles have been positioned for a matchup in the First Round every day since March 12, when the Oilers defeated the two-time defending Stanley Cup champion Lightning to climb into the No. 3 seed. Should they meet, it would be the eighth all-time playoff series between the clubs and first in 30 years – the Oilers eliminated the Wayne Gretzky-led Kings in the 1992 Division Semifinals.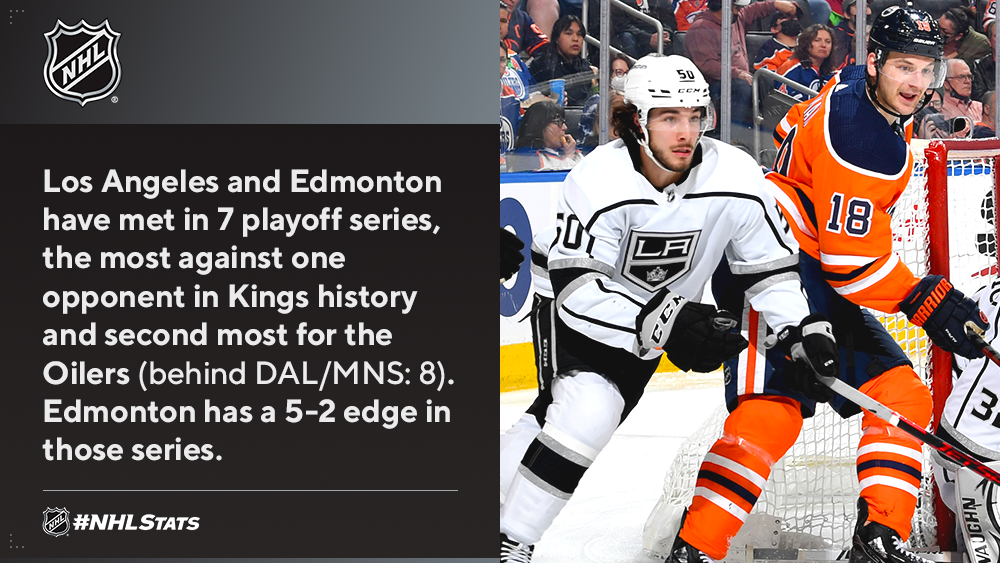 DRAISAITL, KREIDER SCORE AS "ROCKET" RACE PICKS UP
For the third time in five days, there is a tie atop the goals list after Edmonton's Leon Draisaitl notched his 49th of the season to equal Toronto's Auston Matthews. Hot on their heels, New York's Chris Kreider picked up his 46th tally of 2021-22 to further raise the Maurice "Rocket" Richard Trophy stakes.
* It has been 100 years since players from different Canadian-based teams shared the League lead in goals at the end of a season. The only time that happened was 1921-22 when Punch Broadbent of the original Ottawa Senators and Babe Dye of the Toronto St. Patricks topped the four-team league with 31 goals over the course of a 24-game season.

* Draisaitl needs one marker for his second career 50-goal season (50 G in 2018-19). He can become the third active player to reach the mark multiple times (Alex Ovechkin: 8x & Steven Stamkos: 2x) as he aims to become the first Oilers player to lead the NHL in goals at the end of a season since Wayne Gretzky tallied 62 goals 35 years ago (1986-87).

* Kreiderhelped the Rangers (44-19-5, 93 points) overcome the Red Wings in overtime to earn their 24th comeback win of 2021-22 – the most in the NHL – and open a three-point lead on the idle Penguins (40-18-10, 90 points) for second place in the Metropolitan Division. Kreider leads the League with 24 power-play goals, equaling a single-season franchise record set by Jaromir Jagr in 2005-06.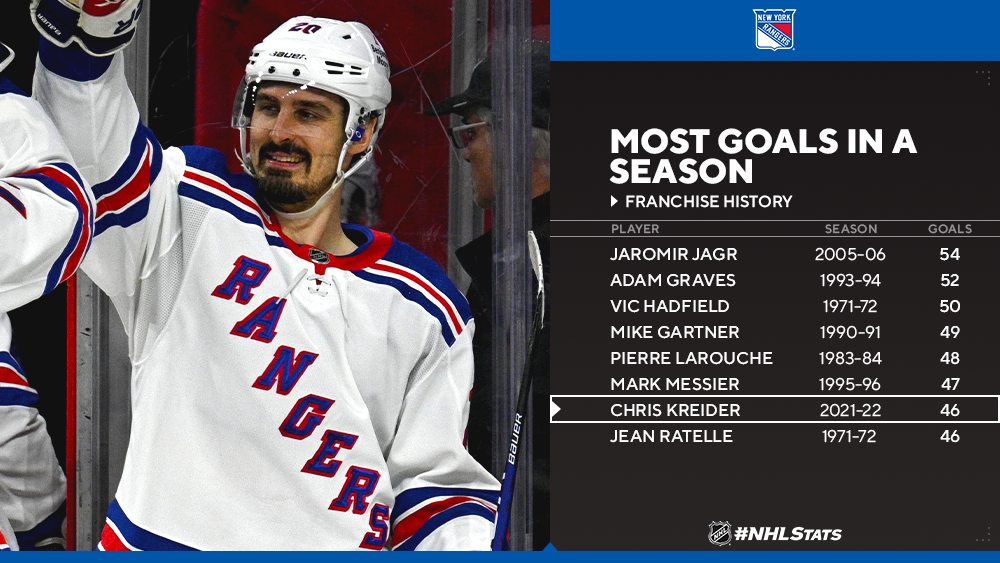 WESTERN CONFERENCE TEAMS EARN CRUCIAL WINS WEDNESDAY
Seven points separate a group of seven teams in the Western Conference (Nos. 4-10) following Wednesday's action:

* Jonathan Marchessault (1-1—2) factored on two Golden Knights goals and rookie Logan Thompson (22 saves) earned his first NHL shutout to propel Vegas (37-28-4, 78 points) back into the playoff picture, overtaking idle Dallas (37-25-3, 77 points) for the final Wild Card spot in the West.

* David Perron (0-2—2) climbed ahead of Al MacInnis on the franchise points list as the Blues (37-20-9, 83 points) staved off a rally by the Canucks (32-28-9, 73 points) – who now sit five points from the playoff line. St. Louis again leapfrogged idle Nashville (39-24-4, 82 points) for third place in the Central Division as the teams swapped positions for a fourth straight day.

* Blake Wheeler netted Winnipeg's first goal of the game before potting the shootout winner, while Connor Hellebuyck made 35 saves for his 13th career shootout victory to help the Jets (33-25-10, 76 points) move one point closer to the second Wild Card position.
GENDER EQUALITY MONTH: PREDS GIRLS DEVELOPMENT PROGRAM
With support from the NHL/NHLPA Industry Growth Fund, the Preds Girls Development Program launched in February 2021. The first session of the Development Program saw 75 new players from ages four to 17. The Predators will spend $299,000 over two years in support of the program.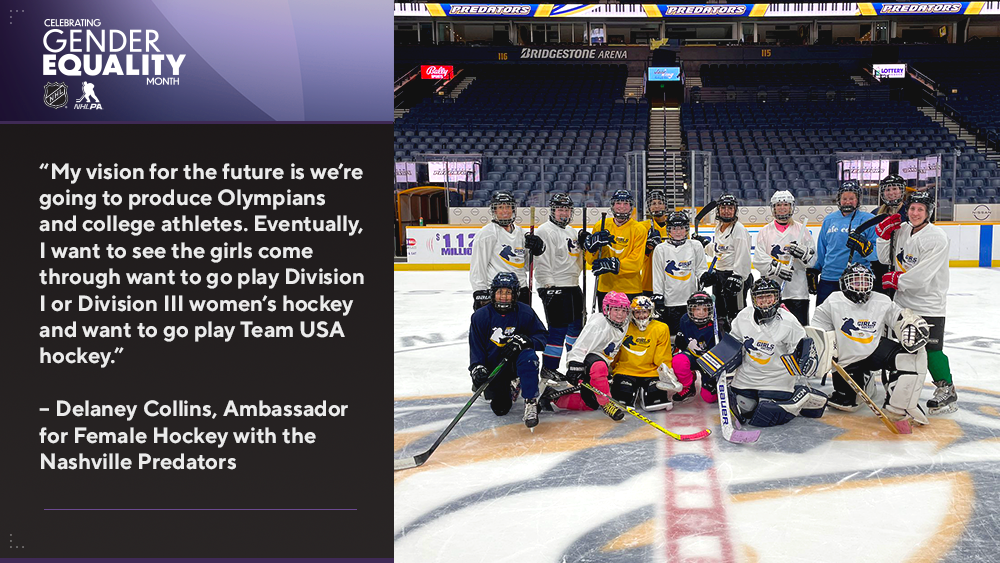 QUICK CLICKS

* Wednesday's Edition of #NHLStats: Live Updates
* Taylor Hall fined $5,000 for roughing in Bruins game
* Tanner Jeannot fined $2,000 for kneeing in Predators game
* Alex Goligoski signs two-year, $4 million contract with Wild
* Canucks celebrate First Nations Night with special orange warmup jerseys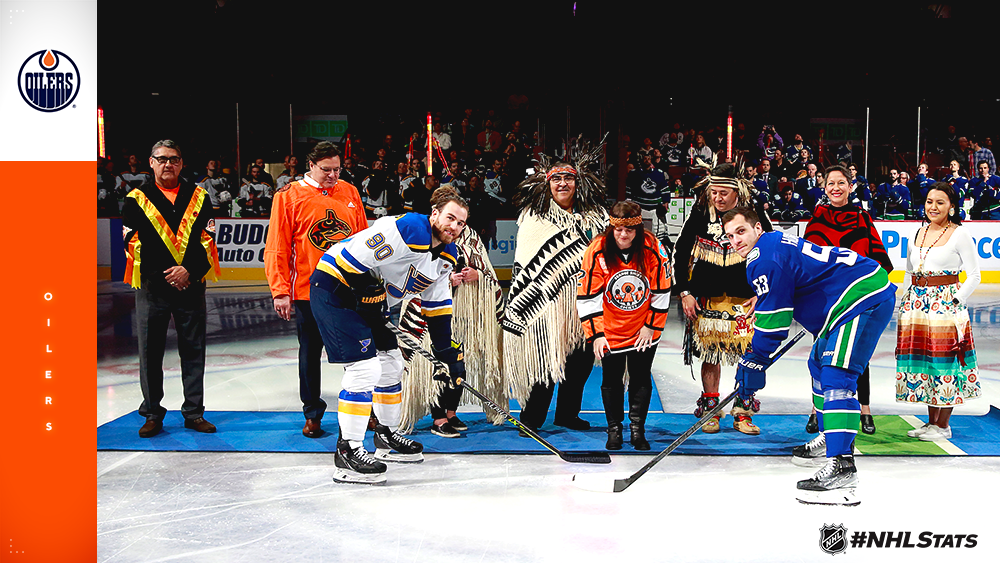 MATTHEWS EYES FIRST 50-GOAL SEASON IN ALL-CANADIAN SHOWDOWN
Auston Matthews (49-36—85 in 61 GP) can reach the 50-goal mark in a single season for the first time in his career when the Maple Leafs (42-19-5, 89 points) host the Jets (33-25-10, 76 points) at Scotiabank Arena. Only three players in franchise history have hit the mark, with Dave Andreychuk last doing so in 1993-94 (53 in 83 GP).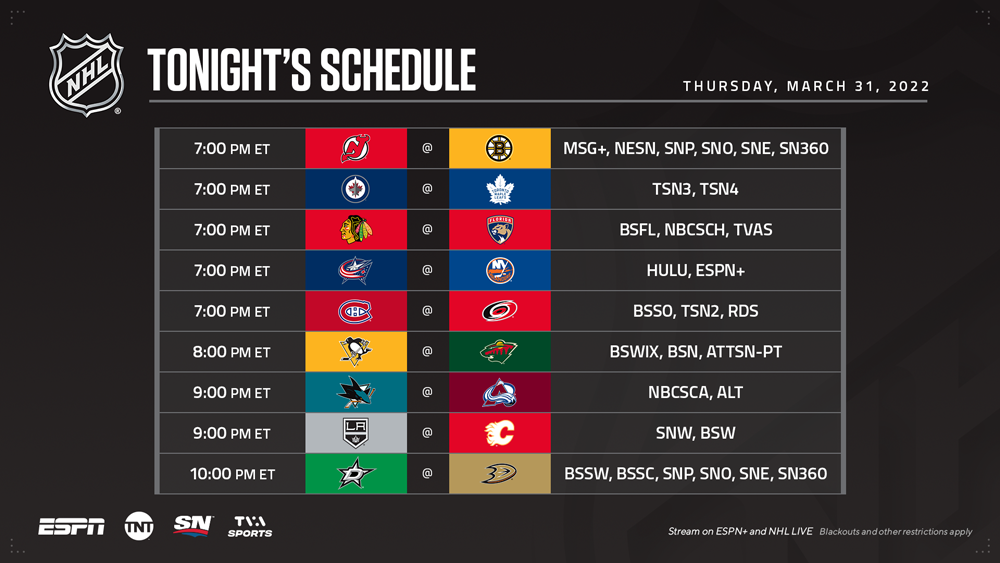 * Matthews, with 9-13—22 in 18 career games against Winnipeg, can become the seventh active player to produce a 50-goal campaign; Alex Ovechkin (8x; last: 2018-19), Steven Stamkos (2009-10 & 2011-12), Sidney Crosby (2009-10), Corey Perry (2010-11), Evgeni Malkin (2011-12) and Leon Draisaitl (2018-19) have all done so. Of the six active skaters mentioned, none reached the mark in 62 contests or fewer.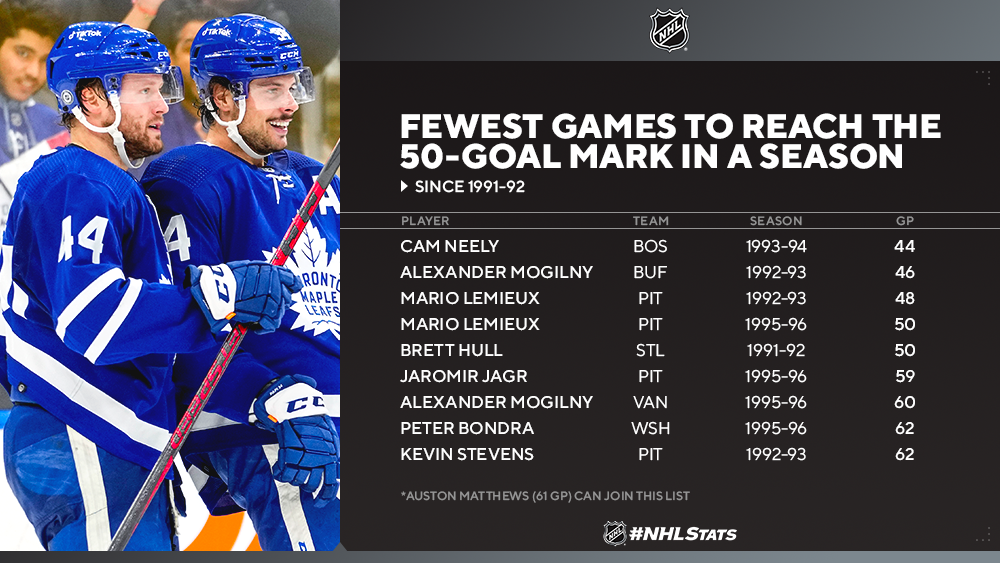 TOEWS READY FOR 1,000TH NHL GAME
Blackhawks captain Jonathan Toews (355-489—844 in 999 GP) is set to appear in his 1,000th career game when the Blackhawks (24-33-10, 58 points) travel to Florida to take on the Panthers (45-15-6, 96 points). Toews will become the 12th player to reach the milestone in 2021-22 and seventh since March 1 (Jack Johnson: March 1, Wayne Simmonds: March 5, Mark Giordano: March 5, Marc Staal: March 12, Nick Foligno: March 15 & Claude Giroux: March 17).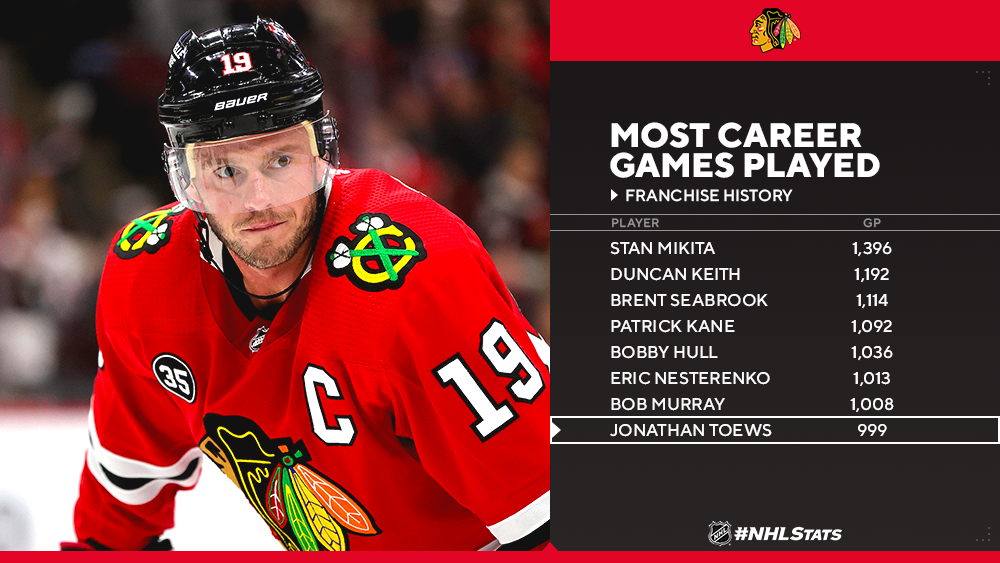 KAPRIZOV CAN REWRITE FRANCHISE HISTORY AS WILD WRAP UP HOMESTAND
Kirill Kaprizov (37-45—82 in 64 GP) can etch his name atop multiple franchise lists when the Wild (41-20-4, 86 points) put the NHL's longest active win streak (7-0-0 since March 16) on the line against the Penguins (40-18-10, 90 points) at Xcel Energy Center.

* Kaprizov, with goals in four straight games and 9-2—11 through his past 10, sits two points shy of eclipsing Marian Gaborik (42-41—83 in 2007-08) – the Wild's first-ever NHL Draft pick – for the most points in a single season in franchise history.