* The Penguins put on a show with an 11-goal performance their fans hadn't seen since the early 1990s – and that the NHL as a whole last witnessed in the early 2000s.

* Roman Josi joined the likes of Bobby Orr and Paul Coffey on a pair of notable lists as the Predators climbed the Central Division.

* Auston Matthews scored his 48th goal of the season and reclaimed the outright lead in the Maurice "Rocket" Richard Trophy race as the Maple Leafs defeated the Atlantic Division-leading Panthers in their first meeting of the season.

* The Kings, Oilers and Canucks each jostle for playoff position Monday in a highly-contested Pacific Division race, while the Hurricanes and Capitals face off in a potential 2022 Stanley Cup Playoffs preview.


PENGUINS THROW IT BACK WITH 11-GOAL SHOWING LED BY MALKIN HAT TRICK
Evgeni Malkin (3-1—4) netted his 13th career hat trick and factored on four of 11 goals for Pittsburgh, which saw 16 of its 18 skaters find the scoresheet, as the club posted the highest goal total by any team since 2003. With their win, the Penguins (40-17-10, 90 points) remained ahead of the Rangers (42-19-5, 89 points) for second in the Metropolitan Division and third in the Eastern Conference.

* The Penguins scored at least 11 goals in a game for the fifth time in franchise history and first time since Jaromir Jagr (1-5—6) led the club to an 11-5 victory against the Flyers on Nov. 16, 1993. Only two other teams in the past 26 years have scored 11 times in a single contest: the Capitals (12-2 W vs. FLA on Jan. 11, 2003) and Senators (11-5 W at WSH on Nov. 13, 2001).
* Malkin (13) surpassed Sidney Crosby (12) for the second-most hat tricks in Penguins history, behind only Mario Lemieux (40).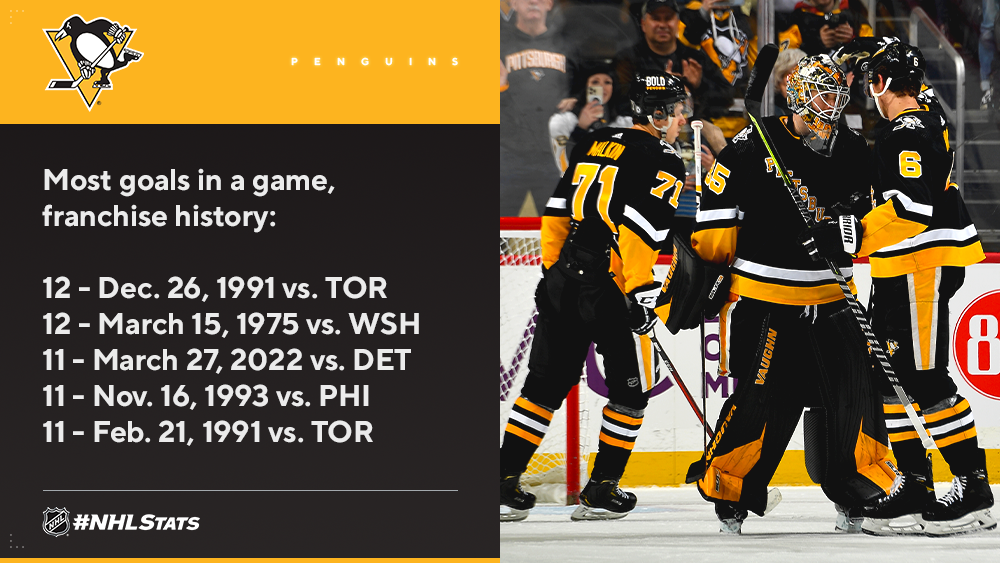 JOSI JOINS THE LIKES OF ORR AND COFFEY IN PREDATORS' COMEBACK WIN
Roman Josi registered two assists, including the primarily helper on the winning goal by Tanner Jeannot (1-2—3) – scored with 79 seconds remaining in regulation – as Nashville rallied to win after facing deficits of 2-0 and 3-1. The victory allowed the Predators (38-24-4, 80 points) to leapfrog the idle Blues (35-20-9, 79 points) for third place in the Central Division.

* Josi, who extended his career-high point streak to 13 games (4-24—28), boosted his season totals to 18-63—81 (64 GP) and became just the fifth defenseman in NHL history to reach the 80-point mark in fewer than 65 games. The last blueliner to achieve the feat as fast as Josi was Al MacInnis, who did so more than 30 years ago (62 GP in 1990-91).
* With Sunday's performance, Josi also placed his name on a list that previously included only Bobby Orr and Paul Coffey. Sitting at 28 points through 13 games in March, Josi can match or surpass the Hall of Fame members when the Predators play their next and final game of the month, Tuesday at home against Ottawa.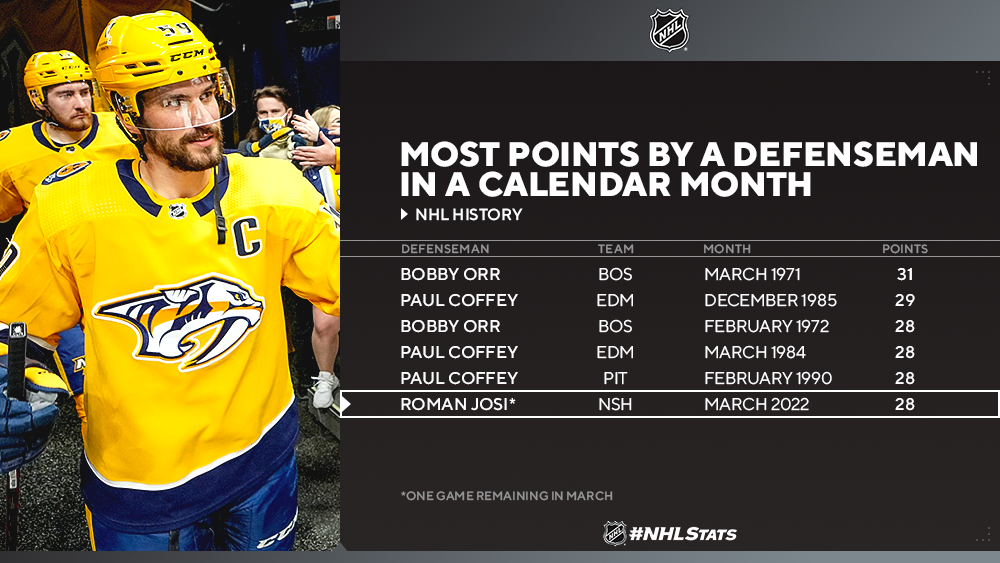 WILD, MAPLE LEAFS TAKE DOWN DIVISION LEADERS
The Wild and Maple Leafs each defeated the No. 1 seed in their respective division to improve their position in the rush to the 2022 Stanley Cup Playoffs. The victory allowed Minnesota to open a four-point cushion on second place in the Central Division, while Toronto ended a one-day stay in a Wild Card slot by jumping into third place in the Atlantic Division

* Kirill Kaprizov scored for a third straight game and moved within two points of equaling the single-season franchise record and Kevin Fiala (OTG) later thwarted an Avalanche comeback as the Wild claimed their sixth straight win. At 40-20-4 (84 points), the Wild added one point to their lead on second place in the division, now ahead of the Predators (38-24-4, 80 points) who climbed the standings Sunday.
* Mitchell Marner reached the 300-career assist milestone with his first of three helpers Sunday to power the Maple Leafs (41-19-5, 87 points) past the Atlantic Division-leading Panthers (44-15-6, 94 points) in the opener of their season series. Marner became the fastest in franchise history to reach the benchmark, while Auston Matthews regained sole possession of the League lead with his 48th goal of the season.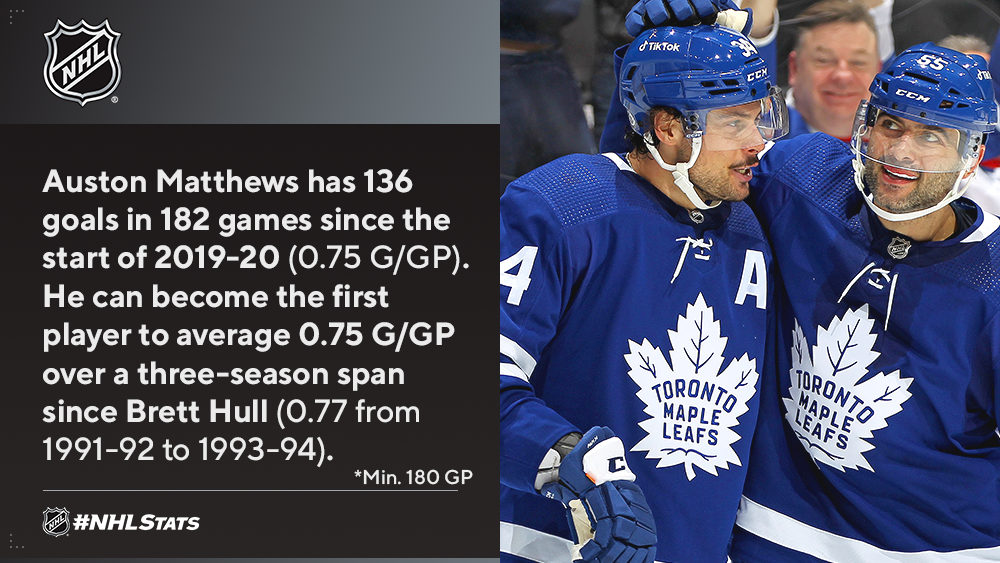 KEY POINTS CLAIMED AS EASTERN CONFERENCE JOCKEYING CONTINUES
Entering Sunday as the No. 3 seeds in the Atlantic and Metropolitan Divisions, respectively, the Lightning and Rangers each won to improve their position in the tightly-packed Eastern Conference standings:
* Andrei Vasilevskiy stopped 23 of 24 shots and also factored on Victor Hedman's seventh goal of March – tops among defensemen – to help Tampa Bay (41-18-6, 88 points) overtake idle Boston (41-19-5, 87 points) for second place in the Atlantic Division.
* Frank Vatrano kickstarted the game with two goals in an 18-second span – the fastest by a Rangers player since Jaromir Jagr in 2005 – and K'Andre Miller ended it with the overtime winner to help the Rangers (42-19-5, 89 points) stay within a point of the second-place Penguins (40-17-10, 90 points) in a tight Metropolitan Division where Nos. 1-3 are separated by just four points.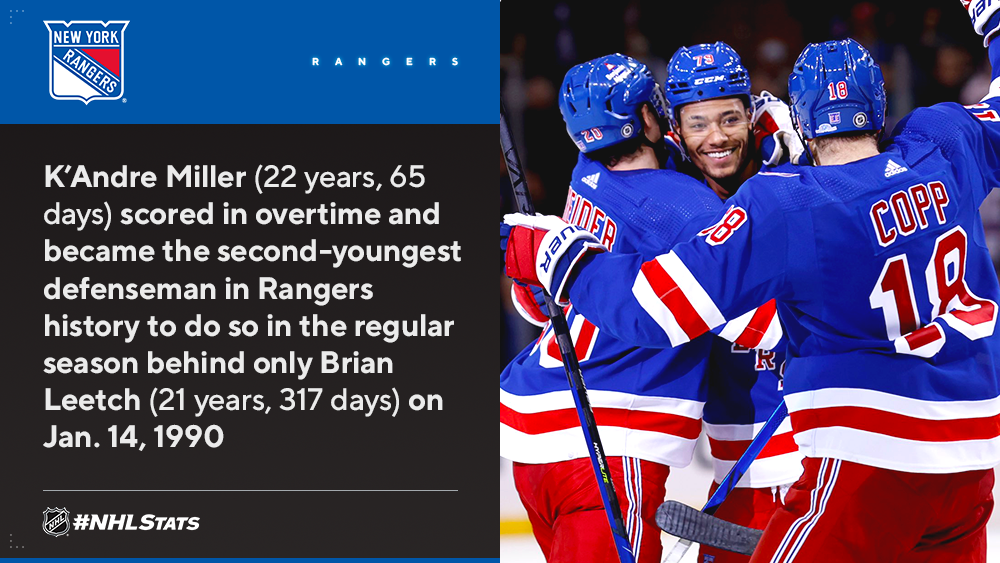 QUICK CLICKS
* Jets move within two points of playoff spot
* Canucks front office spotlights diversity with women as assistant GMs
* JackHughes talks Devils season, brothers Quinn, Luke in sit-down with NHL.com
* Todd McLellan reflects on philosophy en route to 1,000 games as NHL coach
* Penguins fan, Bryson, who beat cancer gets Brian Boyle's attention with handmade sign
PACIFIC DIVISION PLAYOFF PUSH TAKES SPOTLIGHT MONDAY
Pivotal Pacific Division games make up the majority of Monday's slate, with the Kings (36-22-9, 81 points) looking to strength their grip on second place ahead of the third-place Oilers (36-25-5, 77 points) and fifth-place Canucks (32-26-9, 73 points). Vancouver ranks fifth in the Wild Card race, with the Golden Knights (36-28-4, 76 points), another Pacific foe, currently holding the final playoff spot.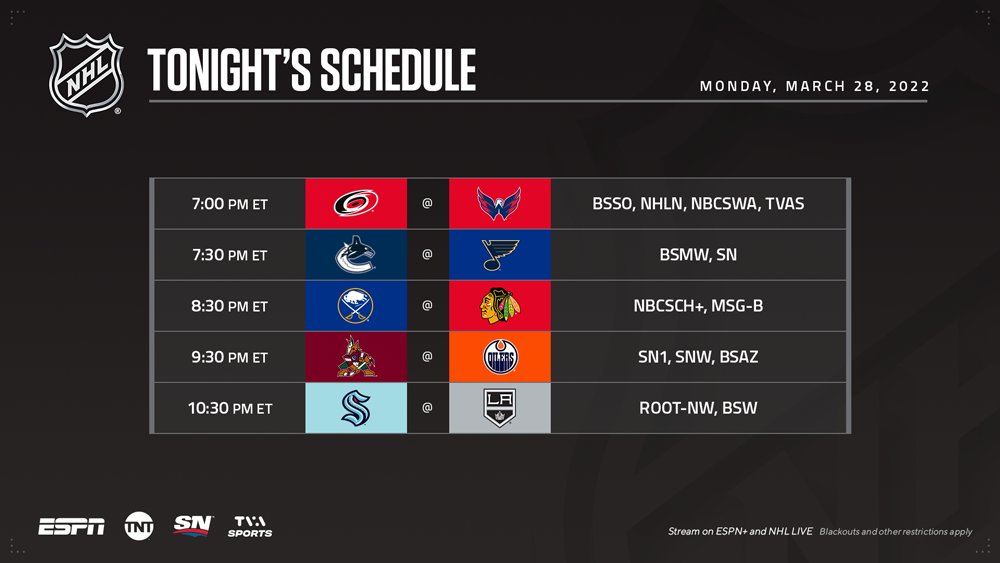 * Todd McLellan of the Kings is set to serve his 1,000th regular-season game as a head coach, which would make him the 31st in League history to do so, seventh active and second in five days (after Peter DeBoer, Thursday w/ VGK).
* Both the Oilers and Canucks are looking to make the playoffs after an in-season coaching change, something each club has done before (EDM: 1980-81; VAN: 1981-82, 1983-84, 1990-91 and 1995-96).
MARQUEE METROPOLITAN MATCHUP SET FOR MONDAY
A potential playoff preview is one of five matchups on the docket Monday, with the Hurricanes (43-15-7, 93 points) and Capitals (37-20-10, 84 points) set for their fourth and final regular-season meeting in 2021-22 (WSH: 3-0-0; CAR: 0-2-1). Washington has swept its season series with Carolina/Hartford on three occasions, most recently ahead of their only playoff meeting in 2018-19 (4-0-0).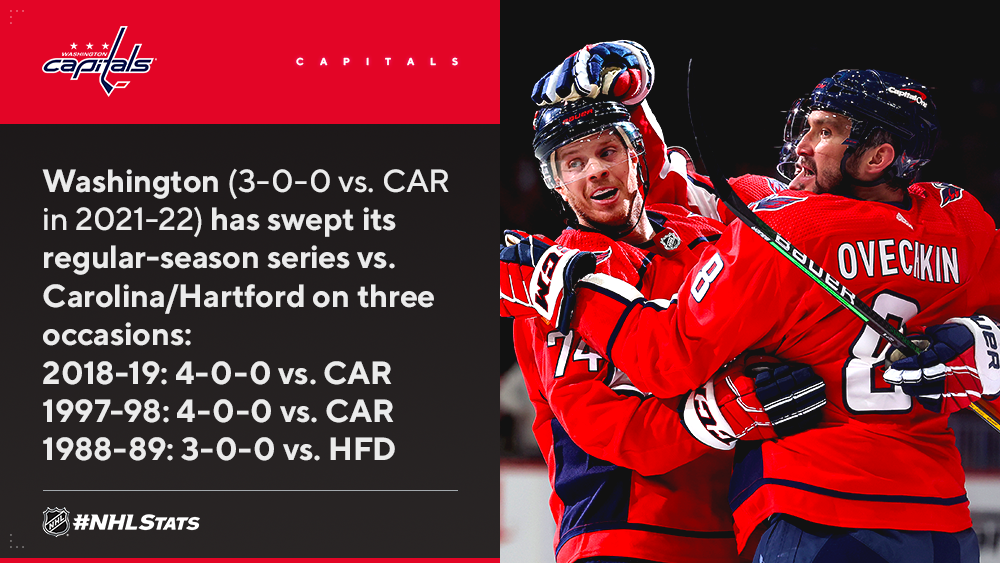 * A second playoff series in four seasons could be in the cards for the Metropolitan Division rivals as Carolina has held the No. 1 seed in the division for 65% of the season 2021-22 – including every day for the last five and a half weeks – while Washington has occupied a Wild Card position every day since Jan. 20. In the 2019 First Round, the Hurricanes overcame series deficits of 2-0 and 3-2 to eliminate the defending Stanley Cup champions – claiming their first series win a decade.
* Monday will be the first of a back-to-back set for Carolina, as they travel to Tampa to face the two-time defending Stanley Cup champion Lightning on Tuesday. After Tuesday, the Hurricanes play only two of their remaining 15 games against Eastern Conference clubs currently holding a playoff position (April 12 & April 26, both at NYR).