* Debuting their Justin Bieber-inspired jerseys, the Maple Leafs rallied to win their Next Gen Game and move up the Atlantic Division standings.
* J.T. Miller notched two points as the Canucks scored three times in the third period to defeat the League-leading Avalanche in their first of five consecutive games against teams currently in a playoff position.
* Trevor Zegras set a Ducks rookie record for assists, but 15-season NHL veteran Patrick Kane tallied three points and matched a franchise benchmark of his own during the second half of a TNT doubleheader.
* A 10-game Thursday is set to feature Claude Giroux's debut with the Panthers, Roman Josi's continued pursuit of a 100-point season and a 1,000th game milestone for Peter DeBoer.

MAPLE LEAFS DEFEAT NEW JERSEY, IN NEW JERSEYS
Wearing their new Flipside jerseys in collaboration with Justin Bieber – who was in attendance Wednesday – the Maple Leafs flipped the script of the man advantage, scoring two shorthanded goals en route to victory on Next Gen night in Toronto.
* The Maple Leafs (40-18-5, 85 points) claimed their 40th win of the season to overtake the idle Lightning (39-17-6, 84 points) for second place in the Atlantic Division, where Nos. 2-4 are separated by two points. Toronto plays seven of its remaining 19 games against either Florida (3), Tampa Bay (2) or Boston (2).
* Auston Matthews (0-1—1) and Mitchell Marner (1-0—1) each found the scoresheet Wednesday to match and set single-season career highs in points (80) and goals (27), respectively.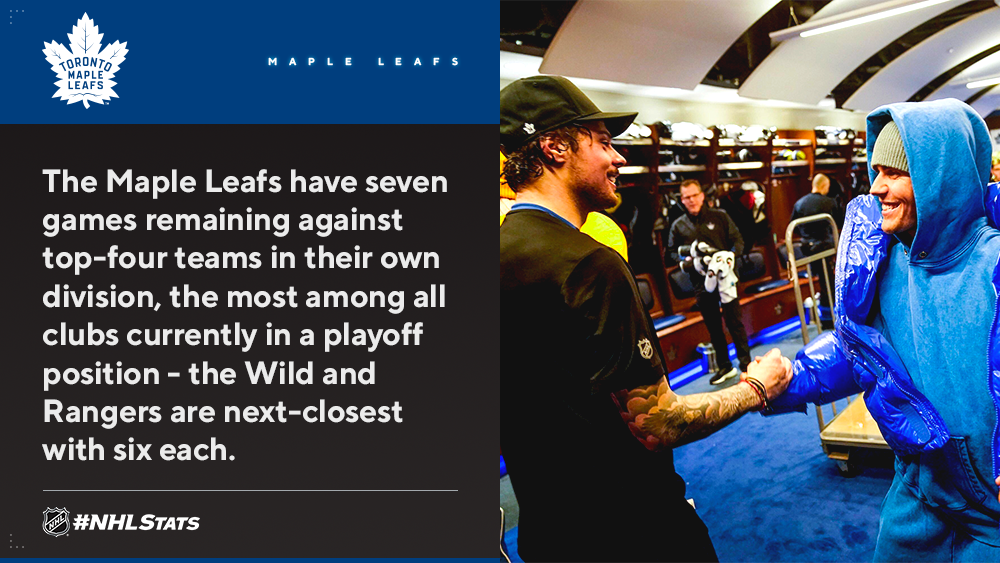 * The Maple Leafs received shorthanded goals from both Ilya Mikheyev and Pierre Engvall, marking the second time this season the club has tallied two in a game. This is the only season in the past 30 years in which Toronto has had multiple games with two or more shorthanded goals.
* Toronto, which moved into the NHL lead for shorthanded goals this season (10), ranks among the top five in both power-play percentage (1st) and penalty kill percentage (5th). Since 1977-78 (the first season with League-wide percentages for special teams), the Maple Leafs have yet to finish a campaign ranked among the top five in each category.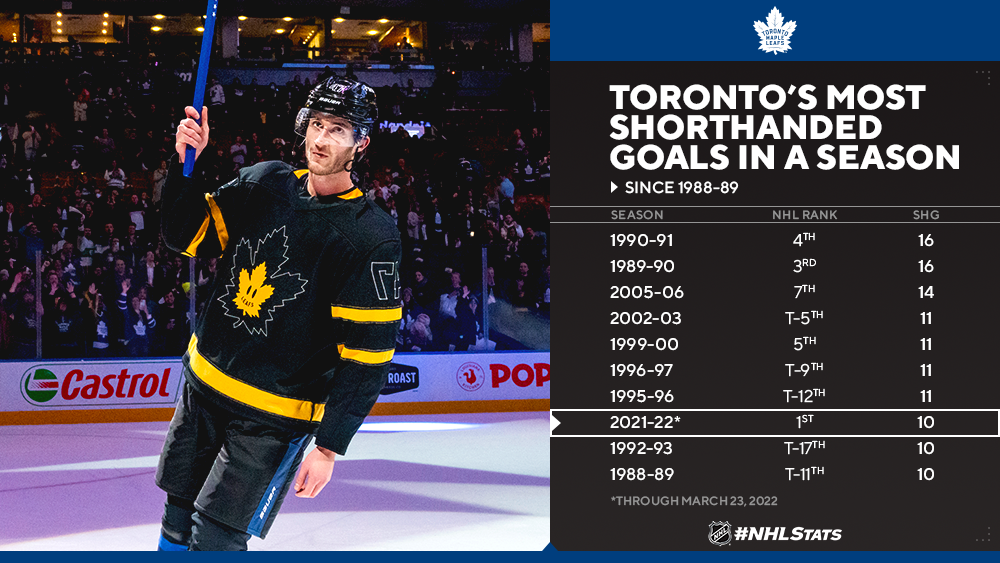 CANUCKS EDGE TOP-RANKED AVALANCHE, NARROW GAP IN PLAYOFF PUSH
Visiting the League-leading Avalanche (45-14-5, 95 points), the Canucks (31-26-8, 70 points) scored three times in the third period – with J.T. Miller (1-1—2) and Tanner Pearson (0-2—2) each notching two points – to climb within three points of a playoff spot.
* Vancouver is among a group of five clubs separated by five points in the Western Conference, with Edmonton (75 points), Dallas (73 points), Vegas (72 points) and Winnipeg (70 points) ahead of them in the standings. The Canucks have six games remaining against those clubs (3 vs. VGK, 2 vs. DAL, 1 vs. EDM) and swept their regular-season series against the Jets (VAN: 3-0-0; WPG: 0-2-1).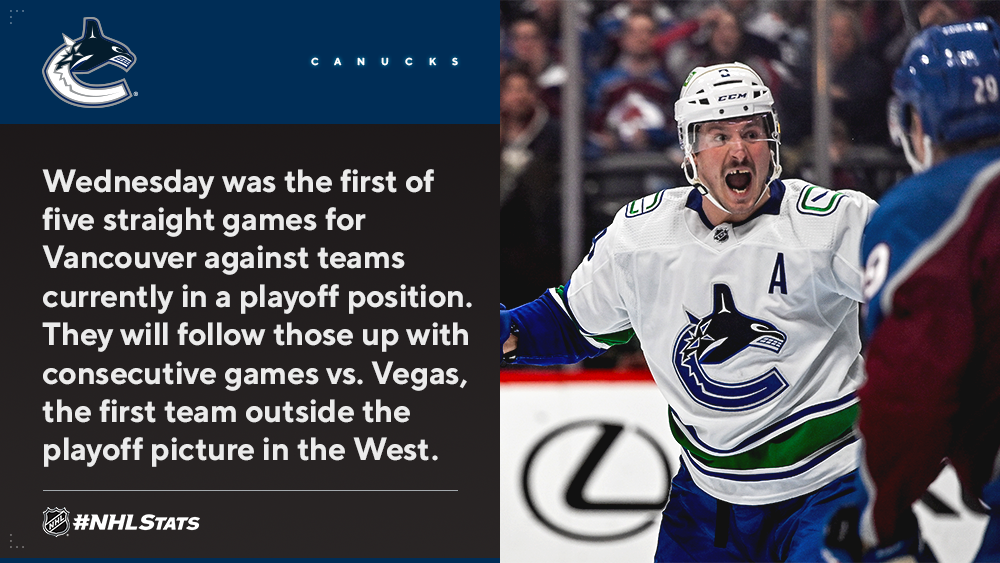 KANE NOTCHES THREE POINTS, HITS 20-GOAL MARK ON TNT
Playing in the nightcap of a doubleheader on TNT, Patrick Kane (1-2—3) reached the 20-goal mark for the 14th time in his 15-season career – with the lone exception being the condensed 2020-21 campaign – to help the Blackhawks win their seventh straight meeting with the Ducks dating to Feb. 27, 2019. That is Chicago's second-longest active winning streak against one opponent (8 GP vs. OTT).

* Kane, who tied Blackhawks legend and Hall of Fame member Stan Mikita for the most 20-goal seasons in franchise history, also recorded his 99th career three-point outing – only Sidney Crosby (130) and Alex Ovechkin (108) have more since his NHL debut in 2007-08.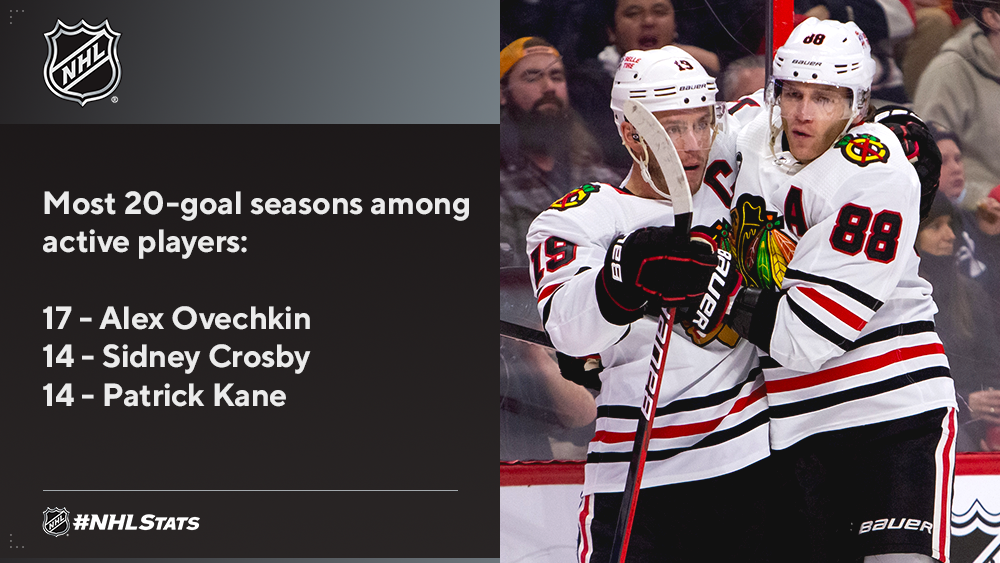 CROSBY CLIMBS ALL-TIME POINTS LIST ON #NHLSTATS: LIVE UPDATES
Sidney Crosby, who has been held off the score sheet just twice since returning from the All-Star break, tallied a goal and an assist to boost his totals to 11-15—26 over that span, tops on the Penguins. The multi-point effort brought Crosby's career totals to 509-882—1,391 (1,092 GP) as he tied Hall of Fame member Brett Hull (741-650—1,391 in 1,269 GP) for 24th place on the NHL's all-time points list.

* Find more stats like these in the latest edition of #NHLStats: Live Updates.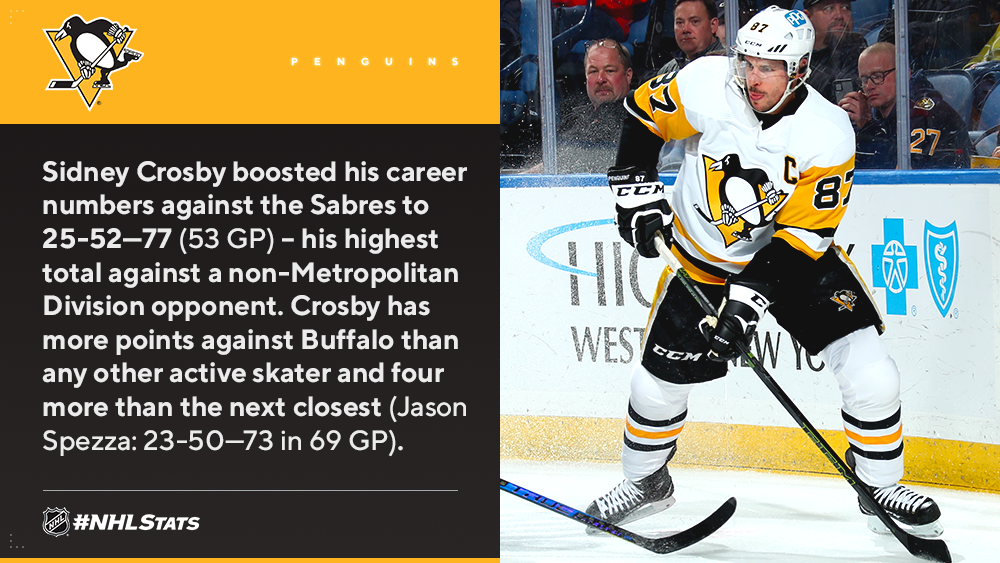 QUICK CLICKS
* Evgenii Dadonov trade canceled
* Will Arnett plays goal vs. Wayne Gretzky, TNT crew
* Top free agents who can sign in NHL playing in NCAA Tournament
* Peter DeBoer took unique journey on road to coaching 1,000 games in NHL
* 'NHL Tonight' first all-women broadcast stands out by staying the same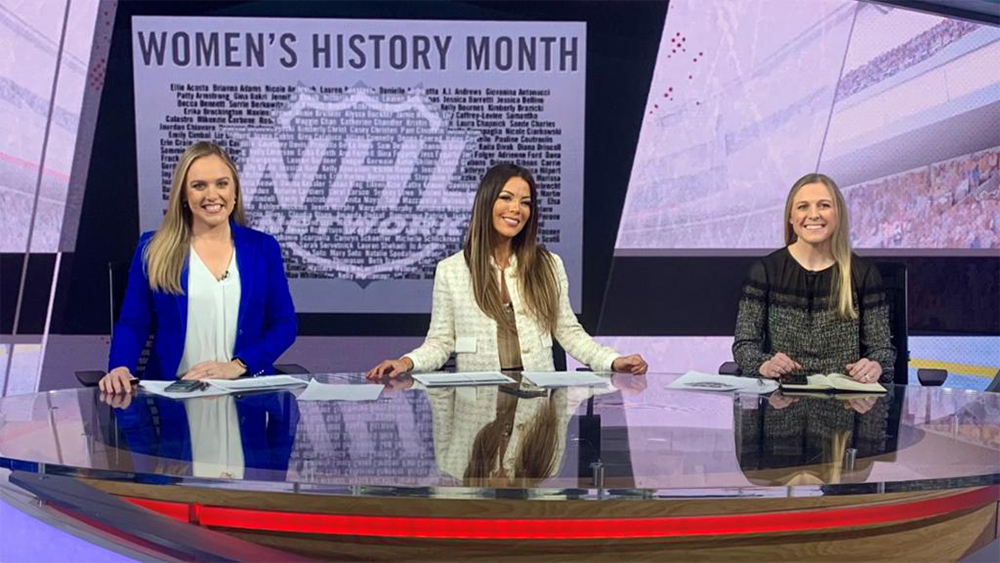 STORYLINES TO WATCH THURSDAY: JOSI POINT STREAK, PANTHERS DEBUT FOR GIROUX
A 10-game Thursday will feature Claude Giroux making his debut with the Panthers (42-14-6, 90 points), while Roman Josi (18-60—78 in 62 GP) looks to extend the NHL's longest active point streak when the Predators (37-23-4, 78 points) conclude their road trip with a matchup against the Golden Knights (34-28-4, 72 points).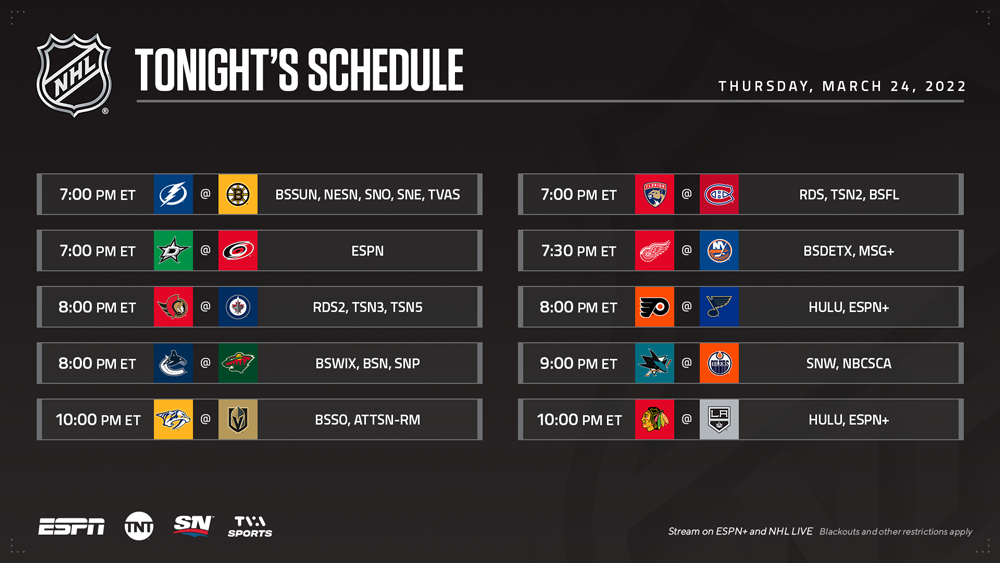 * Exactly one week after skating in his 1,000th and final game in a Flyers uniform, Giroux enters his Panthers debut with 291-609—900 (1,000 GP) in his career. His totals are the second most among all players on Florida's roster, behind only 24-season NHL veteran Joe Thornton (430-1,106—1,536 in 1,707 GP).
* Josi, who has found the score sheet in every game in March (11 GP), will aim to extend his point streak to 12 contests Thursday which would match his career high (12 GP in 2019-20) and trail only J-P Dumont (16 GP in 2007-08) for the longest in franchise history. The Predators captain leads all players in scoring through March with 4-21—25 (11 GP) and can become just the fourth different defenseman in NHL history to record 26 or more points in a calendar month.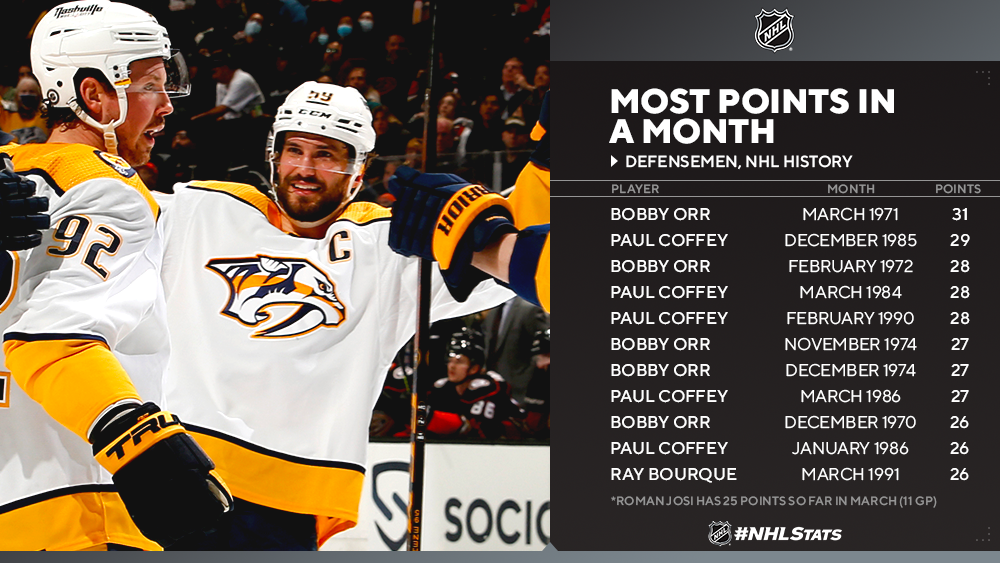 * The Golden Knights will look to regain a playoff position as head coach Peter DeBoer gets set to serve his 1,000th regular-season game as head coach. He can become the 30th head coach in League history to reach the mark and the sixth active, with Todd McLellan (997 GC) of the Kings on track to follow him as the seventh Monday.