* A high-scoring affair between the Canadiens and Panthers began with seven goals through the first 10 minutes of the contest and saw the first period conclude with Florida becoming the fourth different team in NHL history with a seven-goal opening frame.

* Storylines were aplenty in the Pacific Division on Thursday, including Connor McDavid's 131st point of 2022-23 and the Kraken boosting their season-to-season improvement to 23 points.
* Sidney Crosby recorded his 82nd and 83rd point of 2022-23 to clinch his 18th career point-per-game season – one shy of the Great One for the most in NHL history.


THE COUNTDOWN IS ON: ONE MONTH UNTIL 2023 STANLEY CUP PLAYOFFS
After an 11-game Thursday that included 21 teams entering play either in a playoff spot or within six points of one, and saw nine of those teams gain points in the standings, we enter Friday one month away from the start of the postseason. The 2023 Stanley Cup Playoffs are set to begin on Monday, April 17th.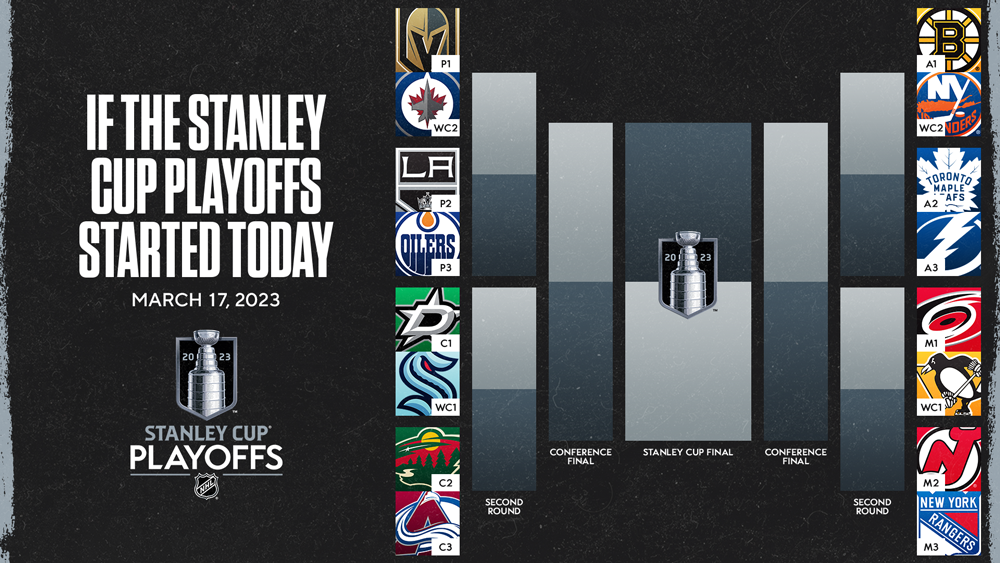 * There is a tight race for the top seeds in three divisions entering the final month, with five points separating the top three clubs in the Central Division, two points separating the top two teams in the Metropolitan Division and one point separating the top two teams in the Pacific Division.

* Eight points separate the Wild Card clubs in the Eastern Conference and the next four teams outside the bracket. Meanwhile, 11 points is the difference between first and eighth place in the Western Conference – the smallest margin between Nos. 1-8 in a conference at the end of any season is 10 points.

* Since Jan. 1, the No. 1 seed in the Western Conference has changed 12 times, including four times between Vegas and Dallas since March 1.

* Since Feb. 1, Vegas, Dallas and Boston have all had six different First Round matchups.

PANTHERS POT NINE GOALS IN HIGH-SCORING CONTEST AT FLA LIVE ARENA
In a high-scoring contest that featured 14 combined goals and 12 different goal scorers, Matthew Tkachuk (1-3—4) helped the Panthers come out victorious with nine tallies – seven of which came in the first period alone to establish a franchise record. It marked the fourth time in franchise history Florida has scored as many goals in a game.

* The Panthers became the fourth different team in NHL history with seven or more goals in the first period of a game. The others: the Canadiens (8 on March 8, 1922; 7 on Jan. 10, 1920; & 7 on March 10, 1951), Maroons (7 on Jan. 11, 1938) and Whalers (7 on Oct. 19, 1985).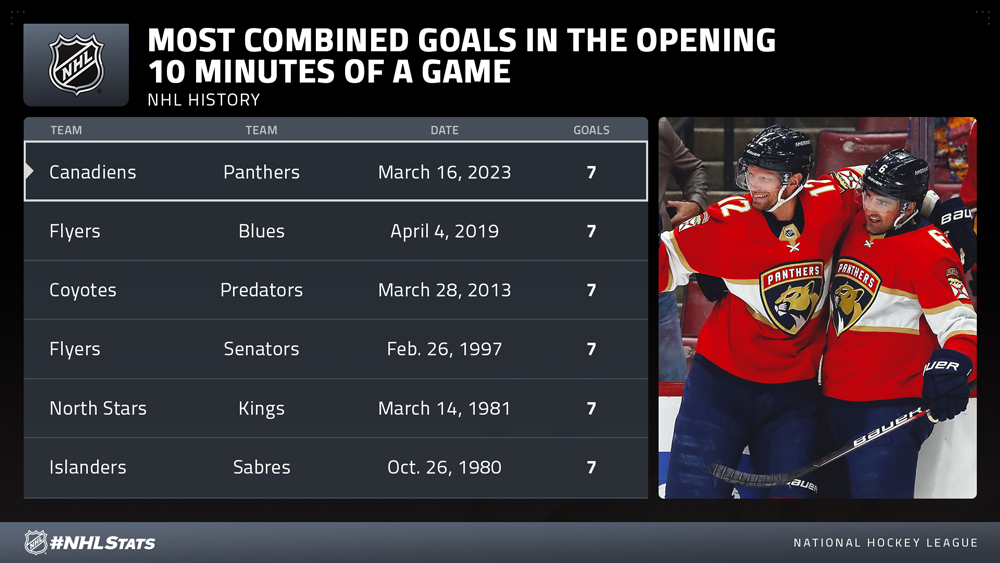 * Overall, the Panthers and Canadiens combined for 10 goals in the first period. The only other games in NHL history with as many tallies in the opening frame occurred on Oct. 26, 1982 (BUF at MTL: 10 in P1) and Jan. 16, 1987 (CGY at VAN: 10 in P1).

* Nine different players found the back of the net in the opening frame, marking just the fifth game in NHL history to feature at least that many different goal scorers in the first period. The others: Oct. 26, 1982 (BUF at MTL: 10 in P1), Nov. 18, 2010 (TBL at PHI: 9 in P1), Dec. 17, 1992 (MTL at QUE: 9 in P1) and Jan. 16, 1987 (CGY at VAN: 9 in P1).

* Tkachuk, who became the third different player in Panthers history to record 60 assists in a single season (31-60—91 in 65 GP), also became the second active U.S.-born player to record consecutive 90-point seasons, joining Blake Wheeler (2017-18 to 2018-19).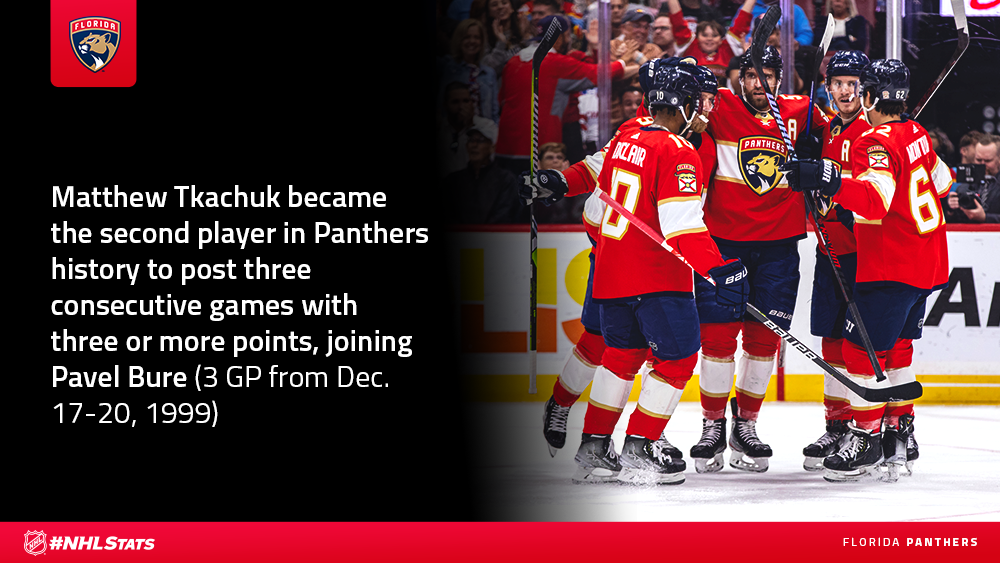 PACIFIC CLUBS ALL EARN CRUCIAL VICTORIES IN TIGHTLY-CONTESTED DIVISION
The second-seeded Kings (40-20-9, 89 points), third-seeded Oilers (37-23-8, 82 points) and fourth-seeded Kraken (38-23-7, 83 points) all maintained their positioning in the Western Conference playoff race with victories as the top four spots in the Pacific Division are separated by seven points.

* The Kings scored all four of their goals in the middle frame – one shy of their most in any period this season – as Los Angeles moved within one point of Vegas (42-21-6, 90 points) for top spot in the Pacific Division. The Kings extended their home point streak to nine games dating to Feb. 11 (8-0-1), marking the club's longest such run in nearly two decades (9 GP in 2003-04).

* Connor McDavid (1-1—2) posted a multi-point performance and Stuart Skinner recorded his 28th career victory – tying Grant Fuhr (28) for the most by a rookie goaltender in Oilers history (spanning seasons or otherwise) – as Edmonton kept pace with Los Angeles. McDavid's tally marked his 296th career goal, equaling Ryan Smyth for sixth place on the Oilers' all-time list.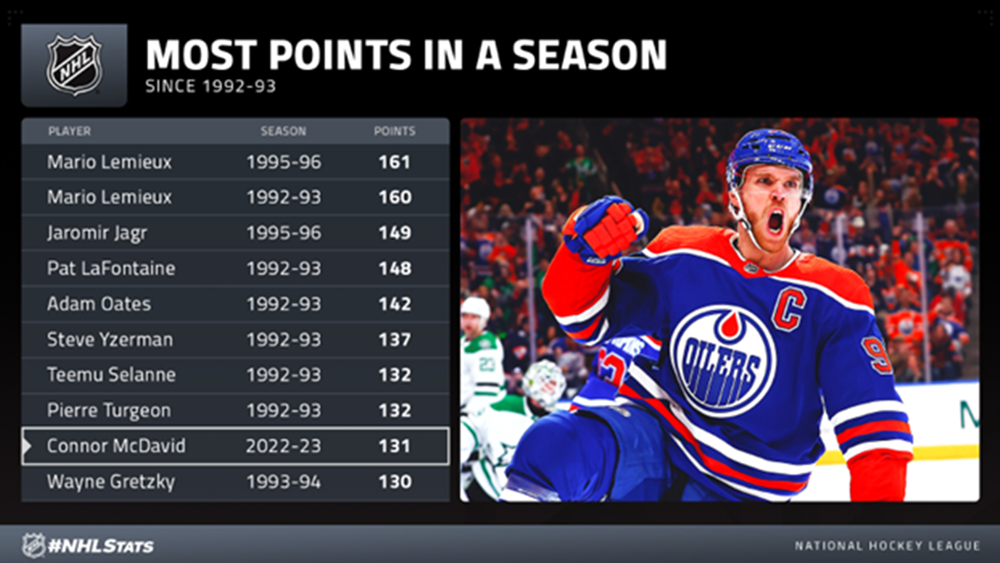 * Vince Dunn (1-0—1) extended the NHL's longest active point streak to 11 games (4-12—16 since Feb. 23) by scoring the third overtime goal by a Seattle defenseman. The Kraken now boast a 23-point improvement on their inaugural campaign – the fourth-highest total by a franchise from their first to second season behind the Islanders (26; 30 in 1972-73 & 56 in 1973-74), Bruins (26; 12 in 1924-25 & 38 in 1925-26) and Maroons (25; 20 in 1924-25 & 45 in 1925-26).

STAR PLAYERS SHINE AS THE RUSH TO THE PLAYOFFS CONTINUE
Nathan MacKinnon (0-3—3), Mika Zibanejad (1-1—2) and Nikita Kucherov (0-1—1) each posted notable performances to propel their respective clubs to victories as the Rush to the Playoffs intensifies for the final month of the regular season.

* Cale Makar (1-1—2) also registered a multi-point performance as Colorado (39-22-6, 84 points) swept its Eastern Canada road trip for just the second time in team history (also W vs. OTT, MTL, TOR from Oct. 13-17, 2011) and moved within three points of Dallas (37-19-13, 87 points) for first in the Central Division with two games in hand.

* The Avalanche trailed first place in the Central Division by as many as 14 points earlier this season. The last time the team claimed top spot in a division after overcoming a deficit of at least 10 points was in 2013-14.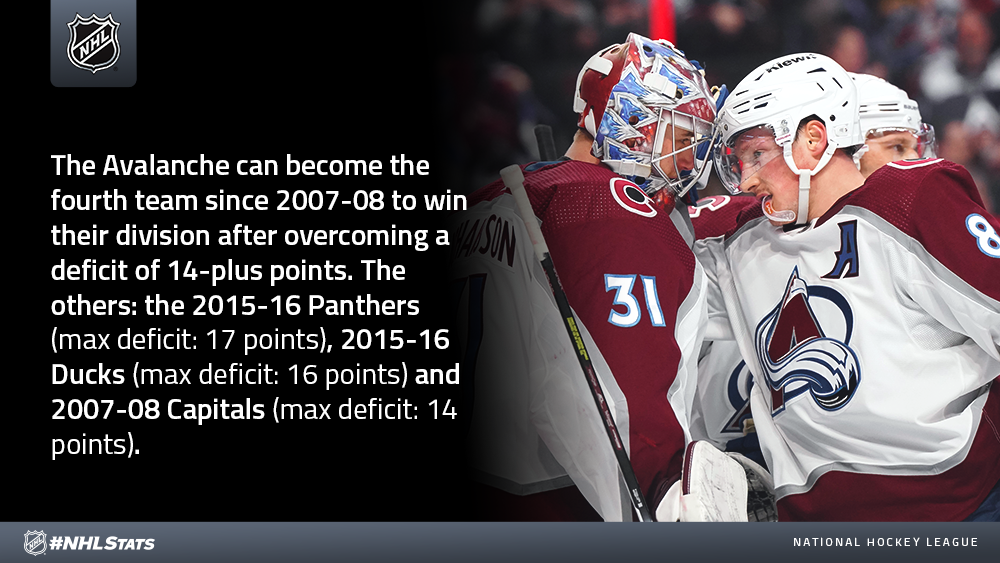 * Mika Zibanejad opened the scoring with his 200th goal in a Rangers uniform to help New York (39-19-10, 88 points) move within seven points of New Jersey (44-17-7, 95 points) for second place in the Metropolitan Division. Zibanejad, who hit the milestone in his 472nd game with the Rangers, became the second-fastest skater to 200 goals with the club behind only Bill Cook (363 GP).

* The Lightning (41-22-6, 88 points) withstood three game-tying goals before skating to a shootout win and moving within one point of the idle Maple Leafs (40-18-9, 89 points) for second place in the Atlantic Division; Toronto owns two games in hand. Nikita Kucherov collected an assist to boost his 2022-23 totals to 27-70—97 (69 GP) and register his second career 70-assist campaign (87 in 2018-19), joining Connor McDavid (5x) and Sidney Crosby (2x) as just the third active player with multiple such seasons.

CROSBY CLAIMS ANOTHER POINT-PER-GAME SEASON IN #NHLSTATS: LIVE UPDATES
The Thursday edition of #NHLStats: Live Updates shone a light on Penguins captain Sidney Crosby (0-2—2), who recorded his 232nd career multi-assist game and tied Joe Sakic for 11th most in NHL history. In doing so, Crosby also improved his 2022-23 totals to 29-54—83 (68 GP), clinching his 18th NHL season averaging at least one point per game.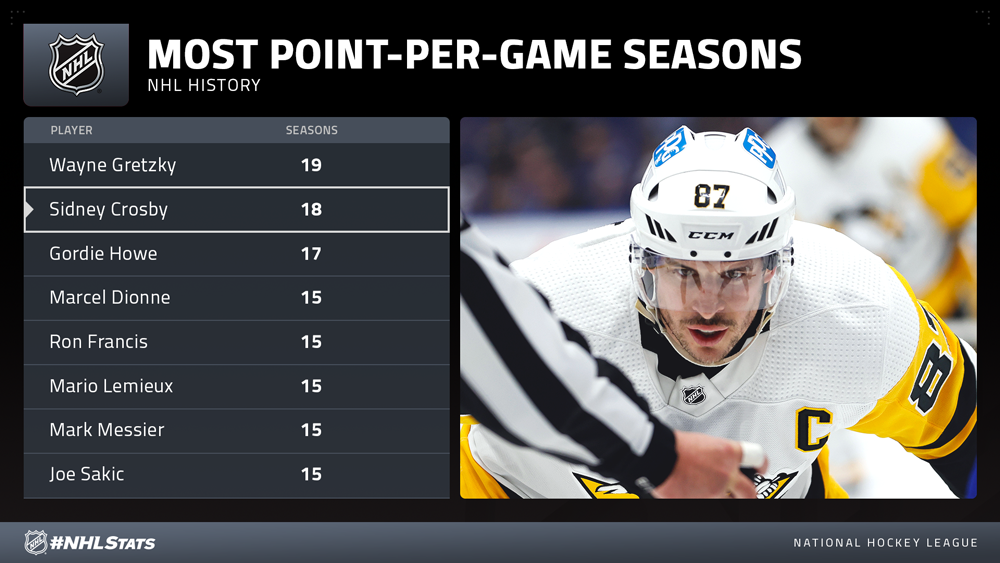 NHL BIG CITY GREENS CLASSIC VIEWERSHIP
Per ESPN PR, Tuesday's inaugural NHL Big City Greens classic generated impressive viewership across The Walt Disney Company platforms. In additions to the ratings in the graphic below, on both Disney Channel and Disney XD, the NHL Big City Greens Classic delivered a younger and more female audience than what is typical for either network. Click here for a full thread from @ESPNPR with more details.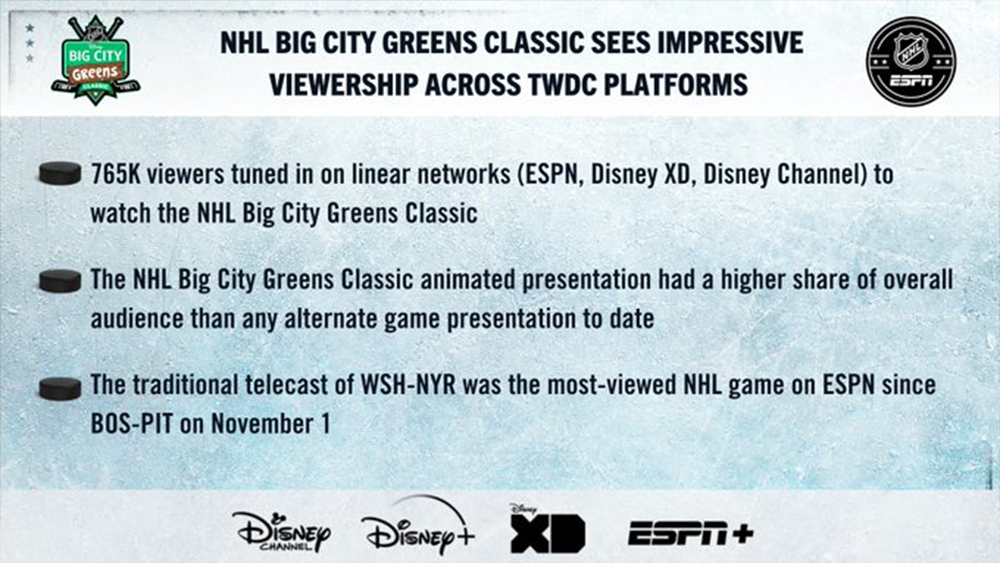 QUICK CLICKS

* Jordan Binnington suspended two games for actions in Blues game
* Knicks' Jalen Brunson follows through on promise of attending Rangers game
* Winnipeg Jets tweet that quarterback Aaron Rodgers is joining them
* Metropolitan race, Bruins, Connor McDavid among questions before playoffs begin
* Women in Hockey: Christine Dziedzic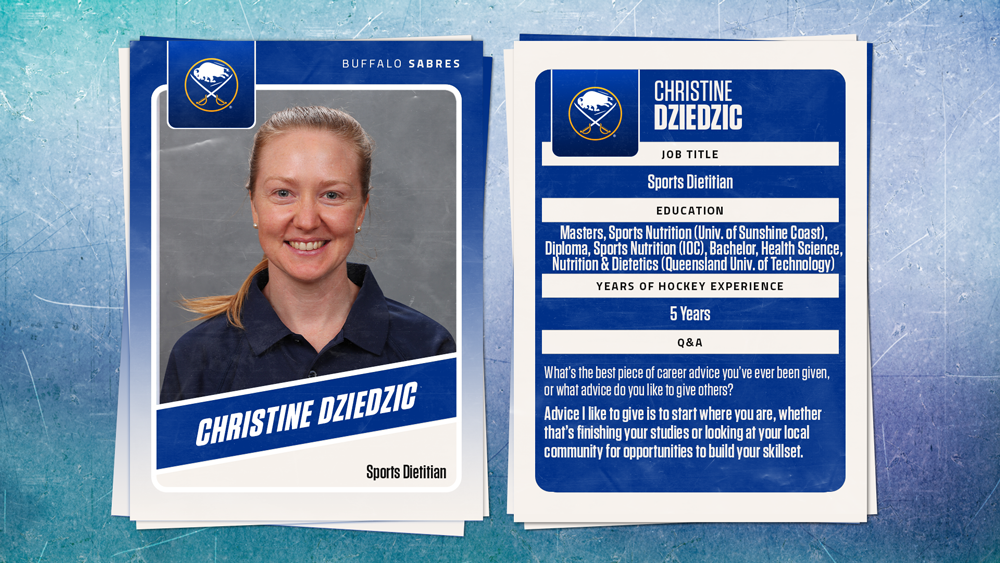 FOUR-GAME FRIDAY INCLUDES BIG EAST MATCHUP ON NHL NETWORK
With a total of 24 games on tap over the next three days, Friday's four-game slate includes a matchup between two of the top four teams in the Eastern Conference when the Hurricanes (44-14-8, 96 points), who rank second in the East, visit the Maple Leafs (40-18-9, 89 points), who sit fourth, on NHL Network, TVA Sports, TSN4 and BSSO.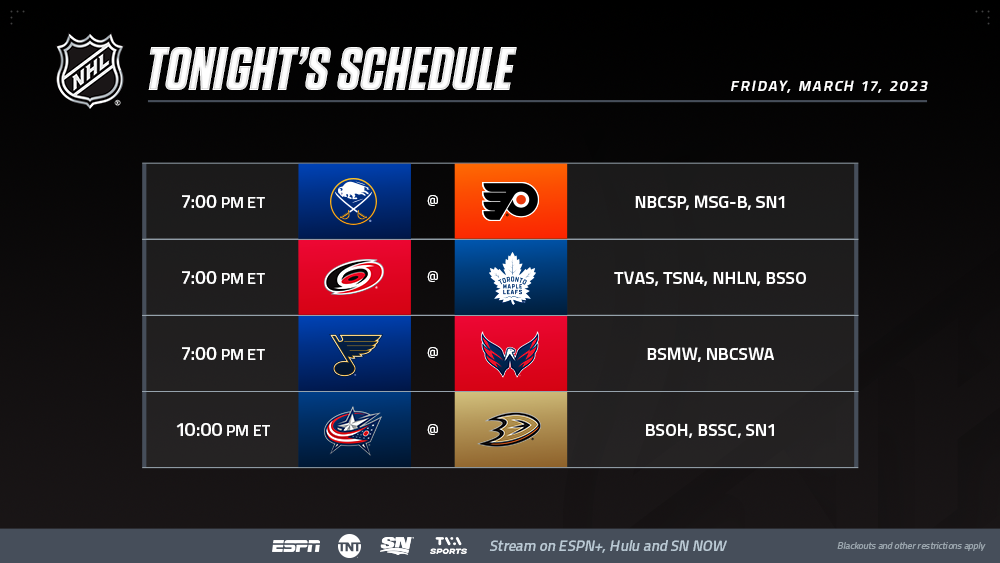 FIRST-EVER HOCKEY DAY IN FINLAND SET FOR TAMPERE FRIDAY-SATURDAY
The first-ever Hockey Day in Finland will feature two full days of free events open to the public at Sorsapuisto Park in Tampere from March 17-18 in collaboration with the Viaplay Group, Finnish Ice Hockey Association, NHL and various local community organizations. The festivities aimed at celebrating the country's ties to the sport culminate with a viewing party of the NHL Saturday presented by SAP game between the Avalanche (39-22-6, 84 points) and Red Wings (30-28-9, 69 points).

* Click here for #NHLStats ahead of the first-ever Hockey Day in Finland event.