* Elias Pettersson, Brock Nelson and Andrei Svechnikov left 2023 NHL All-Star Skills presented by DraftKings Sportsbook as winners of the three signature events.
* Connor Hellebuyck, Juuse Saros, Nick Suzuki, Cale Makar and Mikko Rantanen also won events staged on the ice, at the golf course and in the dunk tank.
* After teaming up for a memorable moment with Sergei "Ovi Jr." Ovechkin to win the Great Clips NHL Breakaway Challenge, longtime rivals Alex Ovechkin and Sidney Crosby will join forces again when they play in the 2023 Honda NHL All-Star Game at 3 p.m. ET (ABC, ESPN+, CBC, Sportsnet, TVAS).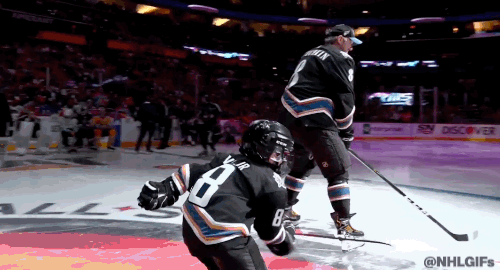 PETTERSSON BECOMES FOURTH FORWARD TO WIN HARDEST SHOT EVENT
Canucks forward Elias Pettersson became the fourth forward to win the Hardest Shot event after clocking a 103.2 mph shot to win the GEICO NHL Hardest Shot competition. Participating in the event for the second time, Pettersson (also 2020) became the first Vancouver player to capture the title.
* Pettersson joined Alex Ovechkin (101.3 mph in 2018), Sergei Fedorov (101.5 mph in 2002) and Fredrik Modin (102.1 mph in 2001) as the only forwards to win the event. He did so by defeating Ovechkin, who made his sixth Hardest Shot appearance to move ahead of John LeClair (5x) and Steven Stamkos (5x) for the most by any forward.
* Pettersson's winning shot of 103.2 mph followed his opening blast of 100.8 mph. It marked the 14th straight Hardest Shot competition in which the winner reached a top speed of over 100 miles per hour.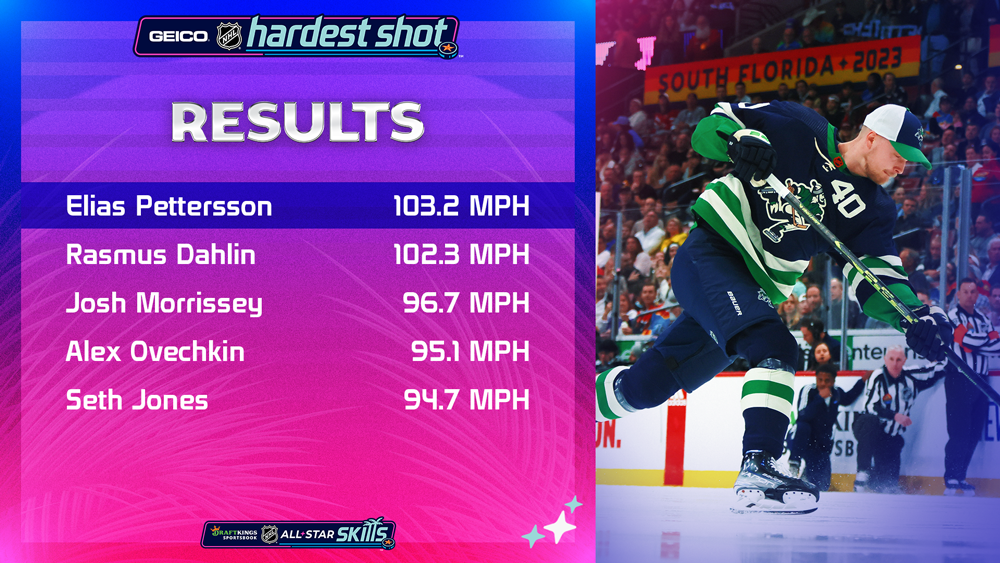 NELSON CLAIMS ACCURACY SHOOTING TITLE FOLLOWING RIVALRY-FILLED SEMIFINALS
In the largest Accuracy Shooting field since 2011, four players emerged from the preliminary round to set up a pair of rivalry matchups in the head-to-head semifinals. In the first semifinal, Islanders forward Brock Nelson (17.886 seconds) defeated Rangers forward Artemi Panarin (DNF) in a "Battle of New York," followed shortly thereafter by Flames forward Nazem Kadri (10.131 seconds) edging Oilers captain Connor McDavid (10.612 seconds) in a "Battle of Alberta" showdown.
* Nelson and Kadri then went toe-to-toe in the Honda NHL Accuracy Shooting final, which Nelson won with a time of 12.419 seconds to Kadri's 18.276 seconds. Taking in All-Star festivities for the first time, Nelson became the second Islanders player to win the Accuracy Shooting event, following John Tavares (2016).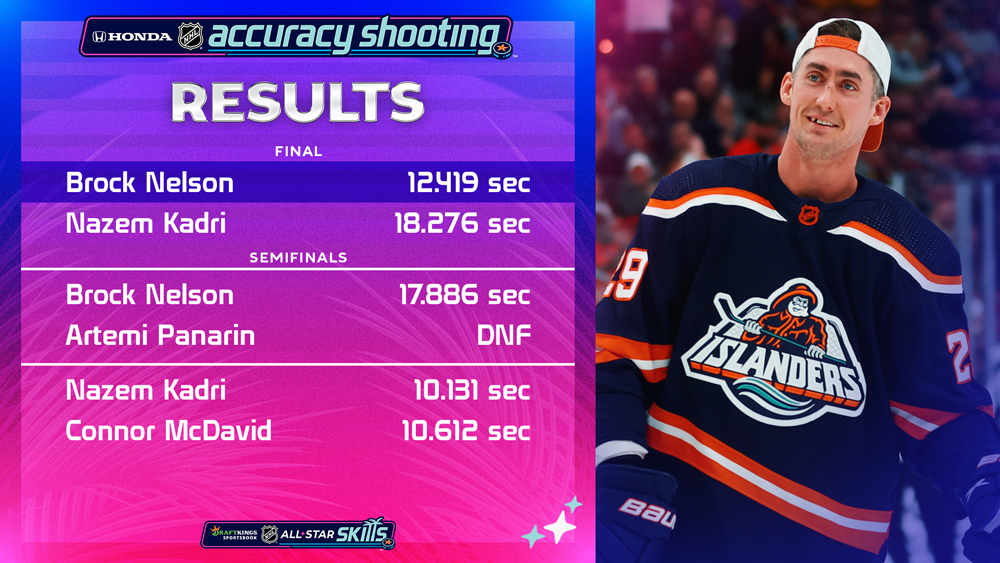 * The preliminary round featured surprise appearances by three-time Olympic gold medalist and member of the Flames' hockey operations group Rebecca Johnston, who passed to Kadri, and fellow Olympic gold medalist Sarah Nurse, cousin of McDavid's teammate Darnell Nurse.
* Nurse was dishing out passes to McDavid when he became the sixth different player to clock a sub 10-second time at the Accuracy Shooting event during NHL All-Star Skills.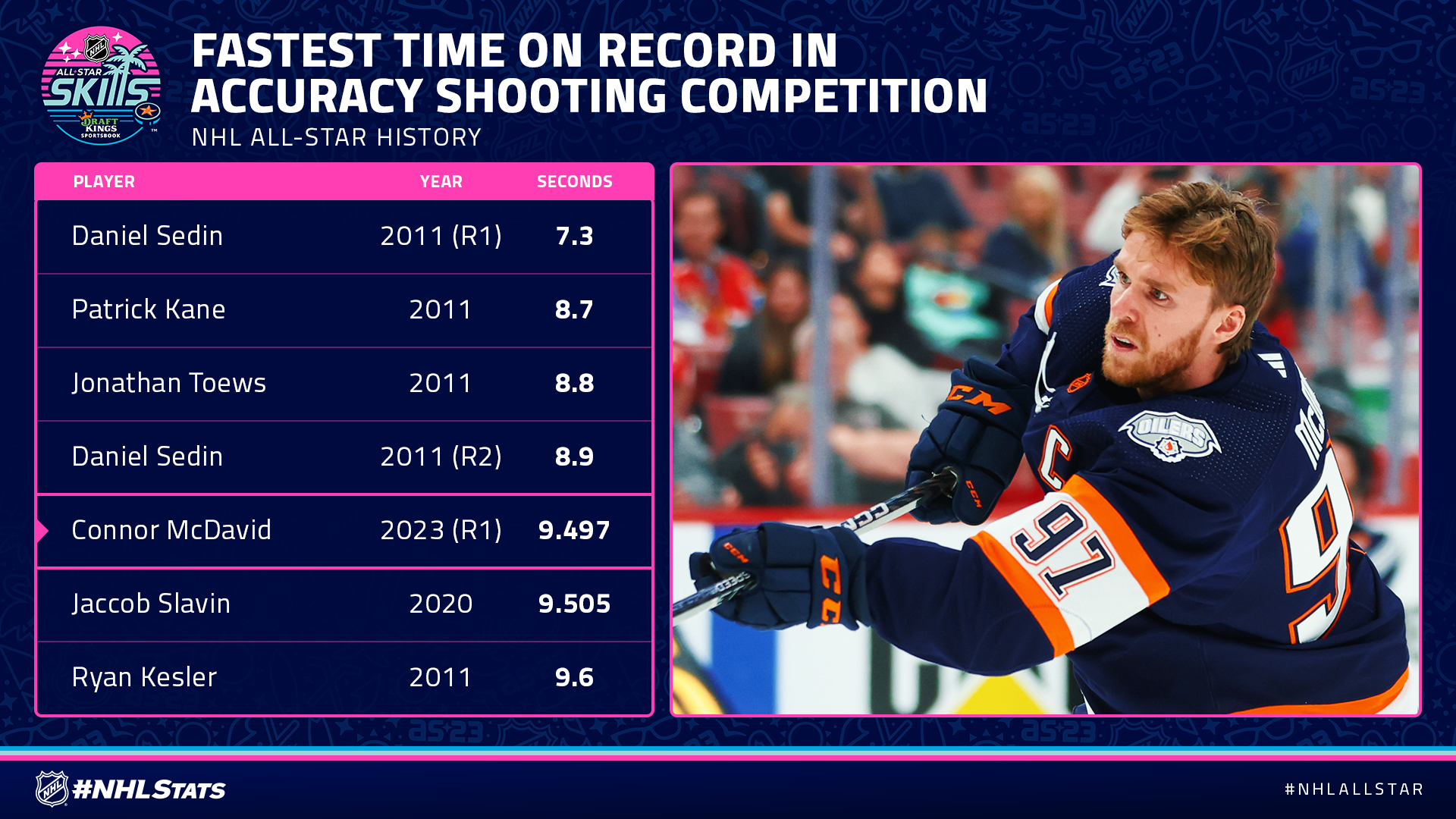 SVECHNIKOV EDGES FIALA IN FASTEST SKATER FINAL
There was a new fastest skater champion for a fourth straight year as Hurricanes forward Andrei Svechnikov posted a time of 13.699 seconds in the final of the Upper Deck NHL Fastest Skater event to defeat Kings forward Kevin Fiala (14.114 seconds).
* Svechnikov and Fiala, who replaced Wild forward Kirill Kaprizov in the event, qualified for the final with top-two times of 13.757 and 13.997 seconds, respectively.
* Svechnikov became the second Hurricanes/Whalers player to win the Fastest Skater event, following Sami Kapanen who won in both 2000 and 2002 while representing Carolina.
* In addition to the Hurricanes (3x), only two other clubs have had a representative win Fastest Skater three or more times – an Oilers player has won five times and a Red Wings player has won three.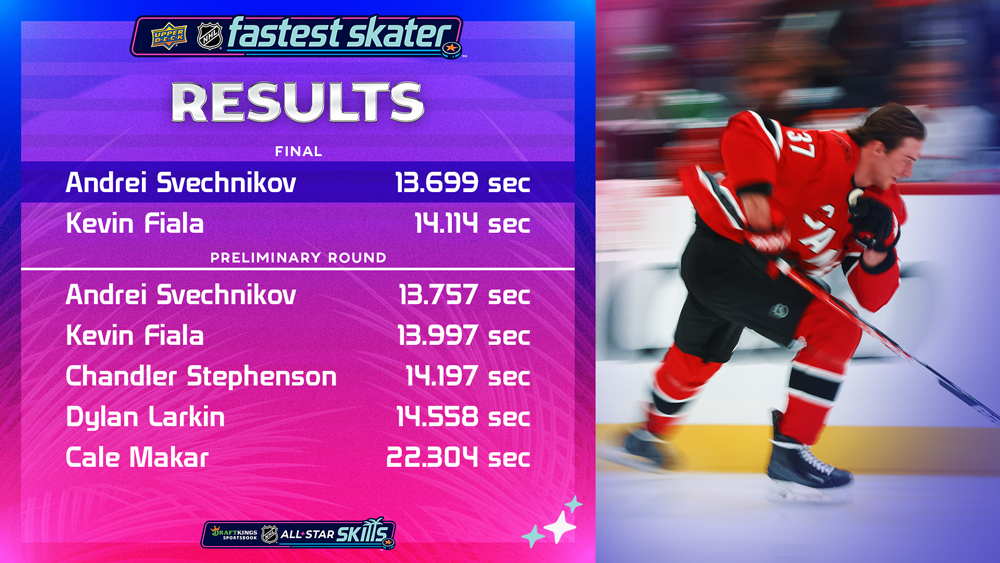 SUZUKI, AVALANCHE DUO CLAIM INAUGURAL PITCH 'N PUCK, SPLASH SHOT EVENTS
Canadiens captain Nick Suzuki and Avalanche teammates Cale Makar and Mikko Rantanen claimed victory in the Chipotle NHL Pitch 'n Puck and Enterprise NHL Splash Shot, two South Florida-inspired events that debuted Friday.
* Teeing up a special puck from 140 yards out at an iconic Sunshine State golf hole, Suzuki hit the longest drive and followed up with a "pitch" over the water onto the green, where he putted in for birdie on the par-4 Pitch 'n Puck. Suzuki defeated Johnny Gaudreau (CBJ), Clayton Keller (ARI) and Jason Robertson (DAL) who all logged a DNF as they were setting up for their fourth shot.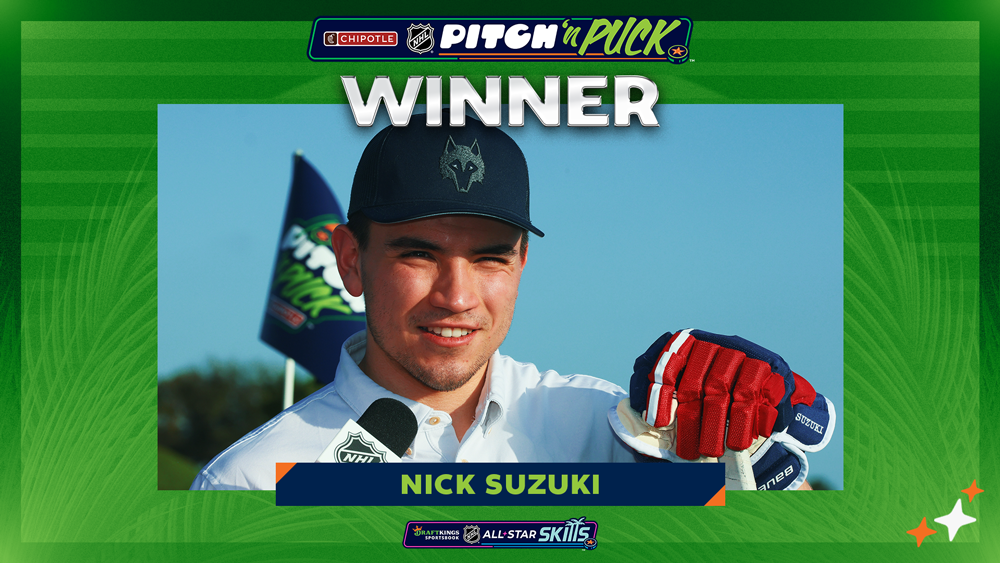 * Firing at surf boards lined up on the picturesque beach of Fort Lauderdale, Rantanen first dunked Sidney Crosby before Nathan MacKinnon, his Colorado teammate, was able to soak Makar. In the other preliminary matchup, Adam Fox protected his Rangers teammate Igor Shesterkin by splashing Florida favorite Matthew Tkachuk who was relying on his brother Brady Tkachuk to keep him dry. Makar and Rantanen changed roles in the final, where the Stanley Cup champions dunked their way to another title.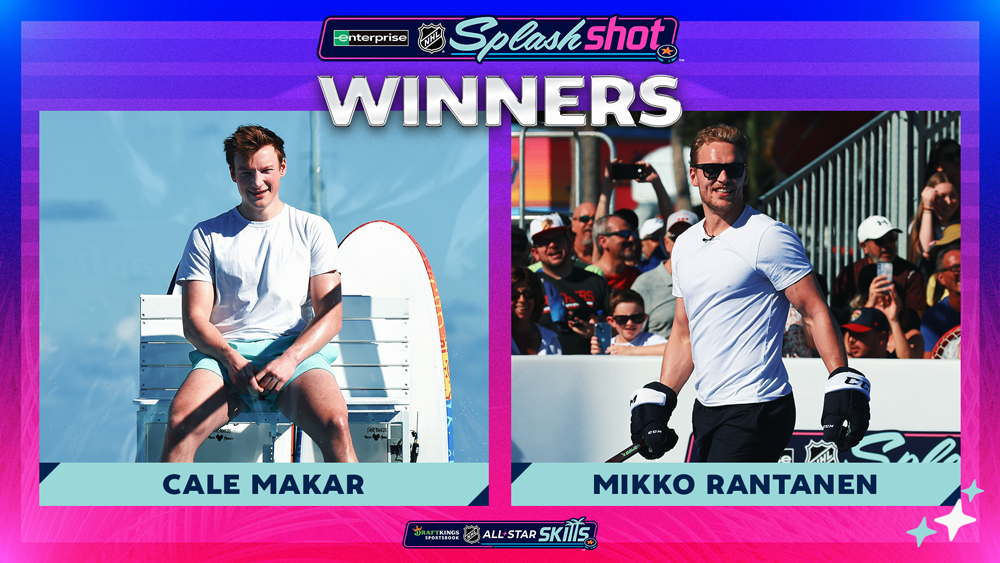 TANDEM TENDY, BREAKAWAY CHALLENGE EVENTS PRODUCE MEMORABLE MOMENTS
The 27th NHL All-Star Skills competition featured many other memorable moments and guest appearances, as well as the debut of the Discover NHL Tendy Tandem – which was won by Central Division netminders Connor Hellebuyck and Juuse Saros thanks to a combined score of 13.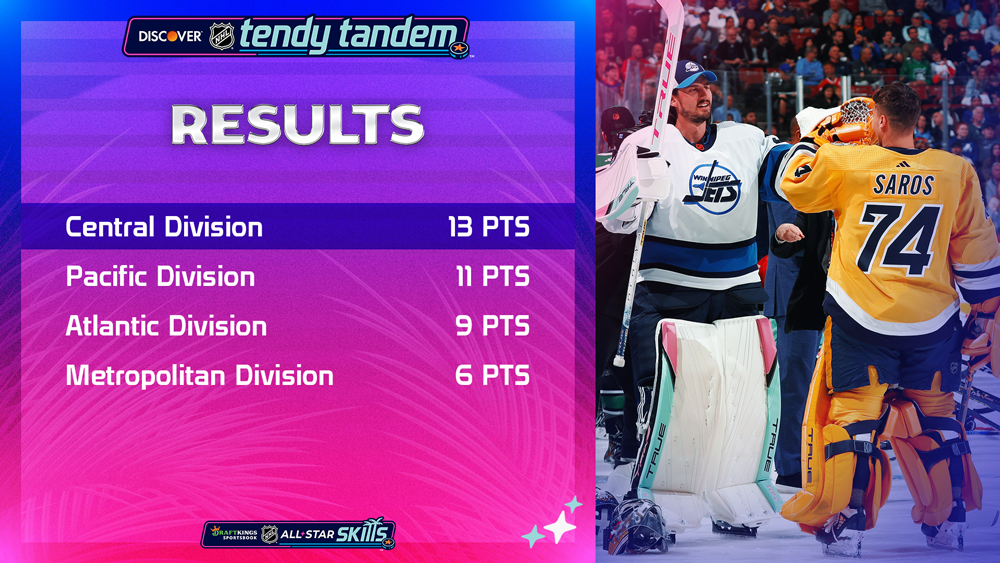 * The Tendy Tandem event included guest appearances by Alex Carpenter, Hilary Knight, Emily Clark, Rebecca Johnston and Sarah Nurse, who netted a highlight-reel goal against reigning Vezina Trophy winner Igor Shesterkin.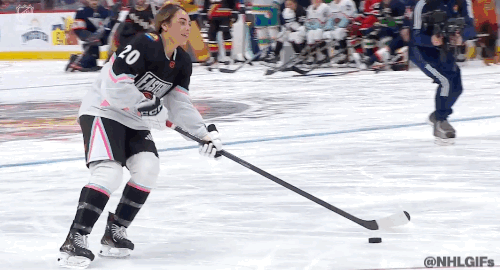 * After making his way "from the beach" with brother Brady, Panthers forward Matthew Tkachuk also called on the services of teammate Aleksander Barkov, dressed as a lifeguard, and Miami Dolphins player Christian Wilkins, before beating Hockey Hall of Famer Roberto Luongo during his Great Clips NHL Breakaway Challenge attempt.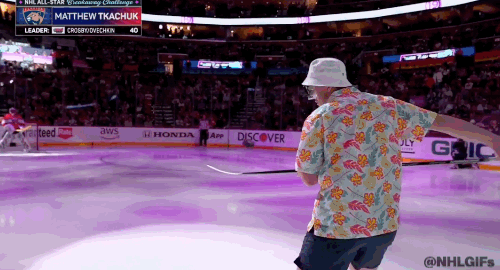 QUICK CLICKS
* #NHLStats: Live Updates – Skills Edition
* Kevin Hayes sharing first All-Star Game with son of late brother Jimmy
* NHL All-Stars show off their fashion sense on the red carpet
* All-Star Future Goals Kids Day provides fun chance to learn at beach
* Dallas Stars representative 'Gren' wins inaugural EA SPORTS NHL 23 All-Star Final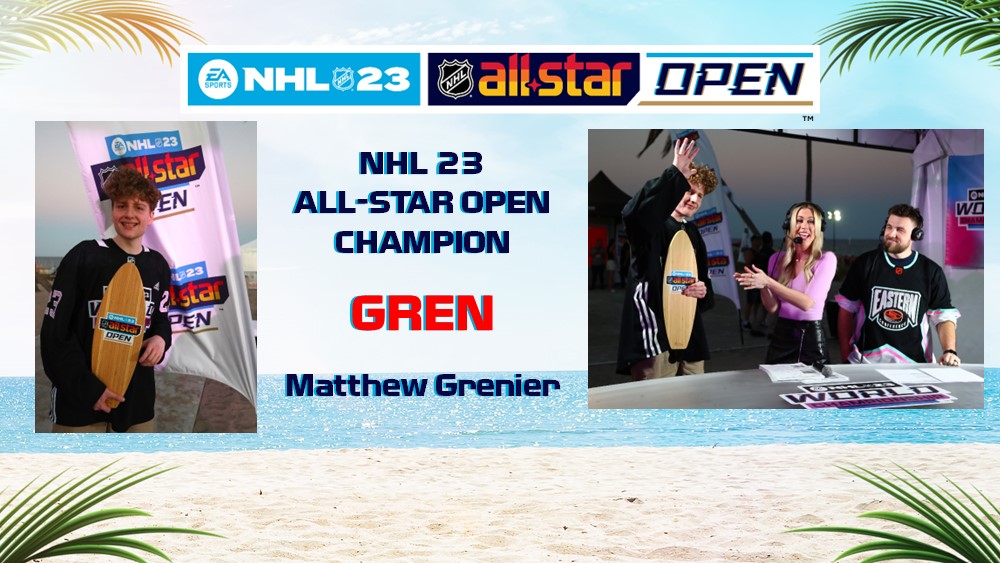 2023 HONDA NHL ALL-STAR GAME TAKES CENTER STAGE ON SATURDAY
The brightest stars from around the League, including nine of the top 10 scorers this season, will hit the ice for the 2023 Honda NHL All-Star Game on Saturday which will once again see the 3-on-3 tournament format, the same used in each of the past six All-Star Games. The Central Division will face the Pacific Division in the opening match, followed by the Metropolitan Division versus the Atlantic Division, with the two winners meeting in the final.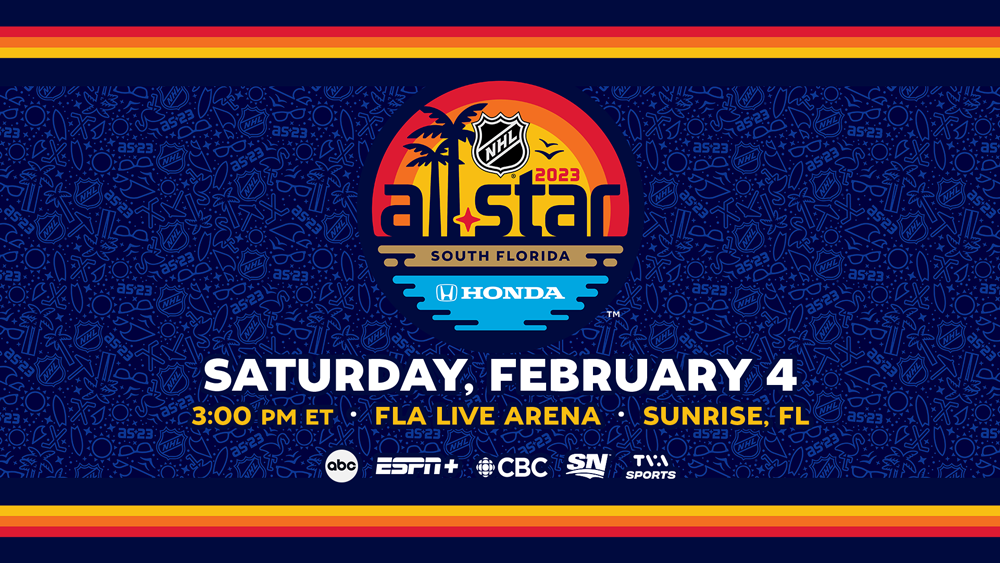 * The Pacific Division (2016, 2018 & 2020) and Metropolitan Division (2017, 2019 & 2022) have gone back-and-forth in winning the 3-on-3 tournament format in the six years of its existence. The Atlantic Division, which includes hometown Panthers forwards Matthew Tkachuk and Aleksander Barkov, will look to be the first host division to claim the 3-on-3 title.

* The Pacific Division holds an all-time record of 4-1 when facing the Central Division under the 3-on-3 format. Connor McDavid, who enters the 2023 All-Star Game with a 16-point lead on teammate Leon Draisaitl in the Art Ross Trophy race, has more career points under the 3-on-3 All-Star format than any other player (2-11—13 in 8 GP), just one point ahead of two skaters also participating Saturday: Sidney Crosby (6-6—12 in 5 GP) and Johnny Gaudreau (5-7—12 in 8 GP).
* CLICK HERE to view Records.NHL.com for lists of the top All-Star performers under the 3-on-3 format.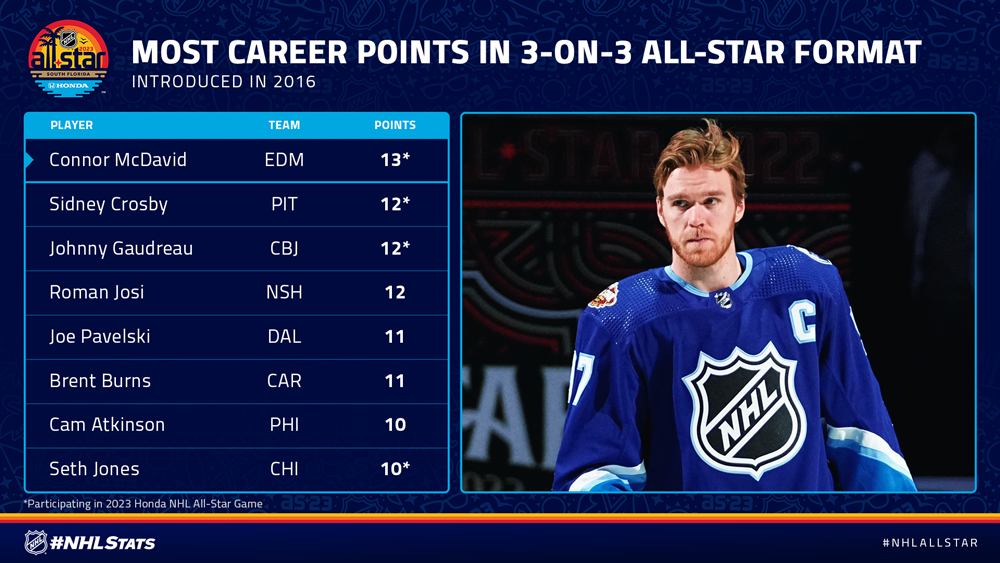 * While the Metropolitan Division has claimed the 3-on-3 title three times in six years, the Atlantic Division boasts a 3-2 record when facing their Eastern Conference rivals under the current format. Three of the top eight point producers in 2022-23 will represent the Atlantic Division in David Pastrnak (3rd; 38-34—72 in 51 GP), Nikita Kucherov (4th; 19-53—72 in 48 GP), Tkachuk (7th; 25-41—66 in 49 GP). The Atlantic Division will counter with Alex Ovechkin, who sits second on the NHL's all-time goals list, and Sidney Crosby, who ranks 15th on the NHL's all-time points list.