* Twenty-one-year-old Seth Jarvis scored his first career hat trick – the fourth youngest to do so in Hurricanes history – as Carolina secured a win in its final game ahead of the 2023 Navy Federal Credit Union NHL Stadium Series.

* Multiple teams moved up the standings Thursday night, highlighted by the Golden Knights, who took over second overall in the Western Conference, and the Kraken, who jumped up to second place in the Pacific Division.

* Friday's five-game slate includes League scoring leader Connor McDavid needing one point against the streaking Rangers to reach 100, the Kings and Ducks clashing on ESPN as well as the Senators retiring the No. 25 of a fan favorite and franchise cornerstone.

* Click here to read plenty of #NHLStats on McDavid's pursuit of 100 points this season and 800 in his career(posted before the All-Star break).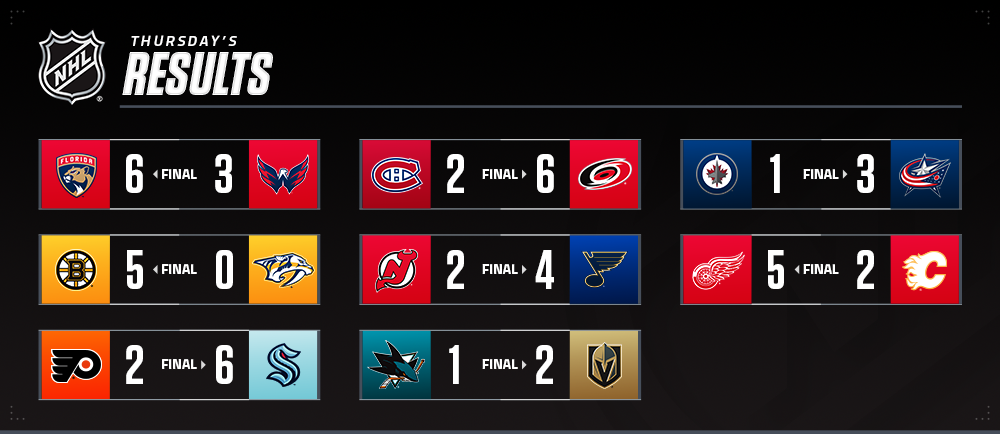 JARVIS, RAANTA LEAD HURRICANES TO VICTORY AHEAD OF STADIUM SERIES
Seth Jarvis (3-0—3) netted his first career hat trick and Antti Raanta made 20 saves as the Metropolitan Division-leading Hurricanes (36-10-8, 80 points) captured their ninth consecutive home victory against the Canadiens dating to Nov. 18, 2016 and head into the 2023 Navy Federal Credit Union NHL Stadium Series with nine wins in their past 10 contests.

* The club's nine consecutive home victories against the Canadiens surpassed an eight-game stretch against the Sabres (Dec. 17, 2016 – Nov. 4, 2022) for their longest active home win streak versus an opponent.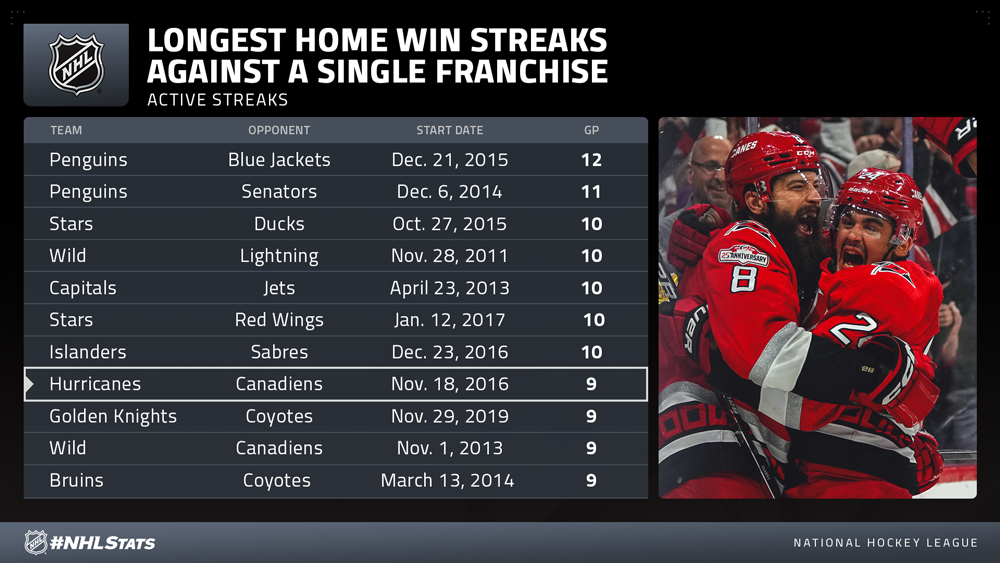 * Jarvis (21 years, 15 days) became the fourth-youngest player in Hurricanes team history to score a hat trick behind Sebastian Aho (19 years, 189 days on Jan. 31, 2017), Elias Lindholm (20 years, 96 days on March 8, 2015) and Eric Staal (20 years, 364 days on Oct. 28, 2005).

* On the night Cam Ward was inducted into the newly-established Hurricanes Hall of Fame, Raanta collected a point in his 13th straight decision (11-0-2) and passed the 2005-06 Conn Smythe Trophy winner for the longest such run in franchise history (Ward: 10-0-2 in 2017-18).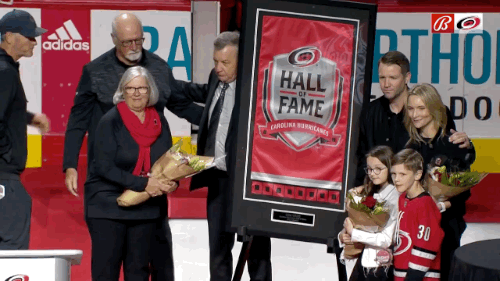 TEAMS CLIMB THE STANDINGS

* The Kraken built a 5-0 lead through two periods and never looked back as they scored six-plus goals for the sixth time this season and boosted their goal total in 2022-23 to 193, the fifth-best mark in the League behind the Oilers (205), Panthers (200), Bruins (199) and Sabres (196). With the win, Seattle (31-18-6, 68 points) moved past idle Los Angeles (30-18-7, 67 points) to take over second place in the Pacific Division.

* Dylan Larkin (0-3—3) factored on three of his team's five goals as the Red Wings (26-20-8, 60 points) bested the Flames and leapfrogged the Sabres (27-22-4, 58 points) to move within two points of the final Wild Card position in the Eastern Conference standings. Larkin extended his multi-point streak to four games (5-5—10) and tied Dominik Kubalik (Oct. 17-25) for the longest by a Red Wings player this season – the last Detroit skater to record a longer such run was Johan Franzen (5 GP from March 15-24, 2009).

* Marc Staal scored his first goal as a member of the Panthers to help Florida (28-24-6, 62 points) earn a win at Capital One Arena and move into a tie in terms of standings points with Washington (28-23-6, 62 points), which holds the final Wild Card spot in the Eastern Conference by virtue of a game in hand. Staal became the sixth defenseman to score a goal with the Panthers at age 36 or older and the first since Brian Campbell nearly seven years ago (March 3, 2016).

* Paul Cotter tied the game 6:22 into the third period and William Carrier scored the game winner with 18 seconds remaining in regulation as the Golden Knights (33-18-4, 70 points) moved past the Jets (34-20-1, 69 points) for second place in the Western Conference standings. Cotter extended his goal streak to three games and established a franchise record for the longest run by a rookie.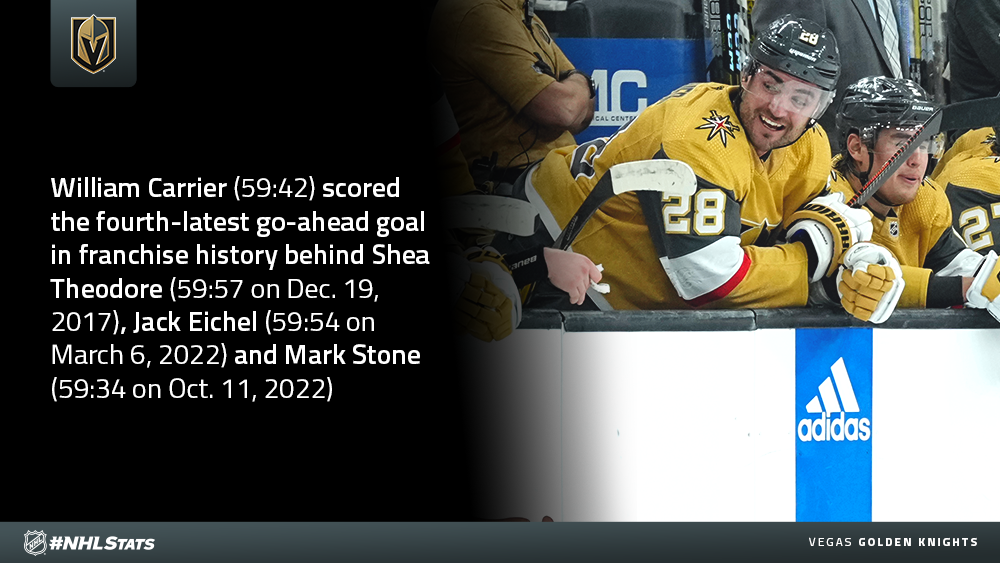 SWAYMAN STYMYING SMASHVILLE TO SWEEP SIBLINGS TRIP FEATURED IN LIVE UPDATES
Thursday's edition of #NHLStats: Live Updates featured more notes from the slate, including Jeremy Swayman (28 saves) blanking the Predators as the League-leading Bruins (41-8-5, 87 points) swept their two-game siblings trip.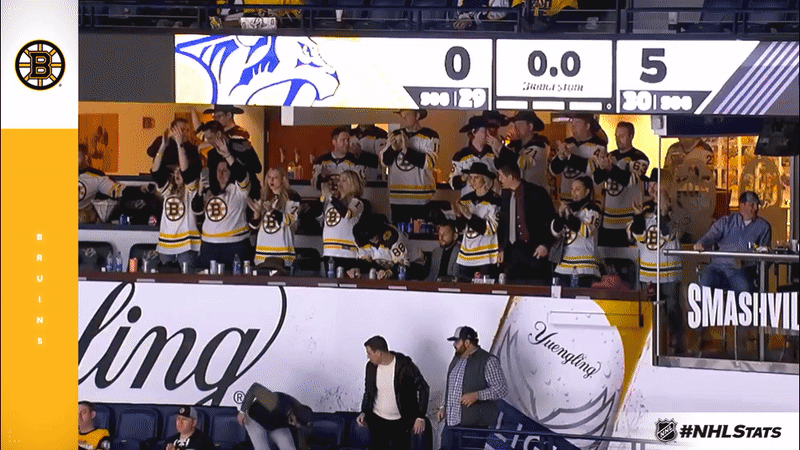 QUICK CLICKS

* NHL statement regarding RSN situation
* NHL BTS All-Star Show to give fans look inside League's marquee events
*John Isner, tennis star, ready for 'incredible' Stadium Series atmosphere
* U.S. gold medal in 1998 Nagano Olympics put women's hockey 'on the map'
* Women in Hockey: Margaret Cunniff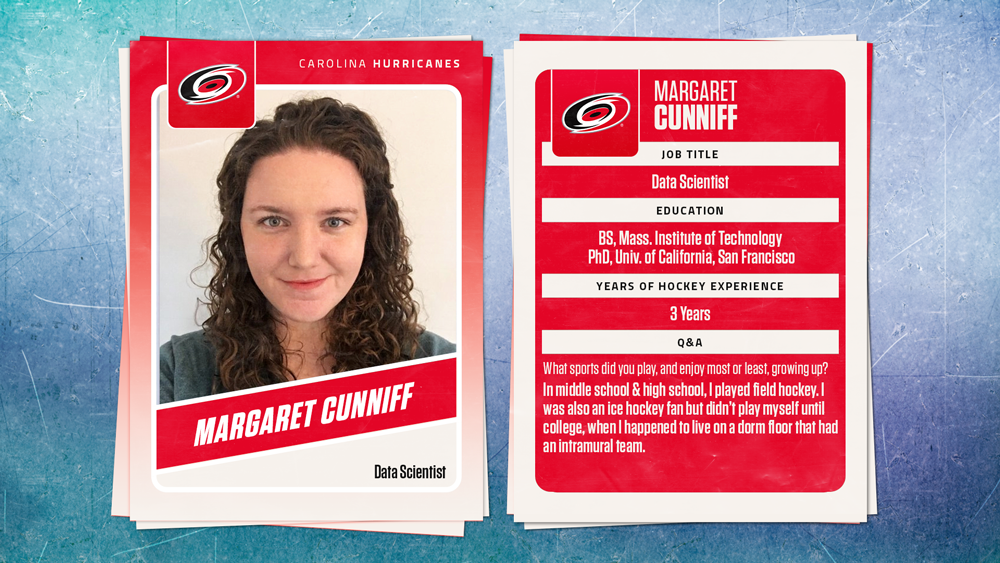 FRIDAY FEATURES McDAVID NEEDING ONE POINT VERSUS RANGERS TO REACH 100
Friday's five-game slate features League scoring leader Connor McDavid (42-57—99 in 55 GP) looking to reach 100 points on the season when the Oilers (30-19-6, 66 points) host the red-hot Rangers (32-14-8, 72 points), who can extend their winning streak to seven contests.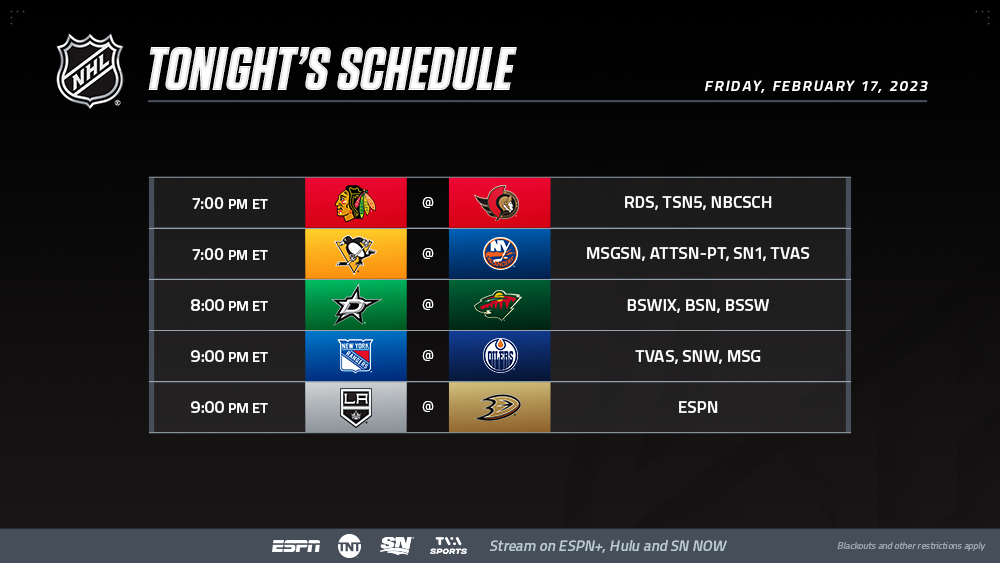 * McDavid can become the seventh player in NHL history to hit 100 points within his first 56 games of a season multiple times (also 53 GP in 2020-21), following Wayne Gretzky (12x), Mario Lemieux (8x), Mike Bossy (3x), Phil Esposito (3x), Jari Kurri (2x) and Guy Lafleur (2x).

* McDavid (281-515—796 in 542 GP) also needs four points to reach 800 in his career. He has recorded a League-leading 30 four-point games since his debut season, including eight in 2022-23.

LOS ANGELES, ANAHEIM SET TO CLASH IN "FREEWAY FACE-OFF" ON ESPN
The Kings (30-18-7, 67 points) visit the Ducks (17-32-6, 40 points) on ESPN in this season's second edition of the "Freeway Face-Off" rivalry, following a 4-1 win by Los Angeles on Dec. 20, 2022.

* Anze Kopitar (28-53—81 in 84 GP) enters Friday with 81 career points against the Ducks, which are two back of matching Mike Modano (28-55—83 in 82 GP) for the most versus the franchise in NHL history. Kopitar's 28 goals are tied with Modano for the League's sixth-highest total.

* Cam Fowler (age 31) and Kevin Shattenkirk (age 34) account for each of Anaheim's last three goals. There have only been six instances in NHL history of a team having four consecutive tallies all scored by defensemen age 30 or older (excluding shootout-deciding goals), including one which occurred earlier this season.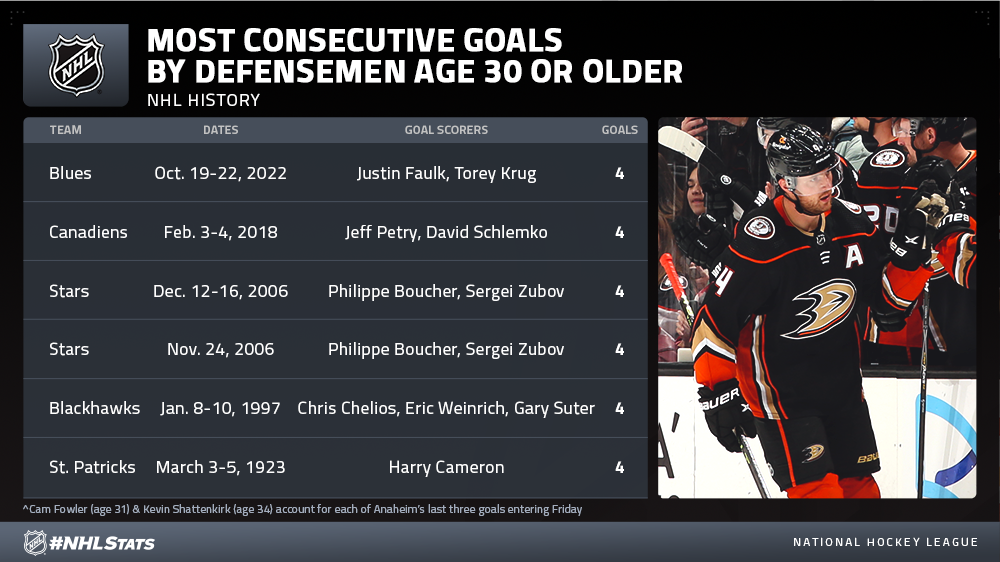 SENATORS SET TO RETIRE NEIL'S No. 25 AT CANADIAN TIRE CENTRE
Chris Neil, who spent his entire 15-season career with the Senators, is set to have his No. 25 retired by the club during a pre-game ceremony at Canadian Tire Centre on Friday.

* Neil will become the fourth player to have his number retired by the franchise, following Chris Phillips (No. 4), Frank Finnigan (No. 8) and Daniel Alfredsson (No. 11). Finnigan, who played parts of 10 seasons with the original Senators from 1923-24 to 1933-34 and was instrumental in the NHL's return to Ottawa, received the honor posthumously during the first game in club history on Oct. 8, 1992.

* Neil (No. 161 in 1998) is one of seven players in League history selected in the sixth round or later that appeared in 1,000 games for the franchise that drafted him, with the others being Alfredsson (1,178 GP w/ OTT), Dave Taylor (1,111 GP w/ LAK), Henrik Zetterberg (1,082 GP w/ DET), Luc Robitaille (1,077 GP w/ LAK), Don Sweeney (1,052 GP w/ BOS) and Tomas Holmstrom (1,026 GP w/ DET).