* Tim Stützle (1-3—4) achieved an NHL first to help the Senators stage the latest multi-goal comeback win in franchise history.
* The 2023 playoff races were on full display Monday after the Kings, Wild and Flames all climbed within the playoff brackets. The Panthers and Red Wings, meanwhile, each won to keep pace in an Eastern Conference that has six clubs separated by six points around the playoff line.
* There are nationally broadcast games on ESPN+, Sportsnet and TVA Sports during the Tuesday slate, plus a preview of the 2023 Navy Federal Credit Union NHL Stadium Series game as the Capitals and Hurricanes clash before taking things outdoors Saturday in North Carolina.




STUTZLE SPARKS SENATORS TO LATE MULTI-GOAL COMEBACK WIN
With Calgary leading 3-1 with 2:14 remaining in regulation, Tim Stützle (1-3—4) assisted on two Ottawa goals in a span of 46 seconds and netted the winner 1:55 into overtime to guide the Senators (25-24-3, 53 points) to their fifth win in six contests.
* Stützle became the first player in NHL history to factor on three straight goals in the final five minutes of regulation and/or overtime to help his team stage a multi-goal comeback victory.

* Ottawa recorded the latest multi-goal comeback victory in franchise history and second-latest in the NHL this season (behind CAR on Jan. 27, 2023, noted below). The only other times the Senators won a game in which they trailed by multiple goals in the final seven minutes of regulation were Game 2 of the 2017 Second Round (16:41 of 3rd vs. NYR), March 23, 1994 (13:46 of 3rd vs. DET) and Jan. 17, 2000 (13:06 of 3rd at NYI).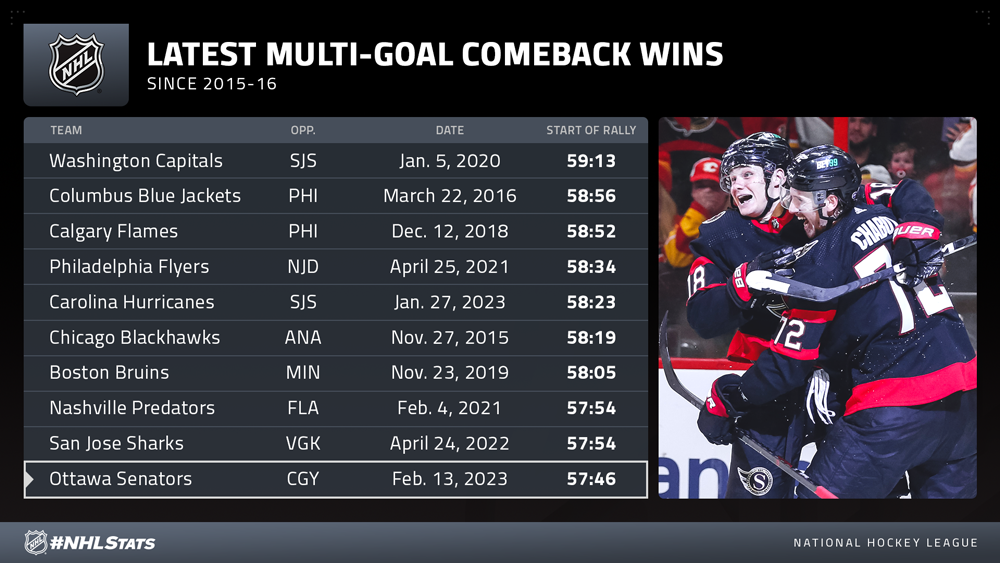 * The performance helped 21-one-year-old Stützle (23-30—53 in 48 GP) register his second career 50-point campaign. It was his fourth career four-point game and second in a span of three contests, allowing him to surpass Martin Havlat(3), Marian Hossa (3) and Alexei Yashin (3) for the most by a Senators player before age 22; the most such outings by any active player at age 21 or younger is 14 by Sidney Crosby.
PLAYOFF POSITIONING PRIMARY FOCUS DURING MONDAY'S SLATE
Several teams across the League moved up the standings Monday as the race to the 2023 Stanley Cup Playoffs ramps up:

* The Kings (30-18-7, 67 points) picked up two points and jumped into second place in the Pacific Division standings, overtaking the idle Kraken (30-18-5, 65 points) and Oilers (30-19-5, 65 points) in the process. Despite dropping in the standings, Seattle has two games in hand on Los Angeles and one on Edmonton entering Tuesday's contest in Winnipeg – where the second-place Jets (33-19-1, 67 points) will look to continue their push for first place in the Central Division.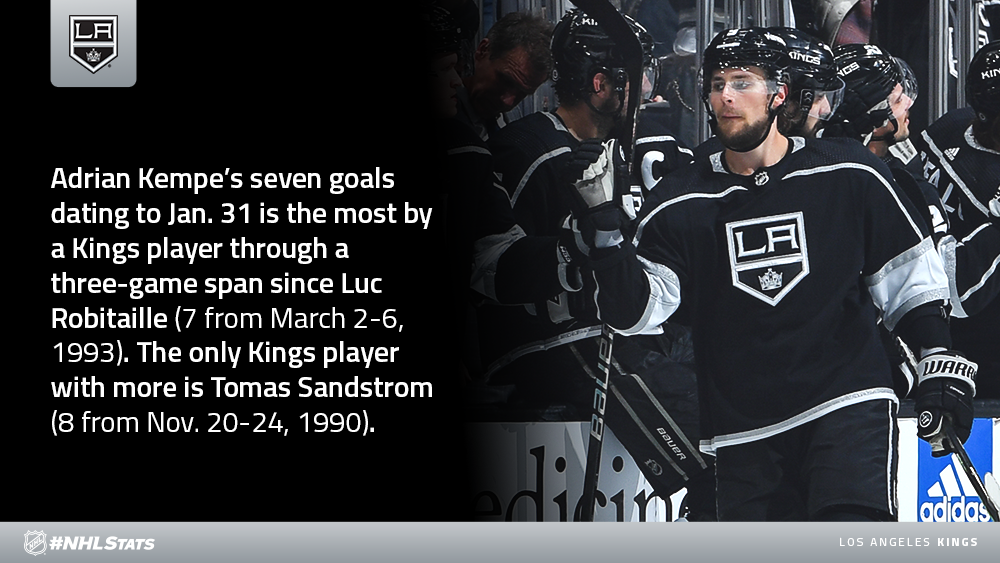 * Minnesota (28-20-5, 61 points) and Calgary (25-18-11, 61 points) both passed idle Colorado (28-19-4, 60 points) in the Western Conference standings, with the Wild replacing the Avalanche as the No. 3-ranked team in the Central Division and the Flames re-entering the playoff picture as the No. 2 Wild Card. The reigning Stanley Cup champions have two and three games in hand on the Wild and Flames, respectively, and will have a chance to reclaim their playoff positioning when they face the Lightning on Tuesday on Sportsnet and TVA Sports.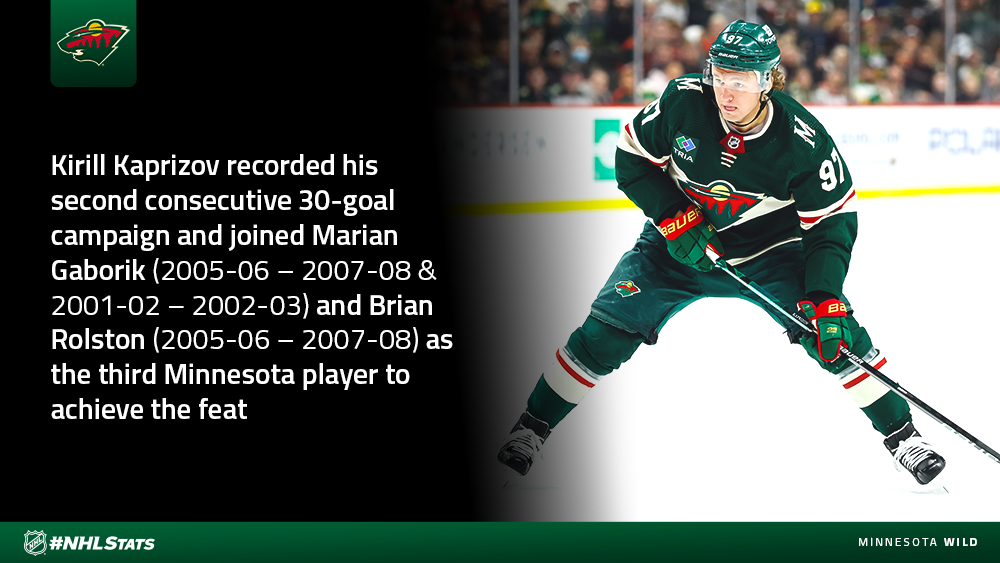 * Florida (27-23-6, 60 points) moved within one point of idle Pittsburgh (26-17-9, 61 points) for the second Wild Card spot in the Eastern Conference, with both clubs in action Tuesday (FLA at STL, PIT at SJS). The Penguins have four games in hand on the Panthers – and are 2-0-0 in their head-to-head season series entering their final matchup March 4 (FLA: 0-1-1) – as they try to maintain their advantage in a playoff race in which six teams are separated by six points.

LARKIN NETS ANOTHER PAIR IN #NHLSTATS: LIVE UPDATES
TheMonday edition of #NHLStats: Live Updates featured notes from all 10 teams, including the Red Wings (24-20-8, 56 points) who pulled within six points of a playoff spot in the Eastern Conference thanks in part to a second straight multi-goal game by captain Dylan Larkin (2-0—2).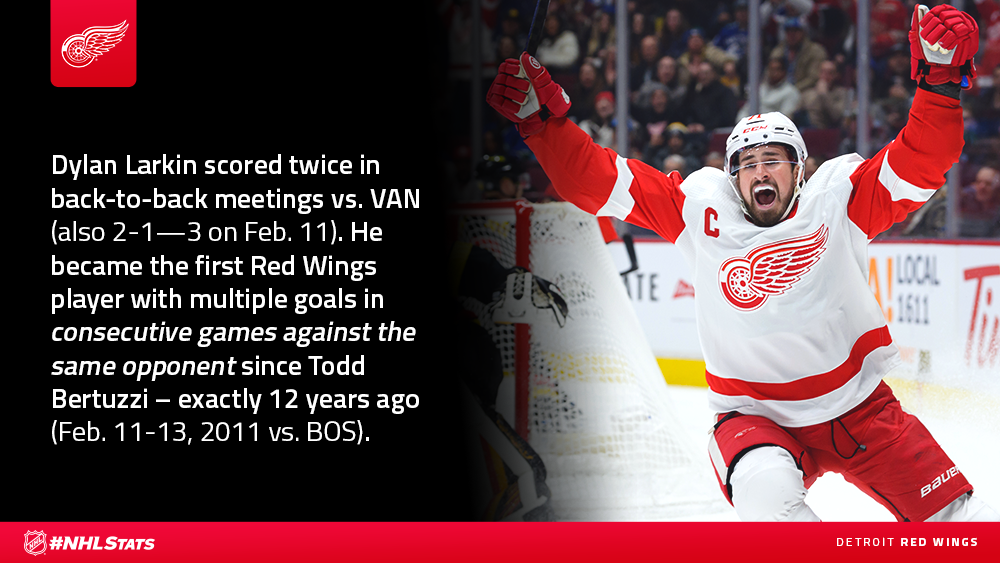 QUICK CLICKS

* Artemi Panarin, Erik Karlsson and Clayton Keller Named NHL 'Three Stars' of the Week
* Color of Hockey: 10-year-old deaf player and actor Keivonn Woodard star on, off ice
* Predators welcome P.K. Subban back to Nashville with open arms
* Bruins to take siblings on upcoming road trip
* Women in Hockey: Jazzmyn Carter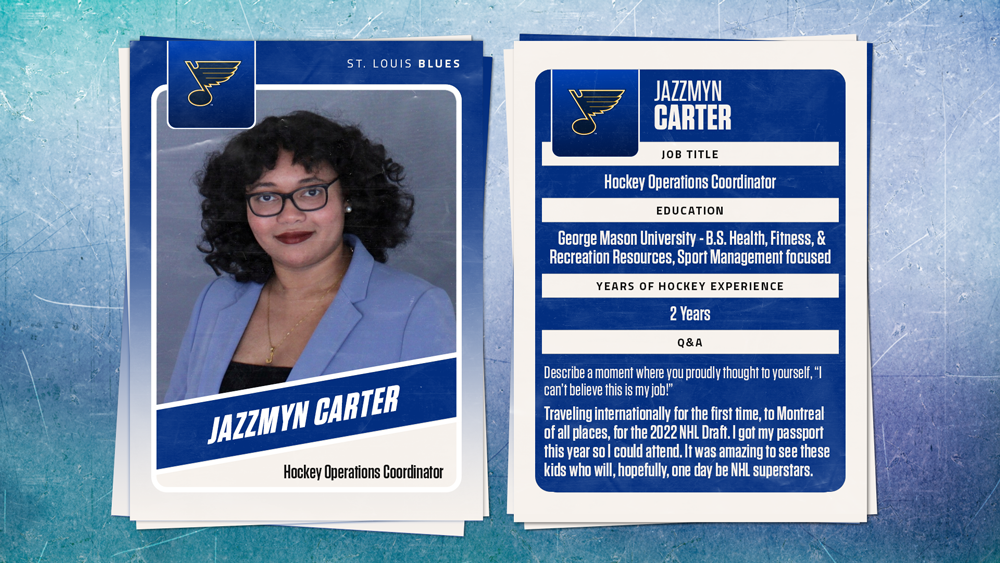 PAIR OF NATIONAL BROADCASTS TAKE CENTER STAGE ON NINE-GAME NIGHT
A nine-game Tuesday in the NHL includes a showdown between the Panthers (27-23-6, 60 points) and Blues (24-25-3, 51 points) on HULU and ESPN+ as well as the Lightning (34-16-2, 70 points) looking to win their second straight game against the defending Stanley Cup-champion Avalanche (28-19-4, 60 points) on Sportsnet and TVA Sports.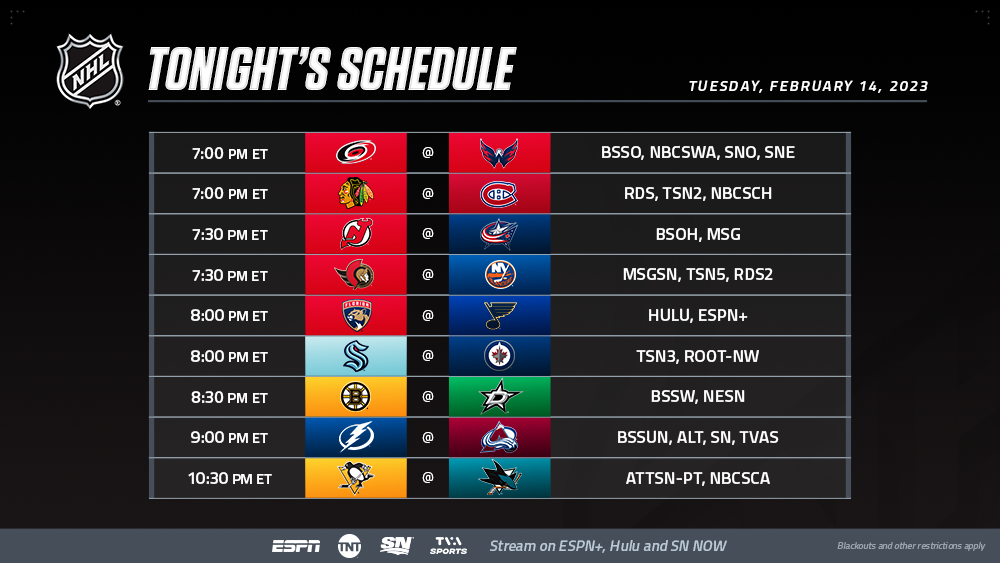 * The past six matchups between St. Louis and Florida have been tightly-contested outings, with each contest decided by a one-goal margin. Should the trend continue Tuesday, it would mark the longest active streak of one-goal games between two clubs in the regular season.

* Tampa Bay held Colorado off the score sheet in their first meeting since the 2022 Stanley Cup Final on Feb. 9. Should they claim victory again Tuesday, the Lightning would become the eighth different team in NHL history to earn a win in each of their first two or more regular-season contests against the club that defeated them in the previous Final – they would join the Rangers (4 GP vs. DET after 1937 SCF), Bruins (3 GP vs. EDM after 1988 SCF), Canucks (2 GP vs. BOS after 2011 SCF), Flyers (2 GP vs. CHI after 2010 SCF & 2 GP vs. NYI after 1980 SCF), Canadiens (2 GP vs. CGY after 1989 SCF), Red Wings (2 GP vs. TOR after 1945 SCF) and Maroons (2 GP vs. NYR after 1928 SCF).

HURRICANES, CAPITALS MEET AHEAD OF STADIUM SERIES
A pair of Metropolitan Division rivals will go head-to-head for the final time before meeting Saturday at the 2023 Navy Federal Credit Union NHL Stadium Series as the division-leading Hurricanes (34-10-8, 76 points) visit the Capitals (28-21-6, 62 points), who hold the first Wild Card position in the Eastern Conference.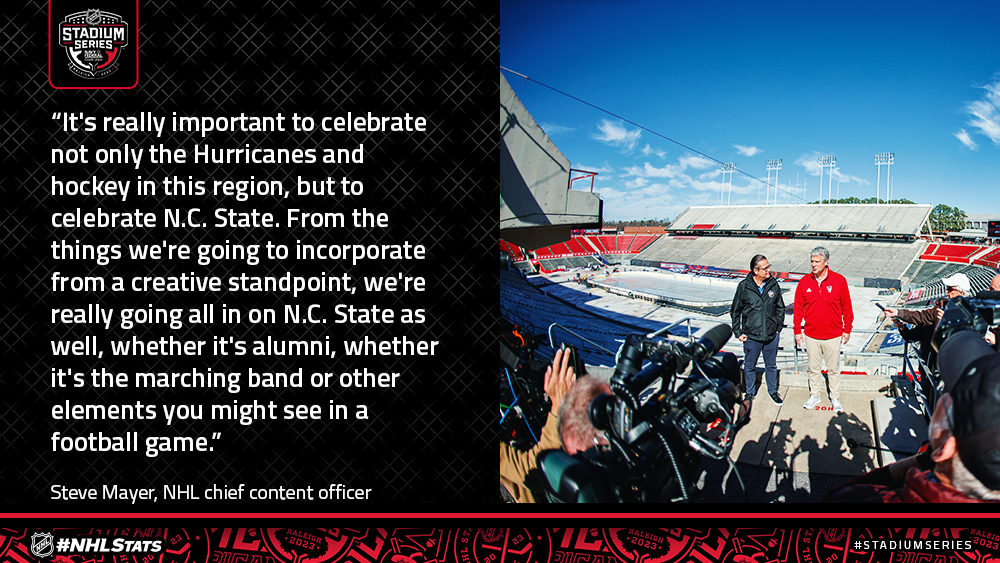 * This will mark the second contest between the teams this season, with Carolina edging Washington with a 3-2 shootout win Oct. 31. The clubs have been among the Metropolitan's best for multiple seasons – over the last five years (since 2018-19) they have earned more regular-season wins and points than any other teams currently in the Metropolitan Division.
* Check out the latest #NHLStats Pack for more stats on each team and on the 37th regular-season outdoor game in NHL history.

* ICYMI: The NHL released a rendering for Saturday's sold-out 2023 Navy Federal Credit Union NHL Stadium Series game at Carter-Finley Stadium, home of the NC State Wolfpack football team (8 p.m. ET on ABC, ESPN+, SN360, TVAS2). CLICK HERE for more on how the event will embrace the college gameday and tailgating atmosphere.