* Three Pacific Division teams picked up wins Sunday, with the Golden Knights building a three-point lead atop the group thanks to a five-goal, third-period outburst.

* Jordan Harris became the first rookie defenseman to score multiple times in a game for the Canadiens in over a decade as Montreal defeated Edmonton at Bell Centre.

* Tage Thompson can require the fewest contests to reach the 70-point mark by a Sabres skater since 1992-93 when Buffalo visits Los Angeles during Monday's five-game slate.


TRIO OF PACIFIC DIVISION CLUBS PICK UP WINS SUNDAY
The Golden Knights, Kraken and Sharks each earned wins Sunday, with the former two clubs making gains in the Western Conference and Pacific Division standings, respectively.

* Michael Amadio (1-1—2) was one of a franchise-high seven players with a multi-point game for Vegas as the Golden Knights defeated the Ducks after a five-goal outburst in the third period, matching their franchise mark for most in a single frame (also 5 in P1 on March 9, 2019). With the victory, Vegas (32-18-4, 68 points) built a three-point lead atop the Pacific Division and moved within two points of idle Dallas (30-14-10, 70 points) for the top spot in the Western Conference.

* Jaden Schwartz found the back of the net twice to help Seattle claim its 17th road win of 2022-23, trailing only New Jersey (19) for the most among all teams. The Kraken improved to 30-18-5 (65 points), leapfrogging the Oilers (30-19-5, 65 points) and Kings (29-18-7, 65 points) to take over second place in the Pacific Division.

* Erik Karlsson (1-2—3) factored on three of his team's four goals as the Sharks defeated the Capitals at Capital One Arena on Sunday. Karlsson became just the third active defenseman to record eight three-point games in a single season, joining Roman Josi (12 GP in 2021-22) and Mark Giordano (8 GP in 2018-19).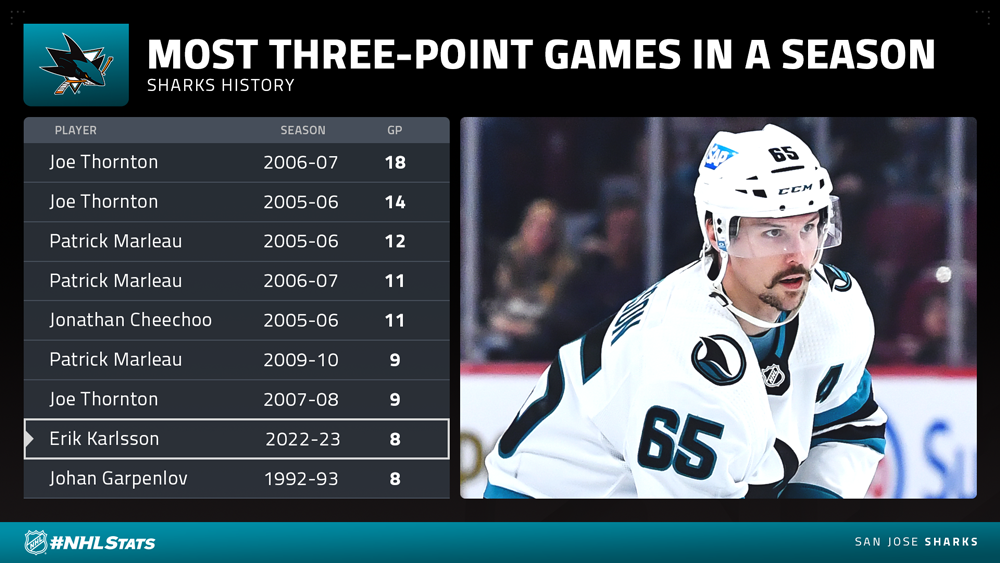 ROOKIE DEFENSEMAN HARRIS HELPS CANADIENS BEST OILERS
With all eyes on Connor McDavid, who entered Sunday three points shy of 100 on the season, Montreal held the League-scoring leader off the scoresheet while rookie defenseman Jordan Harris netted two of six Canadiens goals en route to victory at Bell Centre. Montreal's six-goal output was just one shy of its single-game high this season (7 on Dec. 29, 2022 at STL).

* Harris, who became the first Canadiens defenseman to put up a multi-goal performance in 2022-23, also became Montreal's first rookie blueliner to score twice in a game in over a decade.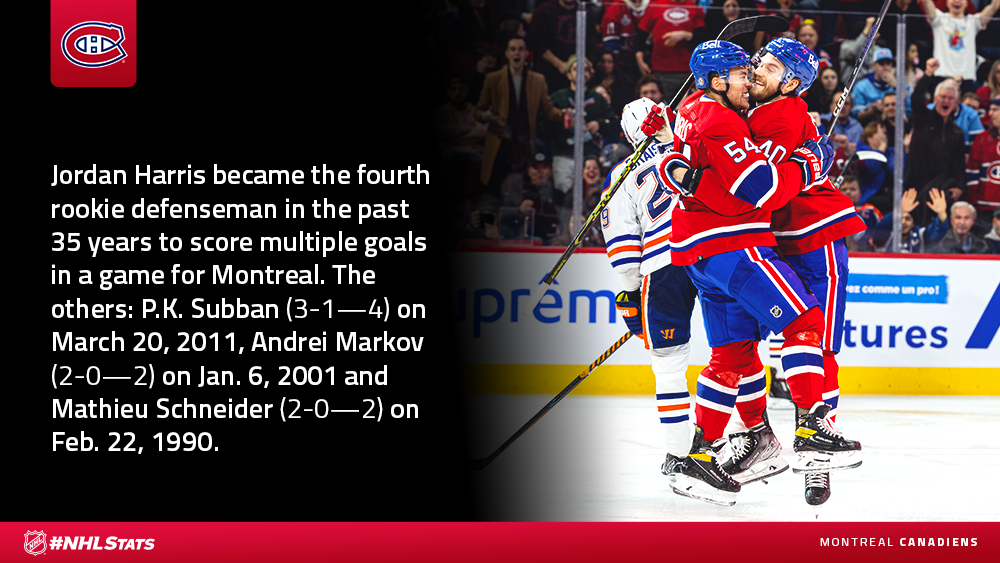 * Alex Belzile (31 years, 165 days) became the seventh-oldest player to score his first NHL goal with Montreal and the oldest since Herb Gardiner (35 years, 35 days on Dec. 7, 1926) almost a century ago.

QUICK CLICKS

* #NHLStats: Live Updates for Feb. 12
* Flyers show support for Eagles in Super Bowl LVII, wear jerseys to game
* Zizing 'Em Up: Timo Meier braces for possible trade by Sharks before Deadline
* Anton Forsberg out indefinitely for Senators after leaving game on stretcher

SEVERAL PLAYERS CAN EXTEND STEAKS, REACH SEASON BENCHMARKS MONDAY
Several players will look to extend streaks and reach season benchmarks during Monday's five-game slate, which opens with the Senators (24-24-3, 51 points) hosting the Flames (25-18-10, 60 points) on Sportsnet and closes with the Sabres (26-21-4, 56 points) squaring off against the Kings (29-18-7, 65 points) on TVA Sports.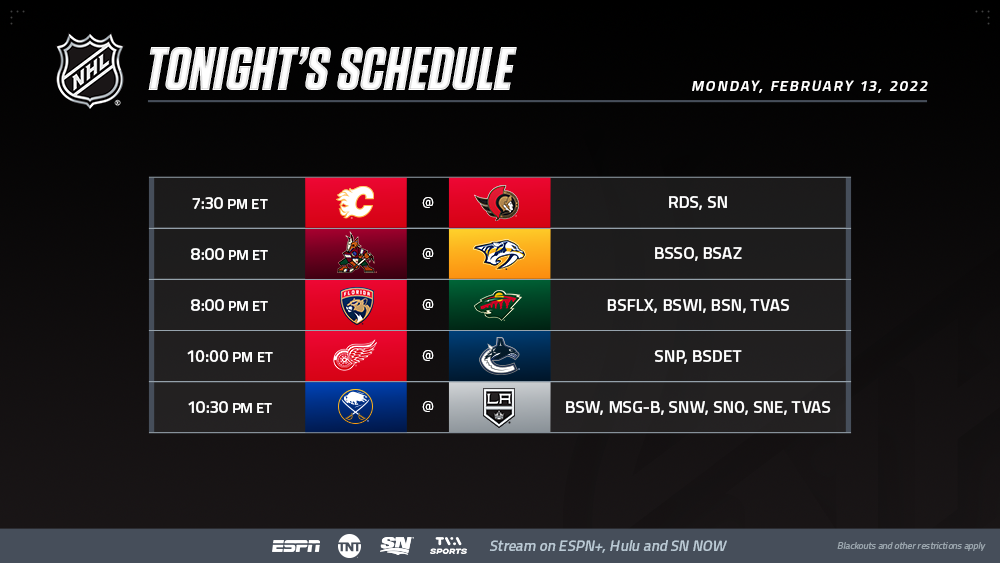 * Claude Giroux holds the NHL's longest active goal streak, having found the back of the net in each of Ottawa's past five games (6-3—9). Should he score Monday, Giroux would tie Drake Batherson (6 GP in 2020-21), Jason Spezza (6 GP in 2009-10), Dany Heatley (6 GP in 2006-07), Daniel Alfredsson (6 GP in 2006-07) and Bob Kudelski (6 GP in 1993-94) for the second-longest goal streak in Senators history behind only Connor Brown (8 GP in 2020-21).

* Elias Lindholm (15-33—48 in 52 GP) leads Calgary with 48 points this season. With two points Monday, Lindholm can record his fourth career 50-point season – the most by a Flames player since he joined the club in 2018-19, surpassing Johnny Gaudreau (3x) and Matthew Tkachuk (3x).

* Adrian Kempe scored four straight goals Saturday and became the first Kings player with as many in a game since Dustin Brown nearly five years ago (April 5, 2018 vs. MIN). Should he open the scoring for Los Angeles against Buffalo, Kempe would become just the third Kings player to net five consecutive team goals – he would join Luc Robitaille (5 from Feb. 4-6, 1992) and Tomas Sandstrom (5 from Nov. 22-24, 1990).

* Tage Thompson (35-34—69 in 51 GP) needs one point to become Buffalo's first player to reach the 70-point mark in a season since Jack Eichel (36-42—78 in 68 GP) in 2019-20. Thompson is on pace to become the sixth different Sabres skater to record 100 or more points in a campaign, a feat last achieved by Pat LaFontaine (53-95—148 in 84 GP) and Alexander Mogilny (76-51—127 in 77 GP) in 1992-93.