* Connor McDavid joined Wayne Gretzky as the second player in NHL history with multiple point streaks of 15-plus games in the same season more than once in his career.

* Artemi Panarin, widely known as the "Breadman", made it rain both hats and bread with a natural hat trick and four-goal, five-point performance before Adrian Kempe thrilled Kings fans with four straight goals.

* Ryan O'Reilly scored the overtime winner to help the Blues fend off a three-goal, third-period rally from the Coyotes as St. Louis became the third team to earn a multi-goal comeback victory Saturday.

* Eight teams are in action before the NFL's finale – the slate opens with Montreal looking to earn its League-leading 21st all-time win on Super Bowl Sunday and closes with a nationally-televised tangle at T-Mobile Arena.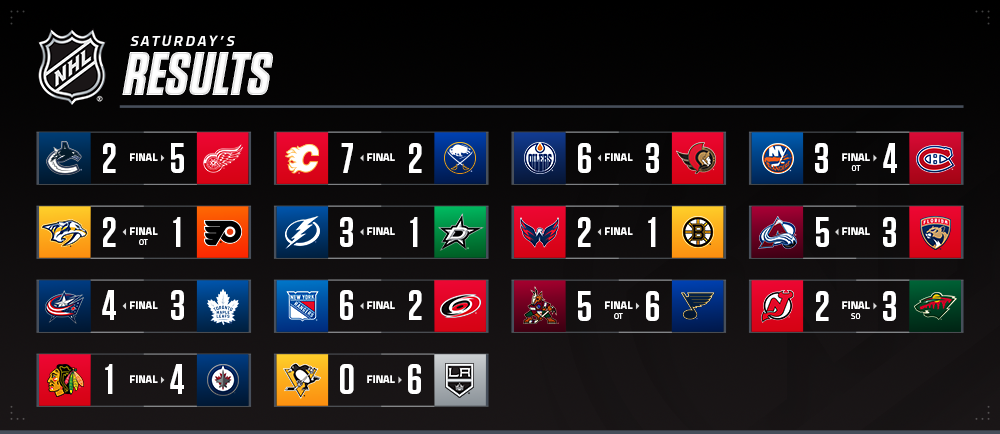 McDAVID JOINS GRETZKY WITH SECOND 15-GAME POINT STREAK OF SEASON
Connor McDavid scored his League-leading 42nd goal of the season just 2:18 into the contest to extend his point streak to 15 games (10-15—25), the second time this season and fourth in his career that he has posted a point streak of 15 or more contests.
* McDavid, the only active player with at least four point streaks of 15-plus games, joined Wayne Gretzky as the second player in NHL history with multiple point streaks of 15-plus games in the same season more than once in his career. Gretzky had multiple point streaks of 15-plus contests in 1981-82, 1982-83, 1984-85, 1985-86, 1986-87, 1988-89 and 1990-91. McDavid, meanwhile, matched a career high with a 17-game point streak earlier in 2022-23 (equaling a mark set in 2021-22 when he tallied 15- & 17-game runs).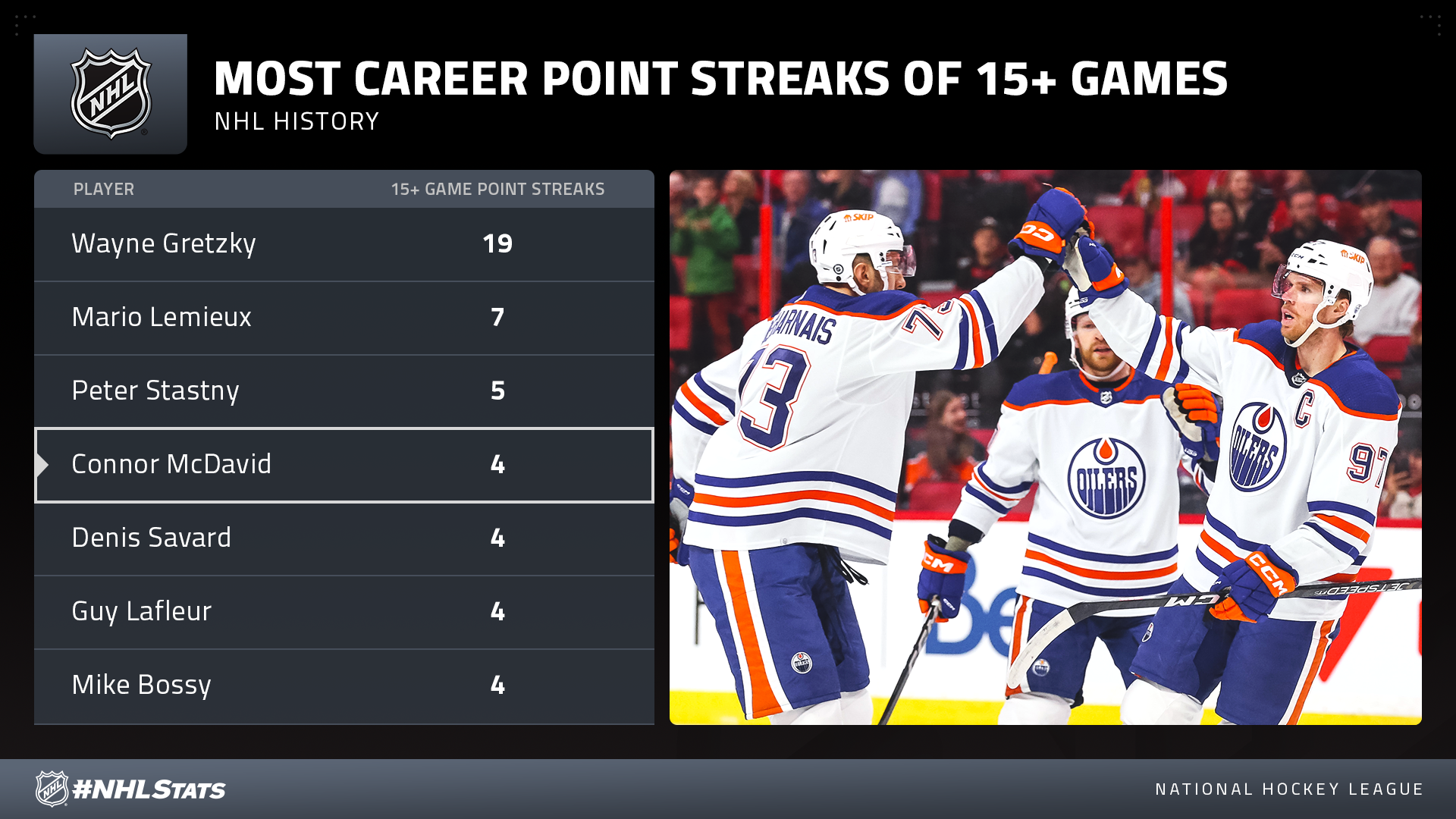 * The Oilers captain tops the NHL with 42-55—97 this season (53 GP) and sits three points back of his sixth career 100-point campaign. Plenty of #NHLStats on his pursuit of 100 points this season and 800 points in his careerare covered here (posted before the All-Star break).

"BREADMAN", KEMPE SCORE NATURAL HAT TRICKS AND FOUR GOALS
Artemi Panarin (4-1—5) and Adrian Kempe (4-0—4) each scored natural hat tricks and four goals to help their clubs, which both sit third in their respective divisions, earn wins Saturday:

* Kempe scored four straight goals and became the first Kings player to record a four-goal outing since Dustin Brown (April 5, 2018), whose No. 23 was raised into the rafters ahead of the game. Kempe became the seventh player in the past 30 years to score four consecutive goals, joining David Backes (Jan. 6, 2015), Ilya Kovalchuk (Nov. 11, 2005), Dany Heatley (Oct. 29, 2005), Patrik Elias (March 30, 2003), Wendel Clark (Nov. 9, 1996) and Peter Bondra (Feb. 5, 1994).

* Panarin tallied five points – which included both a natural hat trick and four goals to surpass the 200-career goal milestone – and became the seventh Rangers player in the past 30 years to record a natural hat trick, joining Andrew Copp (April 21, 2022), Mika Zibanejad (March 25 & March 17, 2021), Chris Kreider (March 4, 2021), Michael Grabner (Dec. 1, 2017), Marian Gaborik (Jan. 31, 2010) and Martin Straka (March 29, 2006).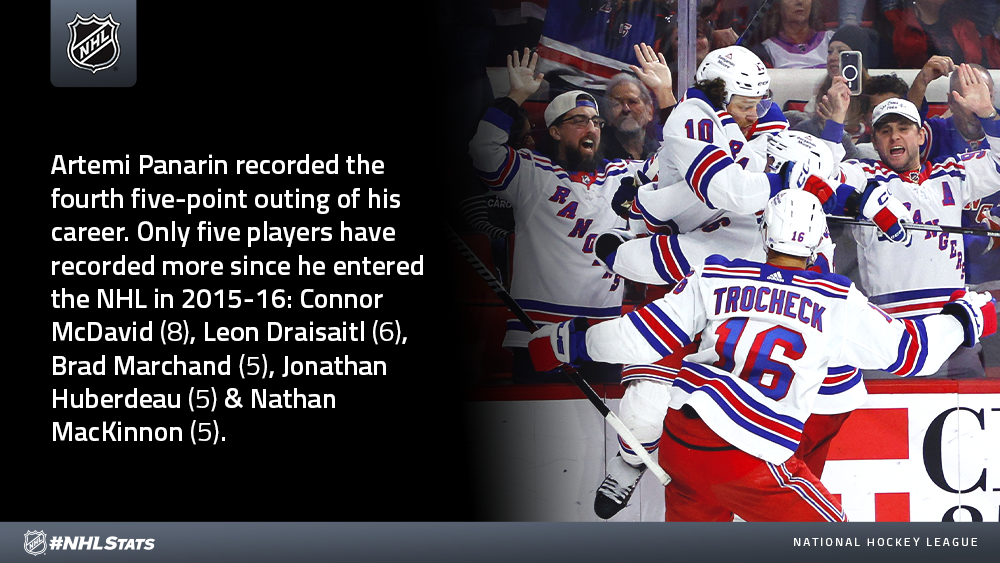 BLUES FEND OFF COYOTES COMEBACK IN BACK-AND-FORTH BATTLE
After Arizona took a 2-0 first-period lead, St. Louis responded with five straight goals to build its own three-goal cushion with just over 10 minutes to play. The Coyotes rallied with a three-goal, third-period comeback – which included a tying tally with 57 seconds remaining in regulation – but Ryan O'Reilly netted the winner in overtime as the Blues (24-25-3, 51 points) became the third team to register a multi-goal comeback victory Saturday (also CGY & CBJ).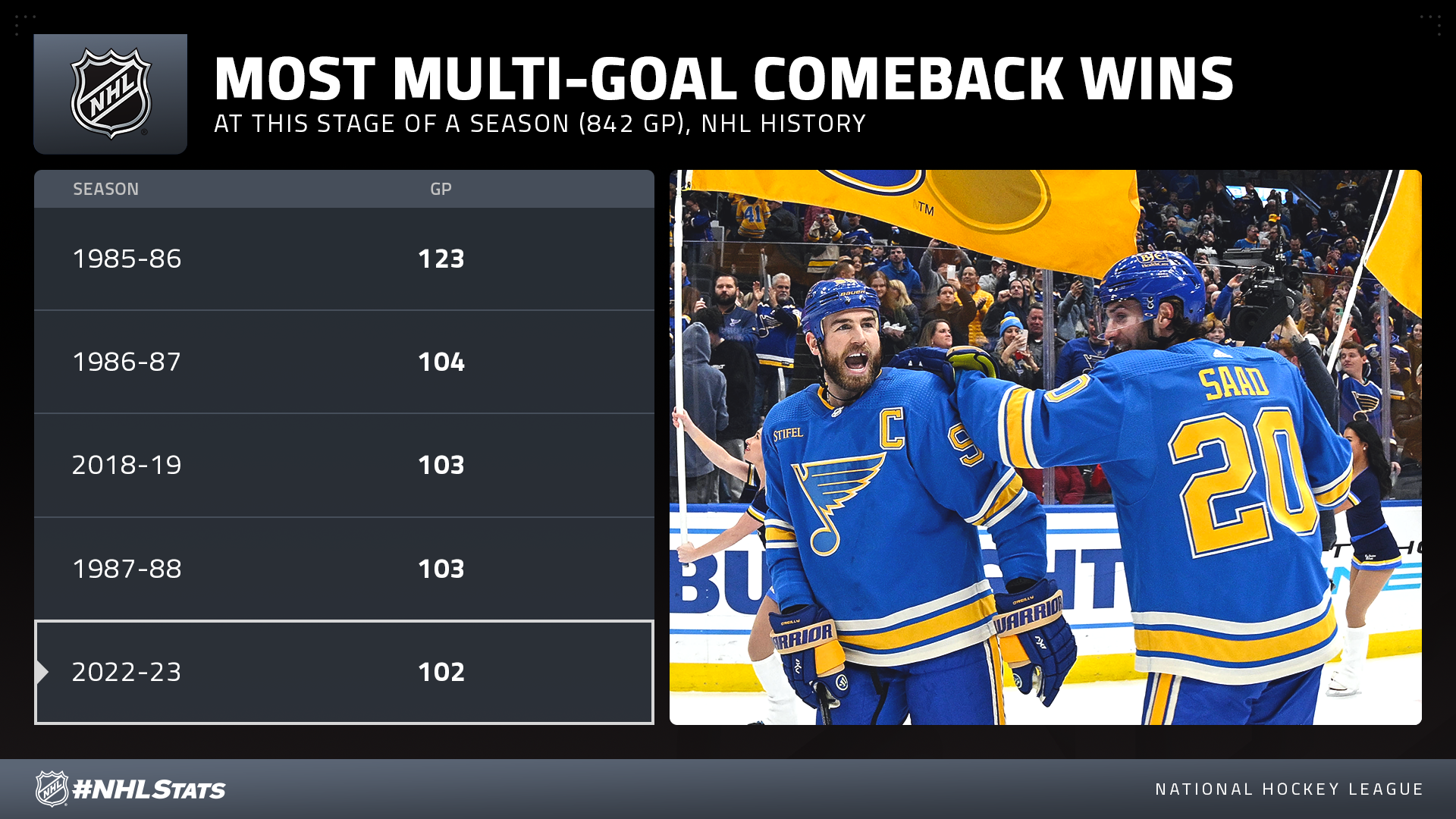 * Calle Rosen (2-0—2) scored twice in the third period over a span of 1:49 – the third-fastest pair of goals by a defenseman this season behind Erik Karlsson (0:23 on Nov. 1, 2022)and Miro Heiskanen (1:48 on Dec. 8, 2022), as well as the fourth-fastest two tallies by a blueliner in Blues history.

* There have been 23 game-tying goals in the final minute of regulation this season but St. Louis became just the seventh team to withstand that tying tally to win, joining Vegas (Dec. 31, 2022), Carolina (Nov. 29, 2022), Detroit (Nov. 25, 2022), Winnipeg (Nov. 25 & 21, 2022) Colorado (Nov. 21, 2022) and Los Angeles (Oct. 17, 2022).

* Nick Schmaltz (1-3—4) and Clayton Keller (2-2—4) each had four points, marking just the third time since 2009-10 that multiple Coyotes skaters have had four-plus points in the same game. The other instances came on March 5, 2022 (Schmaltz: 2-5—7, Keller: 2-2—4 & Shayne Gostisbehere: 1-3—4) and Dec. 28, 2021 (Phil Kessel: 0-4—4 & Lawson Crouse: 2-2—4).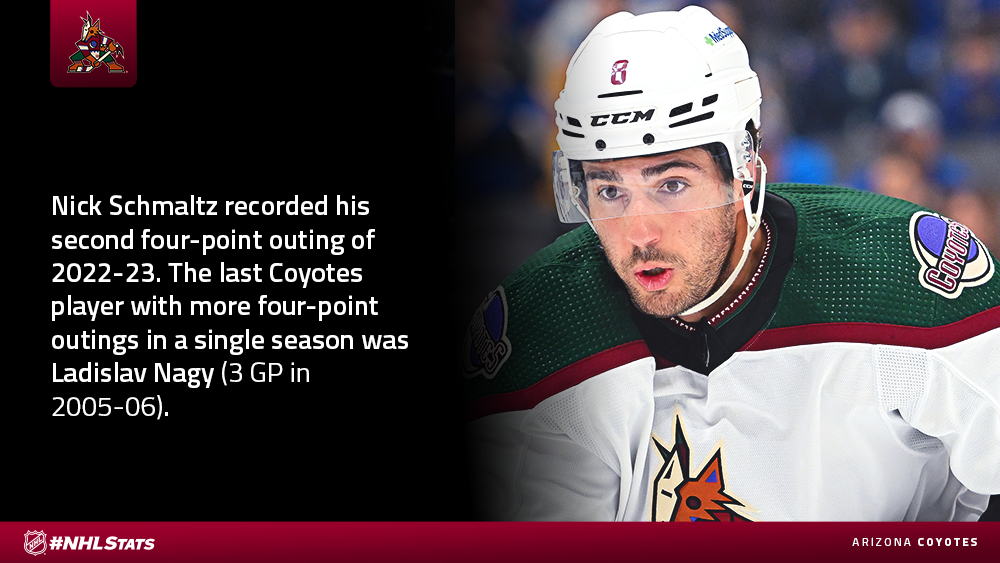 MacKINNON HELPS COLORADO CONTINUE TO CLIMB WEST STANDINGS
The Panthers erased a two-goal deficit but Nathan MacKinnon (2-1—3) factored on his team's next three goals to help the Avalanche (28-19-4, 60 points) improve to 8-2-1 in their past 11 games. Prior to this current stretch, Colorado sat six points back of the second Wild Card spot in the Western Conference and seven points behind Minnesota for third in the Central Division; they now sit third in their division ahead of the Wild (28-20-4, 60 points).

* MacKinnon now has 16-42—58 (40 GP) this season (1.45 P/GP) thanks to his 47th career game-winning goal and 59th career outing with three-plus points – behind Joe Sakic (158 GP), Peter Stastny (128 GP), Michel Goulet (98 GP) and Peter Forsberg (92 GP) for the most in franchise history.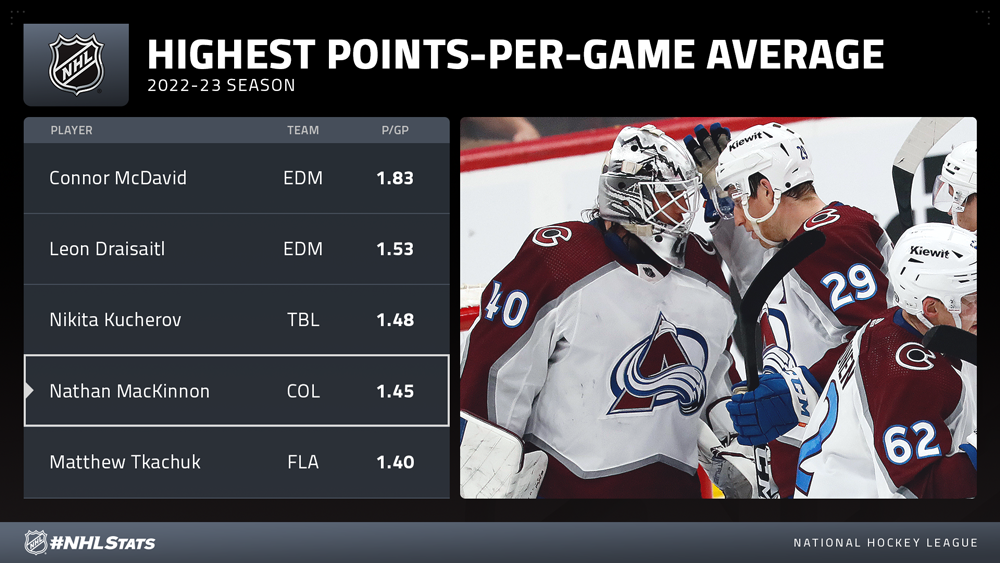 DEFENSEMEN DRIVE TEAMS TO VICTORY IN #NHLSTATS: LIVE UPDATES
The Saturday edition of #NHLStats: Live Updates saw defensemen across the League propel their teams to victory, with a couple reaching franchise and career benchmarks in the process:

* Moritz Seider and Ben Chiarot assisted on both of the Red Wings' goals in the opening 2:35, which marked the second-fastest two points from the start of a game by defensemen in franchise history behind Willie Huber (0:46 on Oct. 29, 1981).

* Calen Addison (0-1—1) factored on one of two Minnesota goals in regulation to boost his career totals to 5-25—30 (69 GP). His 30 points tied Filip Kuba (9-21—30 in 75 GP) for the most by a rookie defenseman in Wild history.

* Victor Hedman (138-500—638 in 947 GP) assisted on the game-winning goal by Anthony Cirelli (2-1—3) with 43.2 seconds remaining in regulation to record his 500th career assist. He became the 33rd defenseman in NHL history to reach the milestone.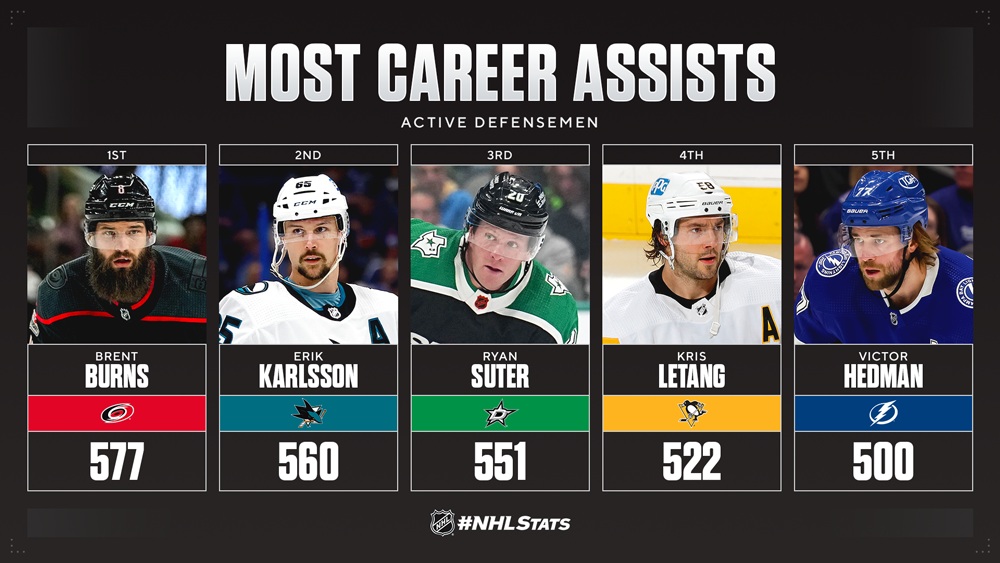 NOT ONE PATH: K'ANDRE MILLER'S CHOICE BETWEEN TWO SPORTS
Heading into Super Bowl Sunday, we're sharing a Not One Path feature on K'Andre Miller who was one choice away from becoming a college football player. Miller was mistaken by the head coach of the Wisconsin Badgers football team as one of their recruits after having just watched some of his film while Miller was touring the campus for hockey. His decision to play NCAA hockey as opposed to football led him to become a first-round draft pick for the Rangers – he enters Super Bowl Sunday sitting second on his team in scoring among defensemen (5-24—29 in 53 GP).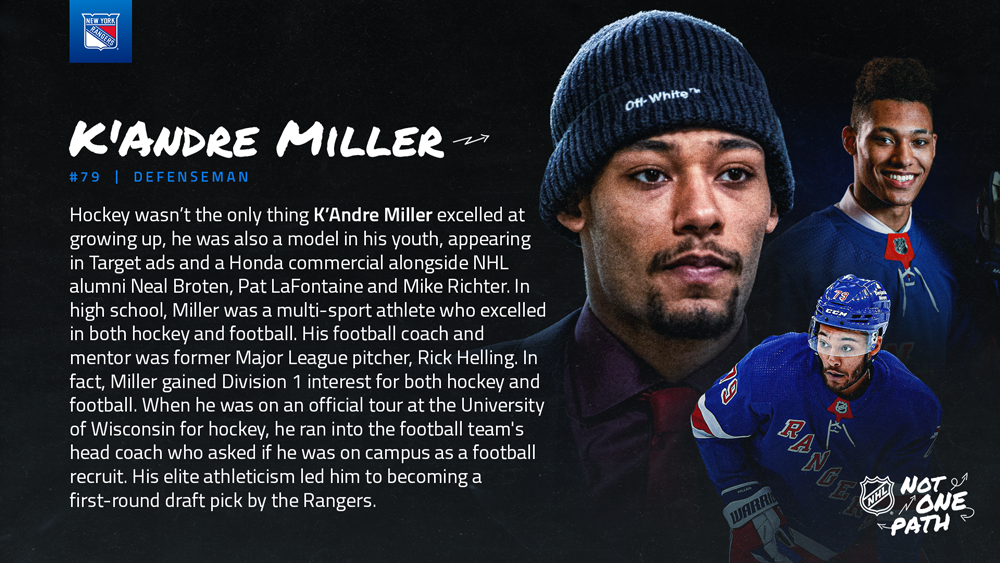 QUICK CLICKS

* NHL On Tap: Connor McDavid closes in on 100 points for Oilers
* Logan Thompson out week to week with lower-body injury for Golden Knights
* Young Red Wings fan receives ovation on Jumbotron
* Scott Wedgewood reveals new Teenage Mutant Ninja Turtles mask
* Kings unveil statue for Dustin Brown, retire No. 23 in pregame ceremony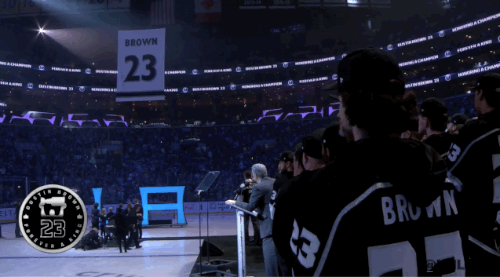 FOUR GAMES PRECEDE SUPER BOWL INCLUDING ANAHEIM-VEGAS ON SPORTSNET
Eight teams are in action before the Philadelphia Eagles and Kansas City Chiefs clash at Super Bowl LVII, including the Ducks (17-30-6, 40 points) and Golden Knights (31-18-4, 66 points) on Sportsnet and Sportsnet ONE.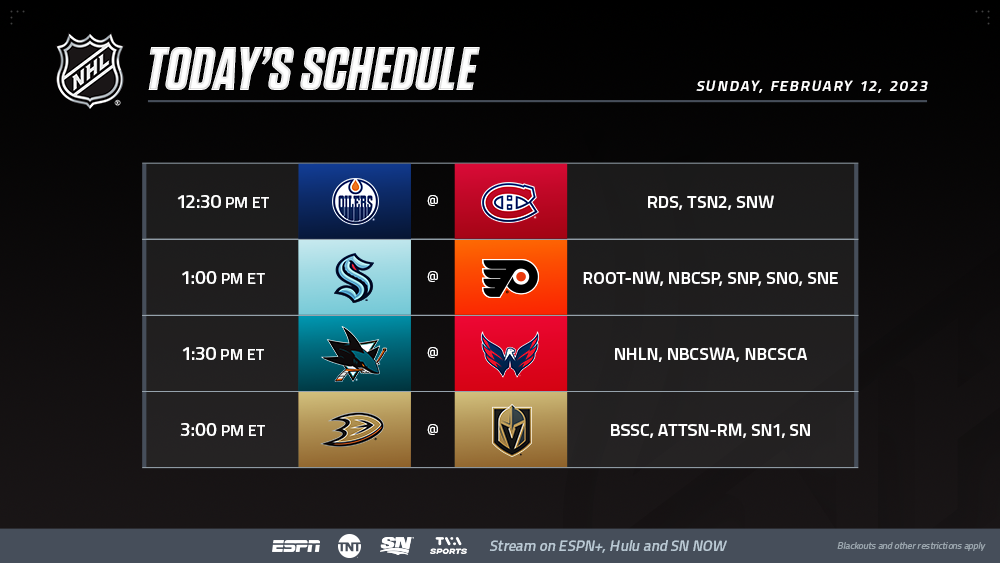 Today's edition of #NHLStats: Live Updates explores if some of the top storylines surrounding the NFL's finale have ever happened in the NHL and also features other Super Bowl Sunday-centric team and player notes for the eight clubs in action. Some highlights include:

* Super Bowl LVII is set to feature brothers Travis and Jason Kelce going head-to-head for the Vince Lombardi Trophy. The only Stanley Cup Final in the last 76 years that saw siblings go head-to-head was in 2003 when Devils defenseman Scott Niedermayer squared off with his younger brother Rob, a forward for the Mighty Ducks. The elder Niedermayer joined forces with his sibling when he was signed by Anaheim on Aug. 4, 2005, and the brothers won a championship together in 2007.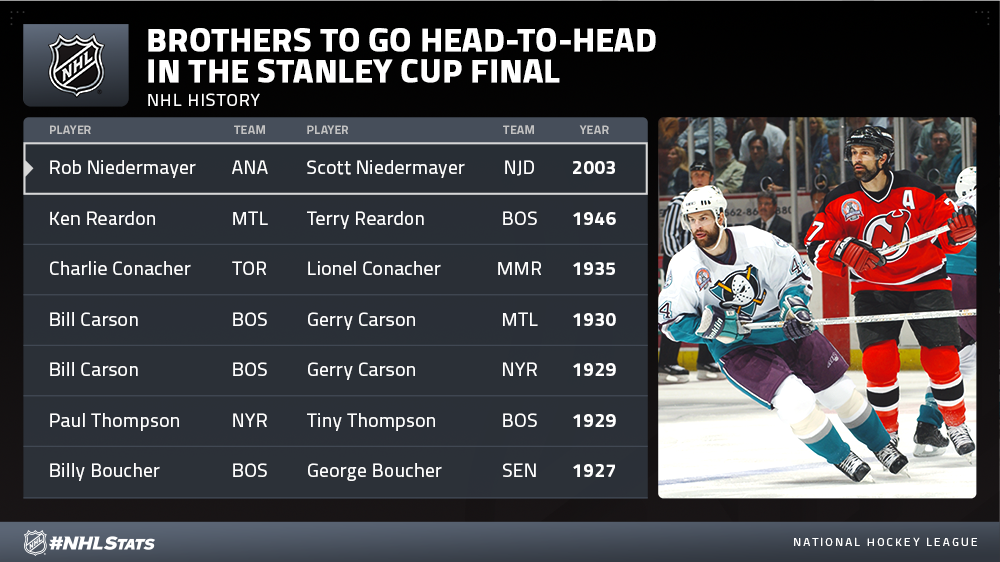 * Alex Ovechkin (12-7—19 in 15 GP) owns the second-most career goals and points during games on Super Bowl Sunday in NHL history behind Phil Esposito (16-16—32 in 12 GP). Nicklas Backstrom (4-12—16 in 13 GP) has the third-highest assist total in League history, trailing only Esposito and Johnny Bucyk (5-13—18 in 9 GP).