Stats and storylines heading into this week's action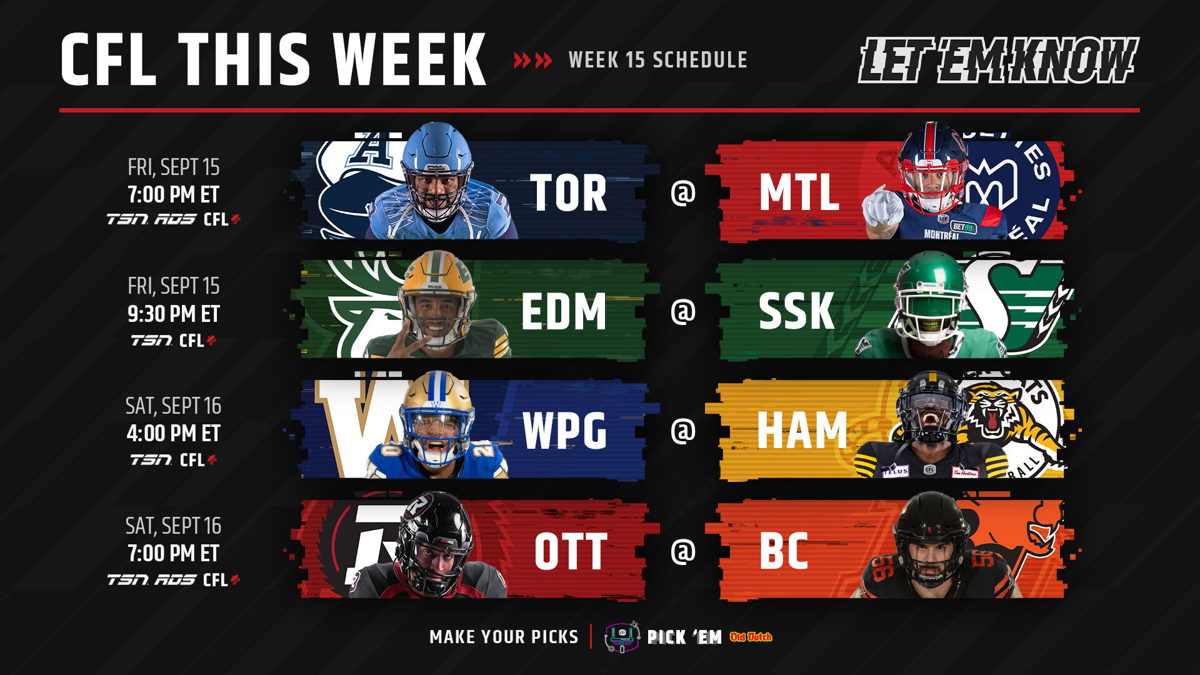 PULLING TOGETHER
With a victory this week, Toronto would clinch its third straight division title. The team has managed this feat on two previous occasions: 1982-84 and 1920-22.
The 1996 Argos are the only other team in club history to start 10-1. No team has begun a season with an 11-1 mark.
The team is averaging 35.2 points per game – currently the fourth highest in team history. The 1990 squad set the benchmark at 38.3.
They have had better starting field position in each of their 11 games.
The team has the highest redzone TD rate at 71 per cent – currently tied for fourth in CFL history (since 2004).
The Argos lead the CFL with 108 points scored off opponent turnovers (28 per cent of team scoring). They have a league-best +16 turnover ratio. The team record is +21 set in 1988.
The offensive line has not allowed a sack in five straight games, and has allowed 10 in total.
LEADER OF THE PACK
In his last four games, Vernon Adams Jr. has completed 66 per cent of his passes for 1,407 yards and 11 touchdowns.
He passed for 300+ yards in each of those games, including a 455-yard effort in Week 11.
He is on pace for a career-high 4,731 passing yards, topping his 4,162-yard showing from 2018.
In 10 starts, Adams has a league-best seven 300+ passing yard games.
He is tied with Zach Collaros for the highest average pass depth at 12.8 yards.
On 20+ yard depth passes, he leads all quarterbacks in attempts (82), completions (39) and touchdowns (14).
BOMBS AWAY
Last week, Winnipeg put together one of the most complete performances in recent memory with:

Zero turnovers
Zero sacks allowed
600+ yards of net offence
300+ passing yards
No missed field goals or converts (9/9)
Nine consecutive scoring drives
Seven big plays and zero allowed
No touchdowns allowed
One punt
Scores on each redzone opportunity (four TDs and two FGs)
A perfect pass efficiency rating (158.3)
Zero two-and-outs
QUICK SLANTS
Over the past five weeks, games have averaged 56 points and a passer rating of 104.0.
Through two thirds of the season, 60 per cent of games have been decided in the final three minutes, including four in overtime.
The four Week 14 games saw a total of nine lead changes – the most in a single week this season.
In terms of game flow, Week 14 featured an average length of 2:44 with two at 2:36 or less, and a season-low 12.8 penalties per game.
CFL punters are on pace to set a record for average yards per punt with 47.2, led by Richie Leone at 48.8.
Toronto Head Coach Ryan Dinwiddie has a career record of 30-13, and currently sits 5th all-time in winning percentage (.697).
Andrew Harris (15,852) needs 148 yards from scrimmage to become the fourth player in league history to reach 16,000, trailing only Mike Pringle (20,255), George Reed (18,888) and Geroy Simon (16,546).
Montreal's Austin Mack (971) needs 29 receiving yards to reach 1,000.
Edmonton has back-to-back games with 220+ rushing yards. Only two other teams have reached the 200+ mark this season: Ottawa's 208 in Week 4 and Winnipeg's league-wide of 263 last week.
The Elks' Kevin Brown has 232 rushing yards (8.6 yards per carry) in his past two games.
Both Tre Ford and Jake Dolegala will be making their first career starts against the opposition.
Saskatchewan is 9-2 in its last 11 games vs. Edmonton. Each of those games was decided in the final three minutes, with an average margin of victory of 5.6 points. This season, Saskatchewan won 17-13 in Week 1 and 12-11 in Week 5.
Last week, Winnipeg became the only team on record to score on all six of its first half possessions.
Dalton Shoen (925) needs 75 receiving yards for his second straight 1,000+ season.
Brady Oliviera (1,114) rushed for a league-high 154 yards last week for his second career 1,000-yard season. He is on pace for 1,584, good for second most by a Canadian behind Jon Cornish's 1,813 in 2013.
Hamilton has won its last three meetings at Tim Hortons Field with the Blue Bombers.
In his last two games, Tim White has 15 receptions for 290 yards and three touchdowns.
Ottawa's Devonte Williams increased his rushing output for a fourth consecutive game to reach a career-high 146 last week, while also adding 69 receiving yards. He has 11 runs of 10+ yards in his last two games.
Dustin Crum will be Ottawa's sixth different starting quarterback versus BC in the teams' last six meetings.
BC has not lost to Ottawa at home since a 30-25 setback on October 7, 2017.