Stats and storylines heading into this week's action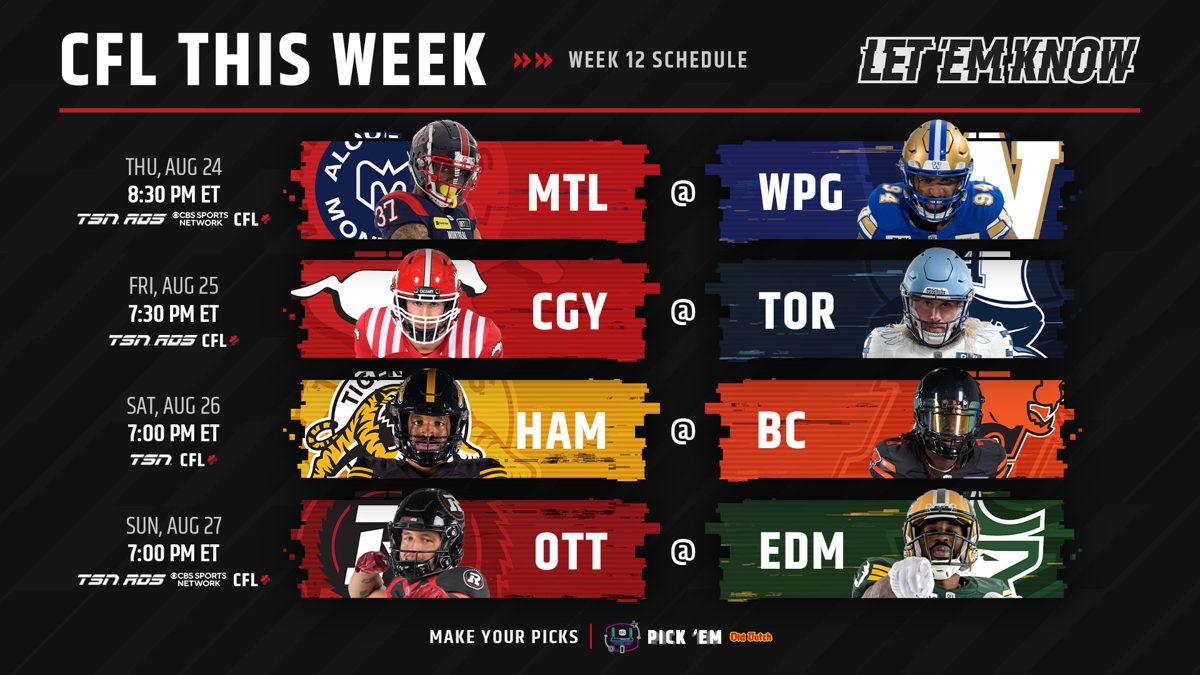 STREAKING TEAMS MEET AT IG FIELD
Both Winnipeg and Montreal enter Week 12 with four game win streaks.
The two teams met in Week 4 during a downpour in Montreal where Winnipeg won 17-3. The game was delayed 1:42 minutes due weather.
Montreal has won seven of their last eight road games. The team won last year at IG Field 20-17 (OT).
The Alouettes are looking for their first five-game winning streak since 2014, when they won six consecutive games from September 21 to November 2.
Cody Fajardo is 2-7 in 9 career starts versus Winnipeg – the most losses to a single team. On the other side, Zach Collaros is 7-7 in 14 career starts versus Montreal – also the most losses to a single team.
Austin Mack is on pace for 96 catches for 1,546 yards this season. His pace would set new records for receiving yards and for receptions by a first year player. The receptions record is held by Derel Walker (89) and the receiving yards record by Matt Clark (1,530).
Through 11 games last season, Dalton Schoen had 39 catches for 698 yards. This year he has 40 catches for 705 yards including 17 receptions for clutch second down conversions.
CFL PASSING IN-DEPTH
61 per cent of the league's passing yards are "air" yards and 39 per cent are yards after catch.
Of the 106 passing TDs this season, 55 per cent have come from 20+ yard depth passes.
Pass Attempts 0-9 Yards Depth Downfield
​TD | INT | Efficiency | Percentage of pass attempts
​31 | 34 | 90.1 | 61%
Pass Attempts 10-19 Yards Depth Downfield
​TD | INT | Efficiency | Percentage of pass attempts
​17 | 26 | 82.3 | 21%
Pass Attempts 20+ Yards Depth Downfield
​TD | INT | Efficiency | Percentage of pass attempts
​58 | 35 | 101.1 | 18%
QUICK SLANTS
The Argonauts are coming off their third bye of the season this week. The double blue have won five straight games coming off a bye including two this season. Teams this year are 9-3 when coming off a bye.
12 of the last 14 games have been won by the team with the higher 2nd down conversion rate.
Of the 17 offensive TDs last week, 12 of them were on drives where a team made a BIG play.
There was 27 sacks last week, for an average 6.8 per game – the most of any week this season.
Three of the four losing teams last week had possession of the ball and a chance to retake the lead in the final two minutes.
This year 10 games have been decided by four points or less.
In the first nine weeks, the league's TD to INT ratio (0.95:1) was the lowest since 1988. In the past two weeks it's been the highest of the season (2.25:1).
Only five times this season a team trailing after the third quarter has come back to win the game. Montreal has done this twice this season, while Winnipeg, Saskatchewan, and Ottawa have done it once.
All four games this week feature West teams taking on an East teams. The last time this occurred was last season, Week 4. That Week the West swept the East teams and three games were decided in the final three minutes. Through 11 weeks last year, West teams were 18-4 versus East teams, this year, East leads 9-7.
Calgary will visit Toronto for the 51st time in their history, Toronto is 26-23-1. Ryan Dinwiddie is 1-3 versus Calgary, while Dave Dickenson is 11-1 versus Toronto.
Calgary has won three straight games against Toronto and the lone team to knock off the Argonauts this season back in Week 9, 20-7.
Argos returner Javon Leake has three punt return touchdowns which ties a club record with Jimmy Cunningham (1995) and Bashir Levingston (2003). Only seven times has a player recorded four or more in a season, last being done by Brandon Banks in 2015.
BC and Toronto are each 7-0 when they lead after three quarters.
Tiger-Cats running back James Butler has racked up 260 yards from scrimmage on 34 touches in his last two games.
BC and Hamilton will meet for the 100th time on Saturday, BC leads the series 56-40-3. In their last four meetings, each game has gone down to the final three minutes with Hamitlon winning three of those games.
Mathieu Betts had a sack last week giving him 11 on the year. He is six away from tying the Canadian sack record set by Brent Johnson with 17 in 2005.
In the past two games, Vernon Adams has passed for 777 passing yards, 7 TDs to 2 INTs. Keon Hatcher in the same stretch has 15 receptions for 264 yards and two TDs.
Ottawa has won four of the last five meetings versus Edmonton including their meeting in Week 4, 26-7.
The REDBLACKS are 2-7 in games decided in the final three minutes this season.
Ottawa leads the league in rushing yards per game 127.7 with Dustin Crum leading their team in rushing yards (451).
Last week, Edmonton A.C. Leonard had his 100th career start in 107 career games. He registered three defensive tackles, including a sack for a loss of four yards, but he also caught a 45-yard pass to give his team a first down at the Hamilton 6 yard line.
Emmanuel Arceneaux grabbed 3 passes for 33 yards in the Elks win last week. The catches extended his consecutive streak to 138 games, which ranks 5th in CFL history. He now has more than 9,000 receiving yards for his career – 626 receptions for 9015 yards and 58 TDs. He needs 22 yards to pass James Murphy for 29th all-time.