Stats and storylines heading into this week's action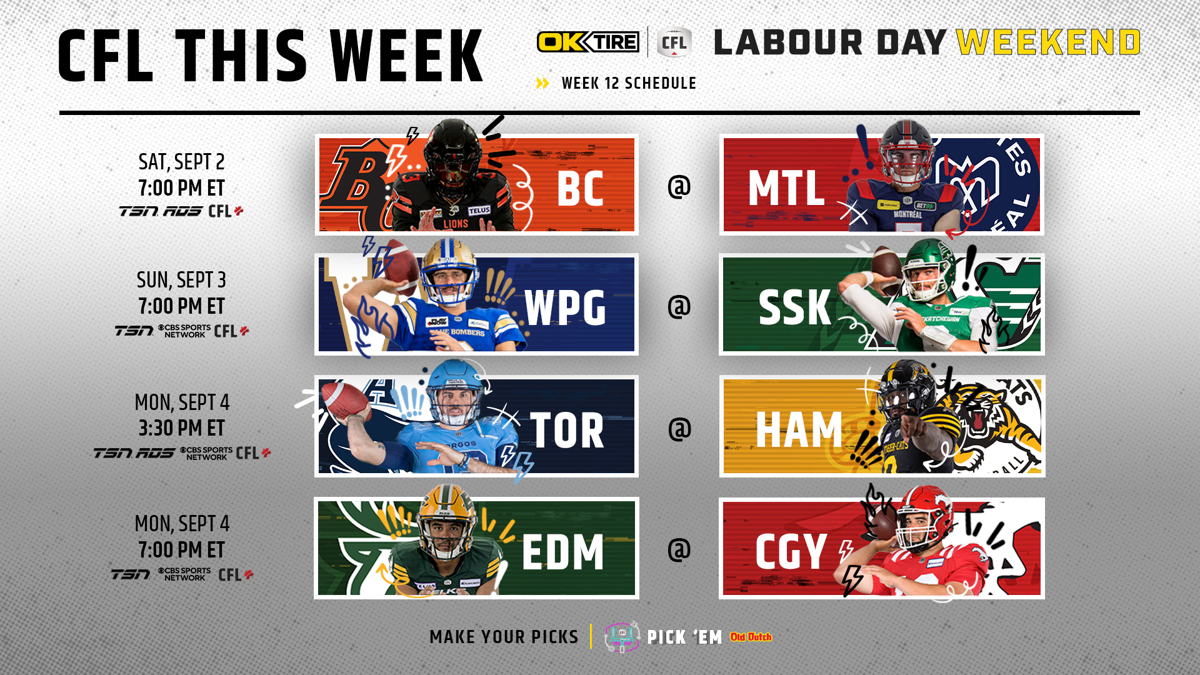 LDC SPOTLIGHT: BC AT MONTREAL
BC and Montreal last met on Labour Day Weekend in 2015.
This will be their 14th meeting in this Labour Day Classic (LDC) series.

First meeting: September 1, 1980
Series 7-6 edge to BC
Seven games have been decided in the final three minutes

This will be Vernon Adams Jr.'s first start in Montreal against his old team. In two separate stints with the Alouettes, he went 17-12 (.586) in 29 starts.
Cody Fajardo is 1-2 in Labour Day matchups, while Adams hasn't started in one.
LDC SPOTLIGHT: WINNIPEG AT SASKATCHEWAN
The Roughriders holding a 37-21 advantage in the series.
Winnipeg won the teams' first meeting of the season, 45-27 in Week 2. Their third and final meeting comes next week in the tail end of the home-and-home series.
Saskatchewan has taken 14 of the past 17 editions of the LDC with Winnipeg's victories coming last year (20-18), in 2021 (23-8) and in 2016 (28-25).
Mike O'Shea is 3-5 as a Head Coach in the LDC.
In their previous 58 LDC contests, 32 were decided in the final three minutes.
Zach Collaros is 6-0 in the LDC (3-0 for Hamilton, 1-0 for Saskatchewan and 2-0 for Winnipeg) with 13 touchdown passes to three interceptions, while passing for 300+ yards on three occasions, including one 400+ yard performance in 2015.
The teams have followed up the LDC with a return matchup in the previous 18 seasons. Saskatchewan has swept the series seven times ('08, '09, '11, '12, '14, '18) and Winnipeg has taken both games on four occasions ('04, '16, '21 and '22).
LDC SPOTLIGHT: TORONTO AT HAMILTON
This will be the 52nd edition of this East Division LDC.
The Argonauts won their first two matchups this season. They will meet for a fourth and final time in Week 16.
Hamilton is 36-14-1 in the series.
The Argonauts won on Labour Day last season, but Hamilton had taken nine of the previous ten LDCs prior.
In 18 of the past 20 LDCs (since 2002), the team that won the fourth quarter went on to win the game.
Of the 51 LDCs in the series, 26 have been decided in the final three minutes.
This will be both Taylor Powell and Chad Kelly's first starts in a LDC.
Orlondo Steinauer is 3-1 in LDC games, while Ryan Dinwiddie is 1-1
In two games versus Hamilton this year, Kelly has passed for 544 yards with 6 touchdowns (2 pass, 4 rush), while completing 68 per cent of his passes.
LDC SPOTLIGHT: EDMONTON AT CALGARY
This will be the 62nd LDC played between the provincial rivals. Calgary will play host for the 58th time.
The LDC series is tied at 30-30-1.
Calgary has won nine of the last 10 LDC versus Edmonton. Last season the Stamps won 26-18.
Calgary's Jake Maier is set for his third LDC start in a row (1-1), while Edmonton's Tre Ford will start in his first.
Calgary's Dave Dickenson is 5-1 in the LDC, while Edmonton's Chris Jones is a combined 2-4 as a head coach in LDCs.
Since 1989, Calgary and Edmonton have used the LDC to kick off a home-and-home. Calgary has swept the series in ten of the past 15 years, including last season. Edmonton's last sweep was in 2004.
FOX 40
Dave Foxcroft will work his final game as a CFL official next Monday in Hamilton. His first game took place at Ivor Wynne Stadium in June, 2001.
The 22-year veteran will continue to work as a replay official in the command centre, and in training and development for CFL officials in the offseason.
Foxcroft worked more than 350 games and six Grey Cup games with his most recent being the 109th Grey Cup in Saskatchewan.
QUICK SLANTS
Week 12 featured four return touchdowns, bringing to 32 this season.
In the past three weeks, games have averaged 50.3 points.
The CFL passer rating over the last three weeks has been at the highest point this season (103.4).
In the past three games, BC's Vernon Adams Jr. has passed for 1,103 passing yards and 8 TDs.
The Lions' Lions Mathieu Betts registered a sack last week to bring his league leading total to 12 – five away from tying the single season Canadian record held by Brent Johnson and Jamal Westerman. He is on pace for 19.
Last week, Zach Collaros became the second quarterback to throw two pick-sixes in the same game and still lead their team to victory. Anthony Calvillo did the same in 2004 and 2006.
Brady Oliveira is 98 rushing yards away from his second consecutive 1,000 yard season, after reaching 1,001 last year. He is on pace for 1,476 rushing yards – the second highest by a Canadian behind Jon Cornish's 1,813 in 2013.
Dalton Schoen and James Butler lead the league with seven touchdowns.
Saskatchewan is coming off their second bye of the season. Teams this year are 10-3 after a week's rest, including a Roughriders win in Week 5.
Anthony Lanier II has four sacks and nine defensive tackles in his last three outings.
Toronto has had a better average starting field position than their opponents in every game this season. They have started 21 drives on their opponent's side of the field, leading to 13 scores (10 TDs, 3 FGs).
Toronto's DaVaris Daniels is on pace to for his first 1,000-yard season. His career-high is 885 yards and 9 TDs in his rookie season with the Stampeders in 2016. He leads the league with an average of 22.1 yards per catch.
Last week, Javon Leake set the Argonauts' single-season record for punt return touchdowns with his fourth. He needs one more to tie Gizmo Williams (1991) and Chris Williams (2012) for the league record.
21 different quarterbacks have started this season. Hamilton's Taylor Powell became the 17th different quarterback to win a game this season. Last year at this time, 12 different quarterbacks had registered a win.
Ticats running back James Butler has accumulated 414 yards from scrimmage in his last three games.
The Elks are looking to notch their first three-game winning streak within a season since 2018.
Last week, Edmonton's Tre Ford became the seventh Canadian QB to pass for 300+ yards in a game in league history, joining Russ Jackson, Gerry Dattilio, Nathan Rourke, Don Getty, Greg Vavra and Luc Tousignant.
Notre Dame product, Nyles Morgan has a career-high 71 defensive tackles this season. He is on pace for 120, which would be the second most in team history.
Calgary's Reggie Begelton is second in the league in receiving with 814 yards and first with 310 yards after the catch. His 203-yard showing last week was a new career high and a league-wide season-high.
Calgary linebacker, Micah Awe has set a career-high with 77 defensive tackles. This season, he has recorded 8+ tackles on five occasions, and is on pace for 126. He leads the league in defensive plays (90).