* Leon Draisaitl, Connor McDavid and Evan Bouchard powered Edmonton's four-goal first period and helped the club knot up its Second Round matchup at one game apiece as the series now shifts to Rogers Place for Game 3.

* Leon Draisaitl, producing at a 1.63 goals-per-game pace during the 2023 Stanley Cup Playoffs, is already just six goals shy of matching the NHL record for most in a single postseason and three power-play goals shy of the most in a playoff year.

* Sunday features a trio of Second Round Game 3s as the Hurricanes and Panthers hope to take a 3-0 series lead while the Kraken and Stars shift to Climate Pledge Arena after splitting their first two contests in Dallas.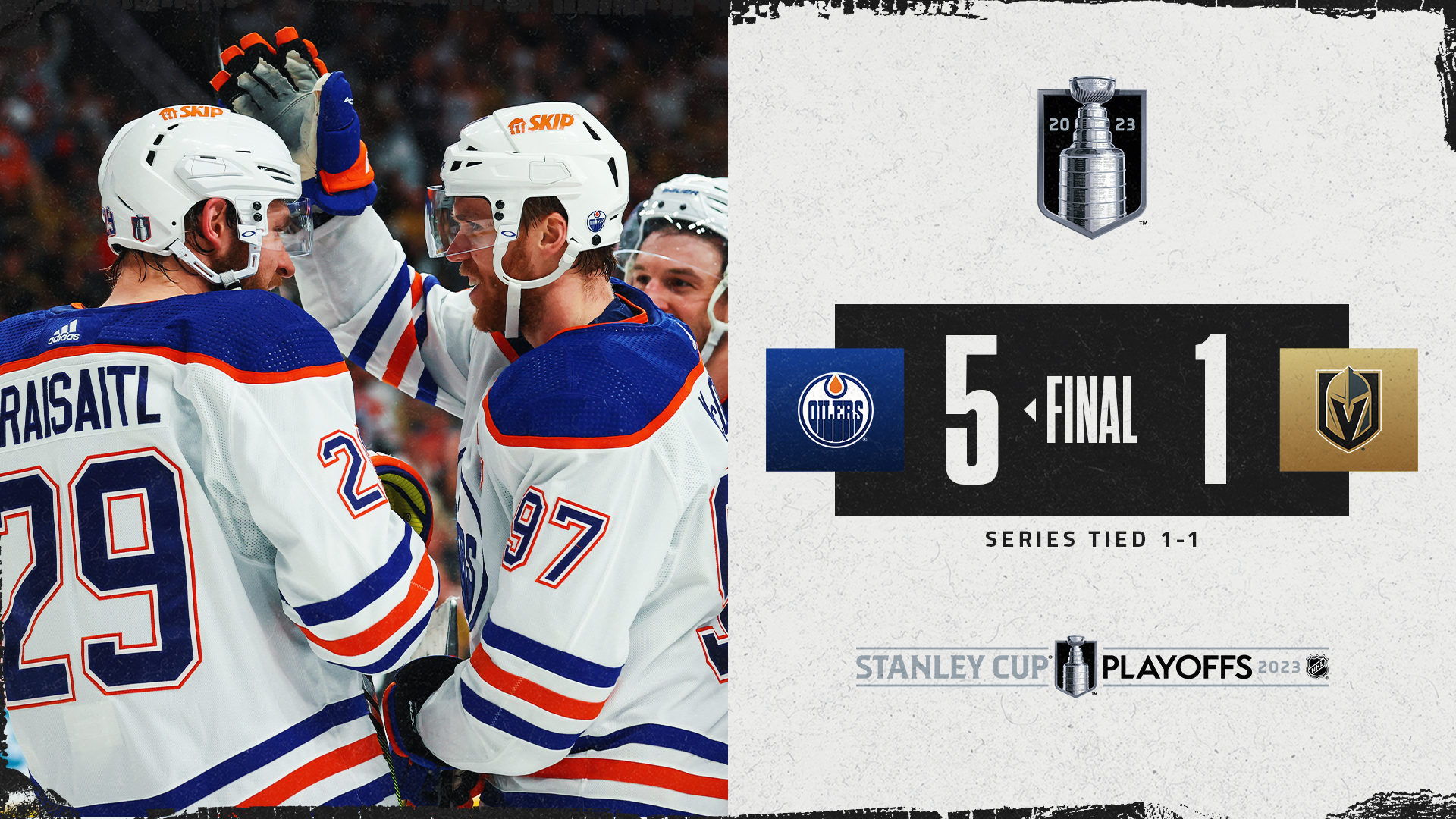 OILERS STARS RISE TO THE OCCASION IN GAME 2 VICTORY
The trio of Leon Draisaitl (2-0—2), Connor McDavid (2-1—3) and Evan Bouchard (1-1—2) continued their point-producing ways to help Edmonton pull even with Vegas in its Second Round series, with Draisaitl picking up where he left off in Game 1 and becoming the first player in Stanley Cup Playoffs history to score six goals through the first two contests of a series.

* Draisaitl, whose 13 goals in the 2023 Stanley Cup Playoffs to date trail only Newsy Lalonde (15 w/ MTL in 1919) for the most by a skater through their first eight games of a playoff year, reached the mark with his seventh career multi-goal period. Only seven players in NHL history have had as many multi-goal periods in the Stanley Cup Playoffs: Wayne Gretzky (14), Maurice Richard (13), Jari Kurri (12), Phil Esposito (9), Tim Kerr (9), Mike Bossy (7) and Bobby Hull (7).

* McDavid started this postseason with one point through his first two games and has since recorded six consecutive multi-point outings – his second career streak of at least that length in the playoffs (also 7 GP in 2022). He became the first player in Stanley Cup Playoffs history to achieve the feat multiple times.

* Bouchard notched his third consecutive multi-point outing and his fifth overall of the 2023 Stanley Cup Playoffs, joining Paul Coffey (9 in 1985 & 6 in 1984), Chris Pronger (7 in 2006) and Charlie Huddy (7 in 1985) as the fourth Oilers defenseman with as many in a single postseason.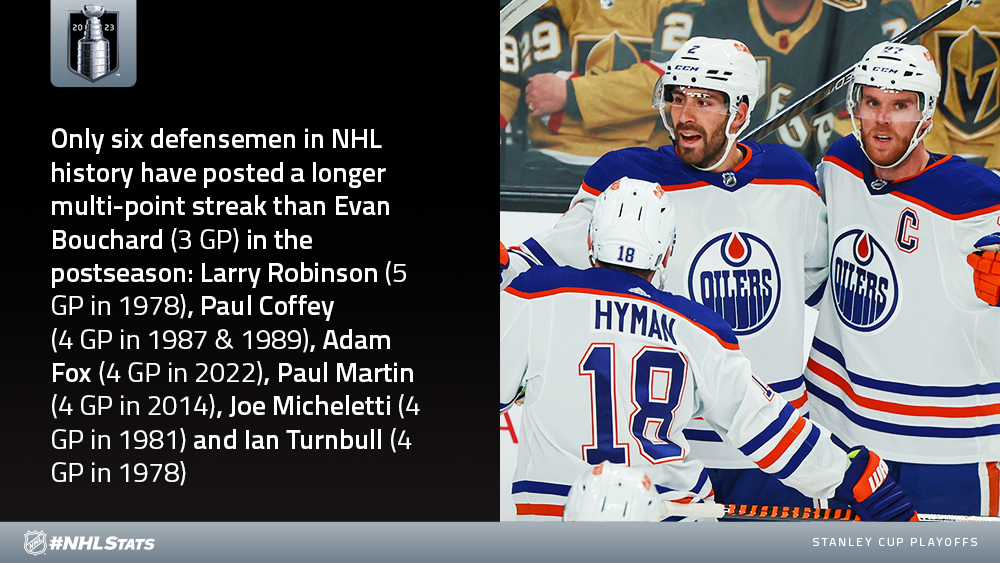 DRAISAITL CLOSING IN ON SINGLE POSTSEASON RECORDS. . . ALREADY
Leon Draisaitl (13-4—17 in 8 GP) brings his torrid scoring pace home to Rogers Place for Games 3 and 4 of Edmonton's series against Vegas. In doing so, the NHL's goals and points leader during the 2023 Stanley Cup Playoffs is moving within striking distance of a pair of single-postseason goals records despite only just starting the Second Round. The Oilers are guaranteed at least three more games this postseason.

* Draisaitl, producing 1.63 goals per game during the 2023 Stanley Cup Playoffs, already sits just six shy of the NHL record for most goals in a playoff year – a mark shared by Jari Kurri (19 in 1985 w/ EDM) and Reggie Leach (19 in 1976 w/ PHI). The Lightning have led the postseason with 23 games played in each of the past two playoff years; if Draisaitl should reach that total in 2023 while contributing at his current pace, the Oilers forward would shatter the current record by nearly doubling it (37).

* The Oilers have scored at least one power-play goal in each of their first eight games of the Stanley Cup Playoffs, with Draisaitl accounting for six of them. He now sits one shy of the most by an active player in a single postseason (7: Eric Staal in 2006, Patrice Bergeron in 2019, Evgeni Malkin in 2009 & Brayden Point in 2021) and three shy of the NHL record for most in a playoff year – a benchmark shared by Hockey Hall of Fame members Cam Neely (9 in 1991 w/ BOS) and Mike Bossy (9 in 1981 w/ NYI).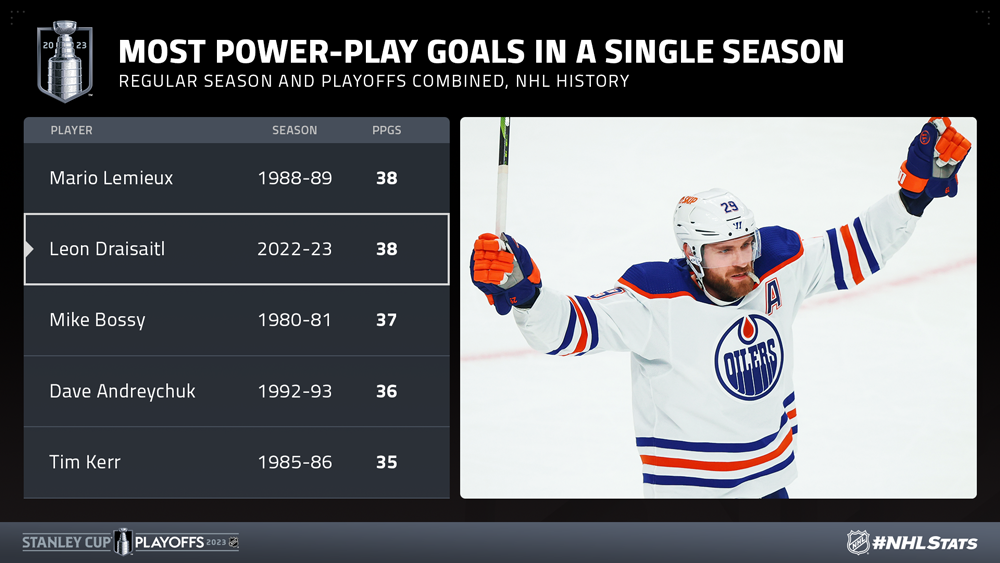 MORE LEAGUE TRENDS IN #NHLSTATS: LIVE UPDATES
It was a busy #NHLStats: Live Updates, despite having just one game. Notes included League trends that continue to progress through the 2023 Stanley Cup Playoffs:

* The 2023 Stanley Cup Playoffs are averaging 6.3 goals per game following Edmonton's Game 2 victory and Carolina's 6-1 win against New Jersey on Friday. After producing an equal total during the 2022 Stanley Cup Playoffs, the NHL can conclude consecutive postseasons with at least six goals per game since a 14-year run from 1980 to 1993.

* Road teams improved to 35-23 this postseason, already matching the NHL's entire total from the 2022 Stanley Cup Playoffs (35-54 in 89 GP).

* Eight of the 12 series so far this postseason have been tied 1-1. The only playoff years with more 1-1 series ties after two rounds are 1991 (11), 2010 (10) and 2020 (10).

NHL PODCAST WEEKLY ROUNDUP

* NHL Fantasy (May 2): Second round preview; Conn Smythe Trophy race
* NHL @ The Rink (May 2): Amalie Benjamin joins; 2nd-round preview, Bruins fallout, Gallant's future
* La Tasse de café LNH (May 2): Une première ronde imprévisible; un deuxième tour qui promet
* The Chirp with Daren Millard (May 4): Darren Pang joins; Stanley Cup Playoff storylines

QUICK CLICKS

* Erik 'EKI' Tammenpaa wins fifth European Title in EA SPORTS NHL 23 European Championship
* Maple Leafs embrace adversity of 2-0 deficit with Game 3 at Panthers
* Hurricanes flourishing in playoffs with goalie tandem of Frederik Andersen, Antti Raanta
* Statue outside Caesars Palace dresses up to support Golden Knights
* Sergei Bobrovsky's calmness, humility has Panthers two wins from Eastern Final

TRIO OF SECOND ROUND GAME 3s GO SUNDAY
The Hurricanes and Panthers will look to take a 3-0 lead in their respective Second Round series Sunday, while the Kraken and Stars shift to Seattle after splitting their first two games at American Airlines Center. Each contest will be carried on TBS in the U.S. as well as on Sportsnet and TVA Sports in Canada.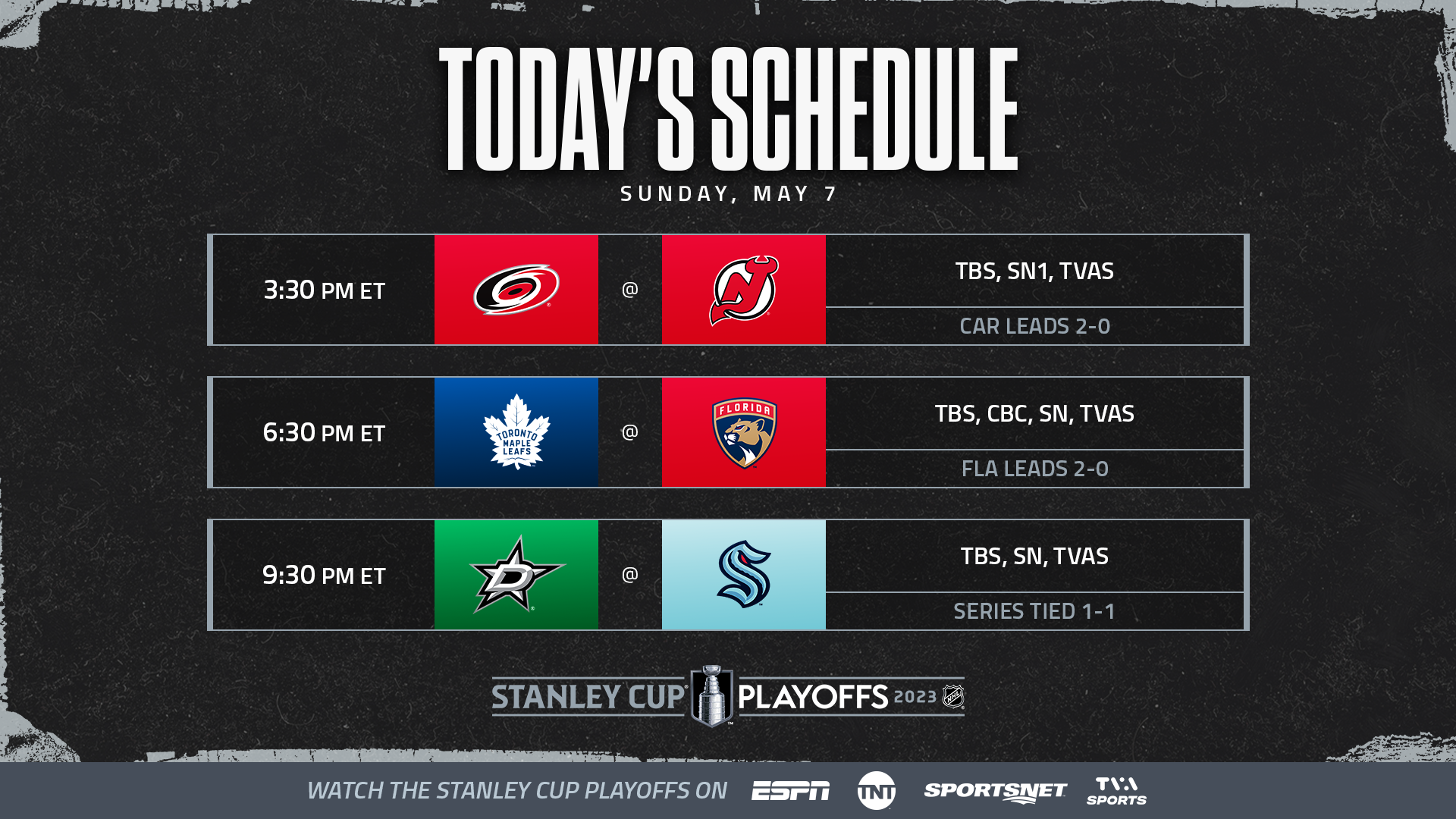 * Carolina has outscored New Jersey by a combined 11-2 margin through the first two games and can take a 3-0 lead in a best-of-seven series for the third time in franchise history (also 2019 R2 & 2006 CSF), while the Devils look to become the third team in NHL history to win multiple series during a playoff year after overcoming a 2-0 deficit (also BOS in 2011 & PIT in 2009). Sebastian Aho (22-33—55 in 56 GP) is closing in on Saku Koivu (18-41—59 in 80 GP) for seventh place on the League's all-time playoff points list among Finnish-born players, while Ondrej Palat (50-49—99 in 147 GP) needs one to join Jaromir Jagr (78-123—201 in 208 GP), David Krejci (43-85—128 in 160 GP) and Patrik Elias (45-80—125 in 162 GP) as the fourth Czech-born skater in NHL history with a triple-digit total.

* Florida can extend its franchise-record playoff winning streak to six contests and take a 3-0 series lead for the second time in club history (also 1996 CQF), while Toronto is tasked with rallying to earn its second all-time series win after dropping each of the first two games at home (also 1942 SCF). Matthew Tkachuk (4-8—12 in 6 GP) and Auston Matthews (5-6—11 in 8 GP) enter Sunday with a point streak of six and eight contests, respectively – Tkachuk can tie the franchise playoff record set by Dave Lowry (7 GP in 1996) and Matthews can surpass Gary Roberts (8 GP in 2002), Doug Gilmour (8 GP in 1993) as well as Gary Leeman (8 GP in 1986) for sole possession of the longest postseason run in club history.

* Seattle and Dallas will battle for a 2-1 series lead as Climate Pledge Arena hosts a Second Round game for the first time. Rookie Tye Kartye (2-0—2 in 5 GP) can become the first player to score each of his first three career NHL goals in the postseason since Frederick Gaudreau did so with the Predators during their run to the 2017 Stanley Cup Final, while17-season veteran Joe Pavelski (5-0—5 in 2 GP) can become the fourth player in Stars/North Stars history with six goals in a single Stanley Cup Playoffs series.