* The Golden Knights clinched their fourth appearance in the NHL's final four of the Stanley Cup Playoffs since their inaugural season in 2017-18, tied with the Lightning for the most in the NHL through that span.
* Jonathan Marchessault scored the first natural hat trick by a Golden Knights player in the Stanley Cup Playoffs and became just the ninth skater in NHL history with a three-goal period in a potential series-clinching game.
* The Golden Knights now await their Western Conference Final opponent as the Stars and Kraken will conclude the Second Round with a Game 7 on Monday night.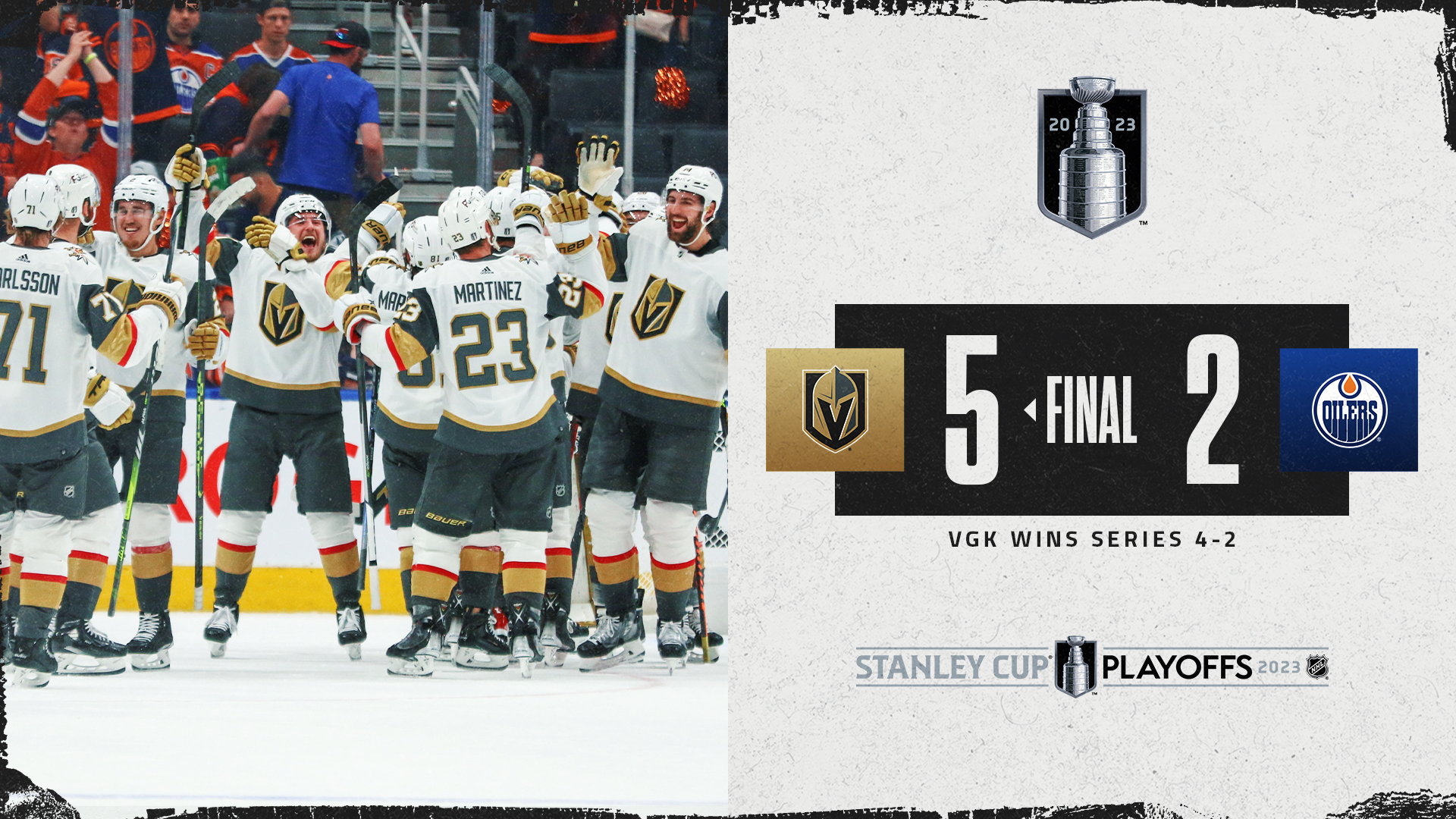 GOLDEN KNIGHTS MARCH INTO CONFERENCE FINALS WITH MARCHESSAULT HAT TRICK
Jonathan Marchessault (3-0—3), one of three players to skate in each of the 77 all-time postseason games for the Golden Knights, tied the contest for his club in the second period and then scored two more before the second-intermission break to complete the natural hat trick as Vegas advanced to the final four of the Stanley Cup Playoffs for the fourth time in franchise history.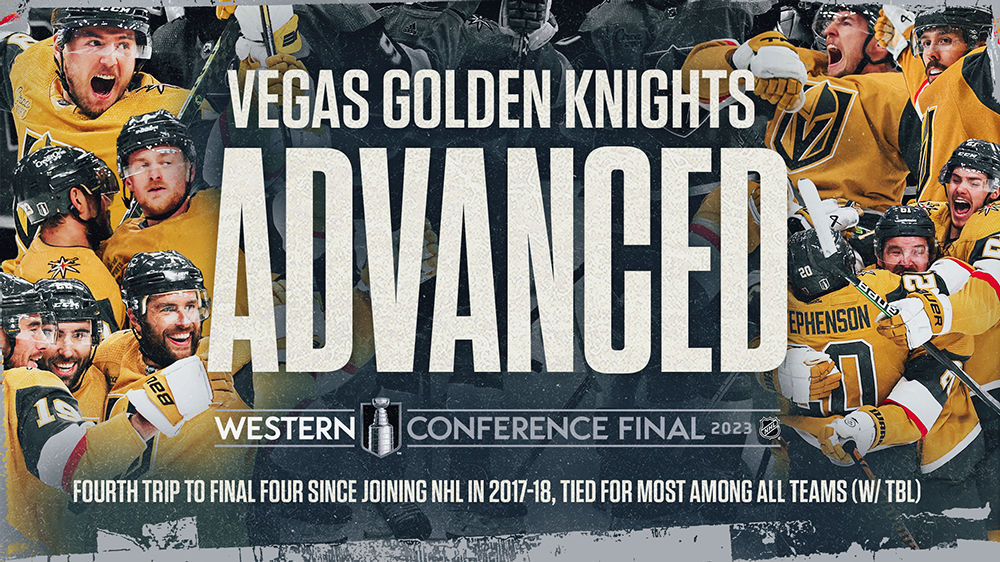 * The Golden Knights became the third franchise in NHL history to advance to the round before the Stanley Cup Final at least four times within their first six seasons, following the Rangers and Blues who also did so four times.

* In addition, both the Bruins and original Ottawa Senators played in the round before the Stanley Cup Final four times within their first six NHL seasons, but each had only one instance over that span in which they had to win a round to get there (i.e., advance). Boston advanced in 1926-27, while Ottawa did so in 1922-23. Overall, both clubs played in the Stanley Cup Final three times within their first six campaigns: Boston won at least one round to get there each time (1926-27, 1928-29 & 1929-30), while Ottawa only had to do so twice (1920-21 & 1922-23) because their other appearance (1919-20) was secured via a bye based on regular-season performance.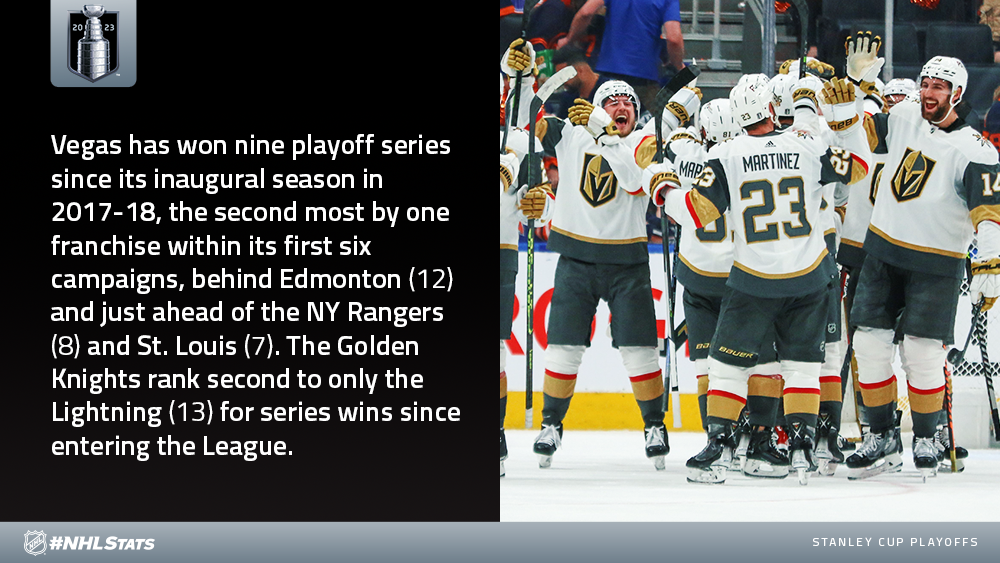 * Marchessault, who became the became the first player in franchise history to score multiple series-clinching tallies (also Game 6 of 2018 R2), joined Mattias Janmark (3-0—3 in Game 7 of 2021 R1) as the second Golden Knights skater to score a hat trick in a potential series-clinching game; Nathan MacKinnon (3-1—4 in Game 5 of 2022 R2) also achieved the feat last postseason as the Avalanche attempted to advance to the Western Conference Final.

* Marchessault joined Denis Gurianov (3 in P2; Game 6 of 2020 R1) and Jake Guentzel (3 in P3; Game 6 of 2018 R1) as just the third active skater with a three-goal period during a potential series-clinching game.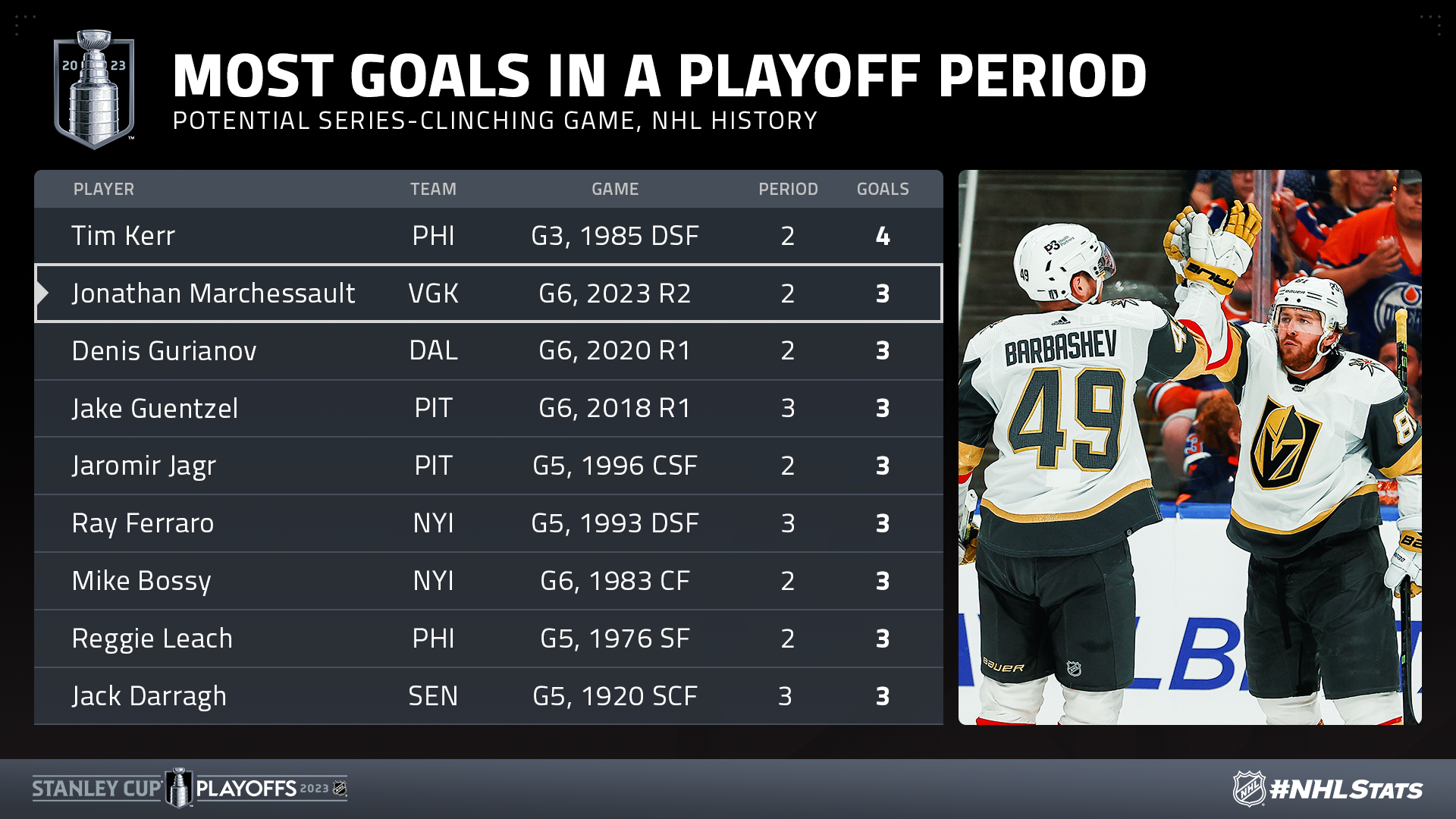 * Reilly Smith (1-1—2), also a member of the Golden Knights since their inaugural campaign in 2017-18, scored 24 seconds into the contest. It was the third-fastest goal to begin a potential series-clinching game in the past 23 years, behind Petr Sykora in Game 6 of the 2000 Conference Semifinals (0:18 w/ NJD) and Jaden Schwartz in Game 6 of the 2019 First Round (0:23 w/ STL).

* The Golden Knights will face the winner of Dallas-Seattle in the Western Conference Final. A showdown with the Stars will mark the second-ever postseason meeting between the two clubs (also 2020 CF), while a matchup with the Kraken would feature the first series in more than 50 years with the NHL's newest franchises going head-to-head in the round leading into the Stanley Cup Final (STL vs. PIT in 1970 SF).
QUICK CLICKS

* Sunday Edition of #NHLStats: Live Updates
* Peter DeBoer hopes to extend perfect Game 7 record when Stars face Kraken
* Eeli Tolvanen, Tye Kartye providing lift for Kraken ahead of Game 7 against Stars
* John Tortorella embraces chance to work alongside Keith Jones, Daniel Briere with Flyers
* Color of Hockey: Indo-Canada Cup Ball Hockey Tournament keeps growing

KRAKEN, STARS SET TO PUT SEASONS ON THE LINE IN GAME 7
It will be either the Kraken or Stars who will extend their season with a Game 7 win and punch their ticket to the 2023 Western Conference Final. Seattle will be contesting a winner-take-all showdown for the second straight series, while Dallas will look to change the result of its last seventh-and-deciding game – which was exactly a year ago today.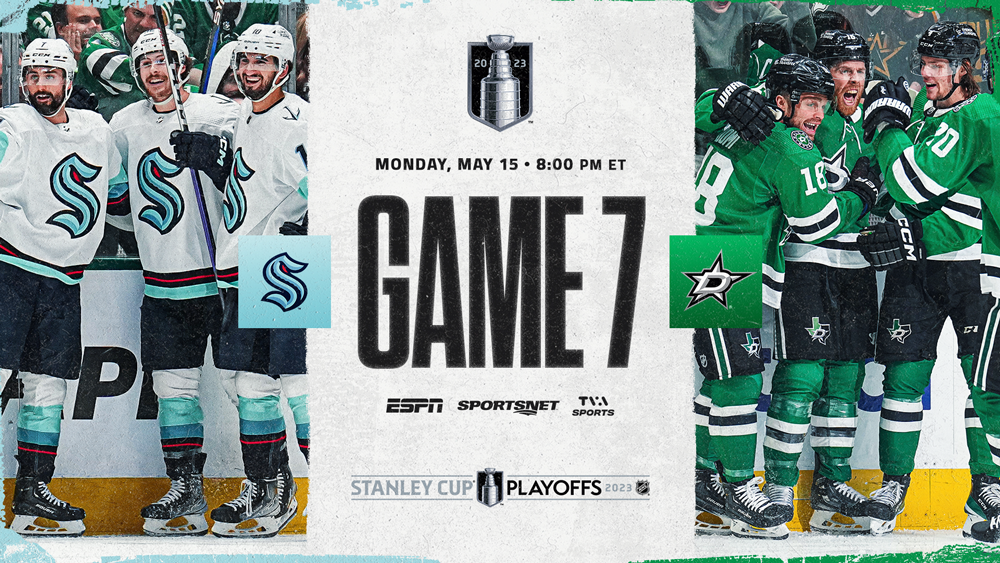 * The Kraken are the sixth franchise in NHL history to require a Game 7 in each of their first two playoff series and the first since the Wild captured both during their run to the Western Conference Final in 2003. Seattle can also become the sixth franchise all-time to win each of its first two Game 7s at any point and would jointhe Wild (3), Blues (3), Lightning (3), Bruins (2) and Nordiques (2). Minnesota and Colorado are the only teams to claim their first two or more Game 7 wins on the road.

* Jaden Schwartz (5-0), who sits second on the Kraken in goals through the 2023 Stanley Cup Playoffs, can become the 17th player in NHL history to win each of his first six-plus career Game 7s. The only active players to have done so are Anton Stralman (7-0 from 2012 to 2015), Ryan McDonagh (6-0 from 2012 to 2015), Carl Hagelin (6-0 from 2012 to 2015), Derek Stepan (6-0 from 2012 to 2015) and Eric Staal (6-0, active streak).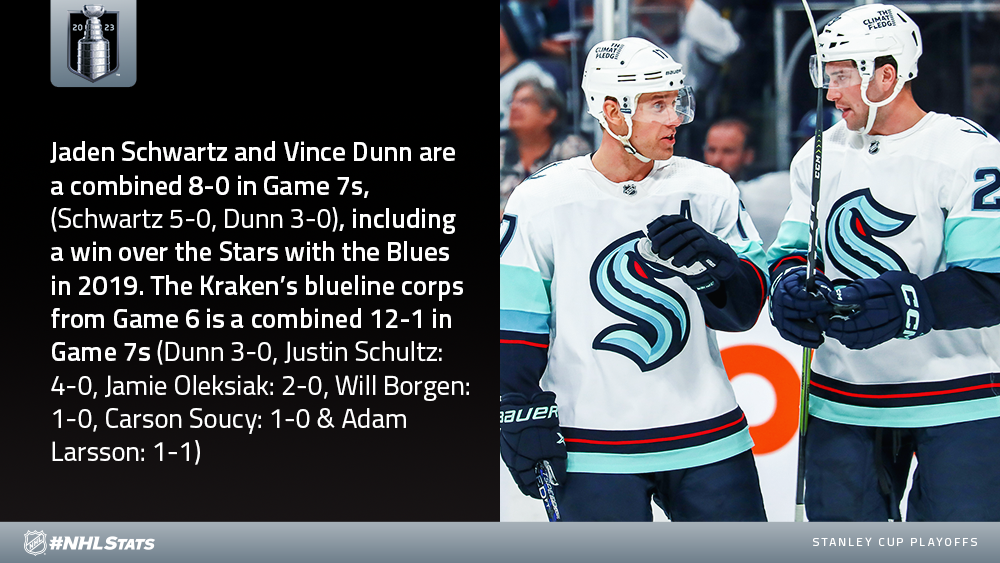 * Monday marks the one-year anniversary of the Stars' most recent Game 7 and the standout performance of goaltender Jake Oettinger, who made64 saves in their 3-2 overtime loss at Calgary. Oettinger became the second goaltender to record 60-plus saves in a Game 7, following Kelly Hrudey (73 saves in the 'Easter Epic' 1987 DSF w/ NYI). Oettinger will have the opportunity to help his club win its first seventh-and-deciding contest at home in nearly 23 years – Dallas claimed a 3-2 win against Colorado in Game 7 of the Conference Finals on May 27, 2000 at Reunion Arena.
* Peter DeBoer is 6-0 in Game 7s, collecting wins with three franchises (NJD, SJS & VGK). Two coaches have posted wins with four: Darryl Sutter (CHI, SJS, CGY & LAK) and Scotty Bowman (STL, MTL, PIT & DET). Tommy Ivan (4-0 with DET from 1949 to 1954) and Paul Maurice (4-0 with CAR, WPG & FLA from 2009 to 2023) are the only other head coaches in NHL history to win at least their first four career Game 7s.