* The Hurricanes rallied to earn their second straight series-clinching win in overtime and became the first team to earn a berth into the 2023 Conference Finals.
* Joe Pavelski joined elite company in NHL history with his 17th career playoff game-winning goal and attached himself to rare company in Stanley Cup Playoffs history with his League-leading seventh goal of the 2023 Second Round.

* The Maple Leafs, Panthers, Oilers and Golden Knights will compete in pivotal Game 5s as Florida enters with another opportunity to secure their first Conference Finals berth since 1996.

* Reminder: Quest for the Cup, the behind-the-scenes documentary series chronicling the final eight teams competing in the 2023 Stanley Cup Playoffs, debuts tonight at 5 p.m. ET exclusively on ESPN+ in the U.S. and at YouTube.com/NHL in Canada. Click here for a trailer and more information.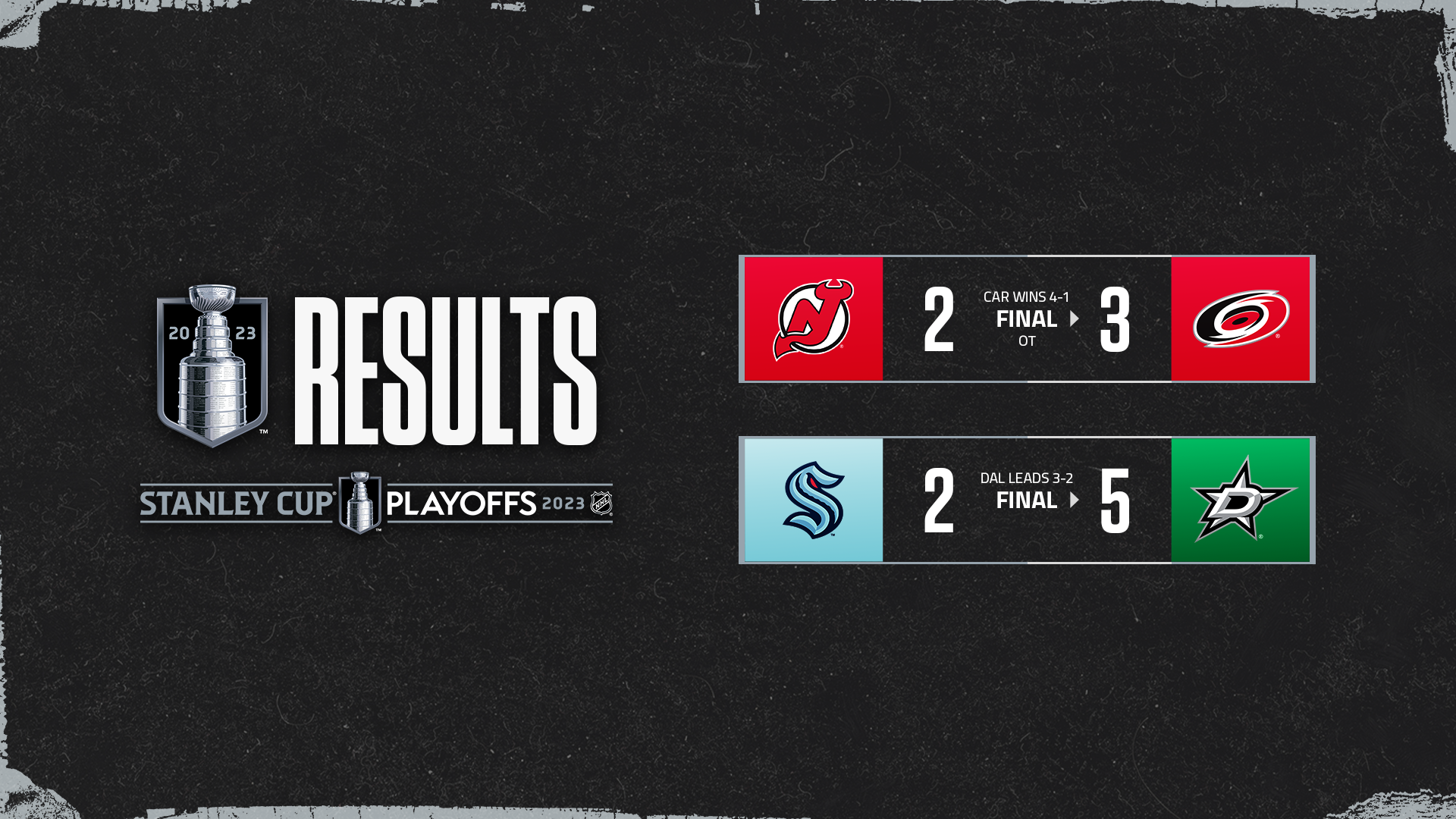 HURRICANES SURGE TO CONFERENCE FINALS WITH ANOTHER OT VICTORY
In a game that was tied or separated by one goal from start to finish, Jesper Fast scored his second overtime winner of the 2023 Stanley Cup Playoffs at 7:09 of the extra frame to help Carolina advance to the Eastern Conference Final. He now sits one shy of the most in a single playoff year in NHL history, a record shared by Mel Hill (3 in 1939 w/ BOS), Maurice Richard (3 in 1951 w/ MTL) and Corey Perry (3 in 2017 w/ ANA).

* The Hurricanes, who also eliminated the Islanders with an overtime win, became the 12th team in NHL history to have each of their first two series-clinching victories in a playoff year come in overtime and ninth in the League's expansion era. The others: Tampa Bay (3 in 2020), NY Rangers (2 in 2015 & 1997), Calgary (2 in 2004), Pittsburgh (2 in 2001), Dallas (2 in 1999), Edmonton (2 in 1991) and Montreal (2 in 1979).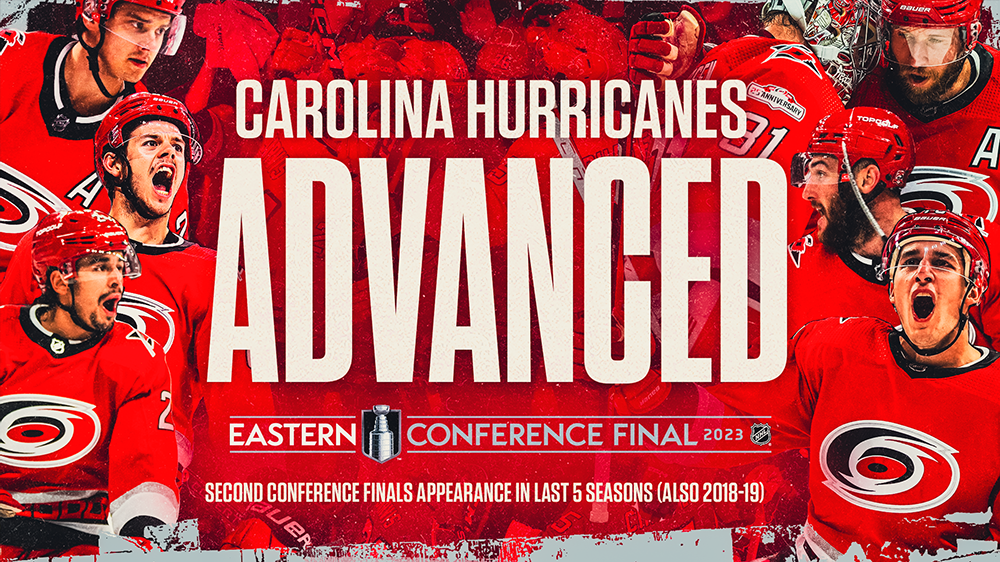 * Jordan Martinook (3-7—10) played the role of unsung hero in Carolina's series with New Jersey, matching a franchise record with a five-game assist streak while tying Bates Battaglia (4-6—10 in 2002 CSF) and Cory Stillman (3-7—10 in 2006 CF) for the most points in a playoff series in franchise history.

* Jaccob Slavin and Brent Burns each scored a tying goal in Game 5, marking the fifth and sixth tallies by a Carolina defenseman in the series – the most combined total by blueliners in a single series in franchise history, besting the 2006 Conference Finals, 1990 Division Semifinals and 1988 Division Semifinals (all w/ 5). Thursday was also the third contest in Hurricanes/Whalers history to feature the team erase multiple deficits en route to a series-clinching win (also Game 6 of 2021 R1 at NSH & Game 7 of 2009 CQF vs. NJD).

* The Hurricanes await the winner of the Maple Leafs-Panthers series. They earned their 17th all-time series win (of any length) and 16th since the franchise relocated to Carolina 25 years ago, which also includes five trips to the Conference Finals/Semifinals. The Stars are the only club remaining in the postseason with more series victories through that span (19).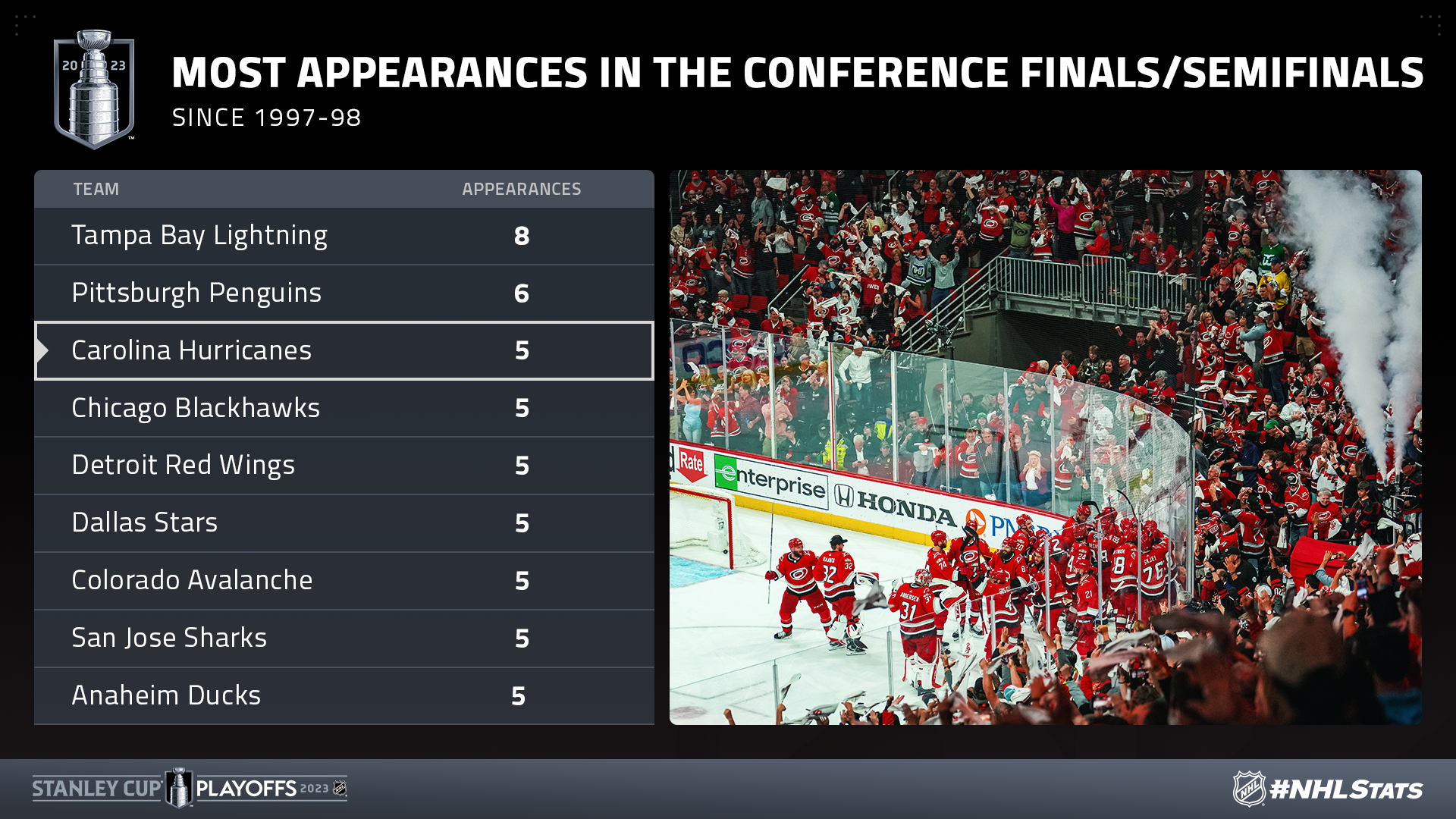 PAVELSKI AND CO. LIFT STARS CLOSER TO WESTERN CONFERENCE FINAL
Roope Hintz (2-1—3), Joe Pavelski (1-1—2) and Wyatt Johnston (1-0—1) scored four of five Stars goals as Dallas moved within one victory of advancing to the Western Conference Final for the second time in four years. The Stars, with a six-goal performance in Game 4, netted five or more goals in consecutive playoff contests for just the third time in team history (also 3 GP from Game 6 of 2020 R1 – Game 2 of 2020 R2 & 2 GP from Games 4-5 of 2019 R1).

* Pavelski (38 years, 304 days), who finished with his 17th career game-winning goal and potted his League-leading seventh tally of the 2023 Second Round, became the oldest player in NHL history to score at least seven times in a series. Maurice Richard previously held the distinction (7 in 1958 SF w/ MTL at 36 years, 240 days).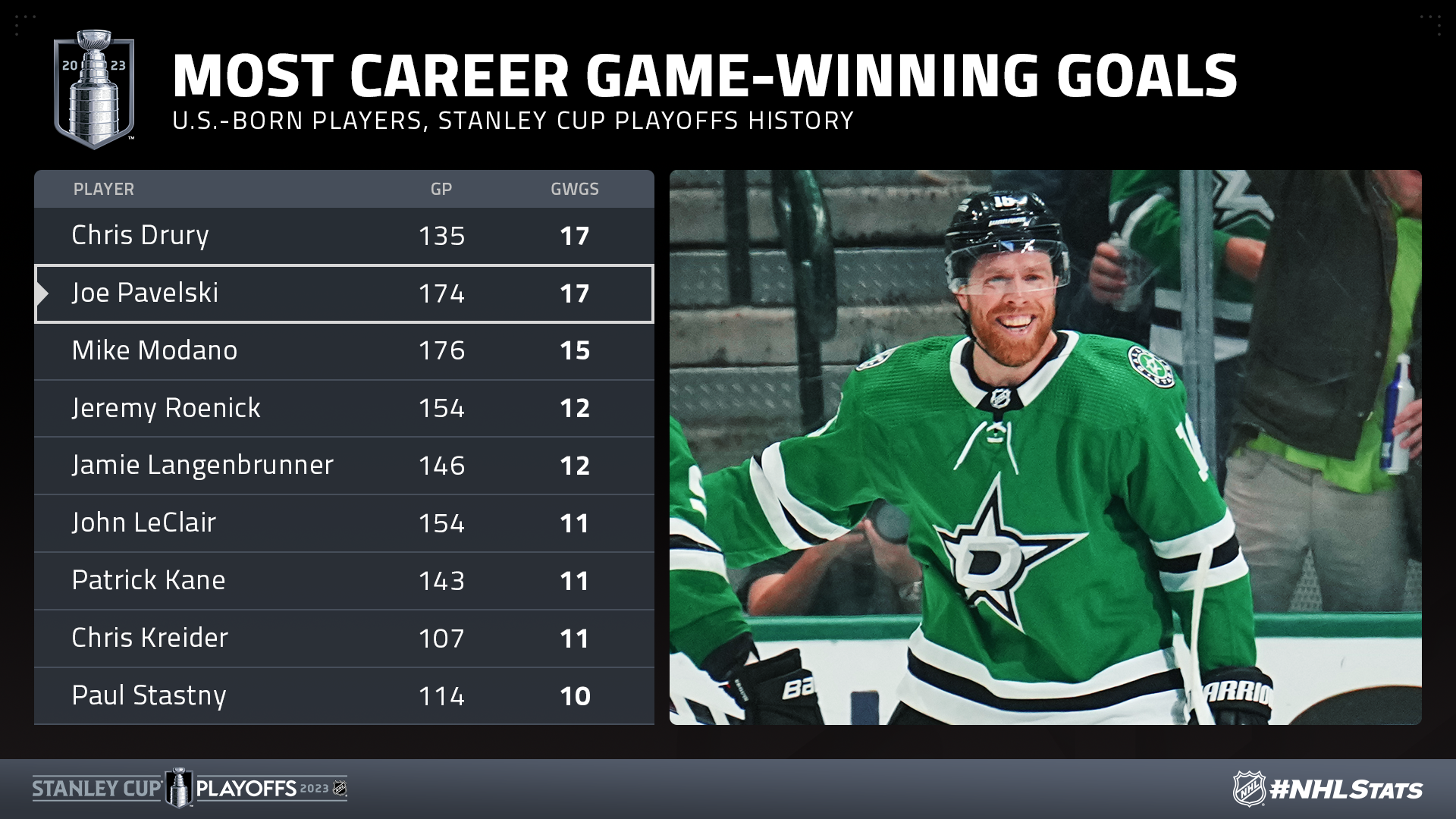 * Pavelskialso tied Bill Guerin (7 in 2009 w/ PIT), Mark Recchi (7 in 2006 w/ CAR) and Jean Ratelle (7 in 1979 w/ BOS)for the second-most goals in a single postseason by a player age 38 or older. Only Martin St. Louis (8 in 2014 w/ NYR) and Johnny Bucyk had more (8 in 1974 w/ BOS).

* Hintz (8-10—18 in 11 GP), with his fourth outing of three or more points in the 2023 Stanley Cup Playoffs, moved into a tie with Leon Draisaitl (13-5—18 in 10 GP) for the most points among all skaters. Hintz also matched Brian Bellows (4 GP in 1991), Dave Gagner (4 GP in 1991) and Steve Payne (4 GP in 1981) for the most three-point outings in a single postseason in franchise history.

* Johnston, who netted the game-opening goal for Dallas, has benefited from Pavelski's tutelage both on and off the ice as the 19-year-old has been living with the Pavelski family during his rookie season. At 38 years old, Pavelski is exactly twice the age of Johnston while the veteran's 17-year NHL career has spanned nearly as long as Johnston has been alive.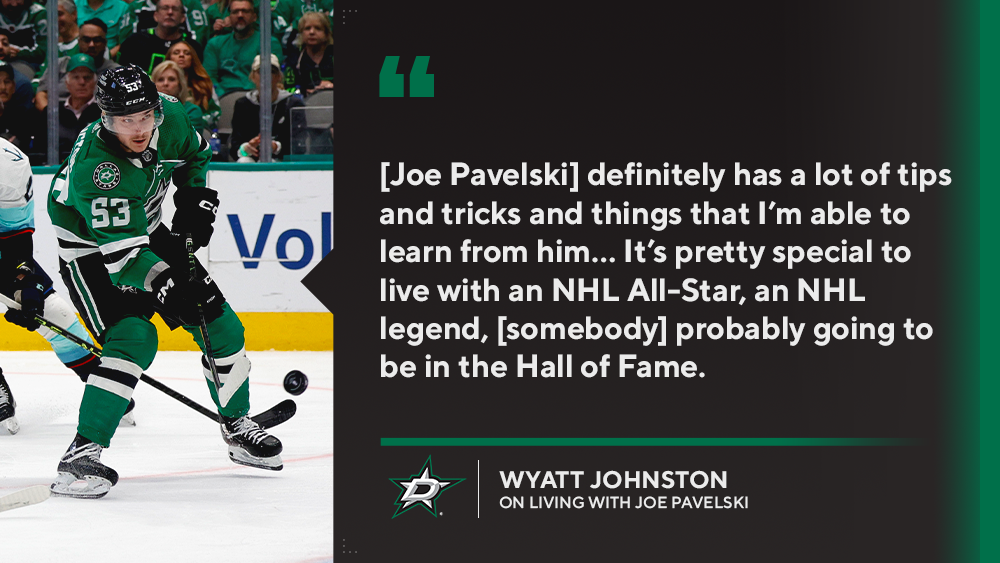 Quote via The Athletic

HELLEBUYCK, SOROKIN AND ULLMARK NAMED VEZINA TROPHY FINALISTS
Winnipeg's Connor Hellebuyck, New York's Ilya Sorokin and Boston's Linus Ullmark are the three finalists for the 2022-23 Vezina Trophy, awarded "to the goaltender adjudged to be the best at his position. Click here to read more.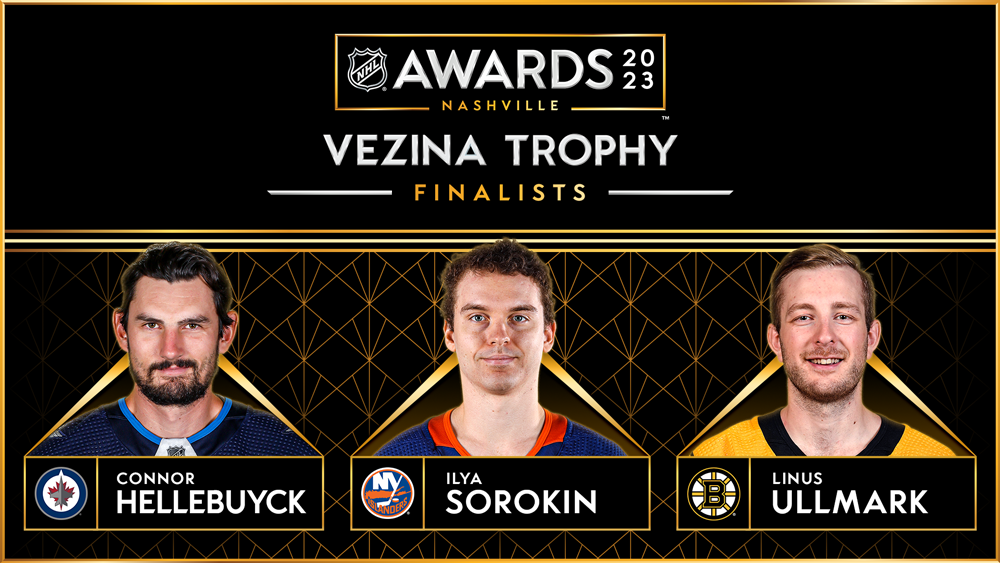 QUICK CLICKS
* #NHLStats: Live Updates from Thursday
* Keith Jones, Flyers TV analyst, hired as president of hockey operations
* Joseph Woll's Game 4 performance for Maple Leafs makes college coach Jerry York proud
* Oilers defenseman Darnell Nurse suspended one game
* Alex Pietrangelo suspended one game, out for Golden Knights in Game 5
A PAIR OF GAME 5s TO HIGHLIGHT FRIDAY
A pair of games are on the horizon – the Panthers have their second opportunity to advance to the Eastern Conference Final while the Maple Leafs aim to force a Game 6. Meanwhile, both the Oilers and Golden Knights have the chance to take a series lead in their Second Round matchup – one that has seen the teams trade wins through the first four contests.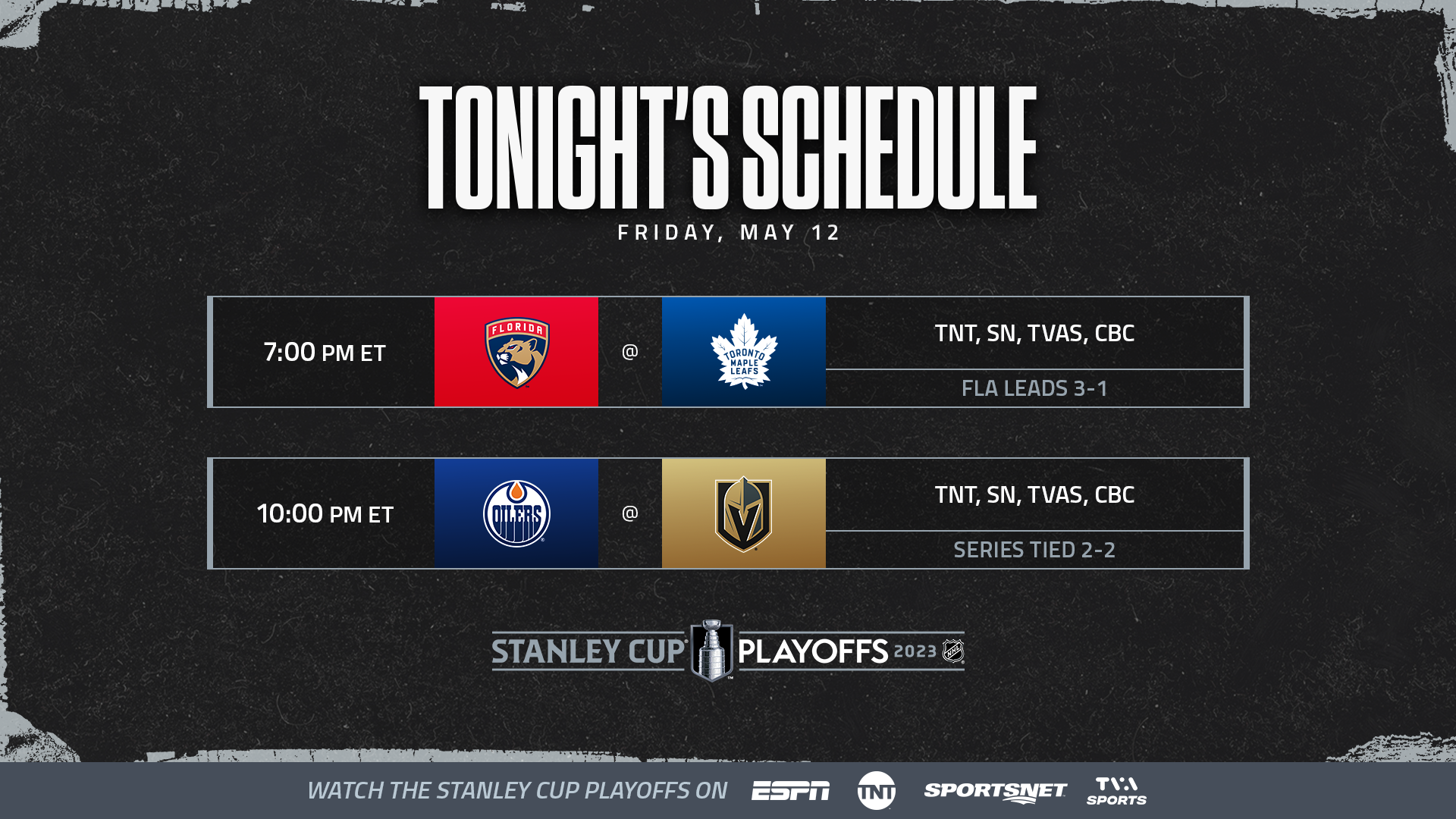 * The Panthers currently lead the NHL with five road victories and have not lost a contest as the visitors since Game 1 of the 2023 First Round. Florida can establish a franchise record for the most road wins in a single postseason should they leave Scotiabank Arena victorious Thursday (5 in 1996) and can become the second team in the past decade to post a road winning streak of six-plus games in a playoff year. Colorado, with a seven-game run last postseason en route to its Stanley Cup championship, is the only team to accomplish the feat since 2013.

* Mitchell Marner currently leads the Maple Leafs in points through the 2023 Stanley Cup Playoffs and recorded a multi-point outing in Game 4 to help the club extend their series. The Maple Leafs had 27 home wins during the regular season – behind only the Bruins (34), Lightning (28) and Hurricanes (28) – and were led in those contests by Marner (15-36—51 in 40 GP) at Scotiabank Arena, which was tied for the third-most assists at home in a single season in franchise history.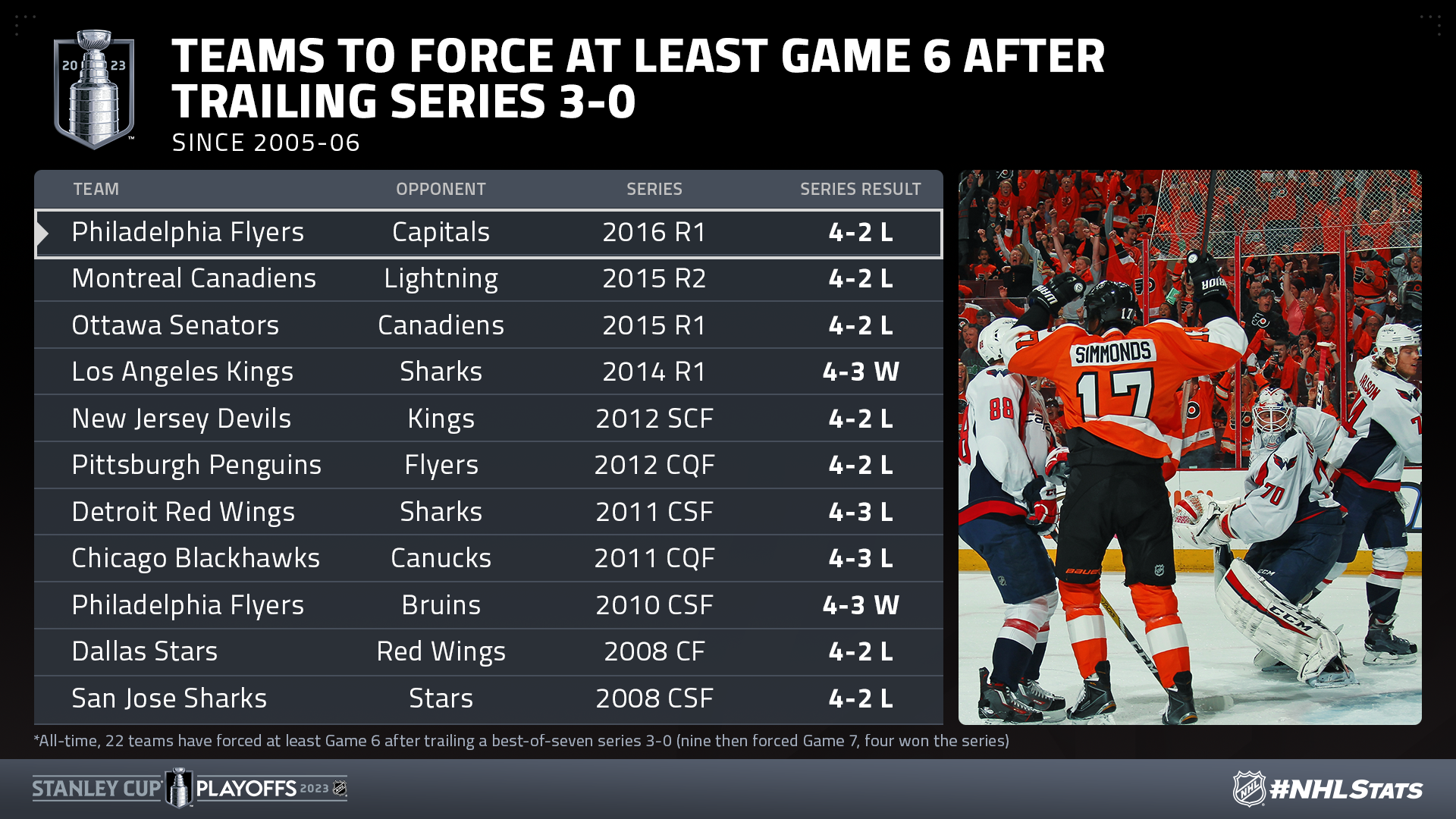 * Mark Stone enters Game 5 with 4-7—11 (9 GP) and can match the franchise benchmark for most points through the first 10 games of a postseason should he find the score sheet Friday – the mark he set in 2019 despite skating in just seven contests (6-6—12). Following a loss in the playoffs, Stone owns career totals of 6-9—15 across 30 games.
* Evan Bouchard (4-11—15 in 10 GP), who currently leads all defensemen in scoring this postseason, aims to continue his breakout and help Edmonton gain a 3-2 series lead before heading north of the border for Game 6. The blueliner has been contributing to an Oilers power play operating at a 44.1% success rate (15 for 34) – by far the highest on record in a postseason. Bouchard has the most power-play points by any player through 10 playoff games (4-9—13) since Mario Lemieux in 1992 (15).