THREE HARD LAPS
* After becoming the 16th and final team to clinch a spot in the 2021 Stanley Cup Playoffs, the Canadiens can become the first to advance to the Stanley Cup Semifinals with a victory tonight.
* Jonathan Marchessault scored the third-ever playoff hat trick by a Golden Knights player as Vegas won consecutive contests on home ice and guaranteed a Game 6 against the Presidents' Trophy winners.
* The Bruins and Islanders are set to clash at TD Garden tonight. When a best-of-seven series is tied 2-2, the winner of Game 5 holds an all-time record of 215-58 (.788).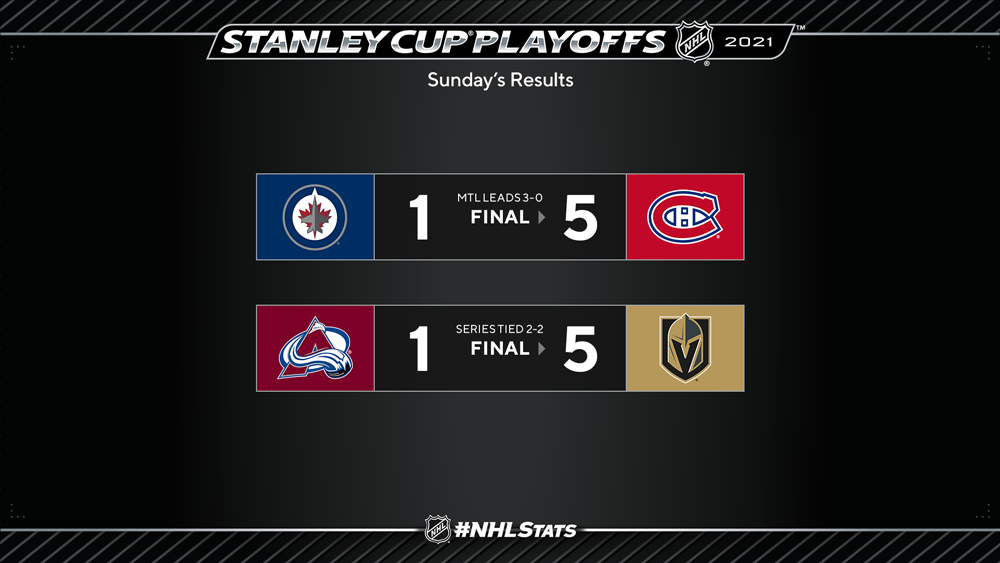 CANADIENS WIN AND INCH CLOSER TO STANLEY CUP SEMIFINALS
With legendary Canadiens Stanley Cup winners Guy Lafleur, Yvan Cournoyer and Rejean Houle in attendance, Montreal produced a five-goal output to move within one win of the Stanley Cup Semifinals. The Canadiens, whose six-game win streak is the franchise's longest in a playoff year since an 11-game run during their Stanley Cup-winning season in 1993, have not trailed in 376:14 of game time.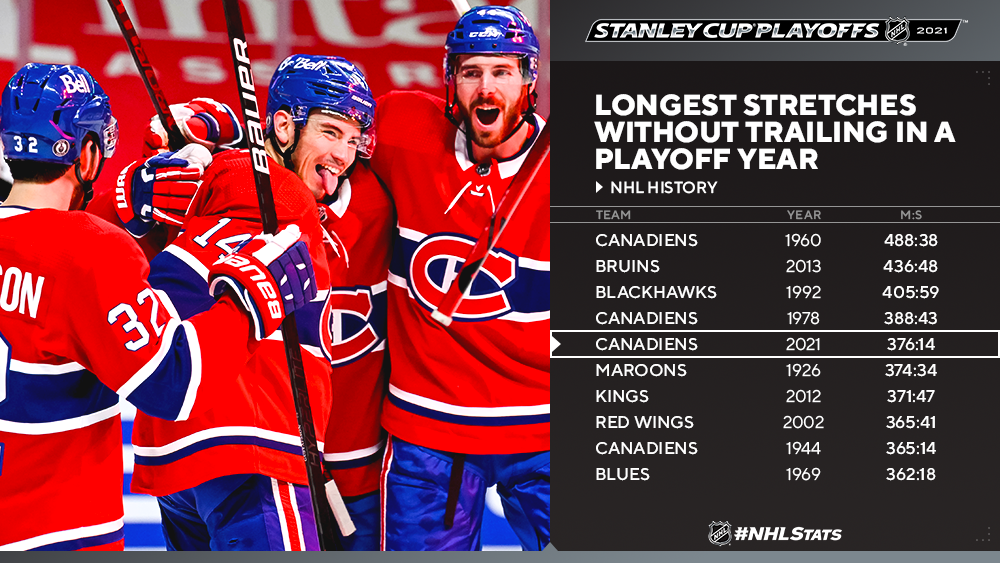 * Joel Armia (2-1—3), who accounted for two of Montreal's five goals with a pair of shorthanded markers, became the second Canadiens player in as many games to score a shorthanded goal (Tyler Toffoli: Game 2). The 2021 Second Round marks just the fourth time the club has scored at least one shorthanded goal in consecutive playoff games (also Game 3 & 4 of 1991 DF; Game 2 & 3 of 1968 SCF; Game 3 & 4 of 1955 SF).
* Armia's second tally of the contest, into an empty net, was Montreal's fourth shorthanded goal of the 2021 Stanley Cup Playoffs. In the process, the Canadiens forward became the NHL's first player to score multiple shorthanded tallies in a playoff game since Los Angeles' Dustin Brown in Game 2 of the 2012 Conference Quarterfinals.
* Toffoli extended the League's longest active point streak to five games in the effort (also Max Pacioretty: 5 GP w/ VGK). Only two players in franchise history have recorded a longer playoff point streak while appearing in their first season with the club: Michael Cammalleri (6 GP in 2010) and Howie Morenz (6 GP in 1924).
* A quick turnaround will have the Canadiens and Jets square off for Game 4 tonight. Montreal, which owns an all-time record of 33-0 when leading 3-0 in a best-of-seven series, has recorded an NHL-record 22 sweeps in that scenario.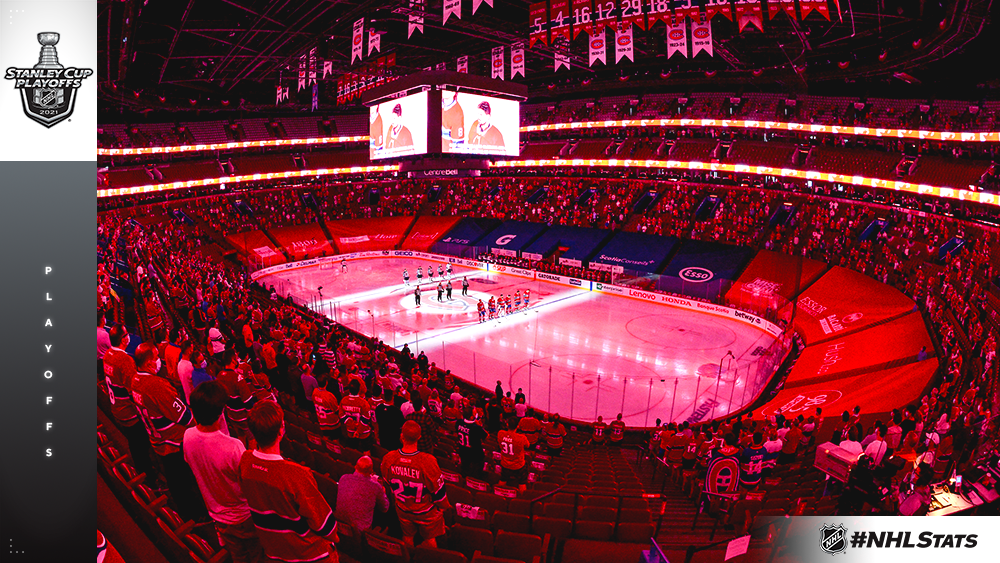 MARCHESSAULT'S HAT TRICK HELPS GOLDEN KNIGHTS PULL EVEN
Jonathan Marchessault (3-0—3) scored his first-ever postseason hat trick and third by a Golden Knights player in the Stanley Cup Playoffs as Vegas drew even in its Second Round series with the Presidents' Trophy winners.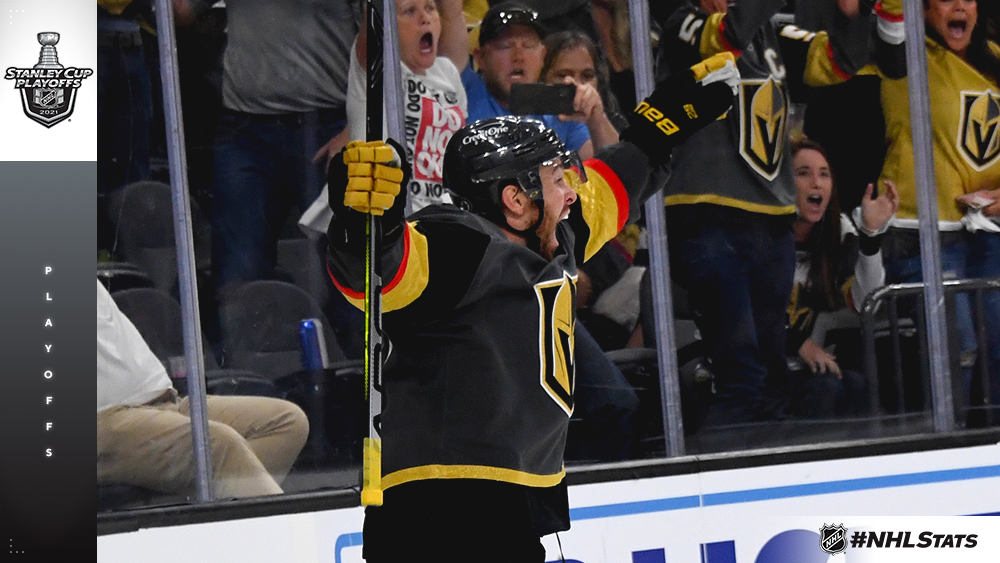 * Marchessault (20-24—44 in 58 GP), who joined Mattias Janmark (Game 7 of 2021 R1 vs. MIN) and Mark Stone (Game 3 of 2019 R1 vs. SJS) as the only Golden Knights players to record a three-goal performance in the postseason, became the first player to score 20 playoff goals with the franchise.
* After falling behind in a best-of-seven series 2-0 for the first time, the Golden Knights earned consecutive home wins to draw even at two games apiece. Vegas improved its all-time playoff home record to 20-10 and have recorded the most home wins by any team in the postseason since entering the NHL in 2017-18.
* As the series shifts back to Colorado, the Golden Knights have their sights set on becoming just the fourth team in NHL history to win a best-of-seven series against the League's top-seeded club after dropping the first two games. Chicago achieved the feat twice (1962 SF vs. MTL & 1965 SF vs. DET), while Boston stands as the only team to do so against the Presidents' Trophy winners (2011 SCF vs. VAN).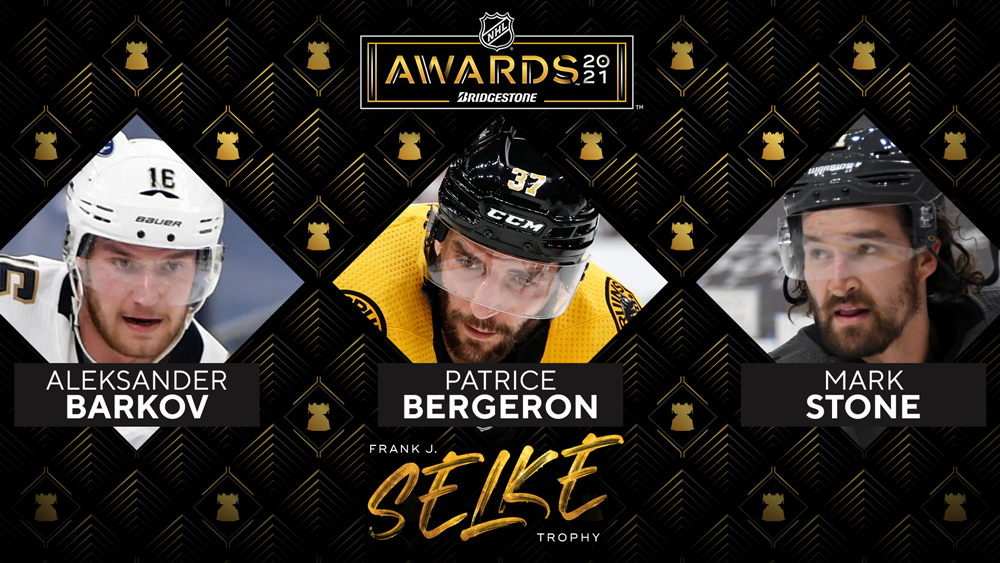 ISLANDERS, BRUINS EYE SERIES LEAD IN GAME 5 SHOWDOWN
David Pastrnak and the Bruins will host Kyle Palmieri and the Islanders for Game 5 of their Second Round showdown after New York rallied to even the series on Saturday.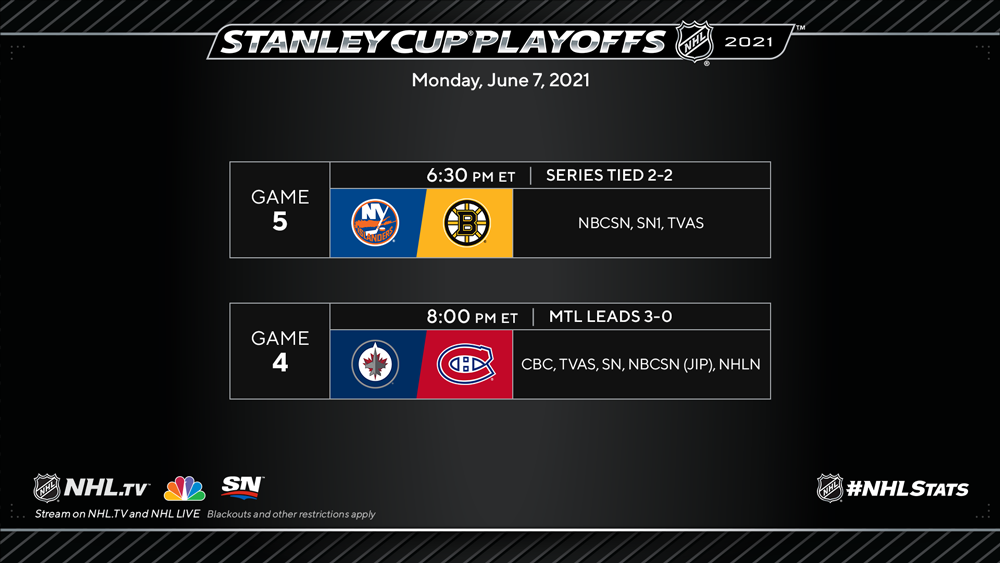 * After a four-goal performance in their last outing, the Islanders have boosted their offense in the postseason and are averaging 0.50 goals per game more in the playoffs (3.20 G/GP; 3rd) versus the regular season (2.71; 21st) – including six of 10 games in which they scored four or more goals.
* Palmieri leads the Islanders with five goals this postseason (5-2—7 in 10 GP) after he found the back of the net in Game 4. Only four Islanders players in the last 30 years have scored more through their first 10 games of a playoff year than Palmieri: Anthony Beauvillier (6 in 2020), John Tavares (6 in 2016), Ray Ferraro (11 in 1993) and Pierre Turgeon (6 in 1993).
* Pastrnak leads all Bruins players with 11 points during the 2021 Stanley Cup Playoffs (5-6—11 in 9 GP) and has collected 25-39—64 in his postseason career (61 GP). Pastrnak can become just the fifth active player to record 40 playoff assists in 62 career contests or fewer, in which he would join Sidney Crosby (50 GP), Evgeni Malkin (54 GP), Erik Karlsson (55 GP) and Jason Spezza (62 GP).