THREE HARD LAPS
* Montreal, the most-decorated franchise in NHL history, is headed to the Stanley Cup Final for the first time in over 28 years thanks to an overtime goal in Game 6 by Artturi Lehkonen.
* Montreal received noteworthy performances from veterans Carey Price and Shea Weber, who are set to make their first career Stanley Cup Final appearance.
* The Canadiens' opponent will be either the Islanders or Lightning, who contest Game 7 of their Stanley Cup Semifinals series tonight in Tampa.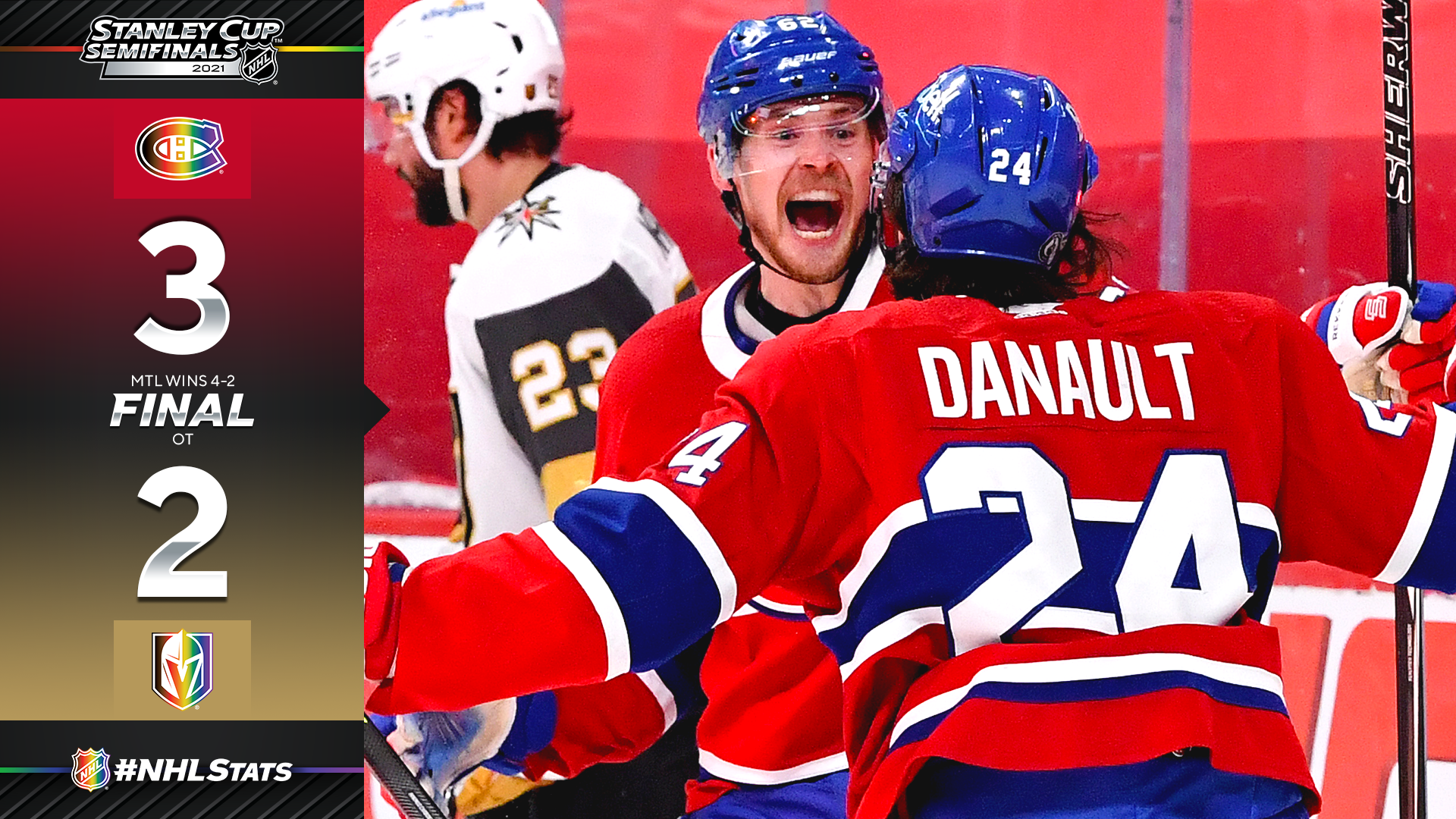 CANADIENS CLINCH FIRST STANLEY CUP FINAL BERTH SINCE 1993
Artturi Lehkonen scored 99 seconds into overtime to power Montreal into the Stanley Cup Final for the first time since 1993, when the Canadiens earned a five-game triumph over Wayne Gretzky and the Kings to capture their NHL-record 23rd championship since the League's founding in 1917-18.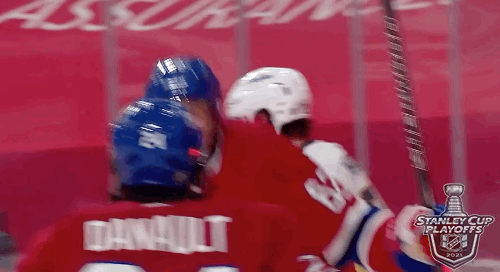 * Lehkonen became the ninth player in franchise history to score an overtime goal to put the team into the Stanley Cup Final. Lehkonen became the first to do so in more than 40 years, since 1979 when Yvon Lambert beat Bruins goaltender Gilles Gilbert in Game 7 of the Semifinals. The Canadiens went on to defeat the Rangers in the championship series to win their fourth straight Stanley Cup.
* Lehkonen became the second Montreal player this postseason to score a series-clinching goal in overtime, following Tyler Toffoli who did so in Game 4 of the Second Round.
* Montreal is the first Canadian-based team to clinch a berth in the Stanley Cup Final since 2011, when Vancouver did so before losing to Boston in seven games. Overall, there have been five instances of a Canadian club reaching the Final since the Canadiens last won a championship (VAN in 1994, CGY in 2004, EDM in 2006, OTT in 2007 & VAN in 2011), but each team fell to a stateside opponent.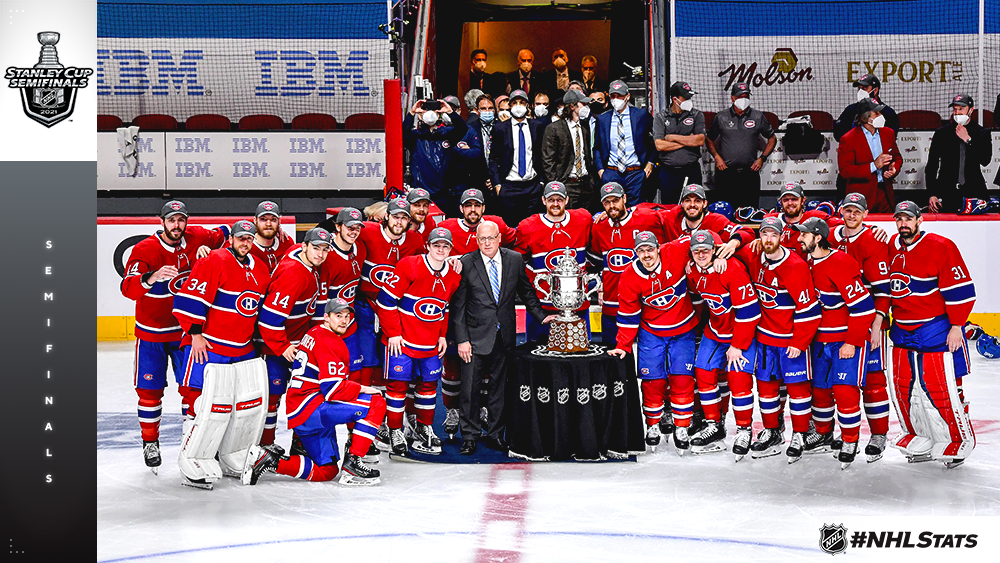 CANADIENS TO CLASH WITH ISLANDERS OR LIGHTNING IN STANLEY CUP FINAL
Montreal's Stanley Cup Final opponent will be either New York or Tampa Bay, which contest their series finale tonight at AMALIE Arena.
* The Canadiens carry a 3-1 record in four all-time postseason series against the Islanders, recording wins in the 1976 Semifinals, 1977 Semifinals and 1993 Conference Finals. New York earned a six-game triumph over Montreal in the 1984 Conference Finals.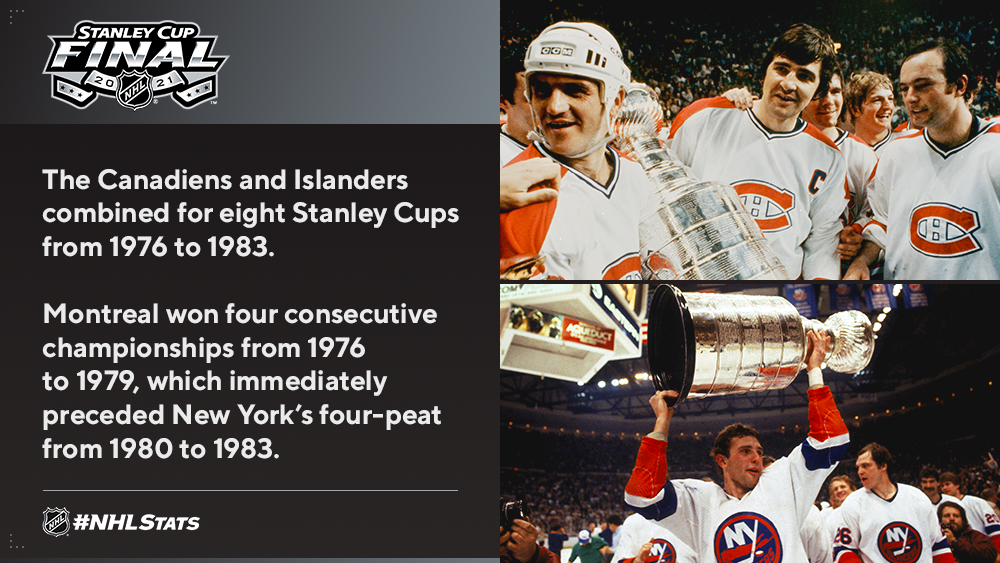 * The Canadiens and Lightning have met in three Stanley Cup Playoffs series, including two when the clubs competed in the Atlantic Division for seven seasons from 2013-14 to 2019-20 (2004 CSF, 2014 R1 & 2015 R2). Tampa Bay owns a 2-1 edge in its three series against Montreal.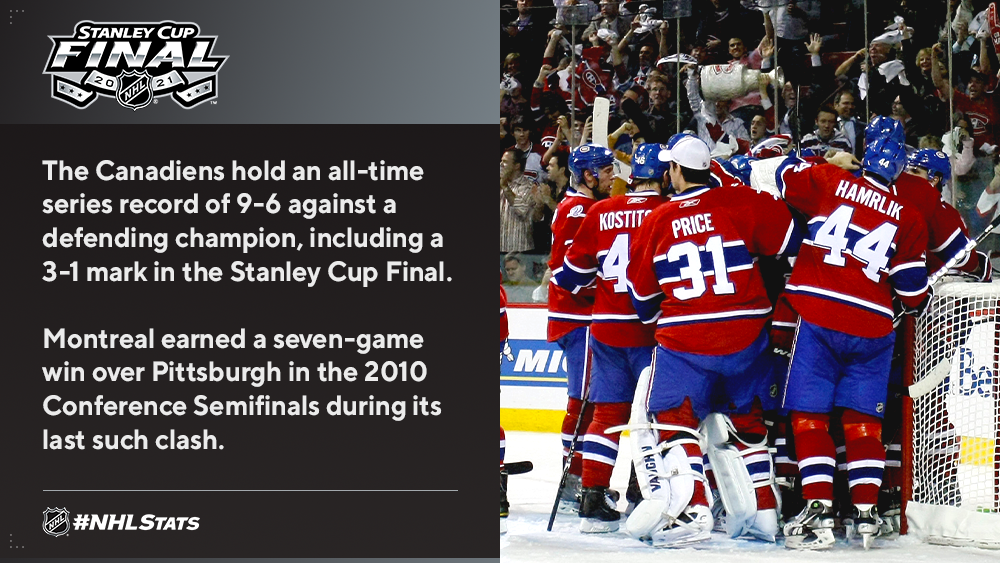 PRICE SHINES ONCE AGAIN, SURPASSES VEZINA ON FRANCHISE LIST
Carey Price made 37 saves, including 16 in the third period and overtime, to improve to 8-5 in potential series-clinching games and 12-5 overall in the 2021 Stanley Cup Playoffs.
* Price (8-5) surpassed Georges Vezina (7-1) for sole possession of the fourth-most series-clinching wins in franchise history, behind Ken Dryden (19-6), Patrick Roy (15-9) and Jacques Plante (13-2). He has won each of his last five such contests dating to Game 6 of the 2015 First Round against the Senators.
* Price, who improved to 9-3 in his playoff career when making at least 35 saves (4-0 in 2021), is set to become the fourth goaltender selected in the 2005 NHL Draft to appear in the Stanley Cup Final. The fifth-overall pick will join Stanley Cup winners Tuukka Rask (21st overall) and Jonathan Quick (72nd overall) as well as Ben Bishop (85th overall).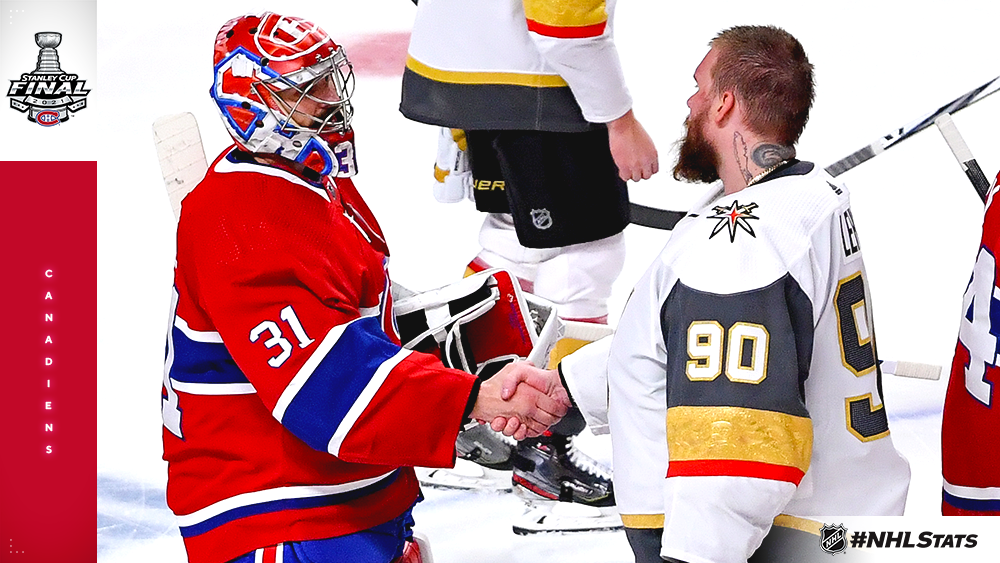 MORE GAME 6 QUICK HITS
* Canadiens captain Shea Weber scored a power-play goal to put Montreal up 1-0. Weber (8) trails only John Carlson (12), P.K. Subban (11) and Kris Letang (9) for the most career power-play goals in the playoffs among active defensemen.
* Canadiens forward Cole Caufield (20 years, 173 days) became the second-youngest player in franchise history with a goal in a potential series-clinching game, behind Henri Richard (20 years, 27 days) who had 2-2—4 in Game 5 of the 1956 Semifinals.
* Caufield (4-1—5 in 6 GP) concluded the Stanley Cup Semifinals with four goals against the Golden Knights. Only two Montreal rookies have had more in a single series: Odie Cleghorn in the 1919 NHL Final (7-1—8 in 5 GP) and Gerry Plamondon in the 1949 Semifinals (5-1—6 in 7 GP).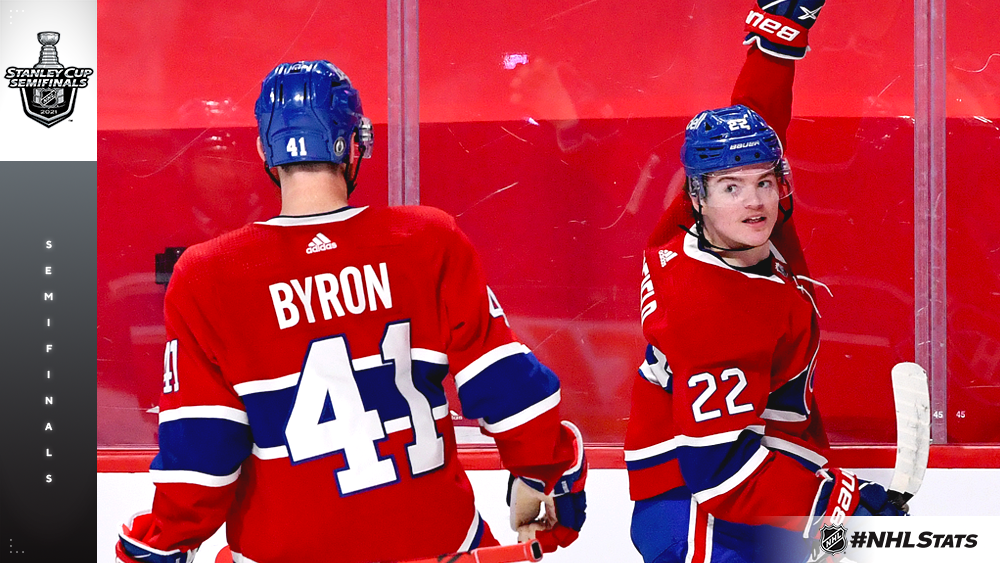 STANLEY CUP FINAL BERTH AT STAKE IN LIGHTNING–ISLANDERS GAME 7
Tampa Bay and New York will decide their series tonight when the teams take to the ice at AMALIE Arena for Game 7, with the winner moving on to face Montreal in the Stanley Cup Final.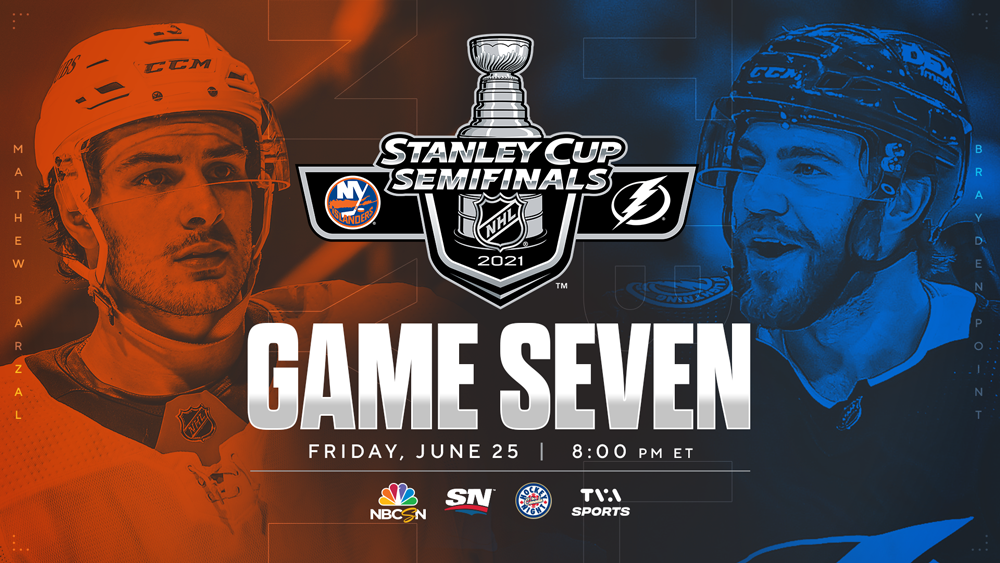 * Friday's finale marks the 36th all-time Game 7 in a Conference Finals/Semifinals series. Among the 35 teams that won a Game 7 to clinch a spot in the Stanley Cup Final, 21 ended up hoisting the Cup that year (60%).
* Brayden Point, who can match the NHL record for longest goal streak in a playoff year with a tally tonight, is one of 12 current Lightning players who dressed in their last winner-take-all showdown. Tampa Bay was blanked in the finale of the 2018 Conference Finals by Washington, which had Barry Trotz as its head coach.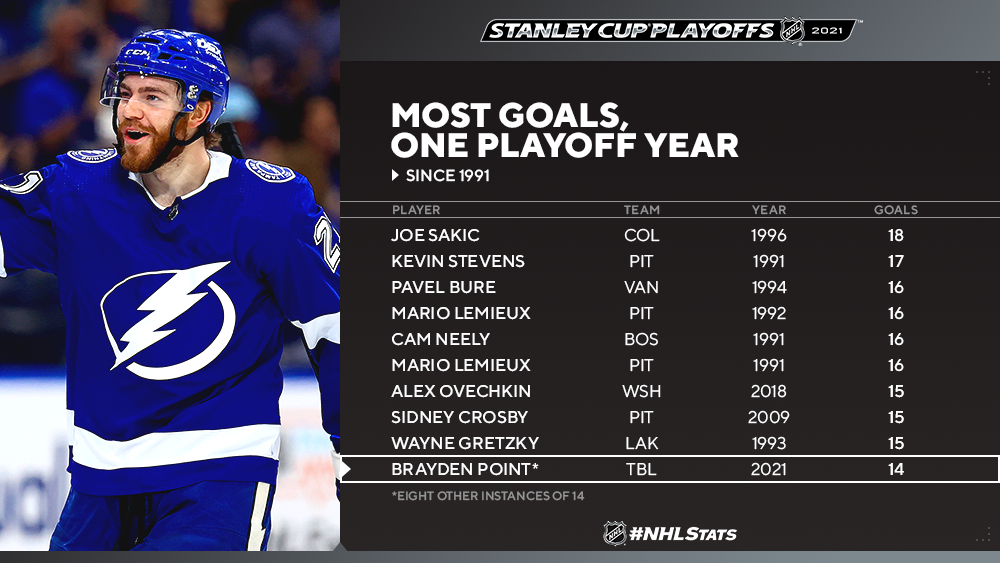 * Brock Nelson (1-2—3 in 2 GP) and former Lightning defenseman Braydon Coburn (2-1—3 in 8 GP), who has yet to play this postseason, own the most career Game 7 points among current Islanders. Nelson recorded each of those points against Philadelphia in the 2020 Second Round when he became the first player in franchise history with three points in a Game 7. Overall, Nelson has 9-6—15 in 12 career potential series-clinching games and ranks among the NHL leaders in goals-per-game in such contests (0.75 G/GP).
* Click here to view Game 7 trends as well as more individual and team Game 7 statistics. More information on tonight's matchup also is available in #NHLStats Live Updates: Friday, June 25.