THREE HARD LAPS
* A combination of youth and veterans powered Montreal to a 3-2 lead in its Stanley Cup Semifinals series, which shifts back to Bell Centre for Game 6.
* Lou Lamoriello won the 2020-21 Jim Gregory General Manager of the Year Award, with voting for the honor conducted among NHL general managers and a panel of League executives, print and broadcast media at the conclusion of the Second Round of the Stanley Cup Playoffs.
* The Lightning and Islanders square off in Game 6 of their Stanley Cup Semifinals series tonight at Nassau Veterans Memorial Coliseum, where the hosts have won 16 of their 21 all-time potential elimination games contested at the venue.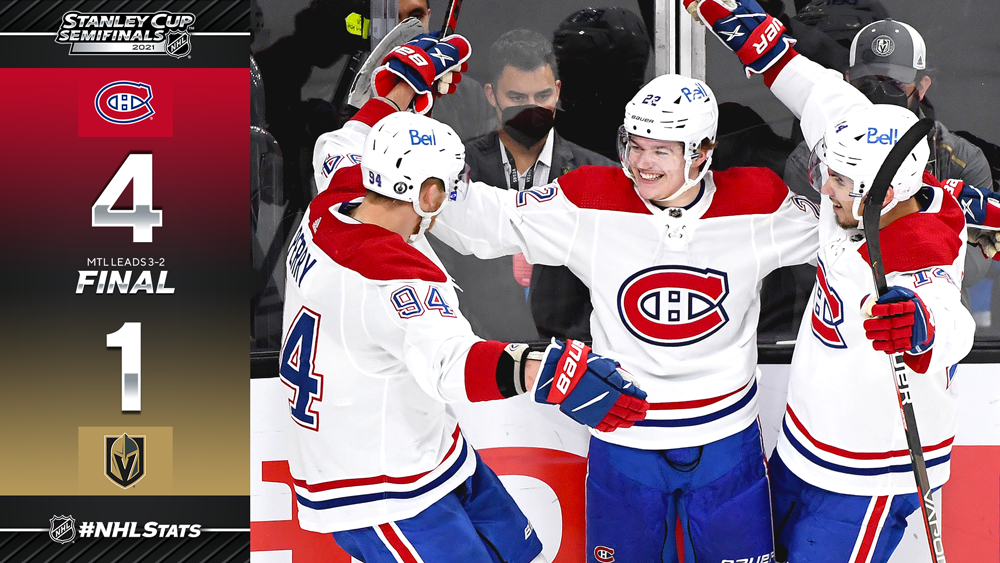 YOUTH, VETERANS VAULT VISITORS TO VICTORY IN VEGAS
Nick Suzuki had 1-2—3 while Jesperi Kotkaniemi, Cole Caufield and Eric Staal also scored for the Canadiens, who received a 26-save effort from Carey Price to defeat the Golden Knights at T-Mobile Arena and move within one win of their first Stanley Cup Final berth since 1993. Montreal improved to 7-2 as visitors in the 2021 Stanley Cup Playoffs and matched its most road wins in a single postseason, a mark set in 1989 (7-3).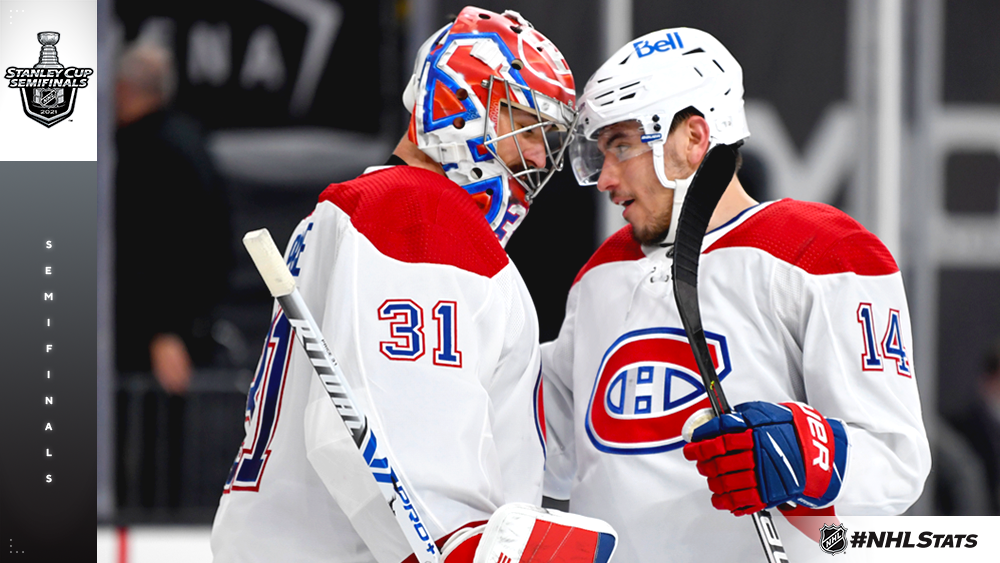 * Suzuki (5-8—13 in 16 GP) ranks second in team scoring this postseason with 13 points, one back of Tyler Toffoli (5-9—14 in 16 GP) who had two assists Tuesday. The only player in franchise history with more in a playoff year before age 22 is Claude Lemieux in 1986 (10-6—16 in 20 GP).
* Kotkaniemi (9-2—11 in 25 GP) scored the ninth playoff goal of his NHL career and first since Game 1 of the Second Round. Only seven players in League history have had more before age 21, a cohort which includes Lemieux (10-6—16 in 20 GP) as well as Staal's younger brother, Jordan (13-6—19 in 49 GP).
* Caufield (3-5—8 in 14 GP) has found the score sheet in six of his last seven contests dating to Game 3 of the Second Round and became the first Canadiens rookie with eight or more points in a postseason since P.K. Subban had an equal amount in 2010 (1-7—8 in 14 GP).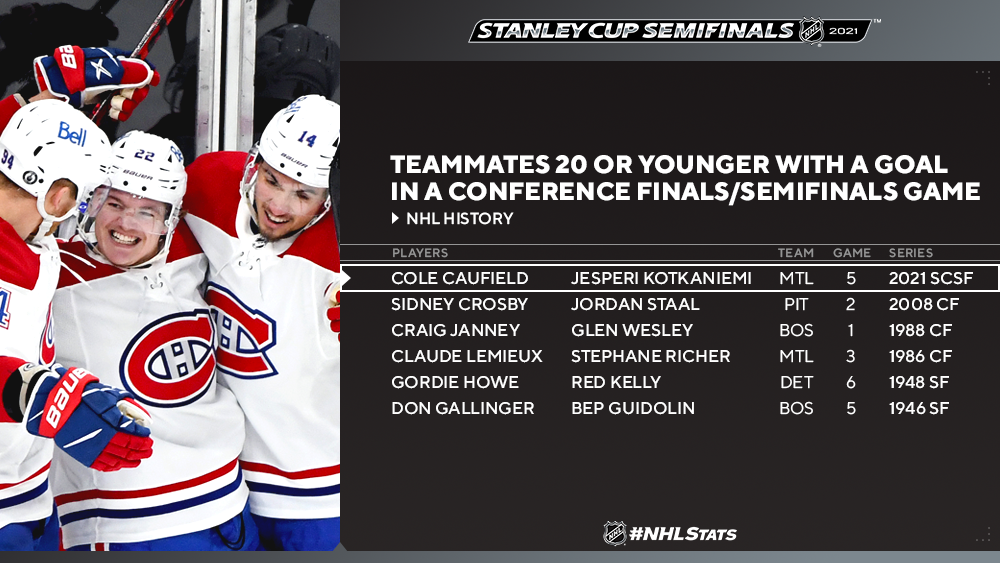 * Staal became the first Montreal player age 36 or older with a goal in a Conference Finals/Semifinals game since 2014, when Francis Bouillon and Daniel Briere each had one in the Canadiens' series against the Rangers. Staal (36 years, 236 days) is the oldest Montreal player with a winning goal during a final-four series since Jimmy Roberts (37 years, 17 days) in Game 2 of the 1977 Semifinals.
LAMORIELLO WINS JIM GREGORY GENERAL MANAGER OF THE YEAR AWARD
Lou Lamoriello of the Islanders is the 2020-21 recipient of the Jim Gregory General Manager of the Year Award. The honor is named after the late Jim Gregory, a 2007 Hockey Hall of Fame inductee who served as Maple Leafs general manager and a League executive for four decades.
* Click here to read more.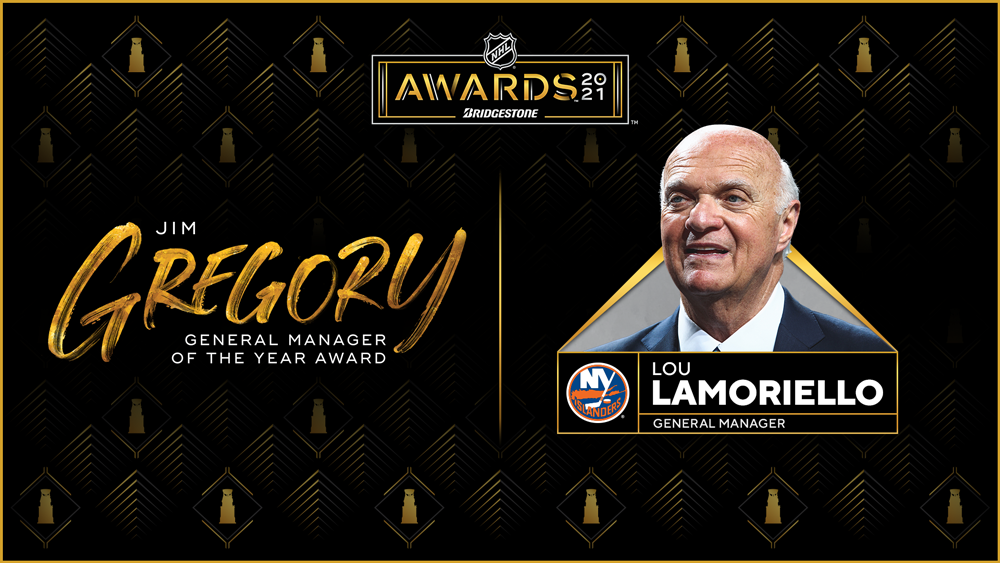 LIGHTNING LOOK FOR ANOTHER FINAL BERTH; ISLANDERS AIM TO FORCE GAME 7
Tampa Bay and New York clash at Nassau Veterans Memorial Coliseum tonight, with the defending champions looking to clinch their second straight berth in the Final (and fourth in franchise history) and the Islanders aiming to force the third Game 7 of the 2021 Stanley Cup Playoffs.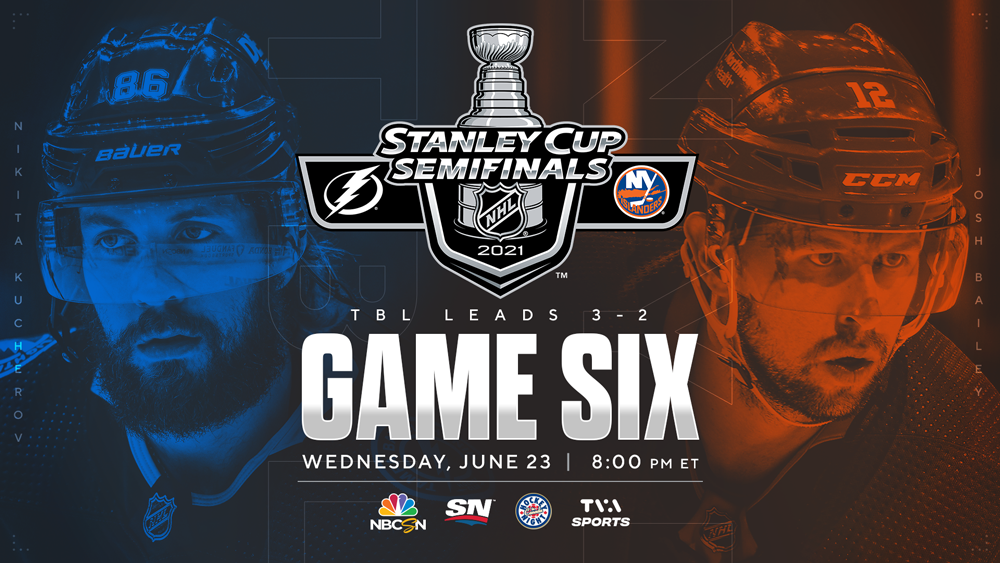 * Brayden Point, who carries the second longest playoff goal streak in NHL history into Wednesday, has scored three series clinchers since the start of the 2020 postseason (Game 5 of 2020 R1, Game 6 of 2020 SCF & Game 5 of 2021 R2). He can become the second player in League history with four series-clinching goals over a span of two NHL playoffs, joining Ken Linseman from 1983 to 1984 (w/ EDM).
* Andrei Vasilevskiy, who blanked New York in Game 5, has recorded three consecutive series-clinching shutouts (Game 6 of 2020 SCF, Game 6 of 2021 R1 & Game 5 of 2021 R2) which is the longest such run by a goaltender in NHL history. He can become the first goaltender in League history with three in a single playoff year.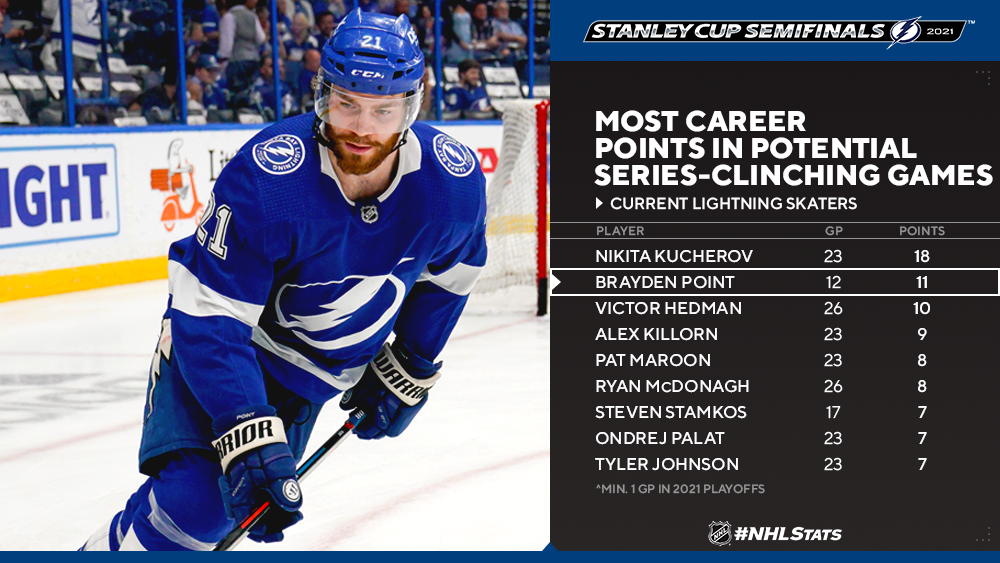 * Travis Zajac (1-5—6 in 10 GP) leads current Islanders players with six career points in potential elimination games, highlighted by a 1-1—2 outing in Game 6 of the 2012 Conference Quarterfinals which included scoring the overtime winner (w/ NJD). New Jersey, which also had Andy Greene as a defenseman and Lou Lamoriello as its general manager, went on to reach the Stanley Cup Final that year.
* Tonight marks the 22nd all-time contest at Nassau Coliseum in which the Islanders face elimination, with New York yielding a 16-5 record in the 21 previous games (.762 W%). The last such contest was in Game 6 of the 2015 First Round, where current Islanders Nick Leddy (0-2—2) and Cal Clutterbuck (1-0—1) combined for three points in a 3-1 win over the Capitals.