THREE HARD LAPS
* The Lightning matched a franchise playoff record with eight goals to claim an 8-0 victory on home ice and move within one win of their second straight appearance in the Stanley Cup Final.
* Brayden Point became the second player in NHL history – and first in 45 years – to post an eight-game goal streak in one postseason, following Reggie Leach who had a 10-game run with the Flyers in 1976.
* After three straight one-goal games, including back-to-back overtime contests, the Golden Knights and Canadiens will square off for a 3-2 series lead tonight in Las Vegas.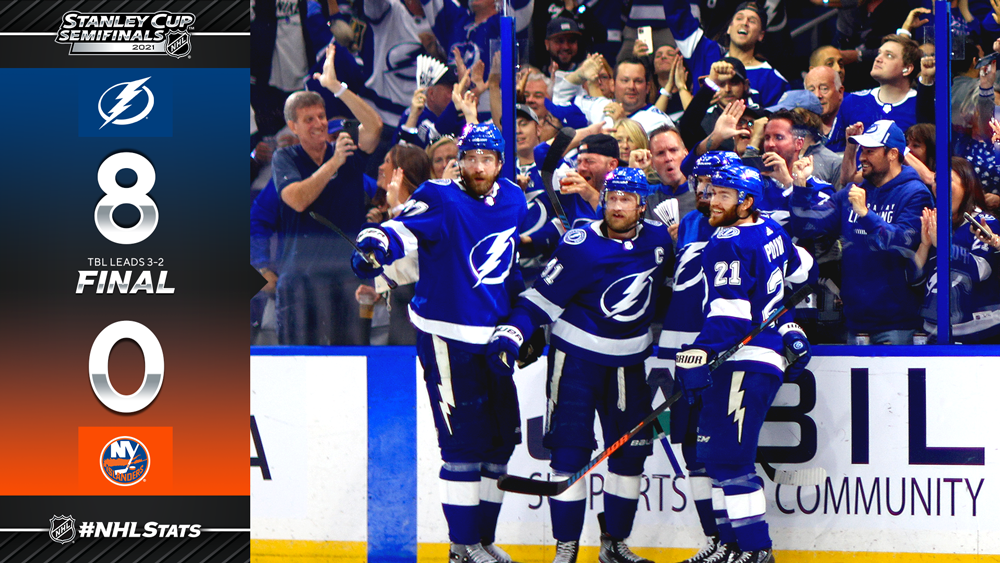 LIGHTNING SCORE EARLY AND OFTEN TO MOVE WITHIN ONE WIN OF FINAL
After missing most of his team's Stanley Cup run in 2020, captain Steven Stamkos (2-1—3) scored two of Tampa Bay's eight goals as the Lightning benefited from another high-scoring outing at home to push the Islanders to the brink of elimination and move within one victory of advancing to the Stanley Cup Final.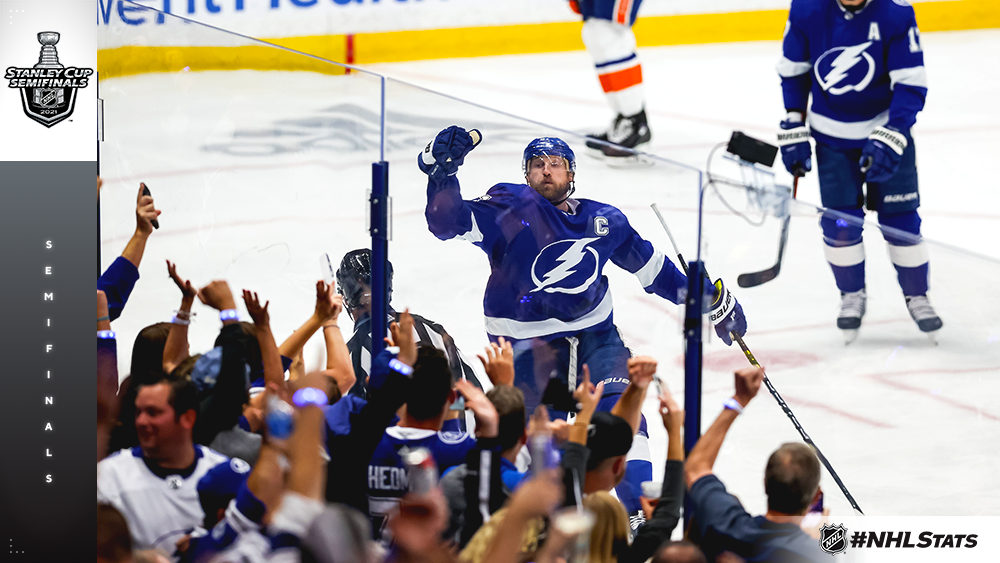 * The Lightning, who matched a franchise record for goals in a playoff game, became the fifth team to win a contest in the Conference Finals/Semifinals by a margin of eight or more goals, joining the Canadiens (11: Game 5 of 1944 SF), Oilers (9: Game 1 of 1985 CF), Red Wings (8: Game 2 of 1947 SF) and Bruins (8: Game 2 of 1972 SF).
* Tampa Bay is averaging 4.50 goals per game at AMALIE Arena these playoffs, the highest single-postseason total in franchise history and highest by any team at home (min. 5 GP) since the Mario Lemieux-led Penguins in 1993 (4.57 in 7 GP).
* With their eight-goal output in Game 5, the defending champions have now strung together 10 unanswered goals after their rally in Game 4 fell short. This marks the seventh instance in the last 30 postseasons in which a team has tallied as many consecutive goals in a playoff series, with Vegas also doing so in 2021 (10: Game 3 to Game 5 of R1). The others: NY Rangers (15 in 1994 CQF), Chicago (12 in 1996 CQF), Boston (10 in 2019 CF), Detroit (10 in 2009 CQF) and St. Louis (10 in 1991 DSF).
* The Lightning now sit one win shy of becoming the fourth defending Stanley Cup champion in the last 21 years to advance to the Final in the ensuing postseason. They would join the Penguins (2016), Red Wings (2008) and Devils (2000).
LEAGUE LEADERS CONTINUE TO SPARK LIGHTNING OFFENSE
Nikita Kucherov (0-3—3) and Brayden Point (1-1—2) lead the 2021 Stanley Cup Playoffs in points and goals, respectively, and each played a pivotal role in Tampa Bay's eight-goal outburst on Monday. Reigning Conn Smythe Trophy winner Victor Hedman, who tops NHL defensemen in playoff assists and points this year, tallied two assists in the win.
* Kucherov (5-22—27 in 16 GP) collected his third outing with three-plus assists in the 2021 postseason. Only two other players in the last 30 years collected their 20th assist of a playoff year in 16 or fewer games: Doug Gilmour in 1994 (15 GP w/ TOR) and Mark Recchi in 1991 (16 GP w/ PIT).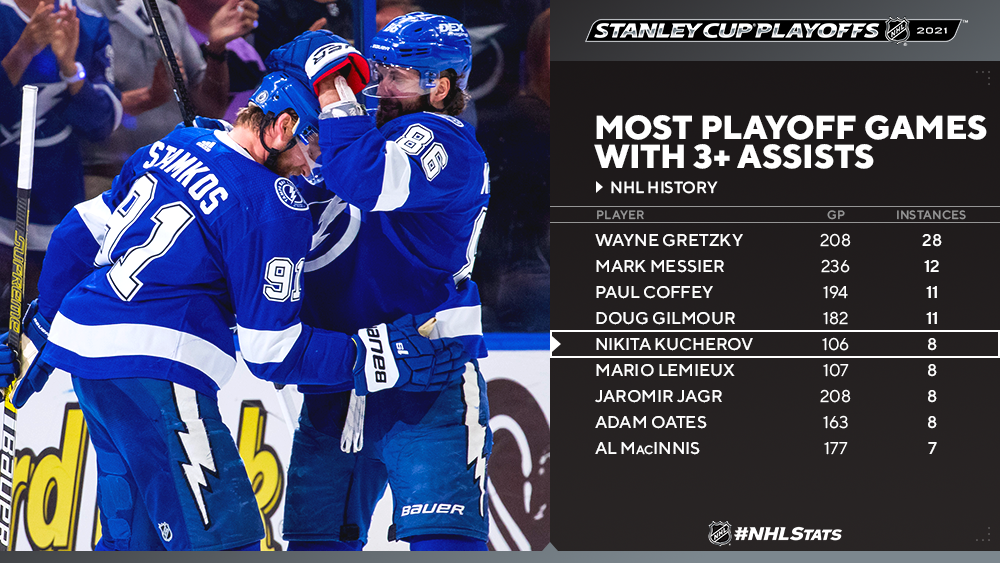 * Only three different players in NHL history have had more games with three or more assists in a single playoff year than Kucherov does in 2021 (3): Wayne Gretzky (5 in 1985, 4 in 1988 & 4 in 1987), Paul Coffey (4 in 1985) and Bob Bourne (4 in 1983).
* Point (13-5—18 in 16 GP), who now sits six goals shy of the NHL record for most in a playoff year, became just the second player in League history to register a playoff goal streak of eight or more games, following Reggie Leach who had a 10-game run in 1976 with the Flyers.
* Point is producing at a 0.81 goals-per-game rate through 16 playoff games in 2021 – the sixth highest in a single playoff year over the last 30 years (min. 15 GP), behind Mario Lemieux in 1992 (1.07), Cam Neely in 1991 (0.84), Mark Scheifele in 2018 (0.82), Joe Sakic in 1996 (0.82) and Johan Franzen in 2008 (0.81).
* Hedman (1-15—16 in 16 GP) boosted his career totals in the postseason to 18-68—86 (125 GP) and moved into a tie with Pittsburgh's Kris Letang (22-64—86 in 142 GP) and Chicago's Duncan Keith (18-68—86 in 135 GP) for the most playoff points among active defensemen.
QUICK CLICKS
* Stanley Cup Playoffs coverage
* #NHLStats Live Updates: Tuesday, June 22
* Tom Kurvers dies at 58, was Wild assistant general manager
* NHL celebrates heritage, contributions of players & fans on National Indigenous Peoples Day
* JT Brown hired by Kraken as television analyst for inaugural season
GOLDEN KNIGHTS, CANADIENS BATTLE FOR A 3-2 SERIES LEAD IN VEGAS
A 3-2 series lead will be on the line when the Golden Knights and Canadiens go head-to-head in Game 5 at T-Mobile Arena tonight. Vegas owns a 2-0 (1.000) all-time series record when tied 2-2 in a best-of-seven series – winning Games 5 and 6 in each instance (2018 R2 vs. SJS and 2021 R2 vs. COL) – while Montreal is 25-19 (.568).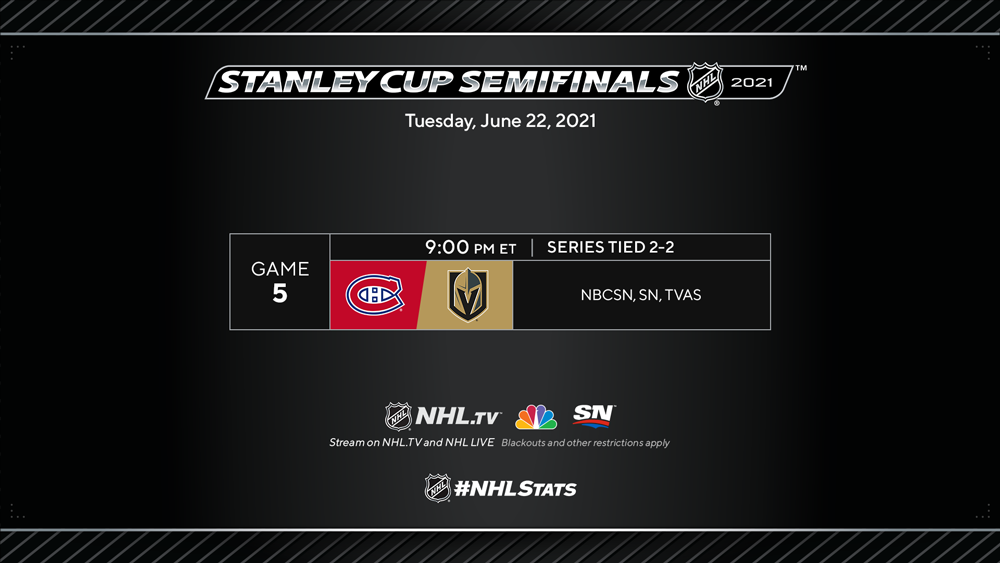 * The Canadiens last won Game 5 after being tied 2-2 in the 2002 Conference Quarterfinals when Jose Theodore backed them to a road victory at FleetCenter in Boston before returning to Bell Centre (then Centre Molson) to eliminate the Bruins, the No. 1-ranked team in the Eastern Conference, in Game 6. Both of those Montreal victories came by a 2-1 margin as Theodore stopped 77 of 79 shots faced over the final two contests.
* The Golden Knights have received a slew of offense from their blueline in the 2021 Stanley Cup Semifinals, with five of their six defensemen notching at least one goal thus far in the series (Alex Pietrangelo: 3, Nick Holden, Alec Martinez, Brayden McNabb & Shea Theodore). Only three teams in NHL history have had more blueliners score in a single playoff series: Boston (6 in 2019 SCF vs. STL), Calgary (6 in 1988 DSF vs. LAK) and Vancouver (6 in 1983 DSF vs. CGY).
* Vegas has had at least one defenseman score in each of its last five games. In the past 25 years, only two teams have had a blueliner score in more consecutive games within a postseason: Tampa Bay (6 GP in 2020) and Boston (6 GP in 2013 and 6 GP in 2014).
* Meanwhile, Montreal's youth continue to perform with 21-year-old Nick Suzuki ranking second in team scoring this postseason (4-6—10 in 15 GP). Only three different Canadiens players have recorded more points in a single playoff year before age 22.