THREE HARD LAPS
* The Islanders withstood Brayden Point and the Lightning to pull even in their Stanley Cup Semifinals series and guarantee a Game 6 at Nassau Veterans Memorial Coliseum.
* Hurricanes defenseman Jaccob Slavin was a runaway winner of the 2020-21 Lady Byng Memorial Trophy, receiving 73 of the 100 first-place votes in collecting 827 voting points. Click here to read more.
* The Canadiens can move within one win of their first Stanley Cup Final berth in over 28 years when they clash with the Golden Knights in Game 4 tonight.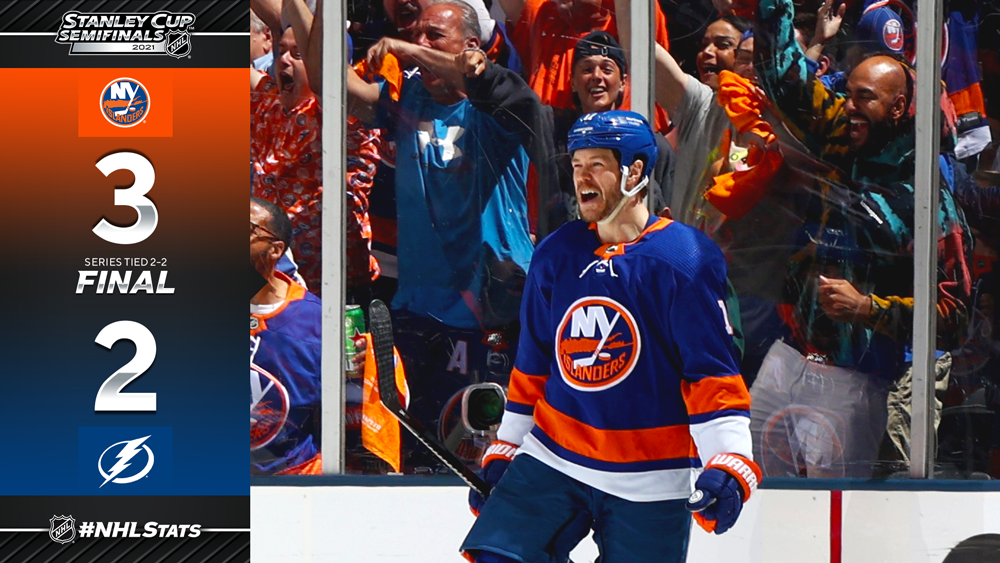 ISLANDERS, PULOCK PREVENT LIGHTNING FROM COMPLETING RALLY IN GAME 4
Josh Bailey, Mathew Barzal and Matt Martin each scored second-period goals to give the Islanders a 3-0 lead through 40 minutes. New York then withstood a two-goal rally by Tampa Bay in the third period – which included Ryan Pulock making a goal line save in the dying seconds to preserve the victory – as the Islanders evened their Stanley Cup Semifinals series, which shifts back to AMALIE Arena for a pivotal Game 5.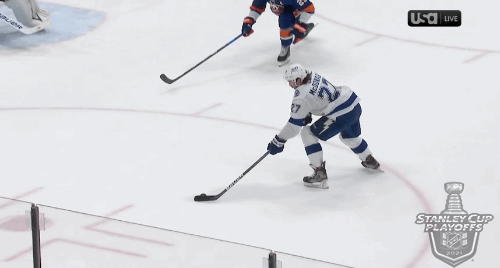 * New York earned a Game 4 win after facing a 2-1 series deficit for the third time in the 2021 Stanley Cup Playoffs (also R1 vs. PIT & R2 vs. BOS). In each of the two previous instances, it was the first of three straight wins in the series en route to eliminating their opponent.
* Bailey (16-34—50 in 68 GP), who was held off of the score sheet in each of his last two outings, became the 12th player in franchise history to record 50 playoff points with the Islanders and required the sixth-fewest games among that cohort to reach the mark. He has gone three consecutive games without a point within a postseason only once in his NHL career.
* Martin scored his first career game-winning goal in the Stanley Cup Playoffs. Martin, who is in his second stint with New York, has scored six playoff goals since returning to Long Island (6-2—8 in 46 GP) after having just one in his first four NHL postseasons (1-3—4 in 30 GP).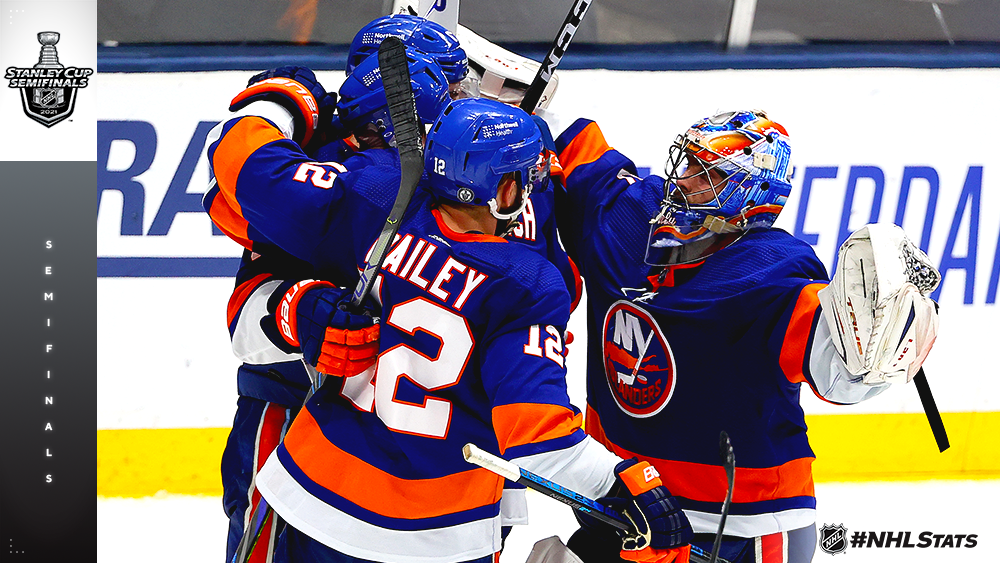 POINT PUSHES GOAL STREAK TO SEVEN GAMES
Lightning forward Brayden Point extended his goal streak to seven games (7-2—9), which marks the longest by a player in the Stanley Cup Playoffs since Claude Lemieux had a run of equal length over 24 years ago.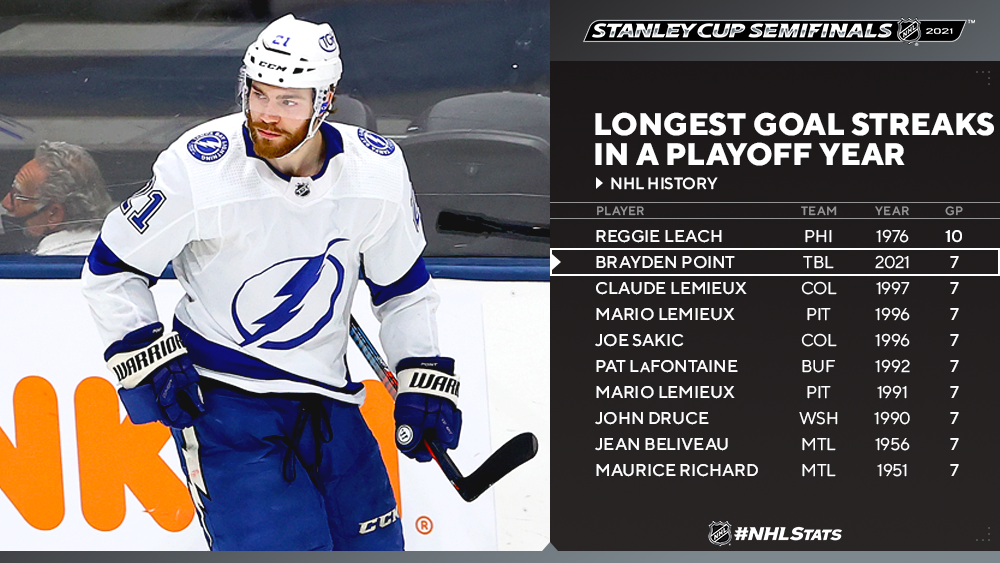 * Point scored the 34th playoff goal of his NHL career (34-32—66 in 59 GP), surpassing Tampa Bay icon Martin St. Louis (33-35—68 in 63 GP) for sole possession of third place on the franchise's all-time list.
* Point paces the NHL with 12 goals in the 2021 Stanley Cup Playoffs (12-4—16 in 15 GP) after leading the League with 14 during the 2020 postseason and setting a franchise record for most in a single playoff year.
SLAVIN WINS LADY BYNG MEMORIAL TROPHY
Hurricanes defenseman Jaccob Slavin is the 2020-21 recipient of the Lady Byng Memorial Trophy, awarded "to the player adjudged to have exhibited the best type of sportsmanship and gentlemanly conduct combined with a high standard of playing ability". He became the second player in franchise history to claim the award after Ron Francis (2001-02), who announced Slavin as the winner on Saturday.
* The 2020-21 recipient of the Jim Gregory General Manager of the Year Award will be revealed tonight.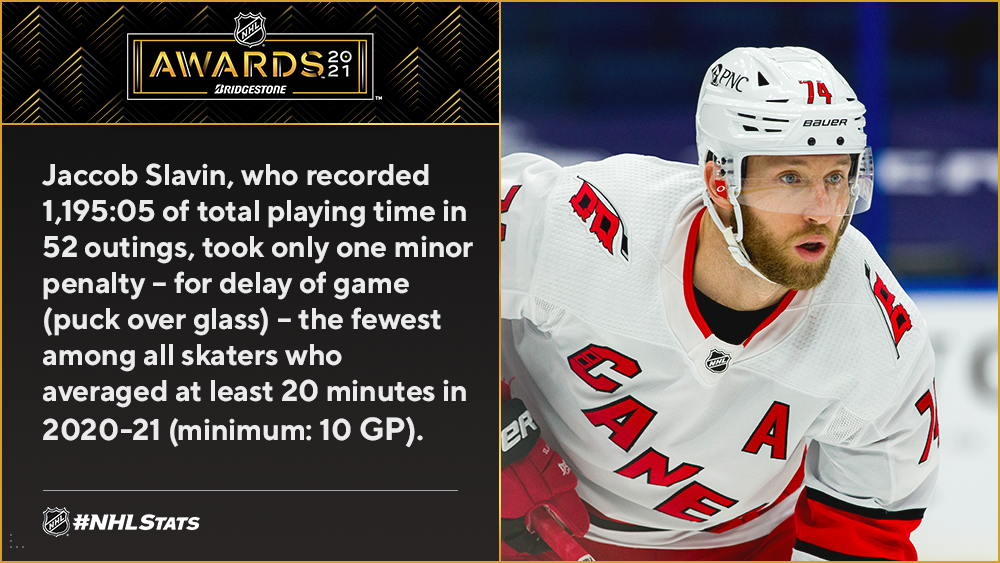 CANADIENS LOOK TO MOVE WITHIN ONE WIN OF FIRST FINAL BERTH SINCE 1993
Montreal, which pulled even during the final two minutes of regulation before earning an overtime win in Game 3, aims to take a 3-1 lead in its Stanley Cup Semifinals series against Vegas.
* The Canadiens' penalty kill went four-for-four on Friday, with Ben Chiarot (5:27), Phillip Danault (4:41), Shea Weber (4:15) and Artturi Lehkonen (4:04) each logging at least four minutes of shorthanded time on ice. Weber (42:21) has the second highest shorthanded time on ice among players still competing in the 2021 Stanley Cup Playoffs and has assisted on two of Montreal's League-leading four shorthanded goals this postseason, which exceed its three power-play goals against.
* The Canadiens have not allowed a power-play goal in 10 consecutive contests, which is tied for the longest such run by an NHL team in a playoff year since 1933-34 when goals by type were officially tracked (w/ DET in 1937, NYR in 1940 & NJD in 2000). Montreal has killed 25 consecutive penalties over its 10-game run.