THREE HARD LAPS
* Despite being outshot 30-8 through 40 minutes and 45-27 overall, the Canadiens stunned the Golden Knights in Game 3 after Josh Anderson tied the game late and scored the winner in overtime.
* The first overtime game of the Stanley Cup Semifinals marked the 23rd overall this postseason – only seven playoff years in NHL history have seen more.
* Tampa Bay's trio of Brayden Point, Nikita Kucherov and Victor Hedman eye a commanding series lead against New York when Game 4 goes at Nassau Veterans Memorial Coliseum tonight.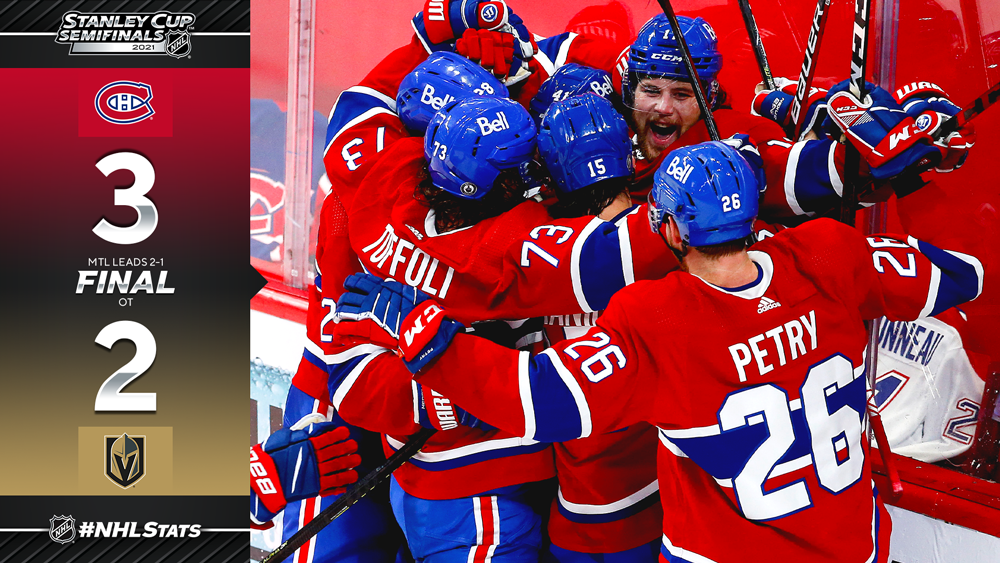 ANDERSON TIES GAME LATE, SCORES OT WINNER AS CANADIENS TAKE 2-1 LEAD
After being held without a point since Game 1 of the First Round versus Toronto (1-0—1), Josh Anderson tied the contest with 1:55 remaining in regulation and scored 12:53 into overtime as the Canadiens stunned the Golden Knights to take a 2-1 series lead in the Stanley Cup Semifinals.
* Anderson, who last produced a multi-goal game nearly two months ago (April 21 at EDM), became the ninth player in NHL history to score a tying goal within the final two minutes of regulation in a playoff game and the winning goal in overtime.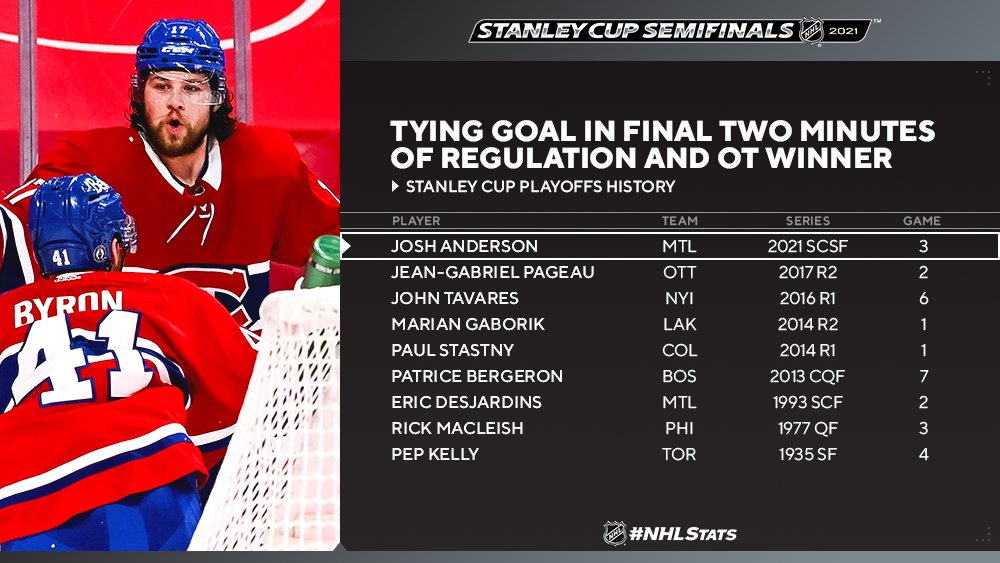 * Friday's contest marked just the fifth time in 30 years in which Montreal tallied a game-tying goal within the final two minutes of regulation in a postseason game. The others: Game 2 of the 2017 First Round (59:42), Game 7 of the 2011 First Round (58:03), Game 1 of the 2008 Conference Semifinals (59:31) and Game 2 of the 1993 Stanley Cup Final (58:47).
* Carey Price (43 saves) helped Montreal, which was outshot 30-8 through two periods, weather a barrage of Vegas chances through 72:53 of game time en route to making 40 or more saves in a playoff game for the fifth time. Only three Canadiens goaltenders have recorded more such performances in the postseason for the franchise (since 1955-56): Ken Dryden (7) and Patrick Roy (6) and Jose Theodore (6).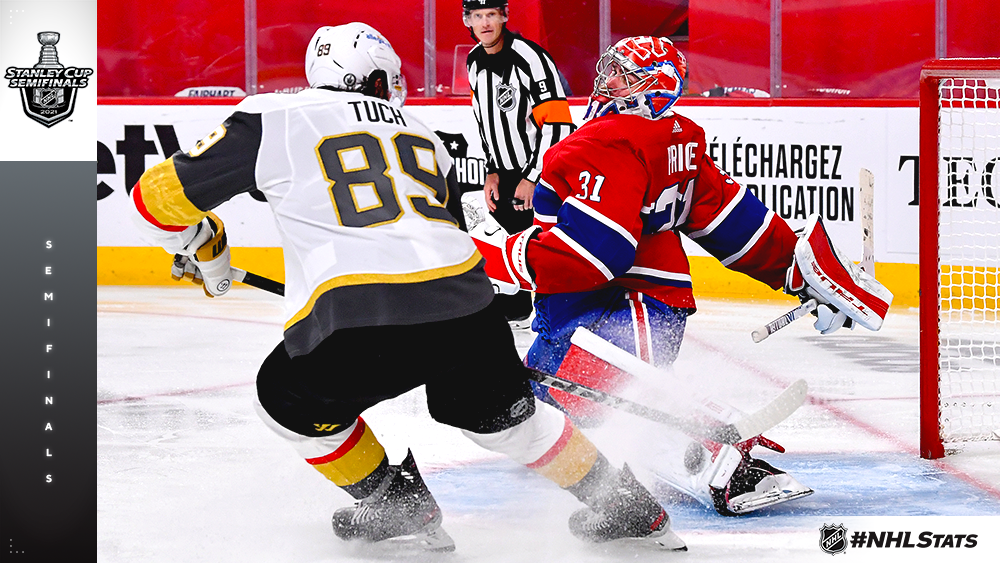 CANADIENS ALSO CONTINUE STREAKING WAYS IN GAME 3 VICTORY
* Cole Caufield scored Montreal's first game-tying goal of the contest and extended his point streak to five games. Only two Canadiens rookies in franchise history have had a longer run in the postseason: Shayne Corson (6 GP in 1987) and Howie Morenz (6 GP in 1924).
* Montreal improved to 4-0 in its last four games at Bell Centre dating to Game 6 of the First Round – when fans were brought back into the building. The club has recorded a four-game win streak at home in the Stanley Cup Playoffs for just the fifth time in 40 years, joining 1993 (8 GP), 1986 (8 GP), 1989 (5 GP) and 1992 (4 GP).
* The Canadiens, who have captured four-plus overtime wins in a single playoff year for the fourth time, have won each of their first four games of a postseason that required overtime for the first time in franchise history.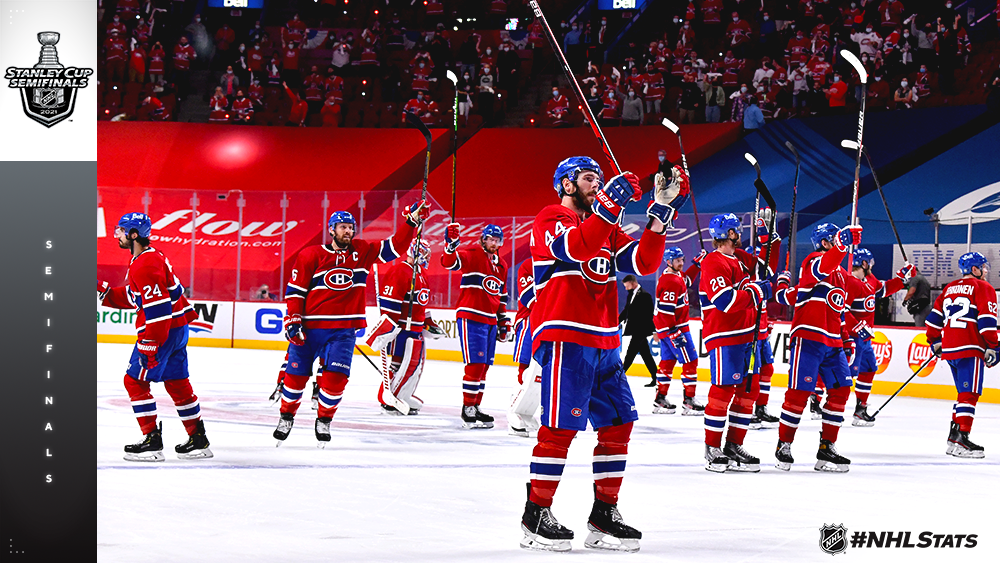 BARKOV MARKS FRANCHISE-FIRST WITH SELKE TROPHY WIN
Aleksander Barkov of the Panthers is the 2020-21 recipient of the Frank J. Selke Trophy, recognizing "the forward who best excels in the defensive aspects of the game," as selected by the Professional Hockey Writers Association. The Panthers captain is the first player in franchise history to claim the award.
* Barkov was named on 92 of the 100 ballots, including 62 first-place selections, to finish ahead of second-place Patrice Bergeron of the Bruins, a Selke finalist for an unprecedented 10th consecutive year and with a record-tying four Selke wins. Click here to read more.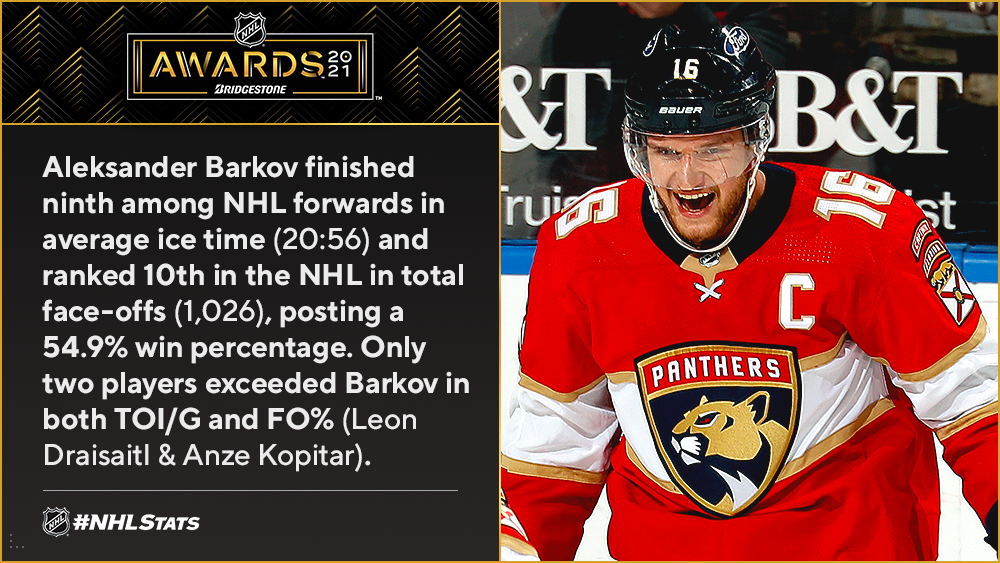 * The 2020-21 recipient of the Lady Byng Memorial Trophy will be revealed tonight.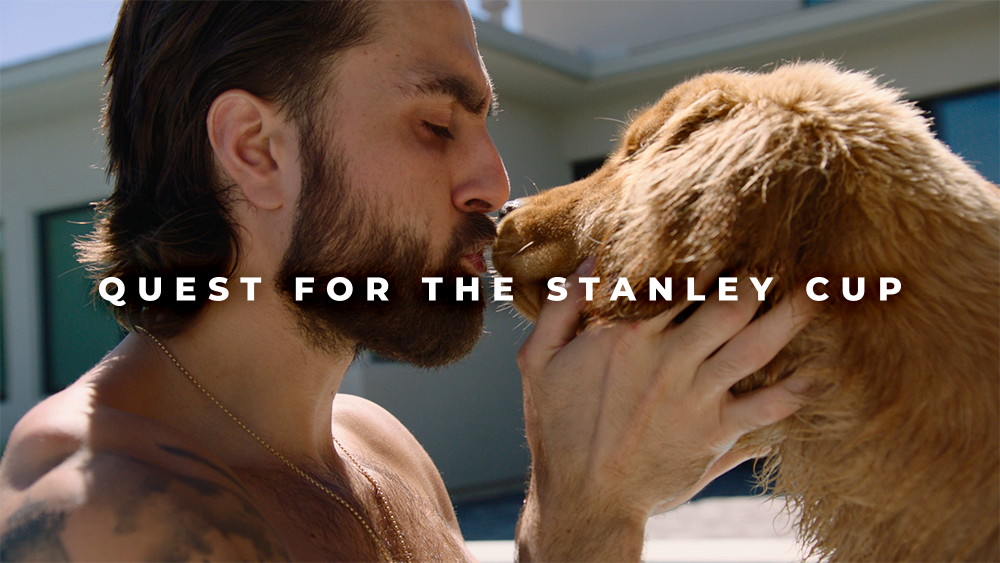 TAMPA BAY'S TOP SCORERS TRY TO KEEP ROLLING, ISLES EYE ANOTHER SPLIT
The high-scoring trio of Nikita Kucherov, Brayden Point and Victor Hedman will hit the ice tonight looking to take a 3-1 series lead back to Tampa, but will have to contend with an Islanders team that finds itself in familiar territory. New York has faced a 2-1 series deficit in each round thus far in 2021 – roaring back to win three straight games to eliminate both Pittsburgh and Boston – and in four consecutive series overall dating to last year's Conference Finals against Tampa Bay.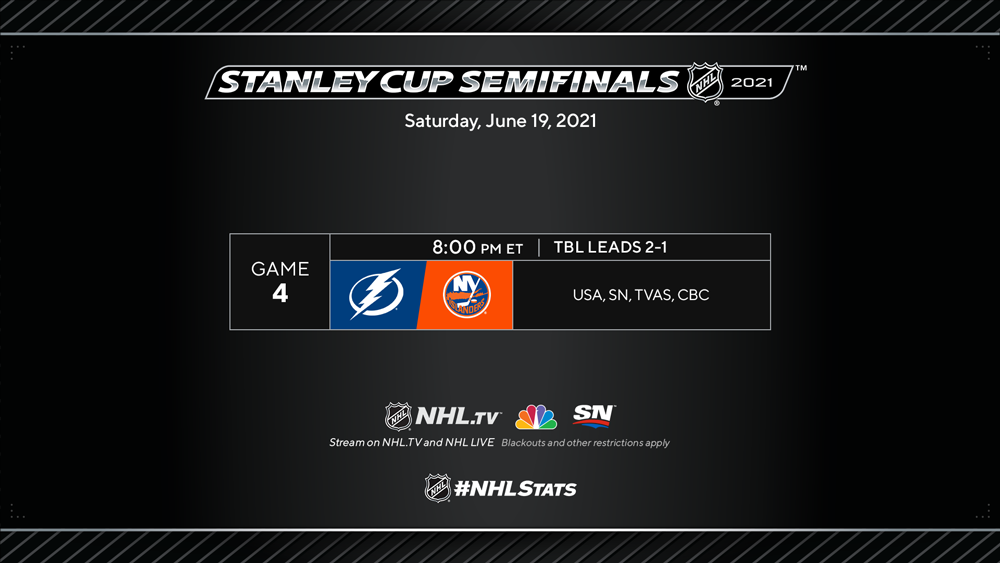 * The Islanders are the fourth team in NHL history to face a 2-1 series deficit in at least three rounds within a postseason (also 1989 Flyers, 1993 Maple Leafs and 2010 Canadiens). New York will now aim to become the first team to overcome a 2-1 series deficit to win three rounds in one playoff year.
* The Lightning, meanwhile, have built 3-1 leads in six consecutive best-of-seven series dating to the 2020 First Round – a first in NHL history – and have a chance to push that run to seven tonight. In fact, only four clubs in Stanley Cup Playoffs history have held a 3-1 advantage in at least four consecutive best-of-seven series, with New York the last to do so before Tampa Bay.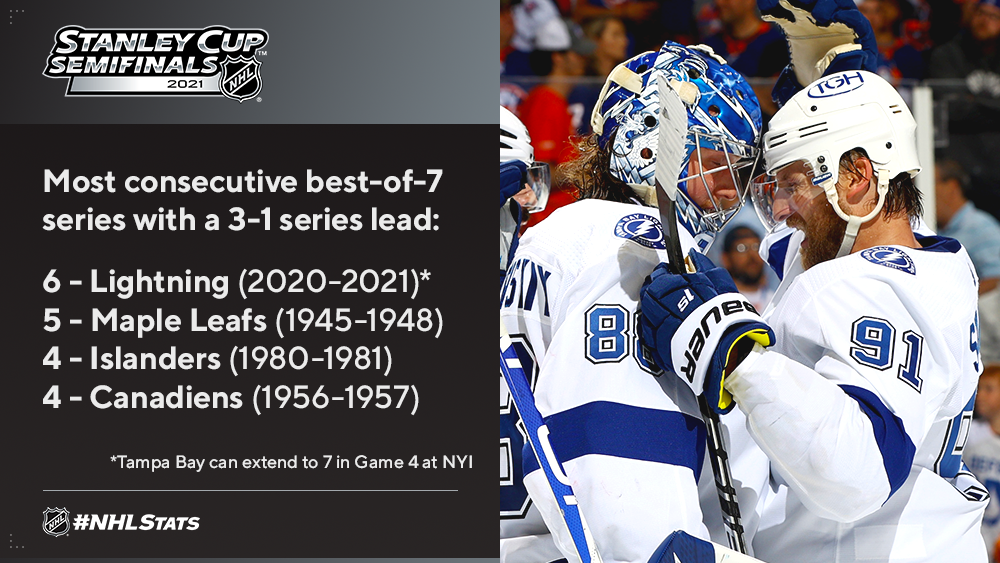 * Tampa Bay has moved within two victories of consecutive Stanley Cup Final appearances thanks in large part to the continued contributions of Point, Kucherov, Hedman – three of the top four highest-scoring players over the past two postseasons – as well as goaltender Andrei Vasilevskiy, who has been the club's only goaltender over the course of their 39 postseason games since last year. More information on each player, as well as Islanders netminder Semyon Varlamov, is available in the June 19 edition of #NHLStats Live Updates.