THREE HARD LAPS
* The Islanders and Lightning begin their playoff rematch tonight as the Stanley Cup Semifinals get underway. This time, they meet as two of the NHL's top-three scoring teams in the 2021 Stanley Cup Playoffs.
* Nikita Kucherov continues his journey towards joining elite company as he has the chance to lead all players in points for the second time in as many postseasons.
* Semyon Varlamov puts his three-game win streak on the line and looks to become the second Islanders goaltender to earn four straight victories during the 2021 Stanley Cup Playoffs.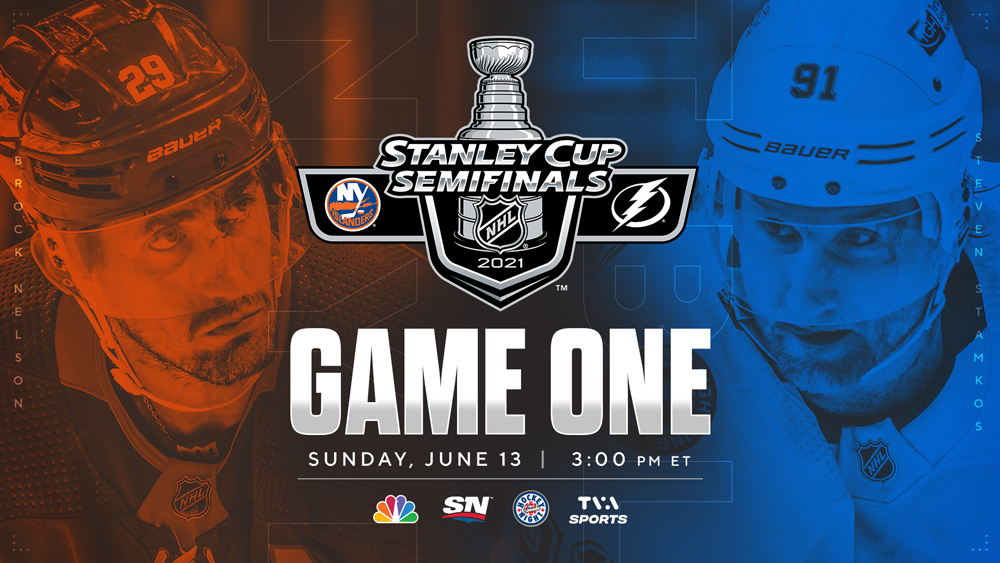 LIGHTNING, ISLANDERS SET TO BATTLE AGAIN FOR STANLEY CUP FINAL BERTH
Game 1 of the 2021 Stanley Cup Semifinals goes today at AMALIE Arena when Steven Stamkos and the Lightning host Brock Nelson and the Islanders. Teams that take a 1-0 lead in a best-of-seven hold an all-time series record of 498-226 (.688), including an 8-4 (.666) mark in the 2021 Stanley Cup Playoffs. Meanwhile, teams that take a 1-0 lead in the Conference Finals/Semifinals own an all-time series record of 127-55 (.698).
* These two teams last met in the 2020 Conference Finals in Edmonton, with the Lightning advancing in six games. Both teams are looking to give their home fans something special in this series – Tampa Bay would like to replicate the Stanley Cup run of 2020 so it can compete for another championship, but this time with fans in the stands. New York, meanwhile, is looking to relive the dynasty days and deliver another Cup run at Nassau Veterans Memorial Coliseum in the franchise's final season playing in the building.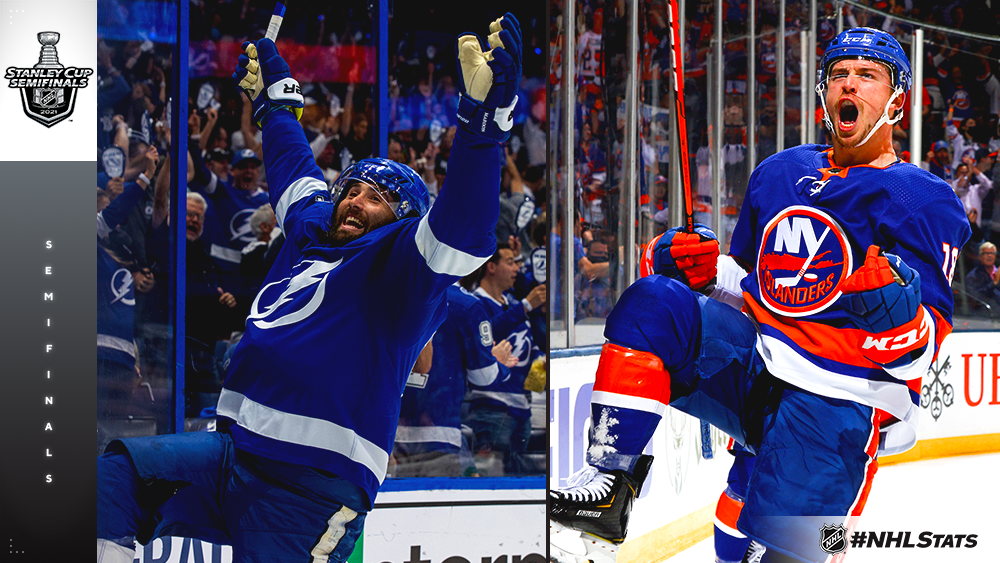 * Overall, the Lightning are 3-0 in three all-time postseason series against the Islanders (2020 CF, 2016 R2 & 2004 CQF) – they have twice gone on to capture the Stanley Cup after eliminating New York in a postseason series (2020 & 2004).
ISLANDERS, LIGHTNING BRING HIGH-SCORING HABITS TO SEMIFINALS
The Islanders (3.58 G/GP) and Lightning (3.45 G/GP) enter the Stanley Cup Semifinals as the second- and third-highest scoring teams in the 2021 Stanley Cup Playoffs, with each benefiting from a six-goal outburst at some point during the Second Round. The only team at a higher percentage than the two clubs this postseason are the Avalanche (3.80 G/GP).
* Only four playoff years in Islanders history have witnessed the club produce at a higher rate, all of which occurred during its run of four consecutive championships: 1981 (5.39 G/GP), 1983 (4.70 G/GP), 1982 (4.47 G/GP) and 1980 (4.19 G/GP).
* New York, which scored six goals in its series-clinching win against Boston in Game 6 of the Second Round, reached the benchmark in a playoff contest for the first time since Game 4 of the 2013 Conference Quarterfinals (vs. PIT). Only one postseason in the last 30 years has featured the club tally at least six goals in a playoff game multiple times: 1993 (Game 4 & Game 6 of 1993 DF vs. PIT).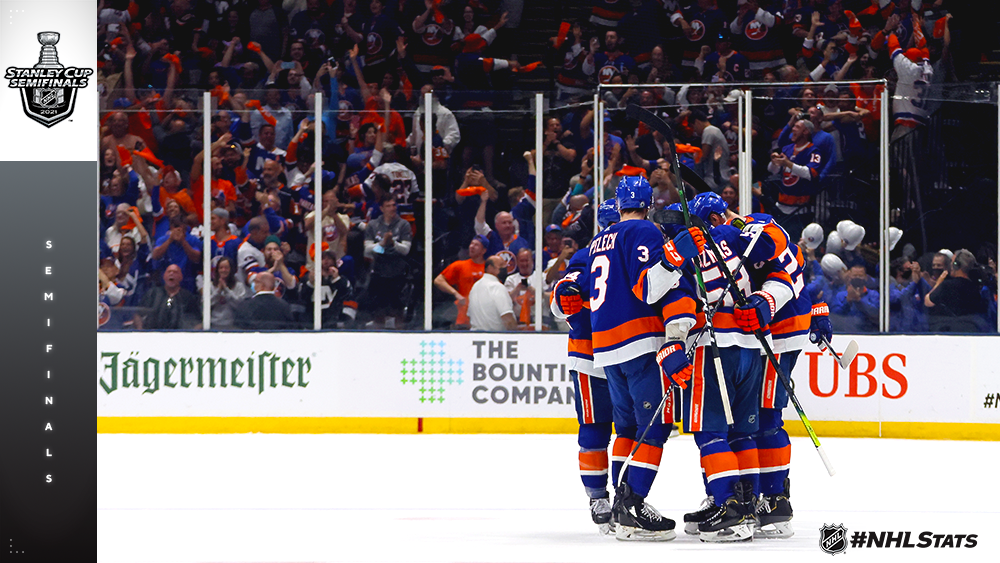 * Tampa Bay is currently producing at its highest goals-per-game rate in a single postseason in franchise history, averaging at least three goals per game in a playoff year for the third time joining 2011 (3.28 G/GP) and its Stanley Cup-winning campaign in 2020 (3.08 G/GP).
* The Lightning have scored six goals in a game twice during the 2021 postseason (Game 4 of R2 & Game 4 of R1). Only one playoff year in franchise history has featured the club achieve the feat more than two times: 2015 (3x).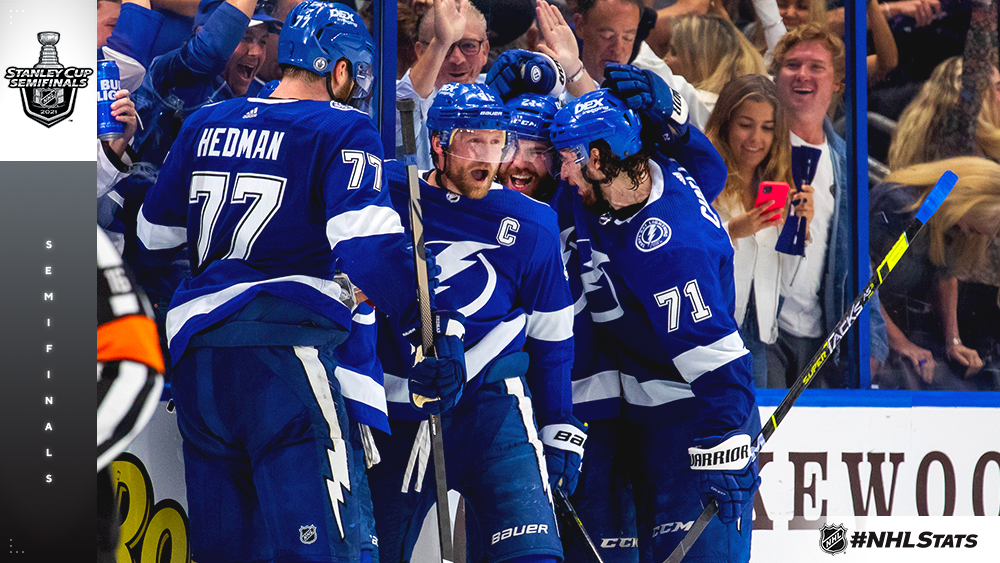 POINT PRODUCERS WILL BE ON DISPLAY IN PLAYOFF REMATCH
Eleven players competing for the four teams in the Stanley Cup Semifinals have collected at least 10 points during the 2021 Stanley Cup Playoffs, with nine set to be featured during the Lightning–Islanders series.

* Nikita Kucherov (5-13—18 in 11 GP) enters the Semifinals leading all players in points after also doing so during the 2020 Stanley Cup Playoffs (7-27—34 in 25 GP). The Lightning forward can become the sixth different player in the NHL's expansion era (since 1967-68) to lead the League in points in consecutive postseasons, joining Wayne Gretzky (3x: 1983-85; 2x: 1987-88), Guy Lafleur (3x: 1977-79), Mario Lemieux (2x: 1991-92), Rick MacLeish (2x: 1974-75) and Phil Esposito (2x: 1969-70).
* Brayden Point (8-4—12 in 11 GP) scored the series-clinching goal in Game 5 of the Second Round and sits tied with Nathan MacKinnon (8-7—15 in 10 GP) and Brad Marchand (8-4—12 in 11 GP) for the most goals in the 2021 Stanley Cup Playoffs. Should he find the back of the net in the series opener, Point can become the sixth different player to notch a four-game goal streak in the postseason for the Lightning; Ondrej Palat (5 GP) set the franchise record in 2020.
* Josh Bailey (5-6—11 in 2021), Brock Nelson (6-4—10 in 2021) and Travis Zajac (1-1—2 in 2021) have collected the most career points in the playoffs against the Lightning by an Islanders player, each posting five points. Nelson, who netted the series-clinching goal against the Bruins, has registered a team-best 22 playoff goals since making his postseason debut in 2013 (22-17—39 in 60 GP) – seven more than the next-closest New York skater over that span (Bailey: 15-33—48 in 64 GP).
RUSSIAN GOALTENDERS KEY TO SEMIFINALS APPEARANCES
Lightning goaltender Andrei Vasilevskiy (Tyumen, RUS) and Islanders netminder Semyon Varlamov (Samara, RUS) lead their teams into the final four of the Stanley Cup Playoffs for the second time in as many postseasons. Teammates on Team Russia during the 2016 World Cup of Hockey, Vasilevskiy and Varlamov have gone head-to-head in the playoffs six times (Vasilevskiy: 4-2, 1.63 GAA, .933 SV%; Varlamov: 2-3, 2.46 GAA, .921 SV%) and three times during the regular season (Vasilevskiy: 2-1, 2.02 GAA, .897 SV%; Varlamov: 1-2, 2.38 GAA, .918 SV%).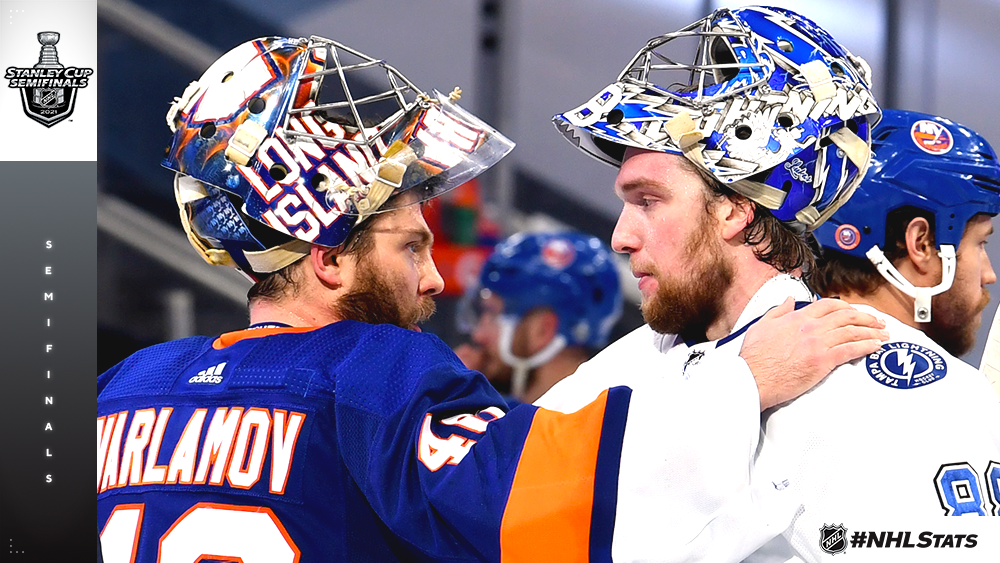 * Vasilevskiy, already the franchise leader in playoff games (69 GP) and playoff wins (41) by a Lightning goaltender, has collected two of his three career postseason shutouts in 2021 – two shutouts shy of Nikolai Khabibulin and Ben Bishop (both w/ 5) for the franchise mark. Four of Vasilevskiy's 41 postseason victories have come against the Islanders and should the 2020-21 Vezina Trophy finalist backstop his club into the Stanley Cup Final, he would become just the third goaltender in NHL history to win eight career playoff games against the Islanders. Ken Dryden and Pete Peeters (both w/ 8) have accomplished the feat.
* Varlamov is set to put his three-game win streak on the line after teammate Ilya Sorokin recorded a stretch of four straight victories in the First Round. Should Varlamov extend his run to four contests, it would mark the third time in NHL history that a team has featured two different goaltenders post a personal win streak of four-plus contests in a single playoff year. The others: Boston in 1972 (Eddie Johnston: 6 GP & Gerry Cheevers: 4 GP) and Philadelphia in 1980 (Phil Myre: 5 GP & Pete Peeters: 5 GP).