THREE HARD LAPS
* Carey Price and the Canadiens aim to rebound from a loss in the opener of the Stanley Cup Final when Game 2 goes tonight in Tampa (8 p.m. ET on NBCSN, SN, CBC, TVAS, Peacock).
* Nikita Kucherov, Brayden Point and the Lightning look to take a 2-0 series lead as they try to extend their home winning streak to a franchise playoff record five games.
* Connor McDavid became the second unanimous winner in the 97-year history of the Hart Memorial Trophy and also received the players' vote for the Ted Lindsay Award as the NHL revealed the recipients of its five remaining regular-season trophies during 2021 NHL Awards presented by Bridgestone.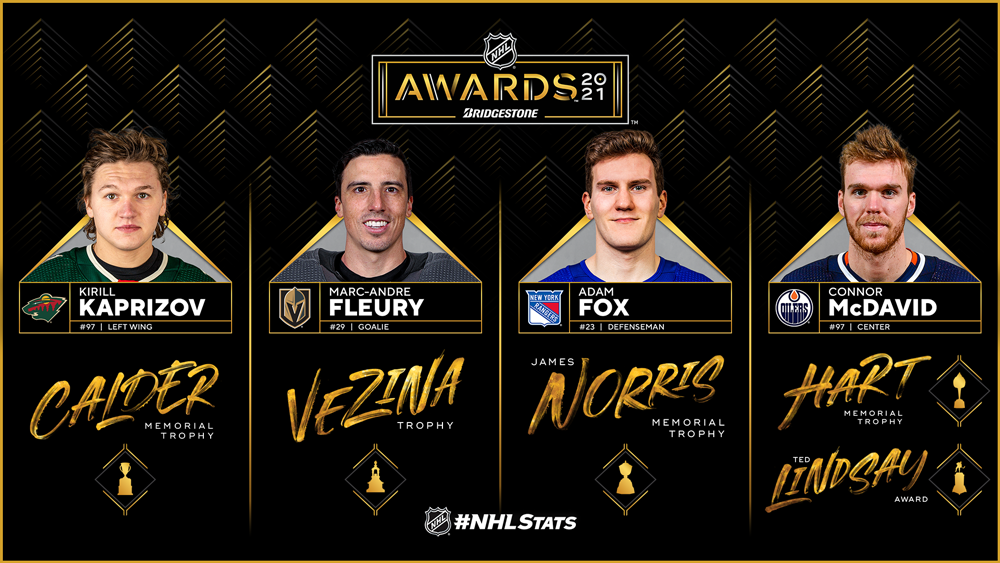 EVEN SERIES OR 2-0 LEAD IN THE STANLEY CUP FINAL?
Game 2 of the Stanley Cup Final between the Canadiens and Lightning goes tonight as Montreal looks to pull even before returning to Bell Centre, while Tampa Bay aims for its fifth straight win on home ice and a 2-0 lead in the championship series.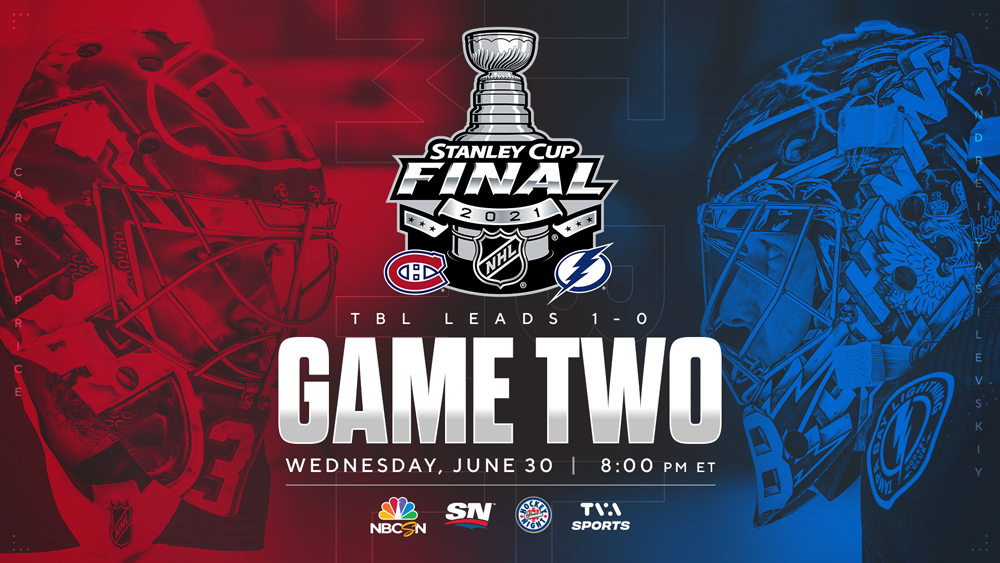 * The Canadiens have faced a 1-0 series deficit in a best-of-seven Stanley Cup Final on 10 prior occasions, going on to win five of those series. Montreal has pulled even in Game 2 after facing a 1-0 series deficit in each of its last four Final appearances (1993, 1989, 1986 & 1979), outscoring opponents 16-8 in those contests.
* The Lightning look to take a 2-0 lead in the Stanley Cup Final for the first time in franchise history. Teams that win each of the first two games in a best-of-seven Final hold an all-time series record of 46-5 (.902) – Montreal accounts for two of the five instances in which a club rallied to win after falling behind 2-0, achieving the feat in 1966 and 1971 (also TOR in 1942, PIT in 2009 & BOS in 2011).
CANADIENS, PRICE AIM TO REBOUND IN GAME 2
The Canadiens, who find themselves down 1-0 for the second straight series, are in a situation that each of the last three Stanley Cup winners experienced in the Final. The 2020 Lightning, 2019 Blues – whose roster included current Montreal players Joel Edmundson and Jake Allen – and 2018 Capitals all rallied to win the Cup after losing the opener of the championship series.
* Carey Price, who has allowed more than two goals against in consecutive games only once this postseason, owns a career record of 9-6 in Game 2s (2.48 GAA, .921 SV%, 1 SO), including a 4-2 mark after suffering a loss in Game 1 (2.85 GAA, .905 SV%, 1 SO).
* Overall, Price is 15-16 in 32 career appearances immediately following a defeat in the playoffs (2.45 GAA, .916 SV%, 5 SO). He is 3-0 in each of his last three contests under that criterion dating to Game 5 of the 2021 First Round (1.99 GAA, .935 SV%).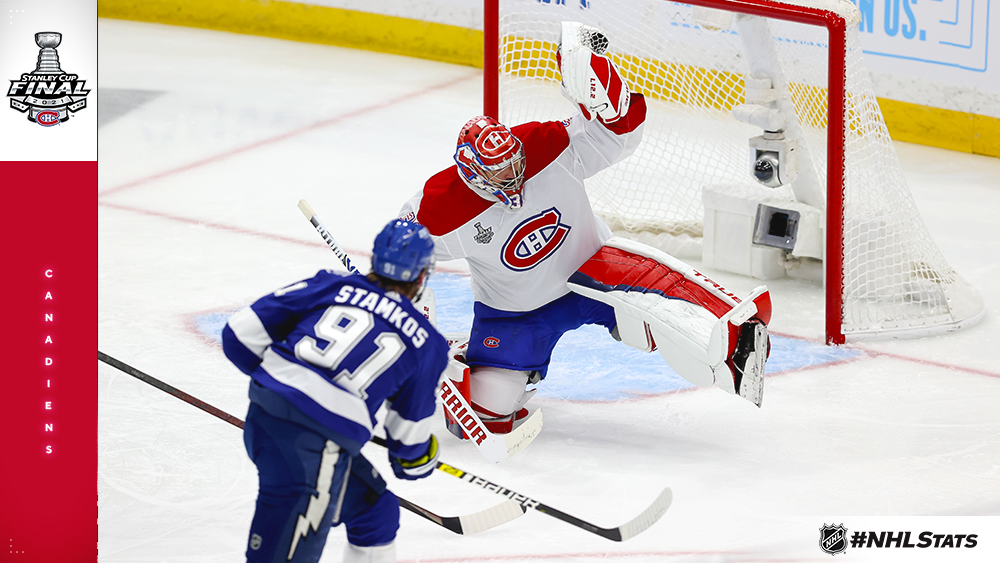 KUCHEROV, POINT SEEK CONTINUED PRODUCTION AFTER THREE-POINT OUTINGS
Nikita Kucherov and Brayden Point, who had 2-1—3 and 0-3—3, respectively, on Monday, each have registered at least one point in six consecutive contests in the Stanley Cup Final dating to Game 2 in 2020 (Kucherov: 3-8—11; Point: 5-6—11). Each player has had four multi-point efforts over their streak. The high-scoring duo can join a list that currently features nine players to post a longer such run since the mid-1980s.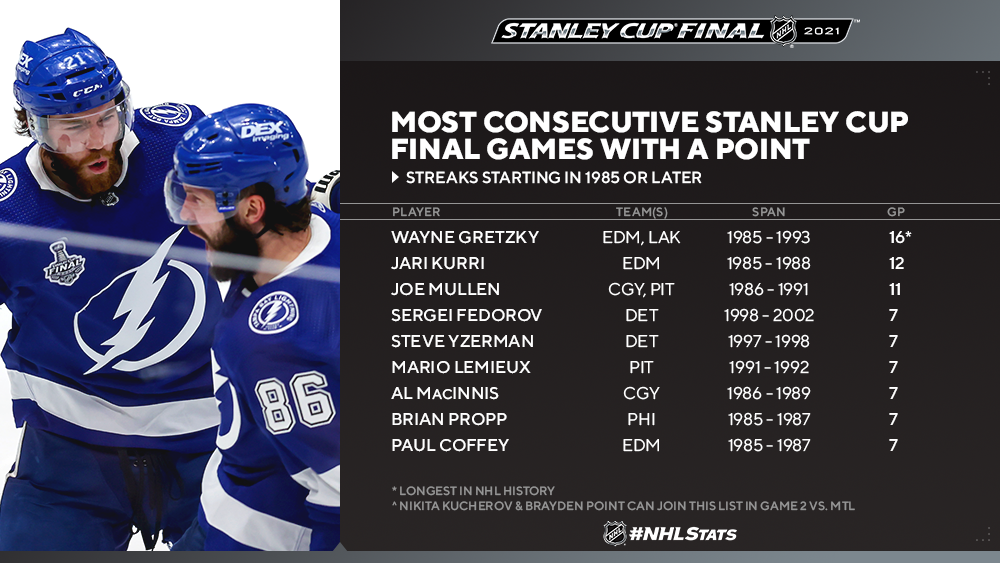 MCDAVID CLAIMS TWO OF FIVE REMAINING NHL AWARDS
After winning his third Art Ross Trophy with a 105-point regular season, Oilers captain Connor McDavid added to his trophy collection Tuesday by joining Wayne Gretzky (1981-82) as the second unanimous Hart Memorial Trophy winner in the 97-year history of the award and also received the players' vote for the 2020-21 Ted Lindsay Award.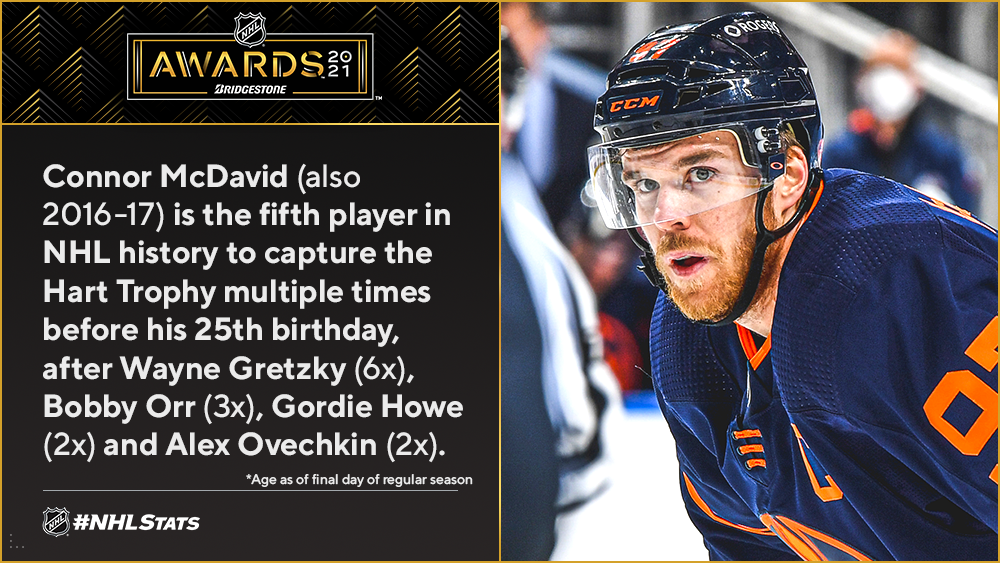 * Wild forward Kirill Kaprizov became the first player in franchise history to claim the Calder Memorial Trophy. A near-unanimous winner, receiving 99 of 100 first-place votes, Kaprizov attracted the highest percentage of first-place votes in Calder balloting since 1992-93 (Teemu Selanne).
* Adam Fox of the Rangers won the James Norris Memorial Trophy, becoming the fourth player in franchise history to capture the award after Brian Leetch (1991-92 and 1996-97), Harry Howell (1966-67) and Doug Harvey (1961-62). He also is the second defenseman in League history to claim the honor in his second NHL season (or earlier), after Bobby Orr accomplished the feat with the Bruins in 1967-68 (second NHL season).
* Marc-Andre Fleury of the Golden Knights claimed his first career Vezina Trophy, adding to a William M. Jennings Trophy captured at the end of the regular season. He is the first goaltender in NHL history to claim his first individual Award in his 17th season or later.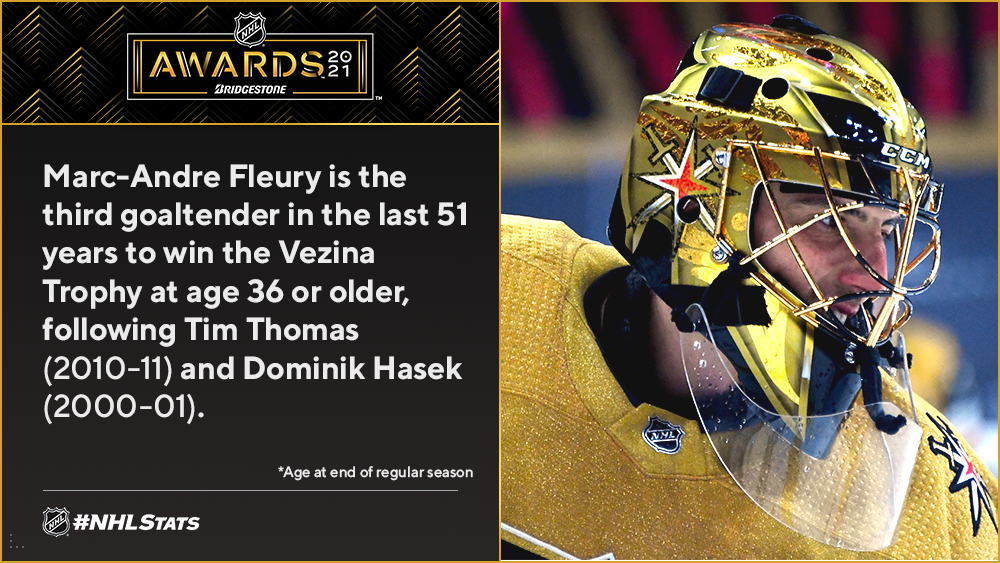 * The NHL also announced the 2020-21 First and Second All-Star Teams as well as the 2020-21 All-Rookie Team.
NHL TO PRESENT ROOFTOP POOL PARTY BEFORE GAME 2 OF STANLEY CUP FINAL
The NHL, in partnership with the Tampa Bay Sports Commission, will present an exclusive rooftop pool party overlooking AMALIE Arena's Thunder Alley and featuring a performance by 24kGoldn and iann dior before Game 2 of the Stanley Cup Final tonight.
* The performance will be featured in coverage of the Lightning–Canadiens game broadcast at 8 p.m. ET on NBCSN and Peacock in the U.S. and on Sportsnet, CBC and TVA Sports in Canada. Fans are encouraged to join the conversation on Facebook, Twitter, Instagram and TikTok with the hashtag #StanleyCup.