THREE HARD LAPS
* Nikita Kucherov had 2-1—3 to lift the Lightning past the Canadiens in Game 1 of the Stanley Cup Final and reach the 30-point mark for the second time in as many postseasons.
* Brayden Point also posted three points for Tampa Bay, which opened the Final with a victory for the first time in franchise history.
* The NHL made several announcements before Game 1, including a new investment for diversity and inclusion programs as well as information for the 2021-22 outdoor games and 2022 Honda NHL All-Star Weekend.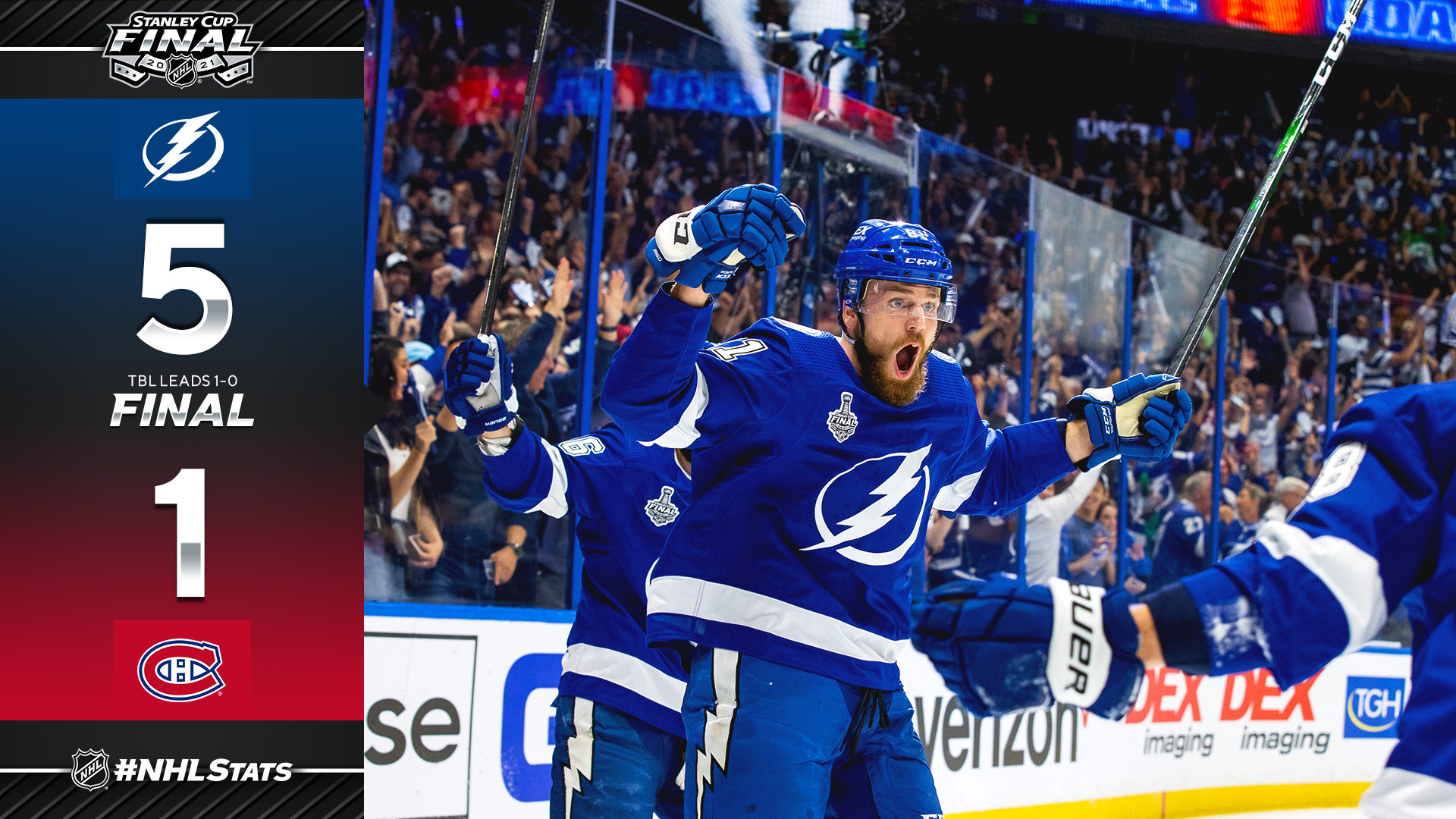 KUCHEROV, POINT POWER LIGHTNING TO 1-0 SERIES LEAD IN STANLEY CUP FINAL
Nikita Kucherov (2-1—3) and Brayden Point (0-3—3) had three points apiece as Tampa Bay opened the Stanley Cup Final with a win against Montreal at AMALIE Arena. The Lightning have scored at least four goals in seven of 10 home games this postseason (4.2 G/GP).
* Kucherov (7-23—30 in 19 GP) leads the League with 30 points in the 2021 Stanley Cup Playoffs, four back of his total from the 2020 postseason (7-27—34 in 25 GP). He became the fourth player in NHL history with 30 or more points in multiple playoff years, joining Wayne Gretzky (6x), Mark Messier (3x), Jari Kurri (2x) and Mario Lemieux (2x).
* Kucherov picked up his 50th postseason assist since the start of 2020 to join Gretzky (60 from 1987-1988 and 52 from 1984-1985) as the second player in NHL history to record as many over two straight playoff years. Kucherov also trails only Gretzky (five instances) and Lemieux for the most combined points over two consecutive postseasons.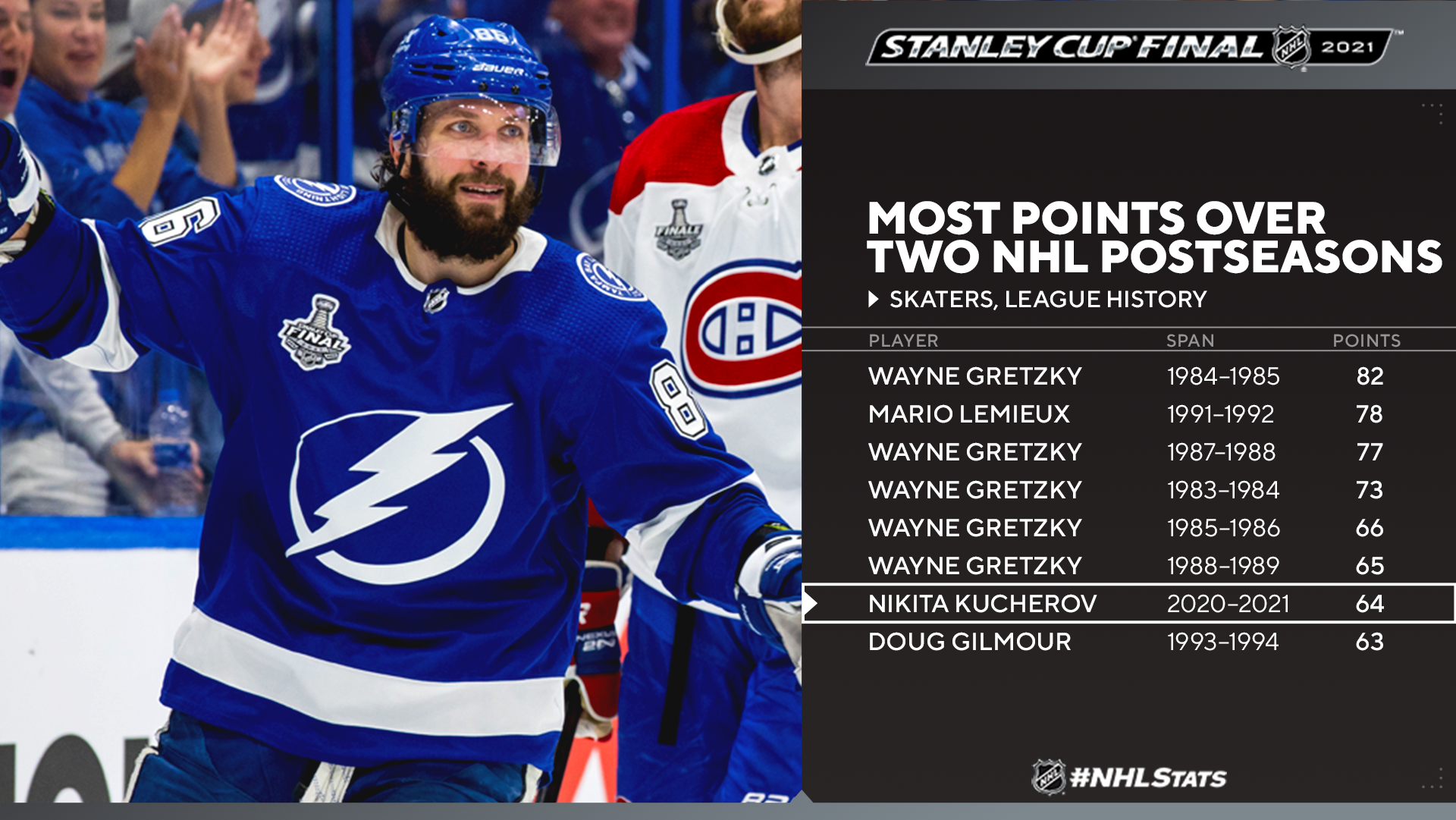 * Point became the first player in Lightning history with three assists in a Stanley Cup Final game; the last player on any team to do so was Torey Krug in Game 3 of the 2019 Final (w/ BOS).
* Kucherov (3-8—11) and Point (5-6—11) have found the score sheet in each of their last six contests during the Stanley Cup Final dating to Game 2 in 2020. They matched Evgeni Malkin (2008-2009) and Ryan O'Reilly (2019) for the longest such runs among active players (spanning seasons or otherwise). The last player to extend his Stanley Cup Final point streak to at least seven games was Sergei Fedorov.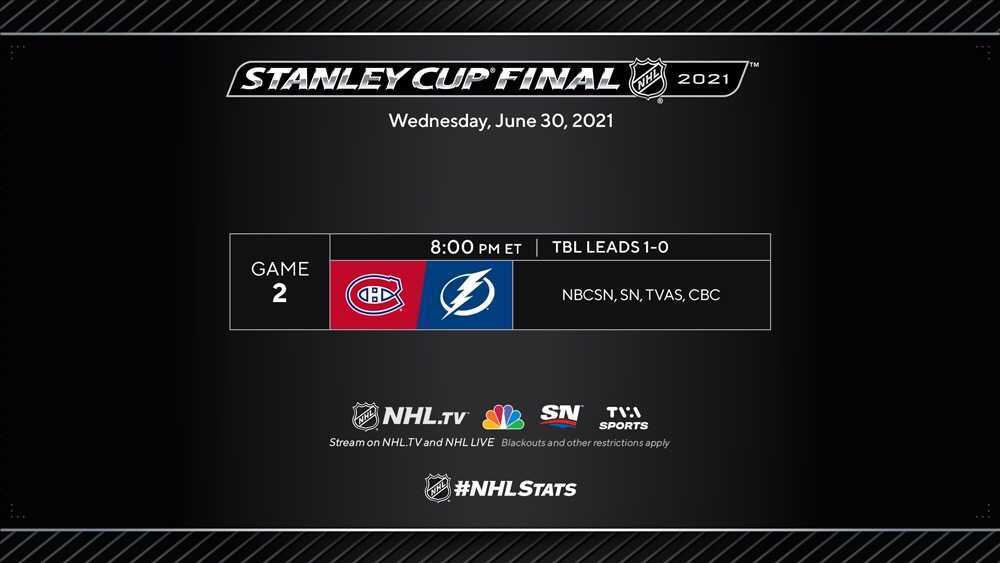 NHL ANNOUNCES $5 MILLION INVESTMENT FOR DIVERSITY & INCLUSION EFFORTS
NHL Commissioner Gary Bettman today announced an additional $5 million investment over the next 18 months to strengthen the League through diversity and inclusion efforts. Player education, prioritizing representation and ensuring resources for youth hockey players and parents are all part of the $5 million investment. Click here to learn more.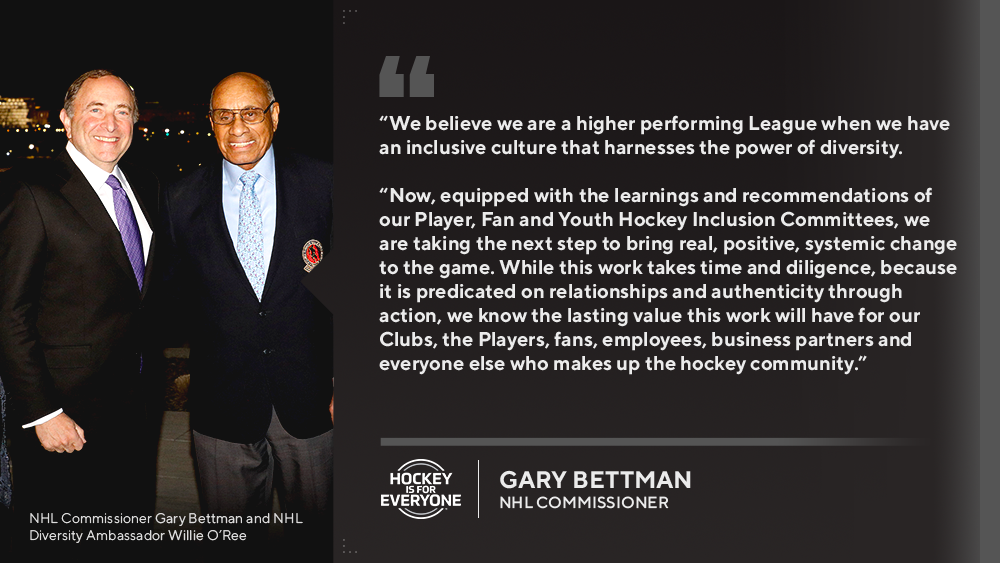 LEAGUE EVENTS FOR 2021-22 SEASON ALSO ANNOUNCED
NHL Commissioner Gary Bettman also made announcements pertaining to the 2021-22 NHL season during his annual pre-Stanley Cup Final media availability:
* The 2022 NHL Winter Classic will feature the Blues and Wild at the home of the MLB's Minnesota Twins, Target Field, in Minneapolis, Minn., on Jan. 1, 2022.
* The 2022 Honda NHL All-Star Weekend will take place in Las Vegas, Nev., at the home of the Golden Knights, T-Mobile Arena, and will be scheduled during its traditional midway point of the regular season.
* The 2022 Navy Federal Credit Union NHL Stadium Series will visit the home of the NFL's Tennessee Titans, Nissan Stadium, in Nashville, Tenn., where the Predators will host the Lightning on Feb. 26, 2022.
* The League also plans to host a Tim Hortons NHL Heritage Classic in March.