THREE HARD LAPS
* The Stanley Cup will be in the building Monday night after the defending-champion Lightning pulled ahead 3-0 in the Final – just the third time in the last 22 years that a team has done so.
* Victor Hedman found the score sheet twice in a span of 95 seconds to post his 20th career multi-point game in the postseason and join a list that includes nine Hall of Famers.
* Nikita Kucherov and Andrei Vasilevskiy continued their dominant postseasons to push the Lightning within one victory of becoming the ninth different franchise to repeat as Stanley Cup champions.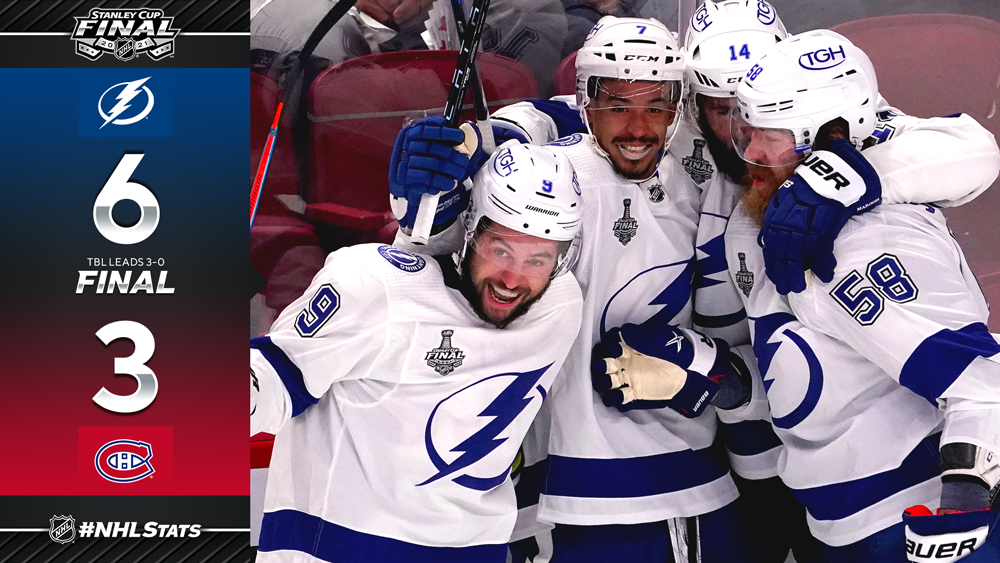 DEFENDING CHAMPIONS MOVE WITHIN ONE WIN OF REPEAT
Victor Hedman (1-1—2) notched two points in a span of 1:35 to ignite the Lightning offense, giving them a 2-0 advantage before the game was four minutes old and spurring them to a 3-0 series lead and within one victory of a second straight Stanley Cup.
* This marks just the third Stanley Cup Final in the last 22 years in which a team has taken a 3-0 series lead. The Lightning and Kings are the only teams to do so in that span, with Los Angeles achieving the feat in both 2012 and 2014 en route to six- and five-game victories, respectively.
* The Lightning are the 13th defending Stanley Cup champions to take a 3-0 series lead in the Final and first since the 1998 Red Wings. They also are the second team to pull ahead 3-0 against Montreal in the Stanley Cup Final, following Detroit in 1952. Only one team in NHL history has overcome a 3-0 series deficit to win in the Stanley Cup Final – the 1942 Maple Leafs.
* Tampa Bay is within one victory of becoming the ninth different franchise to repeat as Stanley Cup champions thanks in large part to an offense that has seen them score 14 goals through three games.
* Hedman scored Tampa Bay's franchise record-setting 22nd power-play goal of the 2021 Stanley Cup Playoffs to complete the 20th multi-point game of his postseason career, the most among active defensemen. Only 10 defensemen in NHL history – including nine members of the Hockey Hall of Fame – have had as many multi-point playoff games with a single franchise.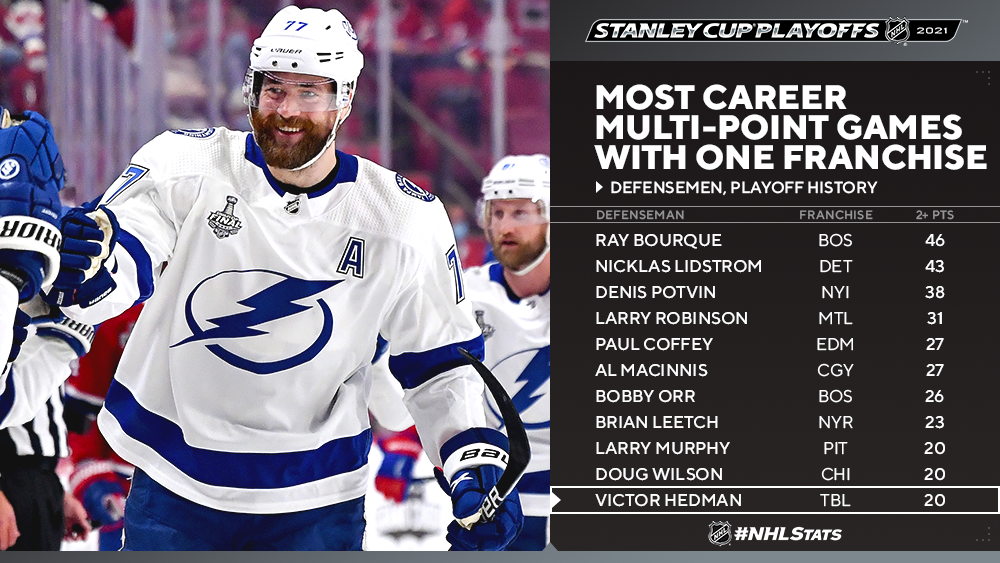 KUCHEROV ADDS TWO MORE POINTS TO PROLIFIC PLAYOFF TOTALS
Nikita Kucherov (1-1—2) posted the 36th multi-point game of his playoff career – and ninth this year – to increase his lead to nine points atop the 2021 playoff scoring list (8-24—32 in 21 GP). Kucherov now has 66 points over the last two playoff years, tied with Wayne Gretzky (25-41—66 from 1985 to 1986) for the fifth most over two consecutive postseasons in NHL history.
* Kucherov has recorded multiple points in nearly one-third of his career postseason appearances (32.4%; 36 of 111 GP) and moved into a tie with Patrick Kane for the fourth most such performances among active players.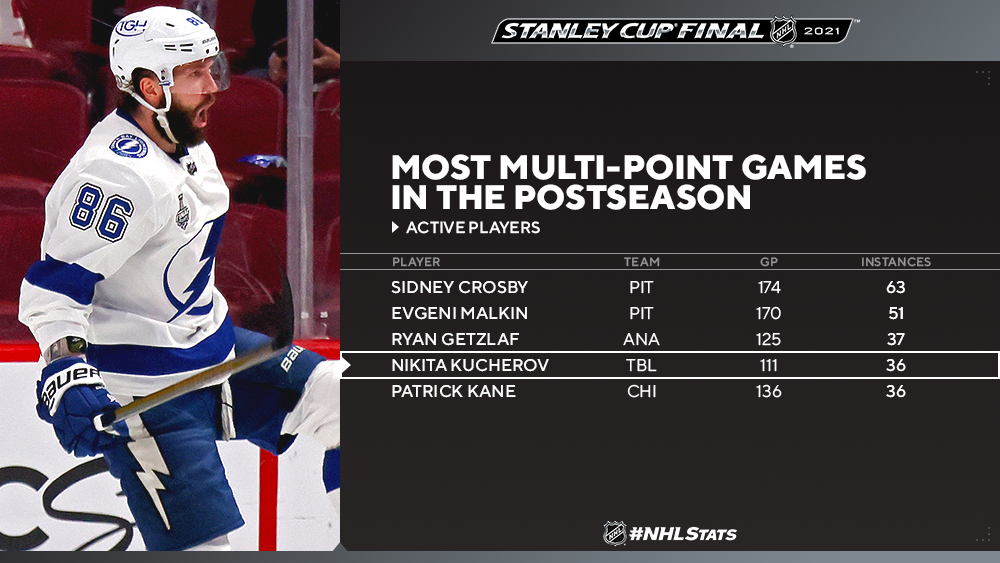 * Kucherov (44-83—127 in 111 GP) tied Patrick Marleau (72-55—127 in 195 GP) for sixth place in terms of career playoff points among active players and also matched Ryan Getzlaf (83) for the fourth most postseason assists among that group.
VASILEVSKIY HAS MONTREAL'S NUMBER YET AGAIN
Andrei Vasilevskiy allowed more than one goal for the first time this series but managed to claim his 11th consecutive victory against Montreal dating to Feb. 24, 2018 (regular season and playoffs combined). He became the third goaltender in NHL history to win at least 11 consecutive appearances against Montreal, following Turk Broda (12 GP from Dec. 9, 1939 to Jan. 23, 1941) and Alec Connell (12 GP from Feb. 28, 1925 to Feb. 22, 1927).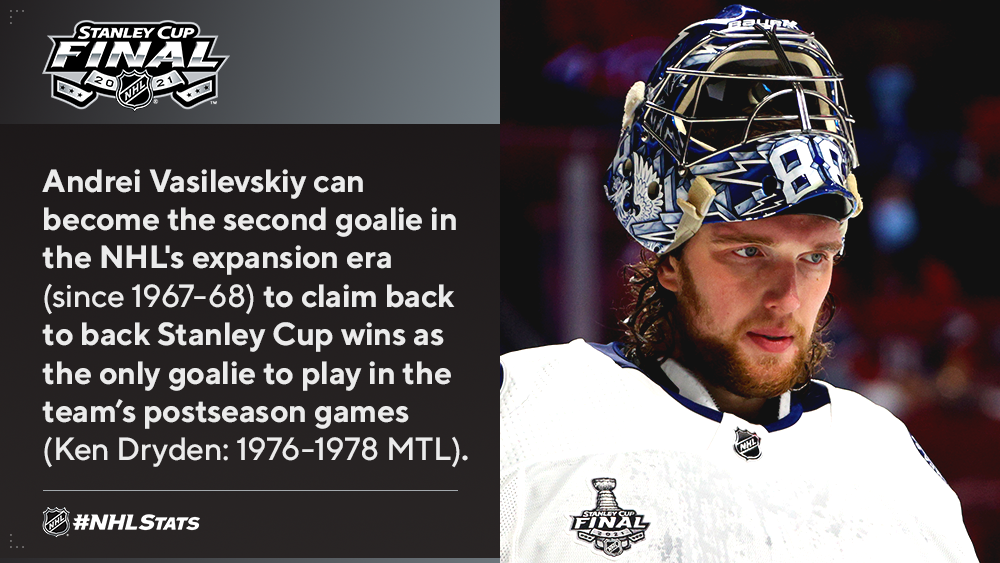 DID YOU KNOW?
Jan Rutta opened the scoring for Tampa Bay just 1:52 into the contest with his second career postseason goal to become the first player in NHL history to score a regular-season or playoff tally in the month of July. Regarding the list below, in cases of multiple games starting at the same time, the tiebreaker was given to the earliest elapsed time.