* Michael Carcone and Jack McBain combined for 5-3—8 as the Coyotes erupted for eight goals in their victory against Connor Bedard and the Blackhawks.

* The Ducks and Rangers earned wins to sweep lengthy road trips, with Anaheim forward Mason McTavish joining a rare NHL list by scoring a shorthanded go-ahead goal in the final seconds of regulation. They were two of the eight teams which earned a win by a one-goal margin or two goals including an empty-netter Monday.

* Drew Doughty and William Nylander can achieve first-of-its-kind feats when the Kings and Maple Leafs clash on ESPN during tonight's two-game Halloween slate, which also pits Roman Josi and the Predators against Elias Pettersson and the Canucks on Sportsnet ONE.

* The Maple Leafs (14-9-3, 31 points) have earned 14 all-time wins in games taking place on Halloween, which are tied with the idle Rangers (14-4-2, 30 points) for the most by a franchise in NHL history. Toronto's 31 standings points during games on Oct. 31 are tops among all clubs.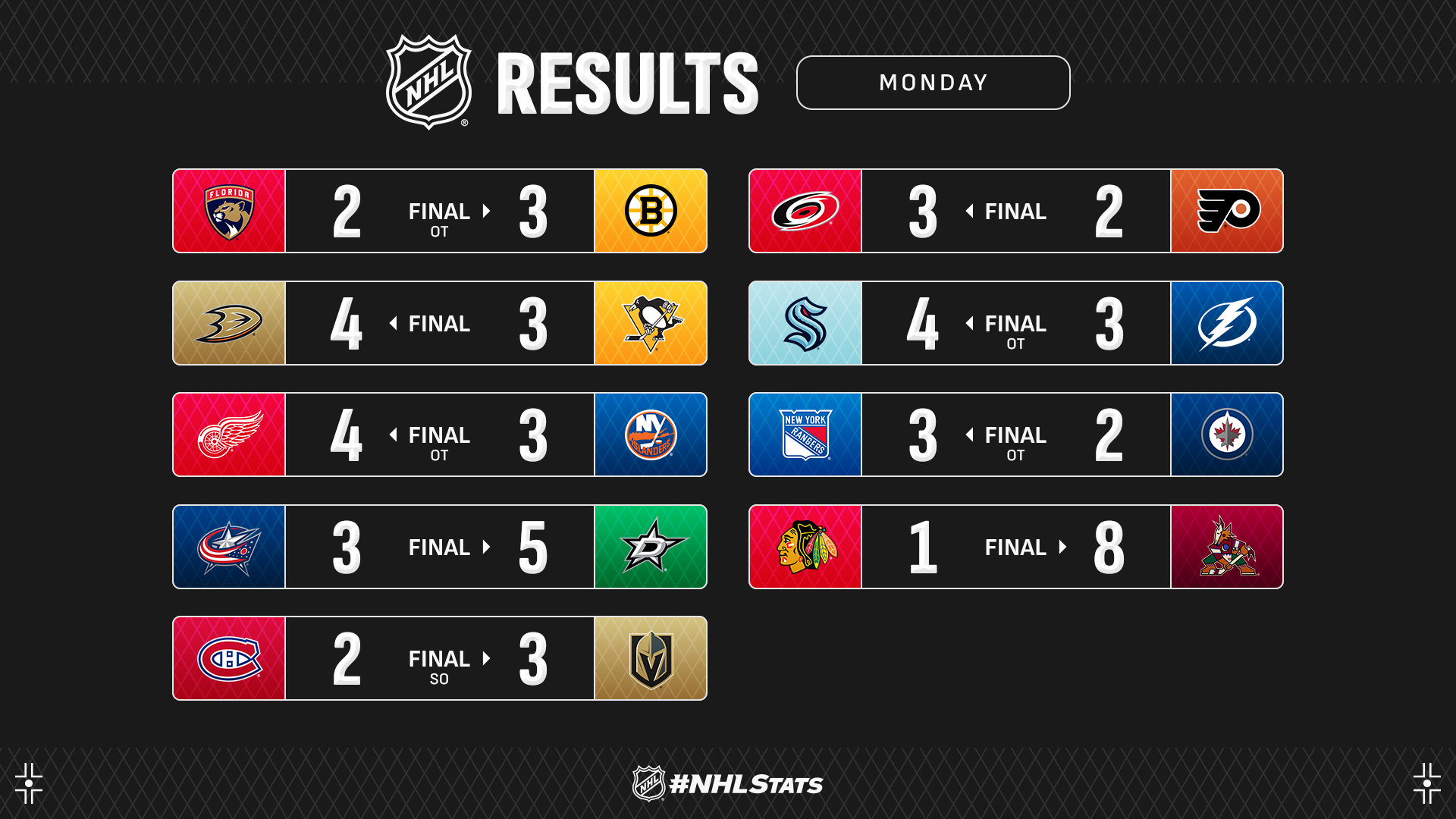 COYOTES COLLECT EIGHT GOALS AS CARCONE, McBAIN SET CAREER HIGHS
Arizona scored eight unanswered goals after Blackhawks forward Connor Bedard opened the scoring 28 seconds into the contest as the Coyotes improved to 4-4-0 (8 points) on the season.

* Michael Carcone (3-1—4) scored his first NHL hat trick and established a single-game career high for points, a feat teammate Jack McBain (2-2—4) also accomplished Monday. Carcone (7-4—11 in 36 GP) had seven career goals entering play.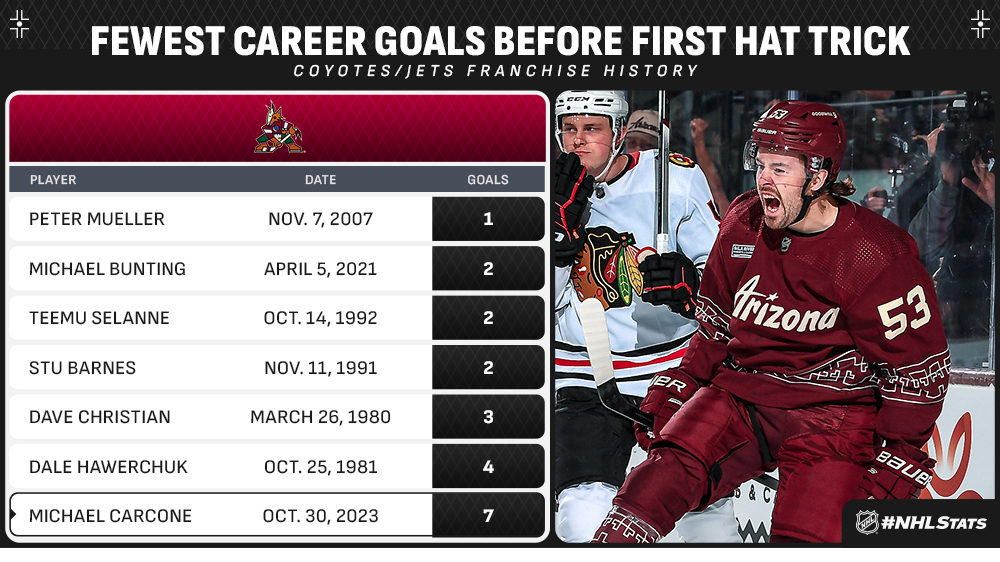 McTAVISH TALLIES LATE SHORTHANDED GOAL AS DUCKS SWEEP ROAD TRIP
Mason McTavish (2-1—3) scored a shorthanded go-ahead goal with 12.8 seconds remaining in regulation as Anaheim swept its four-game road trip. He became the fourth player in franchise history with a go-ahead goal at 19:47 of the third period or later, joining Paul Mara (19:58 on Nov. 7, 2010), Shaun Van Allen (19:55 on April 24, 1995) and Oleg Tverdovsky (19:47 on Feb. 6, 2002).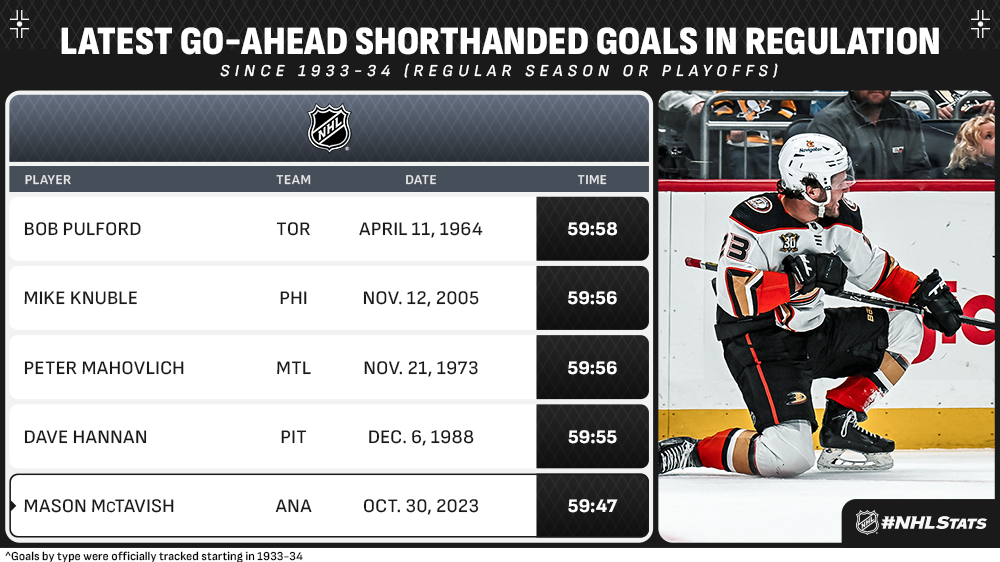 * The Ducks and Penguins gathered at center ice during a pre-game ceremony to honor former Pittsburgh forward Adam Johnson, with the celebration of life featuring moments from his League debut and when he scored the first goal of his NHL career in his home state of Minnesota.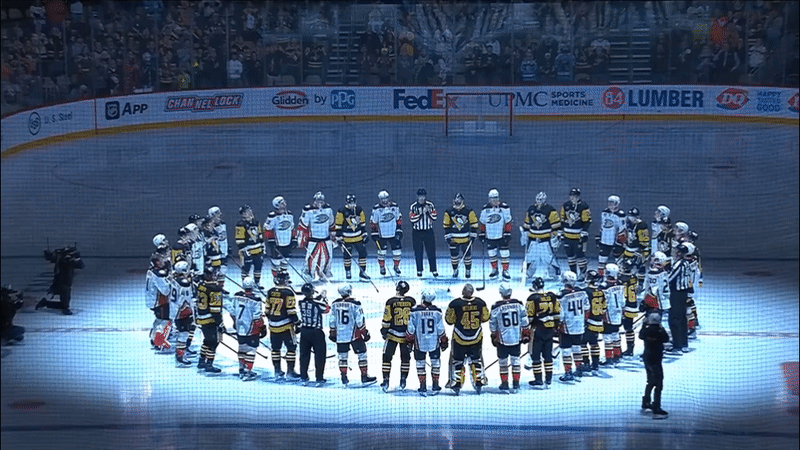 RANGERS RALLY WITH HELP FROM BIRTHDAY BOY PANARIN AND ZIBANEJAD
Artemi Panarin (1-2—3), who celebrated his 32nd birthday, assisted on Chris Kreider's game-tying goal in the third period before Mika Zibanejad zipped theovertime winner past Jets goaltender Connor Hellebuyck as New York swept a road trip of at least five contests for the first time in franchise history.

* Panarin (5-10—15 in 9 GP) extended his season-opening point streak to nine games and became the only active player and first skater in Rangers history to record three points on his birthday multiple times (also 1-2—3 on Oct. 30, 2022). Zibanejad netted his seventh regular-season overtime goal with the Rangers and tied the franchise record shared by Cecil Dillon, Butch Keeling and Brian Leetch.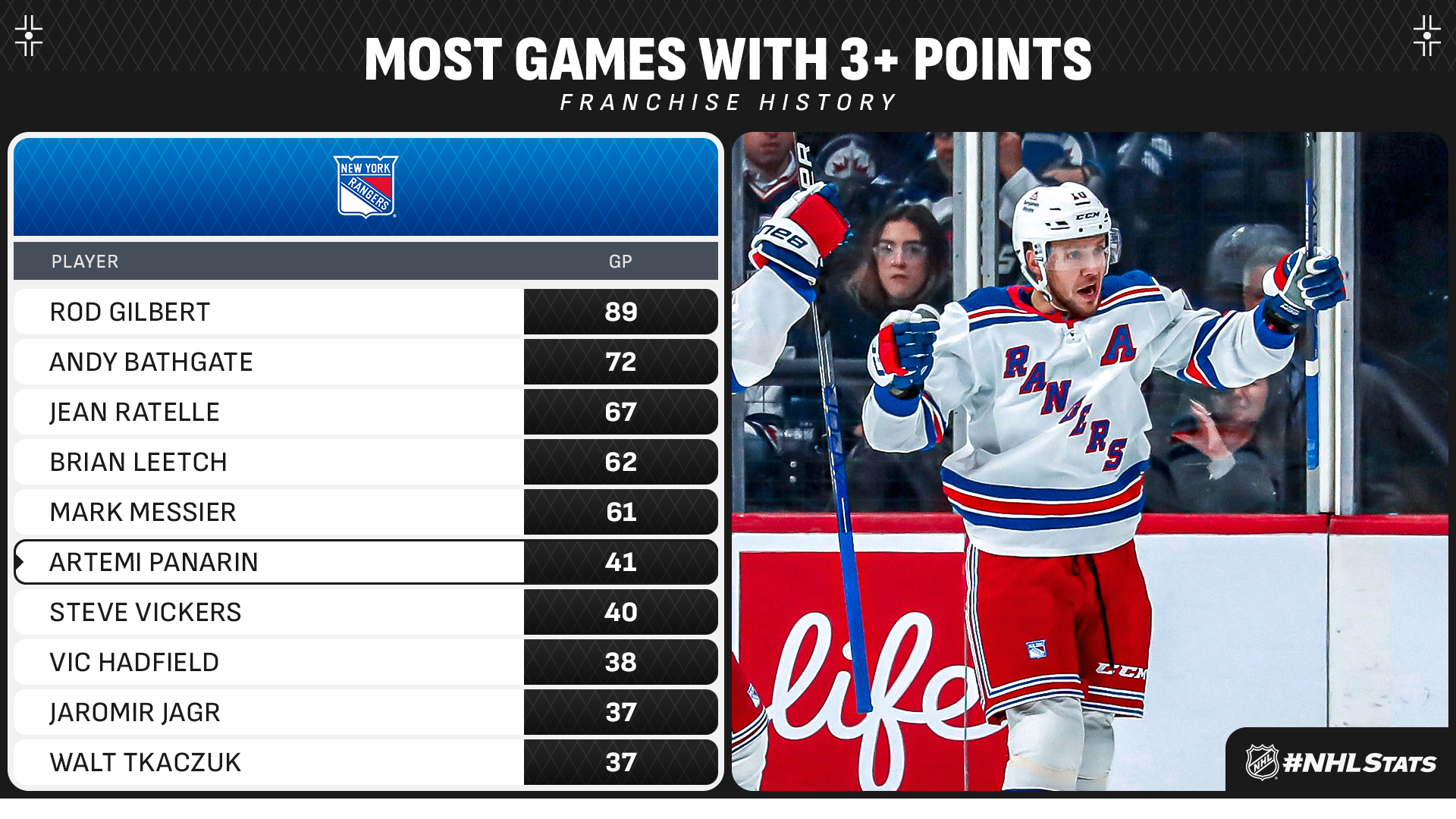 #NHLSTATS: LIVE UPDATES FEATURED VEGAS, BOSTON STRETCHING STREAKS
Monday's edition of #NHLStats: Live Updates featured more notes from the nine-game slate, including the Golden Knights (9-0-1, 19 points) and Bruins (8-0-1, 17 points) extending their season-opening point streak to 10 and nine games, respectively. Vegas became the 20th team in NHL history to record a season-opening point streak of at least 10 contests, with seven of the previous 19 clubs going on to win the Stanley Cup.

QUICK CLICKS

* Tyler Toffoli, Jonas Johansson, Ryan Hartman named "Three Stars" for the week
* Connor Bedard watch: No. 1 pick to face Jack Hughes, Devils this week
* Adam Johnson remembered as 'great teammate' by Penguins
* Henrik Lundqvist steps in net ahead of Hockey Hall of Fame Legends Classic
* Women in Hockey: Rosemary Tebaldi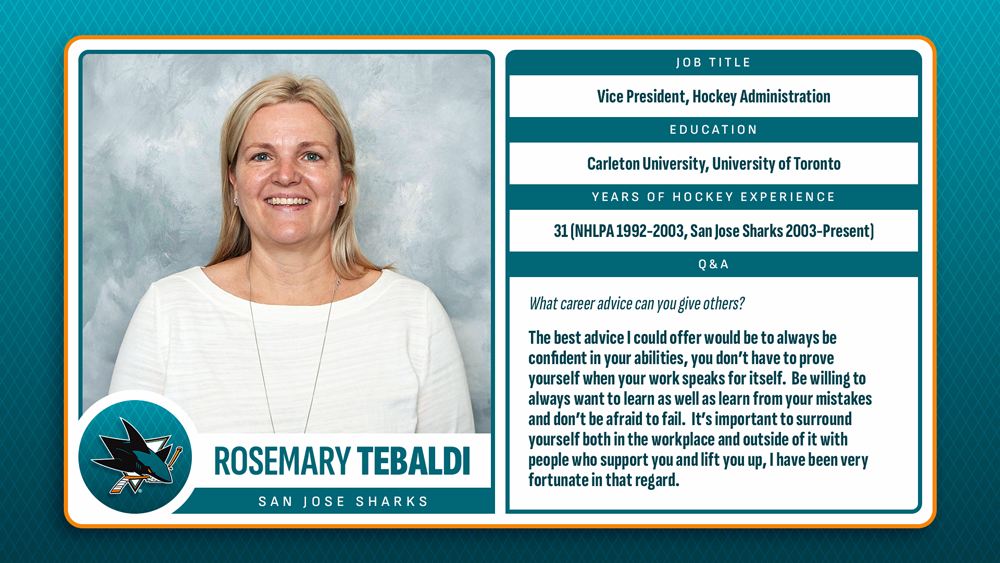 DOUGHTY, NYLANDER EYE FIRST-OF-ITS-KIND MOMENTS ON ESPN
Drew Doughty and the Kings (4-2-2, 10 points) travel to Toronto to face off against William Nylander and the Maple Leafs (5-2-1, 11 points) at Scotiabank Arena. The ESPN broadcast features the Maple Leafs forward, who looks to extend his season-opening point streak to a franchise-record nine games, and the Kings defenseman, who has come in clutch for Los Angeles as of late. Doughty can become the first player in NHL history to score either a game-tying or go-ahead goal within the final two minutes of regulation in three straight games following a pair of similar performances on Oct. 27 and Oct. 28.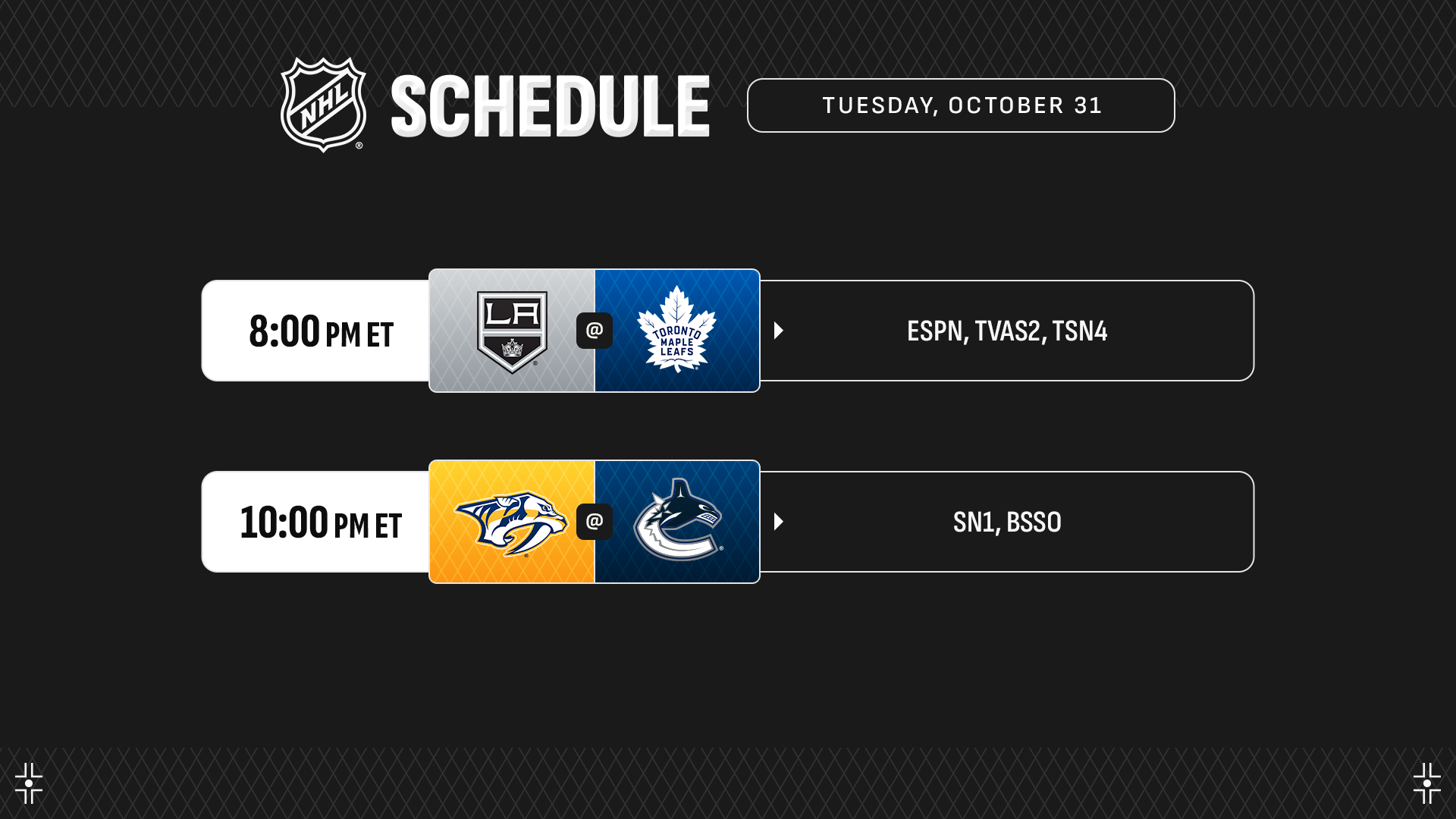 * John Tavares has started the 2023-24 campaign at a 1.38 points-per-game pace, yet his impact goes beyond the ice. In 2020, Tavares launched his own charity and has since been working directly with local schools and community outreach programs to improve the overall wellness of children. His foundation has supported initiatives across Canada with over 25 corporate sponsors, five major community partners and over 12 giveback initiatives. Click here to learn more about the John Tavares Foundation.