* Cale Makar recorded 1-1—2 to reach the 100-point milestone while skating in his 108th NHL game – tied for the sixth-fewest contests in League history to reach the mark among defensemen.
* The Hurricanes extended their season-opening win streak, while the Flames swept their five-game road trip in rare fashion.
* Alex Ovechkin can extend his season-opening point streak Friday as he approaches Brett Hull on the NHL's all-time goals list.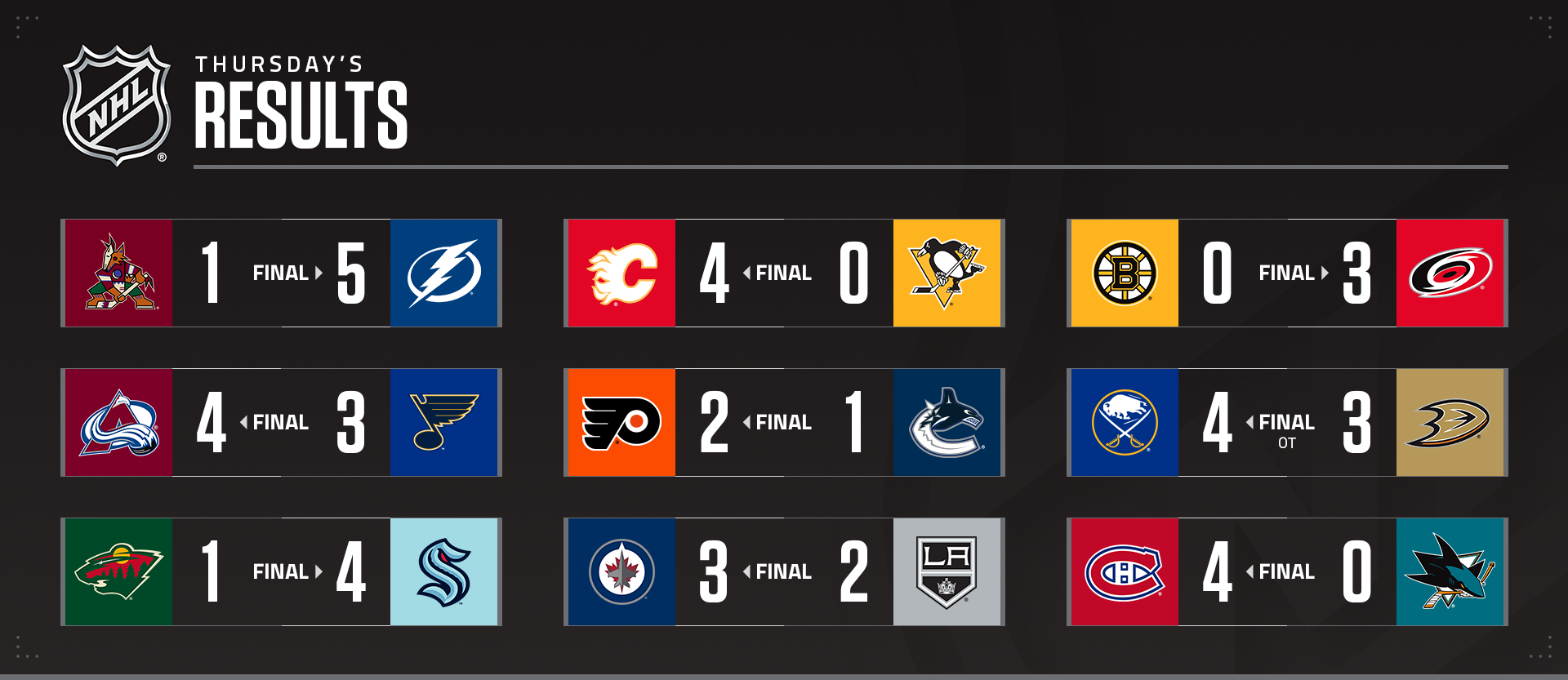 MAKAR REACHES 100-POINT MILESTONE AS AVALANCHE SNAP BLUES' STREAK
Cale Makar (1-1—2) factored on two of the Avalanche's four goals to record his 100th career point (22-78—100 in 108 GP) and help snap the Blues' season-opening win streak at five games. Makar required the sixth-fewest games in NHL history to reach the 100-point milestone among defensemen – it's been 28 years since a blueliner hit the mark in as few contests.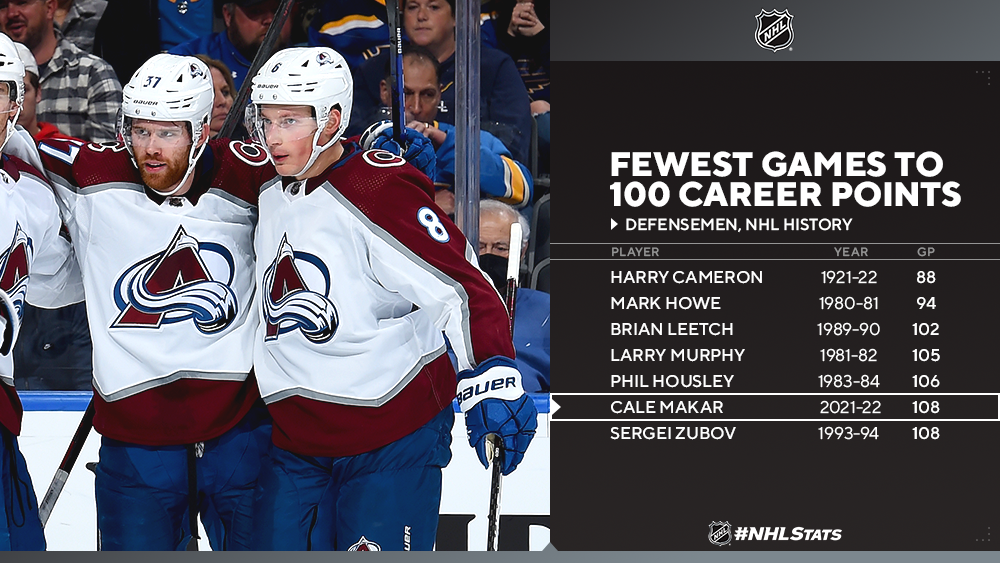 * Only nine active players have hit the mark in fewer games than the 22-year-old defenseman, none of whom patrol the blue line: Alex Ovechkin (77 GP), Sidney Crosby (80 GP), Evgeni Malkin (89 GP), Connor McDavid (92 GP), Paul Stastny (99 GP), Mathew Barzal (101 GP), Elias Pettersson (103 GP), Patrick Kane (104 GP) and Artemi Panarin (107 GP).
STREAKS STILL STAND VIA ANDERSEN, MARKSTROM SHUTOUTS
Frederik Andersen and Jacob Markstrom each posted perfect performances Thursday and backstopped their team to a sixth and fifth straight win, respectively:
* Andersen recorded his first shutout since March 5, 2020 to beat the Bruins and improve to 6-0-0 through six appearances with the Hurricanes, marking his second six-game win streak to begin his tenure with a franchise (also 6-0-0 in 2013-14 w/ ANA). Carolina established a franchise record for longest season-opening winning streak, surpassing its 5-0-0 start in 2019-20.
* Markstrom turned aside all 45 shots faced as the Flames blanked the Penguins to sweep their five-game road trip. Calgary, which never trailed at any point during its voyage, swept a road trip of five-plus games for the second time in franchise history (also 6-0-0 from Dec. 9-18, 2007).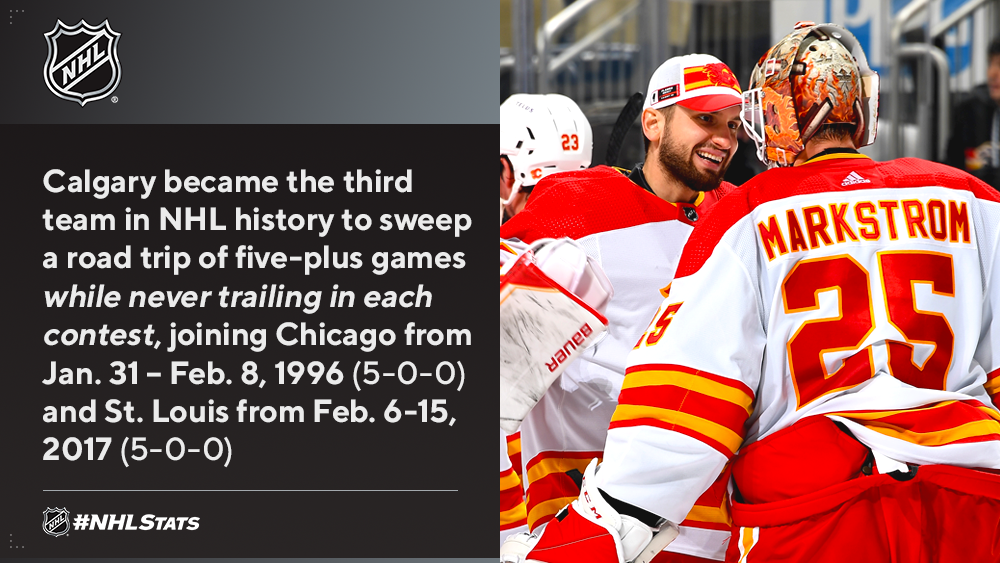 GOALS FOR FLEURY, FLURRY OF GOALS IN ANAHEIM FEATURED IN LIVE UPDATES
Haydn Fleury scored twice, while his former club nearly completed a three-goal comeback and Jake Allen posted a 45-save shutout – these notes and many more were featured in Thursday's #NHLStats: Live Updates, which can be read in full here.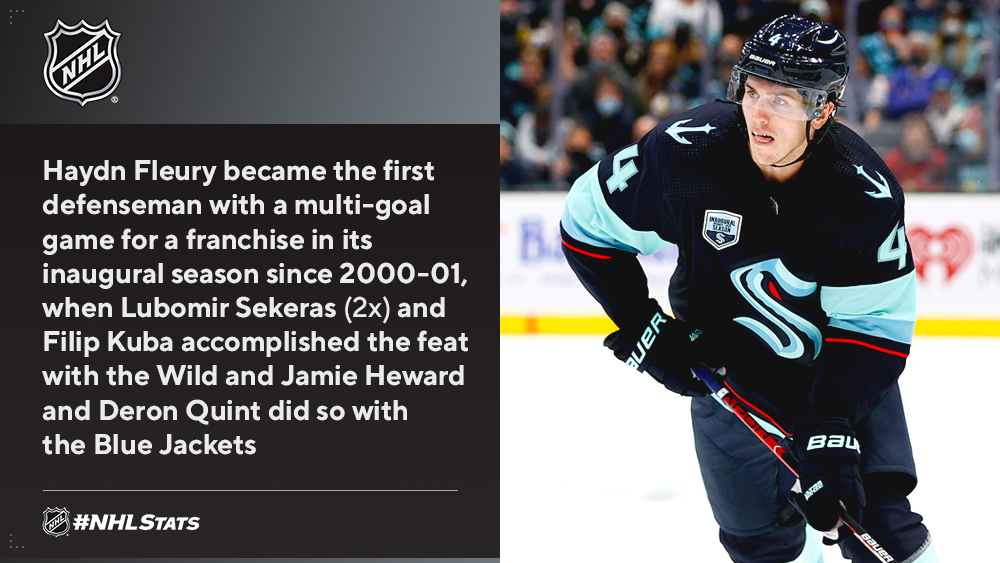 OVECHKIN, CAPITALS LOOK TO EXTEND SEASON-OPENING STREAKS FRIDAY
Alex Ovechkin (8-5—13 in 7 GP) and the Capitals (4-0-3, 11 points) will put their season-opening point streaks on the line during Friday's six-game slate.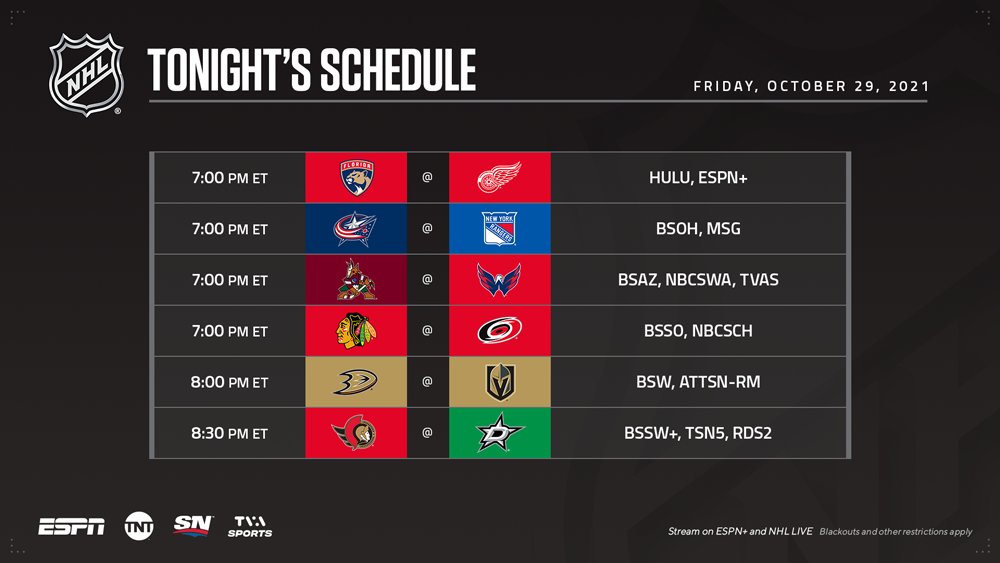 * Ovechkin (36 years, 42 days) sits one game shy of tying the longest season-opening point streak in franchise history (8 GP), a mark he first set in 2005-06 and Alexander Semin matched in 2006-07. No player in NHL history has ever recorded a season-opening point streak of eight games at age 36 or older.
* With a multi-goal outing, Ovechkin can also match the fewest games of his career to reach the 10-goal mark in a season – he required eight contests in 2017-18 (10-1—11). No player in NHL history has ever scored 10 goals prior to their 10th game of a campaign at age 36 or older.