* Cam Atkinson scored his fifth and sixth goals in a Flyers uniform to help Philadelphia become the first team to defeat Edmonton in 2021-22.* The Red Wings and Maple Leafs became the sixth and seventh teams to erase a multi-goal deficit and win this season.
* The 5-0-0 Blues and Hurricanes eye another victory when they square off with the Avalanche and Bruins, respectively.

ATKINSON, FLYERS HOLD OFF McDAVID, OILERS
Connor McDavid (1-1—2) helped the Oilers erase 2-0 and 3-2 deficits, but Cam Atkinson (2-0—2) put the Flyers ahead for good in the third period and helped Philadelphia (3-1-1, 7 points) hand Edmonton (5-1-0, 10 points) its first loss of the season.
* Atkinson (6-1—7 in 5 GP) leads the Flyers with six goals in 2021-22 – the most by any player through his first five games with the franchise.
* McDavid recorded his sixth straight multi-point outing Wednesday and boosted his total to an NHL-leading 15 points in 2021-22 (7-8—15 in 6 GP). It marked the fifth instance of an Oilers player reaching the 15-point mark in a season in six or fewer games – Wayne Gretzky accounts for the other four (5 GP in 1983-84, 6 GP in 1987-88, 1986-87 & 1984-85).
* McDavid became just the seventh different player in NHL history to record two or more points in each of his team's first six games of a season.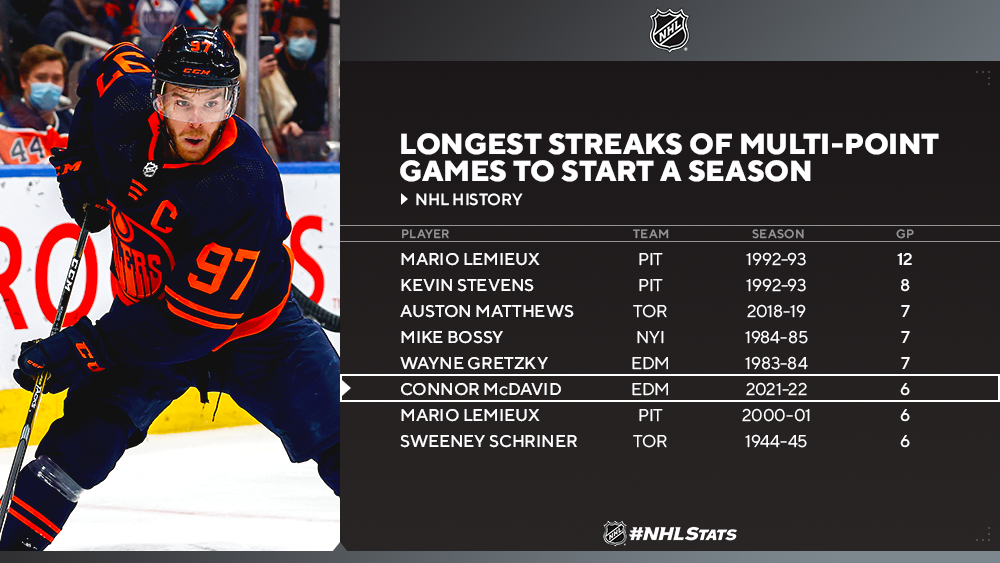 TRIO OF CLUBS COMPLETE COMEBACKS WITH OT WINS
Evgenii Dadonov (1-0—1), Dylan Larkin (1-0—1) and William Nylander (1-0—1) each scored an overtime goal Wednesday to help the Golden Knights, Red Wings and Maple Leafs complete their respective comebacks.
* Vegas has recorded 75 comeback wins since entering the NHL in 2017-18, behind only Tampa Bay (85) and Pittsburgh (76) for the most among all teams over that span.
* Detroit and Toronto became the sixth and seventh teams to overcome a multi-goal deficit to win in 2021-22.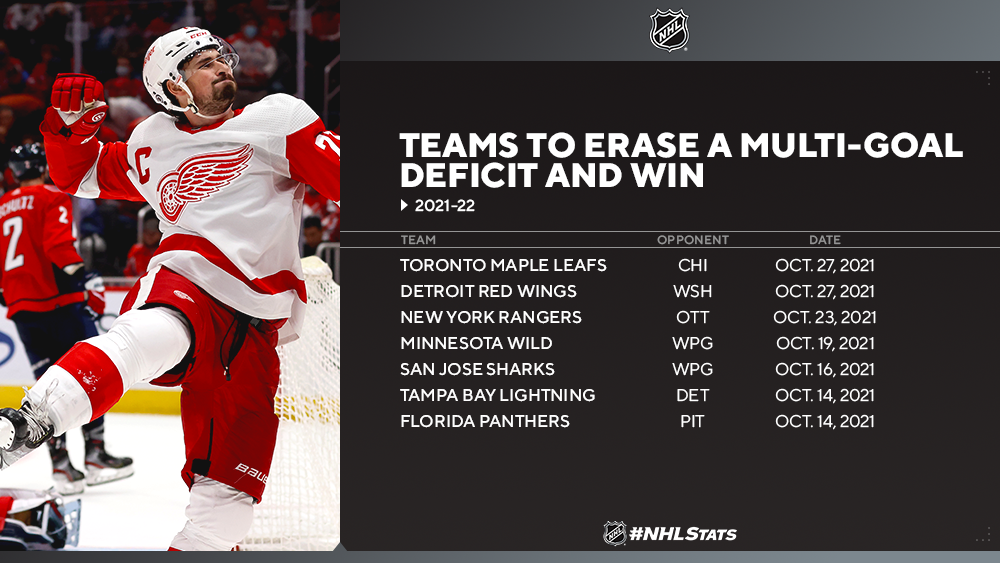 BLUES, HURRICANES EYE 6-0-0 STARTS; FLAMES LOOK TO SWEEP ROAD TRIP
After the Panthers extended a franchise record by improving to 7-0-0, the pursuit of perfection continues Thursday for the Blues (5-0-0, 10 points) and Hurricanes (5-0-0, 10 points). Calgary (4-1-1, 9 points), meanwhile, will aim to sweep its five-game road trip.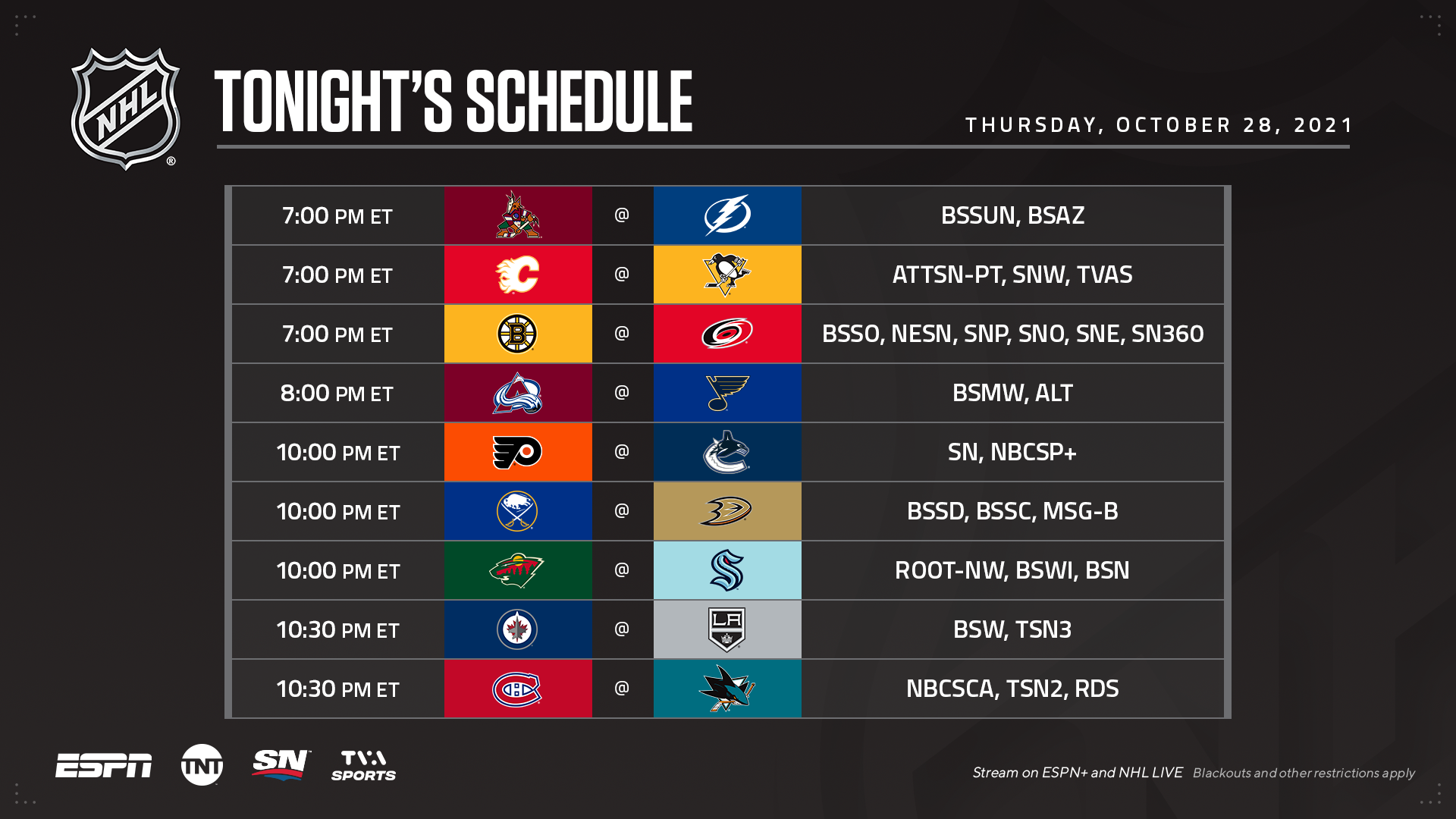 * The Blues, whose five-game season-opening winning streak is the longest such run in franchise history, are led in scoring by David Perron (6-2—8 in 5 GP) and Jordan Kyrou (2-6—8 in 5 GP). They can become the first set of St. Louis skaters each with a double-digit point total through the team's first six games in a season since 1993-94, when Kevin Miller (7-6—13 in 6 GP) and Jeff Brown (2-8—10 in 6 GP) combined for the feat.
* The Hurricanes look to establish a franchise record for longest season-opening winning streak, surpassing the previous mark of five games from 2019-20. Andrei Svechnikov (5-4—9 in 5 GP) and Sebastian Aho (4-3—7 in 5 GP) can become the second set of Hurricanes/Whalers teammates to simultaneously open a campaign with at least one point in each of the club's first six games, joining Ron Francis (6-8—14 in 11 GP) and Risto Siltanen (2-8—10 in 7 GP) in 1984-85 (w/ HFD).
* The Flames, who have not trailed through the first four games of their voyage, swept a road trip of five-plus contests once in franchise history (6-0-0 from Dec. 9-18, 2007). Elias Lindholm (7-1—8 in 6 GP) and Andrew Mangiapane (7-0—7 in 6 GP) share the team lead with seven goals apiece this season – the latter has found the back of the net in each of Calgary's first five road games, which is tied for the longest such run in franchise history.