* The Blues have scored 12 goals through their first two games after putting up seven on Monday, including five in a span of 5:07. * Derick Brassard was one of six goal scorers for the Flyers and became the 11th player in NHL history to score at least once with nine or more franchises.
* Nineteen-year-old Jamie Drysdale capped a Ducks comeback by becoming the sixth-youngest defenseman in NHL history to score a regular-season overtime goal.
FIVE-GOAL, SECOND-PERIOD BURST PROPELS BLUES PAST COYOTES
The Blues benefited from five goals in a span of 5:07 of the second period, including two each from Jordan Kyrou (2-2—4) and Klim Kostin (2-0—2), and have outscored their opponents 12-7 through their first two games of 2021-22.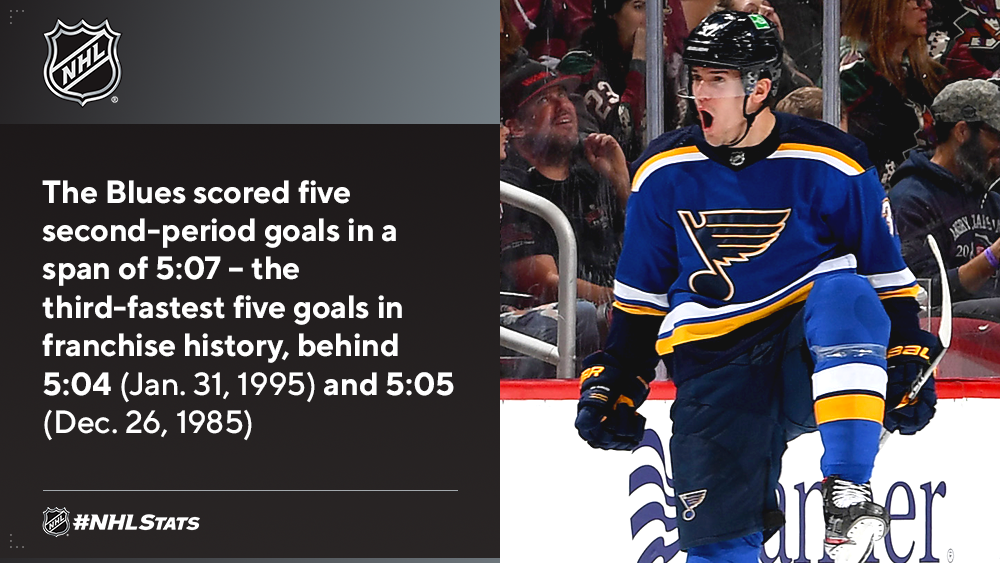 * Kostin's two goals on Monday came in a span of 47 seconds, the fastest two goals by a Blues player since Keith Tkachuk on Nov. 1, 2001 (0:33).
* St. Louis, the third team to score at least seven goals in a game in 2021-22, has tallied at least 12 goals through its first two games of a season for the fourth time in franchise history. The others: 1989-90 (13), 1994-95 (12) and 1993-94 (12).
FLYERS SCORE EARLY AND OFTEN FOR FIRST WIN OF 2021-22
Derick Brassard (1-2—3) was one of six different goal scorers and Carter Hart (23 saves) earned his 50th career win in the effort as the Flyers earned their first victory of the season. After Philadelphia scored four times in its season opener, the club has tallied 10-plus goals through its first two games of a season for the ninth time in franchise history and second in as many years (11 in 2020-21).
* Brassard, who signed with the team as a free agent on Aug. 25, became the 11th player in NHL history to score a goal with at least nine franchises (also CBJ, NYR, OTT, PIT, FLA, COL, NYI, ARI).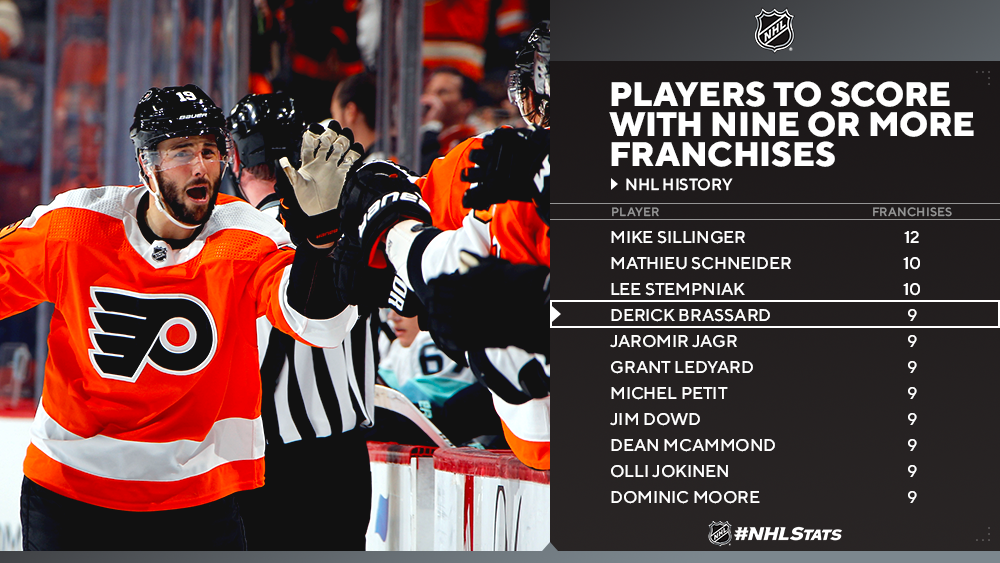 * Among goaltenders to debut with the Flyers, Hart (23 years, 66 days) became the youngest goaltender at the time of their 50th win with the franchise and required the sixth-fewest games to reach the mark.
DRYSDALE CAPS DUCKS RALLY WITH OT WINNER
The Ducks tied the game twice in regulation before 19-year-old Jamie Drysdale helped Anaheim halt Calgary's win streak in home openers at four games. The Ducks' sixth-overall pick in the 2020 NHL Draft joined rare company by scoring a regular-season overtime goal.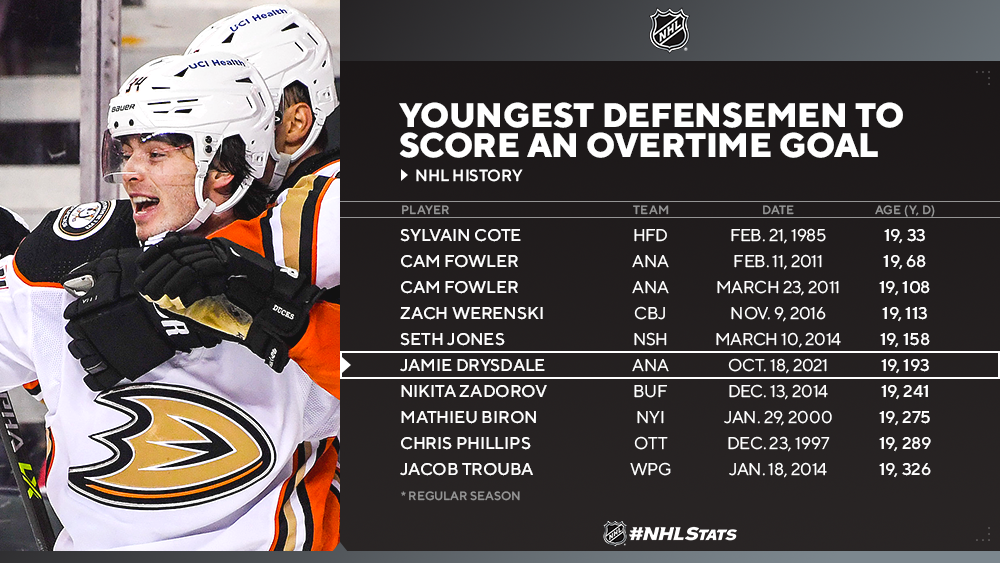 SHESTERKIN STIFLES MATTHEWS, MAPLE LEAFS WITH 40-SAVE OUTING
Mika Zibanejad (1-1—2) recorded his 100th career multi-point game and Igor Shesterkin turned aside 40 of 41 shots, including a point-blank stop on reigning Maurice "Rocket" Richard winner Auston Matthews in a thrilling back-and-forth overtime moment before Artermi Panarin's game-winning goal ended the contest.
* Shesterkin and Ducks goaltender John Gibson – who had a 41-save performance on Monday – became the fifth and sixth goaltenders in 2021-22 to win a game while making 40 or more saves, joining Oilers goaltender Mike Smith (45 on Oct. 16), Red Wings goaltender Thomas Greiss (40 on Oct. 16), Panthers goaltender Sergei Bobrovsky (43 on Oct. 14) and Senators goaltender Anton Forsberg (46 on Oct. 14).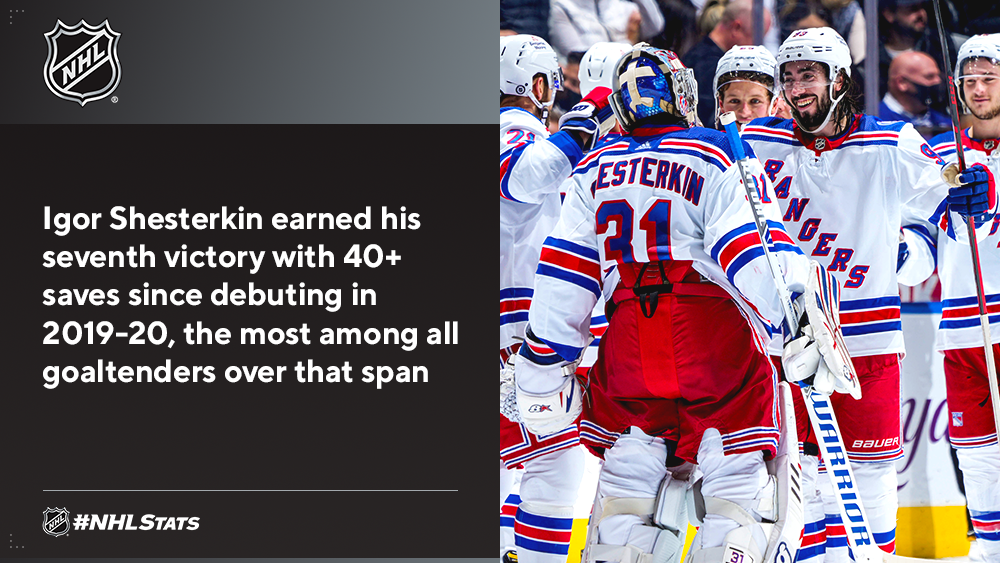 QUICK CLICKS
* Live updates for Oct. 18, 2021
* Anze Kopitar, Alex Ovechkin, Steven Stamkos named "Three Stars" of the Week
* Sharks forward Evander Kane suspended 21 games
* Color of Hockey: Jordan Samuels-Thomas on track to become NHL referee
"THREE STARS" LOOK TO CARRY OVER WEEK 1 SUCCESS
The NHL's "Three Stars" for the week ending Oct. 17 all are in action Tuesday, with captains Anze Kopitar, Alex Ovechkin and Steven Stamkos looking to keep their hot starts rolling. Tuesday's 11-game slate will see the Blue Jackets, Panthers, Oilers, Sabres and Wild put their 2-0-0 records on the line and the Blackhawks battle the Islanders for win No. 1 on ESPN.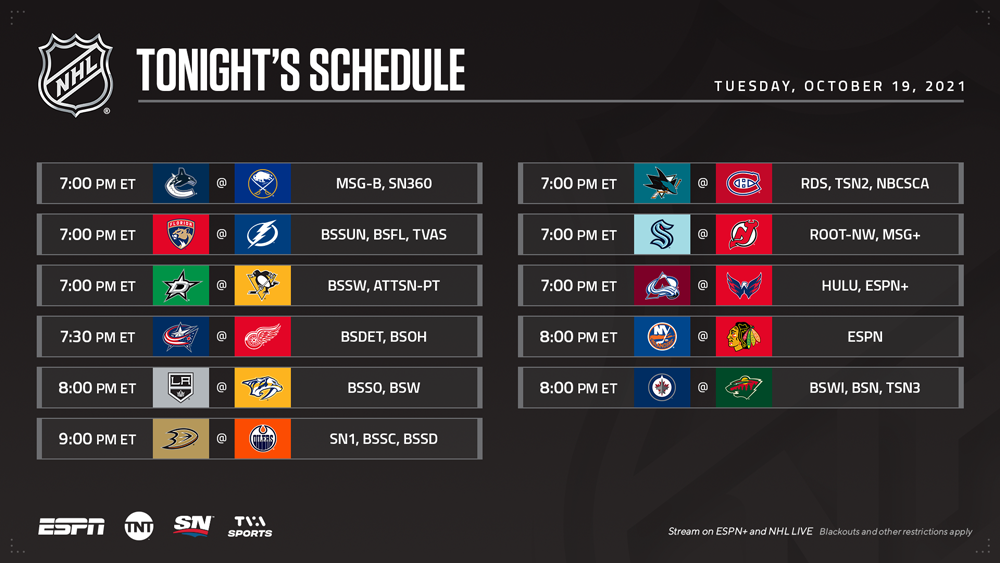 * Kopitar has 4-3—7 through Los Angeles' first two games of the season. He can become the first player to reach the 10-point mark in three games or fewer since 1990-91.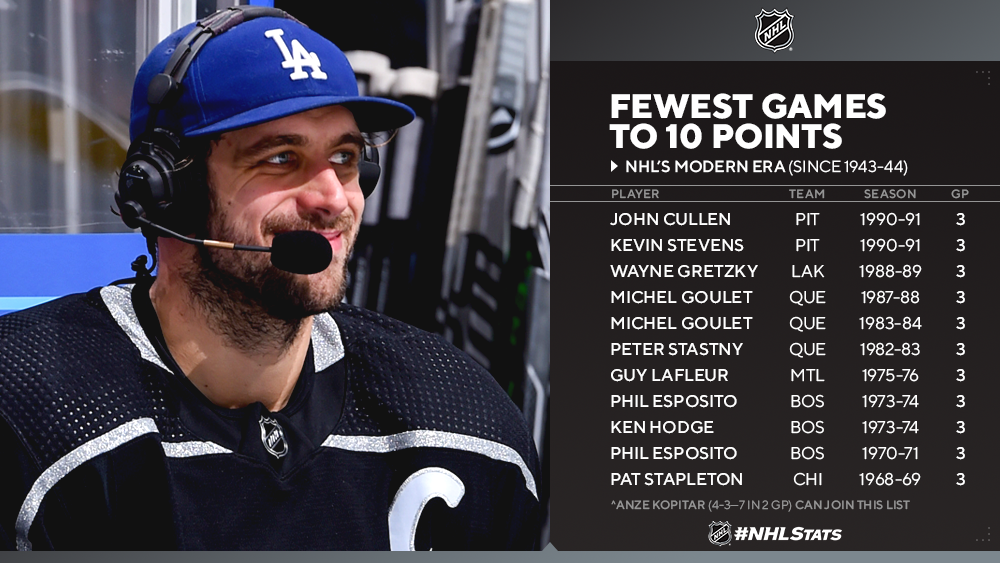 * Ovechkin enters his 1,200th regular-season game with 733 goals, which trails only Wayne Gretzky (821) for the most through the milestone contest in NHL history. Of note, Mario Lemieux (690 G in 915 GP) and Bobby Hull (610 G in 1,063 GP) each had more than 600 NHL goals but played fewer than 1,200 games and therefore are excluded in the graphic below.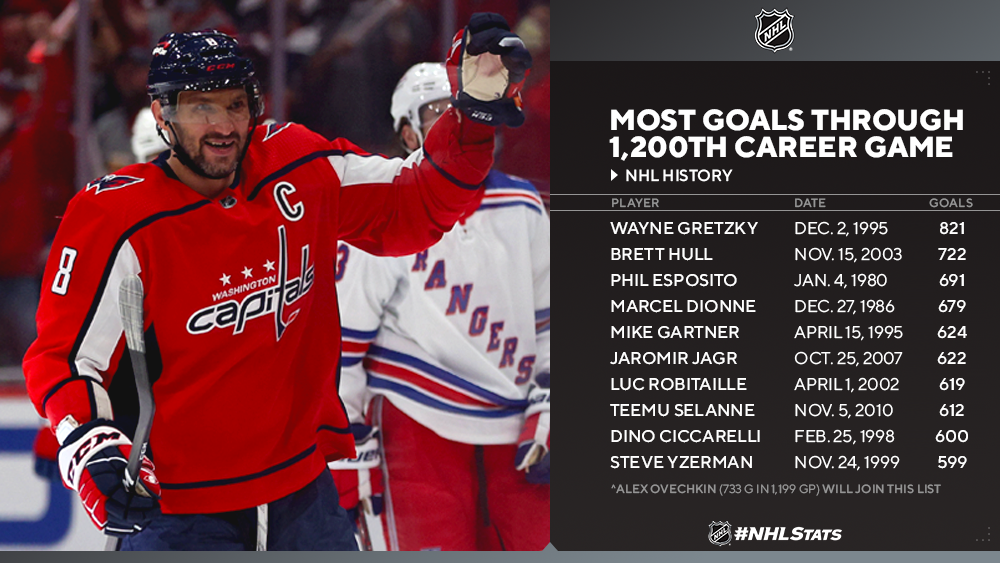 * Stamkos can become the first player in Lightning history to record multiple points in each of the team's first four or more games of a season. Stamkos (3-4—7 in 3 GP) and Brayden Point (3-4—7 in 3 GP in 2017-18) are the only Tampa Bay players to begin a campaign with three consecutive multi-point showings.