* Nikita Kucherov and Artemi Panarin each posted two-point outings to eclipse and reach the 20-point mark, respectively, as 2023-24 became the fifth in 30 years to feature five players with as many points through this stage of the season.

* Cale Makar collected his 22nd career three-point game on a night he reached 100 home assists, climbed into third place on the Avalanche/Nordiques all-time points list among blueliners and moved into third place in scoring by defensemen this season.

* Matt Tomkins earned his first NHL win 4,154 days after hearing his name called at the NHL Draft and became the fifth goaltender in League history to post his first victory 11-plus years after being selected.
* Wednesday will feature a doubleheader on the TNT Navy Federal Credit Union Veterans Appreciation Night broadcast starting with the Panthers visiting the Capitals before the Golden Knights welcome the Kings, while the "Battle of Ontario" between the Senators and Maple Leafs takes center stage on Sportsnet and TVA Sports.



KUCHEROV, PANARIN PUT UP MULTI-POINT PERFORMANCES
Tampa Bay's Nikita Kucherov (1-1—2) and New York's Artemi Panarin (1-1—2) each posted their League-leading seventh multi-point game of the season – tied with Vancouver's Elias Pettersson – to help guide their respective clubs to victory. Kucherov (10-12—22 in 13 GP) and Panarin (7-13—20 in 12 GP) are two of five players that have reached the 20-point mark in 2023-24.

* Kucherov has now posted 4-7—11 in his past three games and has overtaken the League lead in points with 22. The forward has been instrumental in Tampa Bay's high-scoring starts lately as the Lightning became the first team since the 1993-94 Kings to tally four goals in the first period on consecutive days.
* Panarin, who extended his season-opening point streak to 12 games, became the eighth player in Rangers history to reach the 20-point mark in a season in 12 or fewer contests, joining Pavel Bure (11 GP in 2001-02), Carey Wilson (11 GP in 1988-89), Walt Poddubny (11 GP in 1986-87), Rod Gilbert (11 GP in 1972-73), Jaromir Jagr (12 GP in 2006-07), Frank Boucher (12 GP in 1929-30) and Bill Cook (12 GP in 1929-30).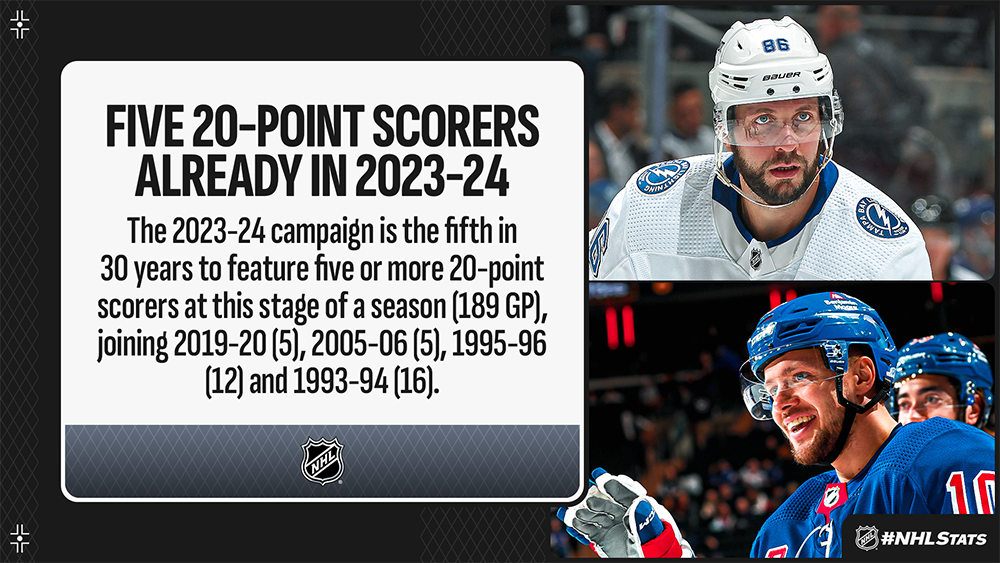 RANTANEN, MAKAR POST THREE POINTS AS AVALANCHE REMAIN PERFECT AT HOME
Mikko Rantanen (2-1—3) and Cale Makar (0-3—3) each factored on three of six Colorado goals as the Avalanche improved to 4-0-0 at home for the second time in the past 10 years (also 4-0-0 in 2019-20). The club now sits two wins shy of their franchise record for longest home winning streak to start a season (6 GP in 2009-10, 2007-08 & 1994-95 w/ QUE).

* Rantanen's first goal was his 81st career power-play marker. He surpassed Anton Stastny (80) for sole possession of the sixth most in franchise history, behind Joe Sakic (205), Michel Goulet (147), Milan Hejduk (140), Peter Stastny (120) and Nathan MacKinnon (83).

* Makar (68-192—260 in 249 GP), who tied Quinn Hughes and Victor Hedman for the most multi-point games by a defenseman this season (all w/ 5), surpassed Adam Foote (56-203—259 in 967 GP) for the third-most points by a blueliner in Avalanche/Nordiques history. He trails Tyson Barrie (75-232—307 in 484 GP) and John-Michael Liles (68-207—275 in 523 GP).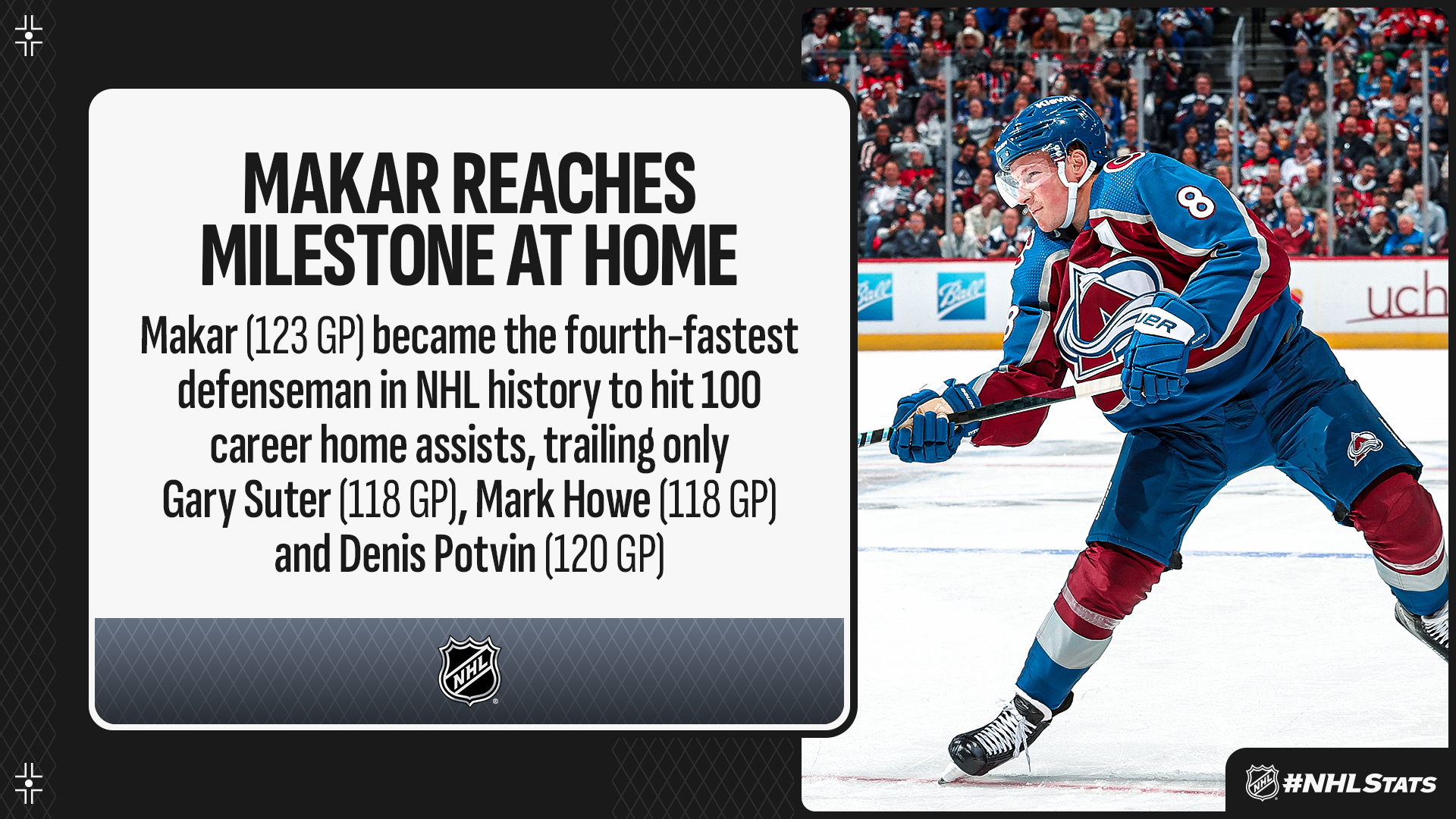 NECAS SCORES OT WINNER, AHO'S SUCCESS OVER SABRES CONTINUES
Martin Necas scored 1:30 in extra time for his second overtime goal of the season and Sebastian Aho (0-2—2) assisted on the game winner to boost his career totals against the Sabres as Carolina earned its second straight overtime win.
* Aho improved his career totals against Buffalo to 13-13—26 (17 GP) – his 1.53 points per game against the Sabres is the highest among all active players (min. 10 GP). Sidney Crosby owns the next closest at 1.43 (27-53—80 in 56 GP).
* Necas recorded his ninth career overtime goal, which is the second most in franchise history behind only Aho (10), who assisted on Necas' winner. His two extra time tallies this season are tied with Cole Caufield (2) for the most among all players.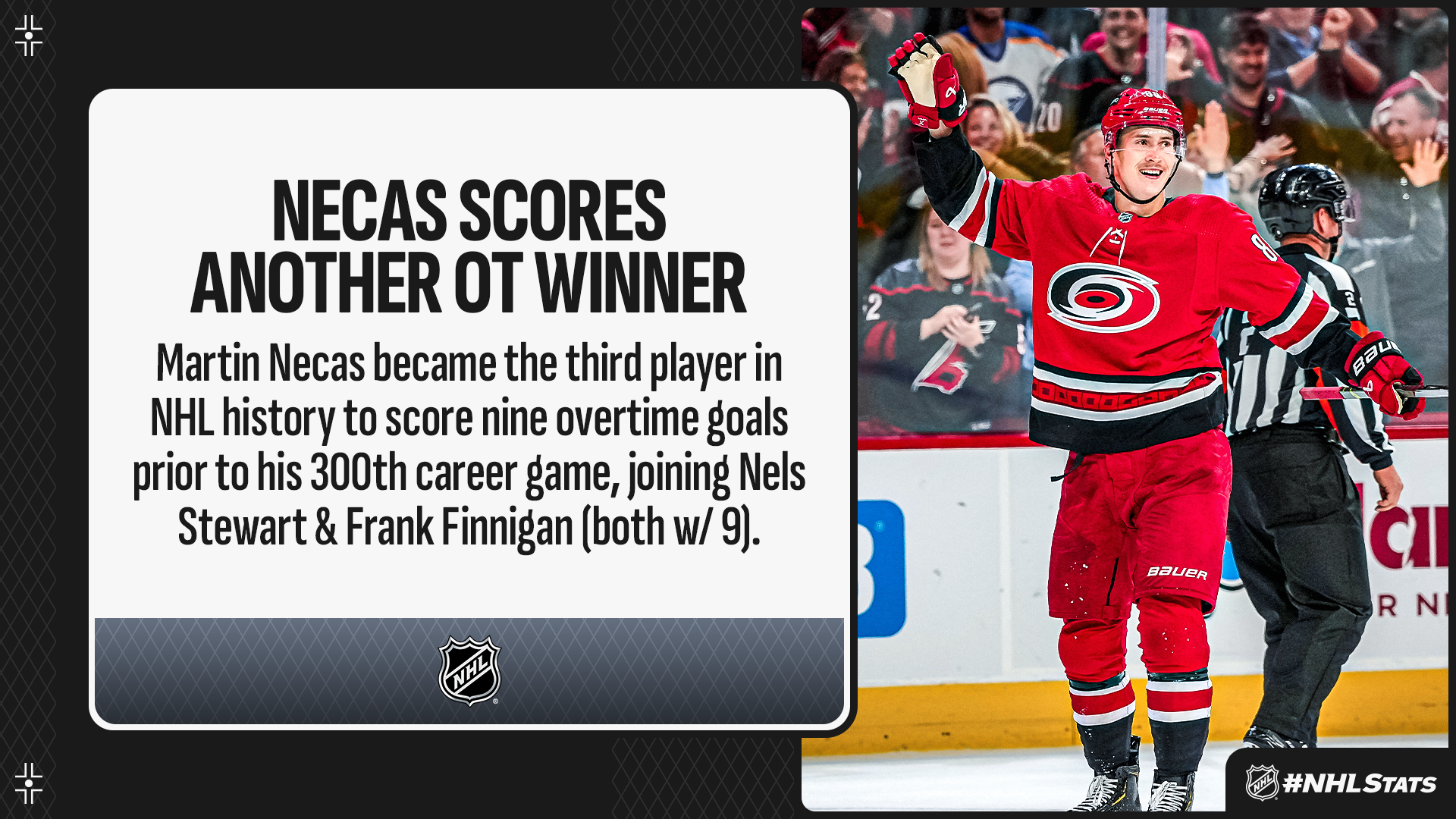 STAND-OUT PERFORMANCES FROM #NHLSTATS: LIVE UPDATES
The latest edition of #NHLStats: Live Updates featured notes for all 20 teams, highlighted by stand-out performances from Alex Iafallo, Mackenzie Blackwood, Matias Maccelli and Matt Tomkins.

* Iafallo(0-4—4) factored on four of five Jets goals as Winnipeg skated to a five-goal performance for the second time in as many games following a 5-3 victory in Arizona on Nov. 4. Iafallo, who tied a Jets/Thrashers record for most assists in a game, became the fourth player with four helpers in a contest this season (also Jack Hughes: Oct. 24, Quinn Hughes:Nov. 2 & Nikita Kucherov: Nov. 4).

* Blackwoodstopped 38 shots to help the Sharks earn their first victory of 2023-24. It marked the second-most saves by a goaltender in their first career win with the franchise, behind only Troy Grosenick (45 on Nov. 16, 2014).

* Maccelli scored to help the Coyotes snap a four-game losing skid against the Kraken and extend his point streak to nine games (2-8—10). He became the fourth Coyotes/Jets player in the past 30 years to post a run of that length at age 23 or younger, joining Clayton Keller (10 GP in 2017-18), Alexei Zhamnov (10 GP in 1993-94) and Barrett Hayton (9 GP in 2022-23).

* Tomkins, the Lightning's 29-year-old goaltender, earned his first career win more than 11 years after being selected in the seventh round of the 2012 NHL Draft by the Blackhawks (199th overall). Tomkins' long road to the NHL, which started exactly 4,131 days after he got drafted, included 79 games in the ECHL, 36 in the AHL and 65 in the Swedish Hockey League over the past two seasons – a time he attests allowed him to relieve the pressures of playing and re-find his happiness. On an international stage, Tomkins won the 2020 Spengler Cup and represented Team Canada at the 2022 Olympic Games.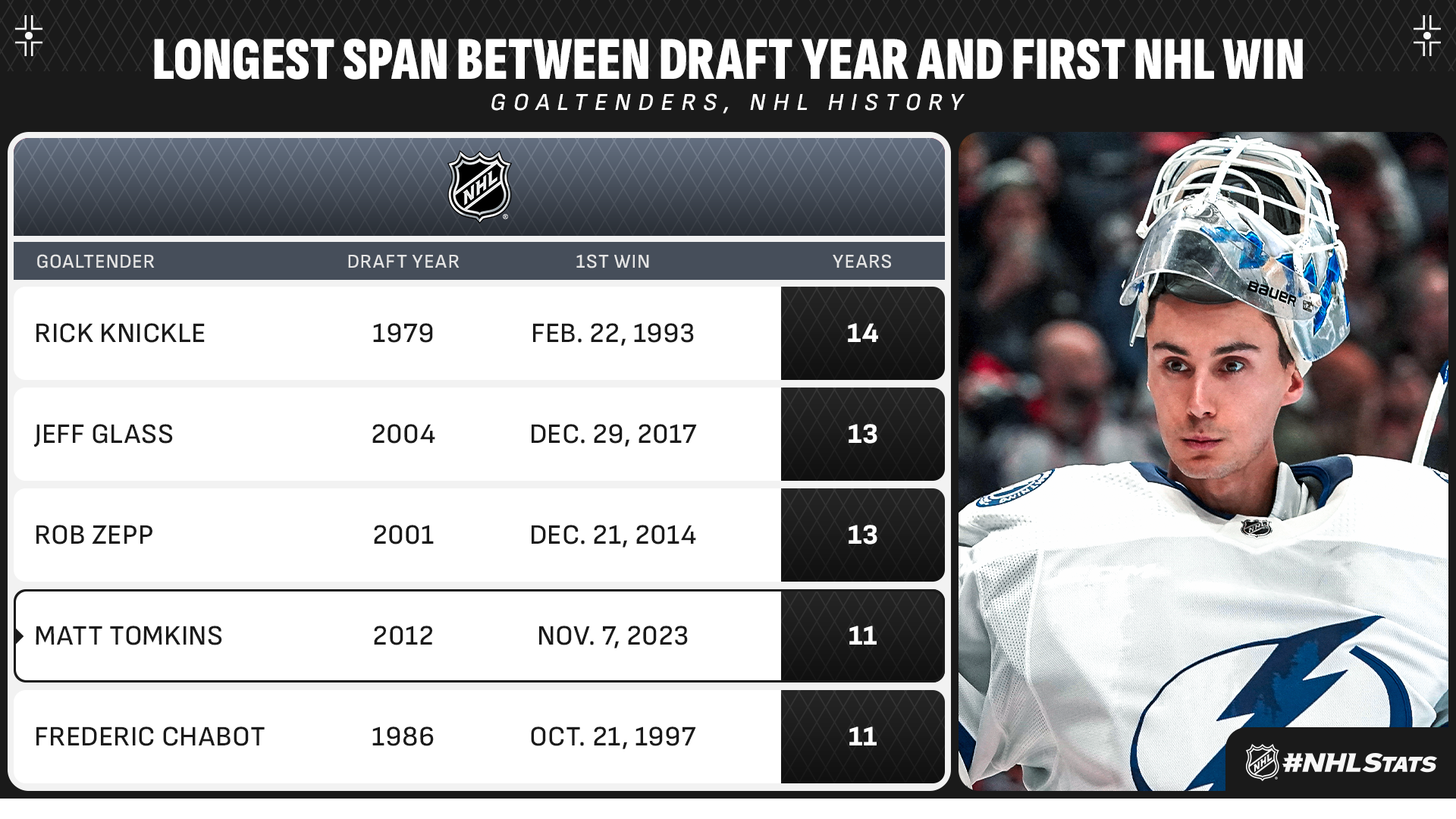 NHL, NHLPA CELEBRATE DECADE OF INDUSTRY GROWTH FUND
The NHLPA and NHL are celebrating 10 years of the Industry Growth Fund, which was established to create opportunities to help grow the game at all levels both on and off the ice. Over its first decade, the IGF has contributed more than $180 million to develop programming, create initiatives, host events and provide education that drives awareness and brings hockey to communities across North America. Click here for more information.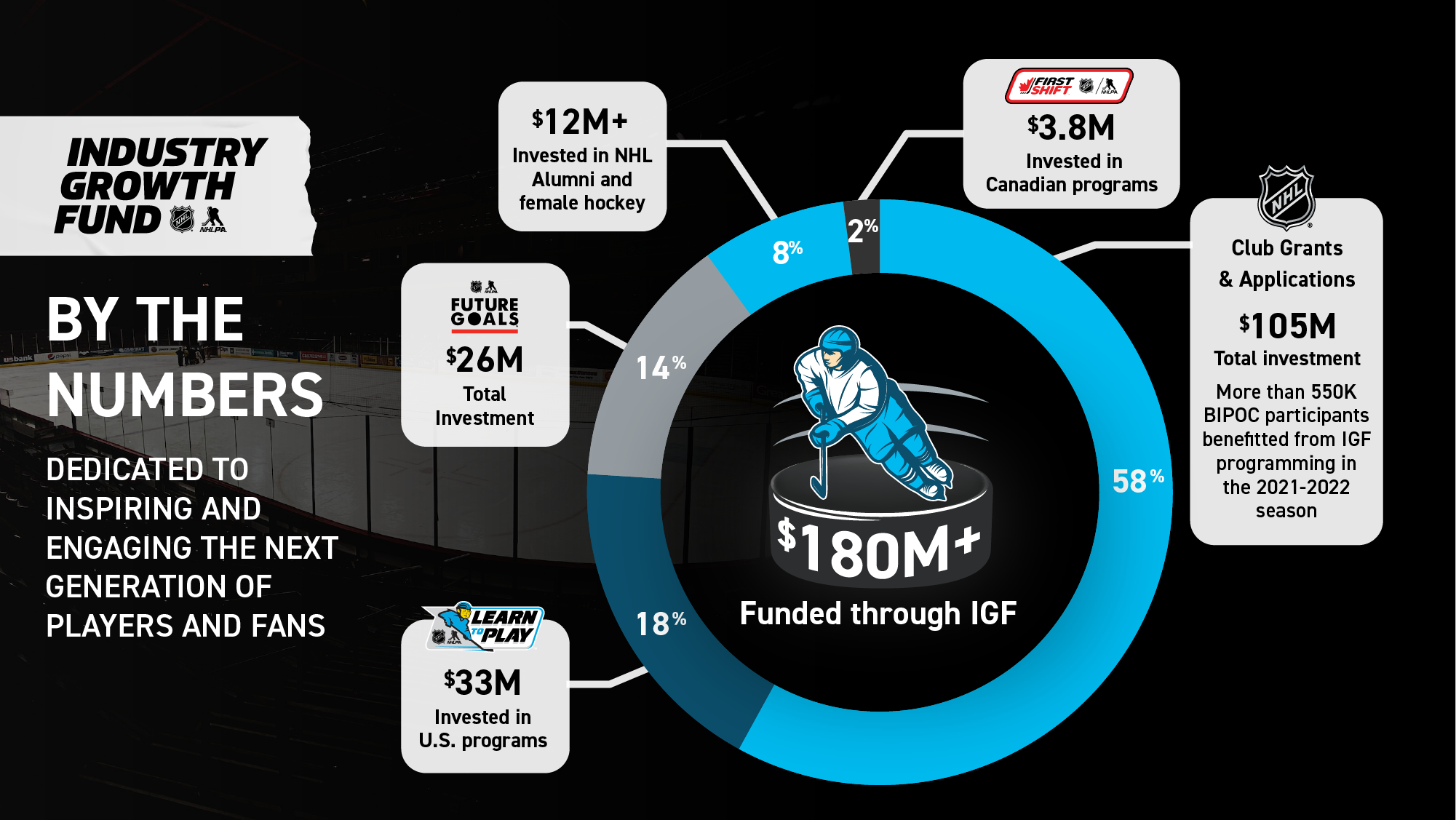 QUICK CLICKS
* Stanley Cup makes surprise visit to Enoch Cree Nation school
* Quinn Hughes' strong play for Canucks at both ends of ice reminiscent of Bobby Orr
* Ken Hitchcock's work ethic as coach at every level paved way to Hall of Fame
* Caroline Ouellette proved 'dominant' on road to gold medals, championships, Hall of Fame
* Max Pacioretty works toward return with Capitals after considering retirement
TNT DOUBLEHEADER INCLUDES OVECHKIN, TKACHUK, EICHEL, KOPITAR
Wednesday night's TNT Navy Federal Credit Union Veterans Appreciation Night broadcast is a star-studded doubleheader that opens with Matthew Tkachuk and the Panthers visiting Alex Ovechkin and the Capitals and closes with Anze Kopitar and the Kings facing Jack Eichel and the rival Golden Knights. In addition, Henrik Lundqvist will be in studio ahead of his induction into the Hockey Hall of Fame on Monday.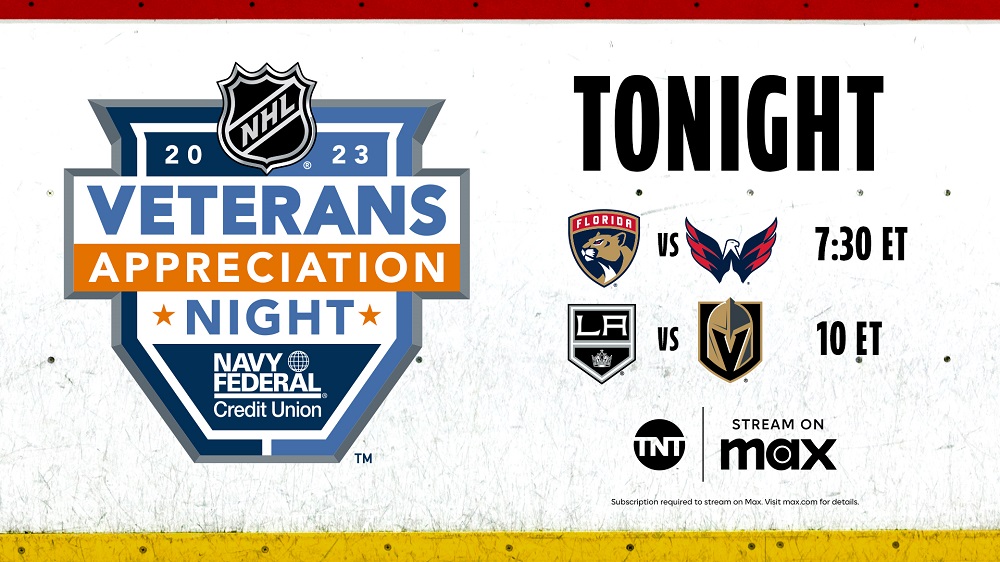 * Panthers captain Aleksander Barkov has a point in each of his last 10 appearances versus the Capitals dating to Feb. 22, 2018 – the longest active point streak by one player against Washington. Tkachuk, meanwhile, has posted three-point outings in two of his last three games against the Capitals.

* Ovechkin (2-6—8 in 10 GP), who at age 38 leads all Capitals skaters in assists (tied), points and shots on goal (43) in 2023-24, is seven away from becoming the 16th player in NHL history to reach the 1,500-point milestone.

* A pair of League-leading defensemen will be showcased as part of the second half of the doubleheader: Kings blueliner Drew Doughty (26:07 TOI/GP) leads all skaters in time on ice per game in 2023-24, while Golden Knights defenseman Shea Theodore (45.84 miles) entered play on Tuesday as the League leader in total miles skated this season according to NHL EDGE data.

"BATTLE OF ONTARIO" TAKES CENTER STAGE ON SPORTSNET, TVA SPORTS
Wednesday's third contest will feature the "Battle of Ontario", with the Senators and Maple Leafs facing off at Scotiabank Arena on Sportsnet and TVA Sports. Toronto has earned wins in six of its past seven games against Ottawa.