* The Panthers improved to 10-0-1 while simultaneously snapping the Hurricanes' season-opening winning streak at nine games.* Moritz Seider scored the overtime winner to record the first tally of his NHL career and power the Red Wings to a multi-goal comeback victory.
* Minnesota, which welcomes former forward Zach Parise back to Xcel Energy Center Sunday, also earned a thrilling come-from-behind win. Overall, five of the 12 games Saturday featured a team overcoming a third-period deficit en route to victory.

PANTHERS SCORE EARLY AND OFTEN, HAND HURRICANES FIRST LOSS OF 2021-22
In a first-of-its-kind contest between two streaking clubs to start the season, Anthony Duclair (2-2—4) factored on three of Florida's four first-period goals as the Panthers (10-0-1, 21 points) became the first team to defeat the Hurricanes (9-1-0, 18 points) in 2021-22.
* Florida, one game shy of the longest season-opening point streak in franchise history (12 GP in 1996-97: 8-0-4), has recorded the NHL's longest such run since Chicago opened the 2012-13 campaign with a 21-0-3 mark.
* Duclair, who collected three of his four points on the power play, netted 1-2—3 in the opening frame and fell one point shy of the most by a Panthers player in a single period, behind Noel Acciari (3-1—4 on Dec. 20, 2019; 2nd period) and Olli Jokinen (2-2—4 on March 17, 2007; 3rd period).
* Spencer Knight turned aside 30 of 32 shots to foil Carolina's comeback attempt and boost his career regular-season record to 8-0-1 in nine appearances (2.43 GAA, .918 SV%).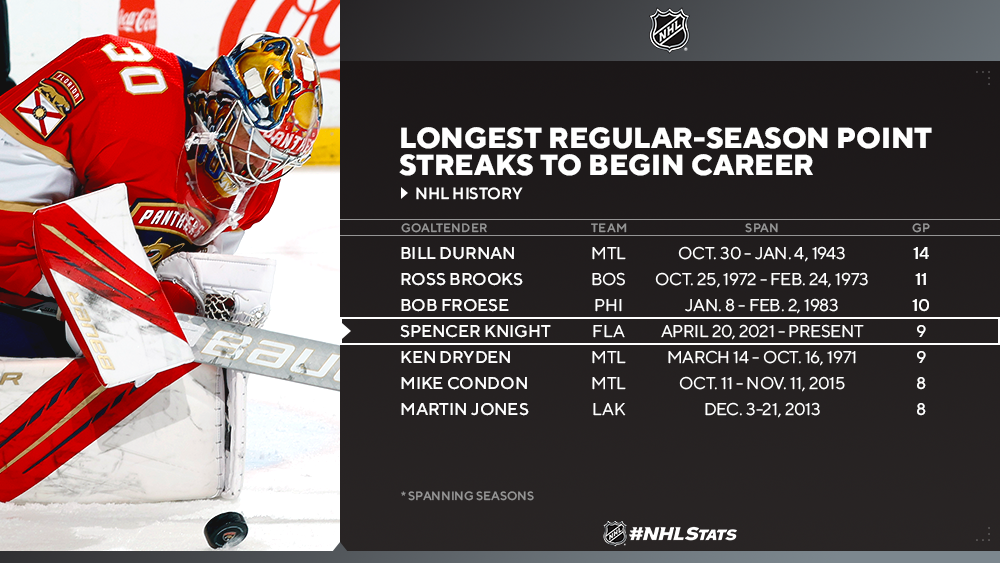 BERTUZZI, RAYMOND, SEIDER HELP RED WINGS COMPLETE RALLY IN BUFFALO . . .
The trio of Tyler Bertuzzi (2-2—4), Lucas Raymond (0-3—3) and Moritz Seider (1-0—1) played pivotal roles in the Red Wings' multi-goal comeback win Saturday.
* Bertuzzi's two third-period goals in a span of 1:30 set the stage for Seider (1-9—10 in 12 GP) in overtime. He became the second player – and first defenseman – in franchise history to score his first career goal in overtime, joining Mud Bruneteau (Dec. 14, 1935).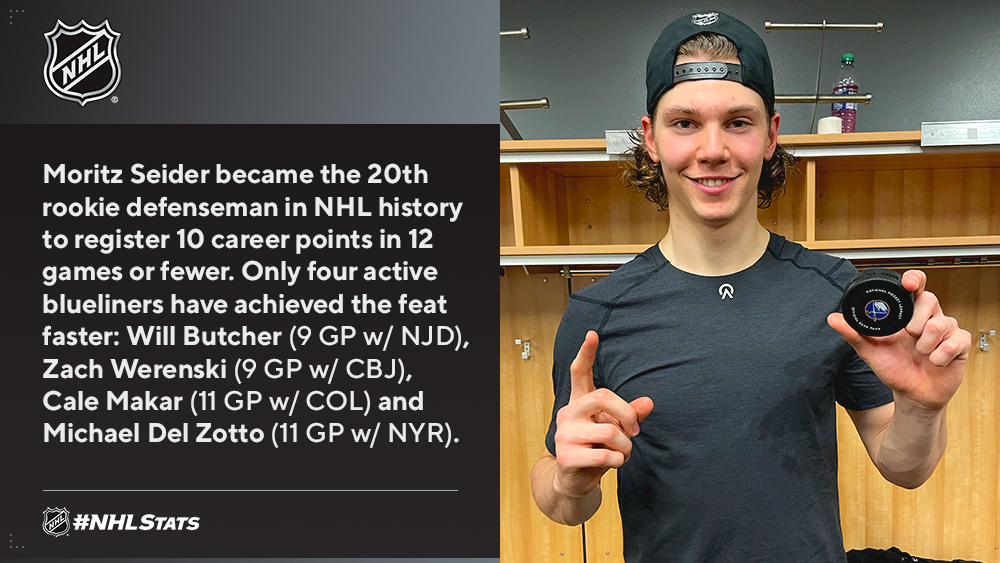 * Raymond, with his second outing of three-plus points this season (also 3-1—4 on Oct. 24 at CHI), became the fifth teenager to post a three-assist game with the Red Wings. He joined Steve Yzerman (4x; last: Feb. 17, 1985), Alex Delvecchio (0-3—3 on Oct. 16, 1952), Gordie Howe (0-4—4 on Dec. 17, 1947) and Harry Watson (0-3—3 on Dec. 12, 1942).
. . . WHILE WILD ALSO EARN THRILLING MULTI-GOAL COMEBACK WIN
Kirill Kaprizov (1-1—2) factored on two goals and Ryan Hartman scored a game-tying marker at 19:57 of the third period as Minnesota mounted a multi-goal comeback win for the second time this season (also Oct. 19 vs. WPG) – the most among all teams.
* Kaprizov recorded his 60th and 61st career regular-season points (29-32—61 in 65 GP). He required the fewest games to reach 60 points among players to debut with the Wild (all w/ MIN), shattering the previous mark set by Marian Gaborik (93 GP).
* Hartman's goal marked the latest game-tying tally of 2021-22 and just the second in the final 10 seconds of a contest. The other was scored by St. Louis' Torey Krug (59:51 on Nov. 3).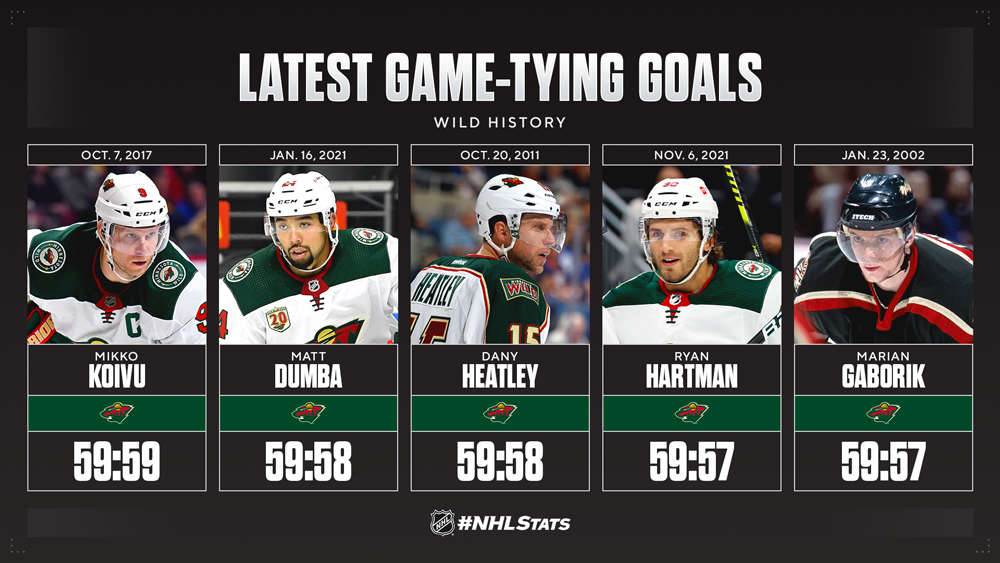 LAMORIELLO REACHING 1,500 NHL WINS FEATURED IN LIVE UPDATES
Saturday's edition of #NHLStats: Live Updates features more notes from the 12-game slate, which included noteworthy wins by the Maple Leafs (5-0-0 in last 5 GP), Flames (7-0-3 in last 10 GP) and Islanders (5-0-2 in last 7 GP):
* Mitchell Marner manufactured 1-3—4 and has factored on 10 of Toronto's last 12 goals dating to when he put the Maple Leafs up 5-3 on Oct. 30 (3-7—10).
* Jacob Markstrom, who recorded his League-leading fourth shutout of 2021-22, became the fifth goaltender in the NHL's expansion era (since 1967-68) with four through his first five wins in a season and first since Pascal Leclaire in 2007-08 (w/ CBJ).
* Lou Lamoriello of the Islanders became the third general manager in NHL history to reach 1,500 wins (regular season & playoffs combined).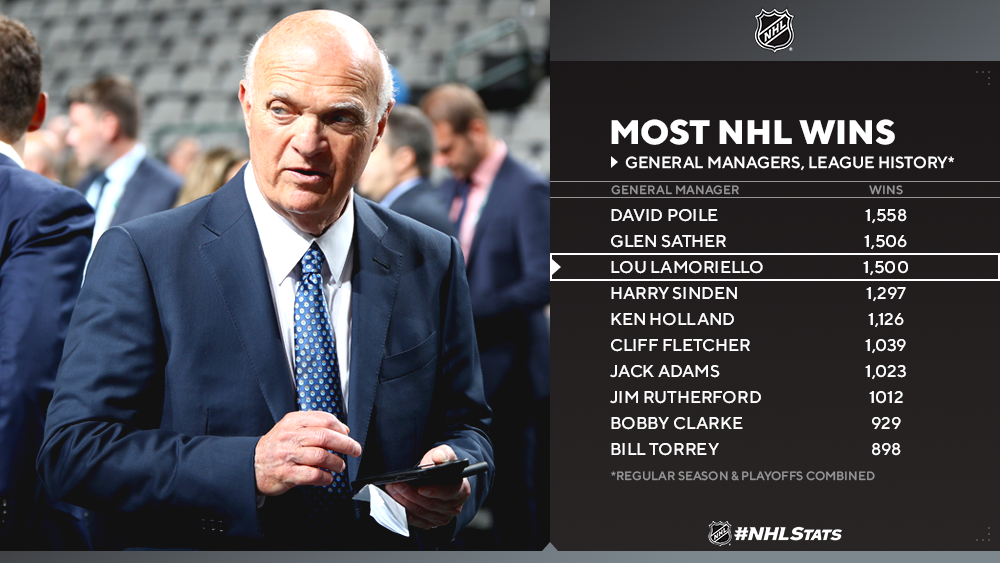 SUNDAY'S SLATE INCLUDES PARISE'S RETURN TO MINNESOTA
The five games on tap for Sunday include the Canucks hosting Hockey Fights Cancer night with a special focus on the legacy of Canadian hero Terry Fox and The Terry Fox Foundation, as well as Islanders forward Zach Parise returning to Minnesota to face the Wild for the first time since signing with New York as a free agent on Sept. 10. Parise, a Minneapolis, Minn. native, spent the previous nine seasons with the Wild and ranks among the top three in franchise history for regular-season goals (3rd; 199) and points (3rd; 400).