* The Ducks rallied from a multi-goal, third-period deficit to hand the Golden Knights their first regulation loss of the season and did so just 10 days after serving the Bruins their first defeat.

* Vitek Vanecek earned his 80th career win with a 32-save performance, including an save-of-the-year candidate, against the Blackhawks.
* A four-game Monday features a doubleheader on Sportsnet and TVA Sports as the Maple Leafs host the Lightning while the Canucks eye their 50th goal of the season when they host the Oilers.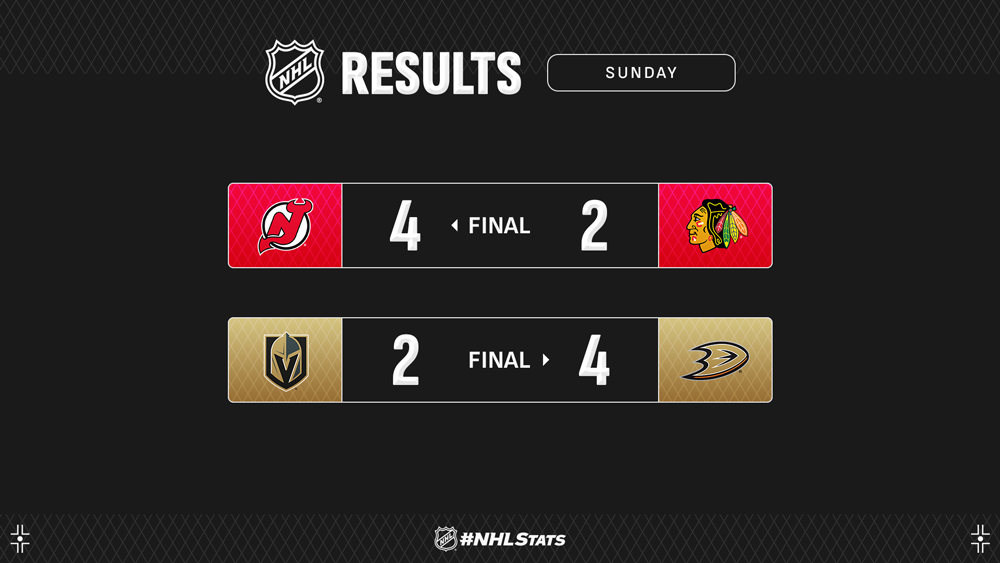 DUCKS SOAR TO ANOTHER THIRD-PERIOD COMEBACK WIN TO STUN GOLDEN KNIGHTS
The Ducks found themselves in a familiar position, trailing in the third period for the fifth time in their past six games, but Mason McTavish (1-0—1) scored the third of four unanswered goals to help Anaheim (7-4-0, 14 points) snap Vegas' season-opening 12-game point streak – and did so just 10 days after handing the Bruins their first loss following six straight victories to begin their campaign.

* The Ducks, with their NHL-best fifth third-period comeback win of 2023-24, became the third team in NHL history to snap an opponent's point streak of 12 or more games by overcoming a multi-goal deficit in the final frame. The others: Tampa Bay (vs. COL: 12 GP in 1996-97) and Colorado (vs. ANA: 12 GP in 1996-97).

* Anaheim extended the League's longest active win streak to six games and became just the third club in NHL history to post at least five third-period comeback victories throughout a win streak of any length, joining the 2018-19 Sabres (6 in 10 GP) and 2013-14 Penguins (5 in 15 GP).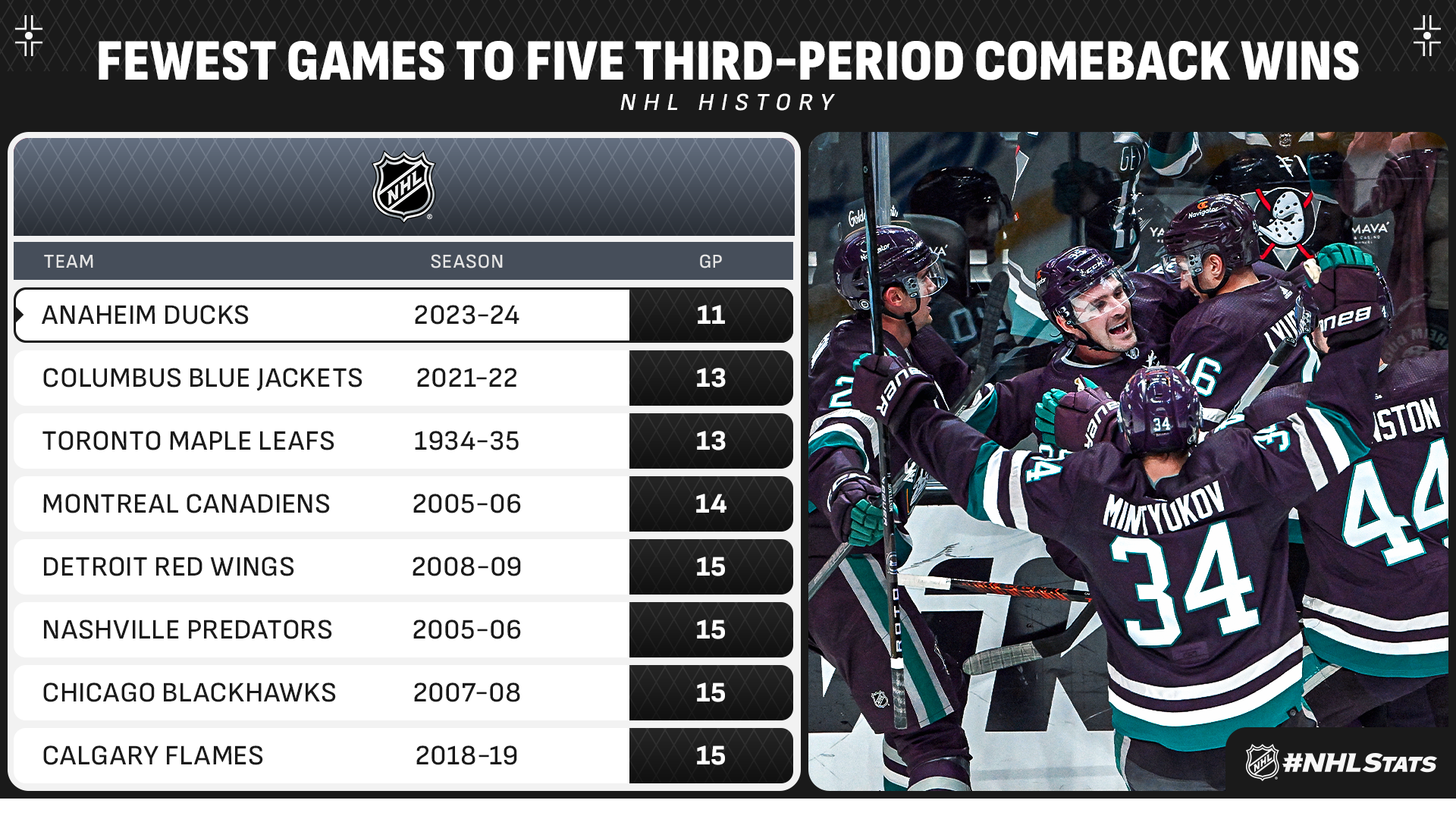 VANECEK VAULTS DEVILS TO VICTORY IN 80TH CAREER WIN
Vitek Vanecek stopped 32 of 34 shots – highlighted by a diving desperation save on Tyler Johnson in the opening frame – to vault the Devils (7-3-1, 15 points) to victory and register his 80th career win.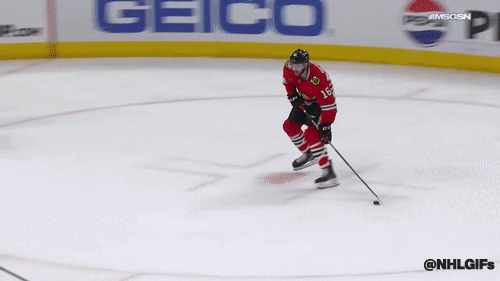 * Vanecek (80-35-14 in 139 GP) became the sixth active goaltender to reach 80 career wins in 139 contests or fewer. The others: Igor Shesterkin (129 GP), Matt Murray (130 GP), Ilya Samsonov (132 GP), Frederik Andersen (133 GP) and Tristan Jarry (133 GP).

* Vanecek holds a 39-13-4 career record in 60 career games with New Jersey and will likely become the fastest goaltender in franchise history to reach the 40-win mark, surpassing Hockey Hall of Fame member and Devils legend Martin Brodeur, who required 76 appearances.

BACK-TO-BACK DOUBLEHEADERS ON TNT HIGHLIGHT SLATE OF 25 NATIONAL GAMES
With Hockey Hall of Fame Induction Weekend approaching, the NHL on TNT panel will undoubtedly be celebrating one of its own during back-to-back doubleheaders Tuesday and Wednesday, the latter telecast marking Navy Federal Credit Union Veterans Appreciation Night.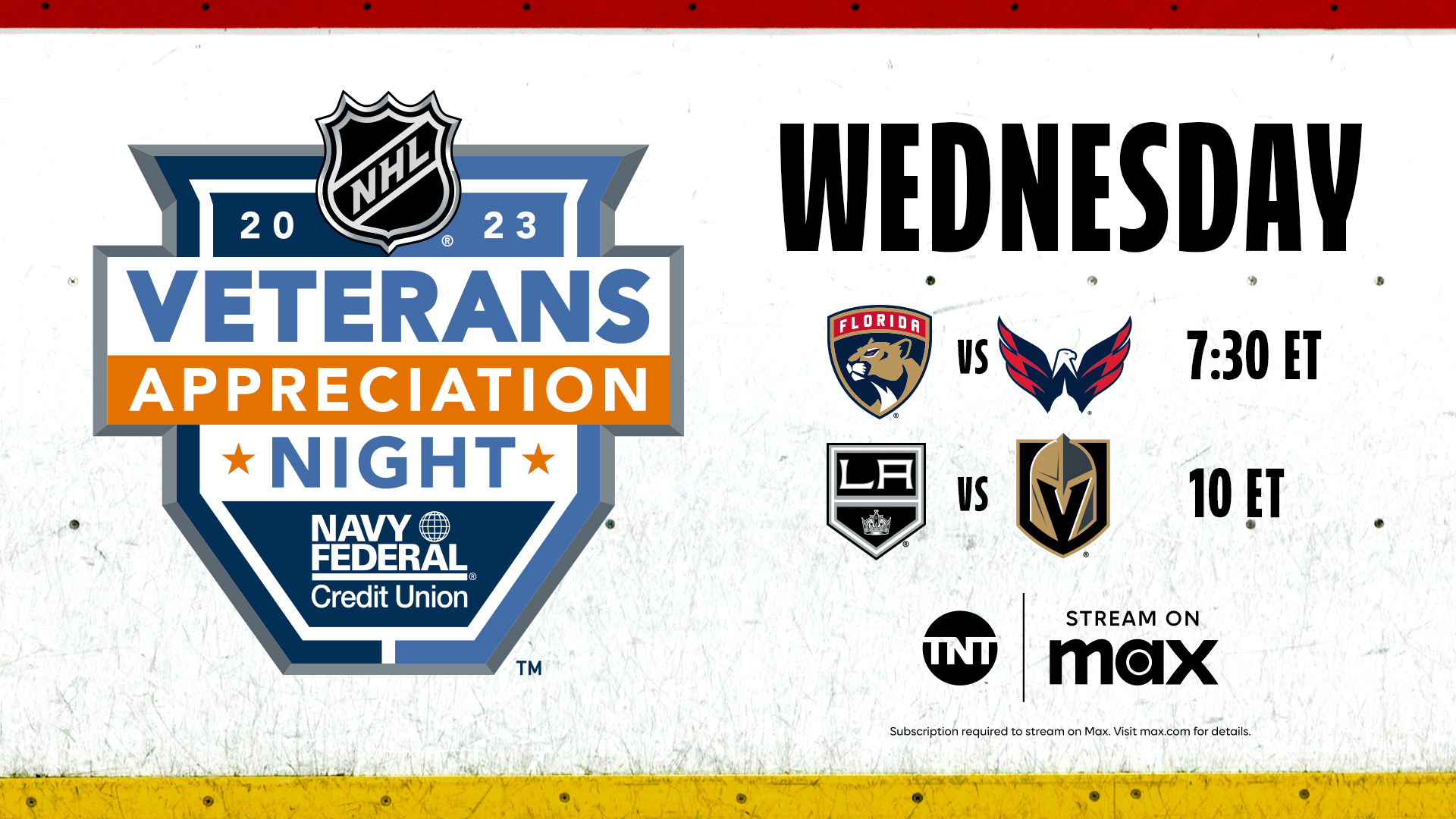 Tuesday, Nov. 7: Red Wings at Rangers (7:30 p.m. ET on TNT, MAX, SNP, SNO, SNE, SN1)
* An Original Six matchup will take place at Madison Square Garden, where NHL on TNT panelist and former Rangers goaltender Henrik Lundqvist claimed 262 of his franchise-record 459 wins over 15 seasons in the New York net. "King Henrik" will be inducted into the Hockey Hall of Fame in one week, alongside fellow netminders Tom Barrasso and Mike Vernon. It will mark the first time three goaltenders who played in the NHL will be inducted as part of the same class.
* Detroit will look to pick up its 100th all-time road win against the Rangers, entering the contest with a 99-140-62 record in 301 head-to-head contests as the visiting club dating to Dec. 19, 1926. New York, meanwhile, will enter the contest on a seven-game point streak and forward Artemi Panarin will look to continue his pursuit of the franchise record for longest point streak from the start of a season.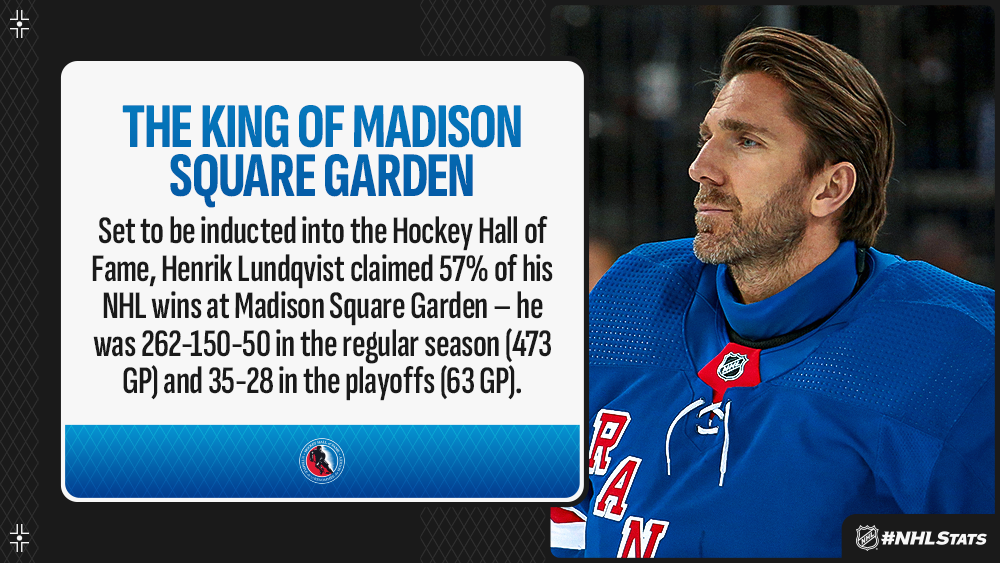 Tuesday, Nov. 7: Devils at Avalanche (10 p.m. ET on TNT, MAX, SNP, SNO, SNE, SN1)
* A pair of the NHL's leading scorers among their position will go head-to-head when Jesper Bratt (7-11—18 in 11 GP), who ranks tied for third among skaters in points, and the Devils travel to Colorado to take on Cale Makar (3-8—11 in 10 GP), who ranks third in scoring among defensemen (tied), and the Avalanche at Ball Arena. The duo and their respective offenses have benefited from extended period of time in the offensive zone at even strength entering action Sunday (COL: 43.8% & NJD: 42.4%). Only five other clubs have as high a percentage in 2023-24, according to NHL Edge: Carolina (47.8%), Edmonton (43.8%), Pittsburgh (43%), Florida (42.8%) and Calgary (42.7%).

Wednesday, Nov. 8: Panthers at Capitals (7:30 p.m. ET on TNT, MAX)
* Both 2023 Stanley Cup Final participants will be in action during the second NHL on TNT doubleheader of the week, starting with Matthew Tkachuk and the Eastern Conference champion Panthers paying a visit to the nation's capital against Alex Ovechkin and the Capitals. Tkachuk (194-306—500 in 520 GP) recorded his 500th NHL point Saturday. The 25-year-old was younger than his father was when he hit the benchmark, but his dad has the slight edge in terms of fewest games (Keith Tkachuk notched his 500th NHL point in his 519th game on March 30, 1999 – two days after his 27th birthday and when Matthew was 15 months old).
* Ovechkin, meanwhile, needs four goals to join Wayne Gretzky (1,016) as the second player in League history to score 900 times, including playoffs. "The Great Eight" has scored 37 of his 896 total goals against the soon-to-be Hall of Famer Lundqvist. Panthers goaltender Sergei Bobrovsky, who could be in net for the showdown Wednesday, is among the top five on the list of netminders Ovechkin has beat most.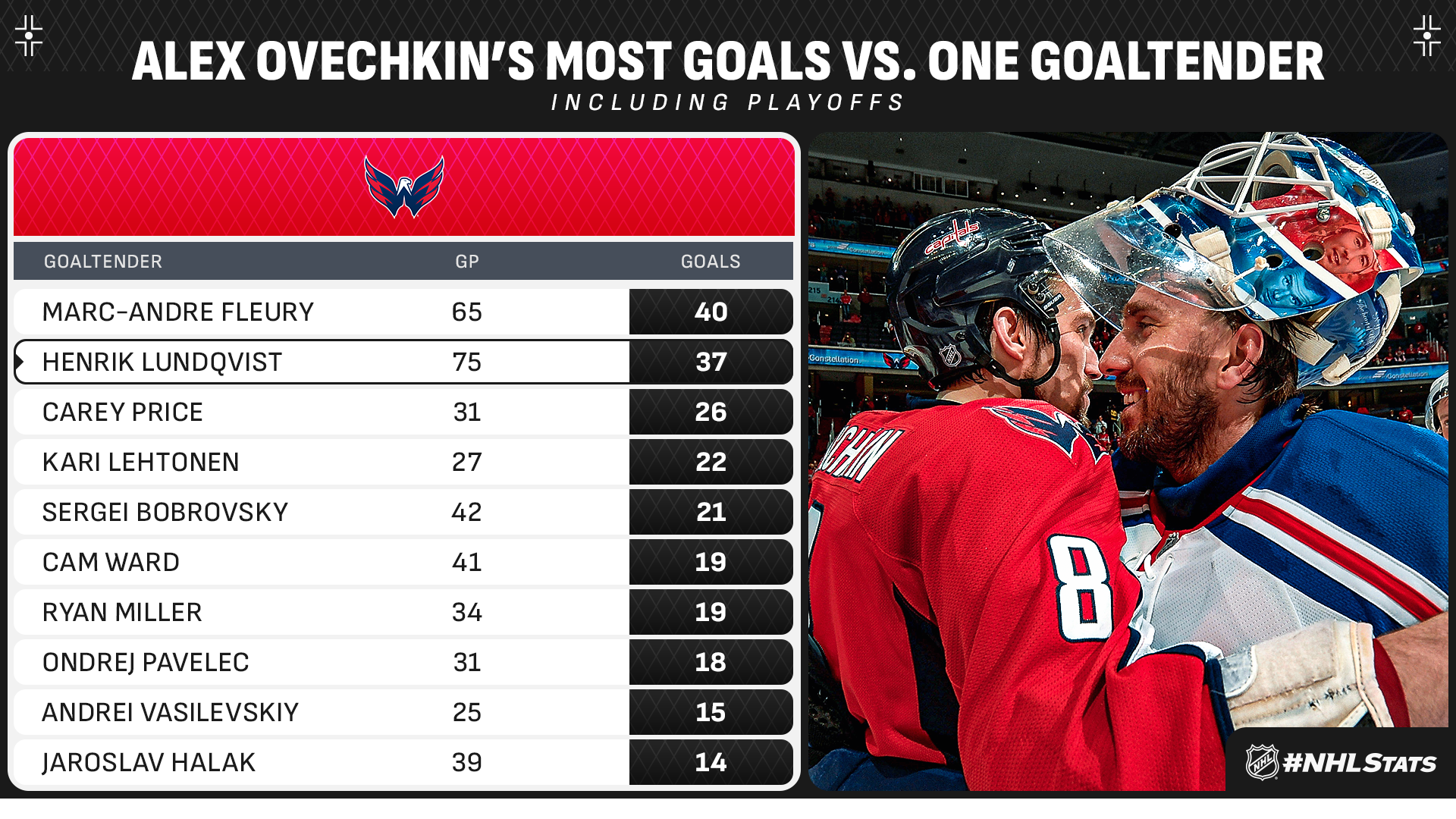 Wednesday, Nov. 8: Kings at Golden Knights (10 p.m. ET on TNT, MAX, SN360, TVAS)
* The only team to win a series against Florida in 2023 will host the nightcap as Jack Eichel and the reigning Stanley Cup champion Golden Knights welcome Anze Kopitar and the Kings. Both Eichel (6-20—26 in 2023) and Kopitar (5-21—26 in 2014) led the NHL in playoff scoring en route to a Stanley Cup win.
* The Kings are on an active six-game road winning streak, the longest from the start of a season in franchise history and two shy of the club record at any point in a season. Only seven teams in NHL history have won each of their first seven-plus road games of a season. This is the second time the Kings have had a road point streak of six-plus games from the start of a season (also 11 GP in 1974-75).
QUICK CLICKS
* Nov. 5 edition of #NHLStats: Live Updates
* Andrew Mangiapane suspended one game for actions in Flames game
* Mathew Barzal fined $5,000 for actions in Islanders game
* Zdeno Chara runs impressive New York City Marathon time, rooted on by Islanders
* Nottingham Forest FC honors Adam Johnson's memory in 47th minute of Premier League match

WEEK 5 OF 2023-24 BEGINS WITH DOUBLEHEADER ON SPORTSNET, TVA SPORTS
A showdown between the Lightning (5-3-3, 13 points) and Maple Leafs (5-4-2, 12 points) as well as the Oilers (2-7-1, 5 points) and Canucks (8-2-1, 17 points) highlight a doubleheader on Sportsnet and TVA Sports during the Monday schedule. Vancouver (48 GF in 11 GP) can join Vegas (50 GF through first 12 GP) as the second team to score at least 50 goals through their first dozen games of the season (including shootout-deciding goals) – a feat last accomplished by multiple teams in 2005-06 (OTT: 58, PHI: 56, COL: 53, CAR: 52 & DET: 51).