* On the night Connor McDavid scored a highlight-reel goal to help Edmonton draw even, he joined elite company by posting his sixth point streak of 10-plus games prior to his 25th birthday. * Leon Draisaitl scored the winner in overtime and recorded his sixth outing with three-plus points in 2021-22. Only two players in NHL history have registered more through their first 10 games of a season.
* The Hurricanes and Panthers are set to contest the first meeting in NHL history between clubs with active season-opening point streaks of nine or more games.
McDAVID, DRAISAITL SHINE IN HIGH-SCORING BOUT WITH RANGERS
After Connor McDavid (1-2—3) skated through four Rangers players en route to tying the game, Leon Draisaitl (1-2—3) netted the winner in overtime to help the Oilers become the second team to erase a three-goal deficit to win this season, joining the Lightning (Oct. 14 at DET).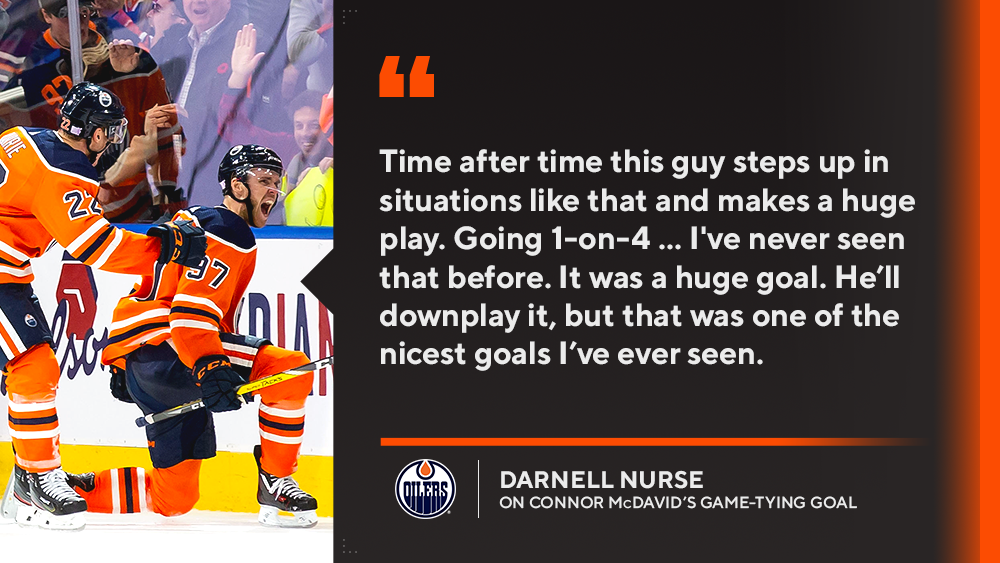 * McDavid (24 years, 296 days), who became the third different player in Oilers history to post a season-opening point streak of at least 10 games, recorded his sixth career double-digit point streak. Only six players in NHL history have recorded more 10-game point streaks prior to their 25th birthday: Wayne Gretzky (14), Denis Savard (8), Pierre Turgeon (7), Mario Lemieux (7), Paul Coffey (7) and Mike Bossy (7).
* Draisaitl registered his NHL-leading sixth game with three-plus points this season (10 GP) and third in as many contests. Only two players in NHL history have recorded more through their first 10 outings of a season: Mario Lemieux (7 in 1995-96 & 1988-89 w/ PIT) and Wayne Gretzky (7 in 1984-85 w/ EDM).
* Draisaitl (10-13—23 in 10 GP) and McDavid (8-14—22 in 10 GP) sit first and second in NHL scoring, respectively, while Draisaitl's 10 goals are tied with Alex Ovechkin (10-8—18 in 10 GP) for the most among all skaters in 2021-22.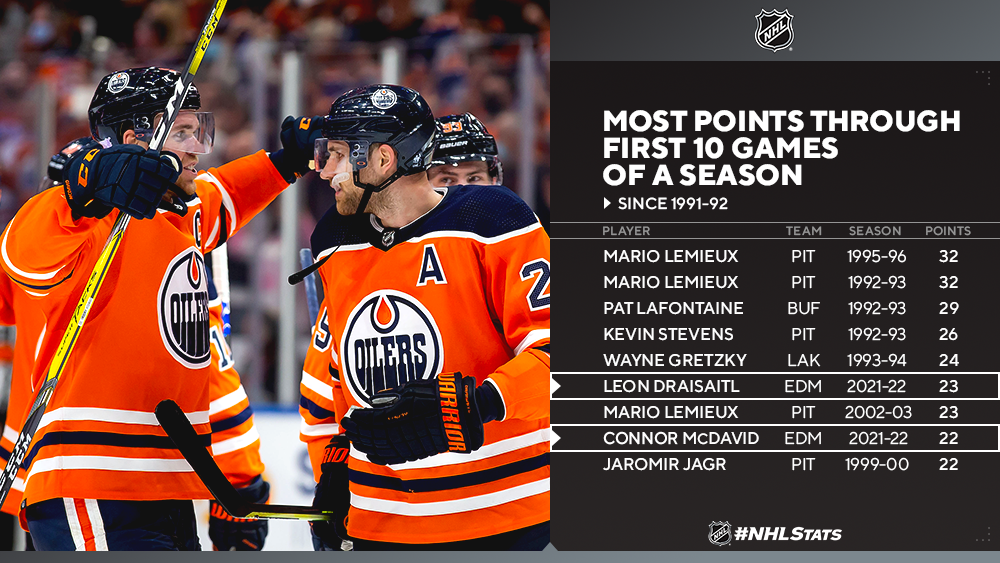 PREDATORS EDGE CANUCKS AS ROGERS ARENA CELEBRATES DIWALI
Matt Duchene (1-0—1) scored for the third straight game as the Predators defeated the Canucks on the night Vancouver donned special jerseys in warmup as part of its Diwali celebration – which caught the eye of actor Seth Rogen.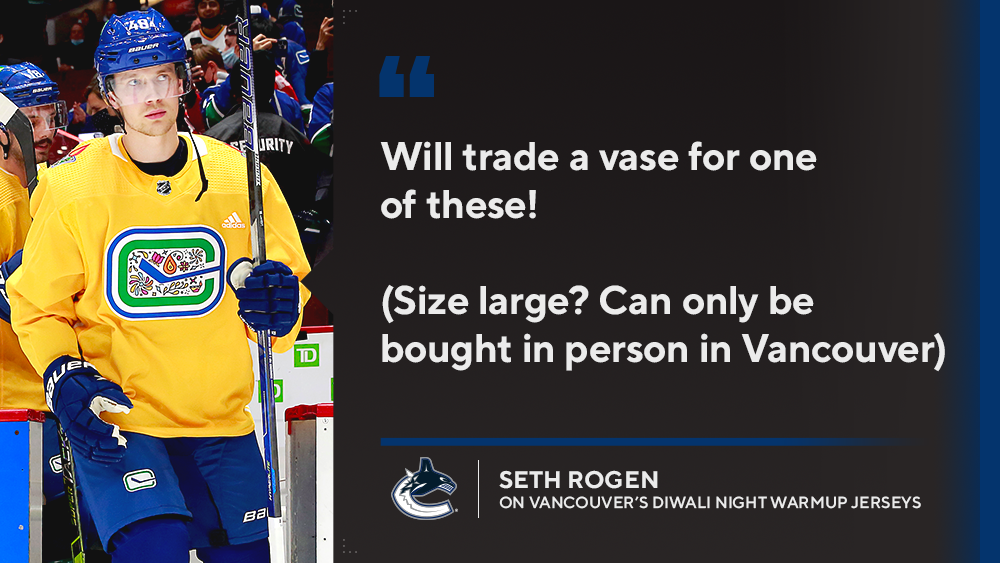 CONNOR PILOTS JETS TO ANOTHER VICTORY IN #NHLSTATS: LIVE UPDATES
The Friday edition of #NHLStats: Live Updates featured Kyle Connor boosting his 2021-22 totals to 8-8—16 (10 GP) – the second-highest point total in franchise history through 10 games of a season. The Jets improved to 6-0-2 dating to Oct. 19 and sit one game shy of the longest point streak in franchise history.
WEEKLY NHL PODCAST ROUNDUP
* Fantasy on Ice (11/1): Waiver wire with James Harding
* The Chirp w/ Daren Millard (11/2): Hockey Fights Cancer Ambassador Dominic Moore
* NHL @TheRink (11/3): Guest: Mike Zeisberger; Canes & Panthers dominating; Calder favorites
* Fantasy on Ice (11/4/): Fantasy impact of Jack Eichel trade on Golden Knights, Sabres

HIGH-FLYING PANTHERS, HURRICANES SPOTLIGHT SATURDAY
The only two teams without a regulation loss in 2021-22 will spotlight a 12-game Saturday as the Panthers (9-0-1) are set to welcome the Hurricanes (9-0-0) to FLA Live Arena.
* This will be the first meeting in NHL history between clubs with active season-opening point streaks of nine or more games. The closest such instance previously was in 1972-73 when Montreal (6-0-3) and Buffalo (5-0-3) met in a contest that saw them each extend their streak (3-3 tie).
* The Hurricanes can match the longest season-opening win streak in NHL history, a mark currently held by the Sabres (10-0-0 in 2006-07) and Maple Leafs (10-0-0 in 1993-94). Carolina will also carry an eight-game point streak against Florida into the contest (6-0-2 dating to Feb. 17, 2021), which is tied for its second-longest active such run against an opponent behind Buffalo (10-0-0 dating to Dec. 17, 2016).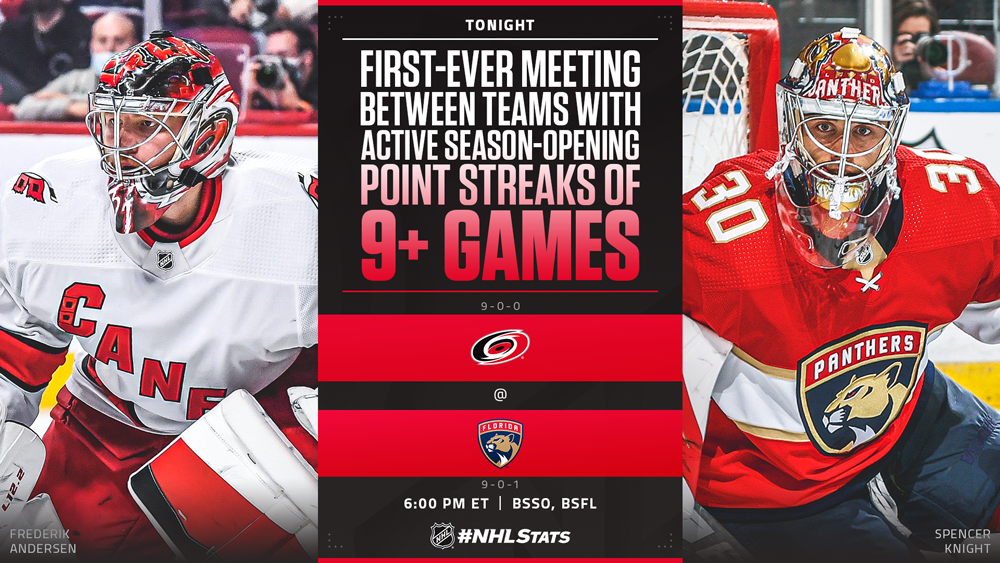 BRUINS, MAPLE LEAFS RIVALRY SET TO REIGNITE ON HOCKEY NIGHT IN CANADA
The Bruins and Maple Leafs will reunite for the first time in 722 days when the Original Six rivals face off on Hockey Night in Canada. The Maple Leafs enter on a four-game win streak led by Mitchell Marner, who has 2-5—7 over that span after starting the season with one point through the club's first seven contests (0-1—1).
* Patrice Bergeron, who is coming off his second career four-goal outing Thursday, leads all Bruins with 24-40—64 (69 GP) against the Maple Leafs – which stands as his highest point total against any opponent.