* The Devils and Golden Knights both earned their 10th road win of the season, with New Jersey becoming the third club in NHL history to reach the mark in 11 or fewer games (BUF: 10 GP in 2006-07 & BOS: 11 GP in 1929-30).

* Mitchell Marner and Jason Robertson each found the back of the net to extend their point streaks, both securing the second-longest run in their respective franchise's history in the process.

* The Islanders and Kraken will both aim to extend win streaks Tuesday, with Seattle looking to establish a franchise benchmark with its sixth consecutive victory.


GOALTENDERS BACK DEVILS, GOLDEN KNIGHTS TO NHL-LEADING 10TH ROAD WIN
Vitek Vanecek (35 saves) and Logan Thompson (26 saves) each stood their ground and backstopped the Devils (19-4-0, 38 points) and Golden Knights (17-6-1, 35 points) to their 10th road win of the season, with New Jersey capturing two points in each of their past 10 contests as the visitor.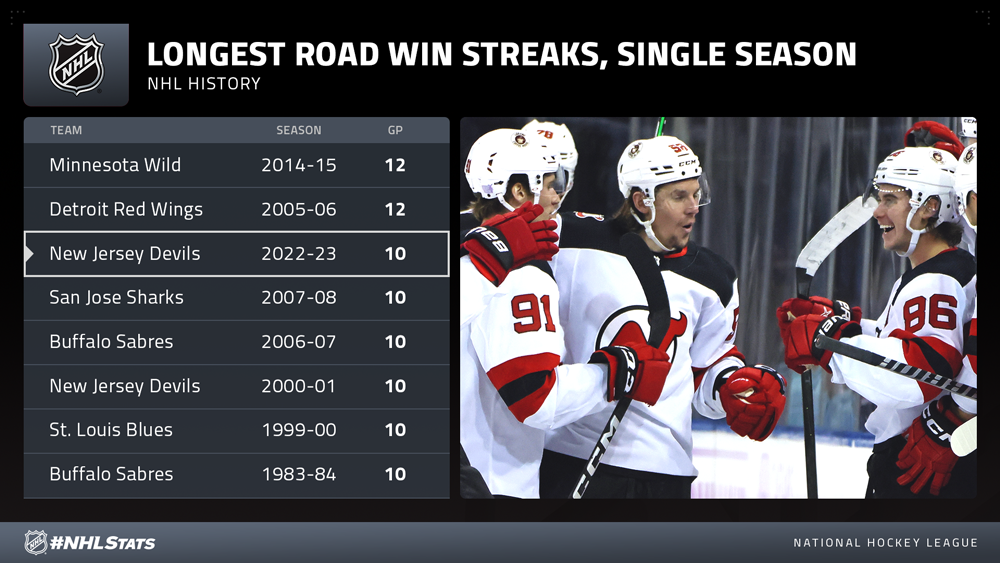 * New Jersey also concluded the month of November with a 13-1-0 record in 14 contests. Only four teams in NHL history have recorded more wins in a single calendar month: Colorado (15 in Jan. 2022), Boston (15 in March 2014), Pittsburgh (15 in March 2013) and Columbus (14 in Dec. 2016).

* Vanecek improved to 11-2-0 through his first 15 appearances with the Devils (2.12 GAA, .923 SV%, 1 SO) and ranks second in goals-against average in 2022-23 (min. 5 GP), behind only Boston's Linus Ullmark (2.00 GAA). Only one other goaltender in Devils/Scouts/Rockies history has captured 11 wins through their 15 appearances with the franchise: Sean Burke (11-2-0 in 15 GP from 1987-88 – 1988-89).

* Thompson, who posted an 8-2-0 mark in November (2.88 GAA, .909 SV%), fell one victory shy of the most by a Golden Knights goaltender in a single calendar month (Marc-Andre Fleury: 9-4-0 in Nov. 2018). Six of his eight victories since Nov. 1 have come as the visitor.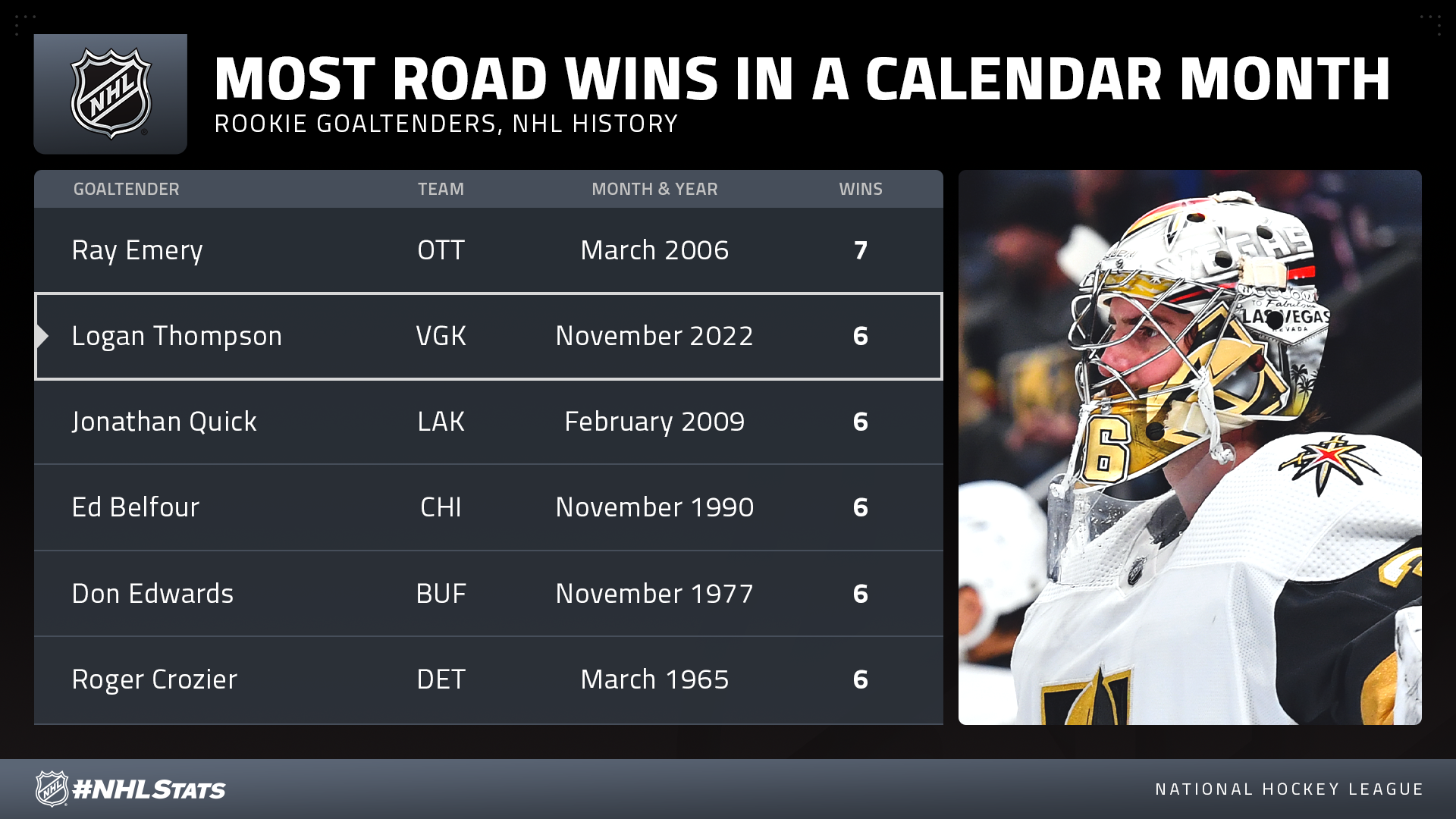 DID YOU KNOW?
While USA soccer fans get set to cheer on their team during its 2022 World Cup game Tuesday, the Hughes family has a connection of their own to international soccer events – Jack's mom, Ellen, was a sideline reporter for ESPN at the 1999 Women's World Cup of soccer during a time when she was on air with the Big Ten network soccer package. Ellen was also a successful tri-sport athlete at the University of New Hampshire, playing hockey, soccer and lacrosse, and was a member of the U.S. Women's National Hockey Team while also representing her country at the 1992 World Hockey Championships.

MARNER, ROBERTSON CONTINUE STREAKING WAYS IN MAPLE LEAFS, STARS VICTORIES
Mitchell Marner (6-17—23 in 17 GP) and Jason Robertson (17-12—29 in 16 GP) each found the score sheet and played pivotal parts in helping the Maple Leafs and Stars improve to 10-1-3 (23 points) and 8-3-3 (19 points), respectively, in November.

* Marner (1-0—1) scored the winning goal to move within one game of the longest point streak in Maple Leafs history, behind Darryl Sittler (18 GP in 1977-78) and Eddie Olczyk (18 GP in 1989-90). Marner is also the 12th different skater with a game-winning tally for Toronto this season, tied with Boston and New Jersey for the most among all teams.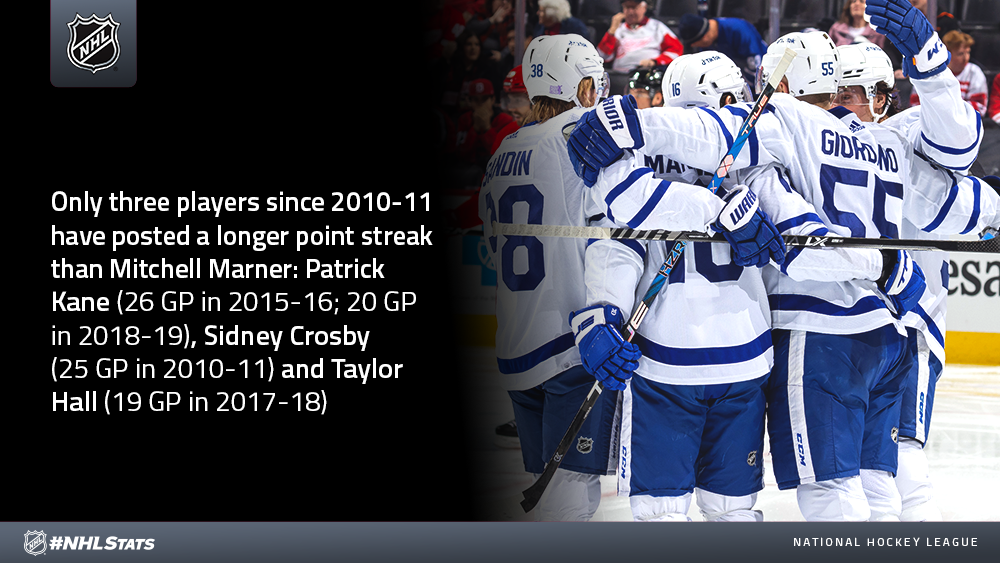 * Robertson (1-0—1) scored to extend his point streak to 16 games dating to Oct. 27 (17-12—29), the second-longest run in Stars/North Stars history behind Brian Bellows (20 GP from Jan. 11 to Feb. 21, 1986). With just two days left in November, Robertson (15-11—26 since Nov. 1) can become the first Stars/North Stars player to lead the League in both goals and points in a calendar month.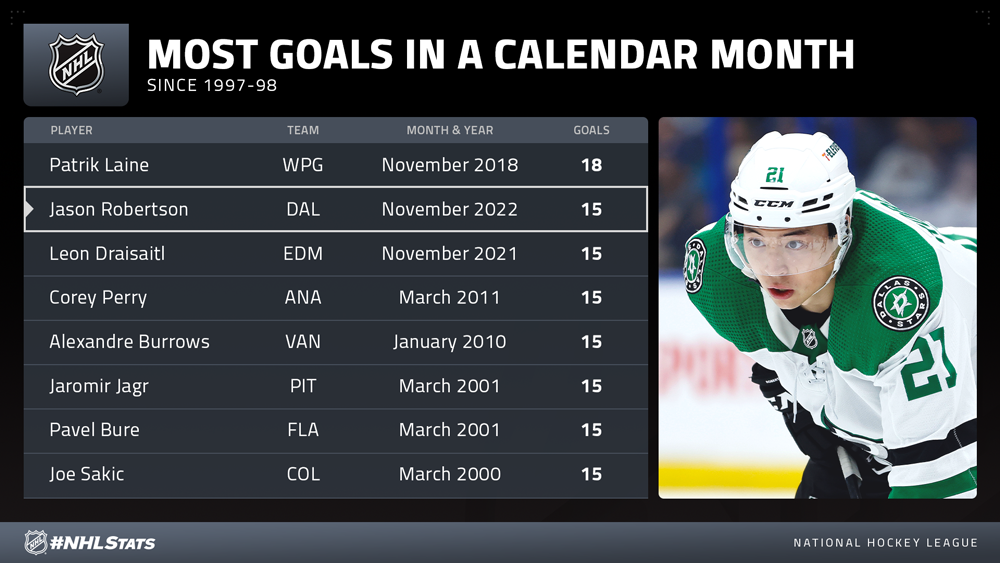 STAMKOS CLOSES IN ON 1,000-POINT MILESTONE WITH OVERTIME WINNER
After both the Sabres and Lightning rallied from two-goal deficits to force overtime, it was Steven Stamkos (2-1—3) who netted the game winner to help Tampa Bay (13-7-1, 27 points) earn its first multi-goal comeback victory of 2022-23.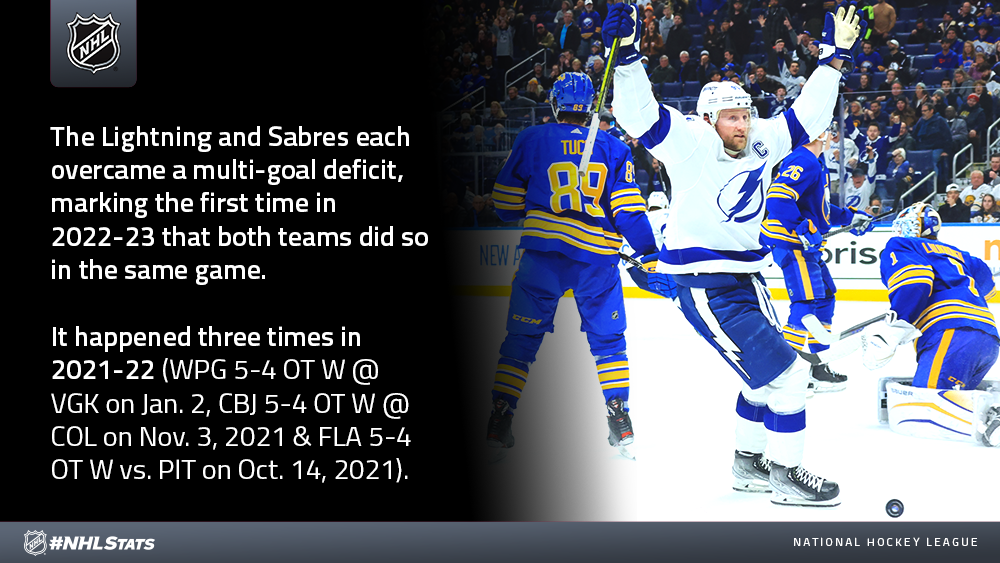 * Stamkos boosted his career totals to 493-505—998 (943 GP) and is poised to become the first player to reach 1,000 points with Tampa Bay. Should the Lightning captain reach the milestone in his next 10 contests, he will trail only Sidney Crosby (757 GP), Evgeni Malkin (848 GP) and Alex Ovechkin (880 GP) for the fewest games to 1,000 points among all active skaters.

* Nikita Kucherov (0-3—3) recorded his NHL-leading third three-assist game of the season, with each of those performances coming within his past four contests. Kucherov is the franchise leader in three-assist outings (28 GP) and has recorded the second-most instances among all players since his NHL debut in 2013-14, trailing only Connor McDavid (33 GP).

BOUCHARD'S LATE GOAL FEATURED IN #NHLSTATS: LIVE UPDATES
The Monday edition of #NHLStats: Live Updates featured a back-and-forth contest between the Oilers and Panthers that saw Evan Bouchard score the game-tying goal in the final five seconds of regulation before Connor McDavid (1-2—3) capped off his three-point performance with an assist on Leon Draisaitl's overtime winner.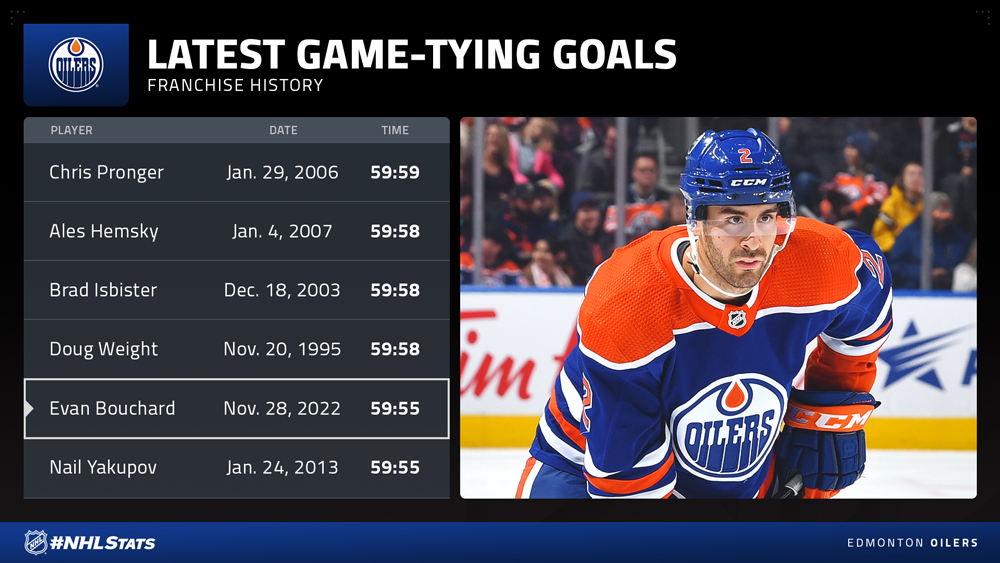 QUICK CLICKS
* Jason Robertson, Josh Morrissey and Ilya Sorokin named NHL's "Three Stars" of the week
* Color of Hockey: Bill Zonnon turning heads as 16-year-old forward in QMJHL
* Capitals, Evgeny Kuznetsov join Big Hat trend after Commanders' Brian Robinson
* Warren Strelow's impact on goaltending to be honored with Lester Patrick Trophy
* Women in Hockey: Allysen Weidner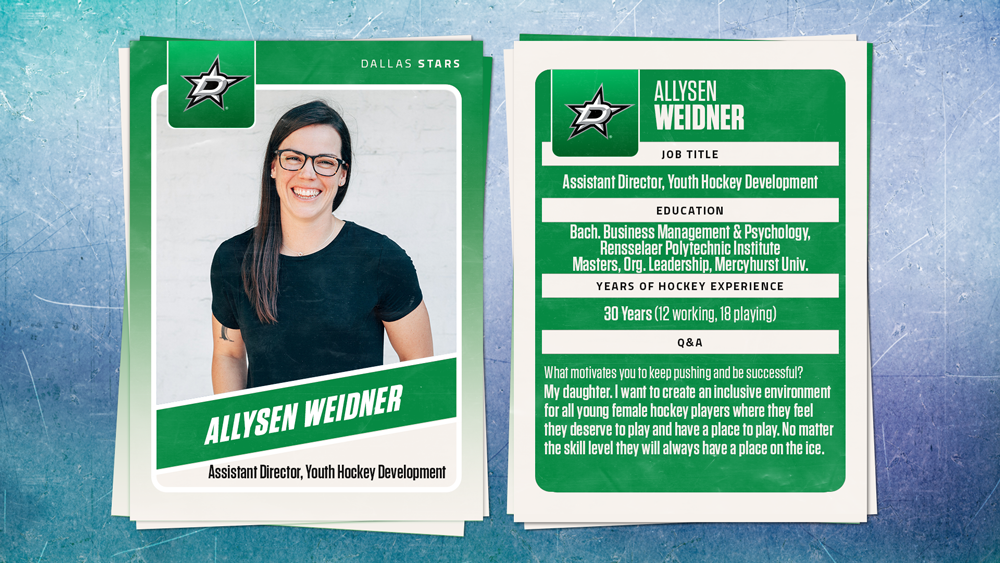 WINNING STREAKS AND HOMECOMINGS HIGHLIGHTED IN A NINE-GAME SLATE TUESDAY
The Islanders (10-4-0) and Kraken (9-1-1), two of the top five winningest teams in the month of November, will both look to extend their four- and five-game win streaks, respectively, while Matthew Tkachuk makes his return to Calgary – the city he spent his first six seasons with – for the first time since being traded to Florida in the offseason.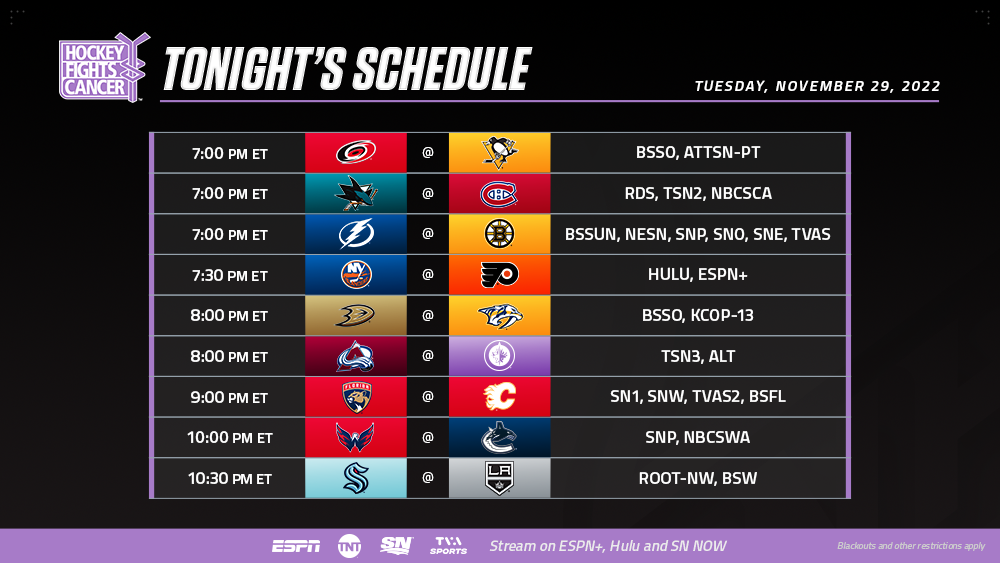 * The Islanders enter Tuesday having won each of their last four outings and are one of four teams with 10-plus victories in November (NJD: 13, BOS: 10 & TOR: 10) – already double their wins from last month (5-4-0, 10 points in October). They can become the third team this season to have two different winning streaks of at least five games (also 5 GP from Oct. 26 – Nov. 3), joining the Bruins (7 GP from Oct. 20 – Nov. 3 & Nov. 7-21) and Kraken (5 GP from Oct. 29 – Nov. 8 & Nov. 17 – present).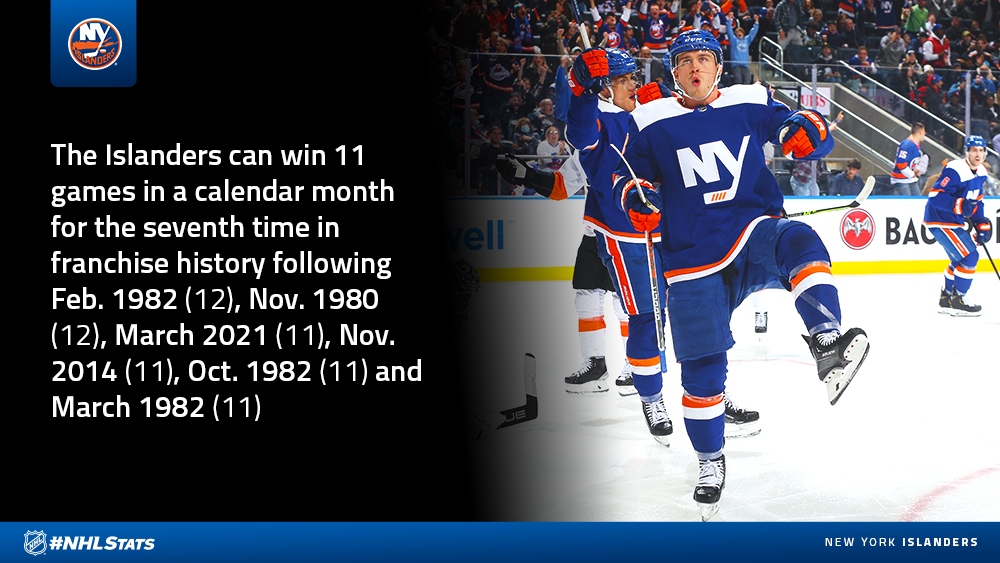 * The Kraken hold the League's longest active winning streak and can establish a new franchise benchmark should they win their sixth straight Tuesday. Seattle has also won its last five contests on the road, boosting its record as a visitor to 7-1-1 (.833 P%) – the third-highest road point percentage in 2022-23, behind only New Jersey (10-1-0, .909 P%) and Vegas (10-1-1, .875 P%).

* Tkachuk, who was selected by the Flames in the first round of the 2016 NHL Draft (No. 6 overall), will make his return to Calgary for the first time since the Panthers acquired him in the offseason in a blockbuster trade with Jonathan Huberdeau, who already made his emotional return to South Florida. Tkachuk ranked second in goals (152), assists (230) and points (382) over his tenure with the Flames from 2016-17 to 2021-22 and departed after a career-best season which saw him post 42-62—104. Tkachuk will aim to post multi-point outings in each of his first two games against his former club, after recording 1-1— 2 on Nov. 19.