* The Rangers and Bruins will take to the ice for the 2021 NHL Thanksgiving Showdown broadcast nationally on ABC, ESPN+ and Sportsnet as one of 13 games set for Friday.
* Nazem Kadri, Cale Makar and the Avalanche all look to extend their respective streaks when Colorado visits Dallas.
* The NHL was founded on this date in 1917 at the Windsor Hotel in Montreal.
NHL RETURNS TO ABC IN 2021 THANKSGIVING SHOWDOWN
The 2021 NHL Thanksgiving Showdown will feature the Rangers (12-4-3, 27 points) and Bruins (10-6-0, 20 points) as the clubs will square off in the first NHL game broadcast on ABC since 2004.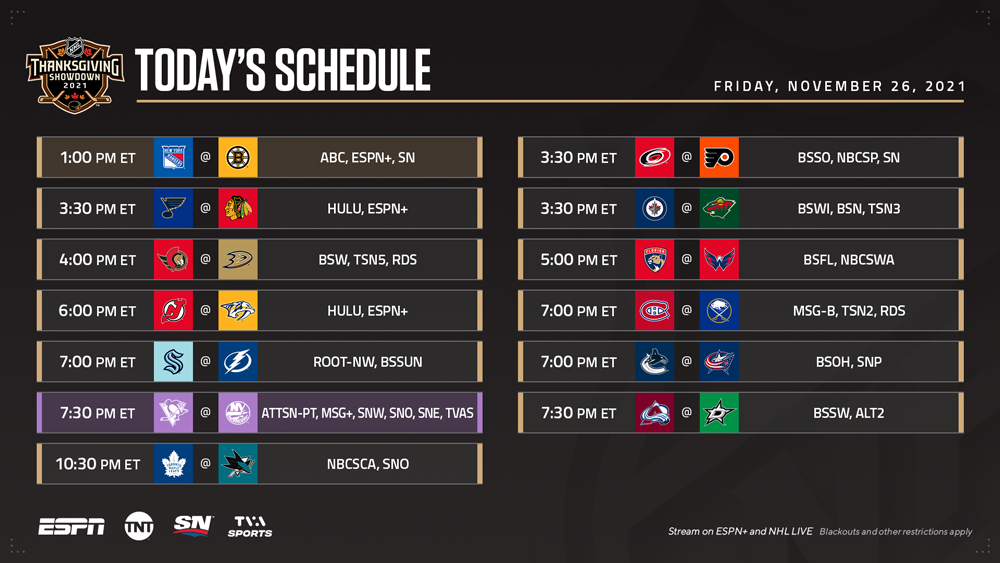 * Friday will be the first head-to-head meeting between the teams since May 8, 2021 and the second straight Thanksgiving Showdown between them. This will be the fourth time the teams have faced each other in the Thanksgiving Showdown since 2013-14, with the Bruins winning each contest (in 2019, 2015 and 2013).
* In the last NHL Thanksgiving Showdown, David Pastrnak scored the tying goal and danced through New York defenders to set up the overtime winner as Boston overcame a 2-0 deficit to win. That victory extended the Bruins' overall point streak to 10 games and season-opening home point streak to 14 contests.
* The game will feature a pair of 23-year-old defensemen who star for their respective Original Six club and grew up as childhood teammates. Reigning Norris Trophy winner Adam Fox leads all defensemen in 2021-22 with 4-15—19 in 19 games, while Charlie McAvoy tops all Bruins blueliners and ranks fourth on his team with 3-10—13 in 16 games.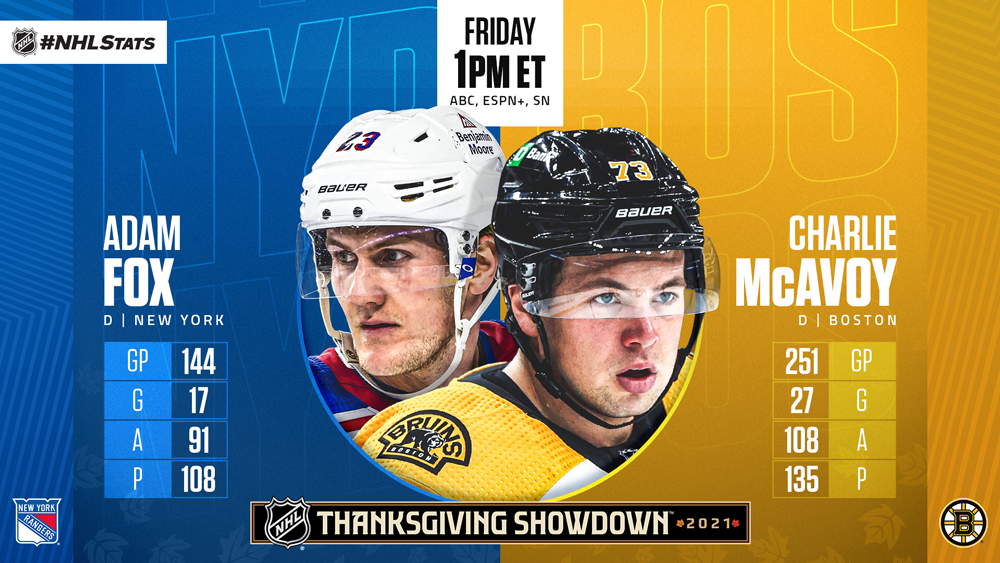 ICYMI: THANKSGIVING PARADE FLOAT A TRIBUTE TO WILLIE O'REE
The MassMutual and NHL float in the Macy's Thanksgiving Day Parade was themed "Winning Winter Together" and the participants and theme were a tribute to Willie O'Ree, who became the NHL's first Black player when he debuted with the Bruins on Jan. 18, 1958.
* Guests on the float included Anson Carter and Bryce Salvador, Willie O'Ree Community Hero Award winners Kevin Hodgson and Rico Phillips, as well as a performance from Mickey Guyton, who was the first Black female solo artist to earn a Grammy nomination in the country music category.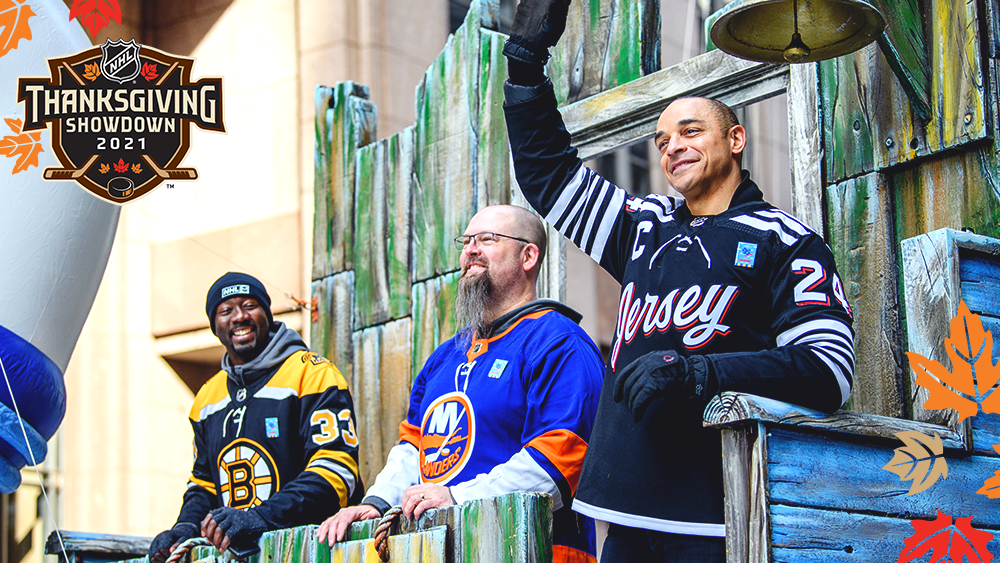 LOOKING BACK: NHL GAMES ON U.S. THANKSGIVING
While no games were contested on U.S. Thanksgiving this season, that is not always the case:
* Games on U.S. Thanksgiving were once common in the NHL, with 206 contests inside 87 seasons throughout League history. The last came in 2019-20 when the lone matchup saw Mackenzie Blackwood make 44 saves and three New Jersey players notch at least three points in a 6-4 victory in Montreal.
* Glenn Hall holds the NHL benchmarks for both wins (7) and shutouts (3) among goaltenders on U.S. Thanksgiving. No active goaltenders have recorded a shutout on the holiday, but four have earned a win: Mackenzie Blackwood (Nov. 28, 2019), Craig Anderson (Nov. 24, 2016), Carey Price (Nov. 24, 2016) and Brian Elliott (Nov. 26, 2009).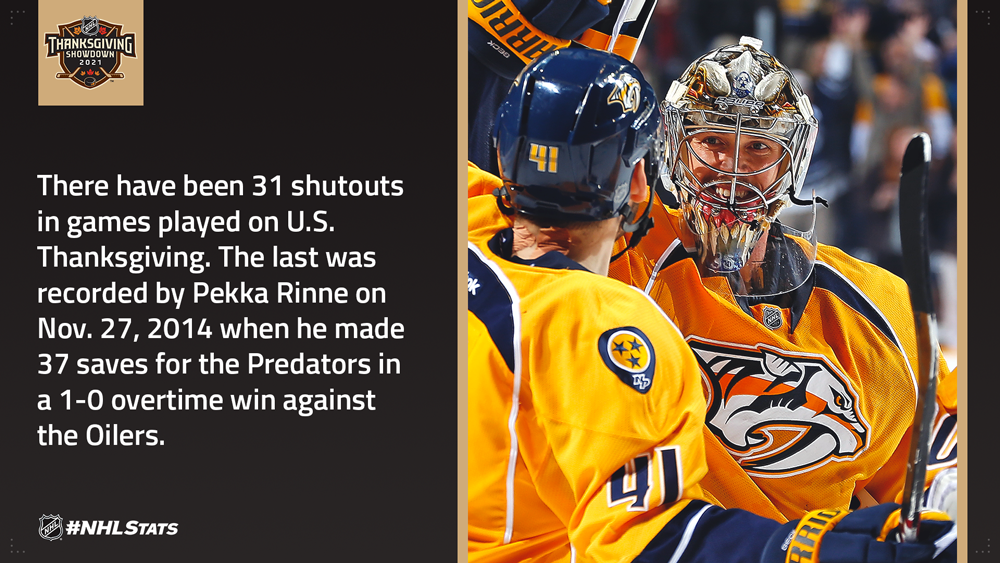 * Looking at skaters on U.S. Thanksgiving, Gordie Howe set the NHL standard for most career assists and points (6-15—21 in 21 GP), while Andy Bathgate did so for most career goals (10 G in 13 GP). Among active players, Jason Spezza leads the way in career goals and points on the holiday (4-2—6 in 5 GP), while Shea Weber paces in assists (4 A in 6 GP).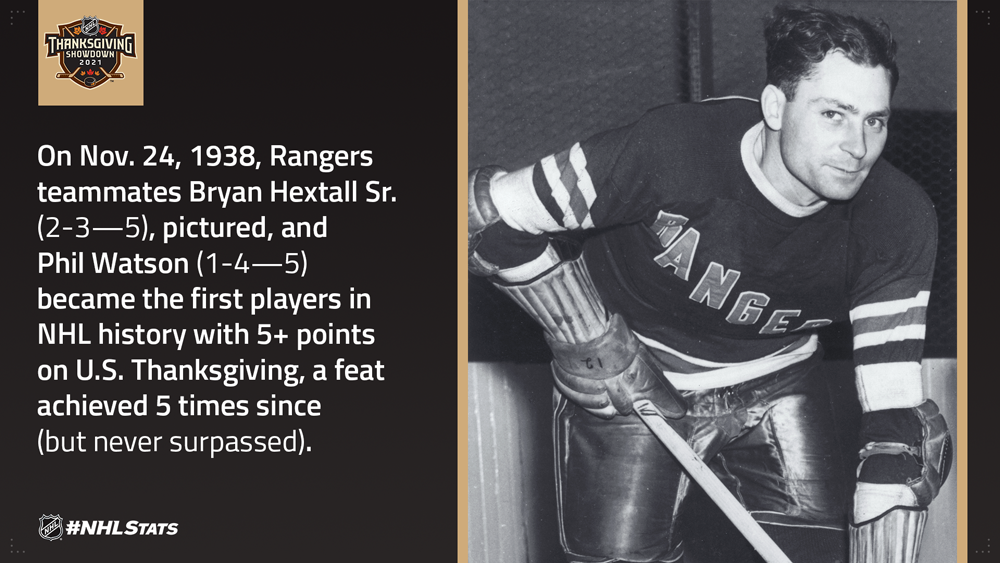 THE REST IS GRAVY: MORE NOTES HEADING INTO FRIDAY
* The Maple Leafs (14-6-1, 29 points), who are tied for the most wins in 2021-22, enter Friday with 10 victories in November – the most by all teams this month. This marks the seventh time in franchise history Toronto has tallied 10 wins in a single calendar month, but they have never recorded more than 10.
* Cale Makar can establish an Avalanche/Nordiques record by defensemen should he extend his goal streak to five games when Colorado visits Dallas. Makar, who has posted 6-2—8 over his run, can become the fourth blueliner in the past 25 years to find the back of the net in five straight games; he would join Roman Josi (5 GP in 2019-20 w/ NSH), Mike Green (8 GP in 2008-09 w/ WSH) and Fredrik Olausson (5 GP in 1998-99 w/ ANA).
* Nazem Kadri (7-18—25 in 16 GP), who sits fourth in NHL scoring behind Leon Draisaitl (20-20—40 in 19 GP), Connor McDavid (14-22—36 in 19 GP) and Alex Ovechkin (15-18—33 in 20 GP), holds the League's longest active point streak at 10 games (6-15—21) and has multiple points in each of his past five outings. He can become the third player in the past two seasons to record a multi-point performance in six or more consecutive contests, with the only two to do so over that span being McDavid (7 GP twice in 2020-21 & 6 GP in 2021-22) and Draisaitl (7 GP in 2020-21).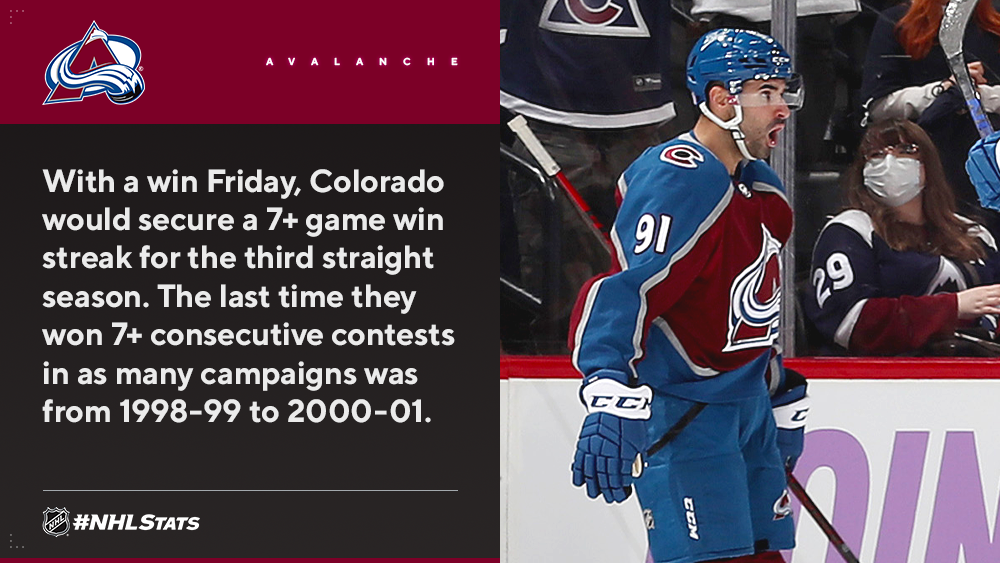 * Matt Duchene currently sits second in goals in November with 10 – behind only Leon Draisaitl (15) – after posting two runs with goals in three straight games and recording his second career hat trick Nov. 20. The Predators have had two instances of a player recording more goals in any calendar month, both by Filip Forsberg (12 in February 2016 & 11 in February 2017).
* Zach Werenski holds the longest active point streak by a defenseman with his six-game run (3-5—8), which has helped the Blue Jackets earn wins in four contests over that span. With a point Friday, Werenski would match a franchise record for longest point streak by a blueliner.
THE NHL WAS FOUNDED ON THIS DATE IN 1917
The NHL was founded on Nov. 26, 1917, at the Windsor Hotel in Montreal, following three days of meetings involving owners from the National Hockey Association – which had suspended operations weeks earlier. As noted in the meeting minutes, the owners decided "that the Canadiens, Wanderers, Ottawa and Quebec Hockey Clubs unite to comprise the National Hockey League."
* Quebec's entry into the NHL was delayed until 1919-20, but Toronto was granted a franchise and the League began with four clubs – the Montreal Canadiens, Montreal Wanderers, Ottawa Senators and Toronto Arenas. The League's first contests were played on Dec. 19, 1917. Learn more in an article published in 2017 in celebration of the League's 100th anniversary.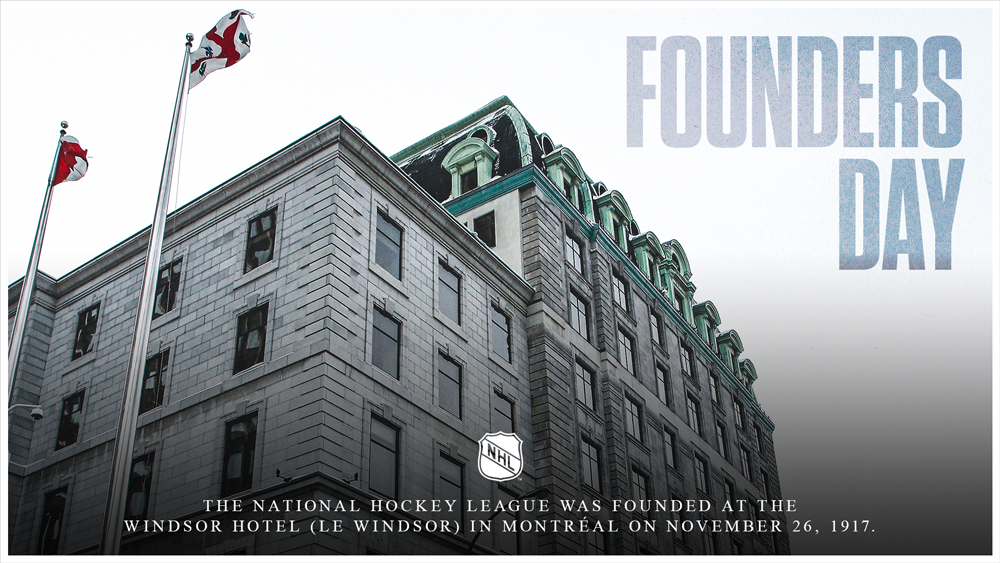 NHL PODCAST WEEKLY ROUNDUP
* Fantasy on Ice (11/22): Pete, Rob and guest James Harding talk best fantasy pickups
* The Chirp (11/23): Daren Millard is joined by Colby Armstrong and Logan Couture
* NHL @TheRink (11/23): Dan & Shawn are joined by Brian Compton to talk Islanders, more