* A busy 15-game night ahead of Thanksgiving in the U.S. was highlighted by an eight-goal outburst by the Kraken, who sailed into second place in the Pacific Division.
* The Sabres, Panthers and Maple Leafs all acted as streak stoppers Wednesday, halting the Devils' 13-game run and handing both the Bruins and Blues their first loss in seven contests.
* Jason Robertson's buzzworthy start to 2022-23 continued as he extended his point streak to 13 games, tied Connor McDavid and Bo Horvat for the NHL lead in goals and helped his club become the first team to earn a three-goal, third-period comeback win this season.
* There are no games scheduled for Thursday while the U.S. celebrates Thanksgiving. The NHL returns with a 14-game slate on Black Friday highlighted by a 2022 NHL Thanksgiving Showdown doubleheader on TNT, Sportsnet and TVA Sports that opens with the Penguins visiting the Flyers at 5:30 p.m. ET and concludes with the Lightning hosting the Blues at 8 p.m. ET.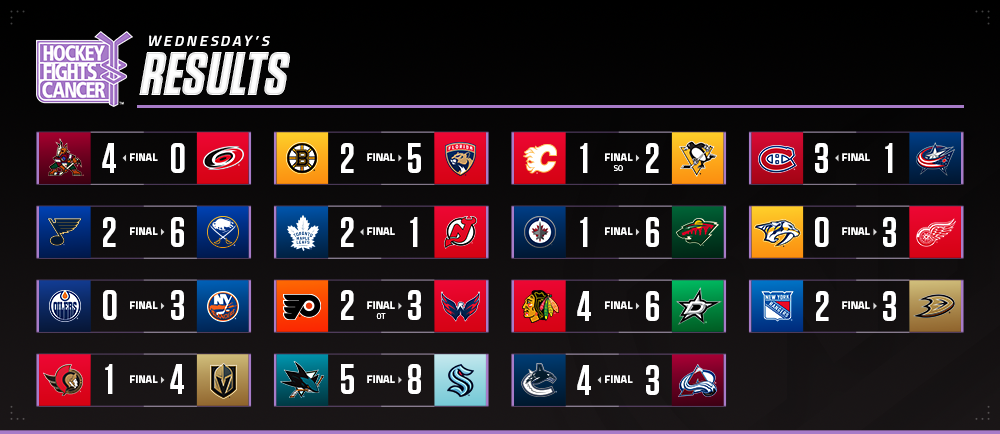 SEATTLE CRACKS OPEN THE OFFENSE WITH EIGHT-GOAL OUTBURST
Matty Beniers (1-2—3) became the first rookie to record a three-point outing for Seattle en route to taking the League lead in rookie points as the Kraken (11-5-3, 25 points) scored a franchise-best eight goals while climbing past the idle Kings (11-9-2, 24 points) for second place in the Pacific Division.

* Seattle improved to 7-1-1 in November and established a franchise mark for the most wins in a calendar month. Meanwhile, the Kraken's .833 point percentage in November trails only the Devils (.909) for the highest such total through the month.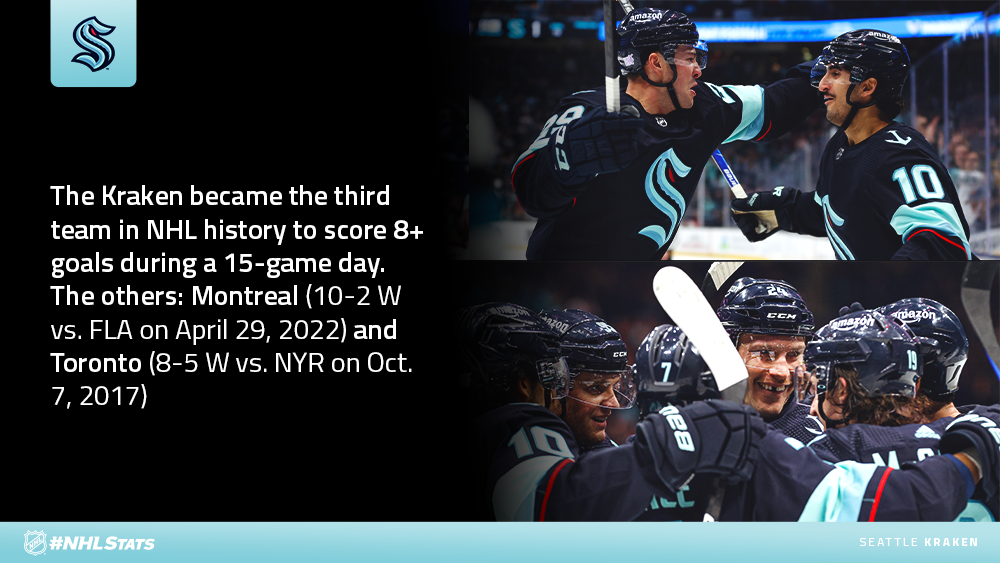 THE STREAK STOPS AT THE MAPLE LEAFS, PANTHERS & SABRES
The Maple Leafs, Panthers and Sabres played the role of streak busters Wednesday as they took on the Devils, Bruins and Blues, respectively:

* Mitchell Marner (0-1—1) factored on one of his team's two goals while Matt Murray made 34 saves as the Maple Leafs snapped the Devils' 13-game win streak. Marner extended his point streak to a career-high 14 games dating to Oct. 27. Only five players in Maple Leafs history have posted a longer stretch: Eddie Olczyk (18 GP in 1989-90), Darryl Sittler (18 GP in 1977-78), Dave Andreychuk (16 GP in 1993-94), John Anderson (16 GP in 1983-84) and Babe Dye (16 GP in 1921-22).

* Aaron Ekblad (1-2—3)factored on three of Florida's five goals, includingscoring the 100th of his career, to help the Panthers snap the Bruins' seven-game win streak. Ekblad became the first defenseman and 12th skater to reach the 100-goal milestone with Florida – among active blue liners, only Erik Karlsson (477 GP) did so faster than Ekblad (563 GP).

* Jeff Skinner (2-0—2) put Buffalo up 1-0 just 18 seconds after the opening face-off and tallied again during the middle frame to help the Sabres snap the Blues' seven-game winning streak, the longest in NHL history by a team immediately after they suffered losses in eight or more consecutive contests. Skinner, who had 2-3—5 against Montreal on Tuesday including an assist on Rasmus Dahlin's goal at 0:35 of the first period, became the first Buffalo player with seven points over a two-day span since Pat LaFontaine from Jan. 30-31, 1996 (3-4—7 in 2 GP).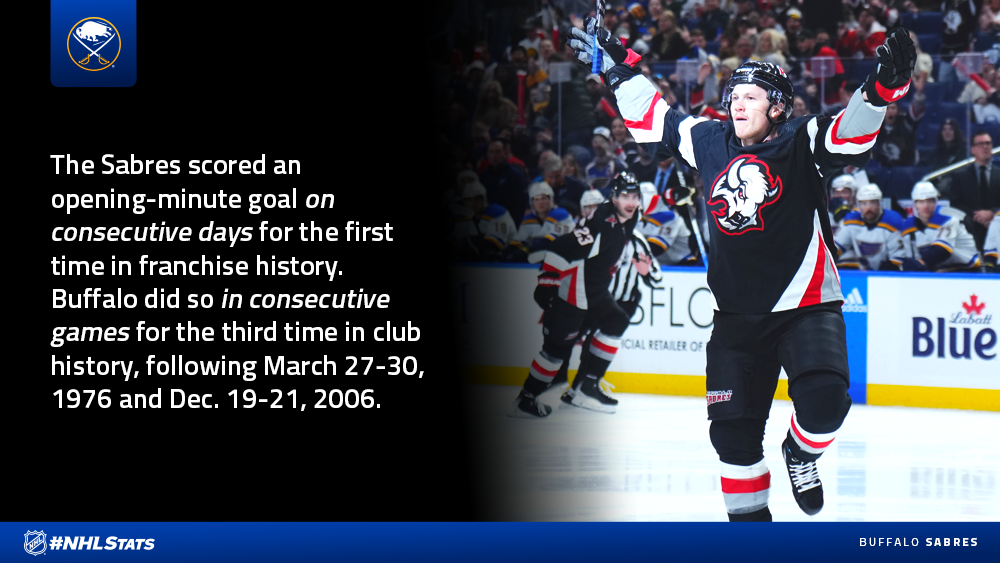 ROBERTSON EXTENDS POINT STREAK AS STARS RALLY TO STUN BLACKHAWKS
Jason Robertson (14-10—24 in 13 GP) opened the scoring to extend his career-high point streak to 13 games and recorded the last of Dallas' five unanswered third-period goals as the Central Division-leading Stars (12-5-3, 27 points) overcame a 4-1 deficit to defeat the Blackhawks. Dallas won a game in regulation after overcoming a three-goal, third-period deficit for the second time in Stars/North Stars history, following Nov. 29, 1983 (6-4 W vs. PIT).

* Robertson matched the longest point streak in Stars team history (since 1993-94), a mark set by Dave Gagner from Nov. 21 to Dec. 19, 1993 (7-9—16 in 13 GP). Robertson (16-15—31 in 20 GP) reached 16 goals on the season and sits tied with Connor McDavid (16-19—35 in 20 GP) and Bo Horvat (16-6—22 in 20 GP) for the League lead.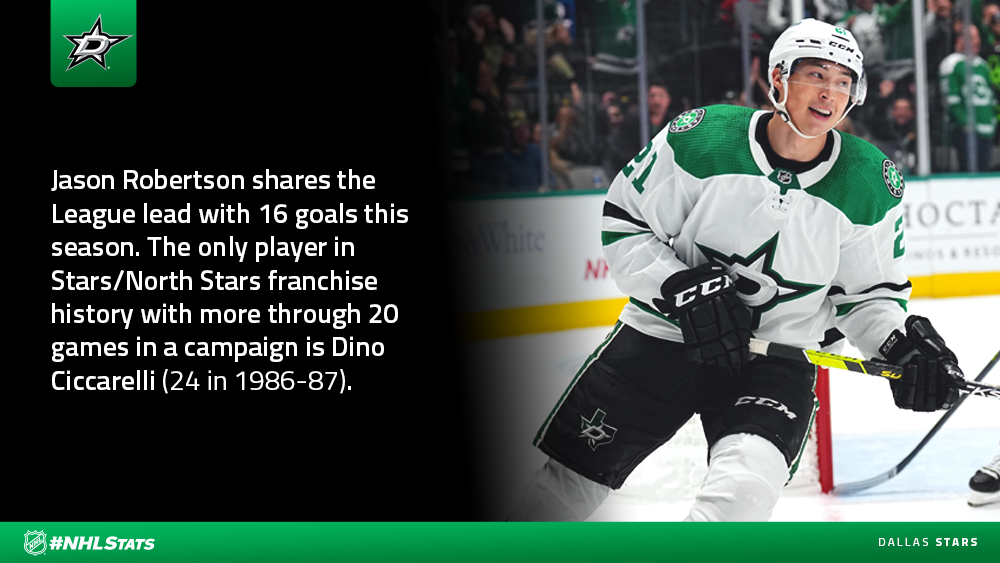 IT'S THE CLIMB: OVECHKIN SCORES IN OVERTIME FOR GOAL NO. 790
Alex Ovechkin continued his climb up the NHL's all-time goals list with his 790th all-time, 25th in overtime and first-ever against Flyers rookie Felix Sandstrom. Philadelphia became the 14th franchise the Capitals captain has recorded an overtime goal against (regular season & playoffs combined); only two players in NHL history have scored against more clubs: Brad Marchand (16) and Jaromir Jagr (15).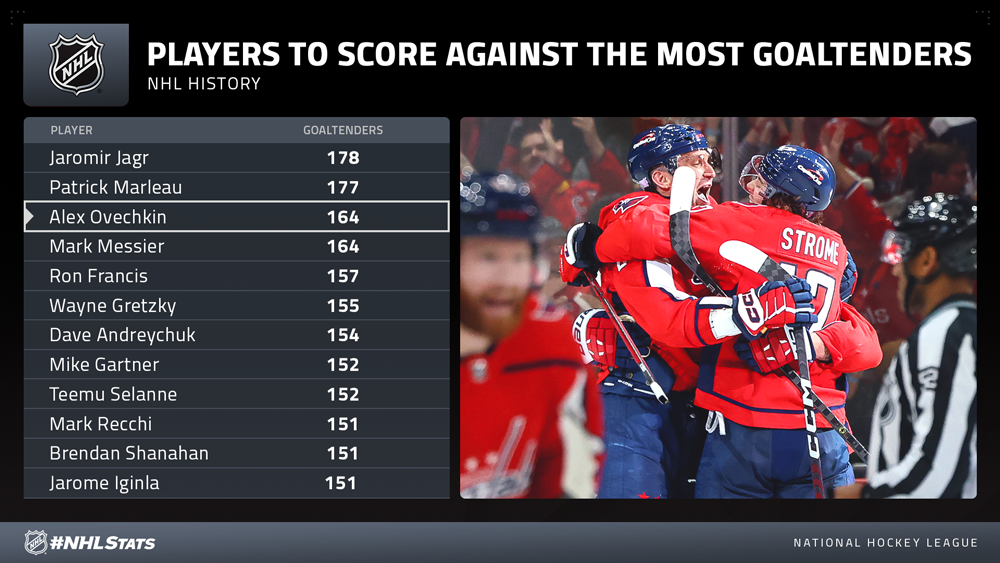 AROUND THE RINKS: THE NHL'S SECOND 15-GAME DAY IN LESS THAN A WEEK

* Filip Hronek had 1-1—2 and Ville Husso turned aside all 26 shots faced as the Red Wings improved to 3-0-0 in their last three games. Hronek (5-3—8 in 5 GP) became the first Detroit defenseman with five goals in a five-game span since Nicklas Lidstrom from Dec. 15-23, 2010 (5-1—6 in 5 GP).

* Evgeni Malkin was honored in a pre-game ceremony to celebrate his 1,000-game milestone and later scored the shootout-deciding goal to earn his 500th regular-season win alongside teammate Sidney Crosby. While they are the first set of Penguins teammates to combine for the feat, four other active teammates have won 500 together: Alex Ovechkin–Nicklas Backstrom (603), Jonathan Toews–Patrick Kane (529), Anze Kopitar–Drew Doughty (508) and Ovechkin-John Carlson (506).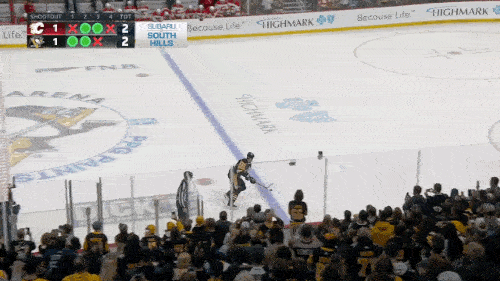 * Ilya Sorokin made 49 saves for his 12th career shutout and Jean-Gabriel Pageau became the seventh Islanders player to score a shorthanded and power-play goal in a five-minute span as New York blanked Edmonton for the third time in the regular season in franchise history. Sorokin's 49-save performance is the third most in a shutout by an Islanders goaltender behind Glenn Healy (51 on Jan. 16, 1990) and Jaroslav Halak (50 on Feb. 15, 2018).

* Artemi Panarin (192-400—592 in 529 GP) became the only active undrafted player to hit the 400-assist milestone and required the fifth-fewest games in NHL history to do so among undrafted skaters, behind Wayne Gretzky (290 GP), Peter Stastny (411 GP), Bobby Orr (437 GP) and Adam Oates (471 GP).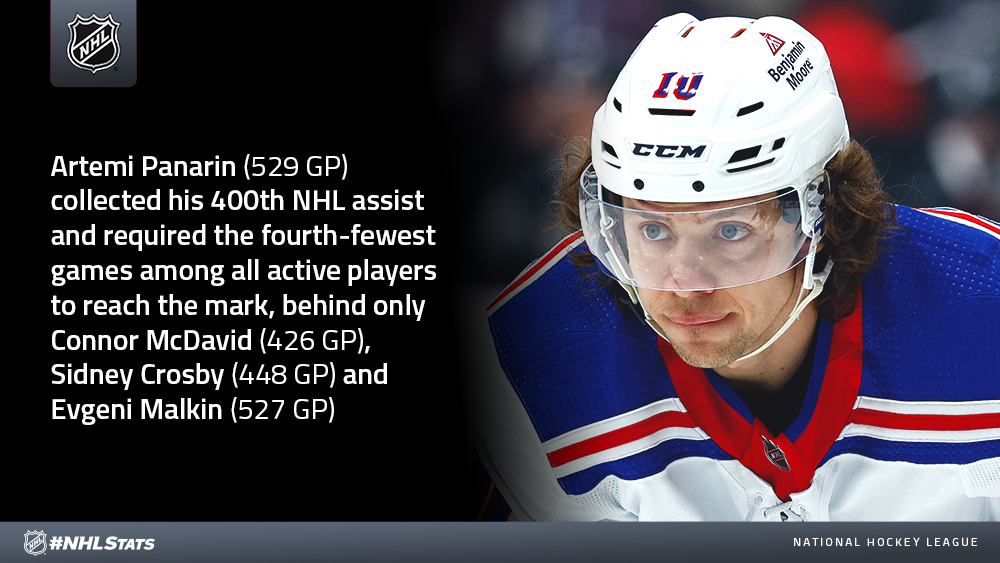 QUICK CLICKS

* Thursday's edition of #NHLStats: Live Updates
* Hurricanes sign goaltender Pyotr Kochetkov to four-year deal
* Wild acquire Ryan Reaves in trade with Rangers
* Maple Leafs acquire Conor Timmins in trade with Coyotes
* Hockey Fights Cancer Night carries extra meaning for Alex Pietrangelo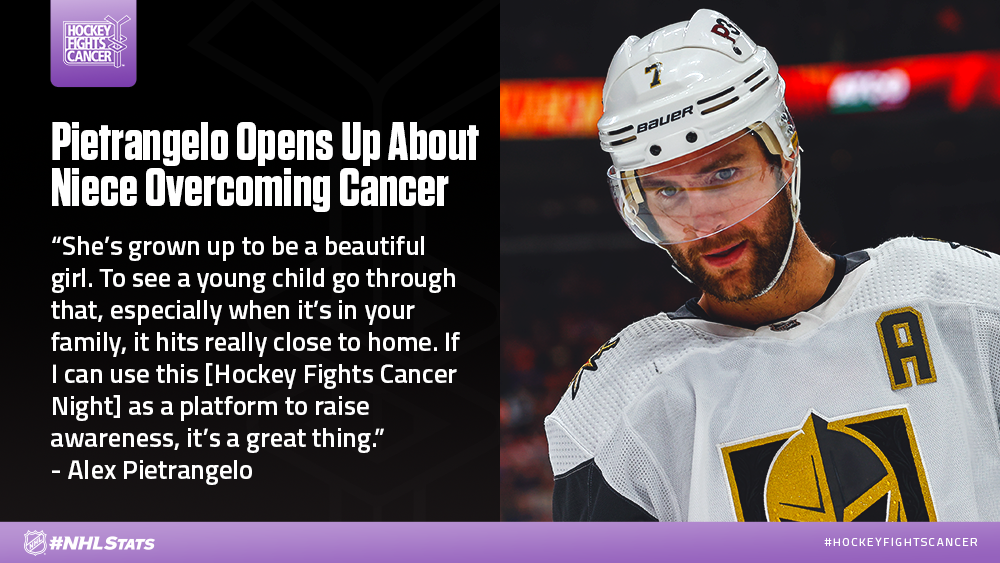 SERVING UP A THANKSGIVING SHOWDOWN
After a one-day hiatus, NHL action will resume Friday for the 2022 Thanksgiving Showdown when 28 teams will be in action, starting with a 1 p.m. ET matinee between the Hurricanes and Bruins when Boston will put its 11-game home winning streak on the line.