* Patrice Bergeron joined a rare list of players to record 1,000 points with the Bruins.
* The Devils earned their 13th consecutive victory to match a franchise record, while the Blues recorded a first-of-its-kind winning streak.

* The Sabres, Canadiens, Rangers and Kings are in action tonight before 30 teams take to the ice Wednesday during the NHL's second 15-game day of the season.

BERGERON BECOMES FOURTH PLAYER TO RECORD 1,000 POINTS WITH BRUINS
Bruins captain Patrice Bergeron (409-591—1,000 in 1,235 GP) recorded the 1,000th point of his NHL career in familiar style – by assisting on a Brad Marchand goal – and was quickly mobbed by teammates to celebrate the occasion. Bergeron became the eighth active player to reach the milestone and the fourth skater to record 1,000 points with Boston (17-2-0, 34 points), which tops the NHL standings and extended its winning streak to seven games.

* Bergeron has assisted on 146 of 357 goals scored by Marchand. Only three other players in franchise history have assisted on as many goals scored by a teammate including Marchand, who has factored on 159 of 409 tallies by Bergeron. The others are Ken Hodge (160 of 459 goals by Phil Esposito) and Esposito (153 of 289 goals by Hodge).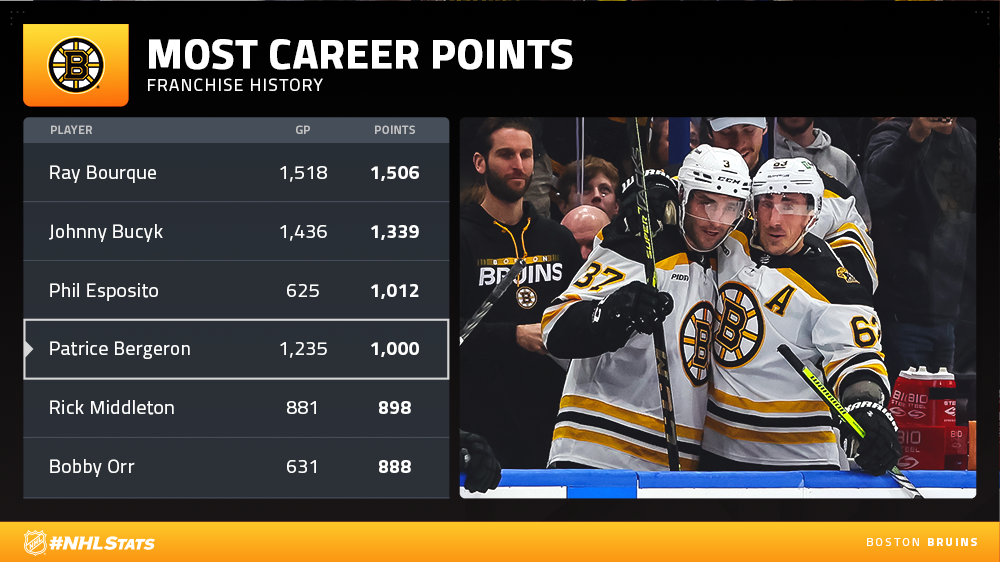 DEVILS EXTEND WINNING STREAK TO 13 GAMES, MATCH FRANCHISE RECORD
Nico Hischier (0-3—3), Jesper Bratt (1-1—2), Dawson Mercer (1-1—2) and Jack Hughes (0-2—2) each had multiple points as the Metropolitan Division-leading Devils (16-3-0, 32 points) improved to 13-0-0 in their last 13 games and tied their franchise record for longest winning streak (also 13-0-0 from Feb. 26–March 23, 2001). There have been only six instances in NHL history of a team recording a winning streak of longer than 13 contests.

* Hischier (9-13—22 in 18 GP) and Hughes (7-14—21 in 19 GP) became the second and third New Jersey players to reach the 20-point mark this season, joining Bratt (8-16—24 in 19 GP). It marked the second instance in franchise history where the Devils had three 20-point scorers prior to their 20th game in a season, following 1986-87 (Pat Verbeek, Aaron Broten & Kirk Muller).

* ICYMI: The Devils hosted their Hockey Fights Cancer Night at Prudential Center and Dougie Hamilton used a specially-designed stick for his friend Thea Roelofsen, who he met as a member of the Calgary Flames during the team's annual hospital visits. Thea passed away in 2017, but the relationship he forged with her and her family carries a meaningful significance that has impacted Hamilton's life. You can read more about Hamilton and Thea by clicking here.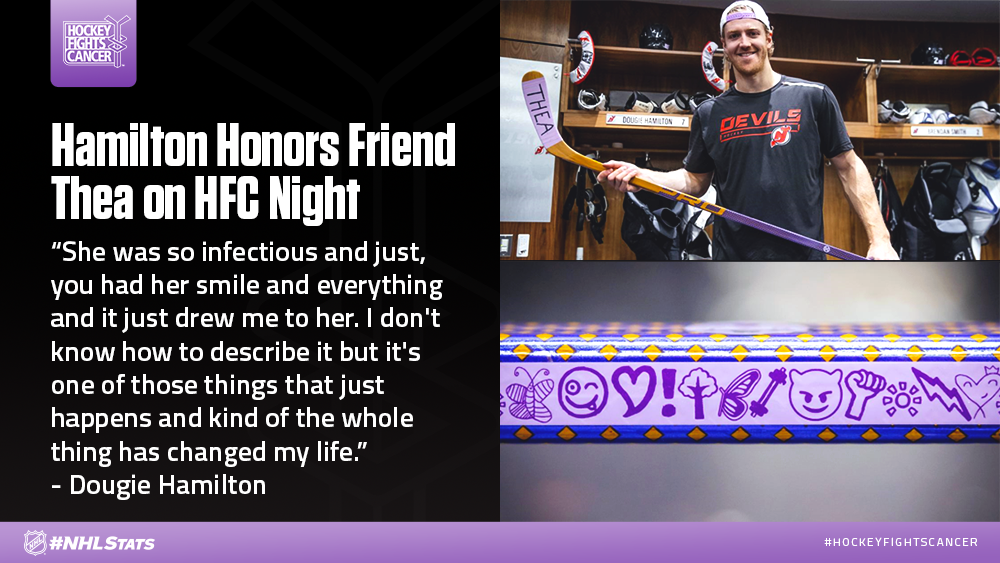 ACCIARI SCORES 11 SECONDS IN AS ST. LOUIS SECURES SEVENTH STRAIGHT WIN
Noel Acciari opened the scoring at 0:11 of the first period and added an empty-net goal as the Blues (10-8-0, 20 points) earned their second straight win against the Ducks (also 6-2 W on Nov. 19) and seventh consecutive victory overall. St. Louis' run marks the longest winning streak in NHL history by a team immediately after they suffered losses in eight or more consecutive games.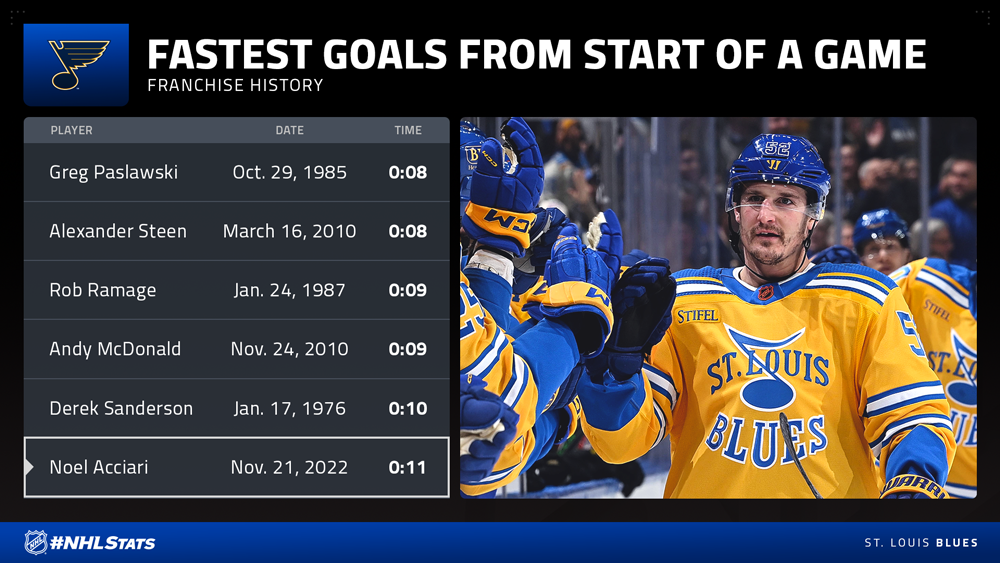 MORE FROM THE CENTRAL DIVISION FEATURED IN #NHLSTATS: LIVE UPDATES
Mondays' edition of Live Updates featured more notes from the 10-game slate, including three other Central Division teams gaining ground on the first-place Stars (11-5-3, 25 points):

* Cody Glass got the game-deciding goal in the shootout for the Predators (9-8-2, 20 points) as David Poile became the first general manager in NHL history to reach the 1,500-win milestone. Lou Lamoriello, who ranks second on the League's all-time list, kept pace with Poile via the Islanders rallying past the Maple Leafs on Monday.

* The Jets (11-5-1, 23 points) surrendered a 3-0 lead in the final 5:00 of regulation, but Josh Morrissey (2-0—2) scored the overtime winner as Winnipeg quelled Carolina's comeback attempt. The Jets became the seventh team in NHL history to earn a win after relinquishing a three-goal lead in the final 5:00 of regulation, following the Canucks (March 31, 2018), Predators (Jan. 3, 2015), Canadiens (March 1, 2012), Hurricanes (Oct. 31, 2000), Flames (Nov. 1, 1991) and Rangers (Oct. 23, 1983).

* Cale Makar (53-147—200 in 195 GP) opened the scoring for the Avalanche (11-5-1, 23 points) during their eventual shootout win versus the Stars and became the fastest defenseman in NHL history to reach the 200-point mark. Makareclipsed the previous mark set by former Dallas blueliner Sergei Zubov (36-165—201 in 207 GP), who recorded his first 200 points with the Rangers and Penguins before joining the Stars.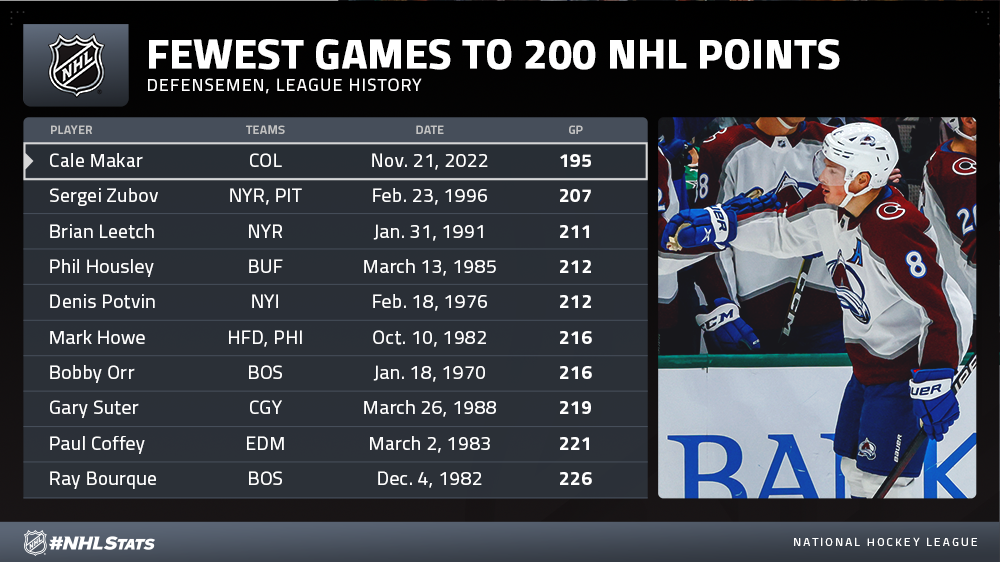 QUICK CLICKS
* Sidney Crosby, Pavel Buchnevich, Martin Jones named NHL's "Three Stars" for the week
* Brad Marchand immediately recognizes Patrice Bergeron's 1,000th point, starts pileup
* Mitchell Marner, Jason Robertson extend double-digit point streaks
* Flyers remember young fan on Hockey Fights Cancer night
* Women in Hockey: Erin DeGraff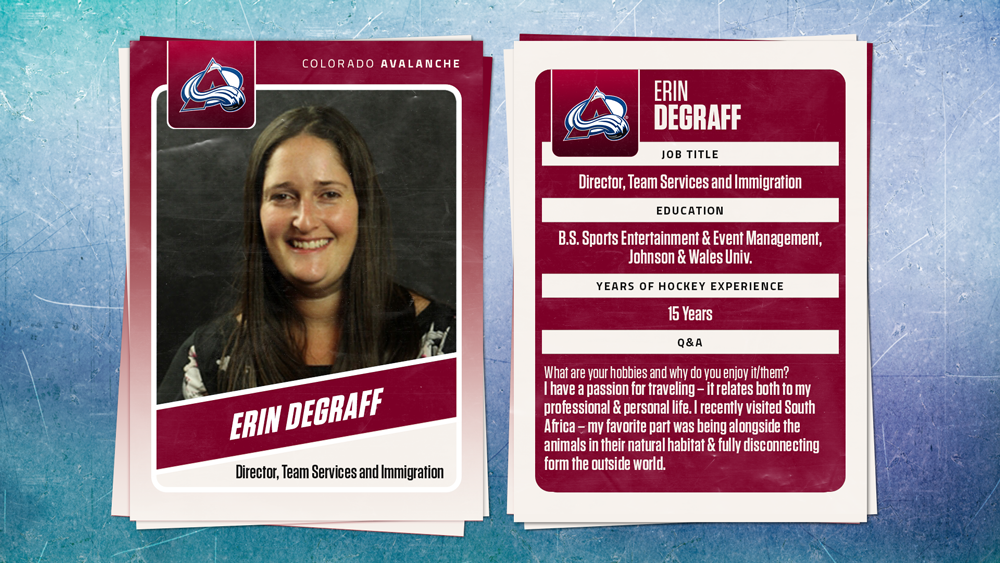 TUESDAY FEATURES A QUARTET OF CLUBS IN ACTION
Tuesday's slate opens with the Canadiens (9-8-1, 19 points) hosting the Sabres (7-11-0, 14 points) at Bell Centre and closes with the Rangers (9-6-4, 22 points) visiting the Kings (11-8-2, 24 points) at Crypto.com Arena.