* Ryan Lindgren scored the game-winning goal with less than a second remaining in regulation to lift the Rangers to their fifth straight win at Madison Square Garden.
* Dan Vladar blanked his former club as the Flames became the first team in the NHL's modern era to post seven shutouts prior to their 20th game of the season.
* The Hurricanes and Avalanche aim for their fifth straight victory Monday, with Carolina looking to reclaim top spot in the NHL standings.

RANGERS STUN SABRES WITH WINNER IN FINAL SECOND
In a back-and-forth affair that included four goals in a span of 1:22 during the second period, Rangers defenseman Ryan Lindgren provided a fitting conclusion to the contest and scored the game-winning goal with 0.7 seconds left on the clock.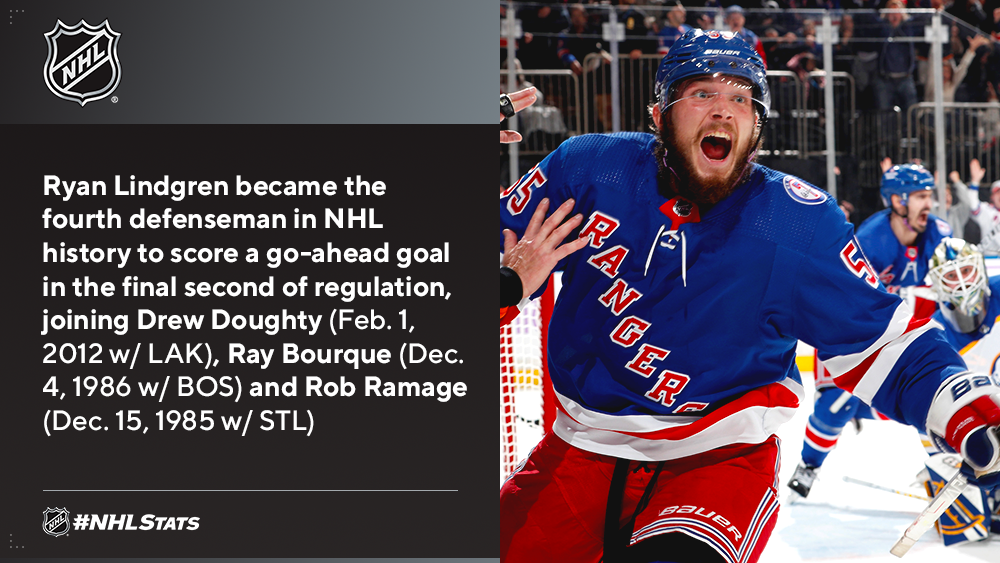 * Lindgren, the ninth NHL player to score a go-ahead goal in the final second of regulation since 2001-02, became the fourth Rangers skater to accomplish the feat. The others: Brad Richards (Dec. 17, 2011), Dean Prentice (Nov. 16, 1960) and Grant Warwick (March 18, 1945).
* Artemi Panarin (0-3—3), who contributed an assist during the four-goal flurry, recorded his 11th game with three or more helpers since joining the Rangers in 2019-20 and trails only Connor McDavid (16) for the most among all players over that span.
* ICYMI: On the night the Empire State Building was glowing purple for Hockey Fights Cancer, the Rangers honored retired NYPD detective Robert Jordan. Jordan, who beat throat cancer, helped the city recover from 9/11. Click here to watch his story.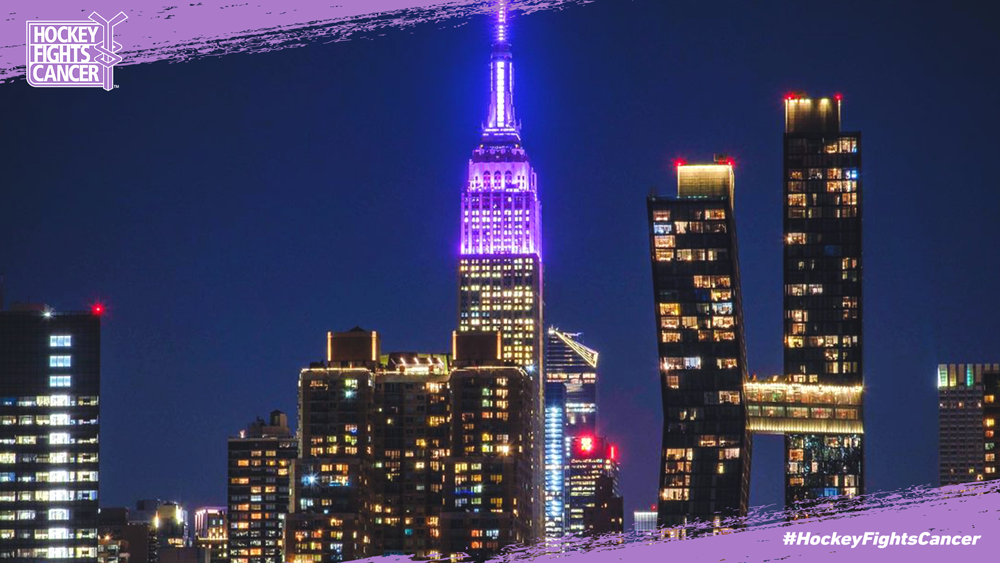 FLAMES CONTINUE TO STIFLE OPPOSITION WITH SEVENTH SHUTOUT OF 2021-22. . .
After the Flames (11-3-5, 27 points) tallied first on the road for the 12th consecutive game, Andrew Mangiapane continued his goal-scoring ways and Dan Vladar (27 saves) blanked his former club to help Calgary record its seventh shutout of the season.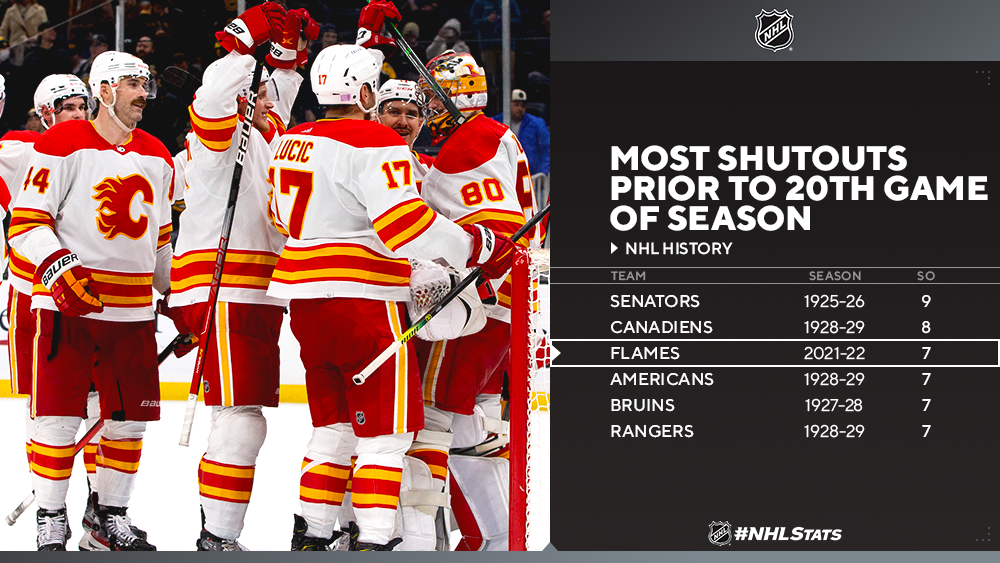 * DYK? The NHL first permitted forward passing inside all three zones in 1929-30.
* Mangiapane (15-2—17 in 19 GP) became the third player in NHL history to score at least 14 of his first 15 goals of a season on the road, joining John LeClair (14 in 1994-95 w/ MTL & PHI) and Paul Gardner (14 in 1976-77 w/ CLR).
* Vladar, who improved to 4-0-1 this season (1.57 GAA, .945 SV%, 2 SO), posted his second shutout in as many appearances. Only four rookie goaltenders in the NHL's expansion era (since 1967-68) required fewer games to record their second shutout of a season: Martin Jones (3 GP in 2013-14 w/ LAK), Jake Allen (4 GP in 2014-15 w/ STL), Robbie Moore (4 GP in 1978-79 w/ PHI) and Glenn Resch (4 GP in 1975-76 w/ NYI).
. . . FLEURY, WOLL SHUTOUTS ALSO FEATURED IN #NHLSTATS: LIVE UPDATES
Blackhawks goaltender Marc-Andre Fleury (40 saves) and Maple Leafs netminder Joseph Woll (20 saves) each earned a shutout Sunday, with the former recording the 68th of his career and the latter posting his first. Click here to read more notes like this in #NHLStats: Live Updates.
MANTHA OFFICIATES SECOND AHL GAME, HOLDS DEEP NHL TIES
Elizabeth Mantha, one of 10 female officials debuting in the AHL this season, officiated her second AHL game Sunday (also Oct. 29). Her brother, Anthony Mantha, is a member of the Capitals and her grandfather, Andre Pronovost, won four straight Stanley Cups with the Canadiens from 1956-57 to 1959-60.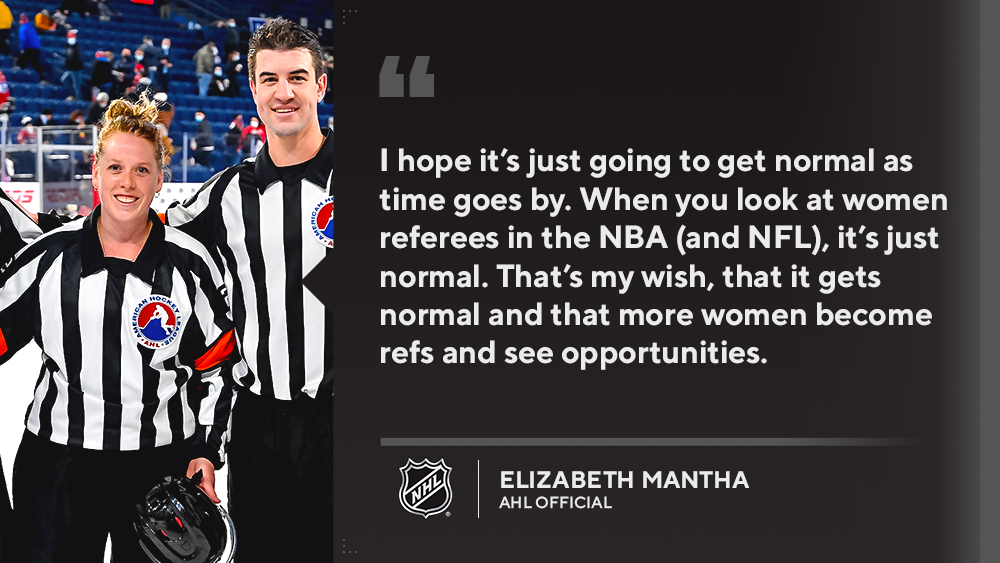 HURRICANES, AVALANCHE AIM FOR FIFTH STRAIGHT WIN
A six-game Monday in the NHL will feature the Avalanche (8-5-1, 17 points) and Hurricanes (14-2-0, 28 points) each vying for their fifth straight win when they battle the Senators (4-10-1, 9 points) and Sharks (8-8-1, 17 points), respectively.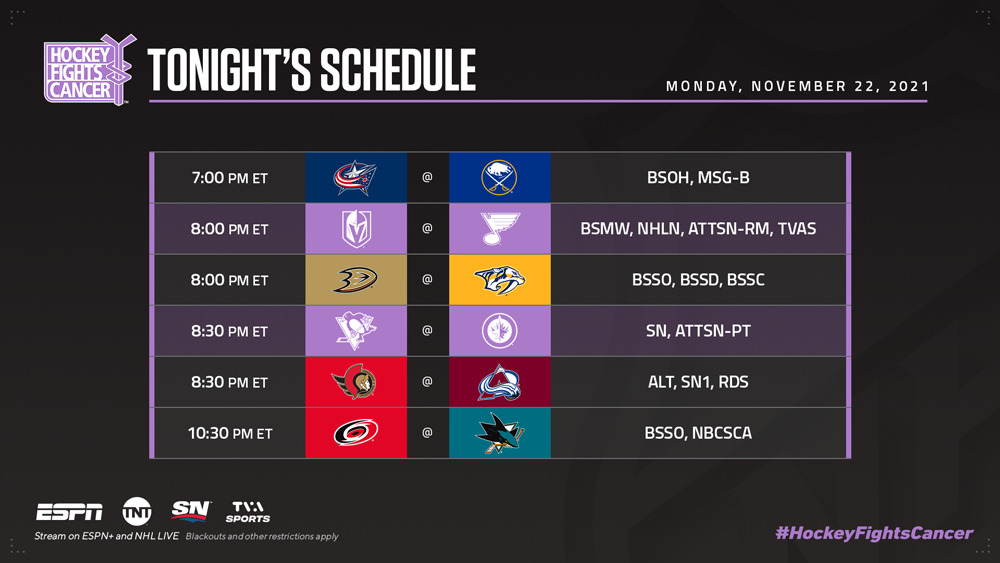 * Nazem Kadri has points in each of his last eight games (4-11—15), the third-longest active point streak in the NHL behind Connor McDavid (17 GP w/ EDM) and Troy Terry (16 GP w/ ANA), who is also in action Monday.
* The Avalanche are averaging 6.0 goals per game over their four-game win streak, outscoring their opponents by a 24-8 margin. Should Colorado tally six Monday, it would mark the first time the franchise has scored 30 or more goals over a five-game span (including shootout-deciding goals) since 1995-96 (30 G in 5 GP from Dec. 5-13, 1995).
* The Hurricanes will look to win their fifth contest in a row and improve to 4-0-0 in the first four outings of their six-game road trip. Carolina enters Monday with an 8-1-0 mark on the road and can become the sixth team in NHL history to win nine of its first 10 road games from the start of a season.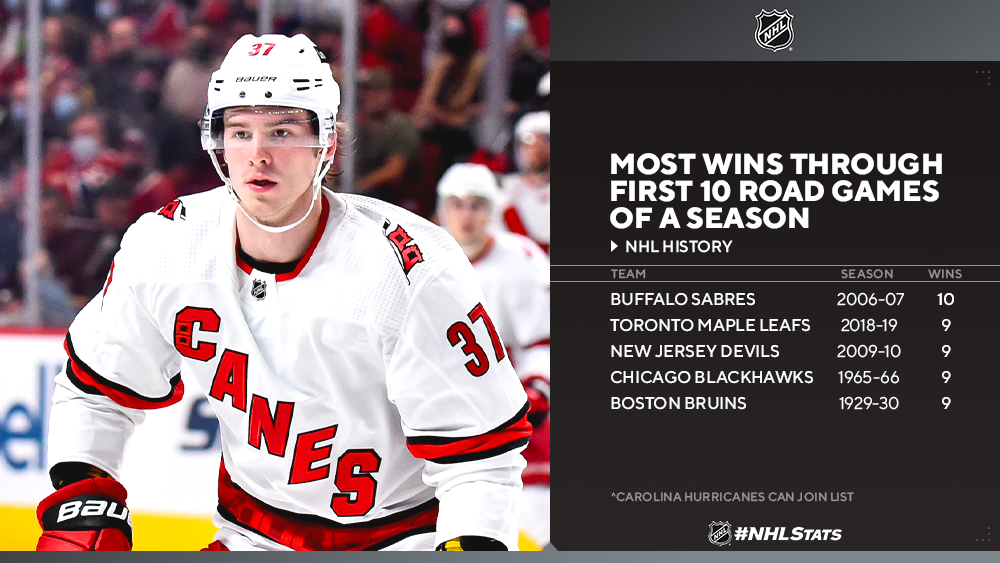 JETS, BLUES READY TO HOST HOCKEY FIGHTS CANCER NIGHTS
A pair of Central Division clubs will host their Hockey Fights Cancer Awareness Night when the Jets (9-4-4, 22 points) and Blues (9-6-2, 20 points) welcome the Golden Knights (11-7-0, 22 points) and Penguins (7-6-4, 18 points) to town, respectively.
* Winnipeg goaltender Connor Hellebuyck sports a 6-2-4 record in 2021-22, including a 6-0-4 stretch in his last 10 contests dating to Oct. 19. Should Hellebuyck avoid another regulation loss Monday, the 2019-20 Vezina Trophy winner can establish the longest point streak by a goaltender in Jets/Thrashers history.
* Ryan O'Reilly has recorded 7-9—16 in 17 career games against the Golden Knights. Since its inaugural season in 2017-18, only three players have registered more points than the Blues' captain in head-to-head meetings against Vegas: Anze Kopitar (11-15—26 in 22 GP), Connor McDavid (7-10—17 in 11 GP) and Alex Iafallo (4-13—17 in 22 GP).