* William Nylander and the Maple Leafs skated to another thrilling victory in front of a sellout crowd at Avicii Arena in Stockholm as the Swedish forward scored a highlight-reel overtime winner in the finale of the 2023 NHL Global Series – Sweden presented by Fastenal.
* A total of 52,566 fans filled the seats for four straight days of NHL regular-season play in Stockholm, with a Swedish player scoring a goal in each contest, a rally in all four games – including three multi-goal deficits erased – and all four contests decided by a one-goal margin of victory.
* Rasmus Dahlin posted a three-point performance Sunday and climbed a couple of franchise lists in the process as the Sabres defeated the Blackhawks at United Center.
* A 49-game week in the NHL includes a clash between Connor McDavid and Matthew Tkachuk on Sportsnet on Monday, a Thanksgiving Showdown doubleheader on TNT and MAX on Friday as well as a three-game Hockey Night in Canada broadcast on Saturday.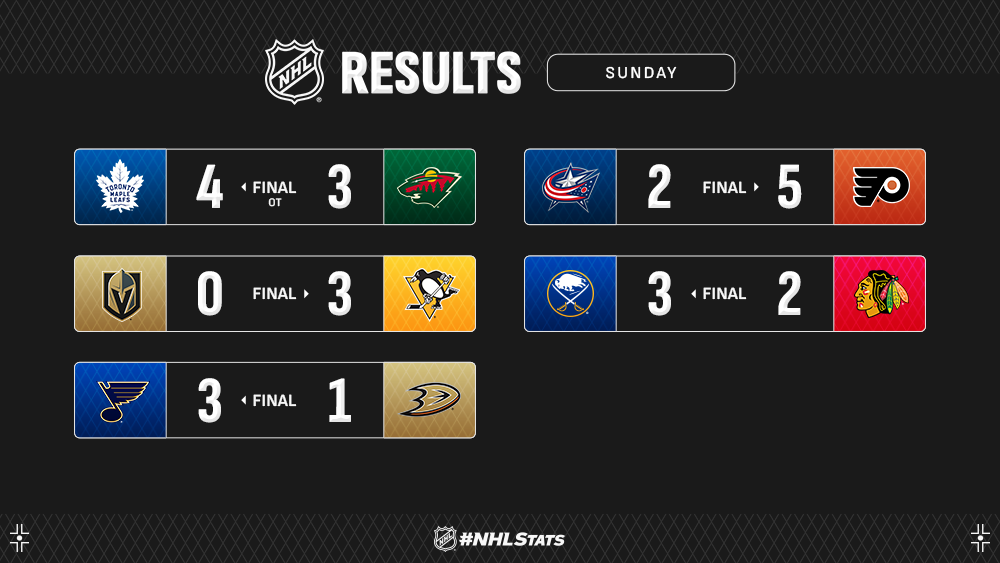 WILLY WINS IT IN OVERTIME TO CAP OFF STELLAR PERFORMANCE IN SWEDEN
It was a fairytale finish for William Nylander and the Maple Leafs to close out the 2023 NHL Global Series – Sweden presented by Fastenal as the Swedish forward stretched his season-opening point streak to 17 games and netted a highlight-reel overtime winner to cap off the NHL's four-game set at Avicii Arena in Stockholm.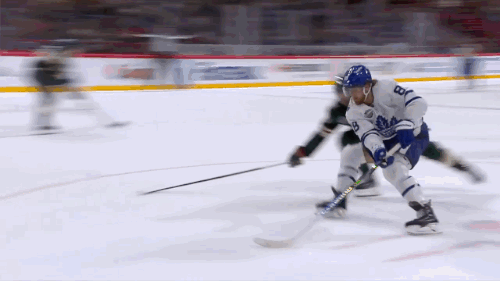 * Born in Canada while his father, Michael (seen celebrating above), was skating for the Flames, Nylander played junior hockey in Sweden and represents the Tre Kroner on the international stage. Nylander became the first European player to tally an NHL overtime goal in his home country and the second European to score one overseas, following Tim Stützle (Germany) with the Senators on Thursday.
* With an assist in the first period, Nylander matched Connor McDavid (17 GP in 2021-22) for the longest season-opening point streak by an active NHL player and now sits behind only five names on the all-time list. Nylander's overtime goal gave him five points across two games on the Sweden trip, already placing him among the leaders for career points in NHL regular-season games played outside North America.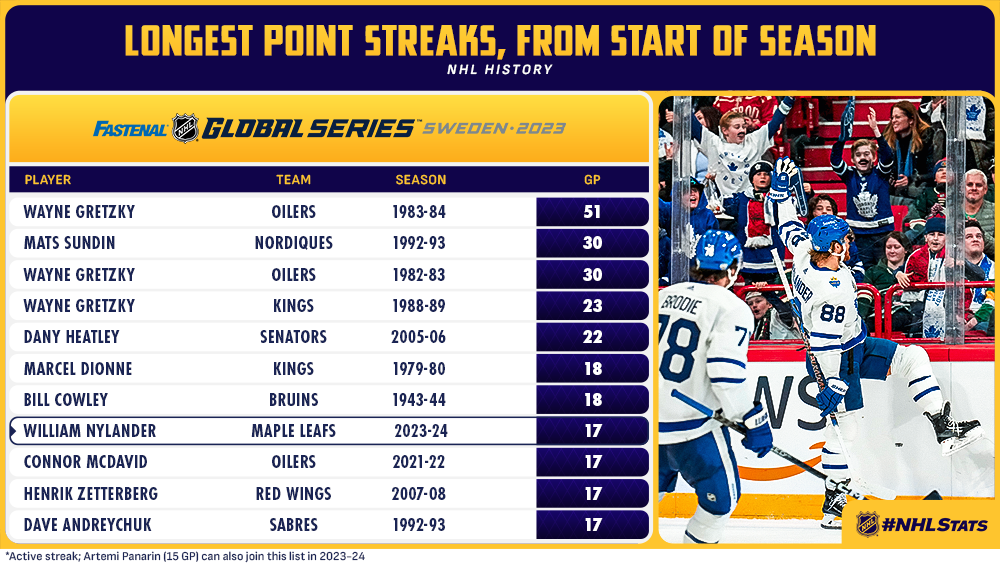 * Dating to last season, Nylanderhas a point in 19 consecutive regular-season games (14-17—31 since April 11). That is the third-longest stretch of regular-season contests with a point in franchise history behind Mitchell Marner (23 GP in 2022-23) and Babe Dye (20 GP from 1921-22 to 1922-23).

* Marner (524 GP) recorded his 400th NHL assist with his first of two helpers Sunday to become the fastest player in franchise history to reach the milestone, shattering the previous benchmark of 600 games set by Swedish legend Borje Salming. Among active NHL players, only McDavid (426 GP) and Sidney Crosby (448 GP) hit the mark as fast as Marner.
THAT'S A WRAP: 2023 NHL GLOBAL SERIES – SWEDEN PRESENTED BY FASTENAL
* Swedish players combined for 5-6—11 across the four games, including an assist by goaltender Anton Forsberg, and at least one goal in each contest. Forsberg became the first Swedish netminder to claim an NHL regular-season victory in the country.
* Maple Leafs goaltender Joseph Woll (33 saves) became the third rookie to win an NHL regular-season game played outside North America, following Jonathan Bernier and Jonas Hiller who did so on consecutive days in September 2007 with the Kings and Ducks, respectively, at O2 Arena in London.
* Toronto's Morgan Rielly (1-2—3) equaled the benchmark for points by a defenseman in an NHL regular-season game played outside North America, matching Shayne Gostisbehere who had 1-2—3 with Detroit on Thursday, along with Cale Makar (0-3—3 on Nov. 5, 2022 w/ COL) and Dustin Byfuglien (0-3—3 on Nov. 1, 2018 w/ WPG).
* Sunday's contest marked the first NHL regular-season game played outside North America to include goals by three defensemen (from either team), with Rielly joining Minnesota's Jon Merrill and Jake Middleton in the goal column. The Wild became the second team to have multiple defensemen score in the same contest overseas.
* Wild forward Marcus Johansson played in his fifth NHL regular-season game outside North America, second most in League history behind J.T. Compher, Erik Johnson and Ryan McDonagh (all w/ 6).

* More than half of all NHL regular-season games played outside North America have been decided by a one-goal margin or ended in a tie (55%; 23 of 42), including all four in the 2023 NHL Global Series – Sweden presented by Fastenal. The breakdown includes 22 contests where a team won by a one-goal margin along with one tie.
* Eleven NHL contests played overseas have gone past regulation, including three of four this season.

MORE NOTES FROM AROUND THE RINKS SUNDAY
After an eventful early morning in the NHL, the excitement continued during Sunday night's four-game slate as the Flyers, Penguins, Blues and Sabres picked up wins:

* Ryan Poehling (1-2—3) recorded his first three-point outing since his NHL debut more than four years ago to help the Flyers (10-7-1, 21 points) skate to their fifth straight win – the longest active run in the League – and climb to second place in the Metropolitan Division. Poehling, who netted his goal while on the penalty kill, joined Jeff Carter as the only other active player to score a shorthanded tally for both Pennsylvania-based franchises.

* Alex Nedeljkovic (3 GP), who scored a goal in the AHL on Friday, returned to Pittsburgh's lineup with a 38-save performance and became the sixth goaltender in franchise history to post his first shutout with the club in three games or fewer. Only three goaltenders in Penguins history have recorded as many saves in their first shutout with the team: Joe Daley (41 on Feb. 19, 1969), Steve Guenette (38 on March 19, 1988) and Ken Wregget (38 on Jan. 27, 1994).

* Pavel Buchnevich scored one of three Blues goals as St. Louis defeated Anaheim at Honda Center to pick up its sixth win in November – the only team with more this month is Florida (7). Buchnevich now has six goals on the season, tied with Robert Thomas for the team lead.

* Rasmus Dahlin (1-2—3) factored on all three of his team's goals and climbed a couple franchise lists Sunday as the Sabres bested the Blackhawks at United Center. Dahlin netted the 50th goal of his career and surpassed John Van Boxmeer (49) for sole possession of sixth place on the Sabres' all-time list among defensemen – he became the third-fastest blueliner among that cohort to record as many goals with the franchise (373 GP), behind only Phil Housley (148 GP) and Jerry Korab (326 GP).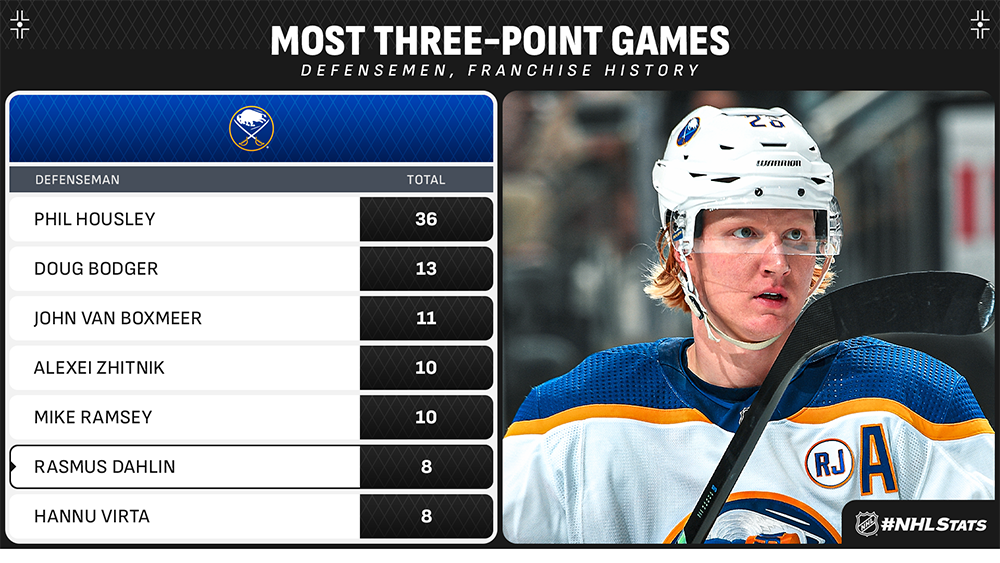 QUICK CLICKS

* #NHLStats: Live Updates – Nov. 19, 2023
* 2023 Global Series Sweden top 10 moments
* Evgeni Malkin goes full soccer player after losing stick
* Aleksander Barkov out for Panthers against Oilers
* Fans rearrange Matthews shirts for Mats Sundin at Global Series
THANKSGIVING SHOWDOWN, HOCKEY NIGHT IN CANADA HEADLINE 49-GAME WEEK
A 49-game week in the NHL will begin with a seven-game Monday featuring a national showdown between Connor McDavid and the Oilers against former provincial rival Matthew Tkachuk and the Panthers. The marquee national games of the week will fall after a holiday in the United States as the annual Thanksgiving Showdown doubleheader takes over the NHL on TNT and Max feeds Friday, followed Saturday by a three-game Hockey Night in Canada broadcast on Sportsnet.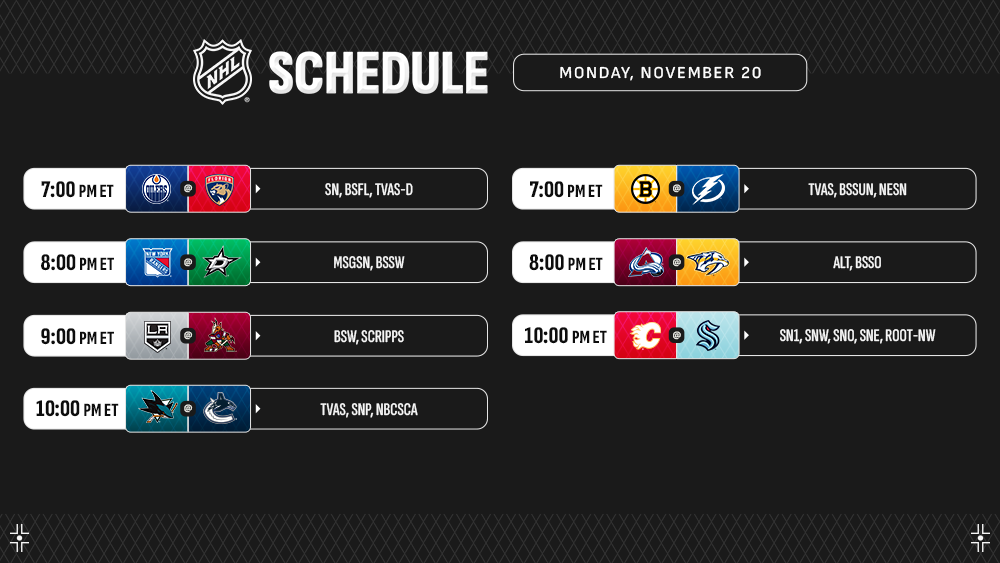 Wednesday, Nov. 22: NHL on TNT Doubleheader (TNT, Max)
* The first of two doubleheaders for the network this week will include a pair of rematches from the 2023 Stanley Cup Playoffs. The Bruins will visit the Panthers for their second meeting of the season after Florida rallied from a 3-1 series deficit to stun the Presidents' Trophy winners in Game 7 of the First Round last spring (7 p.m. ET, also on TVAS). A rematch of the 2023 Western Conference Final will follow as the reigning champion Golden Knights visit American Airlines Center for the first time since securing a spot in the Stanley Cup Final with a 6-0 series-clinching victory against the Stars on May 29.

Friday, Nov. 24: Thanksgiving Showdown – NHL on TNT Doubleheader (TNT, Max)
* An annual tradition could see two young defensemen climb franchise lists as Buffalo's Rasmus Dahlin and Colorado's Cale Makar are within striking distance of making moves for their respective clubs. Dahlin needs one assist to tie for seventh place on the Sabres' all-time list among defensemen and two to reach 200 in his career. Meanwhile, Makar needs three goals to tie for second place on the Avalanche/Nordiques all-time list among defensemen, two assists to tie for third place and five points to tie for second place.
Saturday, Nov. 25: Hockey Night in Canada
* A three-game Hockey Night in Canada broadcast will be highlighted by a Maple Leafs-Penguins showdown (7 p.m. ET on SN, CBC, CITY, TVAS, NHLN) that will likely see Auston Matthews (313-250—563 in 498 GP) skate in his 500th NHL game against two of four active players who had more points than him at the time of the milestone contest; Matthews is likely to trail only Connor McDavid (252-472—724), Sidney Crosby (253-453—706), Alex Ovechkin (309-324—633) and Evgeni Malkin (231-380—611) on that list. However, after scoring his League-leading (tied) 14th goal of the season in Sweden on Sunday, Matthews will have the most goals among active players at the time of their 500th NHL game – and rank at least tied for seventh place all time.