* The Rangers scored a trio of goals in a span of 1:03 to mark their fastest three in a regular-season game in nearly 28 years. * Morgan Rielly (59:48) recorded the second-latest go-ahead goal in regulation by a Toronto defenseman, a mark which trails only Matt Hunwick (59:52).
* Mark Scheifele, Dylan Larkin and Brayden Point each scored overtime goals Saturday to climb their franchise's all-time list.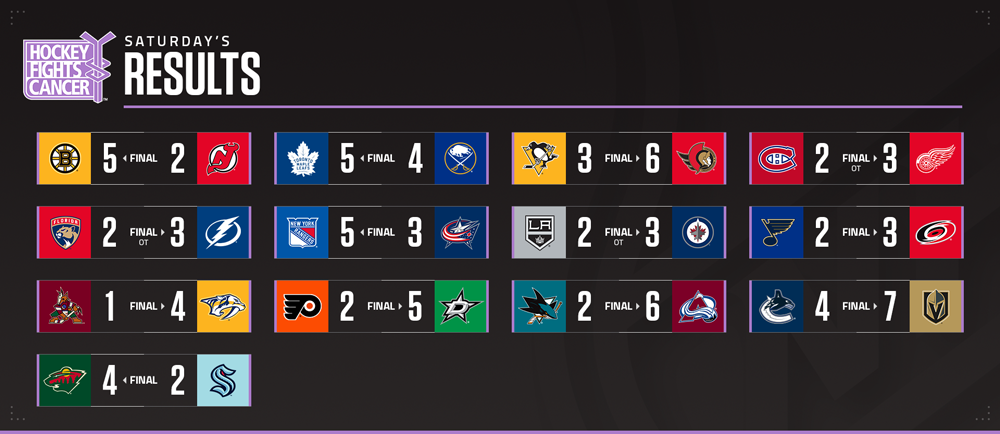 RANGERS SCORE THREE TIMES IN 63 SECONDS TO POWER PAST BLUE JACKETS
Chris Kreider (2-0—2) scored his 10th and 11th goals of the season, including the first of three Rangers tallies in a second-period surge, to lead New York to its third straight road win against Columbus at Nationwide Arena.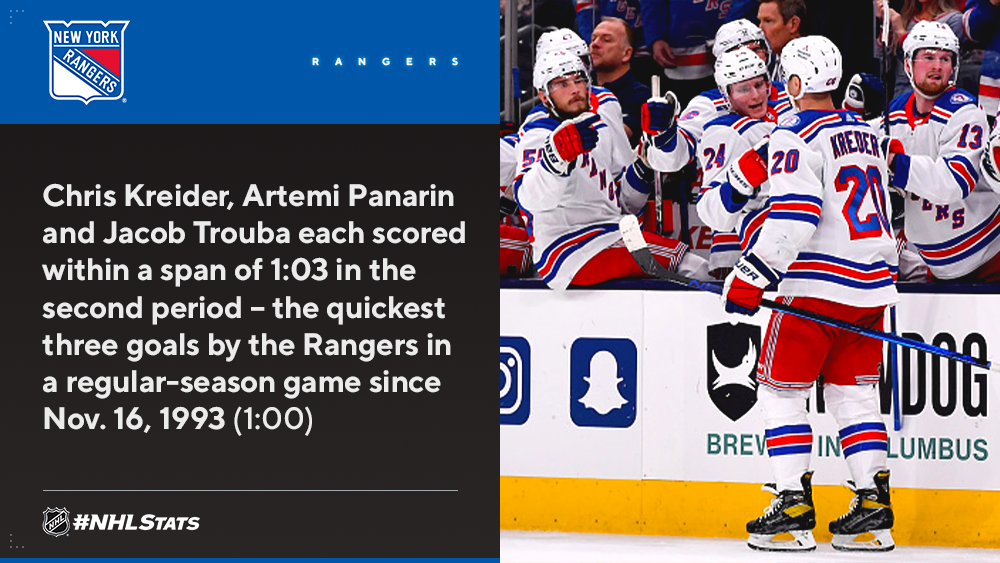 * Kreider (11-3—14 in 14 GP), who trails only Leon Draisaitl (14) and Alex Ovechkin (12) in total goals this season, also recorded his seventh power-play marker of 2021-22 to surpass Draisaitl (6) for the League lead.
RIELLY SCORES LATE TO LIFT MAPLE LEAFS TO VICTORY
Morgan Rielly scored with 11.8 seconds remaining in regulation to secure the Maple Leafs' victory after the Sabres erased a multi-goal deficit in the third period, while Joseph Woll – who was selected 62nd overall by Toronto in the 2016 NHL Draft which was held in Buffalo – earned a win in his NHL debut. Rielly's winner trails only Matt Hunwick for the latest by a defenseman in franchise history.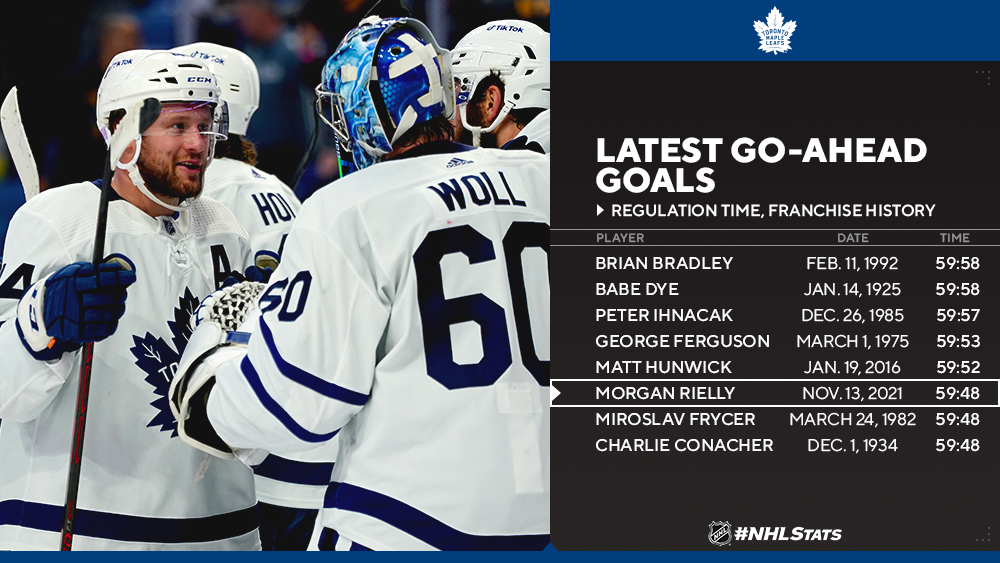 SCHEIFELE, LARKIN, POINT CLIMB FRANCHISE LISTS WITH OVERTIME WINNERS
Jets forward Mark Scheifele, Red Wings captain Dylan Larkin and Lightning forward Brayden Point each scored overtime goals Saturday:
* Scheifele scored 32 seconds into extra time to snap the Kings' win streak at seven games. With his 10th career overtime goal, Scheifele surpassed Ilya Kovalchuk (9) for the most in Jets/Thrashers history.
* Larkin (2-0—2) scored the sixth overtime goal of his NHL career to move past Brett Hull, Gustav Nyquist and John Sorrell (all w/ 5) for sole possession of seventh place on the franchise's all-time list. Herbie Lewis and Henrik Zetterberg share fifth place with seven apiece.
* Point recorded his eighth career overtime goal as the Lightning outlasted the Panthers after surrendering a two-goal lead. Point tied Vincent Lecavalier for third place on the franchise's all-time overtime goals list – only Martin St. Louis (10) and Steven Stamkos (9) have more.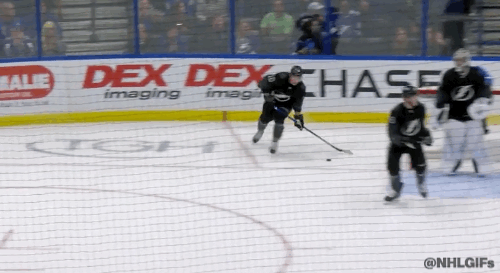 FOUR-POINT OUTINGS GALORE SATURDAY
Senators forward Drake Batherson (2-2—4), Avalanche defenseman Samuel Girard (1-3—4) and Predators captain Roman Josi (2-2—4) each had four-point performances on display Saturday:
* Batherson recorded his second four-point game of the season (also Oct. 25 vs. WSH) and joined Leon Draisaitl (2), Tyler Bertuzzi (2) as well as Josi (2) as the fourth player in 2021-22 with multiple such outings. The 23-year-old became the first Senators player to record multiple four-point performances in a season since Erik Karlsson did so in 2015-16 (0-4—4 on Oct. 14, 2015 & Feb. 6, 2016).
* Girard recorded four points in a game for the second time in his NHL career (also 0-4—4 on Jan. 2, 2020). He became the third defenseman in Avalanche/Nordiques franchise history to record four or more points in a contest multiple times, joining Sandis Ozolinsh (4x) and Tyson Barrie (3x).
* Josi's four-point outing came a game after Mikael Granlund (0-4—4 on Nov. 11) also did so. It marked the first time in franchise history that at least one Predators player had four points in consecutive team games.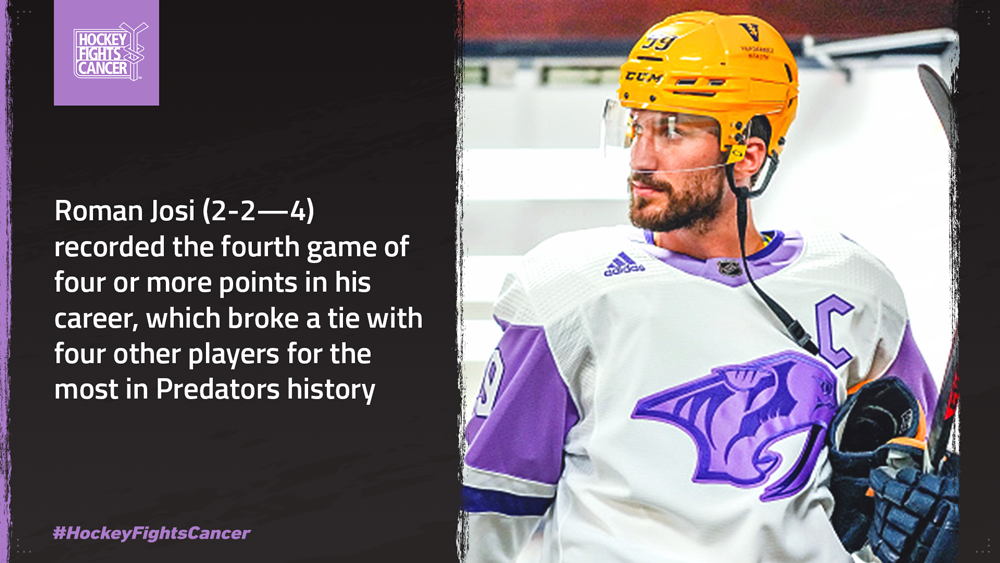 FIRST NHL GOAL, FIRST NHL HAT TRICK ON #NHLSTATS: LIVE UPDATES
Rookie Rem Pitlick scored his first career goal and first career hat trick as the Wild (10-4-0) earned their 10th win while contesting their 14th game – Minnesota's second-best start to a season in franchise history. Click here to catch up on an action-packed Saturday in the latest edition of #NHLStats: Live Updates.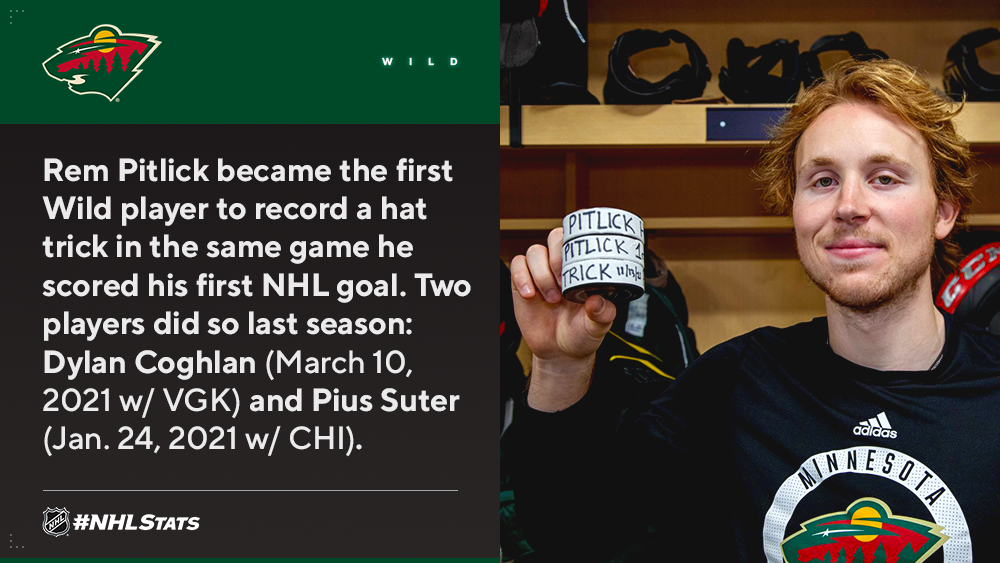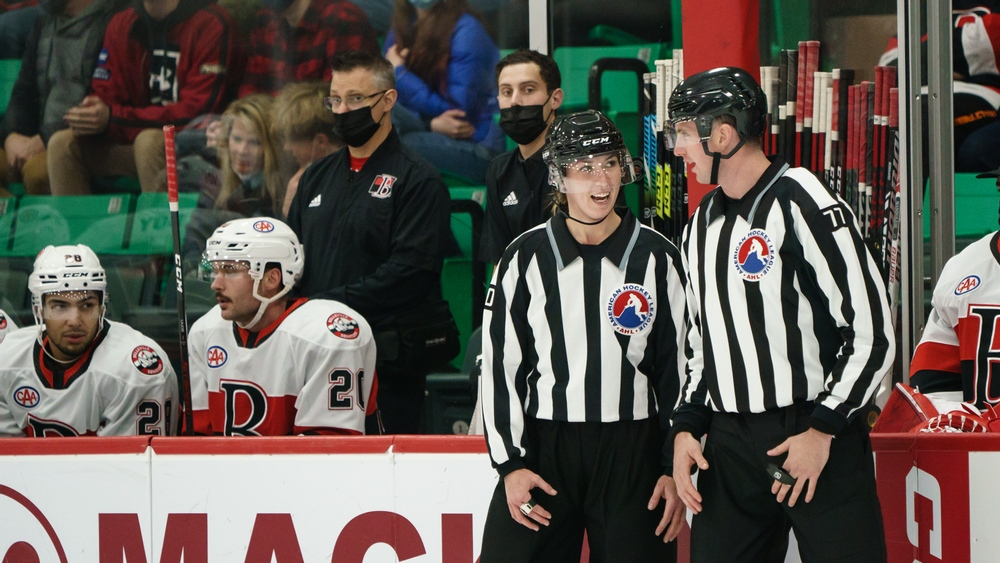 STREAKS ON THE LINE DURING SUNDAY'S SIX-GAME SLATE
Sunday's slate will see Oilers captain Connor McDavid (9-16—25 in 13 GP) and Ducks forward Troy Terry (11-8—19 in 14 GP) attempt to extend their point streaks to 14 contests, while the Capitals (8-2-4, 20 points) host the Penguins (5-4-4, 14 points) for their Hockey Fights Cancer Awareness Game at Capital One Arena.