* Alex Pietrangelo posted a three-point performance to help guide the Golden Knights to their eighth win at T-Mobile Arena in 2023-24 – tied for their second most through their first 10 home games in a season.
* William Nylander extended his season-opening point streak to 14 games as the Maple Leafs extinguished a Flames rally to close out the 2023 Hockey Hall of Fame game with a victory.

* A four-game Hockey Night in Canada broadcast will feature both the Maple Leafs and Senators in action in their final contest before heading overseas for the 2023 NHL Global Series – Sweden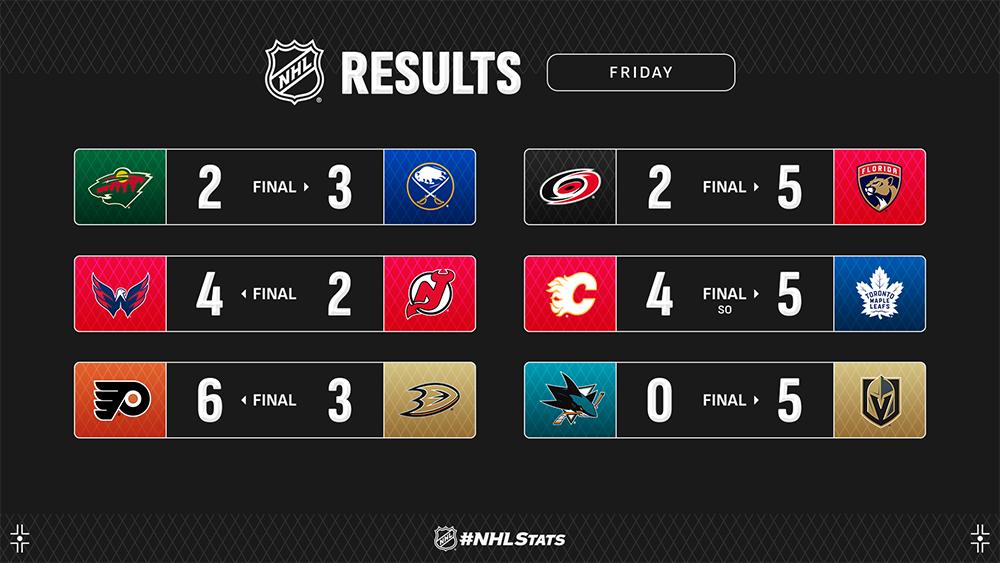 PIETRANGELO PUTS UP THREE POINTS TO HELP GOLDEN KNIGHTS STAY HOT
Alex Pietrangelo (1-2—3) factored on three of his team's five goals, including scoring the winner, while Adin Hill turned aside all 20 shots he faced to help the Golden Knights (12-2-1, 25 points) defeat the Sharks at T-Mobile Arena and take over the top spot in the League standings.

* Pietrangelo, who was on the ice for all five of his club's goals, posted his sixth career three-point game with Vegas. The only defenseman with more for the club is Shea Theodore (9).

* The Golden Knights improved to 8-1-1 (17 points) through their first 10 home games in 2023-24 and tied 2020-21 (8) for their second-most wins through as many home contests to start a season behind only 2017-18 (9).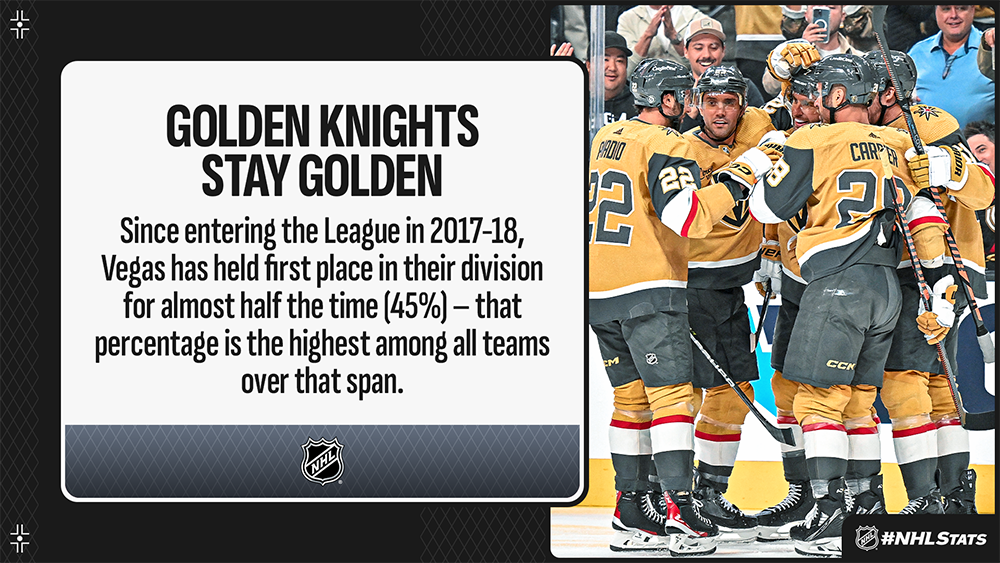 MAPLE LEAFS QUELL A FLAMES COMEBACK TO WIN HOCKEY HALL OF FAME GAME
After William Nylander (2-1—3) scored a power-play goal and netted his first career shorthanded tally to help Toronto build a 4-1 lead, Calgary rallied with three straight goals, but the Maple Leafs would prevail in the shootout to close out the 2023 Hockey Hall of Fame game with a victory.

* Nylander extended his season-opening point streak to 14 games (9-12—21). He joined Mitchell Marner (23 GP in 2022-23) as the second Maple Leafs skater in the past 25 years to post a point streak of at least that length at any point in a season.
* Nylander also became the third Toronto player in the past 20 years to score a power-play and shorthanded goal in the same game, joining Marner (Dec. 3, 2022 & April 5, 2022) and Ilya Mikheyev (Jan. 1, 2022).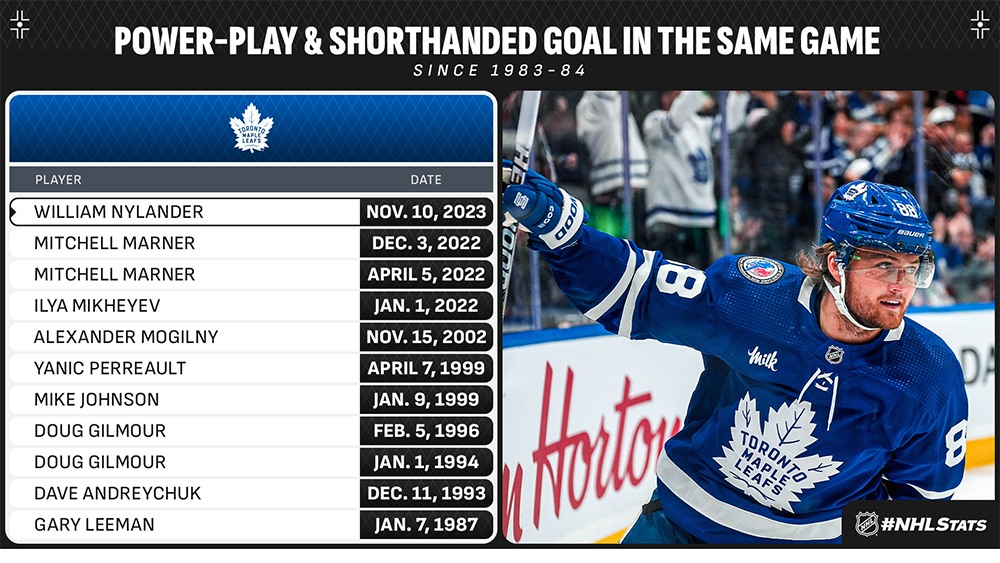 * Click here for full Hockey Hall of Fame coverage from NHL.com, including features on this year's inductees.

PANTHERS OVERCOME HURRICANES IN CONFERENCE FINALS REMATCH
After netting three game-winning goals in Florida's four-game sweep of Carolina during the 2023 Conference Finals, Matthew Tkachuk (1-1—2) scored again and assisted on Uvis Balinskis'first NHL tally to help the Panthers (8-4-1, 17 points) defeat the Hurricanes in their first meeting of 2023-24. Florida claimed its fourth straight victory at Amerant Bank Arena in the process, matching the longest home win streak in the NHL this season (also VGK, BOS, COL & CAR).

* Friday marked Tkachuk's 38th multi-point game since the start of the 2022-23 season and his 23rd on home ice. The only players with more multi-point performances over that span are Connor McDavid (48), Leon Draisaitl (42), Nathan MacKinnon (41) and David Pastrnak (41), while only McDavid and Draisaitl (both w/ 26) have more at home.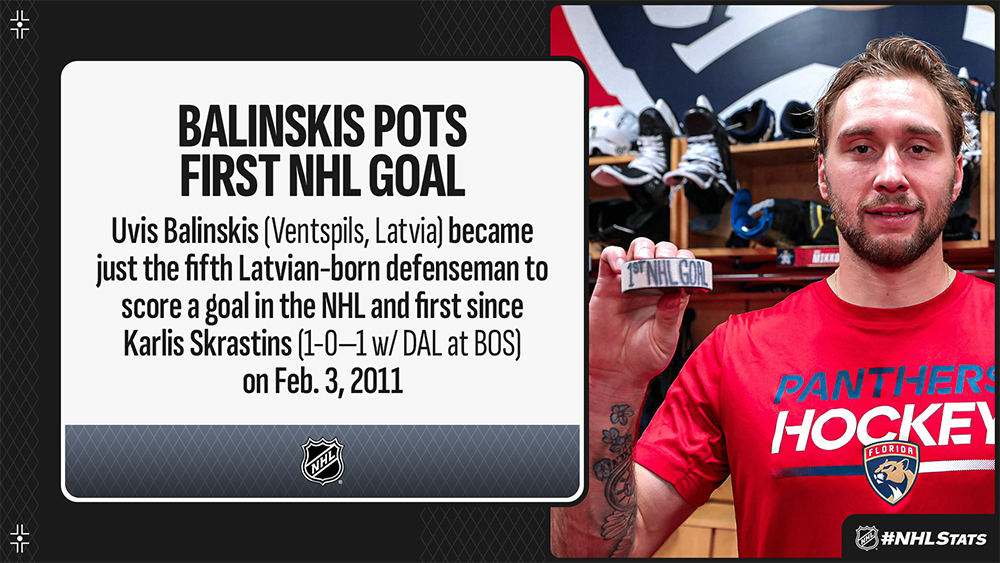 Photo: @FlaPanthers

SANHEIM SNAGS ANOTHER THREE-POINT OUTING TO LEAD FLYERS TO VICTORY
Travis Sanheim led the charge with 1-2—3, highlighted by an individual effort on Philadelphia's fourth goal of the game, to lead the Flyers (6-7-1, 13 points) to victory in Anaheim. The Flyers recorded their second six-goal outing of the season – only the Avalanche (3 GP), Red Wings (3 GP) and Canucks (3 GP) have more such performances.

* Sanheim recorded his second three-point outing of 2023-24 and became the second Flyers defenseman over the past five years to post multiple three-point games in a season alongside Justin Braun (2 GP in 2019-20). Quinn Hughes (4 GP) is the only defenseman with more three-point performances this season.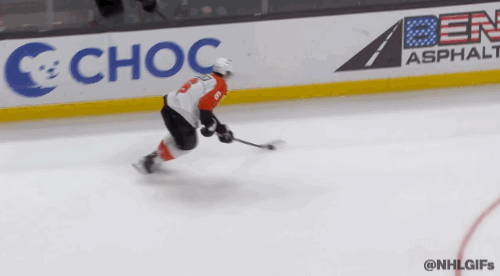 CARLSSON'S HAT TRICK HIGHLIGHTS #NHLSTATS: LIVE UPDATES
One day after Connor Bedard, the No. 1 pick in 2023 NHL Draft, became the third-youngest player in NHL history with a four-point game, second overall pick Leo Carlsson became the youngest Ducks player to score a hat trick and just the 14th different 18-year-old in League history to post a three-goal performance. Find more notes on Carlsson's hat trick and all six of last night's games here.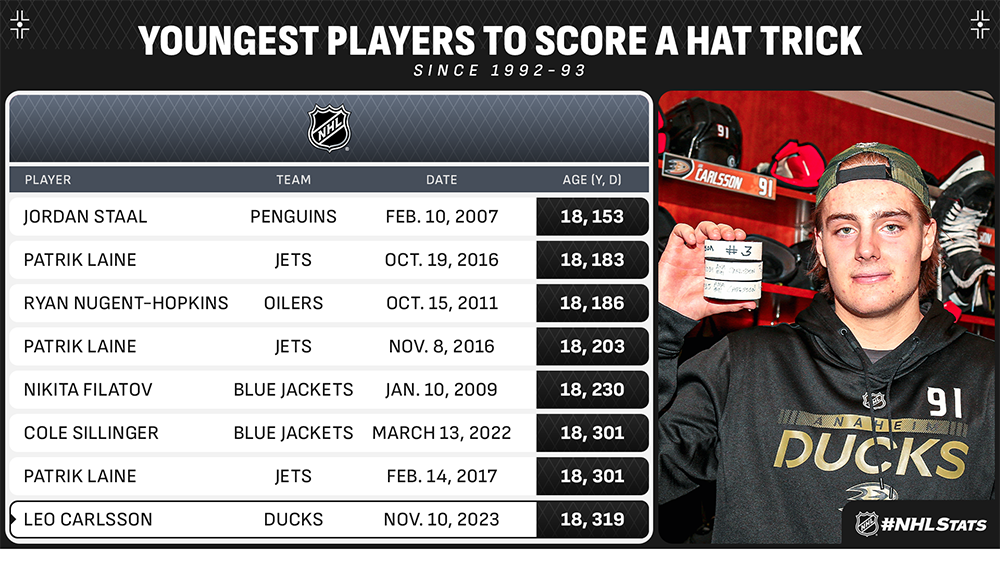 * With every hat trick this season, AstraZeneca will donate $5,000 to the Hockey Fights Cancer Fund of the V Foundation up to $500,000. Click here for more information.

MAPLE LEAFS, SENATORS LOOK FOR WINS IN GLOBAL SERIES SEND-OFFS
The Maple Leafs and Senators each will host a Hockey Night in Canada showdown in their final contest before heading overseas to play two games as part of the 2023 NHL Global Series – Sweden, which will see one regular-season game per day from Nov. 16-19 at Avicii Arena in Stockholm. Click here for a full rundown of #NHLStats for Global Series.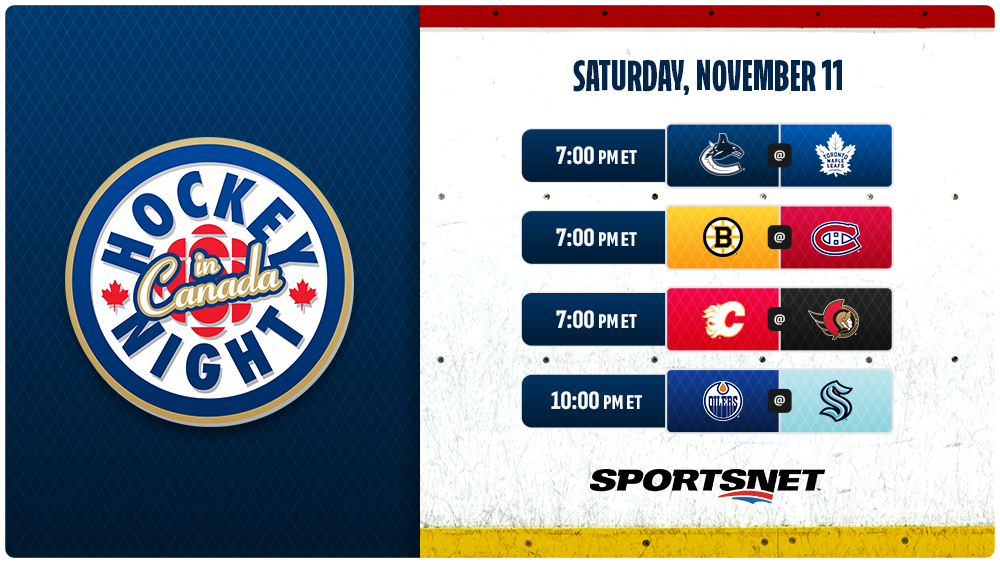 * Maple Leafs forward Auston Matthews has recorded at least one point in all 11 home games he has played against the Canucks dating to Nov. 5, 2016 (14-3—17), his second-longest home point streak against one team behind a 14-game stretch versus Montreal (also active). Matthews also enters Saturday with an active 10-game home goal streak against Vancouver dating to Jan. 6, 2018. He is one of 12 different players in League history – and one of nine over the past 98 years – to score a goal in 10 or more consecutive regular-season home games against one franchise.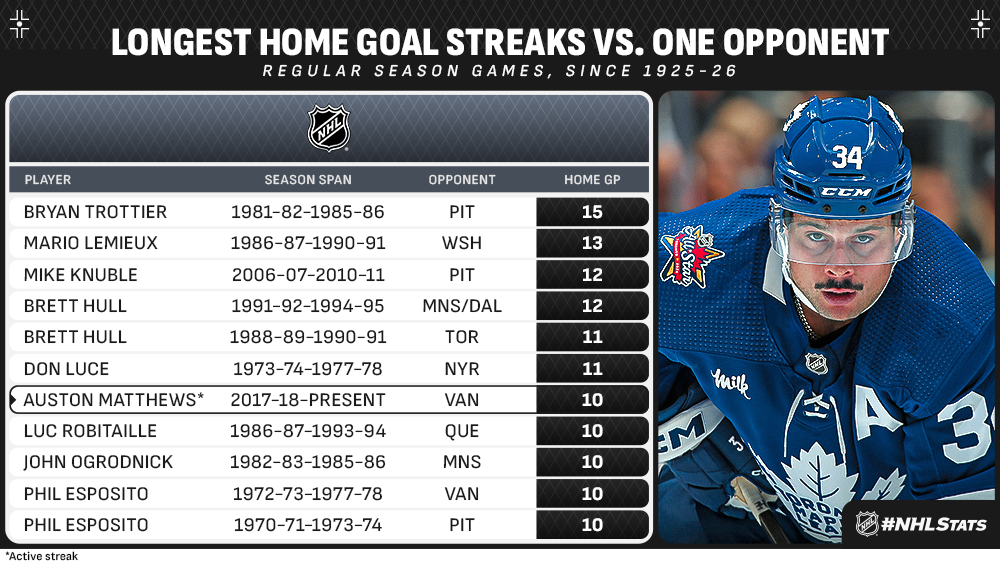 * One player who will try to shut Matthews down also has had success recently against the Maple Leafs: Canucks captain Quinn Hughes has an active six-game point streak versus Toronto dating to 2020-21 with 1-8—9 over that span. Hughes, who has 5-16—21 so far this season (13 GP), is quickly closing in on the top five all-time for assists by a Canucks defenseman.
* The Canucks enter the contest having collected at least a point in each of their last nine games (8-0-1) – tied with the Rangers (8-0-1) for the longest active run. Should Vancouver do so again tonight, it would mark just the seventh time in franchise history that the club has posted a double-digit point streak and the first time in over a decade.

* A historic rivalry takes Bell Centre on Saturday when the Bruins visit the Canadiens for the first time this season. Boston has won 10 straight games against Montreal dating to November 26, 2019, outscoring them 46-19 in those contests – the only team they have a longer active win streak against is the Sharks (12-0-0 dating to Feb. 9, 2017). David Pastrnak (10-6—16)leads all current Bruins skaters in goals and points against the Canadiens over that span.

* Brady Tkachuk and the Senators welcome the Flames to Canadian Tire Centre on Saturday, where the Ottawa captain will look to reach the 10-goal mark on the season. Tkachuk, whose four multi-goal games in 2023-24 are tied with Matthews and Nikita Kucherov for the most in the NHL, can become the fifth different player in franchise history to reach the 10-goal mark in 13 or fewer games – he would join Bob Kudelski (10 GP in 1993-94), Daniel Alfredsson (11 GP in 2005-06), Dany Heatley (11 GP in 2005-06) and Alexei Yashin (13 GP in 1996-97 & 1993-94).

* Hosts of two of this season's four outdoor games will clash in Saturday's Hockey Night in Canada finale as the Oilers, winners of the 2023 Tim Hortons NHL Heritage Classic, pay a visit to the Kraken, who will face the Golden Knights at T-Mobile Park on New Year's Day in the 2024 Discover NHL Winter Classic.
BUSY 12-GAME SLATE SET FOR SATURDAY
Twenty-four teams are in action during a busy Saturday in the NHL that begins with a pair of matinee matchups as the Red Wings host the Blue Jackets and the Stars visit the Jets, and concludes with a clash between the Flyers and Kings at Crypto.com Arena.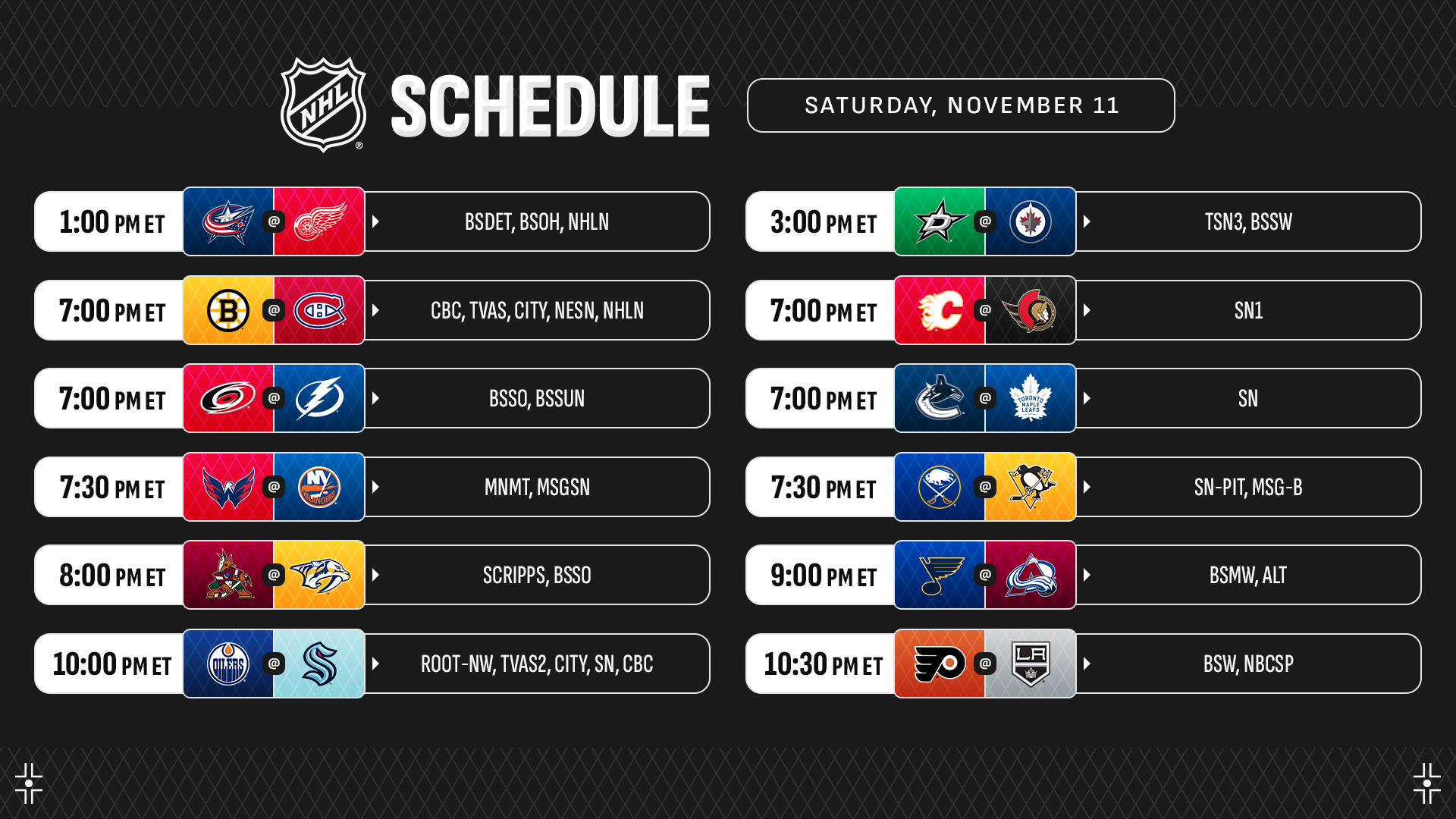 ROBERTSON'S CHARITY SUPPORTS MILITARY FAMILIES IN DALLAS
As the NHL prepares to commemorate Veterans Day and Remembrance Day, we recognize the work Stars forward Jason Robertson does to support children and families of active military personnel. Robertson is proud to be a role model to kids and sees it as a privilege to be able to give back – he is doing so with the charity he launched called JR's Heroes.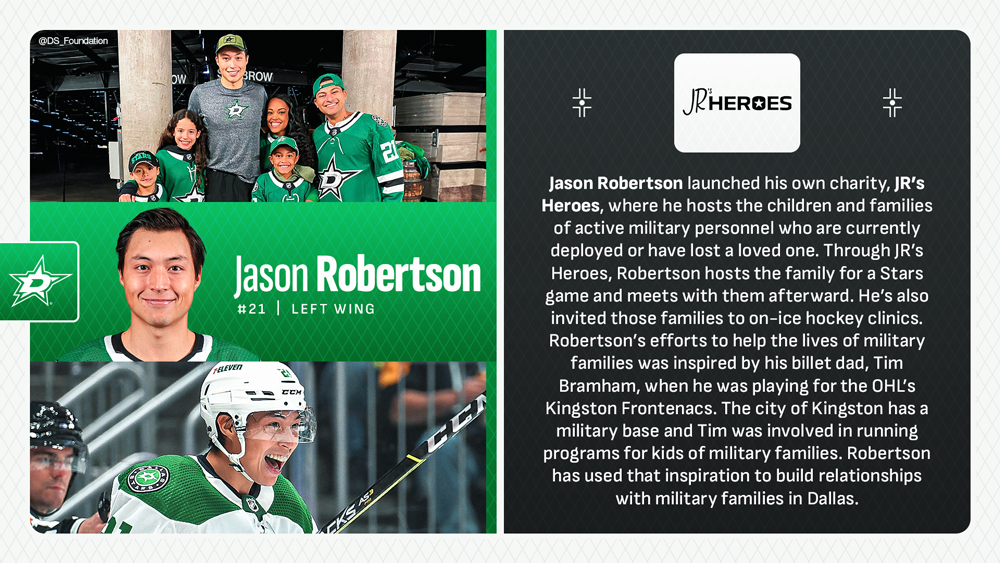 QUICK CLICKS
* Oilers believe they can turn season around despite sluggish start
*Lanny McDonald's Hall of Fame call to former teammate Mike Vernon special moment
* Fantasy Spin: NHL EDGE Stats This Week
* Jaromir Jagr to have No. 68 Retired by Penguins
* Bruins honor veterans with tri-annual 'Flags for the Fallen' event
NHL PODCASTS WEEKLY ROUNDUP

* NHL Fantasy on Ice (11/6): Fantasy waiver wire pickups: Week 5; Jack Hughes, Adam Fox injuries
* NHL @TheRink (11/8): Ken Hitchcock joins; Red-hot Canucks; Mailbag: Devils injuries
* NHL Fantasy on Ice (11/9): Fantasy mailbag: Week 5; guest: Jake Hahn
* The Chirp (11/9): Greg Cronin joins; Ducks start, Vancouver shining