* Connor McDavid's monumental 2022-23 campaign continued with his 250th career multi-point game en route to establishing a single-season career high for points.

* The Stars nearly staged a multi-goal comeback but Tyler Toffoli scored the third-latest go-ahead goal in franchise history to help the Flames keep pace in the Western Conference playoff race.

* Wild Card implications in the Eastern Conference will be on the line when the Sabres visit the Islanders during the first game on HULU and ESPN+, while a Pacific Division matchup between the Kraken and Ducks rounds out the doubleheader.




McDAVID SCORES TWICE EN ROUTE TO ESTABLISHING CAREER HIGH IN POINTS
It was another night of achievements for Connor McDavid (2-0—2), who reached a career high in points, extended his point streak to 11 games, recorded his 250th career multi-point game and scored the 62nd game-winning goal of his career:

* McDavid improved his 2022-23 totals to a career-high 54-70—124 (65 GP) – only two players since 2000-01 have had as many points in a single campaign: Nikita Kucherov (41-87—128 in 2018-19 w/ TBL) and Joe Thornton (29-96—125 in 2005-06 w/ SJS & BOS).

* The Oilers captain now has 12 goals in his past eight games – the last Edmonton player with more through as many contests was Wayne Gretzky from Dec. 17, 1986 to Jan. 7, 1987 (13). His second of the night stood as the game winner, which broke a tie with Gretzky (61) for the second most in franchise history. He now sits 10 shy of Glenn Anderson (72).

* McDavid required the fourth-fewest games in NHL history to register 250 career multi-point performances (552 GP) behind Gretzky (382 GP), Mario Lemieux (444 GP) and Mike Bossy (549 GP).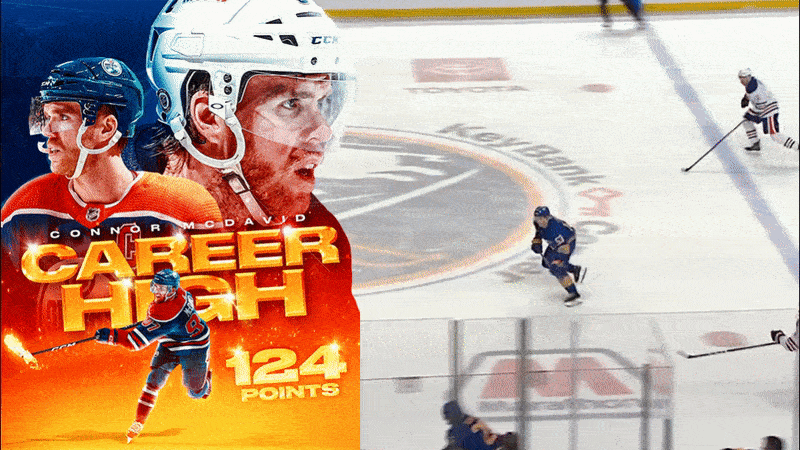 TOFFOLI'S LATE-GAME HEROICS HELP FLAMES WITHSTAND THIRD-PERIOD RALLY
The Flames held a 4-2 lead early in the third period before surrendering two goals in a five-minute span, but Tyler Toffoli (1-0—1) netted the game-winning goal with seven seconds left in regulation to lift Calgary (28-23-13, 69 points) to victory. The Flames moved within five points of the idle Avalanche (34-21-6, 74 points) for the final Wild card spot in the Western Conference.

* Cory Stillman (59:56; April 14, 1999) and Jarome Iginla (59:56; Feb. 14, 1999), responsible for the only two later go-ahead goals in franchise history, each achieved the feat in similar scenarios for the club. Stillman's tally helped Calgary withstand a three-goal comeback by Vancouver and Iginla ended any hopes of a one-goal, third-period comeback by Boston.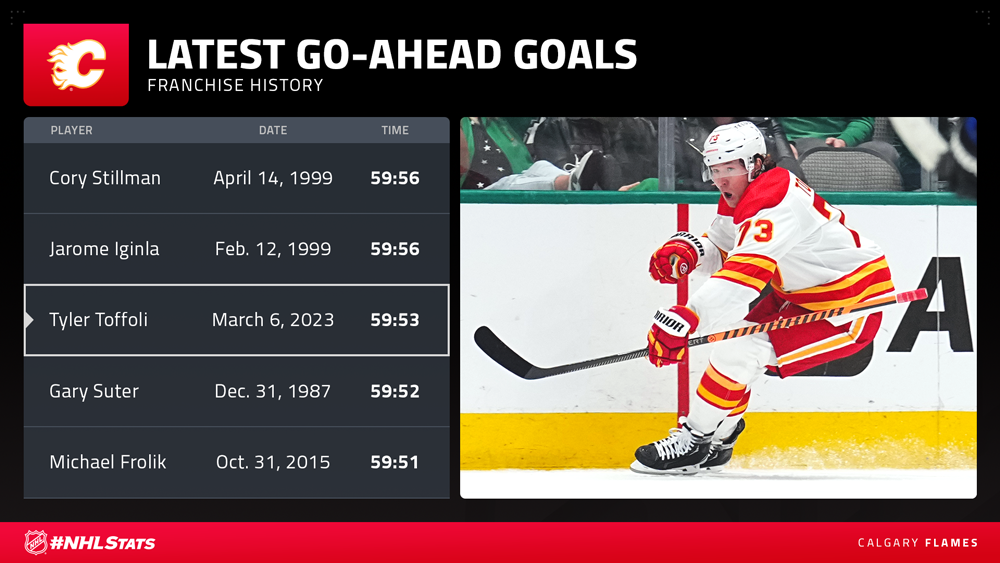 COPLEY NOTCHES FRANCHISE MARK AS KINGS CAPTURE FOURTH STRAIGHT WIN
Kevin Fiala assisted on one of four Kings goals and Pheonix Copley turned aside 20 shots to improve to 20-4-2 in his career with the franchise as Los Angeles (37-20-8, 82 points) earned its fourth straight win. The Kings, who sit tied with the idle Golden Knights (38-19-6, 82 points) for the most points in the Pacific Division, own the NHL's second-longest active win streak (tied) behind the Bruins (10 GP).

* Copley entered the 2022-23 campaign with 31 games of NHL experience on his resume, posting a 16-9-3 record through those contests and appearing in 29 with the Capitals (16-8-3) – the opposition Monday. The North Pole, Alaska, native shared the Harry Holmes Memorial Award with Hershey Bears teammate Zach Fucale for holding the League's lowest goals-against average in 2020-21 – Washington's American Hockey League affiliate.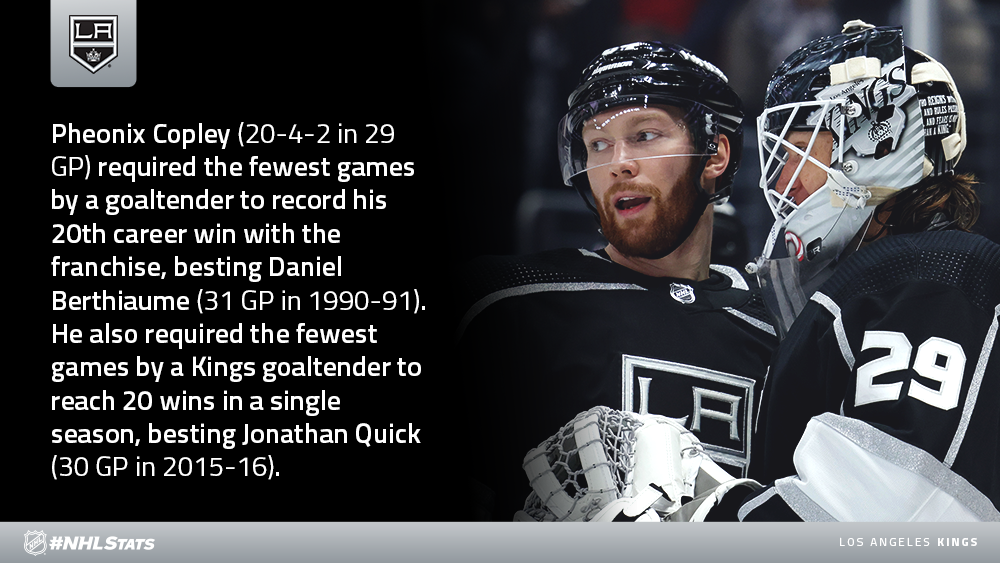 LONGTIME TEAMMATES OVECHKIN, BACKSTROM FEATURED IN #NHLSTATS: LIVE UPDATES
The Monday edition of #NHLStats: Live Updates featured notes from the six-game slate, including Alex Ovechkin scoring his 816th career goal and first against Pheonix Copley. Copley, who appeared in 28 games with Ovechkin from 2018-19 to 2021-22, became the 169th different goaltender the Capitals captain has scored against in his career.

* Monday marked the second time in as many games Ovechkin has scored against a goaltender for the first time after netting two past San Jose's Kaapo Kahkonen on March 4. He has achieved this feat in consecutive games one other time this season when he scored against Detroit's Ville Husso, Arizona's Karel Vejmelka and Edmonton's Stuart Skinner during a three-game stretch from Nov. 3-7, 2022.

* Overall, Ovechkin has scored against nine goaltenders for the first time this season. Excluding his rookie campaign (2005-06), there's only been five other seasons with more such instances: 2008-09 (14), 2021-22 (13), 2007-08 (12), 2015-16 (11) and 2013-14 (10).

* Nicklas Backstrom collected an assist on an Ovechkin goal for the first time this season and has now done so 279 times during their time together. Only three players in NHL history have registered more assists on one teammate's regular-season goals.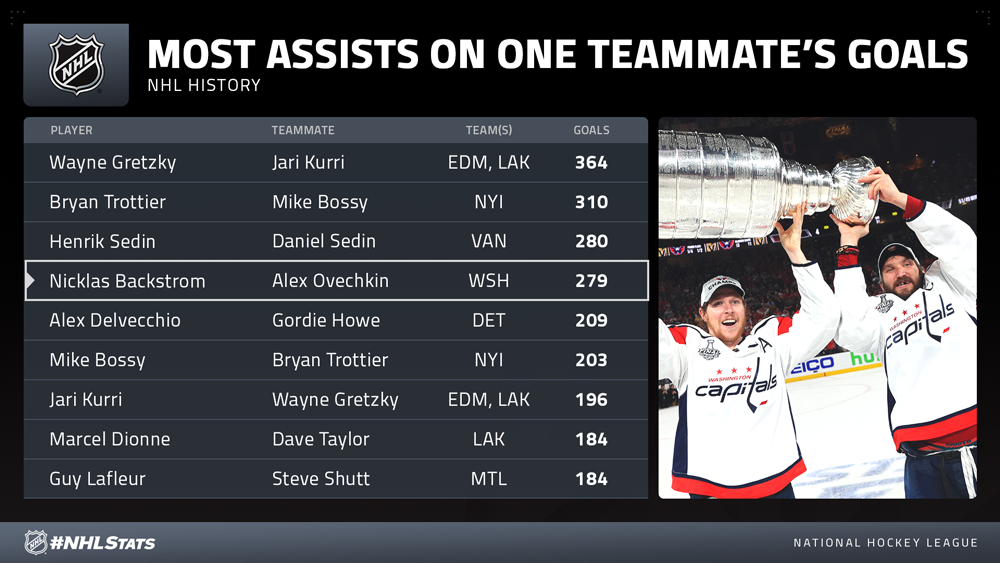 'ICE QUEENS' SET TO LAUNCH ON INTERNATIONAL WOMEN'S DAY
NHL Original Production 'Ice Queens', a documentary showcasing Black women in hockey, will make its broadcast debut on International Women's Day. Along with the film's launch, NHL and NHLPA will celebrate Women's History Month by sharing stories and showcasing women who continue to move the game forward.

* Ice Queens is a film about resilience, perseverance and jubilance as well as the continued efforts and valuable contributions of Black women to the game of hockey. Produced in association with NHL Original Productions, Ice Queens uses personal interviews, archival footage and nostalgic photography to tell stories of triumph and overcoming, while exploring the intersection of gender, race and hockey.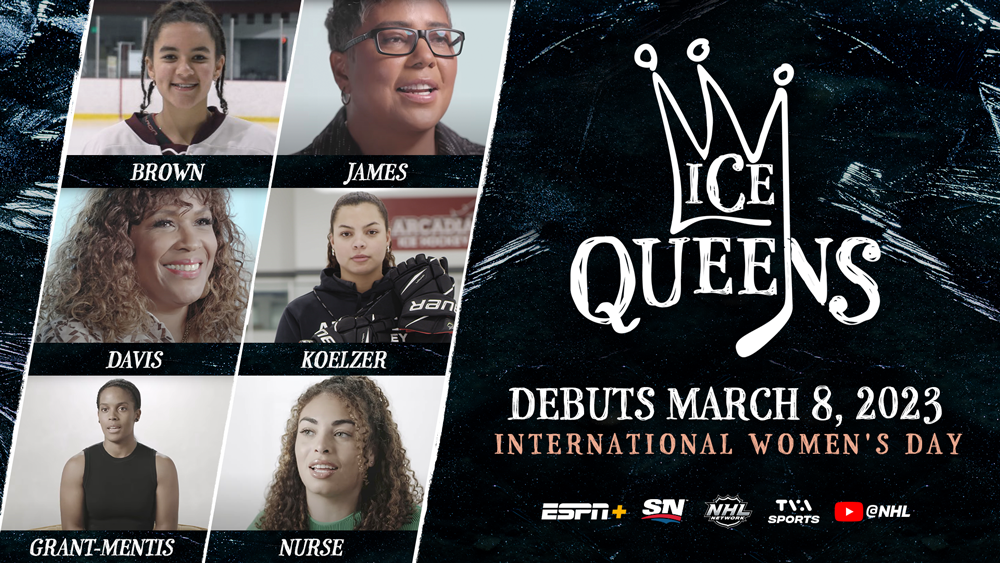 QUICK CLICKS
* Dmitry Orlov, Claude Giroux and Filip Gustavsson named the NHL's "Three Stars" for the week
* Blackhawks fans welcome Alex DeBrincat back with standing ovation
* Ryan O'Reilly to be placed on long-term injured reserve by Maple Leafs
* Meghan Duggan discusses role with Devils in Q&A with NHL.com
* Women in Hockey: Kate Madigan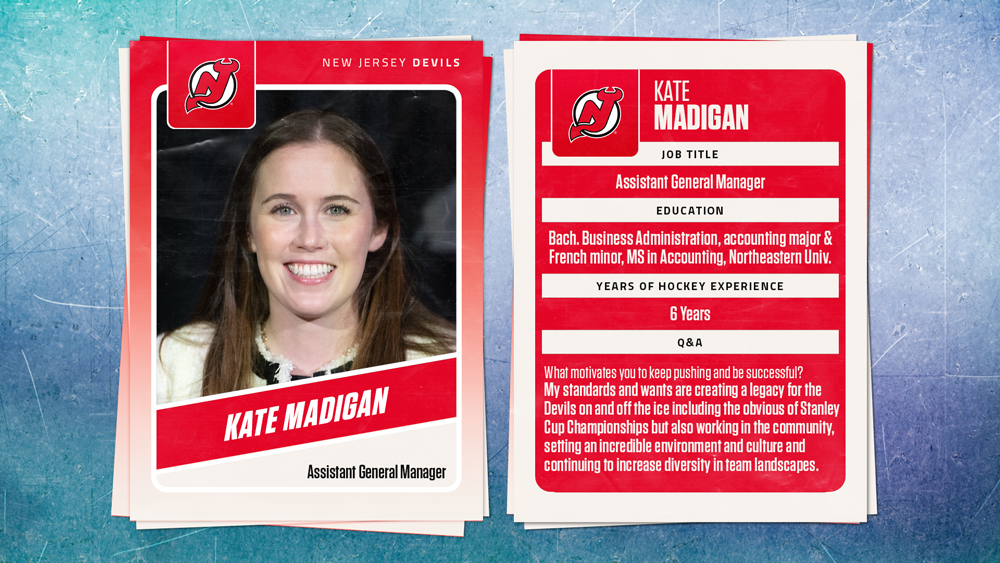 ANOTHER DAY OF DOUBLEHEADERS ON HULU, ESPN+
Tuesday will feature the second straight day with a double header on HULU and ESPN+, this time featuring the Sabres (32-26-4, 68) visiting the Islanders (32-25-8, 72 points) in a battle between two teams deep in the Eastern Conference Wild Card race and the Ducks (21-34-8, 50 points) taking on the Kraken (36-21-6, 78 points), who will aim to extend their point streak to five games.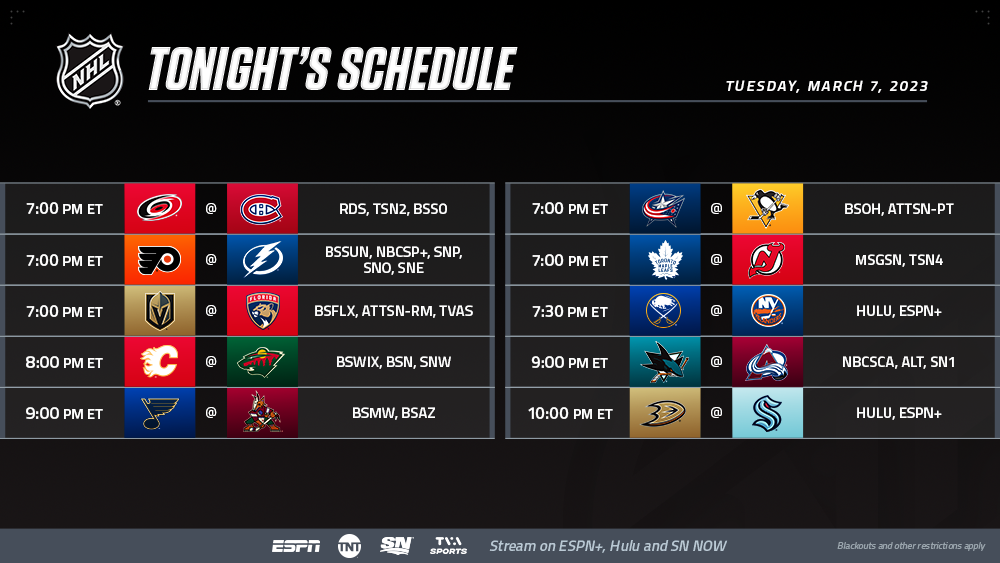 * Noah Dobson (29-80—109 in 221 GP) enters Tuesday with the second-most points by a New York player dating to Feb. 1 and tied with Bryan Berard for the third-most points by an Islanders defenseman at age 23 or younger. Dobson, who doesn't turn 24 until Jan. 7, 2024, trails only Denis Potvin (95-219—314 in 322 GP) and Tomas Jonsson (33-96—129 in 214 GP).
* The second contest of the doubleheader on HULU and ESPN+ will feature the top two rookie scorers: Kraken forward Matty Beniers (19-26—45 in 61 GP) and Ducks forward Mason McTavish (14-23—37 in 62 GP). McTavish sits three points shy of becoming the second Anaheim rookie in as many seasons to reach the 40-point mark after his teammate Trevor Zegras did so last season (23-38—61 in 75 GP in 2021-22) – it would mark the second time in franchise history the club has featured a rookie reach 40 points in consecutive season after Dustin Penner in 2006-07 (29-16—45 in 82 GP) and Chris Kunitz in 2005-06 (19-22—41 in 67 GP).
FORMER BILLET BROTHERS, HUGHES, NYLANDER, SET TO FACE OFF
The second-place seeds in both the Metropolitan and Atlantic Division are set to go head-to-head when the Devils (41-15-6, 88 points) welcome the Maple Leafs (38-17-8, 84 points) to Prudential Center. The contest will pit Jack Hughes (36-40-76 in 58 GP) and William Nylander (33-41—74 in 63 GP) against one another – a duo whose hockey history dates back nearly a decade.

* Nylander billeted with the Hughes family for three weeks when the Maple Leafs forward first moved to Toronto to play for the Toronto Marlies of the American Hockey League. Jack, who was a die-hard Maple Leafs fan growing up, gave his bedroom to his role model Nylander while he lived at their house. Jack has fond memories of golfing and playing ping pong for hours against Nylander in his basement.