* Cale Makar (24-49—73 in 61 GP) established an Avalanche/Nordiques record for most goals in a single season by a defenseman, surpassing Sandis Ozolinsh (23 in 1996-97).

* Chris Kreider (44-17—61 in 65 GP) moved into a tie with Leon Draisaitl for second in the 2021-22 Maurice "Rocket" Richard Trophy race, while Kyle Connor pulled even with Alex Ovechkin for fourth with his41st of the season.

* The Flames became the first team since the Mario Lemieux-led Penguins in 1995-96 to feature four players score 30 goals by the 65th game of a campaign.

* Marc-Andre Fleury is set to make his debut in a Wild uniform on a busy Saturday which will feature 24 teams in action.

MAKAR SCORES TWICE, SETS FRANCHISE RECORD
Cale Makar (2-0—2) scored his 23rd and 24th goals of 2021-22 to establish a franchise record for most goals by a defenseman in a single season, surpassing Sandis Ozolinsh (23 in 1996-97) in the process, as the Avalanche improved their League-leading record to 46-14-5 (97 points).

* With his fourth multi-goal outing of 2021-22, Makar tied Victor Hedman for the most among all defensemen and tied Sandis Ozolinsh (4 in 1999-00) for the most by a defenseman in a single season in Avalanche/Nordiques history.

* Makar (24-49—73 in 61 GP) joined Brent Burns (29 in 2016-17 & 27 in 2015-16) as the second active defenseman to score 24 or more goals in a campaign. The 23-year-old is now on pace for 30 goals – he would become the first active blueliner to hit the mark.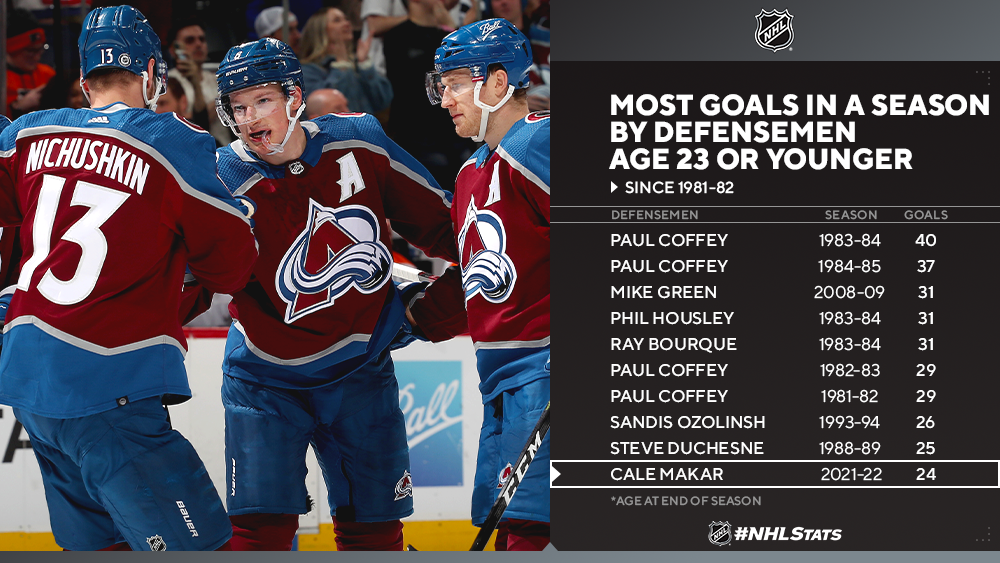 KREIDER, CONNOR: GOAL SCORERS ON DISPLAY. . .
Two of the NHL's top five goal scorers added to their season totals Friday as Chris Kreider (2-1—3)and Kyle Connor (1-1—2) each helped their team earn wins:

* Kreider (44-17—61 in 65 GP) recorded his eighth multi-goal outing of the season to help the Rangers (41-19-5, 87 points) earn a win in a pivotal matchup against their Metropolitan Division-rival Penguins (39-17-10, 88 points) and move within one point of Pittsburgh for the No. 2 seed. Kreider, who sits tied with Leon Draisaitl for second in the 2021-22 Maurice "Rocket" Richard Trophy race, now has the most goals by a Rangers player in a single season since Jaromir Jagr in 2005-06 (54).

* Kreider, along with Alexis Lafrenière and Frank Vatrano, were part of the fifth-fastest three goals to start a game in franchise history after all scoring in the opening 4:16. Their flurry trails 2:16 on Feb. 28, 1965 (vs. TOR), 2:23 on March 5, 1961 (vs. DET), 3:00 on March 7, 1985 (at CGY) and 3:07 on March 24, 1982 (at PIT).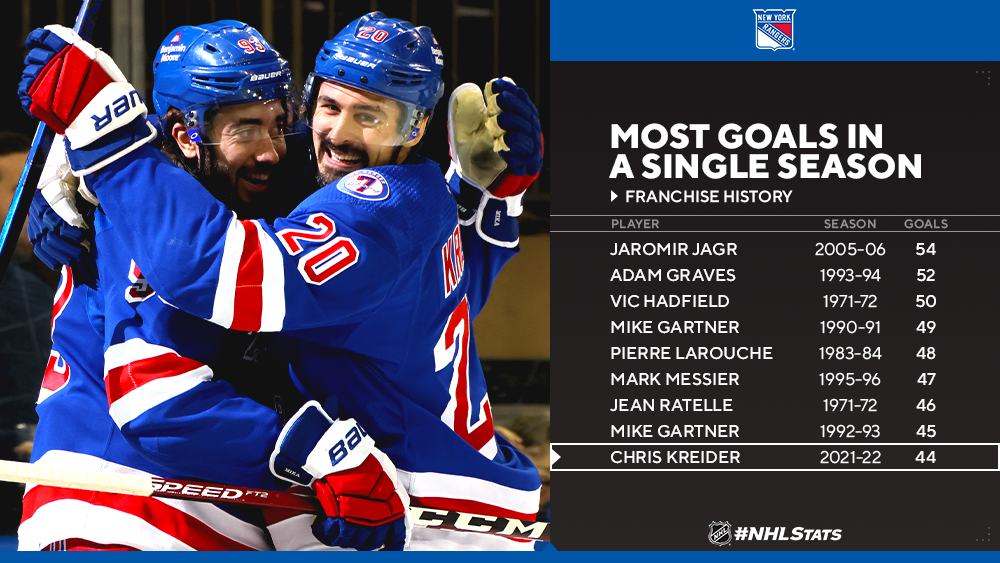 *Connor factored on two of his team's four goals, including scoring his 41st of the season, as the Jets overcame a late Blue Jackets rally to earn an overtime win. Winnipeg (31-25-10, 72 points) moved within three points of idle Dallas (36-24-3, 75 points) for the final Wild Card position in the Western Conference.

* Connor tied Ilya Kovalchuk (41 in 2003-04) and Dany Heatley (41 in 2002-03) for the seventh-most goals by a Jets/Thrashers player in a single season. On pace for 50 goals this year, Connor can become just the second player in franchise history to claim the Maurice "Rocket" Richard Trophy – Kovalchuk shared the award with Jarome Iginla and Rick Nash in 2004 (all w/ 41).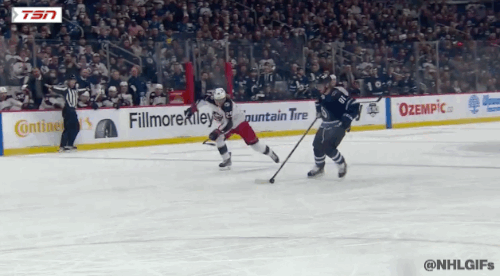 … WHILE GAUDREAU, TKACHUK EACH NOTCH 30TH GOAL OF THE SEASON
Johnny Gaudreau (1-2—3) and Matthew Tkachuk (1-1—2) each scored their 30th goal of the season, respectively, as the Flames (39-17-8, 86 points) earned a win against the Coyotes at Scotiabank Saddledome to pad their lead atop the Pacific Division standings. Gaudreau boosted his 2021-22 totals to 30-55—85 (64 GP) and moved into fourth place in the Art Ross Trophy race.

* Gaudreau's 30th goal marked the 200th of his career, making him the 10th player to record as many with the Flames franchise (200-379—579 in 584 GP). He also became just the sixth skater from the 2011 NHL Draft class to reach the mark, joining Gabriel Landeskog (248), Nikita Kucherov (232), Mika Zibanejad (226), Mark Scheifele (225) and Brandon Saad (203).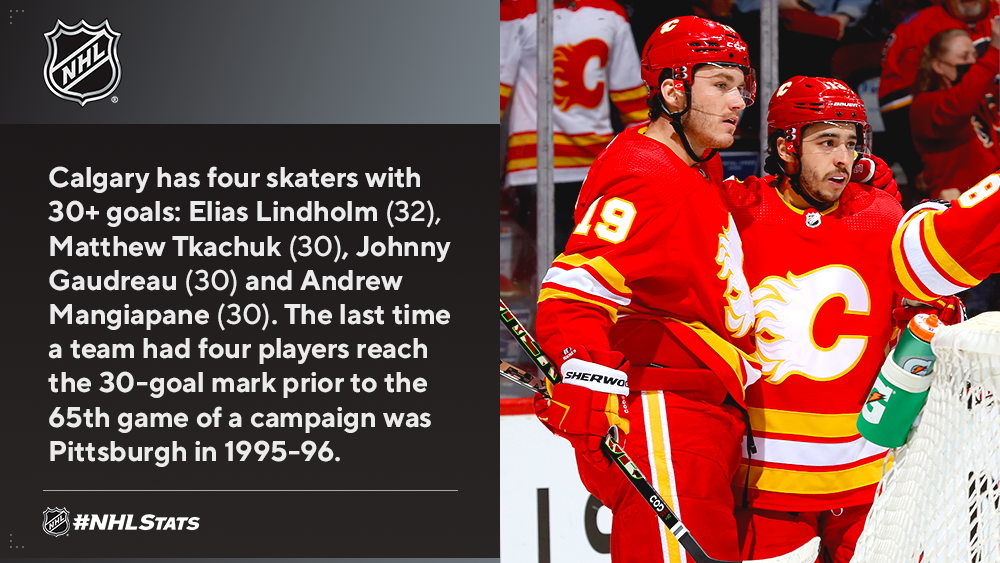 #STANLEYCUP PLAYOFFS RACE: METROPOLITAN DIVISION
Every Saturday for the balance of the regular season, the #NHLStats team will place a weekly spotlight on one of the League's postseason races. The Hurricanes (42-15-7, 91 points) enter the final weekend of March atop the Metropolitan Division, a position they've held for 107 days in 2021-22. Only the Panthers (125 days) have been positioned in first place in their division for a longer stretch this season.

* The Metropolitan Division has been one of the most tightly contested groupings this season. The top three teams have been separated by five or fewer points for 144 days of 2021-22 – 19 more than the next closest division (Pacific: 123; Central: 90 & Atlantic: 83).

* The Hurricanes are looking to qualify for the postseason for the fourth straight year under head coach Rod Brind'Amour, who wore the "C" for Carolina from 2005-06 to 2008-09 which also included a Stanley Cup in 2006. He can become the fourth individual in NHL history to captain a franchise to a Cup and then win a championship with that club as head coach. Toe Blake (2 as captain, 8 as coach w/ MTL), Hap Day (1 as captain, 5 as coach w/ TOR) and Cooney Weiland (1 as captain, 1 as coach w/ BOS) all did so.

* The Penguins, who own the NHL's longest active streak of consecutive playoff appearances (15), are within striking distance of their 10th division crown and second in as many seasons after finding themselves 11 points back of top spot entering games on Nov. 18, 2021. The 2021-22 campaign could be the second Pittsburgh has overcome a deficit of 11 or more points to win its division after first doing so during the 1990-91 season, when the franchise sat 15 points from first place in the Patrick Division on December 2, 1990 before claiming the division title and its first Stanley Cup.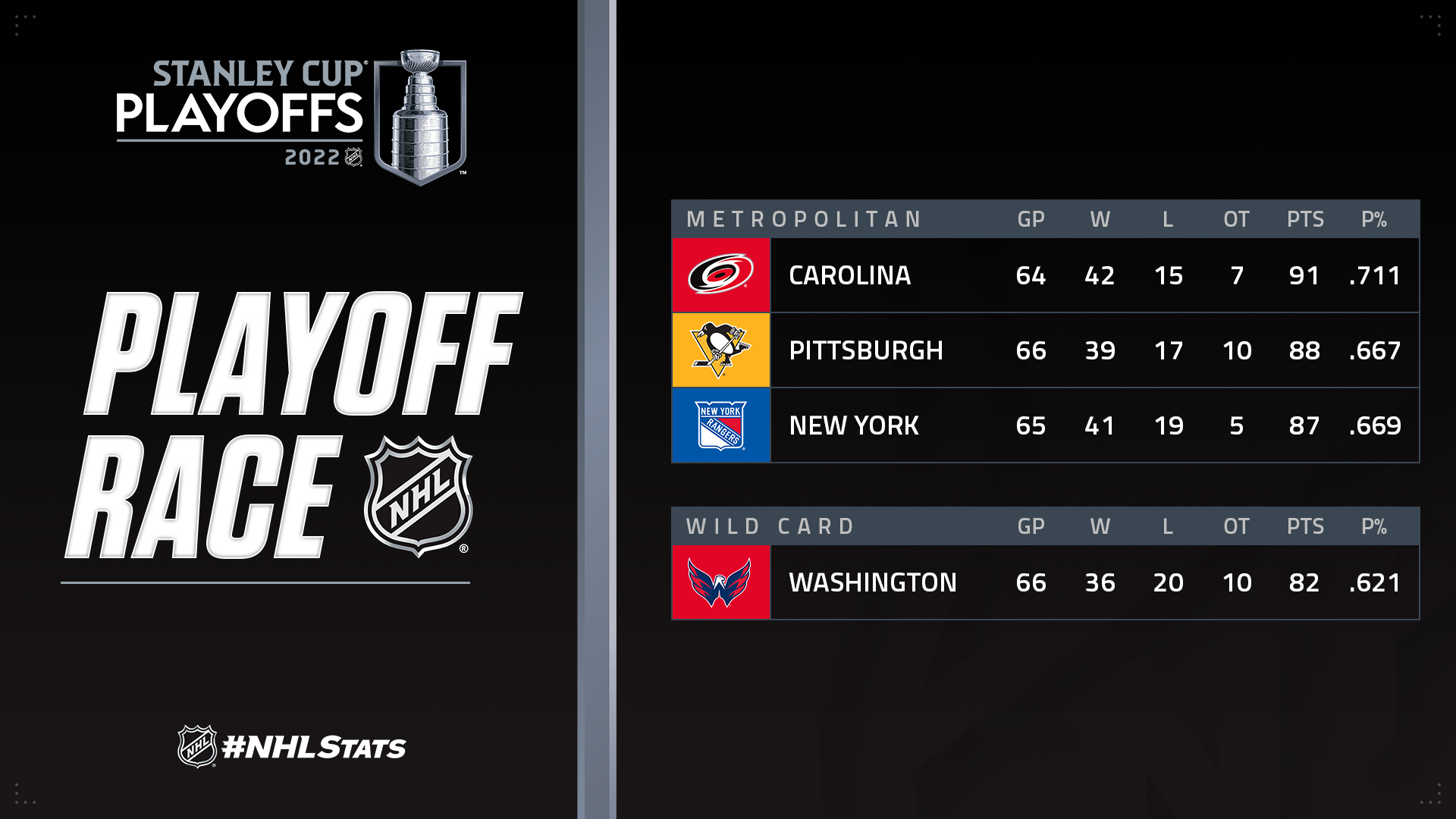 NHL PODCAST WEEKLY ROUNDUP

* Fantasy on Ice (3/21): Pete and Nick dissect the biggest moves of the NHL Trade Deadline
*NHL @TheRink (3/21): Dan, Shawn react to all the NHL Trade Deadline day moves
*The Chirp (3/23): Daren is joined by Minnesota Wild captain Jared Spurgeon
* Fantasy on Ice (3/24): Colby Armstrong helps Pete and Nick break down the NHL Trade Deadline

QUICK CLICKS

* Friday's edition of #NHLStats: Live Updates
*Gil Stein dies at 94, was final president in NHL history
* Jonathan Toews closes in on 1,000th game facing uncertain future with Blackhawks
* Oilers host young fan diagnosed with cancer
* 2022 NHL Draft Diary: Logan Cooley
* 'Hockey dad' Eli Manning attends Rangers game at Garden with daughters
FLEURY SET FOR WILD DEBUT ON 12-GAME SATURDAY
Marc-Andre Fleury is set to make his debut in a Wild uniform, after being acquired by Minnesota at the 2022 NHL Trade Deadline on Monday, when his new club welcomes the Blue Jackets on a 12-game Saturday. Fleury is one win shy of his 14th career 20-win season, which would be the fourth most in NHL history behind Patrick Roy (17), Martin Brodeur (16) and Ed Belfour (15).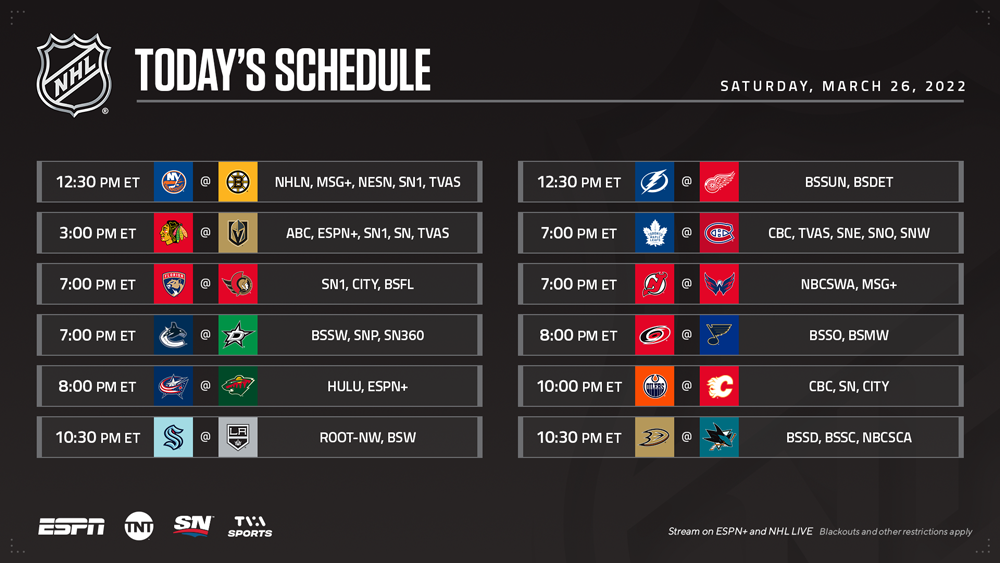 SATURDAY WATCH: AROUND THE RINKS
* The Flames (39-17-8, 86 points) and Oilers (36-24-5, 77 points) will meet for the fourth and final "Battle of Alberta" this season (EDM: 2-1-0, CGY: 1-2-0) with eight of the last 10 meetings between the two clubs having featured a one-goal game either going into or at some point in the third period. The contest will also feature three of the NHL's top five scorers: Connor McDavid (1st; 35-60—95 in 64 GP), Leon Draisaitl (2nd; 44-46—90 in 65 GP) and Johnny Gaudreau (3rd; 30-55—85 in 64 GP).

* Jeremy Swayman (19-8-3) can become the seventh rookie goaltender in franchise history to reach the 20-win mark in a season – and first since Tuukka Rask in 2009-10 (22) – when the Bruins (40-19-5, 85 points) welcome the Islanders (28-25-9, 65 points) for a matinee. Boston is tied in terms of standing points with Toronto (40-18-5, 85 points), which is second in the Atlantic Division, and just one point ahead of Tampa Bay (39-18-6, 84 points), which sits in the first Wild Card spot in the Eastern Conference. All three teams racing for the division's No. 2 seed will be in action Saturday.