* The Wild picked up Marc-Andre Fleury prior to the 2022 NHLTrade Deadline, but fellow acquisition Nicolas Deslauriers netted the game-winning goal in his debut with the club.
* Filip Forsberg established a Predators franchise record for goals in a single season en route to posting his second career five-point performance.
* Cale Makar hit 70 points for the first time in his career and became just the fifth defenseman in the past 30 years to reach the mark at age 23 or younger.



2022 NHL TRADE DEADLINE CLOSES WITH AN ALL-TIME HIGH OF 33 TRADES
A deadline-day record 33 trades were completed prior to the 2022 NHL Trade Deadline, with 54 different players involved (one shy of the most ever) and 28 picks changing hands (also the most on record for deadline day). More information can be found in the Trade Deadline edition of Live Updates, with a few notable #NHLStats included below:
* The reigning Vezina Trophy winner was traded on deadline day for the first time in League history.
* Stanley Cup winners were traded for each other on deadline day for the first time since 2007.
* Brothers were dealt on the same deadline day for the second time since 1980.

* The Jets were involved in the most trades (5) Monday and also collected the most draft picks (5). The Rangers acquired four players who have appeared in at least one NHL game in 2021-22, the most among all clubs (Justin Braun, Nick Merkley, Andrew Copp & Tyler Motte).




DEADLINE DEAL PAYS IMMEDIATE DIVIDENDS FOR WILD. . .
On the day Minnesota acquired reigning Vezina Trophy winner Marc-Andre Fleury from Chicago, Nicolas Deslauriers netted the game-winning goal in his debut with the club after the Ducks traded the veteran of nine seasons to the Wild on March 20.

* Deslauriersbecame the seventh player to score the winning goal in his first game with the franchise. The others: Matt Boldy (Jan. 6), Kirill Kaprizov (Jan. 14, 2021), Chad Rau (Jan. 21, 2012), Dany Heatley (Oct. 8, 2011), Kurtis Foster (Nov. 19, 2005) and Rickard Wallin (Dec. 12, 2002).

* Meanwhile, Cam Talbot (28 saves) posted his second shutout of the season with his new teammate watching from the bench. Since Talbot joined the Wild ahead of the 2020-21 season (44-20-6), he and Fleury (45-31-5) each rank within the NHL's top 10 in wins through that span.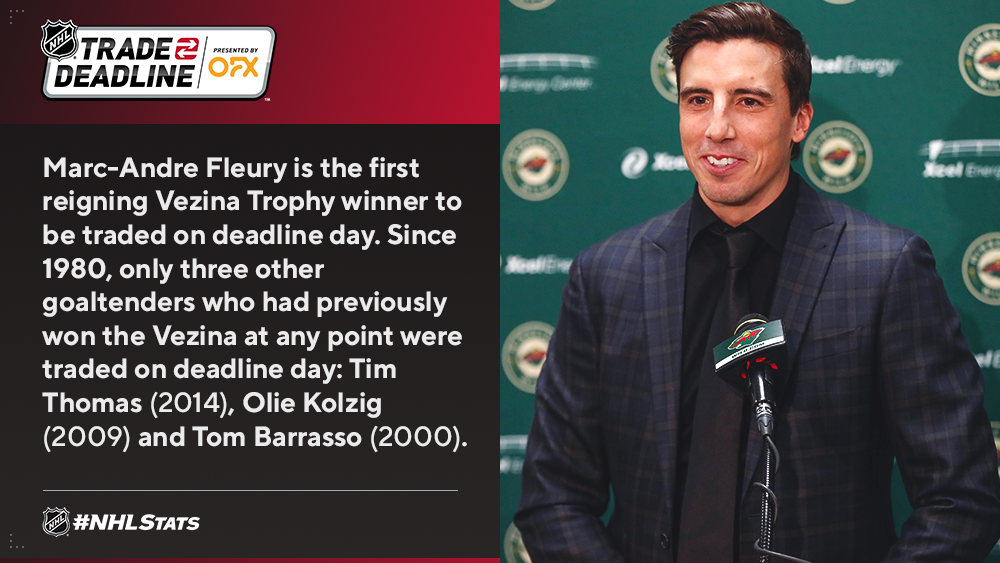 . . . WHILE FORSBERG'S FRANCHISE FEAT HELPS PREDATORS KEEP PACE IN CENTRAL
Filip Forsberg (2-3—5) became the first Predators player to record multiple five-point outings and helped Nashville (37-22-4, 78 points) keep pace with Minnesota (37-20-4, 78 points) in the Central Division race for second place – a competition that also includes idle St. Louis (34-18-9, 77 points).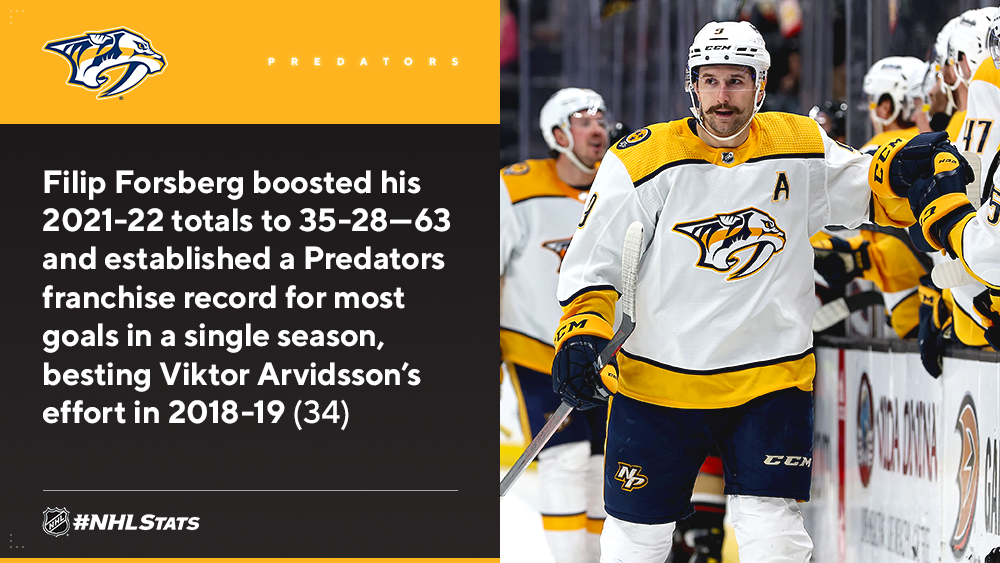 * Roman Josi (1-1—2) and Matt Duchene (2-1—3) also contributed offensively for Nashville and have each done so in their past 10 games dating to March 2. The Predators duo became the second set of teammates to post simultaneous point streaks of 10-plus games this season, joining Wild duo Kevin Fiala and Mats Zuccarello (10 GP from Dec. 20, 2021 – Jan. 28).

* Josi, whose career-high point streak stands at 12 games (Dec. 16, 2019 – Jan. 9, 2020), became the 15th defenseman in NHL history to register multiple such stretches of 10-plus contests and first since Detroit's Nicklas Lidstrom (11 GP in 2010-11 & 10 GP in 1999-00).

* Josi's recent string of success also includes multiple points in each of his past five outings – the longest streak of multi-point games by a defenseman since Dustin Byfuglien in 2011-12 (5 GP w/ WPG). The lengthiest stretch by a blueliner in NHL history is held by Bobby Orr (8 GP in 1970-71 w/ BOS).

MARCHAND NETS OT WINNER, BRUINS CONTINUE ATLANTIC DIVISION CLIMB
Boston tied the game with 2:59 remaining in regulation and Brad Marchand (2-0—2) scored a highlight-reel goal in overtime to help the Bruins (39-19-5, 83 points) defeat the Canadiens in their first trip to Montreal in nearly two and a half years (8-1 W on Nov. 26, 2019). The victory vaulted Boston into a tie with Toronto (39-18-5, 83 points) for third place in the Atlantic Division – in terms of standings points.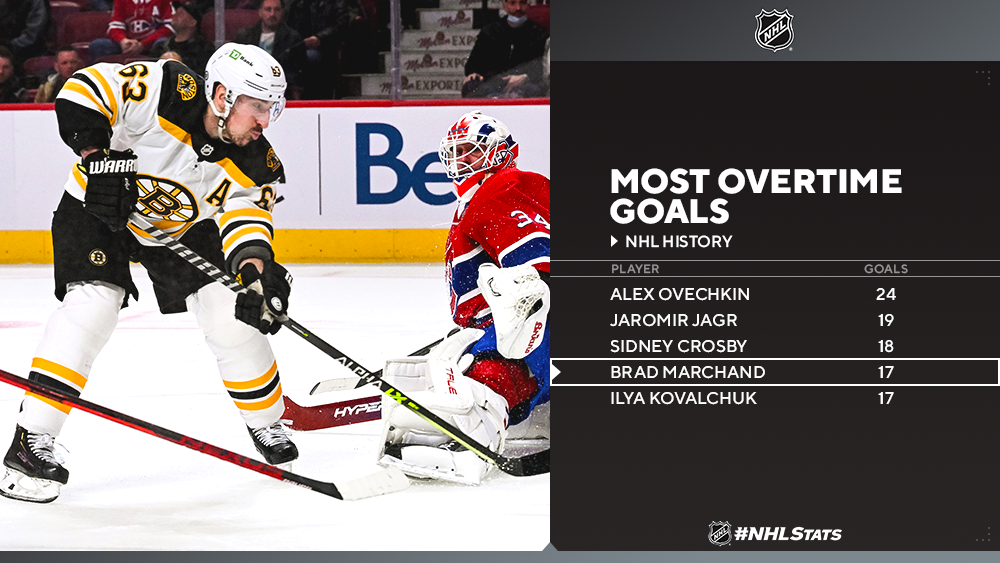 * The Bruins earned their 25th win since Jan. 1 – the second most in the NHL behind the Avalanche (28) since the calendar flipped to 2022 and closed a 12-point gap on the Maple Leafs in the process. The clubs have two head-to-head games remaining this season (March 29 & April 29).

MAKAR'S 70-POINT CAMPAIGN HIGHLIGHTED IN #NHLSTATS: LIVE UPDATES
Cale Makar (22-49—71 in 59 GP) joined Roman Josi (18-59—77 in 61 GP) as the second defensemen to record 70 points this season after the Predators captain reached the mark on March 17 (59 GP). The 2021-22 campaign became just the third in NHL history to feature multiple defensemen each notch 70 points in fewer than 60 contests, joining 1991-92 (Brian Leetch: 57 GP & Phil Housley: 57 GP) and 1990-91 (Paul Coffey: 54 GP & Al MacInnis: 57 GP).

* Storylines like these and more can be found in the Monday edition of #NHLStats: Live Updates.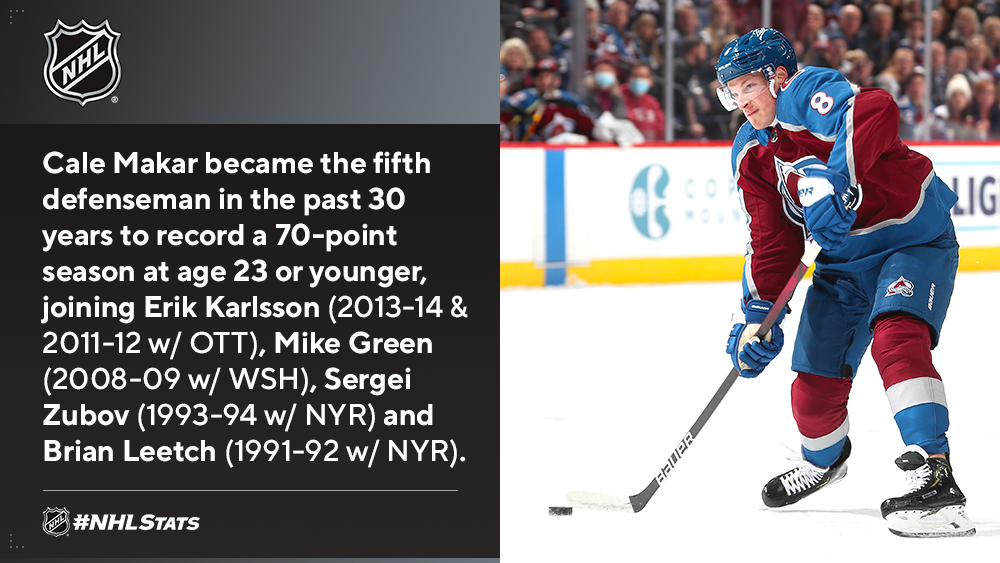 TEAMS PARTICIPATE IN WORLD DOWN SYNDROME DAY WITH MISMATCHED SOCKS
Multiple teams, including the Flames, Maple Leafs and Devils, took part in World Down Syndrome Day on Monday by donning mismatched socks – a campaign to help raise awareness for Down syndrome and showcase that every individual is unique. Flames head coach Darryl Sutter, whose son Chris was born with Down syndrome, shared that his team collectively chose to participate by wearing mismatched socks during practice. Sutter shared how his son changed his life and has been a large part of every team he has coached. Other clubs across the NHL have been involved in making the game more inclusive for all fans:

* The Predators launched a new sensory room in 2021-22 as a space for fans with a number of needs including Down syndrome.

* Sensory kits, which includes a compilation of tools used to help make an overstimulating environment more comfortable, are available at home games with the Capitals, Oilers and Flames.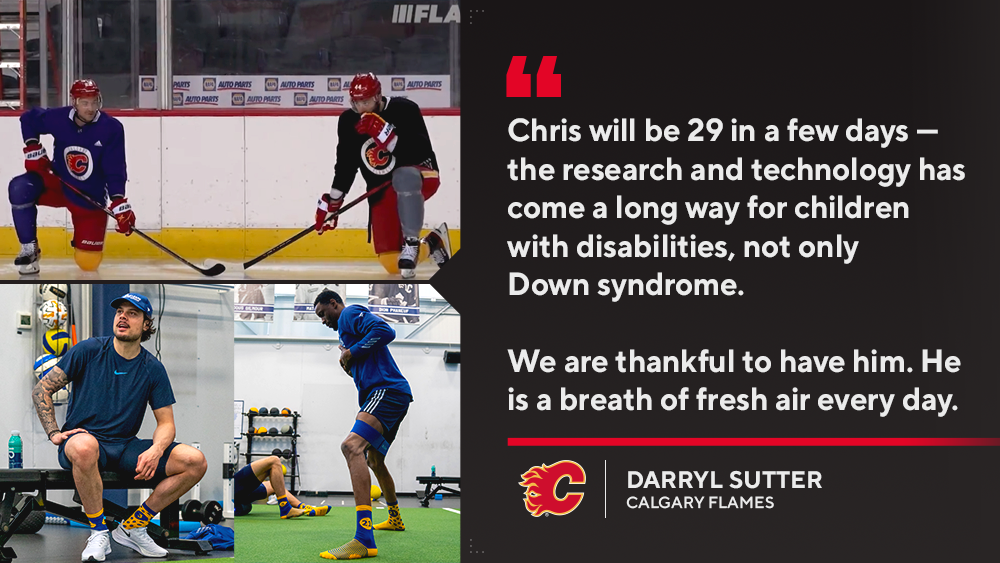 QUICK CLICKS
* Marc-Andre Fleury, Wild ready to chase Stanley Cup
* Atlantic Division teams fill needs at 2022 NHL Trade Deadline
* Kevin Weekes stops at nothing to deliver NHL trades to fans on deadline day
* Color of Hockey: Riveters place Dabney's Black Rosie logo in spotlight
TWENTY-TWO TEAMS TAKE TO THE ICE TUESDAY
For the first time ever, NHL Network will air an all-women edition of NHL Tonight – the network's flagship studio show (6 p.m. ET). Co-hosted by Jamie Hersch and Jackie Redmond, with 2018 Olympic gold medalist Kendall Coyne Schofield as analyst, the program will feature live look-ins to Tuesday's 11 games, analysis, demonstrations and highlights. In each of the last four seasons, NHL Network has aired an all-women edition of NHL Now, its daily 4 p.m. ET program.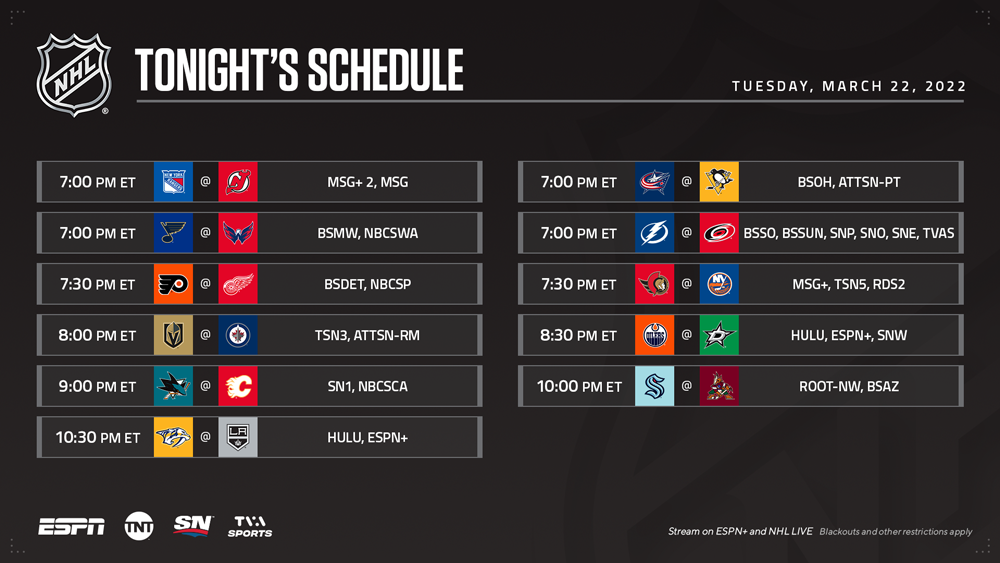 MATCHUPS TO WATCH FOR:
A number of streaks are on the line Tuesday with pivotal matchups that could see playoff positioning in the NHL standings rearranged:

* Sebastian Aho and the Hurricanes (41-15-6, 88 points) will look to earn a point in their fifth straight game against the defending Stanley Cup-champion Lightning (3-0-1 dating to March 27, 2021) and can gain ground on the Eastern-Conference leading Panthers (42-14-6, 90). With two goals, Aho (172-209—381 in 425 GP) can tie Carolina's head coach Rod Brind'Amour (174-299—473 in 694 GP) for the 10th place on the Hurricanes/Whalers' all-time list.
* David Perron (9-2—11 in 6 GP) and Alex Ovechkin (4-1—5 in 4 GP) enter Tuesday with goal streaks of six and four games, respectively, as the Blues (34-18-9, 77 points) face the Capitals (35-19-10, 80 points) at Capital One Arena. Should Perron extend his run, he would tie Max Pacioretty and Auston Matthews (both w/ 7 GP) for the second longest this season behind Elias Lindholm and Mitchell Marner (both w/ 8 GP).